Glamping near Death Valley National Park – Airbnbs
Death Valley Glamping: Are you looking for unique Airbnbs near Death Valley National Park? There are so many cool places to go glamping in Death Valley.
There are so many airbnbs near Death Valley and cool glamping sites. You can use this list of Death Valley National Park Airbnbs to help you book an incredible experience.
If you are wondering, this is the Death Valley Airbnb I stayed at last year. It is a great location near Death Valley and the perfect spot.
Thank you for supporting this website written by an American. This post may contain affiliate links. This means I earn a small commission on these links at no extra cost to you.
National Park Entrance Fees
To enter the National Parks, you'll need to pay an entrance fee or have a National Parks Pass also known as American the Beautiful Pass.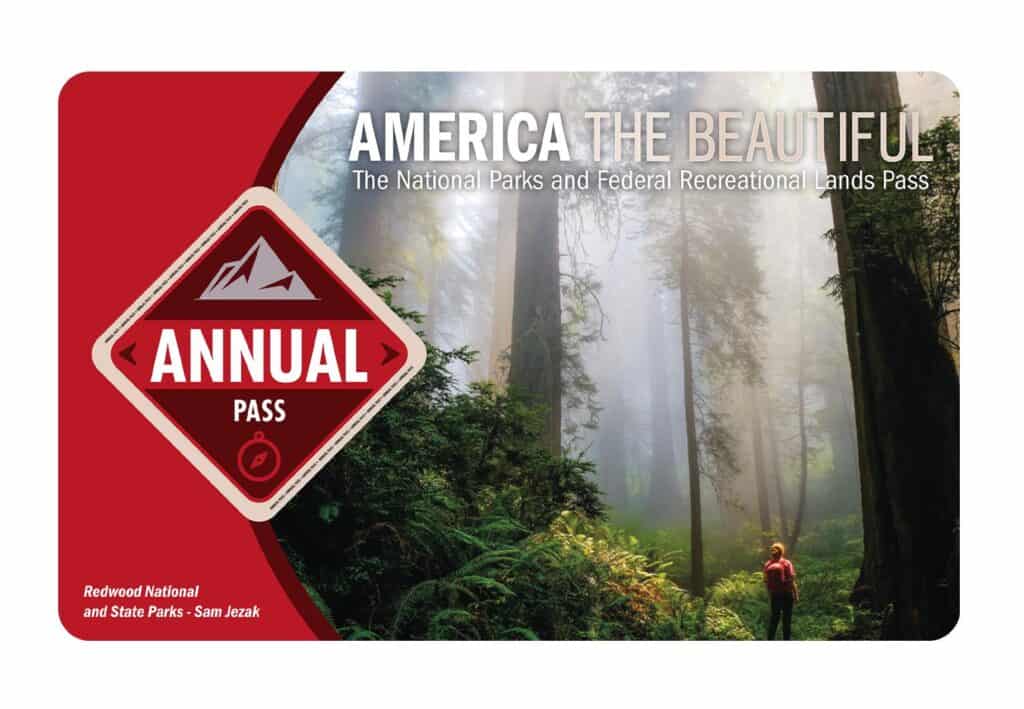 It costs $80 for a yearly America the Beautiful Pass. This gives you access to all national parks and federal areas that charge fees. The America the Beautiful Pass is well worth it!
I purchased my first one in 2016 and it's such a money-saver! Plus 10% of sale proceeds go to the National Park Foundation.
Tips for Visiting Grand Teton National Park
Grand Canyon National Park is perfect for outdoor enthusiasts. There is something for everyone on this list and for different fitness levels. Also, note that it is dry and hot (in the summer), and make sure you know what you are getting into before you start. Here are a few tips for visiting the Grand Canyon:
Bring a reusable water bottle and lots of water! Remember you are in the sun and you will need to drink lots of water. I love my LifeStraw Filtered Water Bottle. I can refill this bottle anywhere and it comes with a carabiner to connect it to my daypack.
Check the Weather – days over 100 degrees are very common. Make sure to check.
Hiking boots or sandals that will protect your feet! I love good shoes. I need all the support and help I can get. I actually love these sandals for hiking and also love these hiking boots.
Bring hiking poles for balance and to protect your knees. I know many experienced hikers (and even amateur ones) think that hiking poles are for old people who lose their balance. Actually, hiking poles can help when going down steep inclines or when scrambling over rocks. They are great to hike with even for the most experienced hiker.
Wear a sunhat. I feel like this whole post is about how high you are in the mountains and how much closer you are to the sun but it is so true. At elevation, you are closer to the sun and more likely to burn. Wear sun protection such as a sun hat and sunscreen.
Be aware of the wildlife. This is the Southwest and you will need to watch out for snakes and other wildlife such as moose or a bear. Please stay away from wildlife and do not feed them. I recommend carrying bear spray as well.
Start Early – If you want to avoid the traffic and the heat you will need to start your hike early. That way it will be nice and cool and the smog will not affect you either.
Leave no trace. If you are new to the concept of Leave No Trace it is all about preserving the environment to ensure it is in the same or better condition when you leave it. This means that you should stick to the trails and carry out everything that you carried in. This is a great explanation of the Leave No Trace principles!
Water shoes are great for water hikes– If you don't have a pair, I highly suggest it as they are affordable. I have an article on the pros and cons of several pairs of water shoes.
Bring Bug Spray and a snack: Be sure to bring everything you need including a snack like a protein bar plus BUG SPRAY.
Where to stay near Grand Canyon National Park
The Grand Canyon makes for a great weekend escape. Fresh air, beautiful scenery and being in nature does a world of good for the soul. I recommend staying as close to the park as possible and even treating yourself with a cabin with a spa pool to relax at night.
If you are taking a road trip remember to reserve a car in advance using Discover Cars .
15 Best Death Valley Airbnbs and Glamping Spots
Glamping in Death Valley – Hot Springs Included!
The space has been carefully crafted to be the perfect Hot Springs getaway. With a keypad door lock, you can come and go whenever you want.
There are smart devices in the house, such as a Google Mini that can answer any of your questions and a Nest thermostat that keeps the temperature inside the house at a comfortable level.
You'll be one of the first to appreciate everything this 3-bedroom 2 bath home has to offer, as it has been completely refurbished. It is fully furnished to ensure that you have a pleasant stay. On Delight's Hot Springs Resort, 10 miles southeast of Death Valley's southeast entrance.
A leather sectional couch can be found in the welcoming living area. You will have the best night's sleep of your life thanks to the hot springs water and the luxurious queen beds!
It'll be a hit with excellent white bedding and new pillows. Every bedroom has a huge walk-in closet where you can unpack and make the most of the space. Pool towels, hangers, a laundry basket, and blankets can all be found in the closet.
The kitchen is fully stocked with everything you'll need to prepare a gourmet dinner or disperse your takeaway.
All of the appliances, including the stovetop oven, refrigerator, microwave, dishwasher, french press, and coffee maker, are brand new and ready to use. During your stay, you will receive complimentary coffee, tea, honey, sugar, and creamer (dairy-free). There are also board games, playing cards, pens, and paper available.
The geothermal heat—heat from the interior of the earth the hot springs on this property. Water may come into touch with highly hot rock heated by magma in volcanic zones. Some of the minerals are dissolved into the water as it passes through mineral deposits, and when it reaches the surface, it evaporates as steam and mineral-rich (and often very) hot water.
You will have exclusive use of the entire house. During your stay, you and up to 5 guests will have unlimited access to Delight's Hot Springs Resort.
Death Valley Glamping in a tiny house
This small vineyard and campground near Death Valley and Ash Meadows are worth a visit. Stay in a teardrop trailer next to a small family vineyard outside of Death Valley National Park for the night.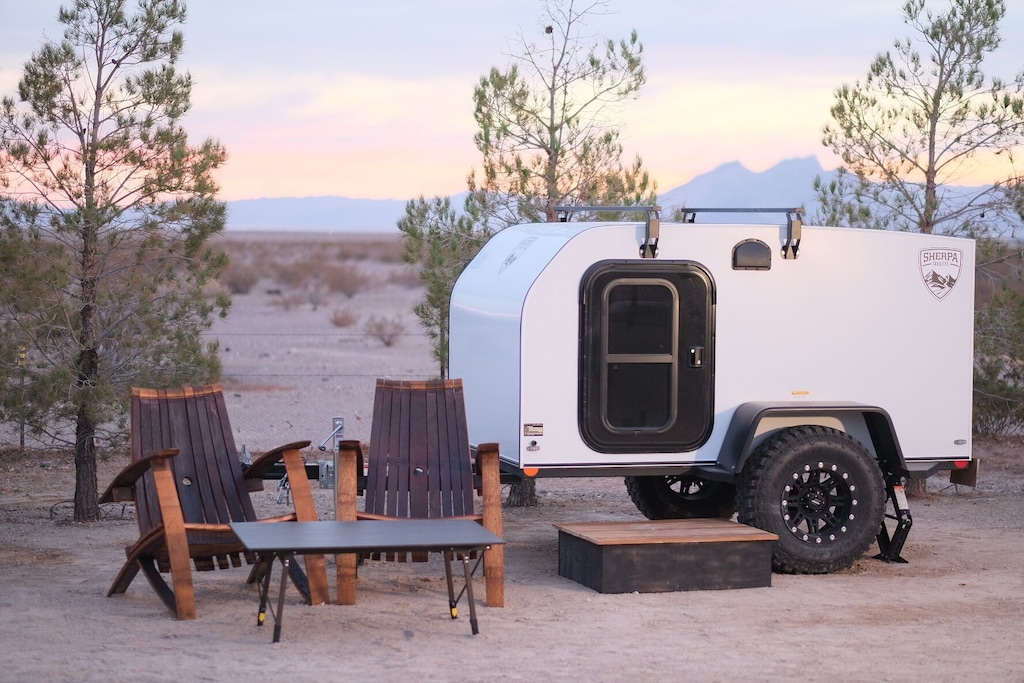 A queen-size bed with fresh linens, a lockable room with electricity and a heater, Adirondack chairs, and a table are all included. Next to your trailer are shared composting outhouses, as well as a donation-based outdoor shower with hot water. This is a 100-foot walk-in location from your reserved parking place.
Casa Trona – Death Valley Airbnb
Casa Trona is the closest town to Death Valley. and only 12 minutes away from Trona Pinnacles.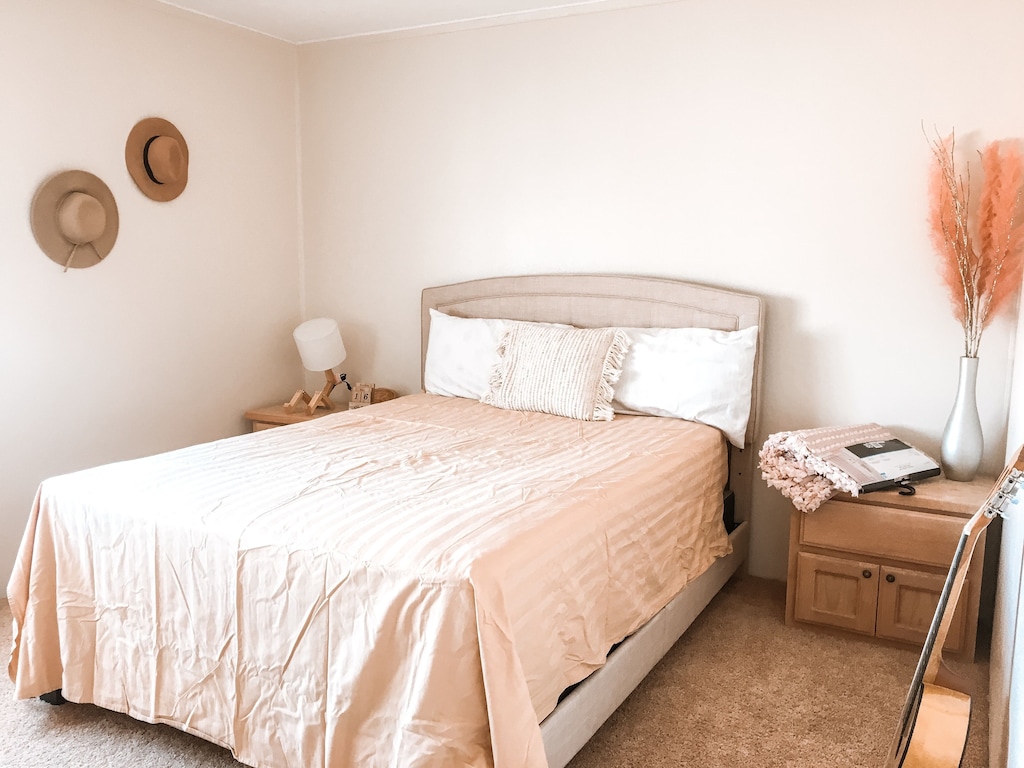 It features an air-conditioning room in both Jr and Master bedroom which also includes Kitchen utensils and a coffee maker. Free Wifi, Linens and Towels, Heater, and Hair Dryer are all available in Casa Trona.
Come enjoy this peaceful oasis. The house is small but has all you need to get away for a little while.
Other nearby attractions include Red Rock Canyon, Mt. Whitney, and the Randsburg mining district.
Lili's Guest House Pahrump Airbnb near Death Valley
This home is perfect for your stay. Take in the stunning sunset with mountain vistas and the spectacular night sky.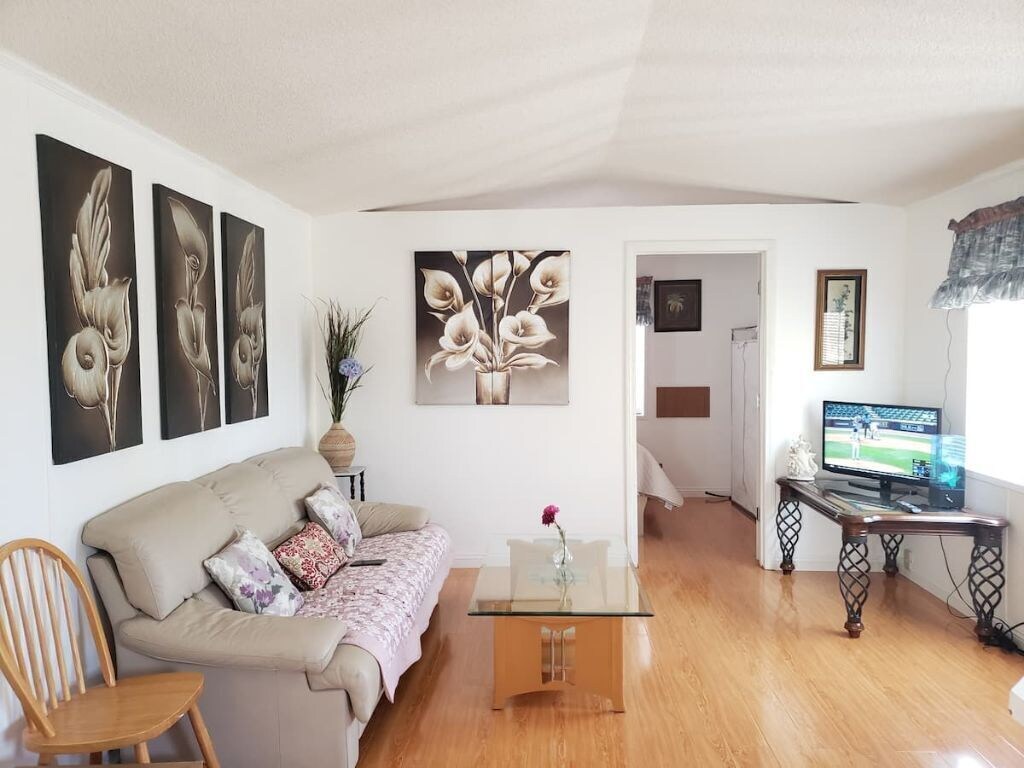 The house is within a 5-minute drive from local convenience stores and gas stations while being only 7 miles from downtown and adjacent to Death Valley and Red Rock Canyon National Parks.
Bring your guests and family to the recently remodeled two-bedroom, one-bathroom little house on a fully fenced one-acre lot. This home is completely equipped to provide you with an "at home" feeling. A full kitchen with an electric range and oven, microwaves, and a refrigerator is available. For stargazing and enjoying the lovely night sky, a large patio table and seating are provided outside.
Except for the storage units, everything on the property can be accessed. Your sedans will also be protected by a covered carport. If you bring more guests to stay the night without first getting permission from the host, you will be charged an additional fee.
Mt Whitney View Home!
Lone Pine Film History Museum and Southern Inyo Healthcare District are both within 2 miles of this Lone Pine vacation home. Within 3 miles are the Eastern Sierra Interagency Visitor Center and Mt. Whitney Golf Club.
Barbecue grills are available at this vacation home. A well-equipped kitchen with a refrigerator, stovetop, microwave, and kitchen island is included in the property. A Smart TV, a coffee/tea maker, and a hairdryer are among the other amenities.
Pahrump Camper/RV2 Death Valley Glamping
The location is a 31-foot fifth-wheel camper in the backyard. The beautiful backyard refuge has a cozy trailer tucked away and has a fenced-in yard of one acre.
In the highlands, they get the most gorgeous sunrises and sunsets, and their yard is surrounded by fruit trees.
This RV features a new residential split-type air conditioning/heat pump unit that keeps it cool in the summer and warm in the winter. This listing property has a double-wide mobile home in the front and two RVs (camper trailers) in the back on a 1.25-acre lot.
This apartment's air-conditioned rooms include coffee/tea makers and hair dryers. Sofa beds and dining tables are also provided in the rooms while refrigerators, stovetops, microwaves, and cookware/dishes/utensils are all available in kitchens or kitchenettes.
You can also enjoy a glass of wine on the front and back patios while watching the sunset. They have code key entries for your convenience! You don't have to be concerned about arriving late because the codes will be texted to you.
Preferred RV Resort
Preferred RV Resort is 31 kilometers from Mount Charleston and offers full hookup RV parking spots. An indoor and outdoor pool are among the shared amenities on the property grounds.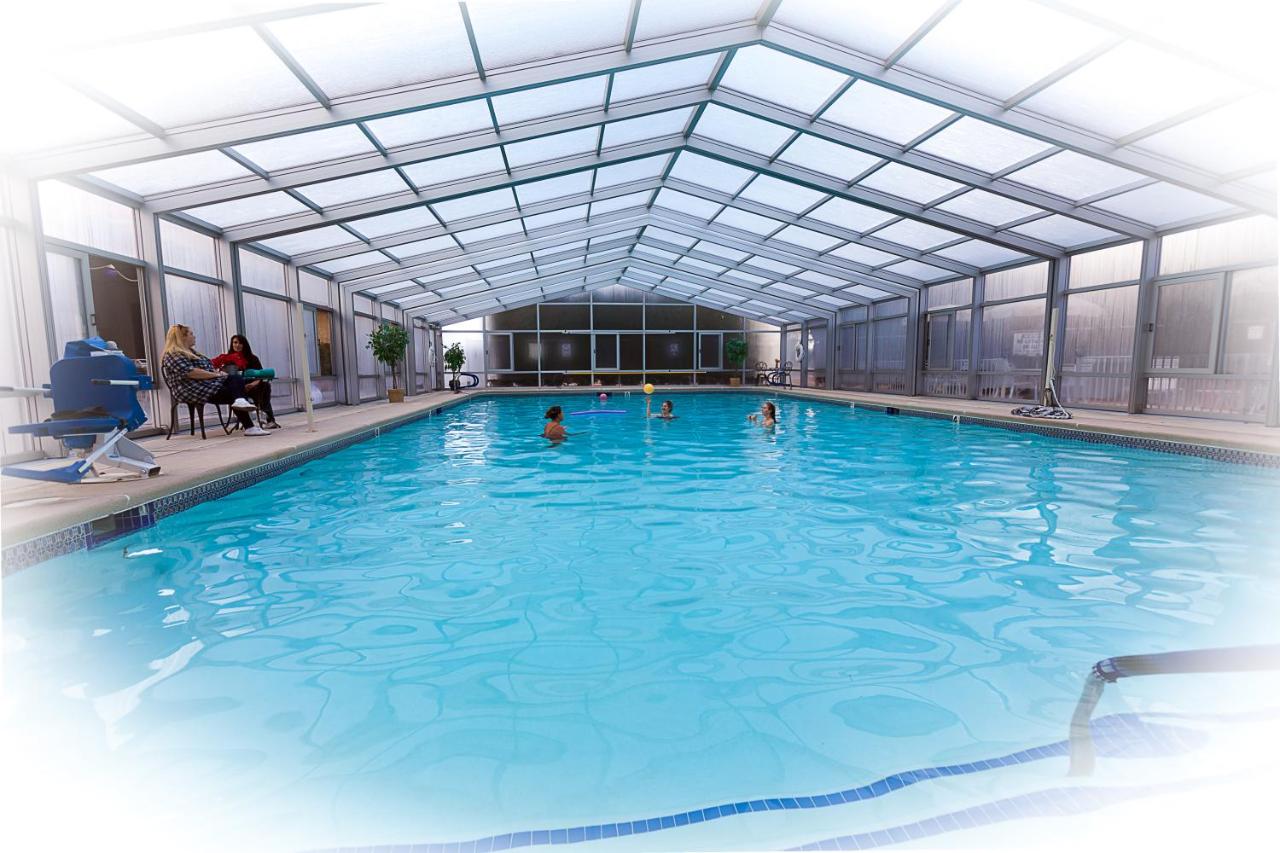 There is also free WiFi access.
This establishment rents RV caravan parking spots with full connections. To power an RV, each has 30 or 50-watt amps available. In addition, mountain views are featured.
At Preferred RV Resort, guests have access to grilling amenities. Guests are treated to a communal lounge with a TV and a games room with a billiards table. Snacks and cold beverages are provided by vending machines.
The property is 40 kilometers from Death Valley Junction while McCarran International Airport is 76 kilometers away.
Best Western Pahrump Oasis
The Best Western Pahrump Oasis is an hour's drive from Death Valley. A complimentary breakfast is served daily, and all rooms have cable television.
Each of the hotel's guest rooms has a coffee maker and a small refrigerator, and the suites include a separate seating space.
This pet-friendly property in the heart of town offers two outdoor swimming pools, a hot tub, and a full-service business center. The Best Western Pahrump Oasis serves a daily breakfast that includes cereal, fruit, and eggs, among other things.
Further, the hotel is about a 10-minute drive from Spring Mountain Raceway. Tecopa Hot Springs is around 45 minutes distant by vehicle.
K7 Bed and Breakfast
K7 Bed and Breakfast is located in Pahrump and features a restaurant and bar. Each guest room comes with free WiFi and a private bathroom. The bed and breakfast has a remote and country feel about it.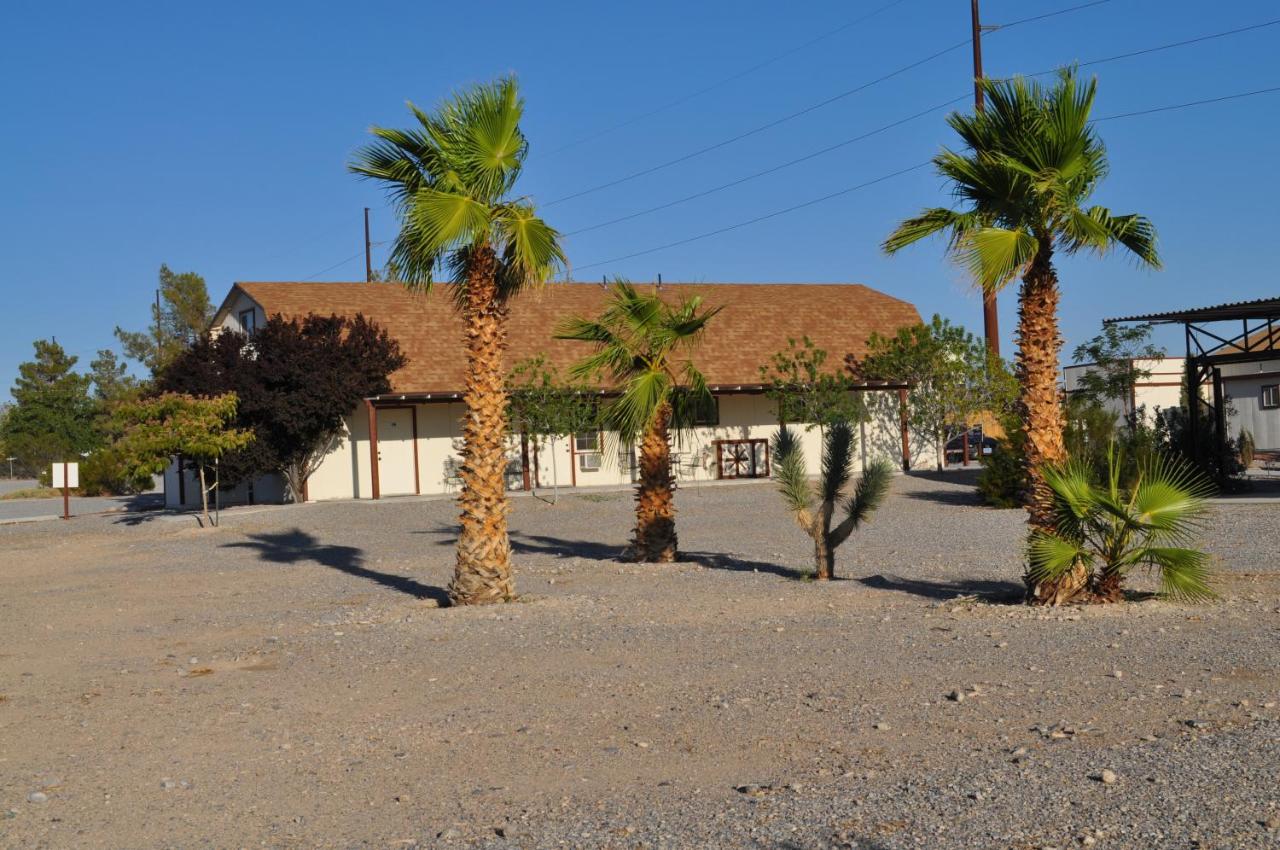 Each air-conditioned room at this B&B has a flat-screen antenna TV. The dining space features a refrigerator, as well as a coffee maker, and a dining table. Private bathrooms provide a shower as well as towels.
K7 offers a continental breakfast consisting of cereal, milk, juice, fruit, and a muffin to its guests. This will be served in the breakfast box in each room.
Within 11 kilometers are the Pahrump Nugget and Mountain View Casino. The Spring Mountain Race Track is about 4.8 kilometers distant. Parking is also available for free at the premises.
Casita
Casita is a property located in Pahrump, Nevada, that offers free WiFi and free private parking.
The units come with a patio, air conditioning, a flat-screen TV, and a private bathroom with a shower and a hairdryer. In some of the units, there is also a kitchen with an oven, a burner, and a toaster.
Further, the holiday home's restaurant specializes in American food
Casita is 37 kilometers from Shoshone and 43 kilometers from Tecopa. The nearest airport is McCarran International Airport, which is located 87 kilometers from the hotel.
Black Rock Cabin – Your Death Valley Base Camp in the Shoshone Eco Village
This stunning contemporary residence is within a mile from Death Valley National Park's south entrance. It has just been refurbished to accommodate a group of six people.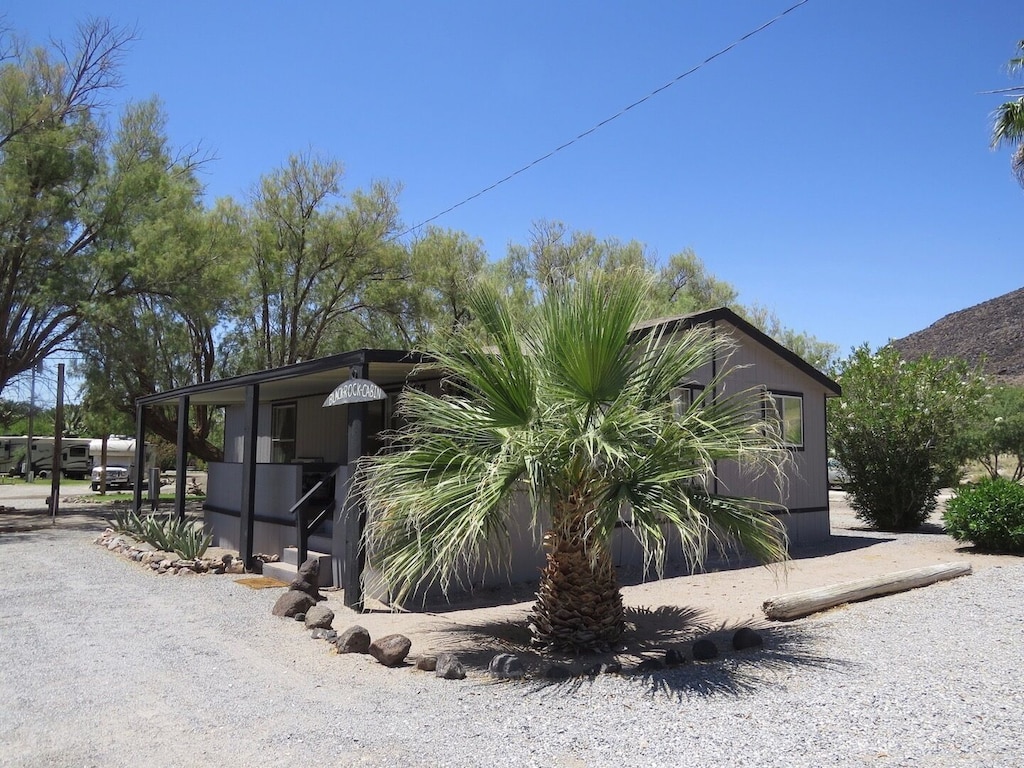 It has a double bed in the bedroom and a big area with two further double beds in a semi-private space. This home is in a lovely RV park and campground where friends and family may camp nearby. This property is also set in a lush desert oasis with a warm spring pool, surrounded by lovely natural surroundings.
A short trail leads across the RV park campground to viewing ponds for the Shoshone Pupfish, which was formerly thought to be extinct. The endangered Amargosa Vole is surrounded by freshly built habitat around these pools. They also have a 3 mile circle of stunning desert landscapes and various trails for observing birds in the Shoshone Wetlands, which is just in the backyard.
Shoshone Village has a gas station, a gift shop, a small store, and a restaurant. The Shoshone Museum features exhibits on local history and lore, as well as geology and natural history from the region.
This property is in a remote area, about a half-hour drive from a grocery store. Although the little general store has a few groceries and ready-to-eat food items if you plan to cook, do your shopping ahead of time to ensure you have all you need.
Panamint Springs Motel & Tents
Panamint Springs Motel & Tents features a restaurant, bar, and terrace in Panamint Springs. Family rooms are available at the motel.
Every morning, the motel offers continental and à la carte breakfast options. Guests can also participate in activities such as hiking in and around Panamint Springs.
The nearest town is Olancha, which is 25 miles away.
Recent Posts