15 Incredible Airbnbs near Moab, Utah
Moab Airbnb: There are so many incredible airbnbs in Moab, Utah it can be hard to decide where to stay. That's why I have put together this list of the best Moab Airbnbs to help you find the right one for you!
Moab is the best city to stay in if you are visiting Arches or Canyonlands. It's also the adventure capital of Southern Utah so there is plenty to see and do there.
There is a good selection of air b and b Moab Utah included in this list for all budgets!
Thank you for supporting this website written by an American. This post may contain affiliate links. This means I earn a small commission on these links at no extra cost to you.
National Park Entrance Fees
To enter the National Parks, you'll need to pay an entrance fee or have a National Parks Pass also known as American the Beautiful Pass.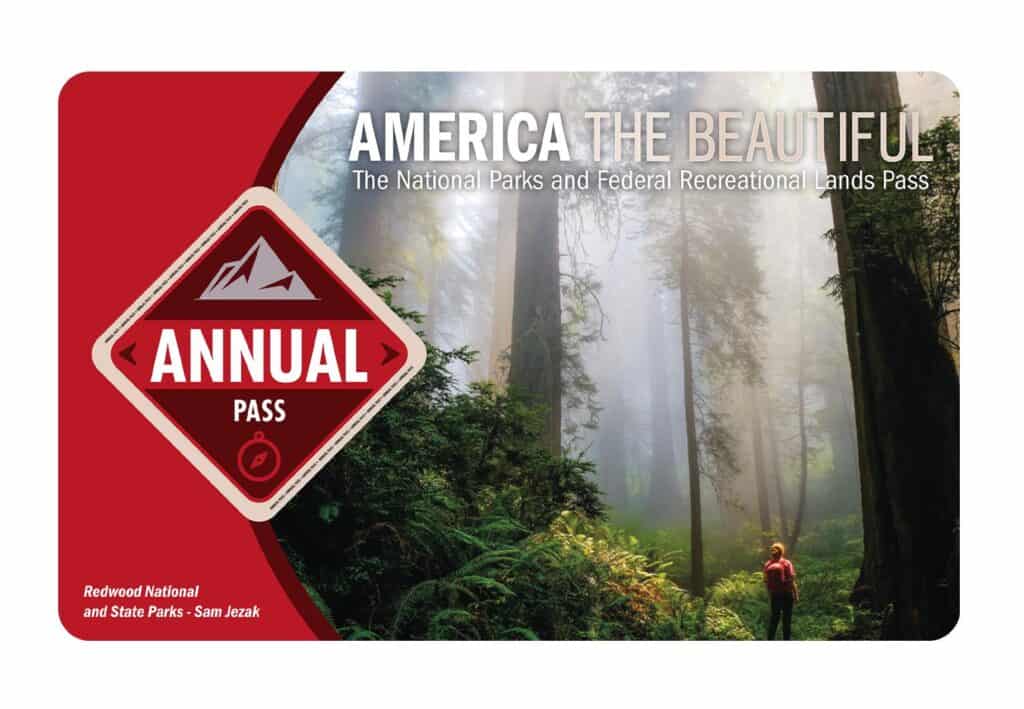 It costs $80 for a yearly America the Beautiful Pass. This gives you access to all national parks and federal areas that charge fees. The America the Beautiful Pass is well worth it!
I purchased my first one in 2016 and it's such a money-saver! Plus 10% of sale proceeds go to the National Park Foundation.
Tips for Visiting Grand Teton National Park
Grand Canyon National Park is perfect for outdoor enthusiasts. There is something for everyone on this list and for different fitness levels. Also, note that it is dry and hot (in the summer), and make sure you know what you are getting into before you start. Here are a few tips for visiting the Grand Canyon:
Bring a reusable water bottle and lots of water! Remember you are in the sun and you will need to drink lots of water. I love my LifeStraw Filtered Water Bottle. I can refill this bottle anywhere and it comes with a carabiner to connect it to my daypack.
Check the Weather – days over 100 degrees are very common. Make sure to check.
Hiking boots or sandals that will protect your feet! I love good shoes. I need all the support and help I can get. I actually love these sandals for hiking and also love these hiking boots.
Bring hiking poles for balance and to protect your knees. I know many experienced hikers (and even amateur ones) think that hiking poles are for old people who lose their balance. Actually, hiking poles can help when going down steep inclines or when scrambling over rocks. They are great to hike with even for the most experienced hiker.
Wear a sunhat. I feel like this whole post is about how high you are in the mountains and how much closer you are to the sun but it is so true. At elevation, you are closer to the sun and more likely to burn. Wear sun protection such as a sun hat and sunscreen.
Be aware of the wildlife. This is the Southwest and you will need to watch out for snakes and other wildlife such as moose or a bear. Please stay away from wildlife and do not feed them. I recommend carrying bear spray as well.
Start Early – If you want to avoid the traffic and the heat you will need to start your hike early. That way it will be nice and cool and the smog will not affect you either.
Leave no trace. If you are new to the concept of Leave No Trace it is all about preserving the environment to ensure it is in the same or better condition when you leave it. This means that you should stick to the trails and carry out everything that you carried in. This is a great explanation of the Leave No Trace principles!
Water shoes are great for water hikes– If you don't have a pair, I highly suggest it as they are affordable. I have an article on the pros and cons of several pairs of water shoes.
Bring Bug Spray and a snack: Be sure to bring everything you need including a snack like a protein bar plus BUG SPRAY.
Where to stay near Grand Canyon National Park
The Grand Canyon makes for a great weekend escape. Fresh air, beautiful scenery and being in nature does a world of good for the soul. I recommend staying as close to the park as possible and even treating yourself with a cabin with a spa pool to relax at night.
If you are taking a road trip remember to reserve a car in advance using Discover Cars .
15 Perfect Airbnb Moab, Utah – perfect for adventure!
Moab Digs Contemporary Rustic Apartment
Looking for the ideal vacation destination for you and your partner or best friend. This rustic apartment in Moab, Utah, about 20 kilometers from the airport and in a peaceful neighborhood, will pique your interest. The trendy home includes a lovely bedroom with all of the kitchen necessities, as well as a nice backyard BBQ grill.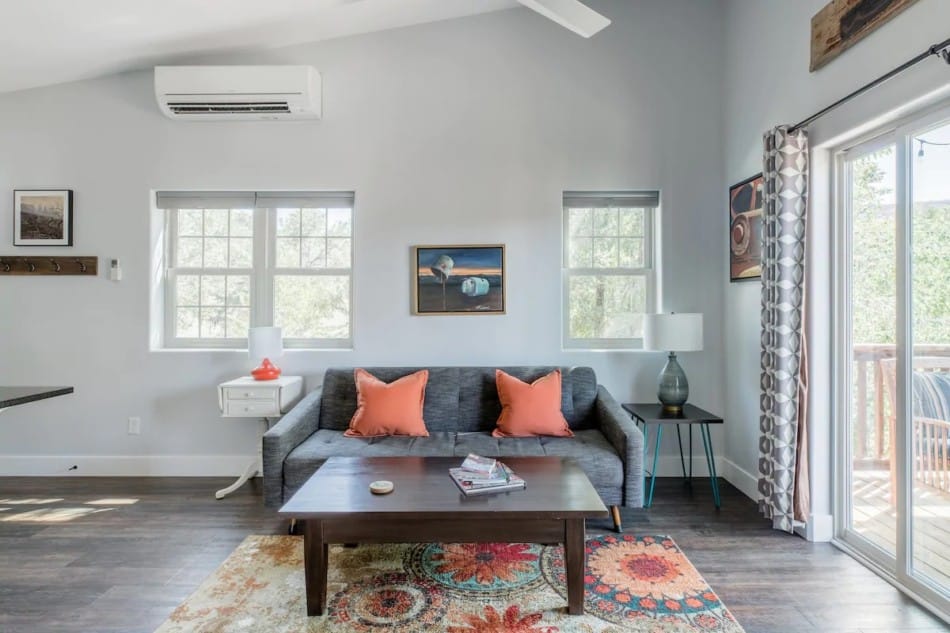 Moab Digs is a very clean, well-equipped apartment that is close to several restaurants, shops, and parks in the region. It's a lovely apartment with an industrial-chic style that reveals how much attention and care the host has put into it.
Copper colors, wooden textures, and some local art pieces can all be seen in the apartment's decor. It includes a beautiful patio with seating places outside where you can grill some BBQ at night or simply relax and drink coffee.
Moab Digs' hosts are courteous and attentive, and they go above and beyond to make their guests feel at ease. They're also known for being extremely responsive and prompt in responding to any questions or concerns that guests may have.
Sound Interesting? Check Availability and Read Reviews
Cottonwoods
Within one mile of downtown Moab, Cottonwoods is located at the end of a very small and secluded area. The suite has a private entrance for guests. A private wood deck space, a private bathroom, a kitchenette, a living area, and a bed are all included. The sofa in the living area, as well as the matching chair, may be converted into a futon bed.
What makes this location unique is the presence of trees in the yard from which you may pick fresh grapes from vines along the fence. You can also play with their dog Tank, but don't allow him outside of the gate.
This brand new one-bedroom Moab guest suite is exquisitely presented and one of the most popular Airbnbs in the Utah town. The pristine apartment has its private entrance, living room, bathroom, kitchenette, and porch. Just a few minutes walk from Main Street, in a friendly residential neighborhood. This is the best starting point for your own Moab adventures.
Sound Interesting? Check Availability and Read Reviews
Brand New One-Bedroom Condo
This brand new one-bedroom, one-bathroom apartment is ideal for couples, friends, and outdoor enthusiasts. In the master bedroom, there is a Queen-size bed.
It has wide windows that allow natural light to come in, allowing you to bask in the sun throughout the day. You can also prepare meals in the fully equipped kitchen.
Food can be stored and prepared in a tiny kitchenette. With their HDTVs, you can kick, relax and appreciate a movie night.
And, given the fact that the unit is small and only beds, four people, it is incredibly clean, cozy, and stylish. Furthermore, it is located directly off Main Street, making it very convenient to visit the town for meals or shopping.
Sound Interesting? Check Availability and Read Reviews
The Moab Sweet Suite – Airbnb Arches National Park
The Moab Sweet is a small yet delightful one-bedroom suite approximately 4 miles south of Moab, Utah. Arches National Park and Canyonlands National Park are very close to town if you want to explore these places. This is sufficient for two persons at a very low cost per night of stay.
A double bed, private ensuite bath, private entrance, refrigerator, microwave, coffee maker, and wifi are all included in the Sweet Suite.
On-site trailer parking is available, as well as plenty of space for off-road vehicles, ATVs, and other recreational vehicles. Horse boarding is also offered, but it must be scheduled ahead of time.
Various amenities, a hairdryer, some kitchen supplies (napkins, salt & pepper, wine opener, can opener, paper plates/bowls and cutlery, etc.), additional pillows, an alarm clock, pool towels, a cooler, and a huge closet & dresser are among the many extras the suite has to offer.
Sound Interesting? Check Availability and Read Reviews
Cheerful Desert Retreat
Enjoy the comforts of home after a day of adventure and a beverage beneath the stars on the private master patio, just minutes from downtown Moab, here in Cheerful Desert Retreat.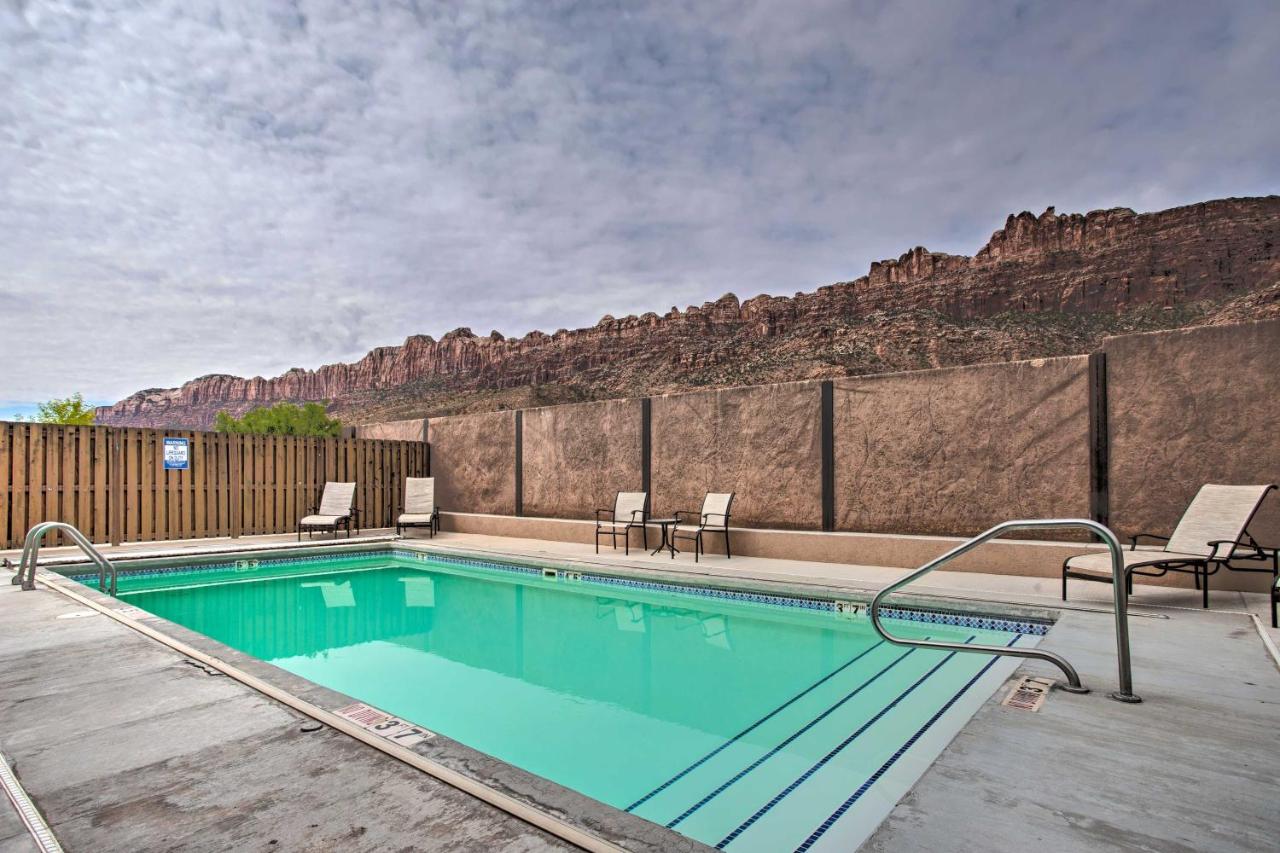 The house has a stunning and unique design, with three bedrooms and four beds that can sleep up to six people. The kitchen, on the other hand, is fully stocked with everything you'll need to prepare a meal. Plus, if you want to splurge on some delicious food, it's close to a few restaurants in Moab. entry and garage plus private trailer parking to safely park toys.
The hot tub is currently open from 10:00 am – 9:00 pm. As of October 16, the hot tub hours will change to 1:00 pm – 9:00 pm. The hot tub may be closed from December 31 to February 15 weather dependent.
The property also offers a reserved garage for parking your vehicles, as well as a private master terrace where you may drink cocktails while gazing at the sky at night.
Sound Interesting? Check Availability and Read Reviews
Three Bedroom Condo
This three-bedroom condo features 3 private bedrooms with 2.5 bathrooms good for 6 guests. Your RV can be parked in two private garages and a large driveway.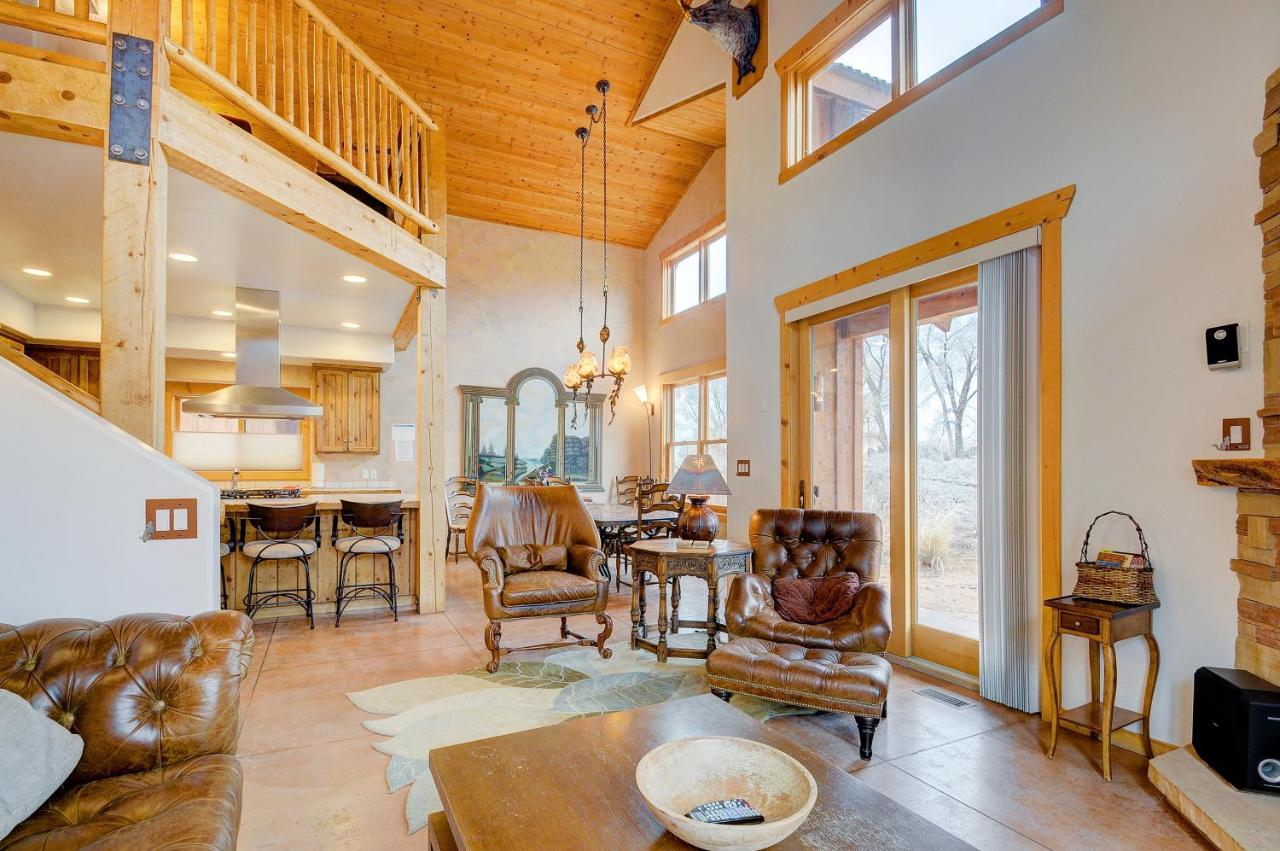 There are also brand new appliances such as a gas stove, Blendtec blender, washer and dryer, high-speed internet, a BBQ gas grill, air conditioning, a seasonal pool, and a hot tub.
If solitude is important to you while choosing a place to stay in Moab, this three-bedroom condo is best for you.
Sound Interesting? Check Availability and Read Reviews
Arches Abode Guesthouse
The red sandstone desert of Moab serves as a stunning backdrop. From your private, large patio, enjoy spectacular views of the Moab Rim and the La Sal Mountains. While grilling on the provided gas grill or relaxing on the patio furniture, take in the vistas. This three-bedroom condominium is the ideal luxurious getaway from the stresses of everyday life.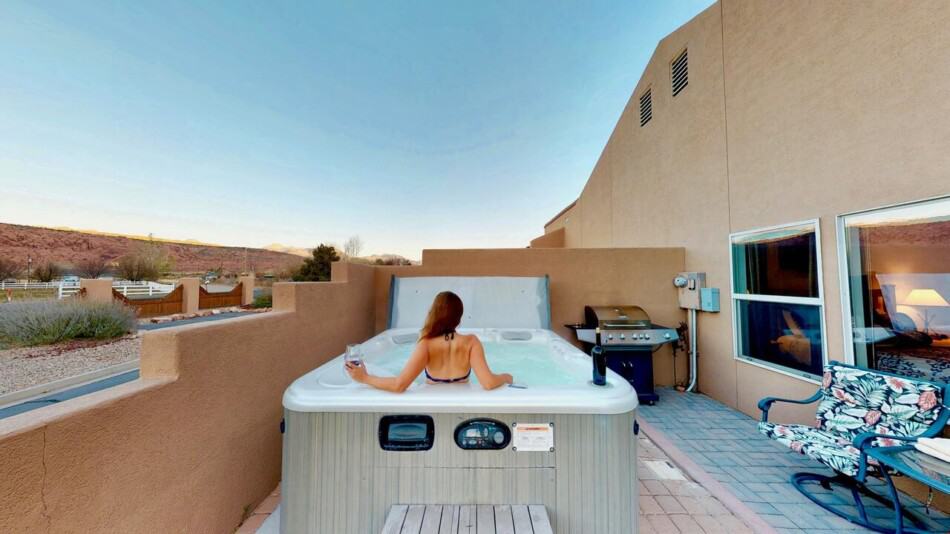 The vacation home has three bedrooms, a cable TV, a fully equipped kitchen with a dishwasher and a microwave, a washing machine, and two bathrooms, one of which has a hot tub.
This comfortable home has 6 comfy beds, a covered deck for stargazing and wildlife viewing, and a powerful air conditioner to keep you cool on hot summer days.
This unit does not allow pets. Please inquire about Moab Lodging Vacation Rentals' large range of pet-friendly options if you plan on bringing a pet with you.
Canyonlands National Park is only 2.9 kilometers away, and Arches Abode offers a free parking lot and tennis court. White Rim Trail is within a 1-minute drive from the property.
Moab's center is only 9 kilometers away. This location is just also a short distance from the Old Spanish Trail Arena.
Sound Interesting? Check Availability and Read Reviews
Ranch House Bungalow at Moab Springs Ranch
The Ranch House Bungalows are beautiful, big, quiet, and comfortable. Bungalows are studio-style layouts that range in size from 430 to 540 square feet. A big covered front porch and private, dedicated parking are included in all Bungalows. This is also the only unit at the Moab Springs Ranch that allows dogs.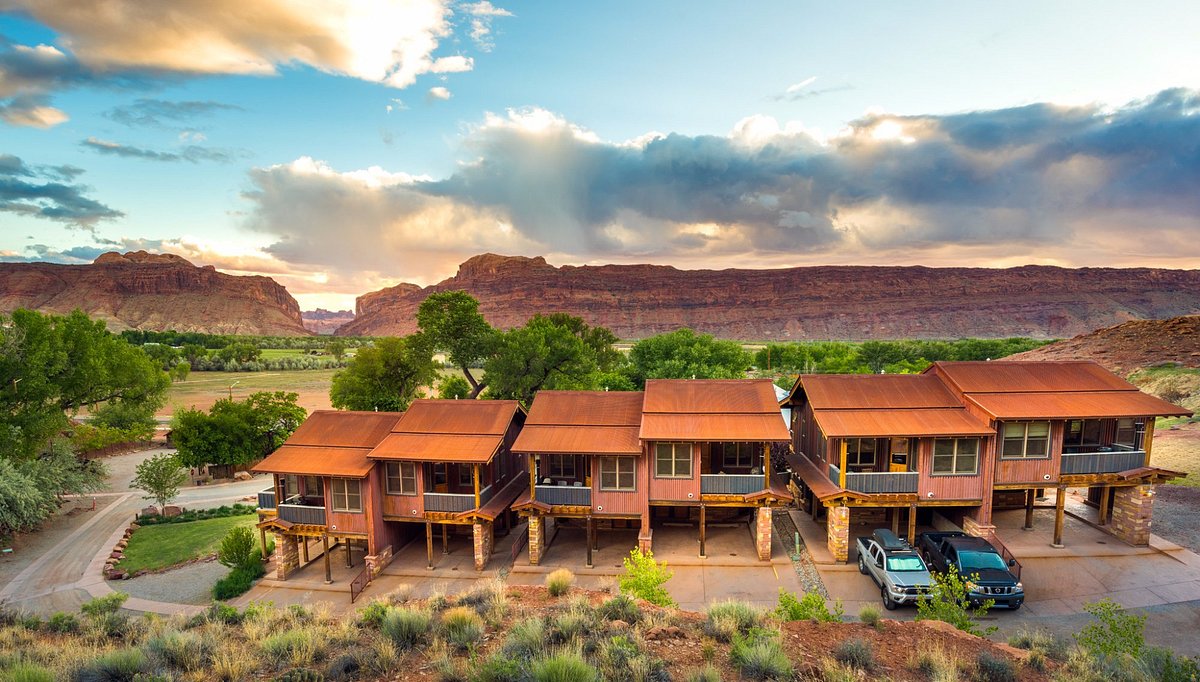 The Ranch House Bungalows have one king bed and one queen murphy bed, which can accommodate up to four people. These new Ranch House Bungalows come equipped with a kitchenette that includes a microwave, mini-fridge, sink, cooking utensils, dishes, and cutlery. An enormous walk-in shower with twin showerheads is featured in the bathroom (no tub).
Smart televisions with cable, wireless internet, and individual climate control are available in the Ranch House Bungalows. A sitting area, as well as a table and chairs, are available. There is a covered front porch with outdoor dining set outside the Ranch House Bungalows for you to sit and relax in the fresh air of Moab.
Each Ranch House Bungalow has its own dedicated parking space.
This bungalow is ideal for a family of four, and you have the choice of selecting from the ranch's different bungalow options.
Sound Interesting? Check Availability and Read Reviews
Townhouse with Amazing Desert Sky Views
From the coziness of this lovely home in Moab, take in the full experience of the desert sky. This Airbnb is ideal for a group of friends or family looking for a vacation house with spectacular mountain views. The interior of the home is rustic, yet it is fully equipped with utilities. Once you get home after a hard day of trekking or off-roading, the fireplace is sure to brighten the mood in the lounge area.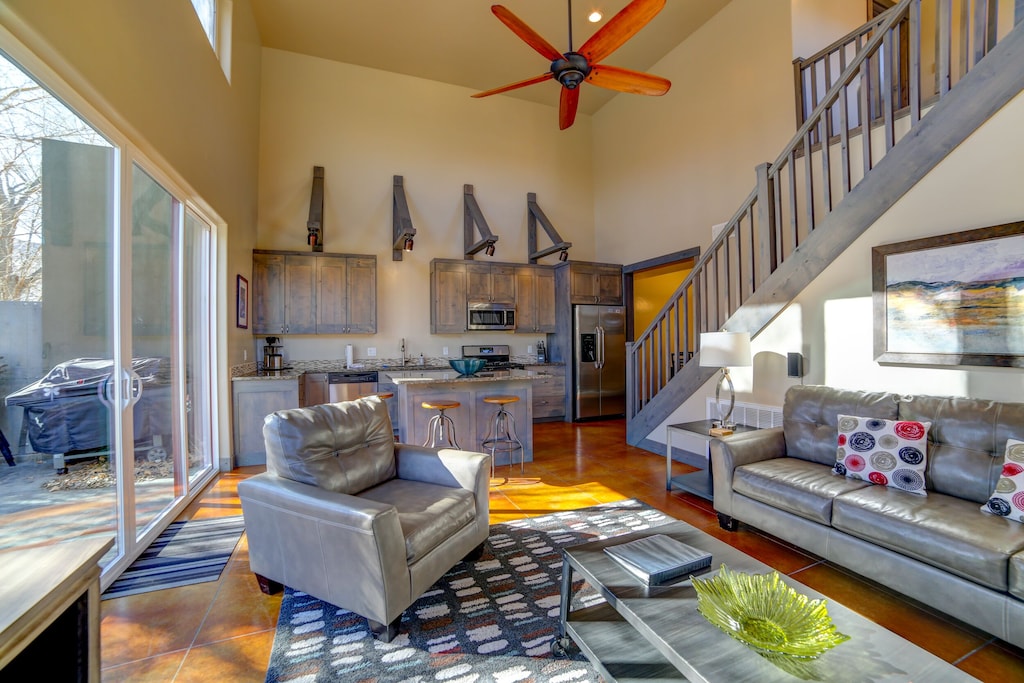 The views from this magnificent corner unit in Rim Vista Village are breathtaking. Hiking, rock climbing, off-road vehicle adventures, mountain biking, golf, and white water rafting are all popular activities in the Moab recreational region and are only 5 miles from town and adjacent to the national parks of Arches and Canyonlands. The four-season Moab area has something for everyone.
The entire townhouse can accommodate 8 visitors, making it a suitable option for lodging in more expensive hotels. Inside, there are three bedrooms with four beds, as well as a patio that is ideal for outdoor grilling and dining while admiring the spectacular desert sky.
Bike stands and helmet storage hooks are available for your use. For the kids, they have plenty of pool toys. Everyone is also given a large, fluffy pool towel. There is plenty of on-street parking for your trailers.
The garage has maps of Moab, Arches, and Canyonlands to assist you in planning your hike or driving activities. You can bring your picnic materials in a cooler with you on your adventure.
Sound Interesting? Check Availability and Read Reviews
Camper/RV in Moab
This place contains a queen-sized bed with an additional 4" mattress topper, as well as double-over-double bunk beds that can sleep 3-4 people. It also comes with everything you'll need for a comfortable stay, including pots, pans, utensils, plates, a refrigerator, a full bathroom, and more.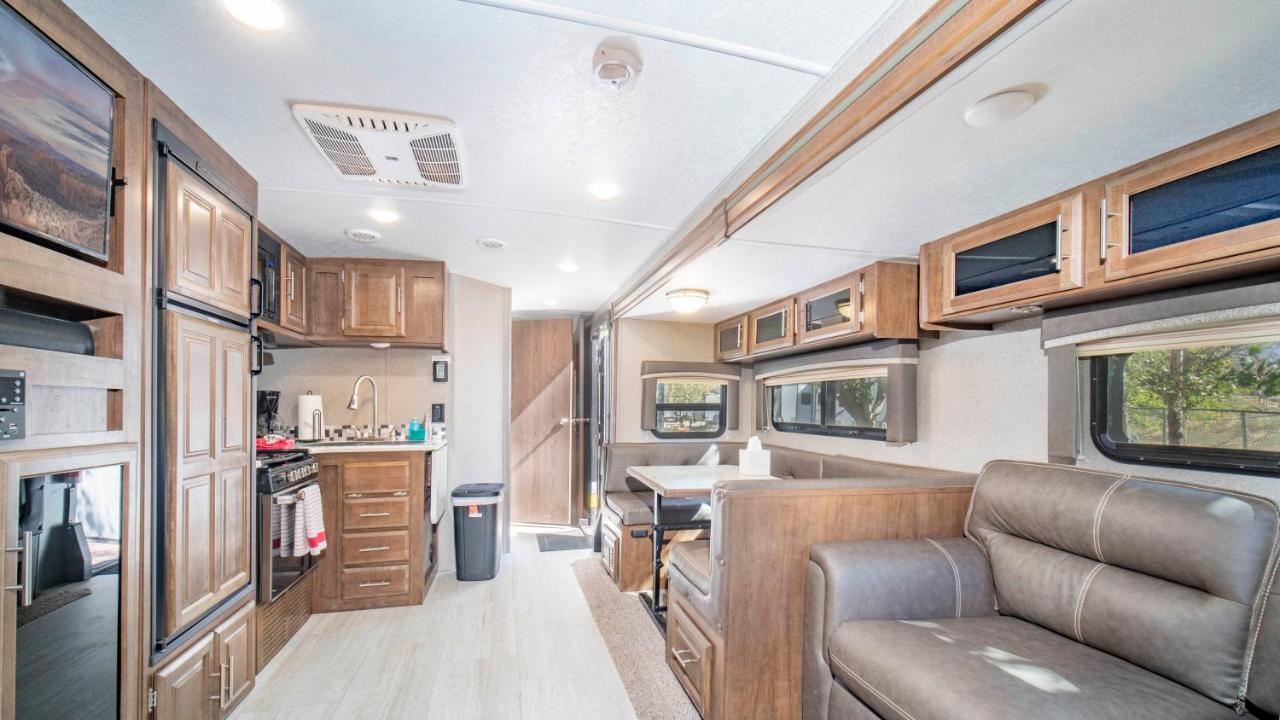 The sunset views in this region are also beautiful, and the host is easy to connect with. They can even provide you with local recommendations. You'll want to remain here indefinitely because it's such a wonderful spot.
If you want to explore Moab without having to stay in a hotel, you can stay in this off-grid camper, which comes equipped with everything you'll need for a fantastic camping trip.
Sound Interesting? Check Availability and Read Reviews
OK RV Park Glamping Tipi
The park is roughly 5 miles from downtown Moab and only a short drive from Arches and Canyonlands National Parks. The park offers spectacular views of the Mountains. The park is well-kept and pristine. During your stay, you will have access to the park's community bathrooms and laundry area.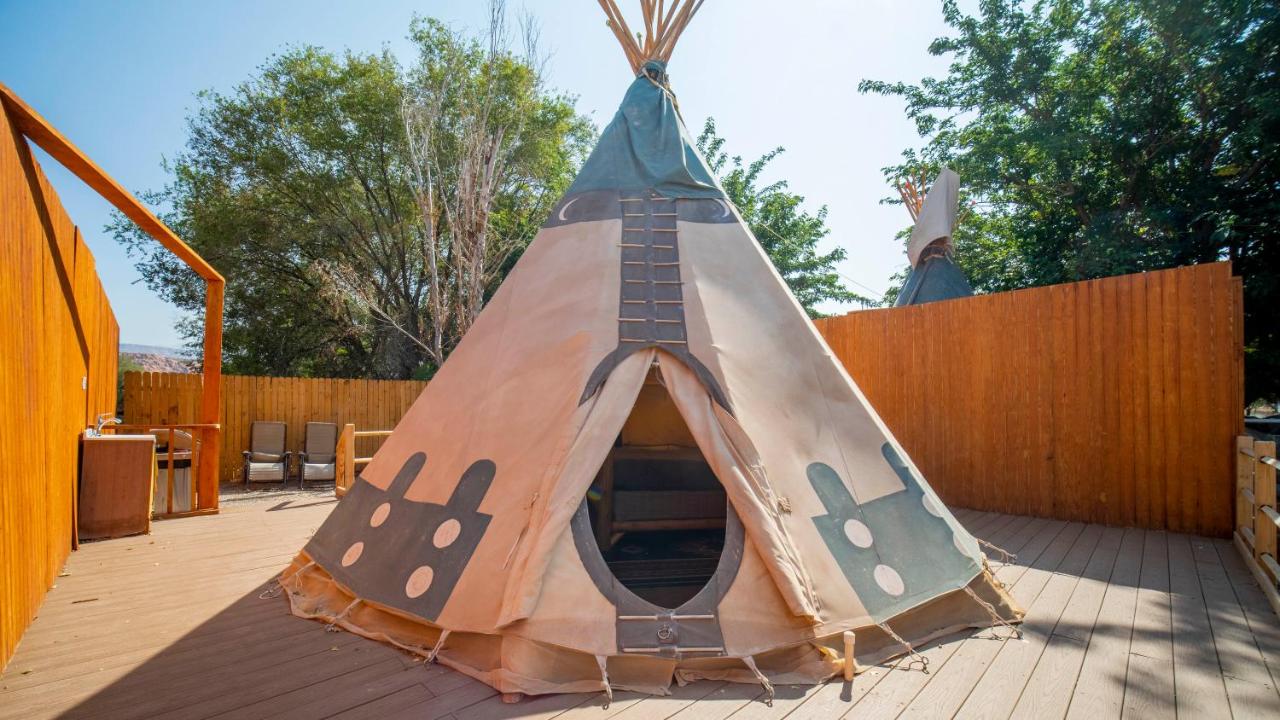 A private RV and tent camping location conveniently located near popular parks and recreation places.
OK RV Park includes both standard RV spots and "Glamping Options," which include luxurious RVs that have been pre-setup (in case you want to test RV camping without the stress of driving your own!).
A personal outdoor sink, gas grill, fire pit, and picnic table are set up outside your rental in a private fenced-in yard for the optimal camping experience!
There are 36 full hookup sites available, each with 20/30/50 amp service. There are also washing facilities, showers, bathrooms, and fire rings available.
You can control the temperature with the help of a space heater and an air conditioner. In addition, your automobile has an allotted parking area just outside your tipi. This is an excellent option if you're seeking a really safe and private glamping experience.
Sound Interesting? Check Availability and Read Reviews
Modern Downtown Moab Home
The modern twin townhome is located two blocks off Main Street in a peaceful neighborhood in the heart of Moab. With windows facing east and south, the living space has vaulted ceilings and is light and bright.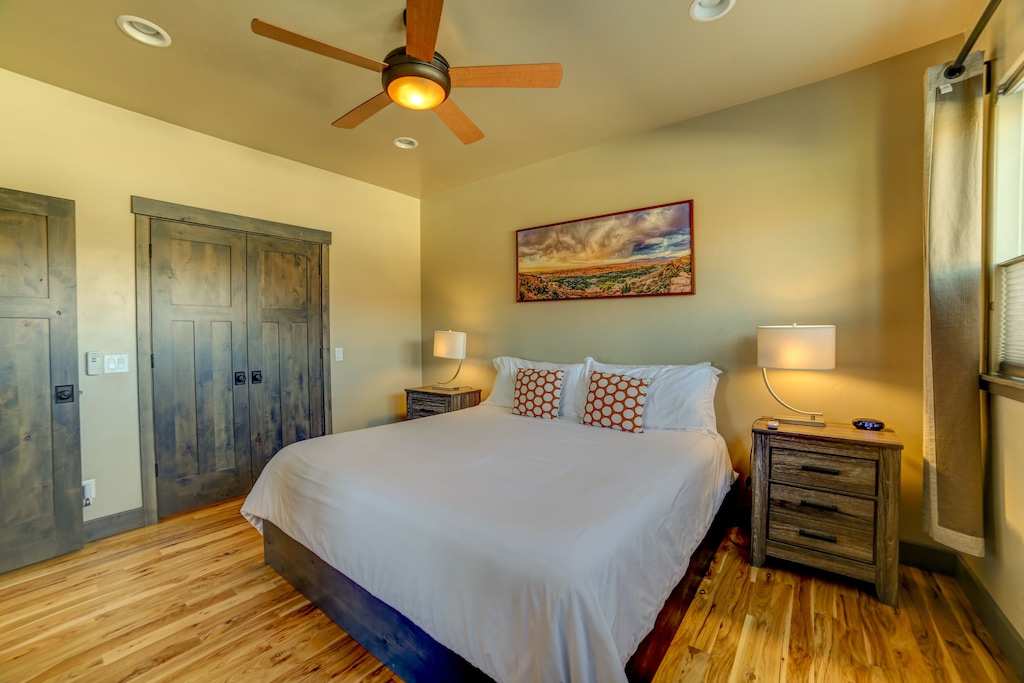 Cleaning and disinfecting services are provided free of charge, as well as dual-band WiFi. A great bike shop (with a daily shuttle to key trails) is two doors down, and Moab's greatest Thai restaurant is one street away. For a fee, you can use the carport's 50 amp electric vehicle charger.
This modern home will easily accommodate a family of five, and it is in an ideal location, close to everything.
It has three bedrooms, each with three beds, as well as a fully equipped stainless steel kitchen with cookware, dishes, and utensils to prepare delectable meals for the entire family. There are lots of rooms inside, as well as a relaxing and secluded patio area where you can grill some BBQs and dine al fresco while watching the lovely cottonwood trees along the back fence.
A huge lockable bike/gear storage shed was included in the two-car garage. You'll find chairs nearby where you may put on your gear and clean up the dust from your adventures in the desert.
Sound Interesting? Check Availability and Read Reviews
Red Moon Lodge
Red Moon Lodge is a one-of-a-kind bed & breakfast dedicated to Mindfulness and Change. The resort is just under five miles from Moab's city center, tucked amongst the red rocks of the Moab Valley. Those seeking a healing environment will find a haven here.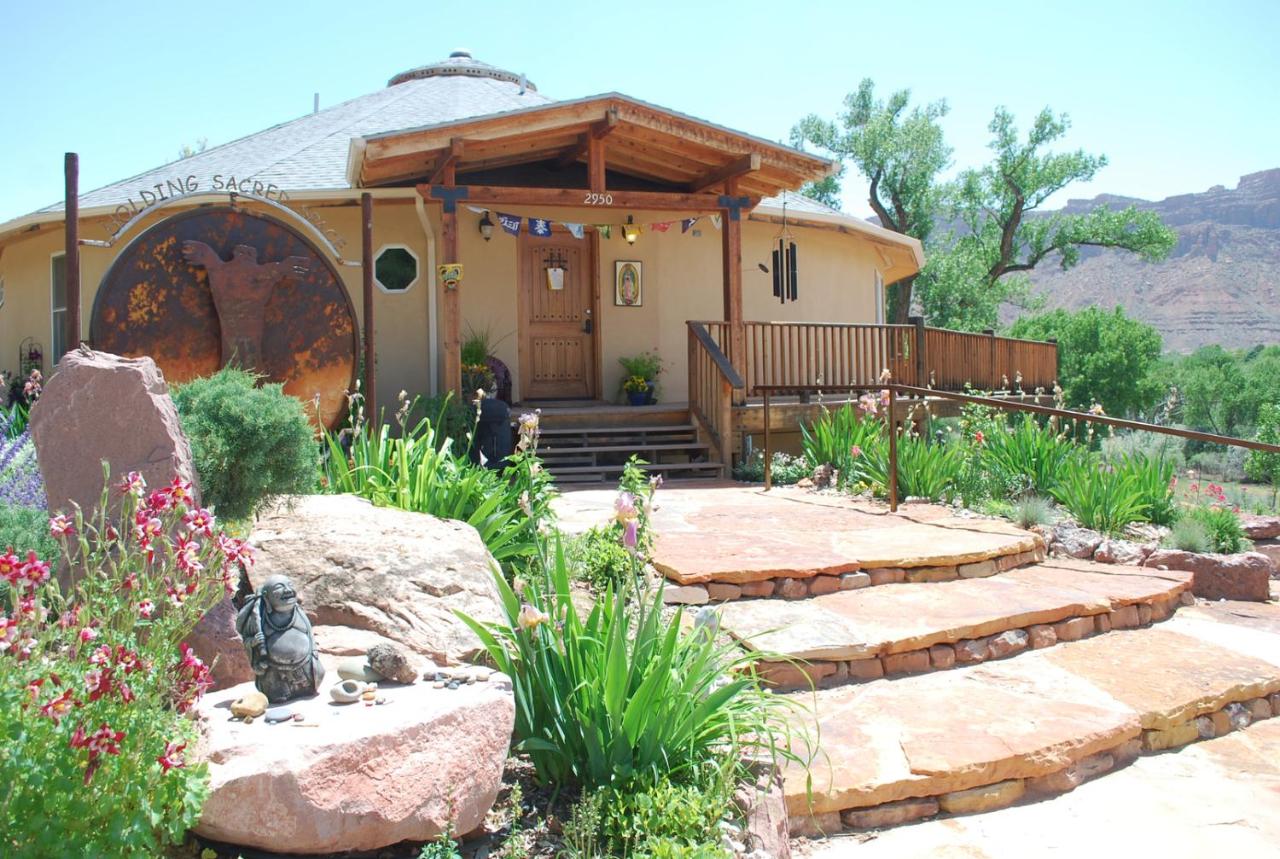 It is located 29 kilometers from Mesa Arch and features a garden as well as air-conditioned accommodations with a patio and complimentary WiFi.
This is a one-of-a-kind retreat ideal for anyone looking for a relaxing and rejuvenating holiday in Moab. The host is a firm believer in organic practices, which can be seen throughout the property's rooms and grounds. Each room is beautifully designed and equipped with a heater and air conditioner.
Each unit has a private bathroom with a shower and a hairdryer, as well as complimentary toiletries.
A sun terrace is available for guests at the bed and breakfast to use.
Around the area, there are gardens, green homes, trees, patios, and flowers that provide a peaceful and scenic environment. This is an excellent choice for couples looking for a romantic and calm getaway in Moab at an affordable cost.
Red Moon Lodge is 31 kilometers from La Sal Mountain Loop and 32 kilometers from Landscape Arch. Canyonlands Field Airport, 33 kilometers away, is the closest airport.
Sound Interesting? Check Availability and Read Reviews
Entire Bungalow with year-round hot tub!
It was in an excellent location. It was quiet but close enough to explore the National Parks and restaurants because it was just outside of the main city. The condo was also spotless and well-designed.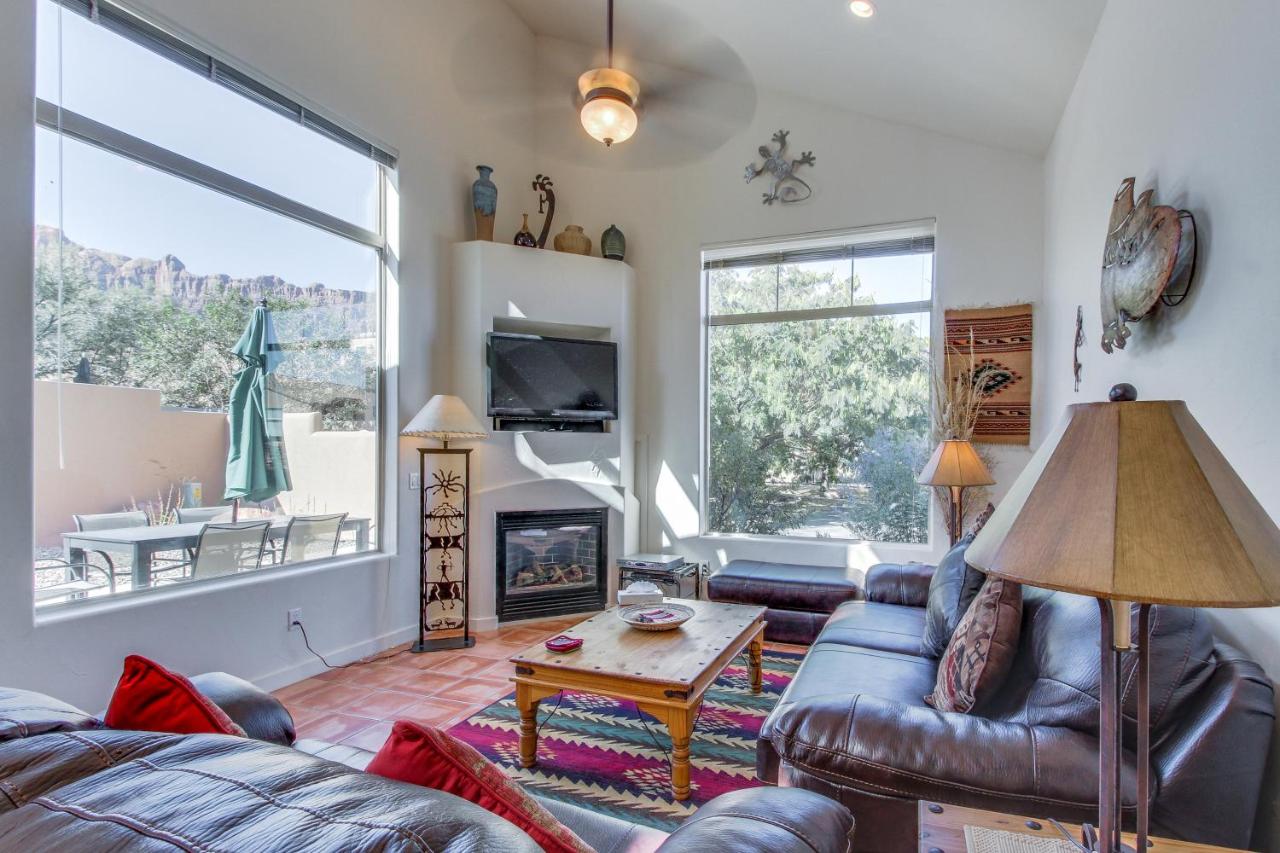 Fantastic location just outside town.  The house, like the area, was stunning. The home was clean and big, the kitchen was well-equipped, the mattresses were extremely comfy, and the shower was fantastic! The outdoor sitting area was also beautiful!
Sound Interesting? Check Availability and Read Reviews
FunStays Glamping Setup Tent in RV Park
FunStays Glamping Tiny House Double Loft Site 6 is located in Moab, 23 kilometers from La Sal Mountain Loop and 29 kilometers from Wilson Arch. It features free WiFi and a TV. Delicate Arch is 39 kilometers away, and North Window is 39 kilometers away.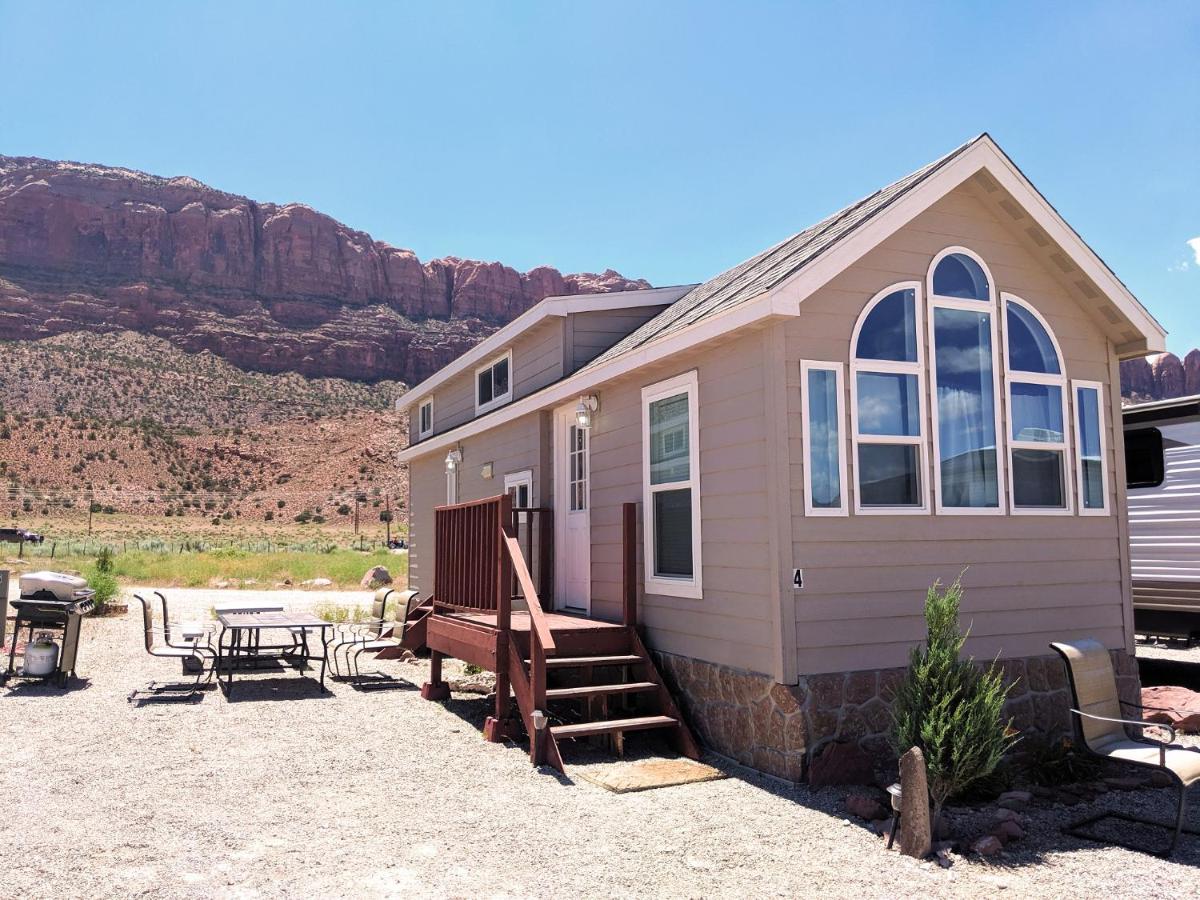 The air-conditioned accommodation is equipped with a kitchen.
Enjoy a fun and relaxing night's sleep in one of Moab's top glamping spots. This tent is quite comfortable and well-kept, with features such as an outside dining table, swing chair, and grommets.
To ensure a hassle-free glamping experience, all linens, blankets, and shampoos are provided. The bathroom is shared by all guests, but the host keeps it clean. The tent is quite small, with just two people able to fit inside. Plus, if you're visiting Arches National Park, this is a great place to stay.
Sound Interesting? Check Availability and Read Reviews
Recent Posts