45+ National Park Gifts: Best Gifts for National Park Lovers
National Parks Gift Ideas: Are you looking for gifts for National Park Enthusiasts? You will love these National Park gift ideas and find the best gifts for national park lovers.
Board games, activity books, coloring books, annual passes, posters, scratch maps, calendars, journals, books, and much more are all available as gifts for those who visit national parks in the United States.
This National Park Gifts Guide is full of unique ideas for:
Gift for National Park Lover who has everything
National Park Souvenirs and Ornaments
National Park Maps
National Park Books and Guidebooks
Thank you for supporting this website written by an American. This post may contain affiliate links. This means I earn a small commission on these links at no extra cost to you.
National Park Entrance Fees
To enter the National Parks, you'll need to pay an entrance fee or have a National Parks Pass also known as American the Beautiful Pass.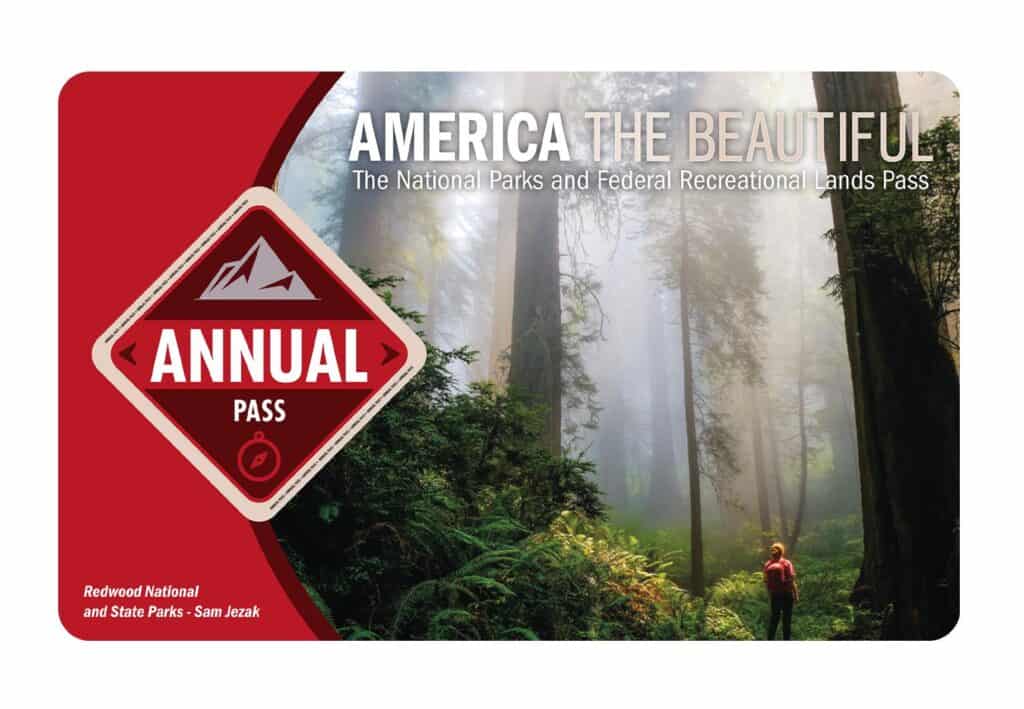 It costs $80 for a yearly America the Beautiful Pass. This gives you access to all national parks and federal areas that charge fees. The America the Beautiful Pass is well worth it!
I purchased my first one in 2016 and it's such a money-saver! Plus 10% of sale proceeds go to the National Park Foundation.
Tips for Visiting Grand Teton National Park
Grand Canyon National Park is perfect for outdoor enthusiasts. There is something for everyone on this list and for different fitness levels. Also, note that it is dry and hot (in the summer), and make sure you know what you are getting into before you start. Here are a few tips for visiting the Grand Canyon:
Bring a reusable water bottle and lots of water! Remember you are in the sun and you will need to drink lots of water. I love my LifeStraw Filtered Water Bottle. I can refill this bottle anywhere and it comes with a carabiner to connect it to my daypack.
Check the Weather – days over 100 degrees are very common. Make sure to check.
Hiking boots or sandals that will protect your feet! I love good shoes. I need all the support and help I can get. I actually love these sandals for hiking and also love these hiking boots.
Bring hiking poles for balance and to protect your knees. I know many experienced hikers (and even amateur ones) think that hiking poles are for old people who lose their balance. Actually, hiking poles can help when going down steep inclines or when scrambling over rocks. They are great to hike with even for the most experienced hiker.
Wear a sunhat. I feel like this whole post is about how high you are in the mountains and how much closer you are to the sun but it is so true. At elevation, you are closer to the sun and more likely to burn. Wear sun protection such as a sun hat and sunscreen.
Be aware of the wildlife. This is the Southwest and you will need to watch out for snakes and other wildlife such as moose or a bear. Please stay away from wildlife and do not feed them. I recommend carrying bear spray as well.
Start Early – If you want to avoid the traffic and the heat you will need to start your hike early. That way it will be nice and cool and the smog will not affect you either.
Leave no trace. If you are new to the concept of Leave No Trace it is all about preserving the environment to ensure it is in the same or better condition when you leave it. This means that you should stick to the trails and carry out everything that you carried in. This is a great explanation of the Leave No Trace principles!
Water shoes are great for water hikes– If you don't have a pair, I highly suggest it as they are affordable. I have an article on the pros and cons of several pairs of water shoes.
Bring Bug Spray and a snack: Be sure to bring everything you need including a snack like a protein bar plus BUG SPRAY.
Where to stay near Grand Canyon National Park
The Grand Canyon makes for a great weekend escape. Fresh air, beautiful scenery and being in nature does a world of good for the soul. I recommend staying as close to the park as possible and even treating yourself with a cabin with a spa pool to relax at night.
If you are taking a road trip remember to reserve a car in advance using Discover Cars .
45+ Gifts for National Park Lovers – The Perfect Gift
American National Parks Passes – One of the Top National Parks Gifts
There is no better gift than the opportunity to visit a national park for a national park enthusiast. This is a great present for anyone who enjoys visiting national parks.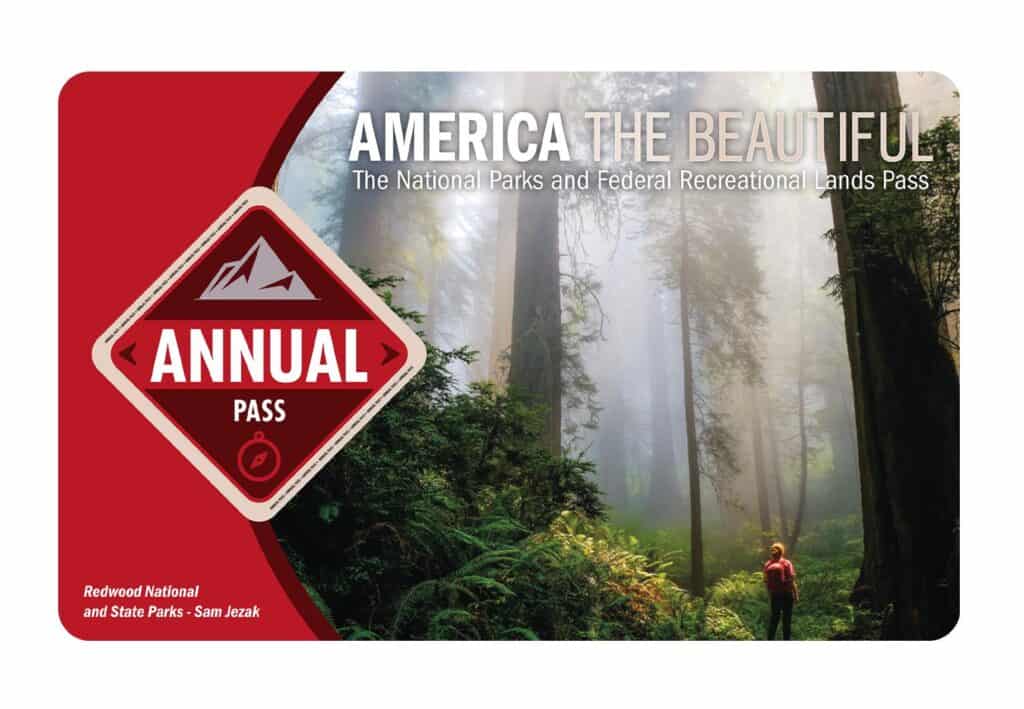 All 63 national parks, as well as over 2,000 federal recreation locations, are accessible with an American National Parks Pass. It's the closest thing to a national park gift card, making it one of the best gifts for a park lover. In addition, the pass is good for a year from the date of purchase. At per-car fee zones, it includes entry for the driver and all passengers in a personal vehicle.
I recommend purchasing a National Park Pass to visit any of the United States National Parks. Purchasing an annual pass is extremely cost-effective. It pays for itself even if you just visit two National Parks in a year. Further, our National Park System could use your help, and purchasing these passes is a fantastic way to do so.
USA National Park Poster
A USA National Park poster, with photographs of all 62 national parks and room to mark off and check off those parks you have visited, is a perfect gift for people who visit national parks.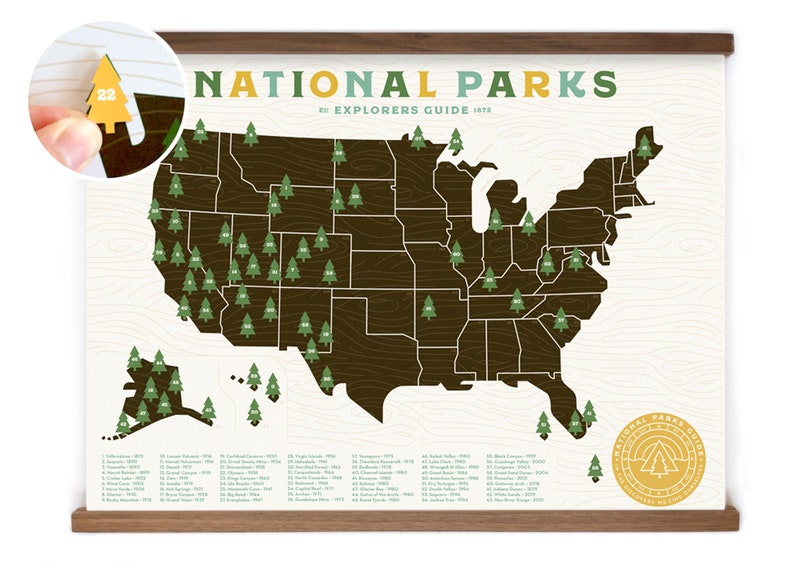 This gift is ideal for individuals who want to be inspired to visit each park or educate themselves or others on the number of national parks in the United States.
The set of four posters is printed in the United States on premium thick white paper and comes framed or unframed.
When you buy this map, you're also helping the national parks; as part of a cooperation with the National Forest Foundation, the company will plant a tree for every purchase.
USA National Park Scratch-Off Map – National Parks map gift
A scratch-off travel print of all the national parks is a fun and unique national park gift. People are encouraged to visit each of the 62 national parks and scratch out all of the trees on this scratch-off map.
When you scratch off each tree, you'll see an image and a number. This map, which shows all of the national parks and their locations, is an excellent educational tool. As they cross each park off their bucket list, help them in keeping track of the parks they've visited.
With each purchase, a tree is planted as part of the National Forest Foundation's tree-planting effort, contributing to the feel-good quality of this gift in a partnership they have with the National Forest Foundation.
With scratch-off trees for each of the 62 national parks, this USA National Park scratch-off map is a perfect present for anyone who visits national parks.
The National Parks Register Print
This National Park Register poster makes a great present for anyone who adores visiting national parks. This set includes a personalized stamp and ink pad, as well as images of all 62 parks, so you can keep track of your park visits.
This stamp and pad make it simple for visitors to national parks to keep note of their visits. This handmade register is one-of-a-kind and made in Denver. It measures 15.5″x40″ and is perfect for framing or hanging on the wall.
National Park Passport Journal
Are you looking for a compact national park journal that can fit in your pocket? This pocket-sized national park journal is not to be missed.
This passport journal for national parks is a 48-page pocket-sized journal with 20 entry pages and eight pages of checklists, bucket lists, and information. Each page provides a section for details, location, adventures, wildlife, scenery, and other information.
It's a badge of distinction and the ideal national park souvenir to remember your visit to the parks. There are several other types of national park passports, and this one is the standard one sold at most national park visitor centers.
This passport journal is ideal for visitors to national parks since it allows them to record information and store it in a compact size.
Monopoly National Parks Edition
If you are looking for a unique national park twist on a classic board game, the Monopoly: National Parks Edition is a great option!
Everyone's favorite board game Monopoly is mixed with 22 popular parks in the United States, as well as artwork from over 60 parks and animals.
National parks replace properties in this offshoot of a popular game. You can also select from a variety of player tokens inspired by national parks. This Monopoly game is educative and suitable for players of all ages. The playing figures are in the shape of cameras, tents, canoes, hats, hiking boots, and other items, and the cards and figures all carry information from each park.
Further, the National Park Foundation receives a part of the proceeds from this game.
National Geographic Complete US National Park Book
If you're looking for a present for someone who loves national parks, go no further than a National Geographic travel book. The Complete National Parks book is a must-have for anyone planning a trip to the parks.
This book has 544 pages of information, full-color photographs, extensive maps, history, and statistics about each park. This book is an excellent gift for anyone who enjoys visiting national parks, as it has all of the information needed to visit each park, including trails, camping information, and much more.
For those planning their next road trip, this is one of the best national park gifts.
Moon USA National Parks: The Complete Guide to National Parks
For those planning trips to national parks, a guidebook is an excellent present. The Moon USA National Parks guidebook is one of the most thorough, offering planning advice and recommendations for the best things to do in each park.
This book includes not only facts and information, but also full-color photographs and a section dedicated to park stamps.
The USA National Parks: The Complete Guide to All 59 Parks, published by Moon, is perfect for visitors to national parks. In each park, there are lists for hiking, wildlife, family, drives, and experiences.
The book provides descriptions, trail maps, road trip guides, planning tools, expert advice, and things to know before you travel for each of the 59 parks mentioned in the book.
Yahtzee National Parks Travel Edition
Choose Yahtzee National Parks Edition if you're looking for the perfect family-friendly national park game. This small game replaces outnumbered dice with park-themed ones. This simple game is easy to carry and play, making it a great complement to a national park or camping trip.
The national park system is recognized in this special edition of the traditional dice game Yahtzee. This version uses national park icons instead of regular dice, such as a moose, tent, canoe, hiker, pine trees, and binoculars.
With the standard dice game of Yahtzee but with national park themes, this National Parks version of Yahtzee is great for anyone who visits national parks. Since everything fits inside the national parks cup, adventurers can play this game on the go. Furthermore, a percentage of the revenues will support the National Park Foundation.
Yellowstone National Park Photo Frame
A 4″x6″ picture from Yellowstone National Park or any national park would fit perfectly in this photo frame.
With a view of Yellowstone meadow, Old Faithful geyser, bison, elk, squirrel, and woodpecker, this Yellowstone National Park photo frame makes a perfect gift for anyone who visits national parks.
USAopoly Jenga National Parks
Jenga with a national park there is a delightfully fresh take on the classic game. Jenga is a traditional wooden block game with a park theme.
Over 100 educational facts and information about national parks are written along the side of each of the 54 jingo blocks, providing an educational component to the game.
Each Jenga blog includes a piece of fun information about each park, making it ideal for learning more about the parks in a fun way. In addition, the National Parks Foundation will receive a portion of the proceeds from this gift.
Pendleton National Park Blanket – Another Popular National Park Gifts
Since 1863, Pendleton has been producing wool blankets. Their name is linked with quality.
Pendleton has been honoring the National Parks Service with a blanket collection for almost a century. The Pendleton National Park Blanket is the ultimate luxurious present for park lovers.
This gift is versatile and may be used at home or on the road, with minimalist designs from your favorite national parks. Each blanket includes stripes that reflect the National Park's terrain, flora, and fauna. The hues of the red rocks and the blue skies combine in this Grand Canyon blanket. The red, orange and yellow colors resemble canyon walls, while the navy provides a great contrast.
This soft, comforting blanket is made from pure virgin wool and hand-finished. They provide a variety of blankets for several national parks – thus, the perfect gift!
National Park Adventure Guide
The National Park Adventure Guide is the perfect national parks gift if you like the notion of a passport, guidebook, and stickers all in one.
The spiral-bound National Park Adventure Guide is a travel-sized book with all of the National Parks included, as well as space to take notes, educational facts, and stickers for each park to commemorate your visit. It's also a lovely present for people who visit national parks, as it includes space to plan trips and track their visits to each park.
In addition to illustrations, data, and top ten must-see lists, the book includes 61 full-color stickers, one for each park.
National Parks Push Pin Travel Map
The National Parks push pin travel map is a fantastic map and gift for anyone who visits national parks and wants to mark down each one with a pin.
The map has a gorgeous mountain image in the background designed by California artist Wendy Gold, making it a delightful way to mark off prior travels and help plan future ones.
Each pin in the 62 national parks has its place on the map, which may be personalized for free by adding an individual's or couple's name. The map is 18″x24″ and includes 100 red pins.
National Park Foundation Wall Calendar
This 12-month calendar, produced by the National Park Foundation, has breathtaking photographs from national parks across the country. With significant anniversaries and events in national parks across the country listed on the calendar, this is an excellent gift for anyone who visits there.
This 12×12 calendar not only has gorgeous photographs from national parks across the country, but it also contributes to the National Park Foundation's mission of maintaining national parks throughout the United States.
Since the National Park Foundation is the official charity of the National Park Service, you can be assured that your purchase will help a good cause.
Musky Trails National Park Candles
If you are someone or you know an individual who enjoys candles, the Musky Trails national park set is the perfect national park themed gift. These candles are made entirely of natural soy and are created to evoke the scents of America's National Parks.
You'll adore the tin can's appearance, as well as the fact that each candle is hand-poured in the company's home state of Washington. Each smell is "inspired and developed from the wild and pristine lands of America's National Parks and Monuments.
All Candles are purely vegan, eco-friendly and fully recyclable. They're made in Seattle, and also ethically sourced.
Have you been to Redwood National Park and wish to relive the experience? The Redwood candle has an oakmoss, sage, citrus, and damp earth scent. YOSEMITE with cedarwood, amber, orange, and spice, for example. ZION, with its desert lavender, sage, and dried herbs, is another favorite of mine.
National Parks of the USA: Activity Book
This activity book goes great with the National Parks of the United States book. This national park activity book is great for keeping kids entertained on a road trip or at home.
There are crossword puzzles, word searches, 50 stickers, 15 activities, and a spotter's guide for each of the 62 national parks included in this book. A pull-out poster with a map of the national parks and wildlife is also available in the book.
This activity book takes you on a journey of the United States' national parks and animals. It's a great activity book for trips to national parks and makes a great gift for children or families who visit them.
Trekking the National Parks
Trekking the National Parks, an award-winning board game, is a family favorite among visitors to national parks. This Trekking the National Parks Strategy Game is an excellent choice for the whole family if you're looking for a fun strategy board game.
The game was designed by national park lovers and is both entertaining and educational for all participants. The board game was intended to inspire and share the US national parks with everyone. It was designed by a family who has visited every national park in the country.
Each park card has a fun fact and a picture of a park to inspire you. Since each game starts with a different setting, the experience changes every time you play, making it infinitely replayable.
Trekking the National Parks is a great game with lots of entertaining educational data to help them plan their next vacation to a national park. This game contains easy-to-understand rules that everyone can play.
100 Parks, 5,000 Ideas
The National Geographic 100 Parks, 5,000 Ideas book is a comprehensive handbook that includes travel advice, stunning photos, and much more.
With 5,000 ideas for the ultimate national park vacation, this book is suitable for individuals who visit national parks. This book is jam-packed with first-hand accounts, insider tips, wildlife statistics, camping information, hiking and biking guidance, and a list of the best spots to visit.
Thousands of awe-inspiring ways to explore America's national parks, as well as notable state and local parks, are detailed in this book. The handbook also includes suggestions for the best things to do, places to see, and more!
For instance, top ten rankings of the best river cruises, landmarks, panoramic views, beaches, and other attractions.
National Parks Coloring Books
This coloring book encourages individuals of all ages to color while also educating them about national parks. Yellowstone, Grand Canyon, Zion, Acadia, and other national parks are among the 24 scenic park scenes included in the coloring book.
This National Park coloring book and pen set make excellent gifts for anyone who enjoys coloring, relaxing, or being creative when visiting national parks.
USAopoly Trivial Pursuit
This National Parks Trivial Pursuit is a fun take on the classic game and makes a great national park gift idea. The 100th anniversary edition of USAopoly Trivial Pursuit includes over 600 trivia questions and fun facts.
With questions and data on each national park from the Grand Canyon to Yellowstone, this game is ideal for families and visitors to national parks. Natural wonders, battlefields, historic places, cultural heritage, science, nature, and wildlife are among the categories in this game.
Best of all, because of its compact size, this game is ideal for a road trip to a national park.
GSI Outdoors, Microlite 500 Flip 17 FL Waterbottle
With the ability to hold 17 fl oz of water in a vacuum insulated bottle while also being lightweight, the water bottle is the ideal companion for people who visit national parks.
The BPA-free stainless-steel material has a flip-top for simple use.
This water bottle comes in seven different colors: black, blue, green, red, and yellow.
Stasher 100% Silicone Reusable Food Bag
With the capacity to store snacks, the Stasher silicone reusable food bag is the best picnic companion for visitors to national parks.
These BPA-free food bags include self-sealing and are dishwasher and microwave safe.
There are a variety of sizes available, including 1/2-gallon, bundle, pocket, sandwich, snack, and stand-up bags. Clear, blue, black, orange, and eleven additional colors are also available.
LifeStraw Go Water Filter Bottles
When you're out in the wilderness, it's essential to stay hydrated. A filtered straw is included in the LifeStraw filter water bottle, which filters dirty water while allowing clean water to pass through.
The filter is a carbon filter that lasts up to 25 gallons (100 liters) and should be replaced every three months. This bottle is perfect for visitors to national parks, for cleaning dirty water, or for a refreshing drink while hiking. It can be filled from a stream or river. The water bottle comes in 22oz and 1L sizes, as well as 18 different colors and patterns.
Most national parks have water fountains or reusable bottle filling facilities, allowing you to keep your loved one hydrated without using single-use plastic bottles.
PETZL Tactikka Core Headlamp
The PETZL headlamp comes in a single size and is black. This headlamp is perfect for hikers and campers, as well as visitors to national parks who require extensive lighting at night.
The rechargeable headlamp has numerous light modes and a battery life of up to 160 hours.
Foxelli Carbon Fiber Trekking Poles
The Foxelli trekking poles are excellent for hiking or trekking and are ideal for persons who visit national parks and want to go on long or difficult hikes.
The poles are built entirely of carbon fiber and are extremely light, making them easy to transport and store.
The trekking poles can be secured in place and are adjustable. They are suitable for all weather conditions, including ice mountains, park walks, trekking, muddy routes, and snowy mountains.
Clif Bars
Clif Bars are a delicious protein-packed snack that a must-have for any trip to a national park, whether you're camping or just visiting for the day.
These bars, which come in a variety of flavors, provide a sustained snack and energy by combining protein, fats, and carbohydrates. Natural ingredients are used to make these bars, which come in a variety of flavors.
Wild: A Journey From Lost to Found by Cheryl Strayed
This book is a perfect present for anyone who enjoys visiting national parks and wants to join Cheryl on her adventure and read about her challenges and victories.
Cheryl Strayed's journey trekking 1,100 miles over the Pacific Crest Trail over three months is chronicled in this engaging book. It was done by the American in order to save herself.
This book will take you on her adventurous journey, complete with snowfall, high heat, and physical transformations.
Portable Charger
Most intrepid explorers nowadays will use their phones to navigate, research, and take photos while on the way, as well as to communicate.
With the short battery life of cell phones and cameras, a portable charger is an excellent backup option for anyone visiting national parks. National park visitors don't want to lose out on a stunning photo or video because their battery has died.
Make sure your loved one's phone and other devices are fully charged while on the road. This rechargeable battery includes three charging ports and can charge phones or tablets for up to a week.
Thule Stir Unisex Hiking Pack
This hiking pack is a perfect gift for people who visit national parks, whether they are visiting for the day or camping overnight.
The hiking pack includes a small dimension, organizational pockets, a pocket on the shoulder strap, and a quick-access lid.
Ideal for day packing or hiking, this Thule hiking pack is available in four colors and three sizes (15L, 20L, or 18L).
Recent Posts