15 Fun Things to do in Carlsbad Caverns NP
Carlsbad Caverns Attractions: There are so many fun things to do in Carlsbad Caverns National Park in New Mexico. It is a great place to spend the day exploring.
Carlsbad Caverns National Park is located in southern New Mexico's Chihuahuan Desert. It has almost a hundred caverns. The Natural Entrance leads to the Carlsbad Cavern, which bears the same name. Stalactites cling to the roof of the cavern's Big Room, a massive underground room. The Walnut Canyon Desert Loop is a scenic drive through the desert. Reptiles and hundreds of bird species flock to Rattlesnake Springs, a desert wetland.
Thank you for supporting this website written by an American. This post may contain affiliate links. This means I earn a small commission on these links at no extra cost to you.
National Park Entrance Fees
To enter the National Parks, you'll need to pay an entrance fee or have a National Parks Pass also known as American the Beautiful Pass.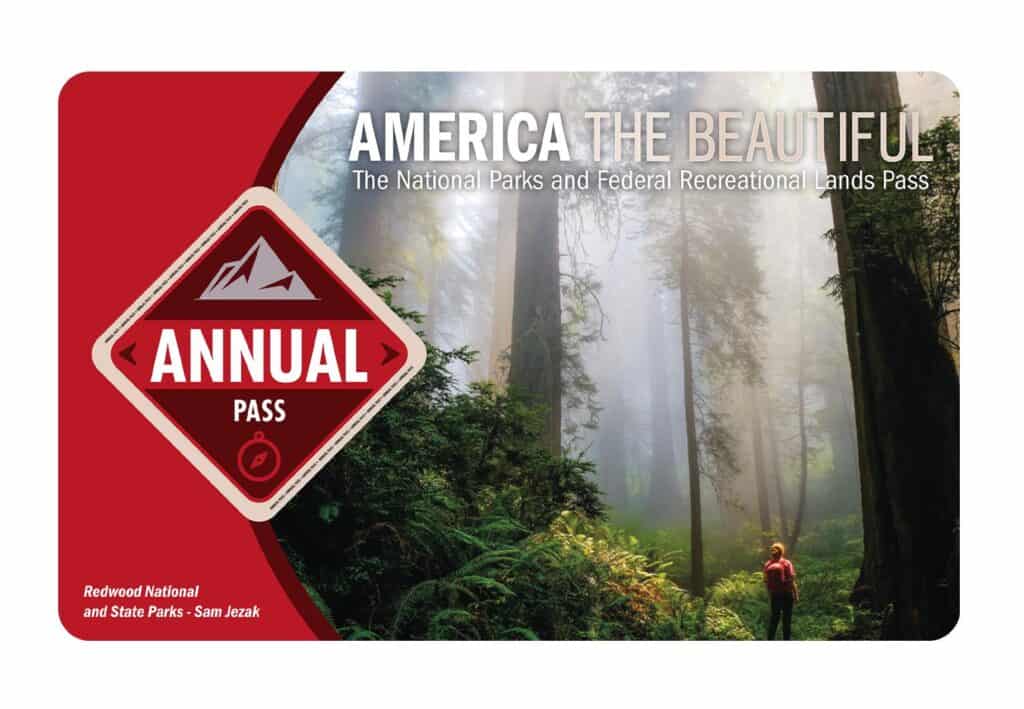 It costs $80 for a yearly America the Beautiful Pass. This gives you access to all national parks and federal areas that charge fees. The America the Beautiful Pass is well worth it!
I purchased my first one in 2016 and it's such a money-saver! Plus 10% of sale proceeds go to the National Park Foundation.
Tips for Visiting Grand Canyon National Park
Grand Canyon National Park is perfect for outdoor enthusiasts.  There is something for everyone on this list and for different fitness levels.  Also, note that it is dry and hot (in the summer), and make sure you know what you are getting into before you start.  Here are a few tips for visiting the Grand Canyon:
Bring a reusable water bottle and lots of water! Remember you are in the sun and you will need to drink lots of water. I love my LifeStraw Filtered Water Bottle. I can refill this bottle anywhere and it comes with a carabiner to connect it to my daypack.
Check the Weather – days over 100 degrees are very common. Make sure to check.
Hiking boots or sandals that will protect your feet! I love good shoes. I need all the support and help I can get. I actually love these sandals for hiking and also love these hiking boots.
Bring hiking poles for balance and to protect your knees. I know many experienced hikers (and even amateur ones) think that hiking poles are for old people who lose their balance. Actually, hiking poles can help when going down steep inclines or when scrambling over rocks. They are great to hike with even for the most experienced hiker.
Wear a sunhat. I feel like this whole post is about how high you are in the mountains and how much closer you are to the sun but it is so true. At elevation, you are closer to the sun and more likely to burn. Wear sun protection such as a sun hat and sunscreen.
Be aware of the wildlife. This is the Southwest and you will need to watch out for snakes and other wildlife such as moose or a bear. Please stay away from wildlife and do not feed them. I recommend carrying bear spray as well.
Start Early – If you want to avoid the traffic and the heat you will need to start your hike early. That way it will be nice and cool and the smog will not affect you either.
Leave no trace. If you are new to the concept of Leave No Trace it is all about preserving the environment to ensure it is in the same or better condition when you leave it. This means that you should stick to the trails and carry out everything that you carried in. This is a great explanation of the Leave No Trace principles!
Water shoes are great for water hikes– If you don't have a pair, I highly suggest it as they are affordable. I have an article on the pros and cons of several pairs of water shoes.
Bring Bug Spray and a snack: Be sure to bring everything you need including a snack like a protein bar plus BUG SPRAY.
Where to stay near Grand Canyon National Park
The Grand Canyon makes for a great weekend escape. Fresh air, beautiful scenery and being in nature does a world of good for the soul. I recommend staying as close to the park as possible and even treating yourself with a cabin with a spa pool to relax at night.
If you are taking a road trip remember to reserve a car in advance using Discover Cars .
15 Things to do in Carlsbad Caverns, New Mexico
Explore Carlsbad Caverns
There are two ways to explore caverns. You have the option of walking the self-guided trails at your own pace or joining a ranger-led tour.
If you're short on time, the self-guided underground trails of Carlsbad Caverns are the best option. Join a ranger-led tour if you want to "go deeper" into the caverns, learn more about the history and geology, or add more adventure to your visit.
The park contains over 300 known limestone caves, including some of the world's biggest caves. Sulfuric acid, not carbonic acid, had a crucial part in the formation of the Guadalupe Mountains caves millions of years ago, according to geologists. When hydrogen sulfide from oil deposits and bacteria combines with oxygen over time, sulfuric acid occurs, forming unending mazes of narrow and massive pathways. When sulfuric acid dissolved limestone, gypsum was formed.
The beautiful speleothems, or cave formations, resemble the mouth of a whale. The Frozen Waterfall and The Eternal Kiss are two such natural formations. Devil's Spring is a vast pool filled with stalactites, stalagmites, and columns formed by water dripping from the ceiling. The 200,000-ton Iceberg Rock serves as a barrier, with the trail winding above, around, and beneath it to reach the Big Room.
Bat Flight Program
Half a million Mexican Free-Tail Bats swarm from the Carlsbad Caverns entrance around nightfall for their nightly feeding. Check with the park ranger for the most up-to-date information on bat flight programs.
View the program from the Amphitheater at the natural entrance to the Carlsbad Caverns from Memorial Day Weekend until October. The program is free, and no reservations are required. Seating in the amphitheater is first-come, first-served. Electronic devices are not permitted unless a special usage permit has been secured at least two weeks in advance. The program's start time changes as the summer advances and sunset times shift.
From the time the bats return from migration (typically mid-to-late April) until the Bat Flight Program begins Memorial Day weekend, you are welcome to witness the bats exit the cavern nightly at the outdoor Bat Flight Amphitheater.
The finest months to view bats are August and September when the baby bats born earlier in the summer start to join the evening flights. This is your greatest chance to view a large number of bats leaving the cave.
Big Room Trail
The Big Room is a massive limestone chamber that is over 4,000 feet long, 625 feet broad, and 255 feet tall at its highest point. It has a floor space of 357,469 square feet. It is North America's fifth-largest chamber and the world's 28th largest. This trail is paved and considered easy, with a one-mile section accessible to people in wheelchairs.
A meandering loop track spans thousands of rock formations and beautiful sculptures on this trail. Helictites, stalagmites, stalactites, fossils, and much more can be discovered here. The rock formations are well-lit, adding to the site's dramatic and captivating appearance. Expect to see massive limestone, towering stalagmites, and beautiful stalactites, and don't forget to snap plenty of photographs.
You can either take the elevator straight down to the start of the Big Room Trail from the visitor center or stroll down from the natural entrance. It takes an hour and a half to walk the figure eight trail, which is roughly 1.25 miles long. You have the option of taking the shorter route where the figure-eight crosses. The Hall of Giants, Crystal Spring Dome, and Bottomless Pit are just a few of the stunning formations to see.
Walnut Canyon Desert Drive
Carlsbad Caverns National Park's Walnut Canyon Desert Drive is just one of the park's many magnificent features. The majority of visitors come to Carlsbad Caverns to simply explore a cave and possibly view bats, with no plans to go above ground.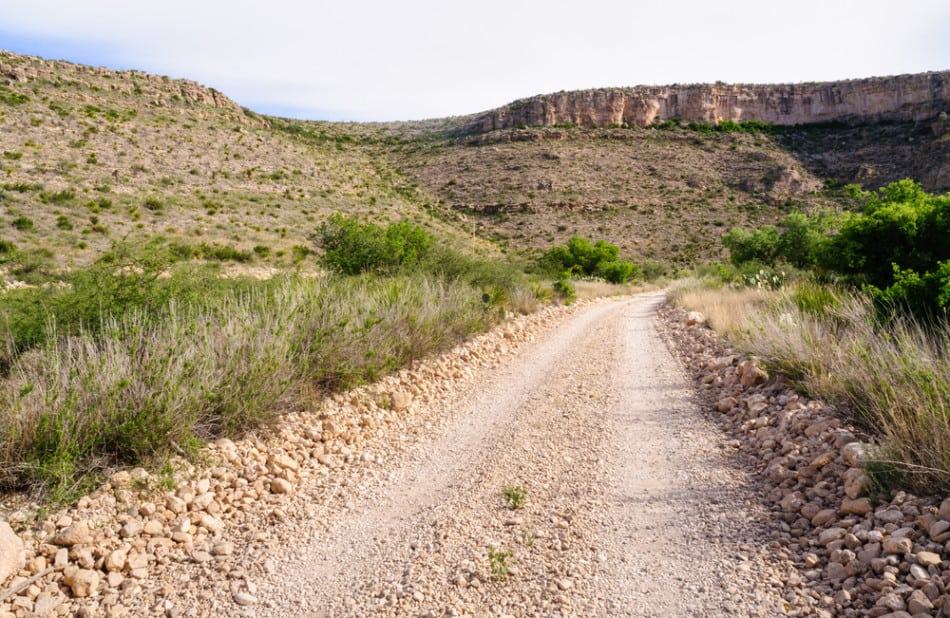 This 9-mile dirt road leads into the Chihuahuan Desert wilderness area, which is home to approximately 750 plants, 67 mammals, 17 bats, 357 birds, and 54 amphibian and reptile species.
The odd part is that individuals who take this road rarely encounter another park visitor the entire time, which is unusual in a National Park so close to a visitor center. This means that visitors who take the time to look around may be rewarded with serenity, spectacular sunsets, and a good possibility of seeing wildlife. Low clearance vehicles, RVs, and trailers are not permitted, so plan accordingly.
It's a one-way gravel loop that starts at the top of the entrance drive and loops back to the entrance. Since the drive is only 9.5 miles long, you can take your time and enjoy the landscape and wildlife in the area.
Rattlesnake Springs
When traveling between Carlsbad Caverns National Park and Guadalupe Mountains National Park, Rattlesnake Springs is a great place to stop for a picnic. A little detour off the road will provide you with a refreshing break from the sun, surrounded with grass, trees, and a small spring. It's an excellent area for viewing wildlife.
The Upper Rattlesnake Canyon Trail is highly recommended for those looking for a longer and slightly more demanding trip. However, due to the rough terrain, driving here is harder than hiking. The trail takes 4 hours and 30 minutes to finish depending on your pace, and it emphasizes the area's spectacular arches and canyons.
Lower Rattlesnake Canyon, on the other hand, is a moderate trail that starts about.25 miles (.4 km) past interpretive marker #4 on the magnificent Desert Loop Road. With a distance of 3 miles (4.8 km) and an elevation difference of 600 feet, the one-way travel time is about 3 hours (183 m).
A permit is required for overnight use. During business hours, permits are available for free at the visitor center.
The King's Palace Tour
The King's Palace is a section of the Caverns that contains the majority of the stalactites and stalagmites. To learn more about the significance of these cave formations, visitors usually take a guided tour of the King's Palace. On this tour, you'll take a stroll through the cave's four naturally decorated chambers as a ranger explains the cave's history and other interesting facts.
The King's Palace tour, a 1.5-hour ranger-led walk through four exquisite chambers, will lead you to the deepest part of the cavern open to the public, 830 feet (253 meters) below the desert surface. This one-mile (1.6 km) journey, while not as difficult as the Natural Entrance Trail, does require additional descending and, in the end, going up a fairly steep hill.
You can expect to see helictites, draperies, columns, and soda straws among other cave formations. During this tour, rangers frequently conduct blackouts, turning off all artificial lights for a limited period to reveal the cave's natural darkness.
Slaughter Canyon Cave Tour
The adventure tour via Slaughter Canyon Cave is moderately difficult. This adventure will transport you to an underground wilderness devoid of power, paved walkways, or contemporary conveniences. The cave trails are extremely narrow, uneven, and slippery. Only the flashlights and headlamps of rangers and tour members break the darkness in this remote cave.
The 5-and-a-half-hour moderately strenuous Slaughter Canyon caving adventure into an underground wilderness requires reservations. Since the cave routes are slippery, rough, and narrow, hiking boots with aggressive tread are necessary. Only flashlights and headlamps are available for light.
The 89-foot-tall Monarch, one of the world's tallest columns; the Christmas Tree, a gleaming, crystal-decorated column; and the Chinese Wall, a delicate, ankle-high rimstone wall, are all prospective highlights of the tour. Human history and impact in the cave are attested by old bat guano mining excavations.
Bottomless Pit
The Big Room, a gigantic underground room with the world's largest stalagmite, hundred-foot high ceilings, and stalactites that resemble chandeliers, is where most Carlsbad Caverns tours start. The so-called "Bottomless Pit," a deep chasm in the limestone floor that appears to run downward without limit, is one of the Big Room's most popular attractions.
The pit was originally thought to be bottomless. When stones were thrown into it, there was no sound of them striking the bottom. Later investigations uncovered the truth. The depth of the bottom was about 140 feet below the aperture, and it was covered in loose soil. The soft mud muffled the sound of the stones hitting the ground when they reached the bottom. Visitors still like putting the pit to the test. As a result, park rangers must descend to the bottom of the canyon once a year to collect all of the trash that has been thrown in.
The vast amount of gypsum surrounding the Bottomless Pit is another fascinating feature. The soft white mineral attests to the development of the chamber and pit. When sulfuric acid combines with limestone and water, it produces carbon dioxide and water as a byproduct, as well as gypsum deposits.
Rainwater pouring down through cracks in the ground and sulfurous gases rising from the Earth's depths eventually dissolved the soft limestone to create these spectacular structures for, 250 million years.
Hall of the White Giant
Only a few places are remaining in the world where one can experience a real adventure. Carlsbad Caverns National Park's Hall of the White Giant Tour is one such adventure. This is an experience where the scenery is the route and the travel is more than half the adventure. The reward is the White Giant feature, a tall column that sits amid its hall, presiding over a chamber that is always dark, save for the lights of explorers who finish this difficult journey.
Reservations and equipment are required for this tour. This is not a walk in the park that can be done in typical street clothes. This will be a dirty and physically demanding trek. Sturdy shoes, preferably hiking boots, work boots, or combat boots, with enough protection and traction, are the bare minimum. This trip also necessitates the use of soft knee pads. Cotton or leather gloves are required, and visitors should come in sturdy clothing that they don't mind getting dirty from the Earth they're going to explore.
Narrow tunnels characterize this journey. These sections will take up a significant amount of time. Those who are claustrophobic in any way should choose another tour option. Matlock's Pinch is the name of one of the tour's highlights, and it should give tourists a good idea of what to expect.
This experience may be too much for those who are afraid of heights. Communication is also essential on this excursion due to the treacherous terrain. Those who are afraid of being in small areas for lengthy periods or who dislike getting dirty should not participate in this tour.
Green Lake
The Green Lake Room is one of many ornately designed scenic chambers within Carlsbad Caverns National Park's complex of 84 major caves. Unlike many of the other rooms with stalagmites and stalactites, this chamber's feature is a green-hued pool of water in a corner of the uppermost floor.
At first, it was believed that the green color of these "Microbes or an algae-like coating beneath the lake's surface was to blame. However, further examination revealed that the color of Green Lake is caused by malachite, a carbonate mineral that covers the lake's sides and bottom. Also referred to as "The green-colored mineral copper carbonate crystallizes into stalagmitic masses. The vivid green color of the malachite is reflected in the water when light passes through it.
Carlsbad Caverns' Green Lake is featured on two tour routes. The self-guided tour, which begins at the Natural Entrance and ends at the Green Lake Overlook, is 1 mile long, while the mile-long King's Palace Guided Tour follows a paved path right through the chamber. The latter, which departs at the Underground Rest Area.
Guadalupe Mountain Trail
The Guadalupe Mountains, looming high in a remote section of West Texas near Highway 62/180, are geological phenomena bordering the Texas-New Mexico border. On September 30, 1972, they were designated as a national park. There are 360-degree views of El Capitan, Texas' most visible point at 8,085 feet, with a captivating rugged limestone landmark soaring over the road, enticing hikers, trekkers, and campers to the little-explored wilderness, tranquility, and solitude.
The Guadalupe Mountain Trail is a 161-kilometer long certified National Recreational Trail that offers hikers and backpackers a completely different experience in the Chihuahuan Desert and the Guadalupe Mountains. The trail begins at Texas' highest point, travels through the Lincoln National Forest and Bureau of Land Management, and ends at the eastern limit of Carlsbad Caverns National Park.
Salt Basin Dunes, rich grassland, conifer forests, and a variety of flora and wildlife can all be found in the area. Despite its distant position and low visitor numbers, this National Park is worth seeing because of its intriguing landscape and vast views.
Bring a full tank of gas, as well as food and water, when visiting Guadalupe Mountains National Park, as there are no restaurants, lodging, or gas stations in or around the park. Since cell phone service is spotty, you'll have more alone and fewer people to deal with.
Brokeoff Mountains Wilderness Study Area
A visit to the Brokeoff Mountains is an excellent complement to a visit to Carlsbad Caverns National Park, which is nearby. Crooked Canyon, at the Brokeoff Mountain Wilderness Study Area's north end, is a very rewarding trip. It's a stunning example of the parched Chihuahuan Desert, with beautiful rock escarpments, mule deer, javelina, and a golden eagle.
The Brokeoff Mountains WSA lies in southern New Mexico, bordering the Texas Guadalupe Mountains Wilderness. The WSA is formed by a low dominant north-south ridge cut by two 500-foot-deep canyons. Cliffs, ledges, and rock outcrops provide excellent nesting and perching habitats for birds. Cacti, agaves, soaptree yuccas, creosote bush, mesquite, semidesert grassland, and pines at higher elevations make up the vegetation.
These peaks and canyons are mostly public land, which is open to the public, owned by all Americans, and managed by the Bureau of Land Management. Archeological sites exist in the area, and some of them are protected for the time being as part of a 31,606-acre wilderness study area. Natural gas production and rare earth material extraction, on the other hand, pose a threat to vulnerable areas.
Since cell phone service is unreliable, bring printed maps with you. Even if it's not summer, fill up on gas before leaving the Carlsbad area, bring lots of water in your daypack, and wear sunscreen and a hat.
Sitting Bull Falls Recreation Area
Sitting Bull Falls Recreation Area is a desert oasis with a beautiful 150-foot waterfall cascading down the canyon walls. Cabanas with picnic tables, charcoal grills, drinking water, restrooms, and a paved trail down the canyon that leads to the falls are also available. Hiking, biking, and equestrian riding are all available on the 16-mile-long canyon property trails.
Sitting Bull Falls is a series of waterfalls in the Lincoln National Forest that are located in a canyon. Springwater from the canyon above supplies the falls. The water flows via a series of streams and pools before dropping into the canyon below the falls. The mass of the water sinks into the gravel or cracks in the rocks, eventually resurfacing in springs further down the canyon or joining the Pecos Valley underground water source.
Photographers and cave enthusiasts who have the foresight to obtain a permit can also visit the nearby Sitting Bull Caves, which are known for their beauty. Grab your swimsuit and spend a day swimming and relaxing at Sitting Bull Falls while visiting the Carlsbad Caverns National Park.
Turn west on NM137 from US285 north of Carlsbad. Continue for about 20 miles on NM137 until you reach County Road 409. Continue on this road by turning right. This road leads to the Sitting Bull Falls Recreation Site.
Living Desert Zoo and Gardens State Park
The Living Desert Zoo and Gardens State Park is North America's only zoo and botanical gardens dedicated only to the Chihuahuan Desert, North America's largest desert. The zoo opened in 1971 above the Ocotillo Hills, west of Highway 285 and overlooks Carlsbad, New Mexico.
This park, set on 1,200 acres of authentic Chihuahuan Desert, is home to more than 50 desert mammals, birds, and reptiles, as well as about 500 plant species. You walk through displays with signs describing plants like mountain mahogany and geologic formations like gypsum sinkholes. You'll probably see lizards and other wild animals, as well as captive ones, in addition to a nocturnal exhibit.
Animals in the park's rehabilitation programs have been sick or injured and are no longer able to survive in the wild. In the aviary, you'll observe golden eagles and great horned owls, as well as large animals like deer and elk in outside meadows. The view from the park, which is located high atop the Ocotillo Hills on Carlsbad's northwest side is also spectacular.
Carlsbad RV Park
The closest campground to Carlsbad Caverns National Park is at White's City RV Park and campground. Water, sewer, and electric hookups, as well as free Wi-Fi, are all available at the RV park. All of the spaces are pull-throughs that can accommodate any size RV or trailer.
Beautiful pine trees surround this large property, which also has covered picnic tables, BBQ grills, and fire rings. On-site amenities include laundry and vending machines, as well as newly updated showers and bathrooms. The park is well-managed and maintained, and several travel sites give it good marks.
There are also weekly and monthly rates available. You can inquire about charges by calling their office. The Walnut Canyon Water Park, the Cactus Cafe, White's City Grocery, and the White's City Arcade are all within walking distance of the White's City RV Park.
And while no reservations are taken, due to the RV park's huge size, spots are usually available.
Recent Posts