Things to do in Petrified Forest National Park, Arizona
Petrified Forest Attractions: Heading to Petrified Forest and wondering what there is to do? There is so much to see and do in Petrified Forest National Park it will exceed your expectations!
Petrified Forest is one of three national parks in Arizona and located about three hours from Phoenix. The park is separated into two sections. The Northern Section is the painted hills and desert. The Southern Section has most of the petrified wood.
You can use this list of fun things to do in Petrified Forest to create your own itinerary. This gives you the greatest flexibility to see and do the things you want in the national park.
Thank you for supporting this website written by an American. This post may contain affiliate links. This means I earn a small commission on these links at no extra cost to you.
National Park Entrance Fees
To enter the National Parks, you'll need to pay an entrance fee or have a National Parks Pass also known as American the Beautiful Pass.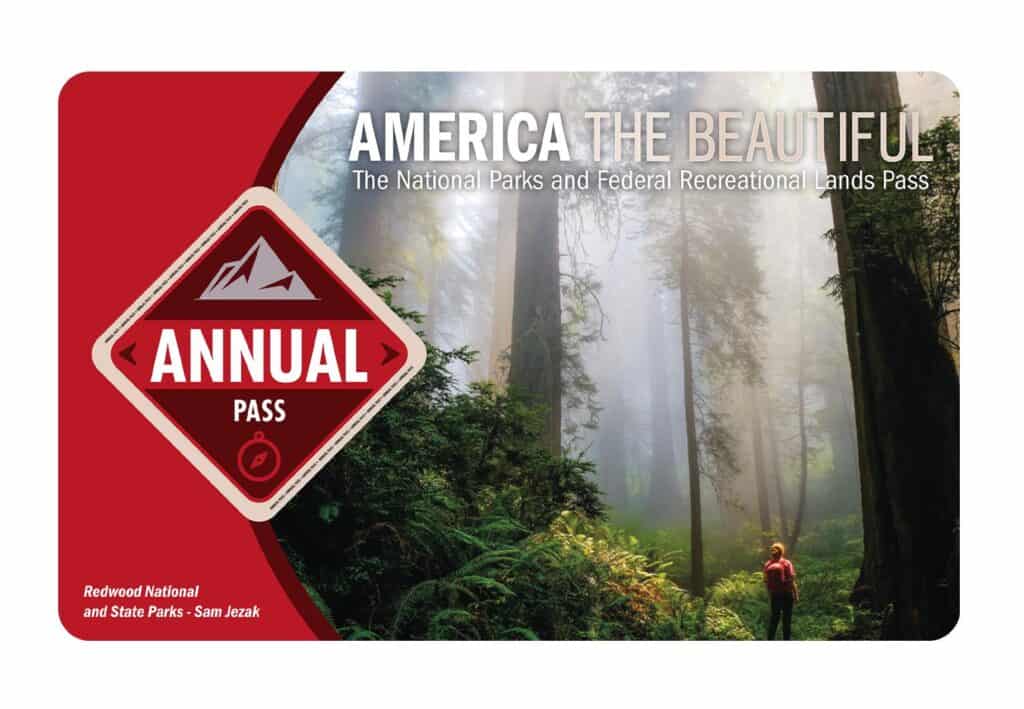 It costs $80 for a yearly America the Beautiful Pass. This gives you access to all national parks and federal areas that charge fees. The America the Beautiful Pass is well worth it!
I purchased my first one in 2016 and it's such a money-saver! Plus 10% of sale proceeds go to the National Park Foundation.
Tips for Visiting in Petrified Forest National Park
Petrified Forest is perfect for outdoor enthusiasts. There is something for everyone on this list and for different fitness levels. Also, note that it is dry and hot (in the summer), and make sure you know what you are getting into before you start. Here are a few tips for visiting Petrified Forest:
Bring a reusable water bottle and lots of water! Remember you are in the sun and you will need to drink lots of water. I love my LifeStraw Filtered Water Bottle. I can refill this bottle anywhere and it comes with a carabiner to connect it to my daypack.
Check the Weather – days over 100 degrees are very common. Make sure to check.
Hiking boots or sandals that will protect your feet! I love good shoes. I need all the support and help I can get. I actually love these sandals for hiking and also love these hiking boots.
Bring hiking poles for balance and to protect your knees. I know many experienced hikers (and even amateur ones) think that hiking poles are for old people who lose their balance. Actually, hiking poles can help when going down steep inclines or when scrambling over rocks. They are great to hike with even for the most experienced hiker.
Wear a sunhat. I feel like this whole post is about how high you are in the mountains and how much closer you are to the sun but it is so true. At elevation, you are closer to the sun and more likely to burn. Wear sun protection such as a sun hat and sunscreen.
Be aware of the wildlife. This is the Southwest and you will need to watch out for snakes and other wildlife such as moose or a bear. Please stay away from wildlife and do not feed them.
Start Early – If you want to avoid the traffic and the heat you will need to start your hike early. That way it will be nice and cool and the smog will not affect you either.
Leave no trace. If you are new to the concept of Leave No Trace it is all about preserving the environment to ensure it is in the same or better condition when you leave it. This means that you should stick to the trails and carry out everything that you carried in. This is a great explanation of the Leave No Trace principles!
Water shoes are great for water hikes– If you don't have a pair, I highly suggest it as they are affordable. I have an article on the pros and cons of several pairs of water shoes.
Bring Bug Spray and a snack: Be sure to bring everything you need including a snack like a protein bar plus BUG SPRAY.
15 Best Things to do in Petrified Forest National Park
Tiponi Point
As a visitor goes north from I-40 Exit 311, Tiponi Point is the first scenic overlook in Petrified Forest National Park. It offers panoramic views of the Painted Desert in the park's northern part.
It can be found when a visitor exits the Painted Desert Visitor Center from the park's North Entrance. It is the last overlook before the visitor center at the north entrance for visitors going north from the South Entrance. Above I-40 and Route 66, there are a total of eight picturesque views.
There is a parking lot with some pull-through spots, a bike rack, a wayside exhibit, and a picturesque view at this viewpoint. The Hopi word "tiponi" means "corn mother" or "corn alter," and it refers to the mother of the people who were carried during their voyages.
A tiponi is a sacred artifact that a chieftain keeps. A sacred emblem of power worn or exhibited by a chief, priest, or religious society is another definition. It usually consists of an ear of corn embellished with feathers or a valuable stone and worn or displayed by a chief, priest, or religious society.
The Painted Desert spans 160 miles across Arizona from the Grand Canyon's eastern edge. The Petrified Forest is located in the eastern part of the park.
Painted Desert Rim Trail
Petrified Forest National Park's Painted Desert is located on the park's northern border. It comes in a variety of colors, ranging from deep purple to emerald green, and from dark rusty red to pale pink. The Painted Desert appears to stretch on forever into the flat Arizona countryside.
As it goes around the rim, past sheer cliffs scattered with stunted flora, this walk provides some of the best panoramic views of the desert below. Each bend and turn along the Rim Trail reveal a new, breathtaking landscape. In this occasionally surreal area, unique colors, interesting species, and weird formations might make your thoughts wander.
The Painted Desert Inn is a fantastic place to start this short hiking trek. This historic monument is now a museum where visitors can learn about the history of the Badlands, which dates back to the 1920s when the Inn was built. It allows you to walk for half a mile along the edge of the Painted Desert between views. Tawa Point marks the beginning of the trail, which leads to Kachina Point. It's flat and simple, with fantastic views of the colorful area's vastness.
Hiking along the rim of the Painted Desert may let you scope out suitable hiking spots if you want to set up camp and go on a longer trip later. However, if you're on a road trip or have limited time, this is the greatest hiking choice in the park.
Bring your camera with you on this adventure, as there are plenty of photo opportunities along the way. When visitors reach the trail's end, they can either return the way they came or continue significantly on the Kachina Point Overlook Trail for a longer hike.
Painted Desert Inn
The Civilian Conservation Corps built the Painted Desert Inn, which is located on Route 66's original route, between 1937 and 1940. The structure is stunning and a must-see while wandering through the park! The interior murals, in particular, were painted by a Hopi artist named Fred Kabotie between 1947 and 1948. While you can't stay at the Inn, the history and beauty of the site, like the Kelso Depot in the Mojave Preserve, makes it a must-see.
The national historic site presently only serves as a museum, with no overnight lodging or food service. Inside, exhibits focus on the history of the structure, Route 66, and the Civilian Conservation Corps. Murals by Hopi artist Fred Kabotie have also been restored.
The building, which was originally made of petrified wood and native stone, has been coated with adobe-style stucco since it was restored in the 1930s by the Civilian Conservation Corps during the Great Depression.
While it no longer provides lodging or food, the Painted Desert Inn remains a refuge for travelers looking to stretch their legs and take in some scenery and history.
Old Route 66
As you drive through Arizona's Petrified Forest national park, you'll come across a highway overpass that separates the park's painted desert section from the petrified forest section. An unexpected display on the side of the road to the north of this overpass commemorates historic Route 66. The old Route 66 used to run straight through Petrified Forest National Park, and this little display honors that time in the park's history.
The display is made up of various components. The first one you come across is a bench with an older car's bumper and tail lights on the backside. While it's the park's surprise beauty that makes this quick visit noteworthy, it's also worth learning a little about the park's history as it relates to travelers traveling across the US.
Although the road is no longer in use, the outline of it may still be seen in the form of old telephone poles and an old roadbed. Shortly after leaving the Painted Desert rim on the park's main route southward, you'll come upon Old Route 66.
The Old Studebaker, a rusted shell of a car that symbolizes the collapse of this once-thriving route, is the main attraction here. It's a photogenic location, and it's fascinating to be standing in a national park on the ruins of one of the world's most famous roads.
Puerco Pueblo
Puerco Pueblo, which equates as "Village on the Rio Pueblo" in English, was an old Puebloan village with over 100 rooms and a population of over 200 people. Only the ruins are visible today, and the trail is only 0.3 miles long and paved. The Puebloans were at their peak between 1250 and 1380 when climatic change caused them to leave their homes and relocate to more livable areas. Only sandstone bricks, structure outline, ceramics, stone tools, and petroglyphs exist today.
The nearby petroglyphs, which are always fascinating to view, make this short stroll even more worthwhile! There are over 800 petroglyphs that depict everything from the Pueblo people's migration from Puerco Pueblo to the Crack-in-the-Rock site, which is now part of the Wupatki National Monument, to their charting of the summer equinox. Please do not touch the petroglyphs or climb on the boulders or walls.
Also nearby is an interesting ancient building that appeared to be used for storage but turned out to be another family photo opportunity.
Newspaper Rock Petroglyph
Stopping to Newspaper Rock, a three-minute drive north of the Teepees, if you're interested in history or anthropology is a must. Newspaper Rock is made up of many rockfaces with approximately 650 petroglyphs ranging from 600 to 2,000 years ago, rather than being a single stone with inscriptions.
According to the Petrified Forest National Park website, current Native American organizations have identified clan or family emblems, spiritual meanings, and calendar events, despite the carvings' meaning being up to interpretation.
Newspaper Rock is one of the many sights and trailheads marked along the 28-mile route that runs through the park, and it is well worth a stop. The rocks are closed to hikers due to the fragility of the hillsides, however, there is a catwalk and overlook for viewing, as well as free spotting scopes. A zoom lens will be useful for photographing the various petroglyphs.
The halt also necessitates a quick detour from the main road and a walk along the catwalk.
The Teepees
The Flattops and a large stretch of flat desert welcome visitors as they enter Petrified Forest National Park from the southern entrance gate. Then, almost out of nowhere, a tall, cone-shaped hill with nearly flawless layers of reds, pinks, blues, greys, purples, and white appears.
The small mountains known as the Tepees are magnificent, and the roadside pullout encourages you to stop for photos. The Tepees, which are named from their cone-like shape and resemblance to Indian houses, display the cold striated colors of the Blue Mesa Member, which dates back 220-225 million years.
In Petrified Forest National Park, the Tepees are badland erosional formations. They're part of the Chinle Formation's Blue Mesa Member, and they're made up of thick deposits of grey, blue, purple, and green mudstones, as well as white minor sandstone beds tinted by iron, manganese, and other elements.
During the Late Triassic Period, the Chinle Formation was deposited over 200 million years ago. The Chinle Formation deposits are chiefly responsible for the Painted Desert's colorful badland hills, flat-topped mesas, and sculptured buttes. The Blue Mesa Member, the Sonsela Member, the Petrified Forest Member, and the Owl Rock Member are all part of the Chinle Formation in Petrified Forest National Park.
Since the Petrified Forest landscape is a dry, high-altitude desert, bring plenty of water with you on even short day walks to avoid heat fatigue. You are welcome to bring your leashed pet anywhere you are permitted to go, excluding the buildings.
Blue Mesa Trail – A Must do at Petrified Forest National Park
The mile-long trail will take you not only into the heart of the blue-hued badlands but also past petrified tree stump clusters and interesting interpretive plaques explaining the area's geology.
The petrified wood fossils were formed more than 200 million years ago when logs washed into an old river system were buried beneath huge amounts of sand and debris, according to the park's website. Since the wood was buried so rapidly, it was spared from the impacts of oxygen and organisms.
Depending on the season, you may have the Blue Mesa Trail almost to yourself, adding to the area's enigmatic quality. The part-paved, part-gravel trail descends from the mesa into the badlands and begins with a steep climb.
The trailhead is located about 3.5 miles off the main road in a rather secluded area. The hike is relatively easy after the first steep stretch, and you may spend hours here walking and stopping to photograph the eerie buttes against the dark sky.
Jasper Forest Overlook
The hike to Jasper Forest is a park service route, not a trail. This hike should only be undertaken by people who are comfortable hiking off route with only a few hints as to where they should go. Except for an occasional clump of asphalt and several small sandstone abutments for culverts that were removed long ago, the path follows an ancient abandoned road built in the 1930s that has mostly vanished. When the ground is wet, the bentonite clay produces a gooey slick mass that clings to boots, making the hike tough.
Drive 4 minutes north to Jasper Forest Overlook for panoramic views of desert scenery, striped badlands, and a petrified wood forest below. Most people stop here to take in the vistas, but there's a 2.5-mile out-and-back track along an abandoned road built in the 1930s if you're interested in hiking into Jasper. If you want to undertake this hike, make sure you have some basic navigational abilities in case you get lost.
The area below the cliff is densely covered in brightly colored petrified logs, and in certain places, petrified wood chips pave the ground. Keep an eye out for the occasional log perched on a dirt pedestal. The logs prevent eroding of the soil directly beneath them, but the adjacent exposed soil is washed away, forming the pedestal.
Please keep in mind that stealing any of the brightly colored stone chips is not only illegal in the park, but also deprives future visitors of the opportunity to enjoy what you are experiencing.
The route turns to the right after about 200 yards and passes around a point on the rim. Following the point, the trail passes through a shallow valley and a broad creek bed until arriving at a basin tucked into the rim with a small Chinle hill in the midst.
Eagle Nest Rock, a well-known formation, sat atop the hill until it collapsed in 1941 due to heavy rain. The hike comes to an end when the roadbed circles the hill. Return in the same direction you came.
Giant Logs Trail
The small visitor center at Petrified Forest National Park's south entrance includes outstanding exhibits about petrified wood and the prehistoric plants and animals that formerly thrived there. The Giant Logs Loop, which begins at the visitor center, offers a simple and scenic introduction to the area's petrified wood.
Giant Logs Trail, located behind the south Visitor Center in Petrified Forest National Park, is a lovely nature trail. This brief walk is less than half a mile long, but there are significantly up and down areas, including stairs, which would make using wheels impossible.
The Giant Logs Trail is an excellent way to get acquainted with the park. A trail guide for this little loop is available for $1 as an optional donation. It's a smart idea to get a trail guide. There are also eleven numbered signs, each of which explains something about the park's petrified wood. It also comes in handy while answering Junior Ranger queries.
Trace fossils left by insects, countable knots, and Old Faithful are just a few of the delights of the nature walk. Old Faithful is a massive log that has split into sections, and "what Old Faithful is to Yellowstone, this tree is to Petrified Forest National Park," as the original park manager's wife put it.
Rainbow Forest Museum
Rainbow Forest was the heart of the original Petrified Forest, which was designated as a national monument by President Roosevelt in 1906. A wood and tar paper shack near where the new museum is located was one of the park's original facilities. The building of the museum, which served as the headquarters at the time, and certain homes may be found in the Superintendent's Reports from 1931.
You can learn all about petrified wood at the Rainbow Forest Museum And Visitor Center, watch a movie about the park, and talk to park rangers about what to do in the park. The museum also has exhibits commemorating the area's geologic and human history, as well as displays on reptiles and dinosaurs that previously inhabited the area.
Visitor information, maps, and free backcountry permits are among the services provided. There's also a free 20-minute park orientation film that describes how wood becomes fossilized, as well as paleontological exhibits containing fossils and prehistoric animal skeleton displays.
The Giant Logs Trail, Long Logs Trail, and Agate House Trail are all available to visitors. The Rainbow Forest Curio Shop and Fountain, which includes a snack bar, is located next to the Rainbow Forest Museum and Visitor Center.
Agate Bridge
Agate Bridge, originally known as Natural Bridge, is a "bridge" formed by a partially exposed petrified log over a gully at Agate Mesa. Since its creation, this monument has been one of the most popular attractions in Petrified Forest, and many people have had their photographs taken while standing on the "bridge."
Concerns about the train collapsing this landmark—which was a major attraction—led to the construction of masonry pillars beneath it in April 1903, followed by concrete in 1911. In 1917, concrete beams were installed in their stead. The log is approximately 100 feet long and 4 feet in diameter at its base. It stretches 40 feet across the chasm and rises 16 feet above the canyon bottom. Paleobotanist Lester Ward declared Agate Bridge to be the "most renowned single petrified wood in the world" in the late 1800s.
Even with improved stability, Agate Bridge is a spectacular sight, especially when considering the formation's intricate and long (200 million years) history. Visitors will be stunned by this magnificent sight, and Agate Bridge is a must-see attraction for everyone visiting Petrified Forest National Park.
Crystal Forest
Crystal Forest Trail is a short-level trail that weaves among enormous pieces of petrified wood in Petrified Forest National Park. The hike is suitable for all levels of aptitude. The trail is also paved, so wheels may easily navigate this short loop.
Crystal Forest is located in the park's southern part and has its own trailhead. This trail is only.75 mile. The soil of the Crystal Forest isn't as colorful as it is in other parts of the park, but the dull gray highlights the red-brown petrified wood.
The trail is completely paved. Petrified wood can be found in abundance in Crystal Forest. Some of the logs were precisely fractured, as if they had been crosscut with a saw. The rings of ancient trees dating back more than 200 million years can be seen in the woods. The Crystal Forest gets its name from the crystallization of some of the minerals that make up the petrified wood in this portion of the park.
The loop travels through a lot of petrified wood, but keep on the trail and don't collect anything. It is illegal to remove petrified wood from the park. If you absolutely must have any, please purchase a chunk from a Holbrook business.
Horse Riding
While horseback riding in Petrified Forest is limited to the wilderness (paved roads and trails are prohibited), this does not mean that it is a limited experience. Although there are no outfitters providing horses or guides in the park, you can load/unload and park your trailer on the northwest side of Painted Desert Inn, 2 miles north of the Painted Desert Visitor Center.
There are still no established trails in this area of the park, riders are recommended to stay as close to the dry washes as ways to minimize their impact on the sensitive desert ecosystem. Since the initial switchback into the Wilderness Area is steep, occasionally unstable, and frequently exposed, some riders choose to ride their horses down.
The grade is relatively flat and easy to ride till you reach the desert floor. There is no charge to camp overnight, however, a free permit is necessary and may be obtained at either visitor center. Camping is allowed in a designated area north of Lithodendron Wash, but no campsites are maintained. Eight people and four horses are allowed to camp in a group.
Geocaching
Geocaching is a treasure hunt in the real world. Globally, there are millions of geocaches. Geocaches can be located in parks, cities, forests, deserts, atop mountains, underwater, and just about anywhere else you can think of.
Players use GPS-enabled devices to find hidden containers known as geocaches and then report their findings. You can sign up and participate at Geocaching.com or by downloading the Geocaching app on your mobile device. Geocaches can be found by searching by location, map, name, or code. Once you've located the geocache, sign the log inside, then return it to its original location and register your visit online.
The park has a variety of caches, including virtual, traditional, and Earthcaches. Some of the caches are also included in the Find Your Park GeoTour. Geocaches have been constructed and put throughout Petrified Forest National Park for the enjoyment of tourists. Please keep in mind that placing unauthorized caches on National Park Service and other agency-managed areas is still banned.
This activity attracts more families to the parks while also offering an educational experience for them! Both classic Geocaching and Earthcaching are available in Petrified Forest. Earth caching does not entail a physical geocache; instead, they provide an educational opportunity at the specified coordinates.
Recent Posts