15 Amazing Things to do in White Sands National Park
White Sands National Park Attractions: Wondering what to do in White Sands, New Mexico? There are so many things to do and see in White Sands National Park you will not be bored!
Check out the list below of the top tourist attractions for White Sands National Park – one of the newest national parks in the USA.
Thank you for supporting this website written by an American. This post may contain affiliate links. This means I earn a small commission on these links at no extra cost to you.
National Park Entrance Fees
To enter the National Parks, you'll need to pay an entrance fee or have a National Parks Pass also known as American the Beautiful Pass.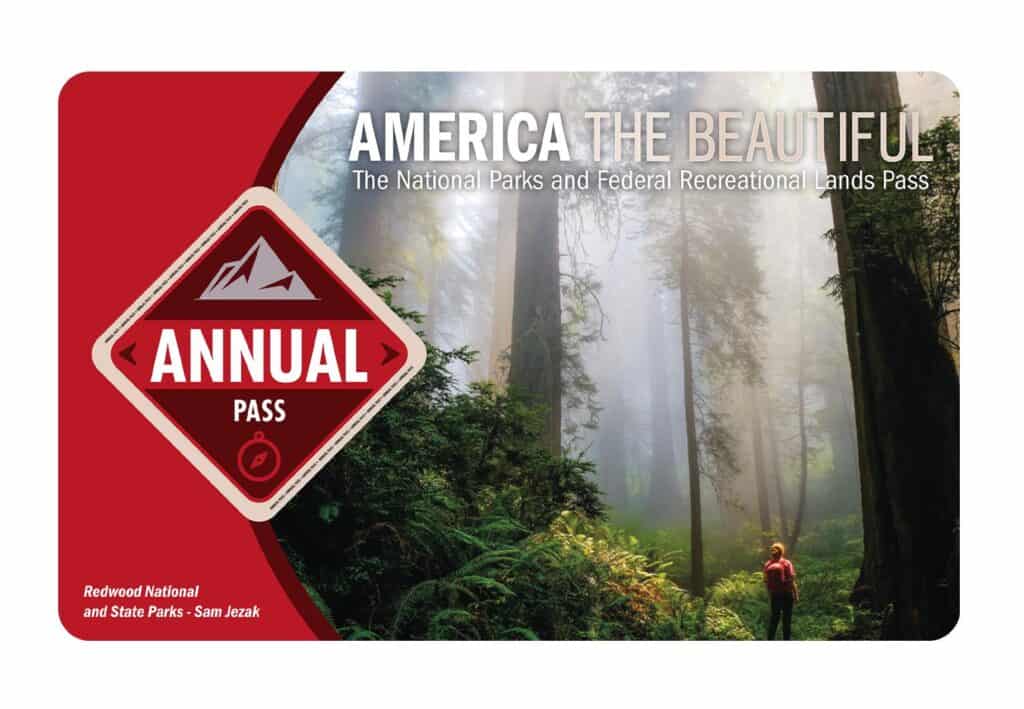 It costs $80 for a yearly America the Beautiful Pass. This gives you access to all national parks and federal areas that charge fees. The America the Beautiful Pass is well worth it!
I purchased my first one in 2016 and it's such a money-saver! Plus 10% of sale proceeds go to the National Park Foundation.
Tips for Visiting Grand Canyon National Park
Grand Canyon National Park is perfect for outdoor enthusiasts.  There is something for everyone on this list and for different fitness levels.  Also, note that it is dry and hot (in the summer), and make sure you know what you are getting into before you start.  Here are a few tips for visiting the Grand Canyon:
Bring a reusable water bottle and lots of water! Remember you are in the sun and you will need to drink lots of water. I love my LifeStraw Filtered Water Bottle. I can refill this bottle anywhere and it comes with a carabiner to connect it to my daypack.
Check the Weather – days over 100 degrees are very common. Make sure to check.
Hiking boots or sandals that will protect your feet! I love good shoes. I need all the support and help I can get. I actually love these sandals for hiking and also love these hiking boots.
Bring hiking poles for balance and to protect your knees. I know many experienced hikers (and even amateur ones) think that hiking poles are for old people who lose their balance. Actually, hiking poles can help when going down steep inclines or when scrambling over rocks. They are great to hike with even for the most experienced hiker.
Wear a sunhat. I feel like this whole post is about how high you are in the mountains and how much closer you are to the sun but it is so true. At elevation, you are closer to the sun and more likely to burn. Wear sun protection such as a sun hat and sunscreen.
Be aware of the wildlife. This is the Southwest and you will need to watch out for snakes and other wildlife such as moose or a bear. Please stay away from wildlife and do not feed them. I recommend carrying bear spray as well.
Start Early – If you want to avoid the traffic and the heat you will need to start your hike early. That way it will be nice and cool and the smog will not affect you either.
Leave no trace. If you are new to the concept of Leave No Trace it is all about preserving the environment to ensure it is in the same or better condition when you leave it. This means that you should stick to the trails and carry out everything that you carried in. This is a great explanation of the Leave No Trace principles!
Water shoes are great for water hikes– If you don't have a pair, I highly suggest it as they are affordable. I have an article on the pros and cons of several pairs of water shoes.
Bring Bug Spray and a snack: Be sure to bring everything you need including a snack like a protein bar plus BUG SPRAY.
Where to stay near Grand Canyon National Park
The Grand Canyon makes for a great weekend escape. Fresh air, beautiful scenery and being in nature does a world of good for the soul. I recommend staying as close to the park as possible and even treating yourself with a cabin with a spa pool to relax at night.
If you are taking a road trip remember to reserve a car in advance using Discover Cars .
15 Fun Things to do at White Sands National Park, NM
Stop by the Visitor Centre 
The visitor center, which is located right off the highway, is likely to be your first stop in White Sands National Park. The visitor center, like other national parks, is a good place to start. The visitor center at White Sands, built in the 1930s, is very charming.
The White Sands visitor center is housed in ancient adobe buildings that were constructed as part of a job-creation project during the Great Depression. The center was constructed utilizing local resources between 1936 and 1938. While you're there, see A Land in Motion, a fantastic documentary about the history of the dunes.
There are snacks and refreshments available at the visitor center, as well as a gift store. In the little museum section, you can get your National Park Passport stamped.
Playa Trail
A playa is a shallow depression or low-lying area that fills with rainwater from storms for a short period. It is a dry lakebed for the majority of the year. Playas fill with water during monsoon storms, producing a fascinating ecology and constantly changing habitat for the plants and animals that dwell here. The playa might be brown, white, filled with water, or developing crystals depending on the season. Go for a hike and check what the weather is like and don't stray from the path.
This trail leads to a little playa and is short, level, and family-friendly. The trail is marked by green trail markers with a heart symbol. Along the trail, there are five interpretative panels. Learn about this chameleon landscape, which transforms from a brown dry lake bed to one brimming with life after a rainstorm or to a white crusted surface in the winter. Visitors who make it to the end of the trek will be rewarded with an Ice Age scenario populated by the ancient giants that once roamed this region.
Make sure you're prepared for your hike so you can have a safe and enjoyable day. Bring enough water to last the entire trip. At the visitor center, fill up your water containers. In the dunefield, there isn't any water.
Pets are welcome as long as they are quiet, on a leash no longer than six feet (2 meters), and under constant physical control. Pets, like humans, should only leave tracks.
Dune Life Nature Trail
The Dune Life Nature Trail is a picturesque trail with appeal for the whole family, with whimsical and educational signs telling the tale of the area's abundant plants and animals. The nature trail is a mile-long loop hike that is rated as moderate. It will take you around an hour to finish.
The trail is marked by blue trail markers with a club symbol. This trail runs along the dunefield's edge and is more densely vegetated than the rest of the dunefield. Hikers must climb two steep dunes and tread on soft sand on this moderate trip. The trail begins on a level desert plain for the first 300 yards before ascending a steep rise into the dunes.
Before continuing, make sure to look for the next trail marker. If you can't see the next trail marker due to blowing sand or because it's been blown down, turn around and go back to your car. Strong winds can restrict visibility to a few feet, especially in the spring, making it easy to become disoriented. You don't have to hike the full trail to appreciate the breathtaking views. Make sure you're out of the woods by sunset.
This trail has limited shade, no water, and no restrooms; however, there is a vault toilet in the parking lot near the trailhead. Summer temperatures can reach well over 38 degrees Celsius. In warm temperatures, heat-related illness is prevalent and can be fatal. Only go on this hike if you're prepared. If the temperature is at or above 30°C, it is not suggested that you begin the hike.
Keep in mind that the purpose of this trail is to observe plant and animal life. If you want to play in the sand, travel further down Dunes Drive into the dunes' heart, where there are better sledding dunes and covered picnic tables.
Hiking in White Sands
There is no better way to enjoy White Sands National Park's distinctive landscape than to hike one of the park's five official trails. Explore the dune fields and take in the calm and tranquility while taking in the breathtaking views of the surrounding mountains. In terms of difficulty and scenery, the trails vary. Prepare ahead of time to ensure a fun and safe hike.
Hiking is by far the most popular activity at White Sands National Park, and there are numerous trails to choose from. There are five recognized paths in the park, as well as the option to "pick your own adventure" among the dunes. It's crucial to remember, however, that it's very easy to get lost in the sand dunes, so be cautious if you decide to go off the beaten path.
If you're new to the park, ask the rangers at the visitor center for advice before going on your hike. Rangers will offer trail guidance as well as recommendations for people of various fitness and experience levels. If the temperature is at or above 85°F (30°C), it is not recommended that you begin a hike.
Each trail is identified by a different colored post (green, blue, orange, or red) and a symbol (i.e., hearts, clubs, spades, or diamonds). Before you begin your journey, familiarize yourself with these colors and symbols to assist you in orienting yourself to the trail. If you get lost, this information will be vital. The only trail without colored markers or symbols is the Interdune Boardwalk.
Backcountry Camping
White Sands does not have any established campgrounds; however, it does allow backcountry camping among the dunes. Camping among the gypsum dunes beneath the star-studded night skies is "really a wonderful and memorable experience.
The Backcountry Camping Trail is a 2-mile round-trip hike that is moderate in complexity. The trail is popular with backpackers, but it is also open to visitors looking for a shorter stroll through the dunes. This trail is only accessible by foot. On the trail, no bicycles, horses, or motorized vehicles are permitted. Ten designated backcountry campsites require a one-mile hike to access. Orange trail markings will assist you to navigate your way through the dunes to the wilderness campsites.
The campsites are not reserved in advance and are available on a first-come, first-served basis. If you want to backcountry camp in the dunes, you'll need to get a permit from the visitor center ahead of time. Per campsite/permit, groups are limited to a maximum of 6 people. Since it is easy to get lost among the dunes, there are "permit cut-off times," which require you to arrive at the visitor center before this time to receive a permit.
Backcountry camping with pets is permitted as long as they are kept under control and on a leash at all times throughout your visit. However, Backcountry camping has been closed since July 2021 owing to camping site rehabilitation.
Driving Dunes Drive
Another great way to experience the park is to drive the 16-mile round-trip Dunes Drive road. The first four miles of the road are paved, with the remainder consisting of densely packed gypsum sand. When you combine the drive with one of the hikes, you'll be able to see a lot of what White Sands has to offer.
Without stopping, the trip takes about 45 minutes. Keep in mind that you can only park in designated parking spots, so don't pull over to the side of the road just anywhere. Dunes Drive is paved for the first 5 miles and hard-packed gypsum sand for the latter 3 miles. The road is suitable for automobiles, motorbikes, and RVs.
White Sands' Dunes Drive is a picturesque drive unlike any other, with an uncanny similarity to a dangerous winter road. However, the sand drifts that grow alongside the road, as well as the tightly compressed road surface, are entirely made up of sand, not snow.
There are plenty of places to stop for a picnic along the way. There are three more developed picnic places in the heart of the dunes drive, in addition to the two picnic areas at the visitor center. You might also bring a picnic blanket and basket and spend your time outside of the designated picnic areas.
Interdune Boardwalk
If you don't feel like hiking up high dunes and across shifting sand, the Interdune Boardwalk is a great way to see the scenery. The 0.4-mile round-trip path is a hard surface boardwalk that is entirely accessible to wheelchairs and strollers, as its name implies. It provides a lovely area to listen to the birds, watch the lizards, and enjoy the wildflowers along the way. It takes about 20 minutes to complete the walk.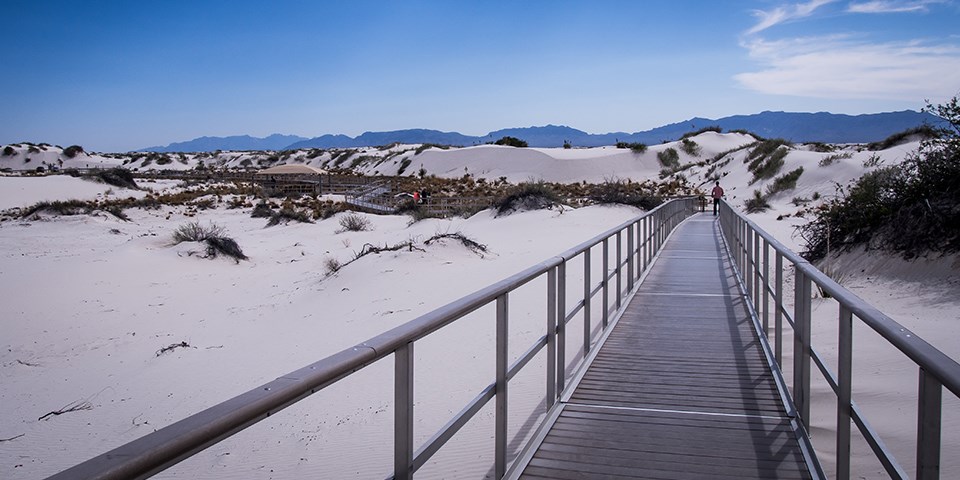 The Interdune Boardwalk is an elevated boardwalk that takes you through a delicate interdune area to a magnificent view of the dunes and Sacramento mountains. Along the boardwalk, there are ten outdoor displays to see.
Learn about the important research being conducted here, the tenacious species that make a living in this tough environment, and the ideal climatic and geologic circumstances that generated and sustain the world's largest gypsum dunes. This short walk may persuade you that White Sands is the greatest sandbox in the world, as well as much more. 
Midway along the boardwalk, there is a shade structure with benches. This area is set aside for nature research. Stay on the boardwalk at all times. Drive three miles further down the road into the center of the dunes for sand play and other recreational activities.
Climb the Dunes
At White Sands, there is no designated 'climbing area,' so you can climb the dunes pretty much anywhere. You can also stroll along the 3-mile gypsum loop near the park's back end – just select a spot that interests you, park your car, and begin walking.
This is most likely at the top of everyone's list of White Sands National Park activities! After all, the park is recognized for its beautiful white dunes, which are often mistaken for snow due to their softness and purity.
However, keep in mind that sand climbing is physically exhausting, and it's easy to lose your footing.
White Sands Sledding
White Sands is a popular destination for families for a variety of reasons, not the least of which is sand sledding. Snow saucers made of waxed plastic work well and can be purchased at the park's gift store, or guests can bring their own.
Dune sledding is another unique way to have fun at the park! A plastic snow saucer can be purchased at the visitors center, or you can buy a sled ahead of time and bring it to the park.
In any case, it's endless fun for both kids and adults, and there are numerous sand dunes throughout the park that provide ideal slopes to ride down. Simply search for dunes that gently flatten down and proceed with caution when sledding.
The park also has various entertaining activities for children, such as the Ranger Program and Adventure Packs! Whatever you choose to do during your visit to White Sands National Monument, you will have a blast playing in the sand dunes!
Lake Lucero Tour
Wave-like gypsum sand dunes occupy 275 square miles of desert in New Mexico's Tularosa Basin, with part of it protected by White Sands National Park. Learn about the formation of the sands on a tour to Lake Lucero led by a park ranger. As you travel down a steep gully to the lake bed and past hundreds of exposed selenite crystals, which are essential to the formation of gypsum sand, park rangers will tell you about the park's geologic history. 
Lake Lucero is a dry lake bed that only fills with water when the surrounding area has gotten a lot of rain or snow. The route from the trailhead to the lake is 1.5 miles (2.41 kilometers) long and takes you through rugged desert terrain and washes. The trail is not maintained and the hike is rated as moderate.
This trail runs through an arroyo with loose soil and uneven terrain. Since the trail progressively descends toward the lake, the hike back to the vehicles is gently uphill. It is forbidden to leave the tour early. All visitors must enter and leave the caravan together.
Participants must have the physical ability to walk the entire distance. Throughout the year, White Sands National Park accepts reservations for guided tours.
From October to March, the park offers Lake Lucero trips once a month. To take part in the program, you must make a reservation. Visit the park's website for further information.
Alkali Flat Trail
Imagine being surrounded by breathtaking views of endless dunes with very few footsteps. The Alkali Flat Trail is for you if you want to see these sights. This trail leads you through the sands, up and over steep dunes, and to the Alkali Flat's edge. The Alkali Flat is the dry lakebed of Lake Otero, a 1,600-square-mile lake that filled the bottom of the Tularosa Basin during the last ice age.
This is a challenging hike that covers a total distance of five miles (8 kilometers) round trip. Although the route is called "Alkali Flat," please keep in mind that it is not flat! This trail is only accessible by foot. On the trail, no bicycles, horses, or motorized vehicles are permitted.
With its several climbs up steep dunes, the Alkali Flat Trail is categorized as a black diamond (difficult). Alkali Flat, despite its challenge, will take you to the heart of the dunes, unlike any other trail in the park. It takes roughly 3 hours to complete the hike
Through the heart of the vast dunefield, follow the red route markers with a diamond symbol. Before continuing, make sure to look for the next trail marker. If you can't see the next trail marker due to blowing sand or because it's been blown down, turn around and go back to your car.
Strong winds can restrict visibility to a few feet, especially in the spring, making it easy to become lost. You don't have to hike the full trail to enjoy the breathtaking views and make sure you're out of the woods by sunset.
Photograph the Dunes
White Sands, which is known for being extremely attractive, attracts a large number of photographers, both amateur and professional. The park is described as a "photographer's paradise" because of the changing light, shadows, and breathtaking scenery.
Because of the risk of blowing sand, the park advises photographers to take extra precautions with their camera gear. Photographers should be especially careful while changing lenses and should always have a camera bag or backpack on hand to store their equipment when not in use.
The park recommends focusing on the "golden hours" — the two hours after sunrise and the two hours before sunset — to capture the greatest images. Even so, every day is different, and you might be astonished by beautiful afternoon clouds hovering just above the dunes on the horizon.
Ranger Guided Sunset Tour
The beautiful white sand gets flushed with a gentle rose tint as the sun dips slowly toward the rugged slopes of the San Andres Mountains. Families and couples gather on the sand dunes to watch the sky become pink, purple, and soft gray.
There are several fantastic places to watch the sunset, but you might choose to stop at the Sunset Stroll parking lot. Take a blanket and a few snacks to any of the dunes along Dunes Drive. Find a high vantage position that is not in the way of others' views, sit in the soft sand facing west, and enjoy the spectacle.
It's a great idea to perform a quick internet search ahead of time to discover when the sun will set on the day you'll be there. The park's website states that the park closes at 6 p.m., but this refers only to the visitor center hours.
Pistachio Land
McGinn's Pistachio Tree Ranch & Arena Blanca Winery are some other names for Pistachio Land, but its most famous feature is the World's Largest Pistachio. The 30 foot tall World's Largest Pistachio was built in honor of Thomas Michael McGinn, the creator of Pistachio Tree Ranch, who died in 2007.
PistachioLand is worth more of your time as you drive through Alamogordo than some roadside attractions where you stop for a minute or two and then go on. A motorized farm tour is also available in this area. One of the good things about Pistachio Land is that their farm tour is pet-friendly, so if you're going on a road trip with your dogs, they may come along.
Free samples of flavored pistachios were available inside the gift shop. Next to it is an ice cream parlor which you can enjoy while looking for souvenirs and gifts.
Explore Alamogordo
Outdoor activities abound in Alamogordo and Otero County, with an average of 287 days of sunshine. Alamogordo, located in the high desert at the base of the Sacramento Mountains, is the ideal place to "set up camp" and enjoy all of the area's great attractions.
Pistachio farm tours at Heart of the Desert/Eagle Ranch Pistachios, the New Mexico Museum of Space, and the White Sands Missile Range Museum are among the area's other attractions
Take in a show at the Flickinger Center for Performing Arts, shop in the Alamogordo MainStreet district, or spend a day at one of the lovely museums, such as the New Mexico Museum of Space History or the Tularosa Basin Museum of History, when you need a break from the great outdoors.
Alamogordo is a wonderful spot to visit, reside, or create a business because of its great weather and wide-open areas, as well as its history and amazing people.
Recent Posts