15 Airbnbs Near Zion National Park to Get to the Park Early!
Airbnb Zion: Are you looking for an Airbnb near Zion National Park? This list will help you find the perfect Zion National Park Airbnb for you.
When looking for a Zion Airbnb, its important to know which cities are closest. Below you will find the distance to Zion for each city and then I have categorized each Airbnb by their city.
There are several cities you can stay in if you are looking for an Airbnb near Zion National Park. This is the order the Airbnbs appear in on the list so you can find the right place for you to stay.
Springdale – located right at the South Entrance
Hurricane – located 21 miles from Springdale
St. George – 34 Miles from Springdale
Kanab – 30 miles from the East Entrance
You can also check out my post on the Best Glamping Spots in Zion National Park for more options
Thank you for supporting this website written by an American. This post may contain affiliate links. This means I earn a small commission on these links at no extra cost to you.
National Park Entrance Fees
To enter the National Parks, you'll need to pay an entrance fee or have a National Parks Pass also known as American the Beautiful Pass.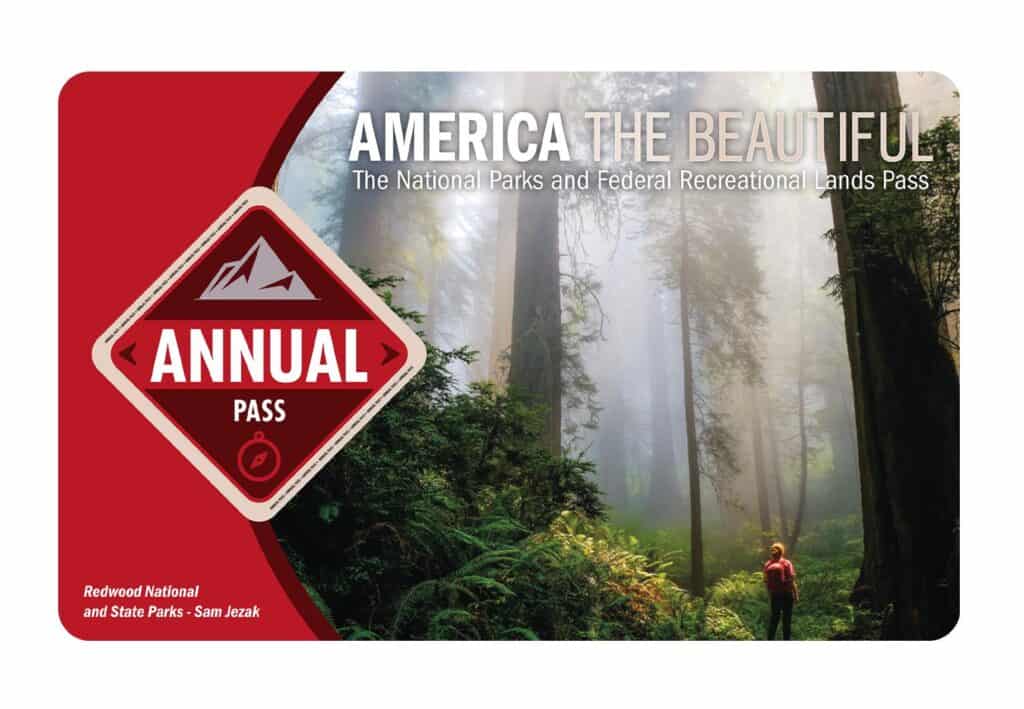 It costs $80 for a yearly America the Beautiful Pass. This gives you access to all national parks and federal areas that charge fees. The America the Beautiful Pass is well worth it!
I purchased my first one in 2016 and it's such a money-saver! Plus 10% of sale proceeds go to the National Park Foundation.
Tips for Visiting Grand Teton National Park
Grand Canyon National Park is perfect for outdoor enthusiasts. There is something for everyone on this list and for different fitness levels. Also, note that it is dry and hot (in the summer), and make sure you know what you are getting into before you start. Here are a few tips for visiting the Grand Canyon:
Bring a reusable water bottle and lots of water! Remember you are in the sun and you will need to drink lots of water. I love my LifeStraw Filtered Water Bottle. I can refill this bottle anywhere and it comes with a carabiner to connect it to my daypack.
Check the Weather – days over 100 degrees are very common. Make sure to check.
Hiking boots or sandals that will protect your feet! I love good shoes. I need all the support and help I can get. I actually love these sandals for hiking and also love these hiking boots.
Bring hiking poles for balance and to protect your knees. I know many experienced hikers (and even amateur ones) think that hiking poles are for old people who lose their balance. Actually, hiking poles can help when going down steep inclines or when scrambling over rocks. They are great to hike with even for the most experienced hiker.
Wear a sunhat. I feel like this whole post is about how high you are in the mountains and how much closer you are to the sun but it is so true. At elevation, you are closer to the sun and more likely to burn. Wear sun protection such as a sun hat and sunscreen.
Be aware of the wildlife. This is the Southwest and you will need to watch out for snakes and other wildlife such as moose or a bear. Please stay away from wildlife and do not feed them. I recommend carrying bear spray as well.
Start Early – If you want to avoid the traffic and the heat you will need to start your hike early. That way it will be nice and cool and the smog will not affect you either.
Leave no trace. If you are new to the concept of Leave No Trace it is all about preserving the environment to ensure it is in the same or better condition when you leave it. This means that you should stick to the trails and carry out everything that you carried in. This is a great explanation of the Leave No Trace principles!
Water shoes are great for water hikes– If you don't have a pair, I highly suggest it as they are affordable. I have an article on the pros and cons of several pairs of water shoes.
Bring Bug Spray and a snack: Be sure to bring everything you need including a snack like a protein bar plus BUG SPRAY.
Where to stay near Grand Canyon National Park
The Grand Canyon makes for a great weekend escape. Fresh air, beautiful scenery and being in nature does a world of good for the soul. I recommend staying as close to the park as possible and even treating yourself with a cabin with a spa pool to relax at night.
If you are taking a road trip remember to reserve a car in advance using Discover Cars .
15 Best Airbnbs near Zion National Park – for all Budgets
Airbnbs in Springdale, UT – closest Zion Airbnbs
Zion National Park Juniper 1 Bedroom Villa
This pet-friendly Airbnb beds four people and has a lovely open floor design.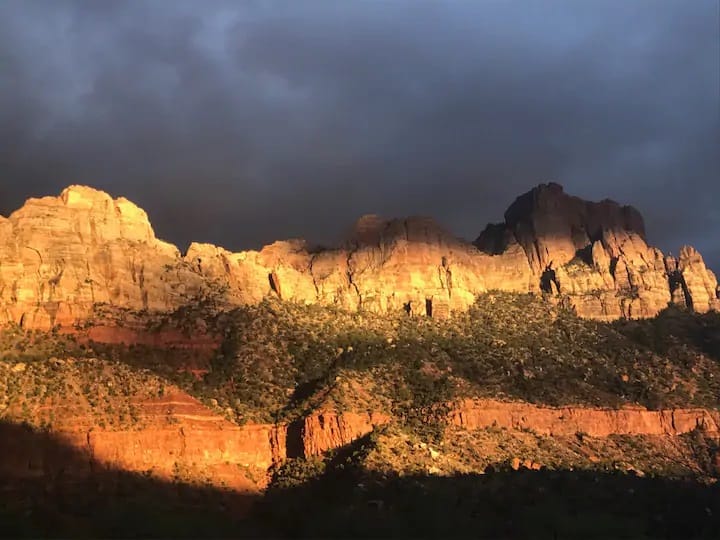 It's only a two-mile drive to the park entrance, and it's also within walking distance of restaurants, stores, and anything else you could desire when visiting this world-renowned National Park!
This treetop apartment boasts a magnificent kitchen, spacious gardens, and amazing views of nature, making it one of the best Airbnb rentals in Springdale.
Further, Zion National Park is within a 5-minute drive from this apartment. If you want to see the wonderful views that Springdale has to offer, this is a great place to start.
You can easily wander around and do some shopping or eat at one of the restaurants.
You may also book with certainty because the host has a 5-star rating and is an Airbnb Superhost.
With a 100% response rate, all of your booking queries will be promptly answered, allowing you to spend more time investigating all of the remarkable things to do in the park!
The Juniper at Watchman Villas in Zion Canyon
One of Watchman Villas' three upper-level units, this grandiose 1 bedroom/1 bathroom accommodation is one of the most stunning.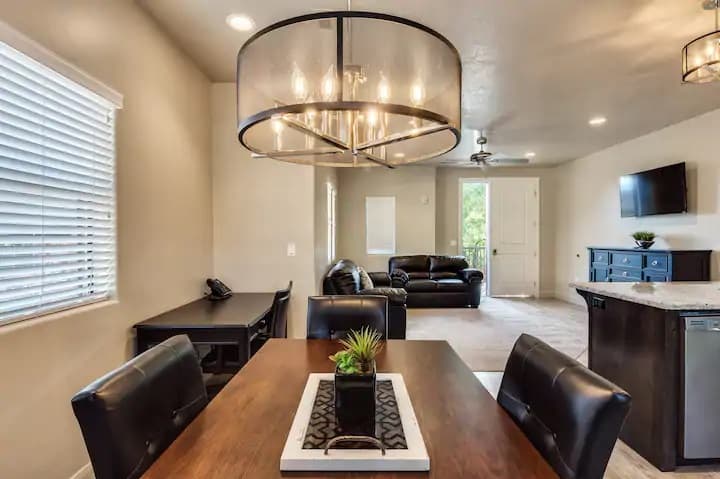 The Juniper is a well-appointed one-bedroom, one-bathroom condo with all of the conveniences and amenities of an 850-square-foot house, as well as a private balcony with spectacular views of Zion National Park.
A full kitchen, dining table, living space with a sofa pullout bed, and writing desk are all part of the open concept design. The master bedroom has a king bed as well as an en-suite bathroom with a large soaking tub and separate shower.
Watchman Villas offers free WiFi in public areas as well as laundry facilities to its guests. There is free parking and free shuttle service around the area. Staff members are available to assist with tours or tickets, as well as luggage storage.
Couples, families, and groups of friends will enjoy this trip. Please keep in mind that this unit is reached through stairs and may not be ideal for persons who have difficulty climbing and descending steps.
In terms of location, it's a perfect starting point for exploring Zion because it's only about a mile from the park's entrance. Restaurants and business districts are also close by. You will undoubtedly appreciate your stay in this lovely and large home.
Harvest B&B Entire Guest Suite
Visitors to Utah's beautiful Zion National Park will find a calm retreat at Harvest House Bed & Breakfast.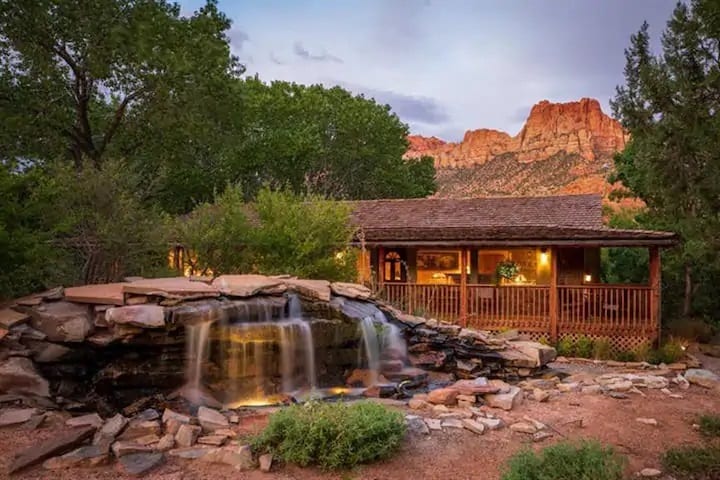 The Harvest House is conveniently located in Springdale, about 12 miles from the park entrance, with easy access to local shops, restaurants, and the Zion National Park Shuttle.
Harvest House Bed & Breakfast provides complimentary WiFi, free private parking, and access to a hot tub. All of the rooms have air conditioning and seating and/or dining space. Every morning, the bed and breakfast serve American breakfast, and visitors can relax in the garden.
Relax in the lush greenery of the gardens surrounding the Koi pond or in the Hot Tub while taking in the breathtaking views of Watchman Mountain. From March through October, they serve a full breakfast most mornings. The rooms come with either a King or Queen bed and a private en suite bathroom.
The entrance to Zion National Park is only a few minutes away. The nearest airport is St. George Regional Airport, which is 74 kilometers away.
Stand Alone Charming Historic Cottage
This cottage is located in the heart of Springdale. Zion National Park and Zion National Park South Entrance showcase the area's natural splendor.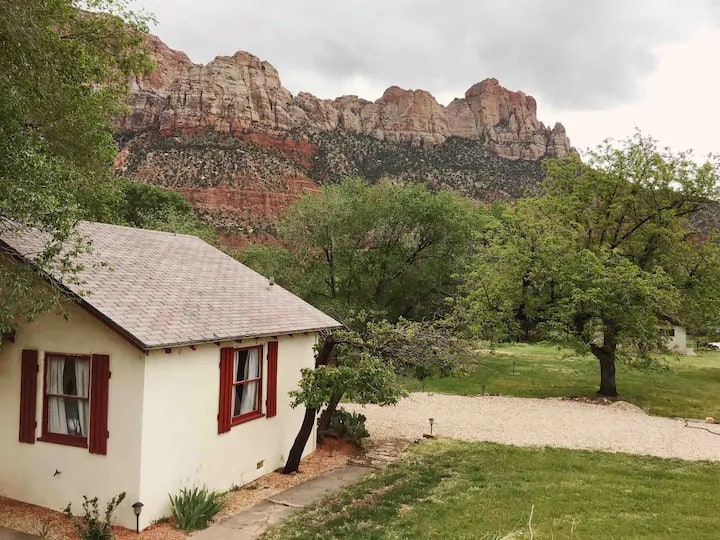 Water tubing and fishing are fantastic ways to get out on the water, but there are also rock climbing and hiking/biking trails nearby if you're looking for a challenge.
Red Rock Inn Cottages is located in Springdale and has a terrace with mountain views. Every day, a complimentary breakfast is served. The property is 2 kilometers from Zion National Park.
A flat-screen TV is provided in each room. There is a seating space in several of the rooms where you can unwind. There is a coffee machine as well as a private bathroom. Bathrobes and complimentary toiletries are provided for your convenience. Free WiFi is available throughout Red Rock Inn Cottages.
A hot tub with a view of the mountains is available 24 hours a day.
The property is 48 kilometers from St. George Regional Airport.
Nama-Stay Suites
Nama-Stay is both a destination and a journey. With rich, wide-open views, this is a place of love.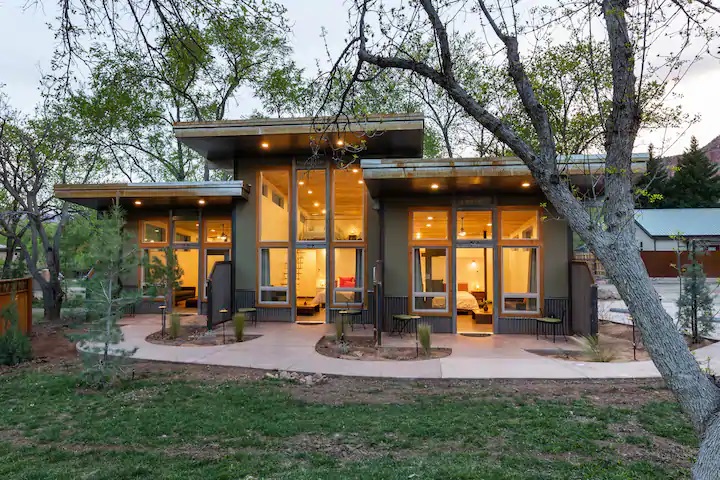 Surrounded by the beauty of Zion National Park in Springdale, Utah, this home was thoughtfully constructed to be in peace with nature. This lovely home provides you with the serenity of a true sanctuary.
The Nama-Stay property is located in "downtown" Springdale, Utah, just 5 minutes from the south entrance of Zion National Park, shuttle buses, grocery stores, restaurants, galleries, and a wide range of outdoor adventure activities. Even so, you're far enough away from the road to get a good night's sleep.
The Nama-Stay Suites are only a few steps away from the Nama-Stay House and Cabins/Private Rooms, but each unit has its own unique appeal and sense of privacy. The high wooden ceiling enables you to let go of your thoughts and rest, with a magnificent spacious basic Zen decor. Each Suite includes a private bath with a luxury shower, a kitchenette with a microwave, coffee maker, and French press, and a 17-cubic-foot refrigerator. There isn't a barbecue or a stove. One parking place is allotted to each unit.
This suite can sleep up to two people. There is one king-size luxurious bed in the room. The internal room is 470 square feet and includes a private terrace as well as a parking place. Rentals must be for a minimum of two nights, and rates vary depending on the season. The Nama-Stay Suites are ideal for couples looking for a romantic break.
The apartment is air-conditioned and features a balcony, a couch bed, and a microwave, among other features. A refrigerator, a coffee machine, and a hairdryer are among the other typical facilities.
If needed, your host will be approachable during your visit, but you will have complete privacy.
Airbnb's in Hurricane, UT
Luxury Zion Home with a Private Hot Tub
The house is designed for single travelers or groups of four, and you have complete access to all areas of the property.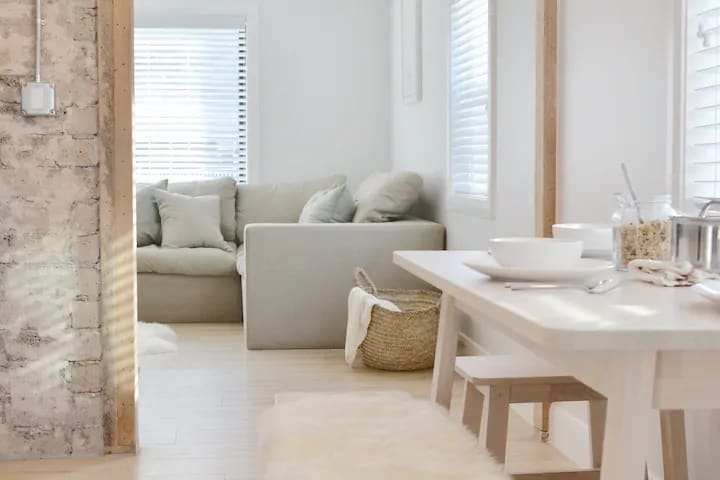 Everything about this location is spotless, and it has a soothing atmosphere. The location is ideal as well, with a plethora of surrounding eateries, stores, and gas stations.
This suite can sleep up to two people. There is one king-size luxurious bed in the room. The interior room is 470 square feet and includes a private terrace as well as a parking place. Rentals must be for a minimum of two nights, and rates vary depending on the season. This is an ideal romantic escape.
Please check their schedule for availability before scheduling your visit. This is the only hotel in town with its tour guide, shuttle, and outfitting services. For additional information about Zion National Park, visit their sister store, Zion Guru. To guarantee your stay, make a reservation now!
Avoid the clamorous crowds in Springdale by booking this private, beautiful Zion Home in Hurricane, which guarantees a clean and pleasurable stay.
This property was built in 1940 and was transformed into a magnificent area for guests to enjoy for two years. Despite being 20 miles from Zion National Park, this house has the finest location because it is close to other attractions in the area such as Bryce Canyon, Antelope Canyon, Grand Canyon, and more.
Zion's PLAY-cation TownHome with a VIEW
This brand-new Zion's PLAY-cation TownHome with a VIEW, which is directly close to the park and has full views from every corner of the room, will instantly attract couples and lone travelers.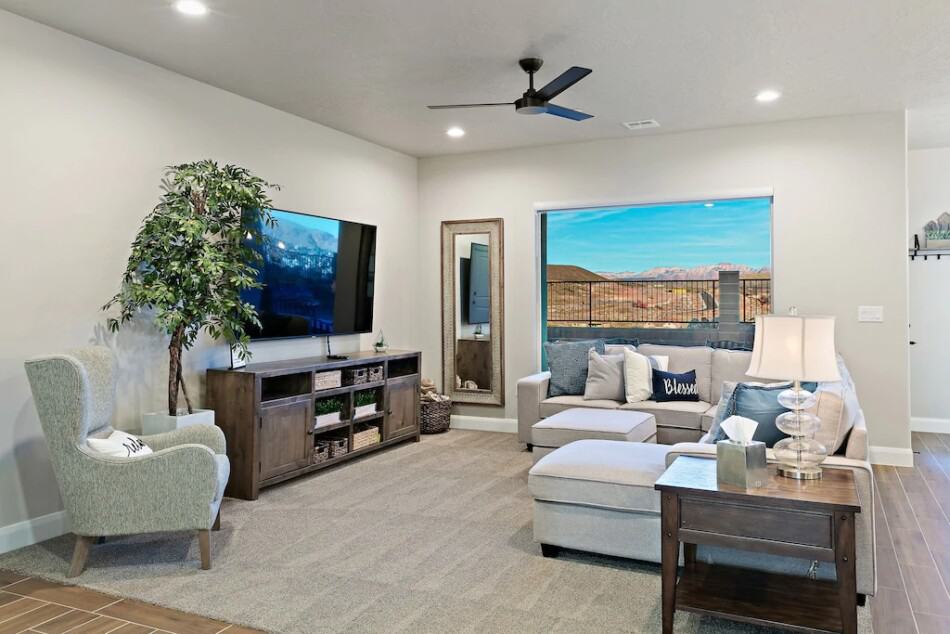 This house has all of the conveniences of home while still being in the best possible position, only 3 minutes from the national park entrance.
As you enjoy your time in Southern Utah, look out every window in the back of this 2-story townhouse to see the mouth of Zion National Park. The adults can sleep extremely comfortably in all four Bedroom Suites, which include mattresses, pillows, and down duvets. The two-car garage also has an electric car/Tesla charger. On the rear patio, there is a gas grill and a smoker.
Some of the facilities include a brand-new HD TV in each room, HDMI connectors for your own devices, and high-speed WiFi.
A fresh new boutique coffee shop is located on the building's lower level, where you may get your daily dose of caffeine. If you're wondering if you'll be able to enjoy your privacy, the host has ensured that the floor is soundproofed so that noise won't bother you. This is a great location to stay if you're seeking a lovely place to stay in Zion.
Luxury Zion Farmhouse | Huge Pool/Spa
The breathtaking vistas of Zion National Park and Pine Valley Mountain will remind you why you want to return to this enchanting getaway again and again! Designed specifically for large and small groups looking to relax!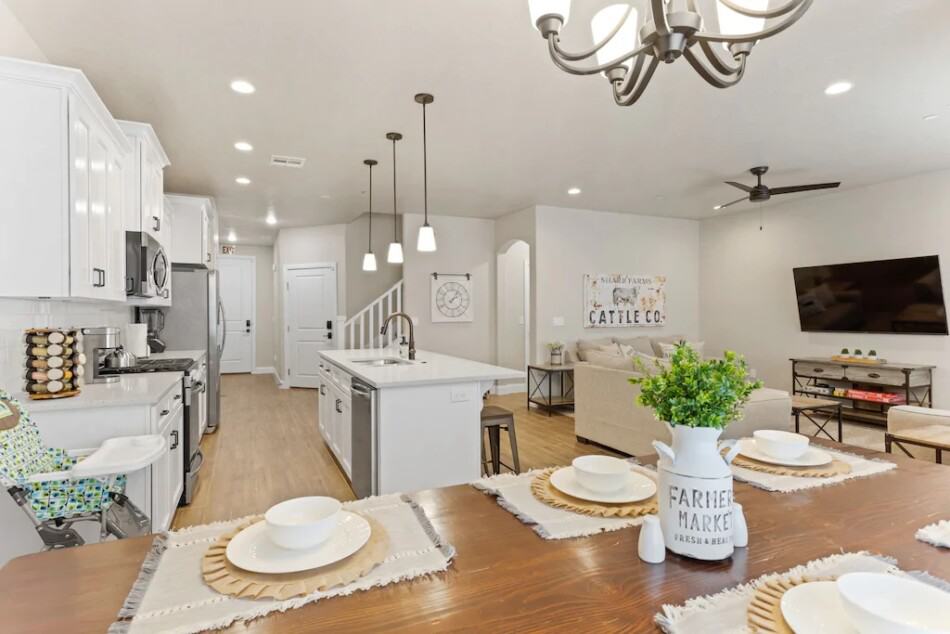 This brand new, modern, gorgeous 5-bedroom property in La Verkin is about 25 minutes from Zion National Park, 20 minutes from Sand Hollow, and 30 minutes from St George! Many hiking and mountain biking paths are nearby.
After a day of seeing Southern Utah's incredible vistas of natural rock formations and stunning landscapes, this property is the perfect spot to unwind and rest. Gas stations, a grocery store, and River Rock Roasting Company, an exceptional coffee business, are all within a mile. Located in a very peaceful neighborhood away from the noise and bustle of St George.
The property's backyard features a large private pool, a therapy hot tub, and a large Pergola. An outdoor kitchen with a mini-fridge, icebox and sink is also available. There is a separate room with a King bed and a Casita with a tiny bathroom and shower.
Confluence Park, where you can take a fast hike or bike trip to the Virgin River, is visible from the backyard. The park features breathtaking views all around it, as well as numerous places to jump in and swim or play on the rope swing.
A modern full kitchen, with new stainless-steel appliances, and granite countertops are included in this home. Its light-open concept is ideal for spending time with family and friends in the kitchen and living room.
The master bedroom is spacious, with a king-size bed, TV, and private master bathroom with jetted tub and walk-in shower large enough for two! There is another King-size bedroom suite with its own TV in the front of the property, as well as two Queen-sized bedrooms! This rental home is great for touring Southern Utah, including ZION, St George, Bryce Canyon, Brianhead, Kolab Canyon, and more!
Airbnb's in St. George, UT
Cozy St. George Condo near Zion National Park
Staying in this cozy one-bedroom condo in St. George will make it easy for you to explore the magnificent Zion National Park.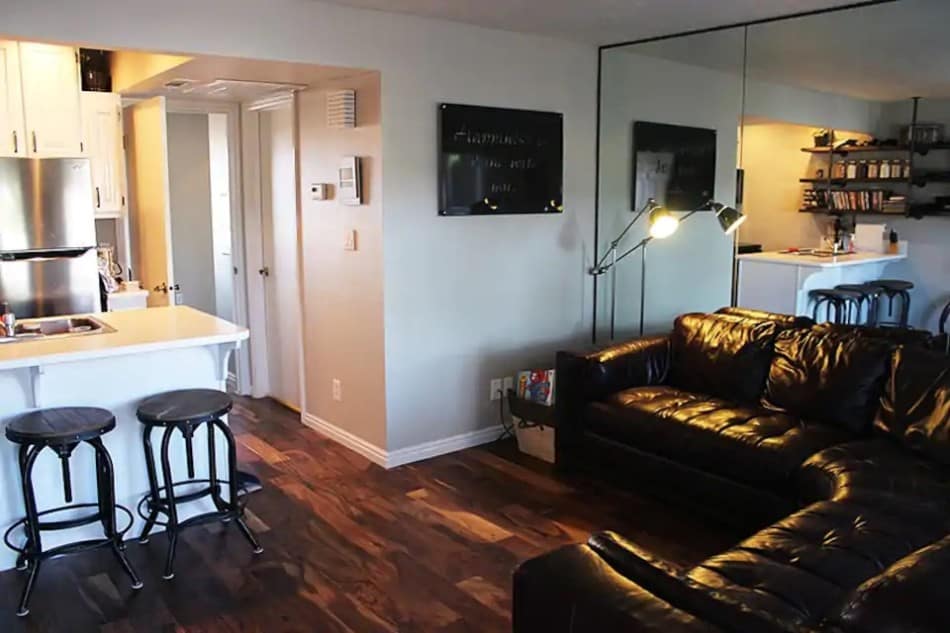 This magnificent and private apartment is conveniently located near Zion National Park as well as other popular St. George attractions.
Relax in this lovely property, which is located in a fantastic area. Even though this unit is close to the recreational amenities, you will be able to avoid the sounds of the city or the condo recreation areas when you stay here. When you're ready for some fun, a brief walk across the street will get you to those amenities.
This lovely, serene, updated, and improved end unit condo features an exterior entrance, modern rustic design, new furniture, appliances, and furnishings, as well as fresh paint and new bedding. It's well equipped with everything you'll need for a relaxed and comfortable stay.
The bedroom contains a king bed and flat-screen television. At the large vanity/mirror/double-sink, you'll have plenty of room to get ready. Relax on the terrace of the bedroom, where a table and chairs or a bench await you.
In the living room, a queen sleeper sofa with a memory foam topper gives additional sleeping space. The extra door separating the bedroom/hall area from the living area, which provides privacy for people sleeping on the sleeper sofa, will also be appreciated.
You can also have full access to the Sports Village Clubhouse, which has heated pools, hot tubs, a playground, tennis court, basketball court, and more, just a few steps from the unit.
Comfy Condo in Sports Village
The property is on a corner with a private patio, no stairs to climb, and no one above you, so you can expect a really private holiday.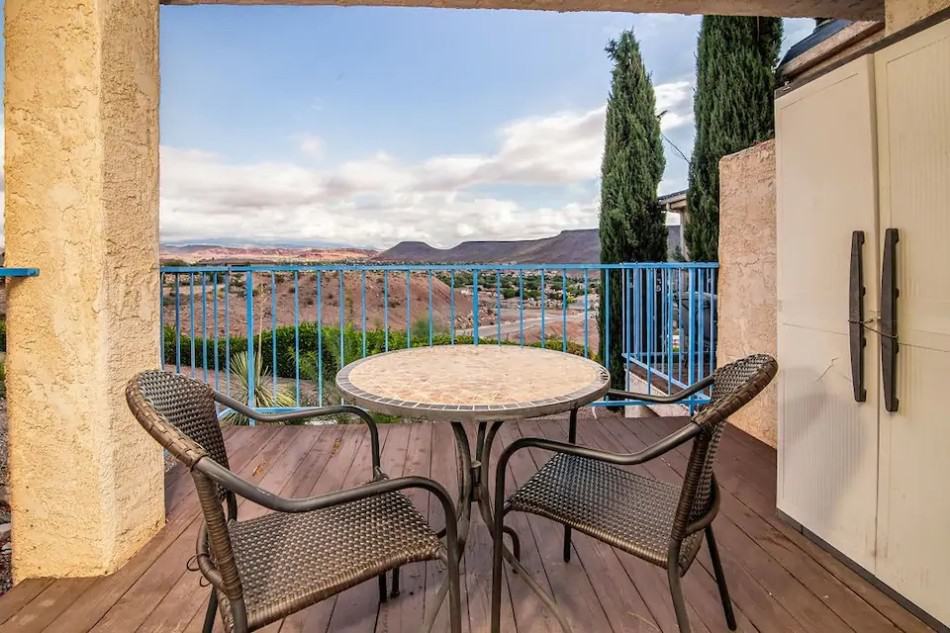 The unit has a queen-sized bed, a spacious kitchen, and a relaxing Hot tub. You can also use the clubhouse, which is located directly across the street, to play tennis, shuffleboard, racket ball, pickleball, and a variety of other sports. This condo can be rented by night, week, or month.
Beautiful furniture, appliances, and furnishings, as well as fresh paint, new bedding, fluffy towels, and everything you need for a comfortable and restful stay, give the interior a modern country vibe. All recreational amenities will be available to you during your stay.
A private, pleasant patio area with a table and chairs is located off the eating room. Escape the sounds of being in town or near the condo recreation areas by relaxing and taking in the spectacular views of the mountain ranges surrounding St. George from the living room or kitchen. The view changes with the time of day, and it's much more beautiful at night!
This is ideal for singles or couples looking for a short break in St. George. It is adjacent to the national parks of Zion, Bryce, and Snow Canyon, making it easy to see the best vistas in Utah.
Sunny St. George Condo in Sports Village
This Sports Village condo has free wifi, two flat-screen TVs, one bedroom, one bathroom, and a full kitchen that can accommodate up to four people.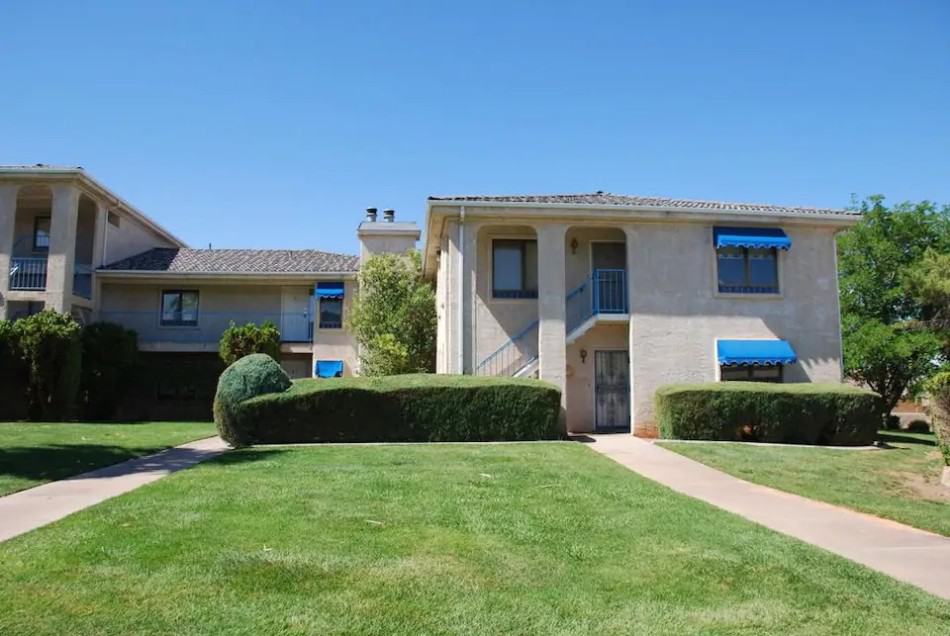 The interior is beautifully designed, and it's a fantastic spot to unwind after a long day of touring St. George's numerous attractions.
You can also take advantage of the condominium's amenities, which include racquetball and tennis courts, two full-size pools, two hot tubs, a playground, basketball, mini-golf, pool table, air hockey, and much more. This Airbnb condo is certainly secure, family-friendly, and cost-effective.
Beautiful furniture, appliances, and furnishings, as well as fresh paint, new bedding, fluffy towels, and everything you need for a comfortable and restful stay, give the interior a modern country vibe. All recreational amenities will be available to you during your stay!
Snow Canyon State Park is about 10 minutes away, while Zion National Park is only 40 minutes away. The Bear Claw Poppy Trail is only two blocks away, so it's virtually in your backyard!
Beautifully Remodeled Cozy Condo with Fountain Views
This lovely and comfortable property welcomes you to unwind and have a relaxing stay in St George, particularly in Sports Village.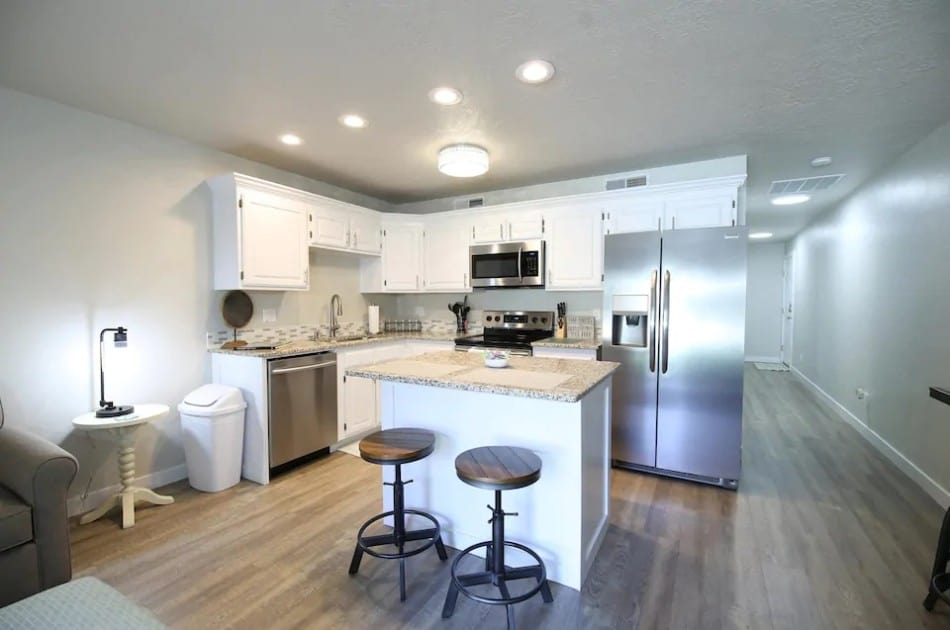 This unit comes with a fully equipped kitchen, including coffee and a coffee maker. The washer and dryer are available for free. A peaceful neighborhood with gorgeous red ledges with a coffee shop and grocery store across the corner.
It includes a spacious and peaceful one bedroom with three beds. It also comes with stainless steel appliances, granite countertops, a fully equipped kitchen, and a washer and dryer.
Two huge swimming pools, two hot tubs, tennis, pickleball, and racquetball courts with equipment are among the resort-style amenities available at the condominium. This is a fantastic little unit that sleeps four people for a very reasonable price.
After a day of touring, relax in this comfortable single-family house, which is only 20 minutes from Zions National Park and 20 minutes from St. George.
Airbnb's in Kanab, UT
Juniper Forest Inn
This bright and welcoming home will be the ideal place to unwind in between adventures in southern Utah's high desert.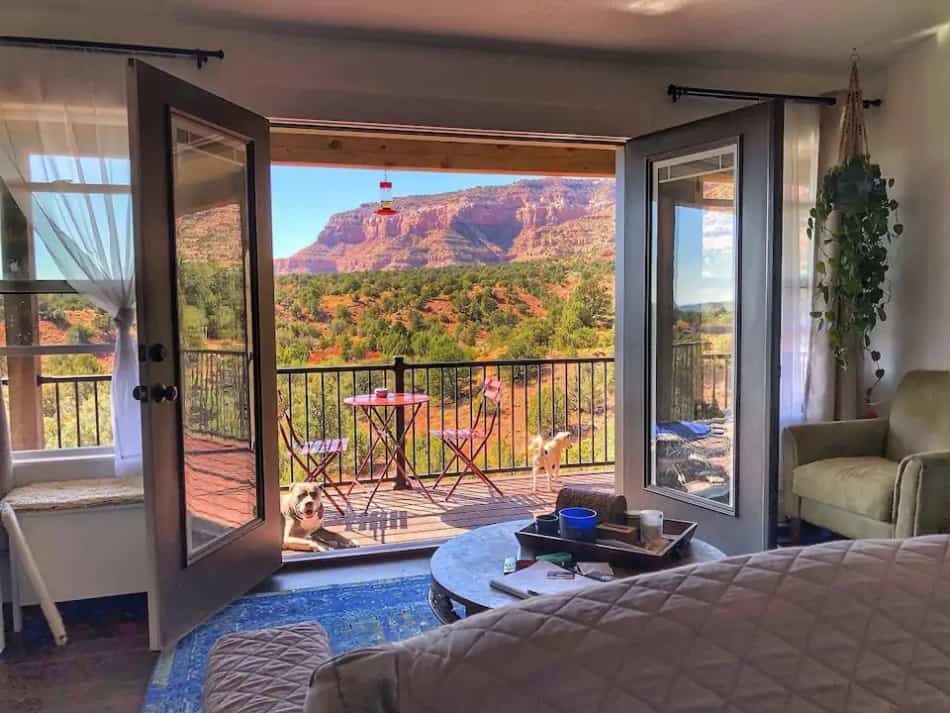 The views are some of the greatest you'll see for miles, and the amenities will make you feel at ease.
This house has two bedrooms and two bathrooms. It comes with a washer and dryer, as well as a fenced-in backyard and a full kitchen. It has a pull-out couch to accommodate extra visitors.
A stunning residence surrounded by gorgeous red rock cliffs. Hiking, ATV, and horseback riding paths are all within walking distance. The BLM office, grocery stores, and restaurants are all within 2 miles of the heart of town.
Townhome by Zion, Bryce, Grand Canyon in Kanab
This clean, pleasant, and peaceful townhouse is located in downtown Kanab, close to Kanab's innovative restaurants and The Wave lottery.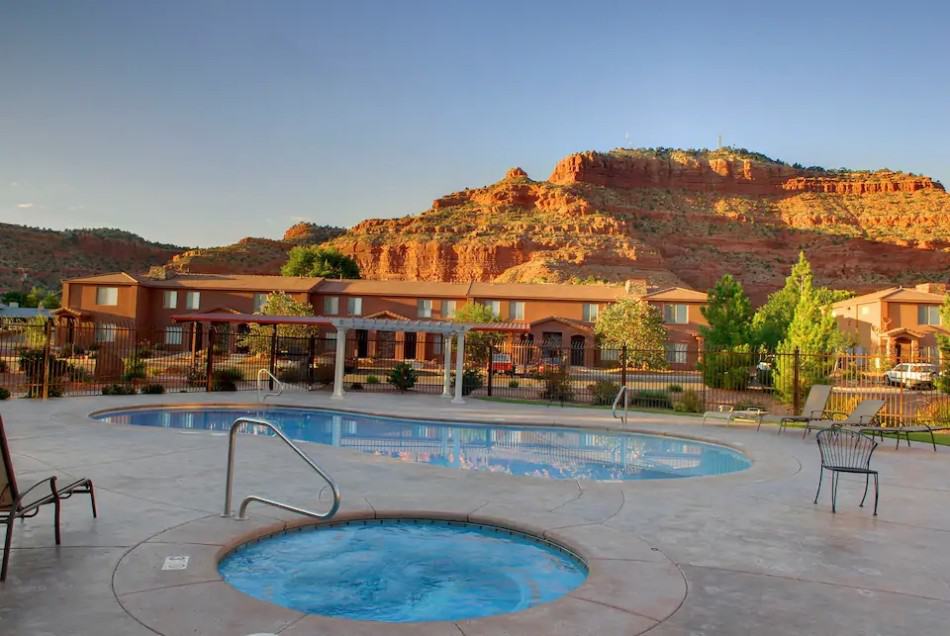 In the summertime, swim in the pool, and year-round, relax in the hot tub. Fast WiFi and a quiet, comfortable environment are ideal for distant workers.
Several beautiful hiking paths are within walking distance. Kanab is surrounded by public land and is 45 minutes from Zion National Park and Grand Staircase, as well as less than 1.5 hours from Bryce Canyon National Park, the Grand Canyon north rim, and Lake Powell.
Enjoy this relaxing townhouse escape among all of your favorite National and State Parks in the center of the Grand Circle. You may visit the Grand Canyon, Bryce Canyon, Zion National Park, Coral Pink Sand Dunes State Park, and a plethora of other natural wonders.
Recent Posts