15 Awesome Spots for Glamping in Utah
Utah Glamping: Are you heading to Utah and looking for a unique glamping experience? There are so many cool spots to go glamping in Utah – plus they are all located near bucket list places in Utah.
Finding the best glamping in Utah does not have to be hard. This list of luxury glamping Utah includes all the best places to stay and even incldues some family glamping Utah spots.
Thank you for supporting this website written by an American. This post may contain affiliate links. This means I earn a small commission on these links at no extra cost to you.
National Park Entrance Fees
To enter the National Parks, you'll need to pay an entrance fee or have a National Parks Pass also known as American the Beautiful Pass.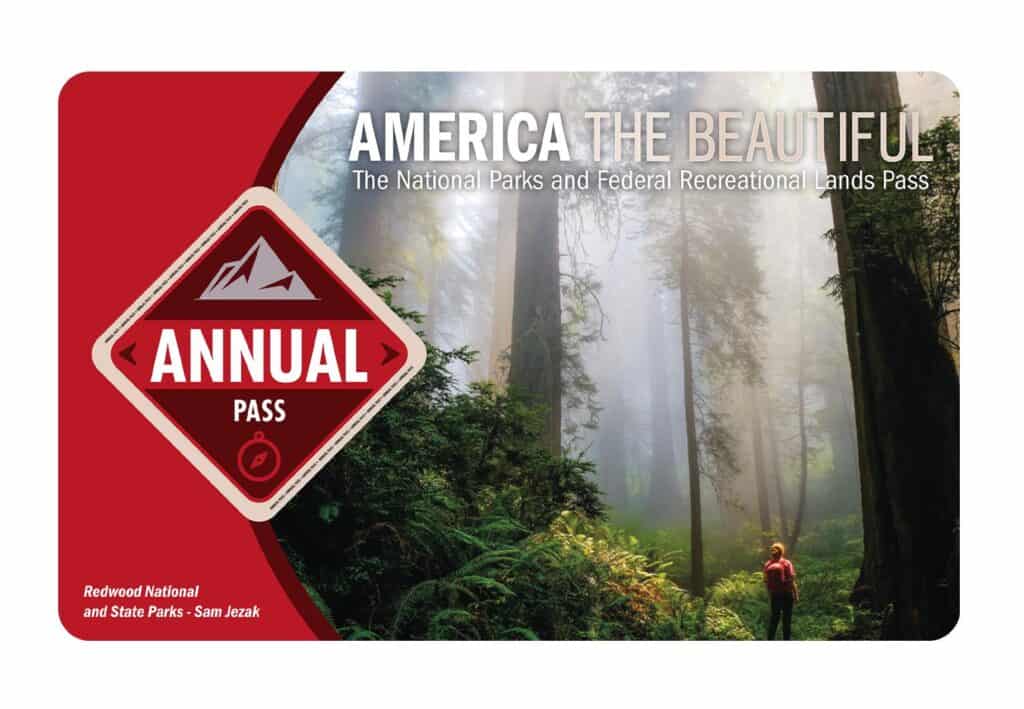 It costs $80 for a yearly America the Beautiful Pass. This gives you access to all national parks and federal areas that charge fees. The America the Beautiful Pass is well worth it!
I purchased my first one in 2016 and it's such a money-saver! Plus 10% of sale proceeds go to the National Park Foundation.
Tips for Visiting Grand Teton National Park
Grand Canyon National Park is perfect for outdoor enthusiasts. There is something for everyone on this list and for different fitness levels. Also, note that it is dry and hot (in the summer), and make sure you know what you are getting into before you start. Here are a few tips for visiting the Grand Canyon:
Bring a reusable water bottle and lots of water! Remember you are in the sun and you will need to drink lots of water. I love my LifeStraw Filtered Water Bottle. I can refill this bottle anywhere and it comes with a carabiner to connect it to my daypack.
Check the Weather – days over 100 degrees are very common. Make sure to check.
Hiking boots or sandals that will protect your feet! I love good shoes. I need all the support and help I can get. I actually love these sandals for hiking and also love these hiking boots.
Bring hiking poles for balance and to protect your knees. I know many experienced hikers (and even amateur ones) think that hiking poles are for old people who lose their balance. Actually, hiking poles can help when going down steep inclines or when scrambling over rocks. They are great to hike with even for the most experienced hiker.
Wear a sunhat. I feel like this whole post is about how high you are in the mountains and how much closer you are to the sun but it is so true. At elevation, you are closer to the sun and more likely to burn. Wear sun protection such as a sun hat and sunscreen.
Be aware of the wildlife. This is the Southwest and you will need to watch out for snakes and other wildlife such as moose or a bear. Please stay away from wildlife and do not feed them. I recommend carrying bear spray as well.
Start Early – If you want to avoid the traffic and the heat you will need to start your hike early. That way it will be nice and cool and the smog will not affect you either.
Leave no trace. If you are new to the concept of Leave No Trace it is all about preserving the environment to ensure it is in the same or better condition when you leave it. This means that you should stick to the trails and carry out everything that you carried in. This is a great explanation of the Leave No Trace principles!
Water shoes are great for water hikes– If you don't have a pair, I highly suggest it as they are affordable. I have an article on the pros and cons of several pairs of water shoes.
Bring Bug Spray and a snack: Be sure to bring everything you need including a snack like a protein bar plus BUG SPRAY.
Where to stay near Grand Canyon National Park
The Grand Canyon makes for a great weekend escape. Fresh air, beautiful scenery and being in nature does a world of good for the soul. I recommend staying as close to the park as possible and even treating yourself with a cabin with a spa pool to relax at night.
If you are taking a road trip remember to reserve a car in advance using Discover Cars .
15 Best Utah Glamping Spots – for a unique stay in Utah
East Zion Resort Glamping Tent
Get your friends together for a glamping vacation if you prefer a little extra luxury on your adventure retreat. It combines the fun of camping with the conveniences of a hotel. Those of you who enjoy traditional car camping and backpacking will enjoy the atmosphere at these five glamp grounds located throughout Utah. Thunderbird Foundation for the Arts is 2.7 miles (4.4 kilometers) away from this campground.
A jacuzzi tub and BBQ grills are available at the campground. The Glamping tents are perched atop a spectacular slope that spans 12 acres of stunning Southern Utah scenery. There are also yurts and treehouses on the property. You are welcome to use the pavilion and swim in the pool at any time.
The accommodation is air-conditioned and equipped with a washing machine, a balcony, and a microwave. A refrigerator, a cooker, and a coffee maker are also included as standard features.
Canvas Glamping Tent
Welcome to East Zion Resort's "Canvas Glamping". The Canvas Tents here are well made and have sophisticated yet rustic features. Each is equipped with a private bathroom, a fire pit, a gas grill, and air conditioning.
The Glamping tents are perched atop a spectacular slope that spans 12 acres of stunning Southern Utah scenery. There are also yurts and treehouses on the property. You are welcome to use the pavilion and swim in the pool at any time.
The campground has a jacuzzi tub and barbecue grills. The apartment is air-conditioned and comes with a microwave, a washing machine, and a balcony. Standard features include a refrigerator, a stove, and a coffee maker.
Zion Glamping Adventures – Luxury Tent
Zion Glamping Adventures is a once-in-a-lifetime opportunity. Located in a quiet canyon just minutes from the highway yet worlds away from the city's hustle and bustle.
In Hildale, Zion Glamping Adventures offers mountain views, free WiFi, and free private parking. All of the rooms have air conditioning and seating and/or dining space. Guests at the tented camp have access to a children's playground and a BBQ grill.
Inside the red rock canyon walls, each tent site is precisely set up to provide both luxury and solitude, as well as a true sense of nature. Comfortable queen mattresses, rich bedding, a table, chairs, and a lamp are included in the huge tents.
Zion Glamping Adventures is 40 kilometers from Springdale and 42 kilometers from Hurricane. The nearest airport is St. George Regional Airport, which is 49 kilometers away.
Under Canvas Zion
Another incredible Under Canvas glamping experience, this time with Zion National Park as your backdrop. Staying in these luxury tents under the stars at Zion takes glamping to a whole new level. Under Canvas Zion is a unique accommodation experience located on 196 acres surrounding Zion National Park. It offers a unique lodging experience just as spectacular and unique as the park itself.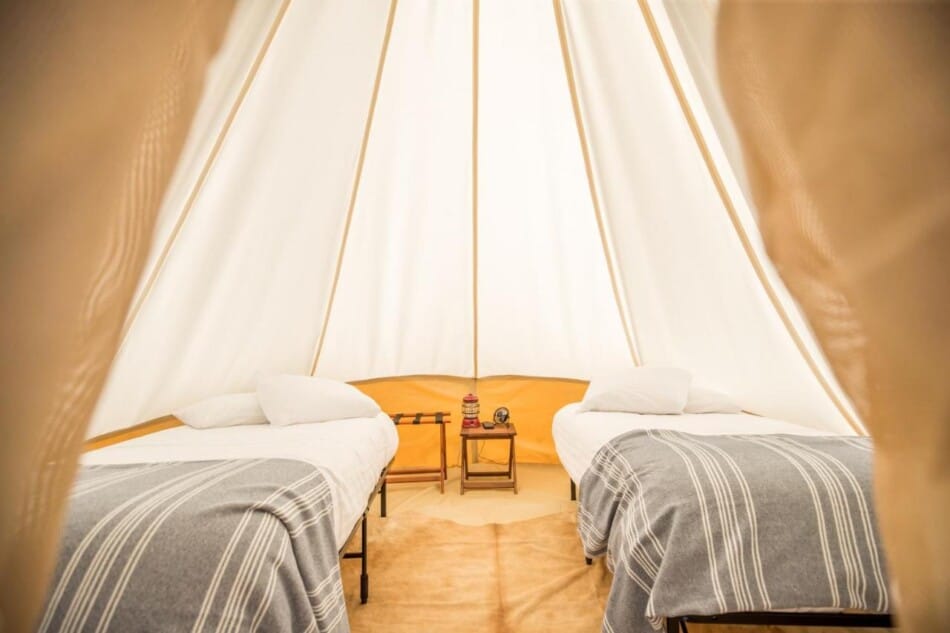 With luxurious safari tents laid up under a million stars, the remote glamp site has all the high-end bells and whistles of other Under Canvas sites. The camp blends in seamlessly with its dramatic surroundings and the three luxury tent options allow guests to enjoy Utah's spectacular desert without sacrificing home comforts.
Rock climbing, biking, canyoneering, hiking, safari tours, horseback riding, hot air ballooning, helicopter tours, kayaking, and UTV/ATV guided tours are just a few of the activities available within the park. Guests can participate in on-site yoga sessions, and an American or vegetarian breakfast is served every morning.
There's also a restaurant on-site, as well as a fire pit with s'mores and camp activities offered by the friendly staff. The entrance to Utah's beautiful Zion National Park is only 20 miles away.
The location is particularly appealing to couples.
Zions Tiny Oasis
The Oasis is located on the west side of Zion National Park, with breathtaking views of Southern Utah's classic mesas and green river valleys. You get a once-in-a-lifetime stay when you combine a magnificent blend of comfy Tiny Homes with a rugged outdoor experience. Zion's Tiny Oasis is the best luxury tiny house retreat in Southern Utah, and you won't want to stay anywhere else.
On Zion Road in Utah, Zion's Tiny Oasis provides four brand new tiny homes. The location is lovely and convenient to Virgin. These gorgeous homes are well-appointed with modern amenities: they are air-conditioned, have free WiFi, and private parking; drinking water is provided by a well on the property that is pumped using solar energy panels. This one-of-a-kind site is also environmentally friendly!
There's also a tiny farm with hens and goats, where visitors may pick up freshly laid eggs for breakfast every morning. After a long day of visiting Zion, each little home includes a large jacuzzi and a clear view, which is ideal for seeing the sky full of stars at night!
Hiking is feasible in the area if you want to learn more about the area.
The country house is 48 kilometers from St. George and 23 kilometers from Springdale. St. George Regional Airport is 38 kilometers away from Zions Tiny Oasis.
Zion Wildflower
Another Zion glamping experience that guests rave about is Zion Wildflower Resort. The brand new and fascinating resort is just minutes from Zion National Park's entrance and offers a variety of trendy rooms to suit any budget.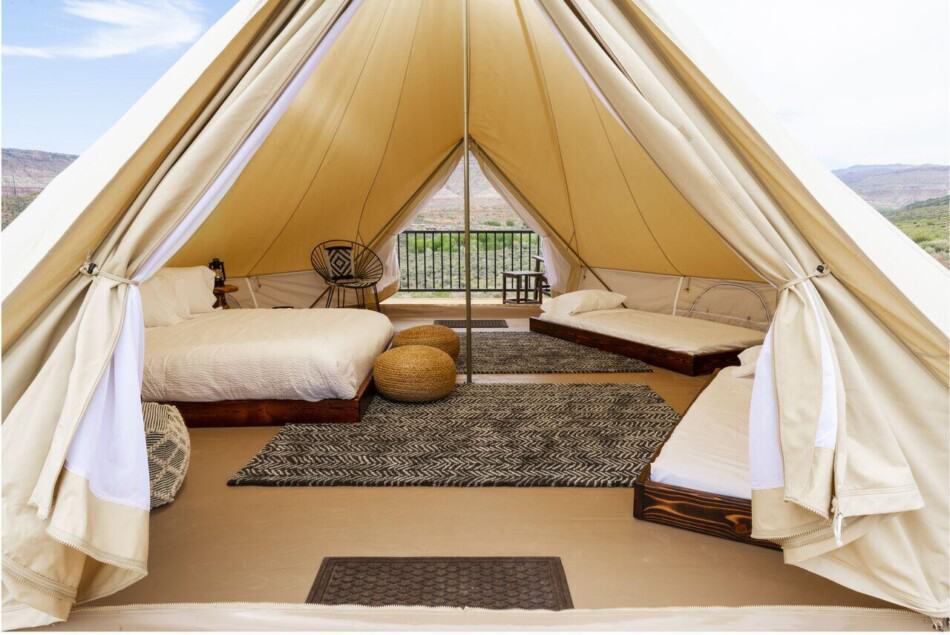 In Virgin, Zion Wildflower offers mountain views, free WiFi, and free private parking. There is a sun terrace on site, and hiking and fishing may be done within walking distance of the tented camp.
Luxury beds and furnishings are included in their canvas glamping tents and covered wagons, and the resort itself offers a variety of activities for guests of all ages. Unwind beside your private fire pit, relax in a hammock, play yard games, or venture out to enjoy Zion's breathtaking scenery. The views from here are fantastic.
Zion Wildflower is 38 kilometers from St. George and 15 kilometers from Springdale. The nearest airport is St. George Regional Airport, which is 36 kilometers away.
Zions View Camping
In Utah, Zion is the place to go camping, and Zion View Camping is another firm throwing its hat in the ring, promising a five-star experience at a reasonable price. The facilities and showers are just stepped away for convenience, and their cozy glamping tents stare out to the red cliffs of this spectacular landscape.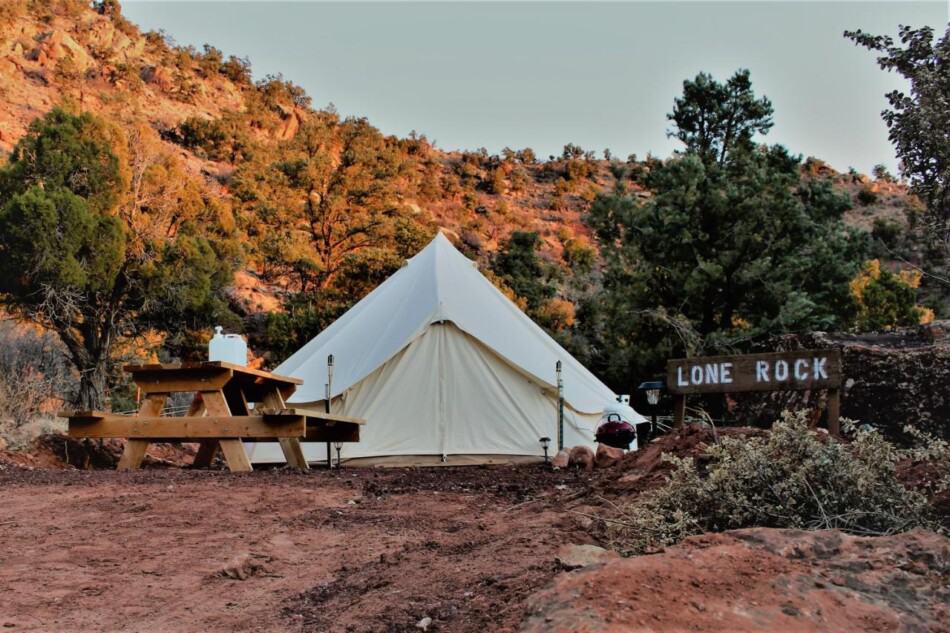 In Hildale, Zions View Camping offers mountain views, free WiFi, and free private parking. A grill is also available in the tented camp. Light a fire, kick off your shoes, and stare up at the stars – you've never seen so many! At Zions View Camping, you're entitled to a Genius discount! All you have to do to save at this property is sign in.
There are five national parks within two hours of Zion Luxury Camping, including Zion, which is near the entrance. In addition, Zions View Camping is 37 kilometers from Springdale and 40 kilometers from Hurricane. The nearest airport is St. George Regional Airport, which is 48 kilometers away.
Juniper Grove Camp Zion
This campsite is set in an awe-inspiring location near Zions National Park's red rocks. Juniper Grove Camp Zion is located in Colorado City and has a spa bath. This home has a patio as well as free private parking. Towels and bed linen are included in the fee.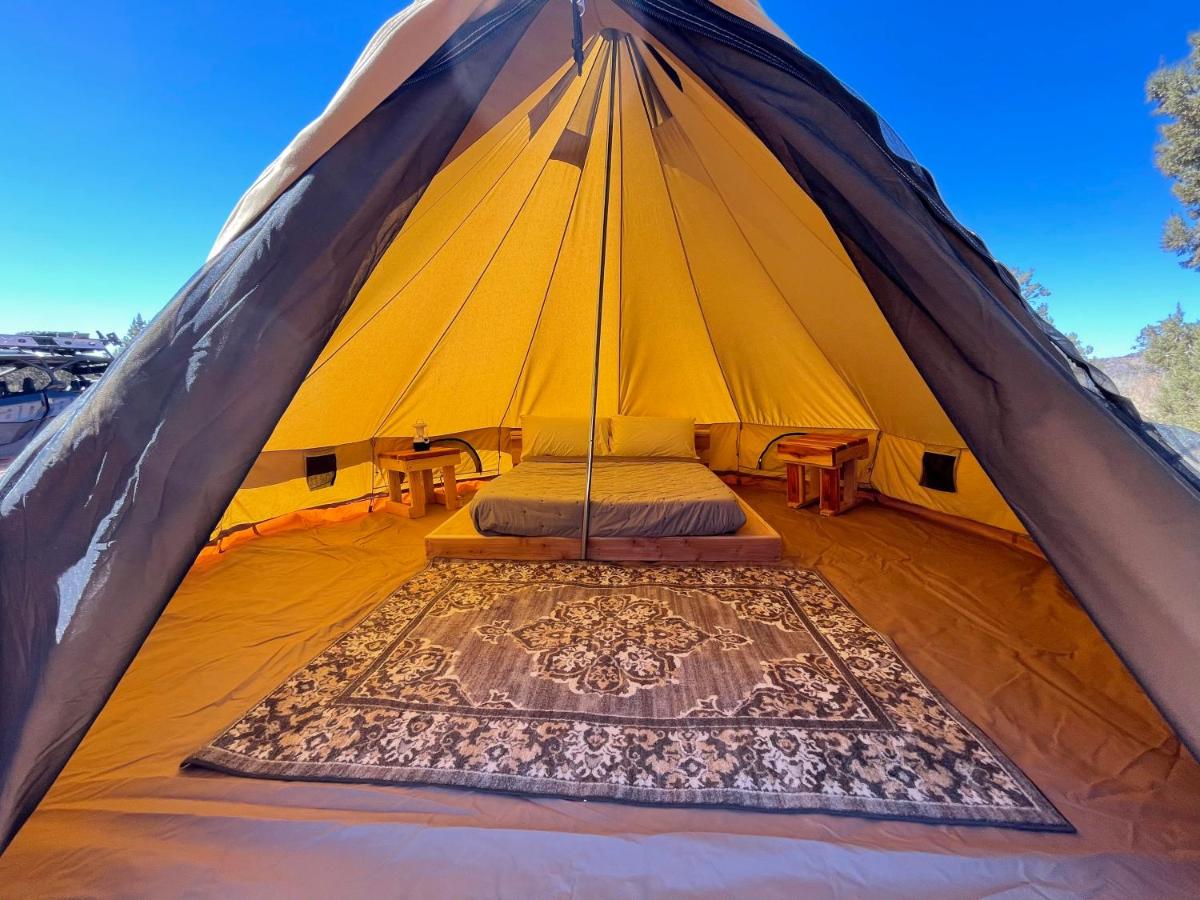 Luxury baths, warm beds in heated tents, and tree tents are just a few of the amenities available. Keep a watch out for wild species like Bald eagles, Hawks, Deer, or a rare Condor sighting as you walk the tranquil trails right in your backyard.
Upon check-in, guests must present photo identification and a credit card. Please keep in mind that all Special Requests are subject to availability and may incur additional fees.
Enjoy a quiet evening in front of a private fire while watching the spectacular sunset over the towering cliffs in one of the world's most unique locations.
The tented camp is 22 kilometers from Springdale and 39 kilometers from Kanab. Juniper Grove Camp Zion is located 49 kilometers from St. George Regional Airport.
Sandstone Wagon Ventures
Sandstone Wagon Ventures provides accommodation in Colorado City, Arizona, that offers free private parking.
Come glamp in a covered wagon for a very unique glamping experience! The 180 sq ft wagon comes with a comfortable king-size bed, a couch, air conditioning & heating, an electrical outlet, chairs, a fire pit, barbeque grill, picnic table, portable restroom, sun-heated shower house, and onsite parking!
The Water Canyon Trailhead hike is located in this location, which is also convenient to Zion National Park, Cottonwood Canyon, Coral Pink Sand Dunes, Edge of the World, and other popular destinations! This western experience is the right mix of nature and comfort, with nearby hiking trails, stunning starry night skies, fantastic daytime adventures, and a good night's sleep!
A gas station is only a few miles from the wagon camping! Come relax over a campfire while admiring the beautiful red rock views from your covered wagon or right outside your door!
Springdale is 22 kilometers distant, and Kanab is 43 kilometers. Sandstone Wagon Ventures is 45 kilometers from St. George Regional Airport.
Treetop #9 at East Zion Resort
The Treehouses are perched atop a spectacular slope that spans 12 acres of stunning Southern Utah scenery. On-site, they also have yurts and glamping tents. You are welcome to use the pavilion and swim in the pool at any time.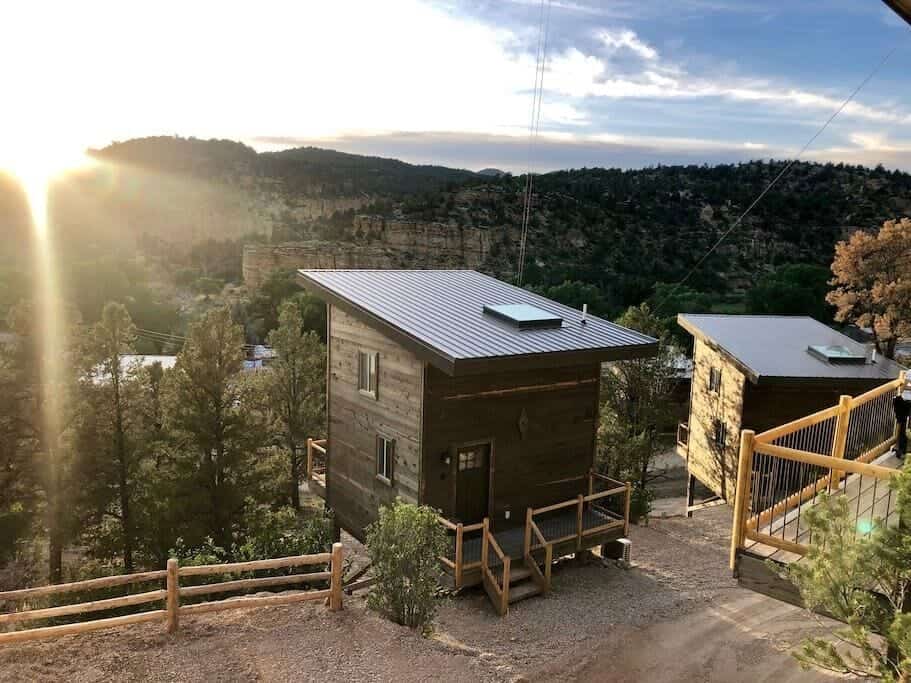 A well-equipped kitchen with a refrigerator, stovetop, and microwave, as well as a washing machine, is included in the cabin. A balcony, a sofa bed, and television are among the other features. A jacuzzi tub and BBQ grills are also included in this cabin.
This cabin's air-conditioned rooms include coffee/tea makers and hair dryers. Balconies are accessible from the rooms. Refrigerators, stovetops, microwaves, cookware are all available in kitchens. Showers are available in the bathrooms.
You'll be close to Thunderbird Foundation for the Arts, Peek-A-Boo Gulch during your stay at this cabin. Zion National Park and Zion National Park East Entrance are also within 20 miles. Take advantage of amenities such as a hot tub. This lodging will provide you with a pleasant stay.
OK RV Park Family Tipi OK1
In the comfort of the Large Tipi, enjoy the camping and outdoor experience! This Tipi is built up and ready to use when you arrive at OK RV Park. They own and operate the park as well as the rental, and they have a full staff on hand to assist with any needs, much like a hotel.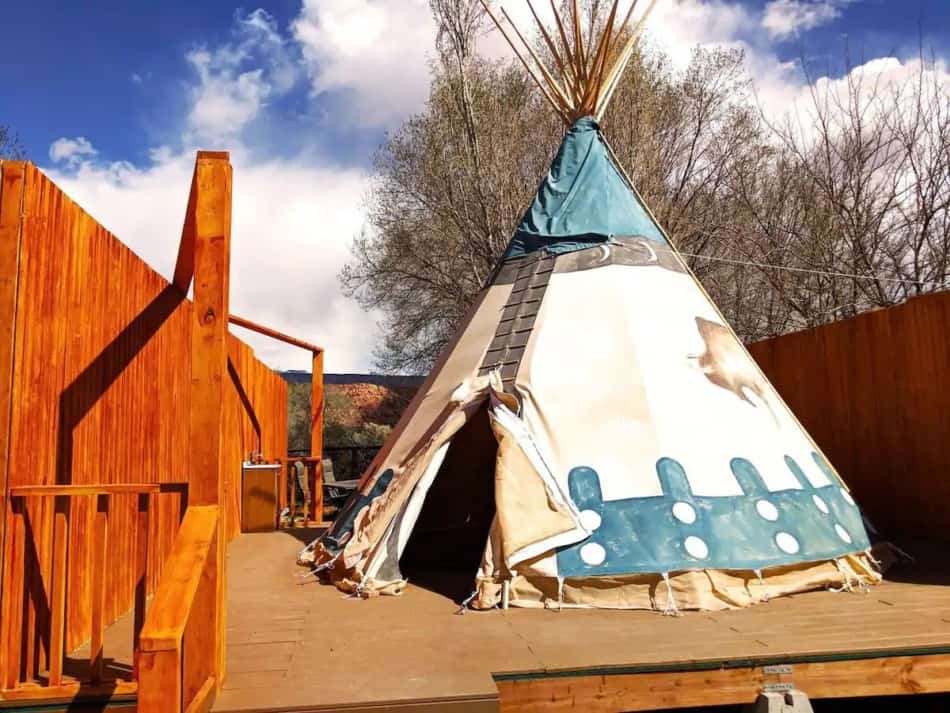 In the Moab South Valley district of Moab, OK RV Park Family Tipi OK1 offers air-conditioned rooms with TV. Every room at the inn comes with bed linens and towels, as well as complimentary WiFi.
Outside your rental, you'll find a personal outdoor sink, gas grill, fire pit, and picnic table for the ultimate camping experience! This rental is not pet-friendly.
The park is roughly 5 miles from downtown Moab and only a short drive from Arches and Canyonlands National Parks. The park offers spectacular views of the Alps. The park is well-kept and pristine. During your stay, you will have access to the park's community bathrooms and laundry area.
The property is about 27 kilometers from La Sal Mountain Loop and 30 kilometers from Mesa Arch. The non-smoking property is 36 kilometers from Delicate Arch. Canyonlands Field Airport, 35 kilometers away, is the closest airport.
FunStays Glamping Setup Tent in RV Park
This Tent is set up and ready to use when you arrive to OK RV Park. They own and operate the park, as well as the Tent, and have a full team on hand to assist with any needs.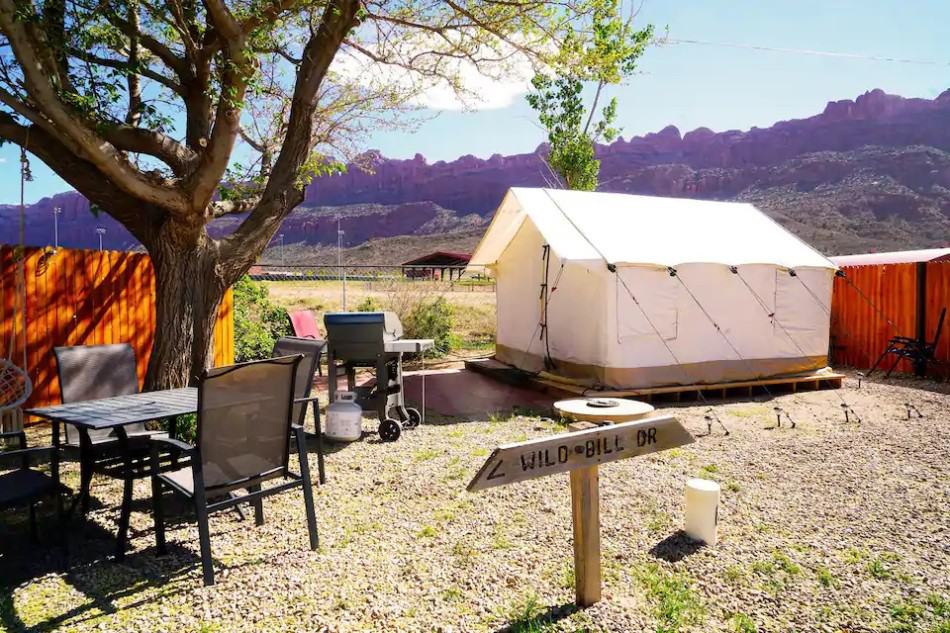 FunStays Glamping Setup Tent in RV Park #6 OK-T6 is located 27 kilometers from La Sal Mountain Loop and offers free WiFi and private parking. Guests can unwind in the property's garden. This is not, however, a pet-friendly rental.
The park offers spectacular views of the Mountains. The park is well-kept and clean. For the best camping experience, a personal fire pit and picnic table are put up outside your rental! A short walk from your tent site will take you to the gas grills and public amenities with showers.
The park is roughly 5 miles from downtown Moab and only a short drive from Arches and Canyonlands National Parks. Mesa Arch is 30 kilometers away, while Landscape Arch is 33 kilometers. Canyonlands Field Airport is 35 kilometers from FunStays Glamping Setup Tent in RV.
Under Canvas Moab
Under Canvas Moab is located just 7 miles north of Moab, near Utah's famous Arches National Park and Canyonlands National Park, and has been named one of Travel + Leisure's "Top 15 Resort Hotels in the West" and Condé Nast Traveler's "Top 20 Resorts in the US – Pacific Northwest & West."
Under Canvas' desert glamping accommodations are a gateway to the towering plateaus, sandstone cliffs, and naturally occurring geologic wonders of Utah's Canyon Country, which are nestled between two world-class climbing, mountain biking, and hiking locations.
Private en suite facilities are available in certain tents. On-site barbecue facilities are available. Moab Under Canvas guests has the option of staying in a basic tent with a communal bathroom or a luxury tent with a shower, sink, and a sitting space with a sofa bed. A separate patio with deck lounger chairs, ceramic sinks, and spa products is included in the luxury tents. A lantern, bedding, and towels are included in every tent.
Guests of Moab Under Canvas have access to horseback riding. Guests can rent bicycles to explore the surrounding desert cycling trails. All guests are entitled to free parking.
This luxurious camp is 11.3 kilometers from Moab. 16.1 kilometers away lies Dead Horse State Park. It takes 50 minutes to drive to Canyonlands National Park.
Modern Treehouse
This magnificent and luxury treehouse is ideal for those seeking the ultimate Glamping experience.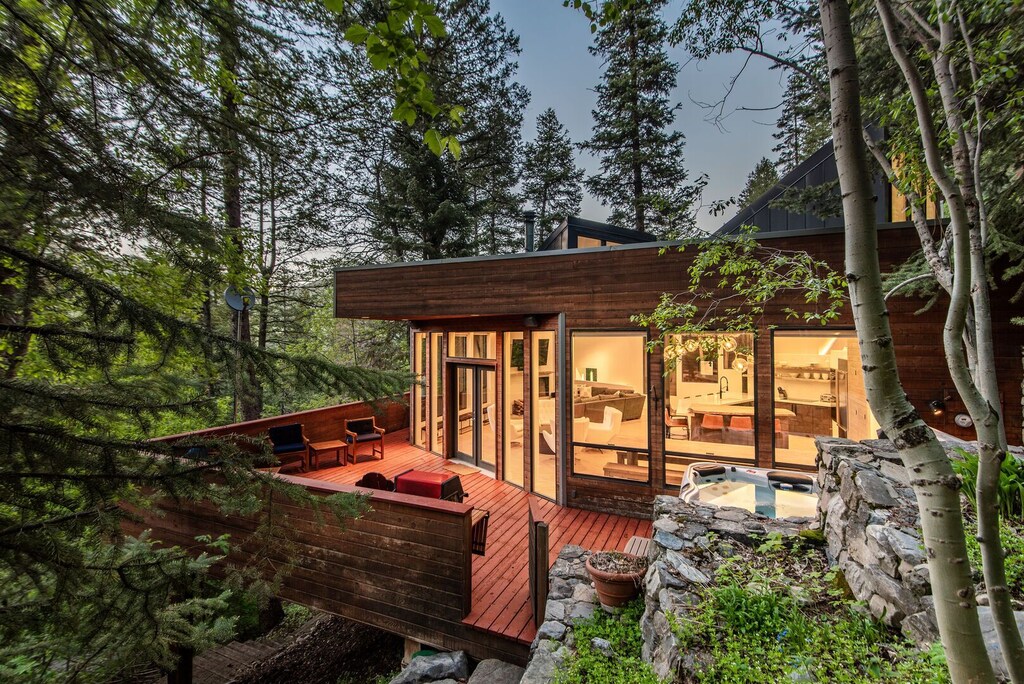 Stewart Mountain Lodging's site includes access to a variety of different amenities as well as several other surrounding properties. For your group of explorers, the spacious 4 bedroom Modern Treehouse provides all the conveniences in a private environment. Floor-to-ceiling windows with forest views grace the open living room and kitchen. With the atrium and skylights, you can enjoy the outside while relaxing in front of the wood-burning fireplace.
After a long day of mountain climbing, relax in the hot tub on the deck beneath the stars or the sauna inside. The gaming area is located at the far end of the house, above the garage, where the kids can play while the adults relax. Everyone will be occupied for hours with a pool table, Ping-Pong, and a big scrabble board mounted on the wall.
The Modern Treehouse is just minutes away from hiking, bicycling, fishing, and skiing.
It's perfect for large groups of friends or families glamping in Utah, and it even has a game area, pool table, scrabble board, ping-pong, and more!
Zion Glamping Adventures
Zion Glamping Adventures will give you an experience like no other. Located in a secluded and private canyon away from the busy and noise of the city and a few minutes away from the highway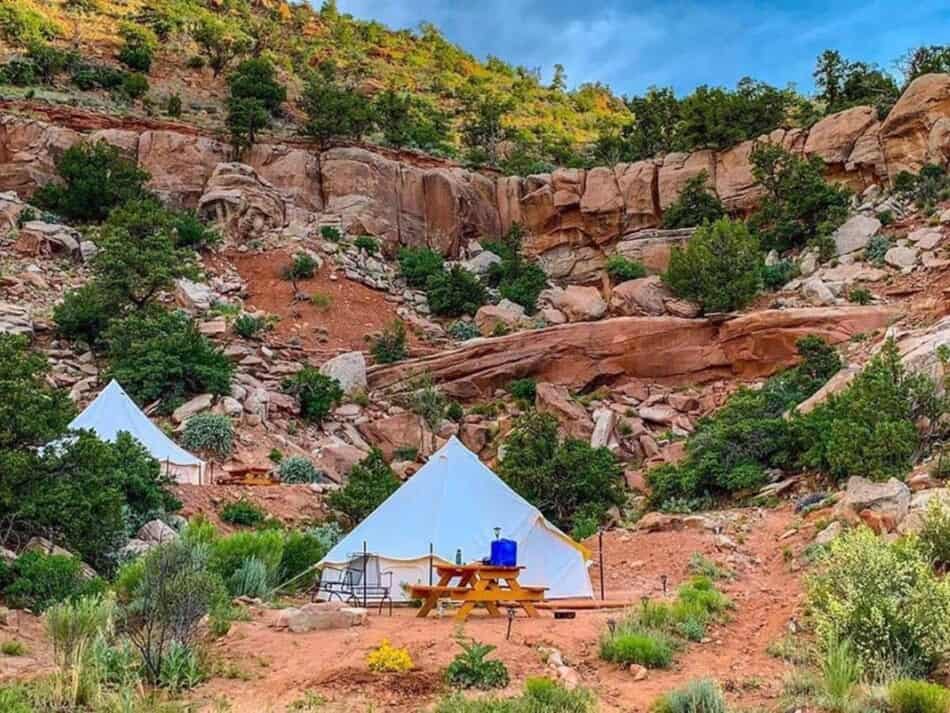 Conveniently located near ZIon National park, Bryce Grand Canyon and many other areas in the Grand Circle of National Parks. It is also a walking distance of the Water Canyon trail offering views of the waterfalls, rock bridge and pure spring water.
Each tent offers both luxury and privacy while providing you with an experience of nature inside the red rock canyon walls.
The multi tents on site offer parking space for guests and are space far from other tents providing you privacy.. The deluxe tent is equipped with queen beds with comfortable and luxurious bedding, table, chairs, and lantern. All tents are air conditioned with a seating area. Outside of each tent includes a fire pit, picnic table and a barbecue grill.
Other activities on site include marshmallow and hot dog roasting, horseshoe playing, or learning the roping skills that will definitely give you the best time to bond with your friends, families and even other glampers.
Recent Posts