Are you thinking of visiting the Grand Canyon in December? This article is full of tips and tricks for visiting in December and how to make the most of your trip.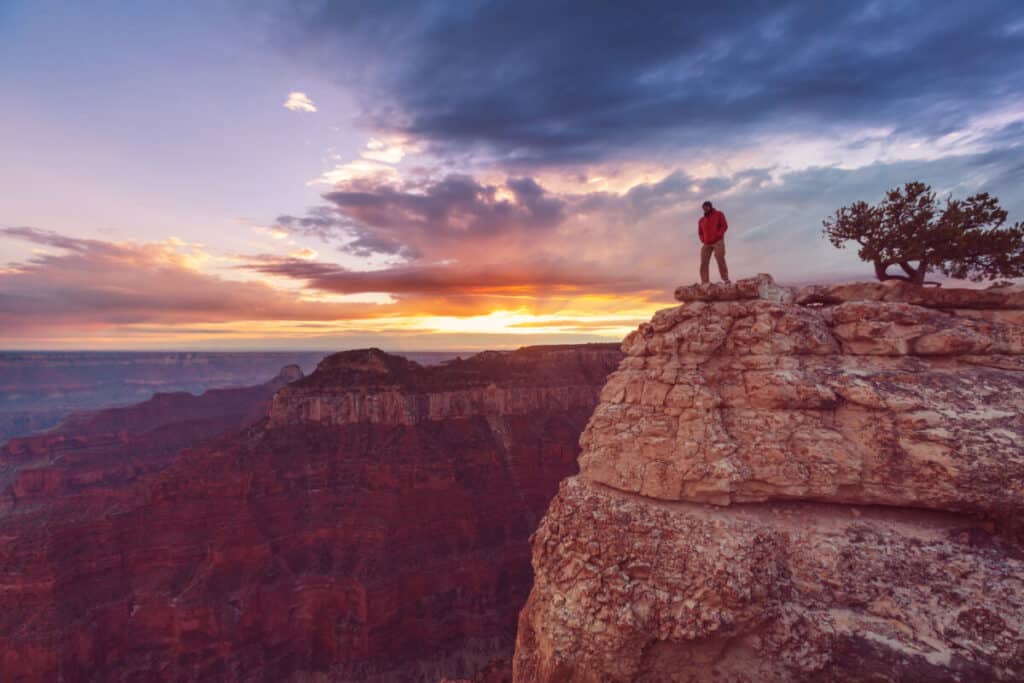 I've included all of the things to do in the Grand Canyon in December and tips and tricks for visiting. You can also use the Grand Canyon self guided tour to learn more about the Grand Canyon when you visit.
Weather in the Grand Canyon in December
In December, the daytime maximum temperature is 58 degrees Fahrenheit, while the overnight minimum is 34 degrees Fahrenheit (1 degree Celsius). The Grand Canyon covers a huge area and each section has a varied temperature.
Dress in layers and you will be fine!
Thank you for supporting this website written by an American. This post may contain affiliate links. This means I earn a small commission on these links at no extra cost to you.
National Park Entrance Fees
To enter the National Parks, you'll need to pay an entrance fee or have a National Parks Pass also known as American the Beautiful Pass.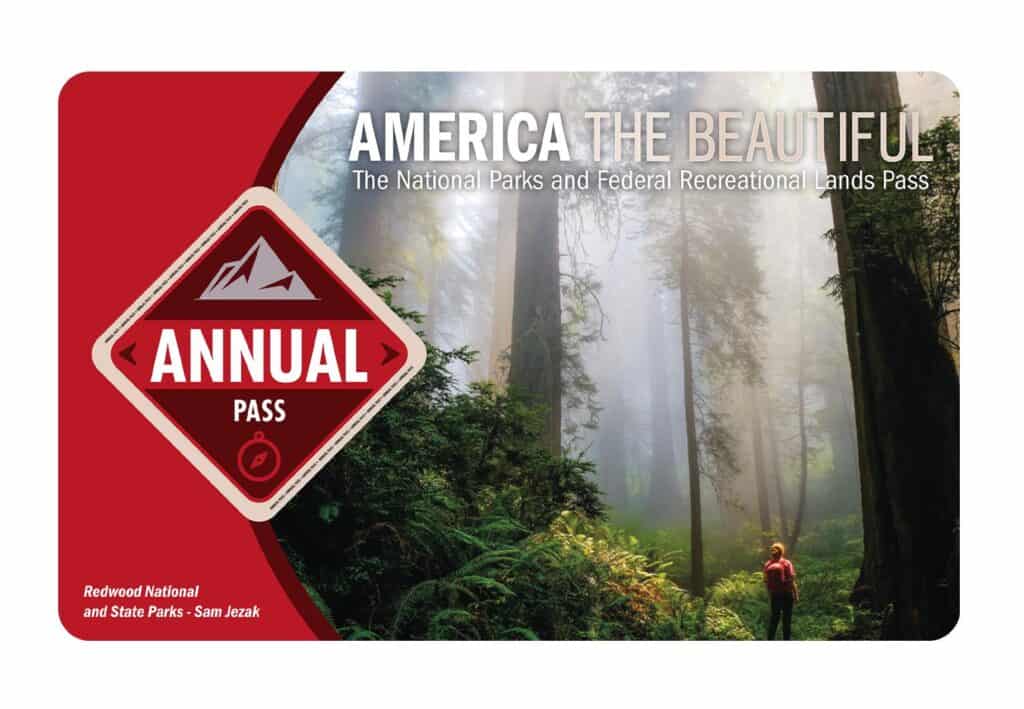 It costs $80 for a yearly America the Beautiful Pass. This gives you access to all national parks and federal areas that charge fees. The America the Beautiful Pass is well worth it!
I purchased my first one in 2016 and it's such a money-saver! Plus 10% of sale proceeds go to the National Park Foundation.
Tips for Visiting Grand Teton National Park
Grand Canyon National Park is perfect for outdoor enthusiasts. There is something for everyone on this list and for different fitness levels. Also, note that it is dry and hot (in the summer), and make sure you know what you are getting into before you start. Here are a few tips for visiting the Grand Canyon:
Bring a reusable water bottle and lots of water! Remember you are in the sun and you will need to drink lots of water. I love my LifeStraw Filtered Water Bottle. I can refill this bottle anywhere and it comes with a carabiner to connect it to my daypack.
Check the Weather – days over 100 degrees are very common. Make sure to check.
Hiking boots or sandals that will protect your feet! I love good shoes. I need all the support and help I can get. I actually love these sandals for hiking and also love these hiking boots.
Bring hiking poles for balance and to protect your knees. I know many experienced hikers (and even amateur ones) think that hiking poles are for old people who lose their balance. Actually, hiking poles can help when going down steep inclines or when scrambling over rocks. They are great to hike with even for the most experienced hiker.
Wear a sunhat. I feel like this whole post is about how high you are in the mountains and how much closer you are to the sun but it is so true. At elevation, you are closer to the sun and more likely to burn. Wear sun protection such as a sun hat and sunscreen.
Be aware of the wildlife. This is the Southwest and you will need to watch out for snakes and other wildlife such as moose or a bear. Please stay away from wildlife and do not feed them. I recommend carrying bear spray as well.
Start Early – If you want to avoid the traffic and the heat you will need to start your hike early. That way it will be nice and cool and the smog will not affect you either.
Leave no trace. If you are new to the concept of Leave No Trace it is all about preserving the environment to ensure it is in the same or better condition when you leave it. This means that you should stick to the trails and carry out everything that you carried in. This is a great explanation of the Leave No Trace principles!
Water shoes are great for water hikes– If you don't have a pair, I highly suggest it as they are affordable. I have an article on the pros and cons of several pairs of water shoes.
Bring Bug Spray and a snack: Be sure to bring everything you need including a snack like a protein bar plus BUG SPRAY.
Where to stay near Grand Canyon National Park
The Grand Canyon makes for a great weekend escape. Fresh air, beautiful scenery and being in nature does a world of good for the soul. I recommend staying as close to the park as possible and even treating yourself with a cabin with a spa pool to relax at night.
If you are taking a road trip remember to reserve a car in advance using Discover Cars .
15 Tips for Visiting the Grand Canyon in December
Grand Canyon South Rim: Self-Guided Tour
See a natural wonder of the world in person on this self-guided driving tour of the Grand Canyon's South Rim.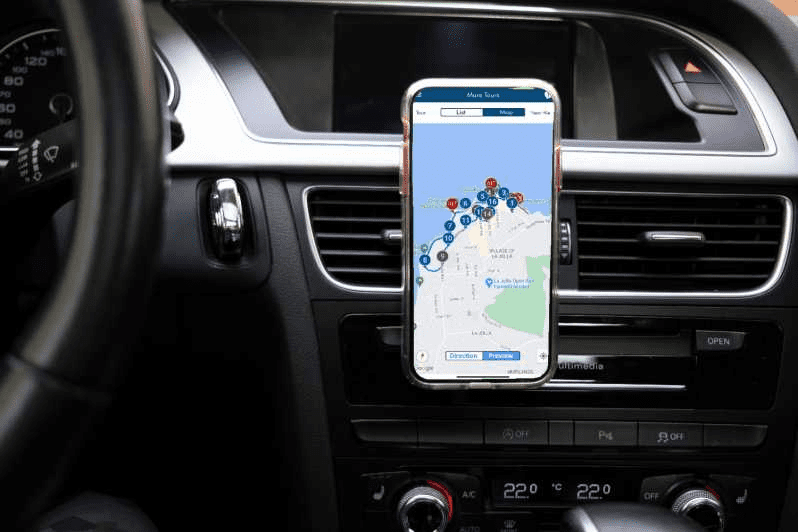 This self-guided driving tour takes you to all the best vistas, hikes, and attractions along Grand Canyon's South Rim and tells you the secret history behind this famous landscape. Walk the scenic South Rim Trail, catch a sunset at Mather Point, and much more.
Desert View Watchtower
This watchtower appears to emerge from the canyon wall itself, close to the park's eastern entrance. The tower, which was designed by renowned park architect Mary Colter, can be ascended for breathtaking canyon views and peek-a-boo Colorado River views.
The tower contains a replica of a Native American kiva on the first level, and up the stairs to the overlooking window on the floors above. This is the first opportunity for visitors approaching from the east to get a chance to see the canyon.
South Rim
With easy access to the canyon, the majority of amenities and services, and the expansive views for which the natural wonder is renowned, the South Rim of the Grand Canyon National Park is the area that attracts visitors the most.
The majority of the Grand Canyon's most popular attractions may be found here, which is why it is more well-liked by regular tourists than the rocky North Rim. This side of the Grand Canyon is home to Grand Canyon Village, the South Kaibab Trail, Bright Angel Trail, Mather Point, the Yavapai Geology Museum, and other attractions.
Visitors' interest in the South Rim has recently increased due to its wealth of attractions. Families with young children could easily reach many viewpoints and specific pathways, while wheelchair users were thrilled by how much of this section of the canyon was accessible.
If you plan to do a lot of hiking at the South Rim, you should start early in the day and bring extra food and drink because there is enough to keep you active all day. However, there are numerous dining establishments, coffee shops, and restaurants on this side of the park, so you won't go hungry while you're there.
Hermit Road
Visitors' interest in the South Rim has recently increased due to its wealth of attractions. Families with young children could easily reach many viewpoints and specific pathways, while wheelchair users were thrilled by how much of this section of the canyon was accessible.
If you plan to do a lot of hiking at the South Rim, you should start early in the day and bring extra food and drink because there is enough to keep you active all day. However, there are numerous dining establishments, coffee shops, and restaurants on this side of the park, so you won't go hungry while you're there.
Throughout March through November, only shuttle buses are permitted to access Hermit Road, while in December, January, and February, cars are allowed to be driven on Hermit Road during the winter.
Hermit Road is a seven-mile scenic route with many canyon rim viewpoints. The park's most popular route is this one.
If you come between the start of December and the end of February, you can drive this distance. The views of the canyon are stunning from every location along this trail. Despite some disputes, Maricopa Point, Hopi Point, The Abyss, and Pima Point provide some of the best vistas. Hermit's Rest is something you might want to skip if you're pressed for time.
The Canyon Rim Trail is a favorite among hikers and cyclists since it allows them to travel the entire length of the trail or select segments of it while using shuttles. Hermit Road is unique because it features nine different spectacular viewing areas.
One of the biggest advantages of visiting the Grand Canyon in the winter is that there's nothing quite like being able to drive your car to and from a sunset, despite the shuttle bus service being frequent and well-organized.
Helicopter Ride
At the Grand Canyon, helicopter tours are accessible all year long. You should experience the vistas of the canyon covered with snow in December.
Even though there are many excursions available, the Grand Canyon Helicopter Tour is among the best. During the 45-minute flight, you will fly over the South Rim and the Kaibab National Forest.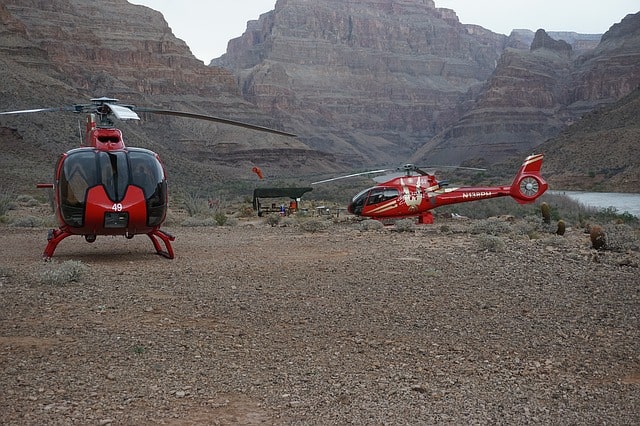 Experience the canyons by looking down into them on a helicopter tour or simply viewing them from a vantage point.

These helicopter rides, though perhaps a bit pricy, are well worth it and will provide you with priceless memories.
Pima Point

The last stop before reaching Hermit's Rest is Pima Point along the Hermit scenic road. This location offers a wide panoramic view of the valleys for more than 40 miles and is an excellent place to watch the sunset.

There might be some crowds here from other tourists hoping to catch the sunset as well. However, if you go there a little early, you'll be sure to get to a good place and see the gorgeous sunset without any hassle.

Bright Angel Trail
One of the best hiking trails at the Grand Canyon South Rim is the Bright Angel Trail. Because it is simpler to get to and has a gentler grade, it is becoming increasingly popular and crowded.
Bright Angel is your best option for this once-in-a-lifetime adventure if you only want a taste of what it's like to hike into the canyon. You are free to turn around whenever you want, but keep in mind that no matter how far you tumble, you must get back up.
Given that it is not technical, does not require much climbing, and is not steep, Bright Angel is not a particularly challenging trail to hike. However, if you want to go all the way down to the river, it will take you a very long time, and you will spend the second half of your hike gradually climbing. Rim to River on Bright Angel is considered to be quite difficult.
South Kaibab Trail
One of the best hikes at the Grand Canyon South Rim is the South Kaibab Trail. The trail is considerably more substantial in South Kaibab.
A difficult choice must be made if you are a hiker with only one day at the Grand Canyon South Rim. You can hike to any of the five main turnaround locations, but keep in mind that anything that descends must also ascend.
The South Kaibab Trail isn't the most difficult day hike in terms of technical difficulty since there are no climbing components and you don't need specialized gear. But compared to Bright Angel, it is steeper. There's a good reason Phantom Ranch is 2.5 miles closer in one direction. Also, keep in mind that the entire second half of your journey will be spent gradually climbing.
The harder trail, South Kaibab, is well-known, but the gradient doesn't get very severe until after Cedar Ridge. Depending on how deep you want to descend into the canyon and how well you can hike, it will vary in difficulty.
Yavapai Geology Museum
The Yavapai Geology Museum provides one of the best viewing points for an overview of Grand Canyon geology due to its location perched right on the edge of the canyon rim at Yavapai Point.
You can see where to look to see each group of rocks thanks to the annotation displays at the bottom of the panoramic windows. You can walk between the North and South Rim rock column models while learning the names of the many rock layers, learning about the geologic history preserved in the rocks, and seeing how the contemporary landscape was sculpted out.
Kold Studio
Like in 1904, Kolb Studio belligerently holds sway over the Bright Angel Trial. It stands as a testament to Emery Kolb's accomplishments and triumphs over the National Park Service's desire to raze it and the Fred Harvey Company's never-ending attempts to get him to leave.
You have the chance to follow in Emery Kolb's footsteps and learn about his life when you visit Kolb Studio. Ever since he first got off the train in 1902, his travels have undergone tremendous modifications. His canyon rim house, which the National Park Service now owns, is an enduring testament to the power of never giving up on your goals.
The Grand Canyon Association still runs The Kolb Studio, which houses an art gallery, a bookstore, and several educational exhibits that detail the Kolb Brothers' role in the creation of Grand Canyon National Park.
Grand Canyon Skywalk
One of the best times to visit the Skywalk is in December because of the low tourist traffic brought on by the chilly weather. If the weather permits, you can walk along Grand Canyon West's well-known Skywalk.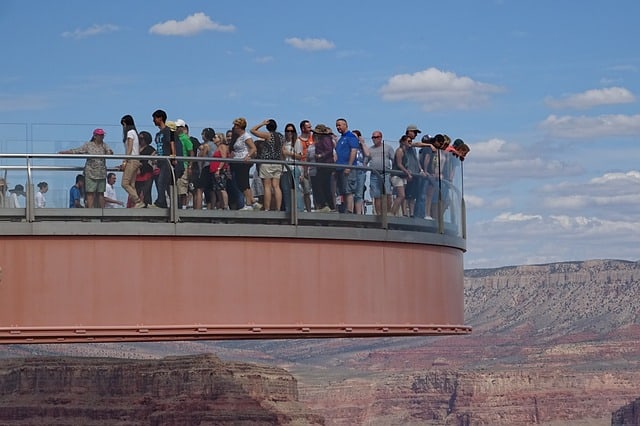 You may see unmatched vistas of one of the Seven Natural Wonders of the World at Grand Canyon West through the Skywalk. This magnificent 10-foot wide, horseshoe-shaped glass bridge spans 70 feet out over the Grand Canyon's rim and provides a clear view down to the canyon's floor, which is 4,000 feet away. Nothing compares to the rush of walking out onto glass at the height of thousands of feet, yet there's no need to worry because Skywalk is sturdy enough to support 70 fully loaded 747 passenger jets.
You must boot up and put all of your items, such as cell phones, cameras, handbags, backpacks, and water bottles, in a free locker before you may enter Skywalk. Booties are used to protect the glass, and shoes are required.
Professional photographers are available to snap photos if you want to record the moment. When you leave Skywalk, you can purchase individual photos to be printed or a collection on a USB drive.
Grand Canyon Railway
The Grand Canyon Railway has fascinated millions of people worldwide since it first began hauling ore through the Wild West in the early 1900s. It is now your turn to enjoy the magnificent romance of a train journey.
Experience a once-in-a-lifetime adventure in one of the meticulously preserved cars while learning folklore and tales from a team that is perpetually entranced by the breathtaking surroundings. Enjoy the company of historically accurate characters and musicians who bring the Old West to life. And let Grand Canyon National Park's majesty and magnificence sweep you away.
Daily departures for the Grand Canyon Railway are made from Williams, Arizona, located off Interstate 40 and about 30 miles west of Flagstaff. As you travel through the countryside in the comfort of your vintage train car, you will witness a wonderful world in motion. With Grand Canyon Railway, you'll always have a priceless experience.
Enjoy a nostalgic journey through time complete with musicians, guides who impart historical and local knowledge, and even an authentic train robbery. On the trip to the canyon, you'll see the western way of life.
Ride Polar Express
Every winter, the Grand Canyon Railway's Polar Express takes passengers on a journey from Williams, Arizona's nocturnal wilderness, to the enchanting splendor of "the North Pole," where Santa Claus and his reindeer are waiting with a souvenir gift for each good boy and girl.
As you watch children's faces light up as the train arrives and enjoy hot cocoa and chocolate chip cookies while listening to this timeless tale, you'll be grinning from ear to ear.
Call to make your reservations and make this a family holiday tradition.

Cross-Country Skiing
Cross-country skiing is available on the South Rim if you go to the Kaibab National Forest. The South Rim's other areas are unsuitable for this activity.
Fortunately, the Kaibab Forest has prepared specific tracks for cross-country skiing. This offers everyone a clear pathway to follow.
Always check in advance since there might not always be enough snow for skiing.
Phantom Ranch
This Grand Canyon hike is a great option for families, small groups, or lone travelers. This hiking tour at Phantom Ranch includes fantastic trekking, breathtaking vistas, two nights at the historic Phantom Ranch, and an opportunity to explore the canyon's base. One-night trips are available on several tour dates. In either case, this well-known Grand Canyon trip will not let you down!
To get to Phantom Ranch, where you'll stay for two nights, you'll climb down the well-known South Kaibab trail. Simply include a layover day so you can take your guide on a day trek, unwind, or attend an interpretive program at Phantom Ranch.
The final day will involve a hike along the Bright Angel Trail back to the South Rim, passing via Indian Gardens en route (a desert oasis where Native Americans have long grown crops).
Bright Angel Bikes
The South Rim of the Grand Canyon's amazing rim side trails and roads can be explored on bikes and e-bikes from the Gcbi kes rental and tour company, which is right next to the Grand Canyon Visitor Center.
Along with Grand Canyon tours, they also offer top-notch motorcycles for rent, outfit you with all the necessary safety gear and maps, and give you all the Grand Canyon adventures.
There are just not enough parking spaces for most people to stop at the park's numerous stunning vistas, making it impossible to see them all from a car. As you "Ride the Rim," enjoy the Grand Canyon at a slower, more leisurely speed right along the brink!
Recent Posts