Visiting the Grand Canyon in October is one of the best times of year to visit the Grand Canyon.
I've included all of the things to do in the Grand Canyon in October and tips and tricks for visiting. You can also use the Grand Canyon self guided tour to learn more about the Grand Canyon when you visit.
Weather in the Grand Canyon in October
In October, the daytime maximum temperature is 74 degrees Fahrenheit (23 degrees Celsius), while the overnight minimum is 34 degrees Fahrenheit (1 degree Celsius). The Grand Canyon covers a huge area and each section has a varied temperature.
Dress in layers and you will be fine!
Thank you for supporting this website written by an American. This post may contain affiliate links. This means I earn a small commission on these links at no extra cost to you.
National Park Entrance Fees
To enter the National Parks, you'll need to pay an entrance fee or have a National Parks Pass also known as American the Beautiful Pass.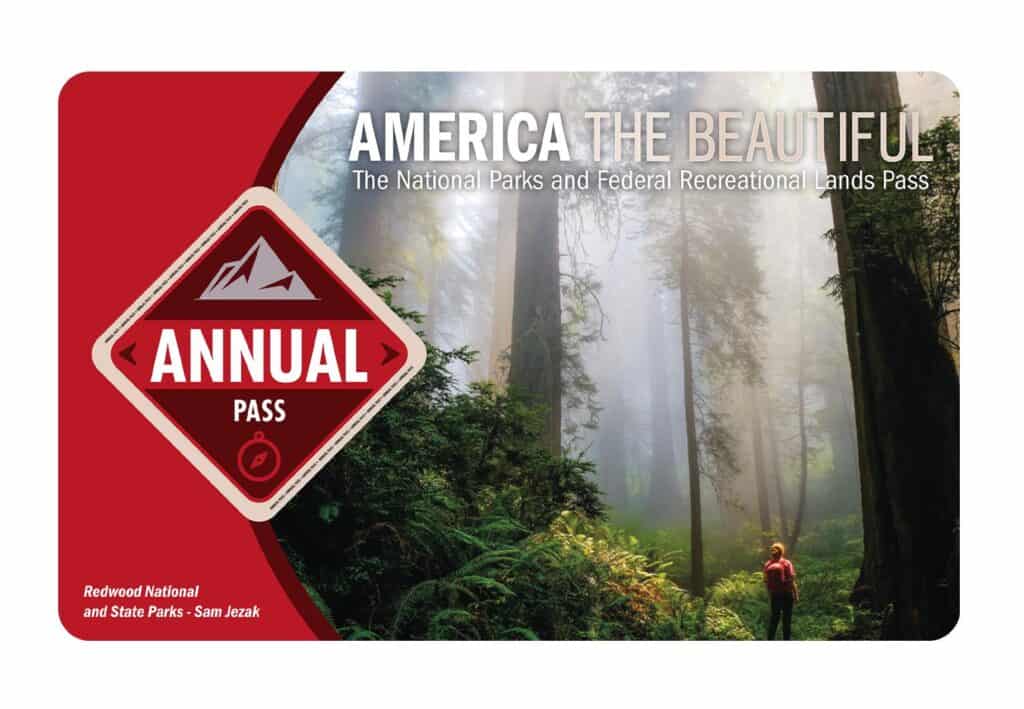 It costs $80 for a yearly America the Beautiful Pass. This gives you access to all national parks and federal areas that charge fees. The America the Beautiful Pass is well worth it!
I purchased my first one in 2016 and it's such a money-saver! Plus 10% of sale proceeds go to the National Park Foundation.
Tips for Visiting Grand Teton National Park
Grand Canyon National Park is perfect for outdoor enthusiasts. There is something for everyone on this list and for different fitness levels. Also, note that it is dry and hot (in the summer), and make sure you know what you are getting into before you start. Here are a few tips for visiting the Grand Canyon:
Bring a reusable water bottle and lots of water! Remember you are in the sun and you will need to drink lots of water. I love my LifeStraw Filtered Water Bottle. I can refill this bottle anywhere and it comes with a carabiner to connect it to my daypack.
Check the Weather – days over 100 degrees are very common. Make sure to check.
Hiking boots or sandals that will protect your feet! I love good shoes. I need all the support and help I can get. I actually love these sandals for hiking and also love these hiking boots.
Bring hiking poles for balance and to protect your knees. I know many experienced hikers (and even amateur ones) think that hiking poles are for old people who lose their balance. Actually, hiking poles can help when going down steep inclines or when scrambling over rocks. They are great to hike with even for the most experienced hiker.
Wear a sunhat. I feel like this whole post is about how high you are in the mountains and how much closer you are to the sun but it is so true. At elevation, you are closer to the sun and more likely to burn. Wear sun protection such as a sun hat and sunscreen.
Be aware of the wildlife. This is the Southwest and you will need to watch out for snakes and other wildlife such as moose or a bear. Please stay away from wildlife and do not feed them. I recommend carrying bear spray as well.
Start Early – If you want to avoid the traffic and the heat you will need to start your hike early. That way it will be nice and cool and the smog will not affect you either.
Leave no trace. If you are new to the concept of Leave No Trace it is all about preserving the environment to ensure it is in the same or better condition when you leave it. This means that you should stick to the trails and carry out everything that you carried in. This is a great explanation of the Leave No Trace principles!
Water shoes are great for water hikes– If you don't have a pair, I highly suggest it as they are affordable. I have an article on the pros and cons of several pairs of water shoes.
Bring Bug Spray and a snack: Be sure to bring everything you need including a snack like a protein bar plus BUG SPRAY.
Where to stay near Grand Canyon National Park
The Grand Canyon makes for a great weekend escape. Fresh air, beautiful scenery and being in nature does a world of good for the soul. I recommend staying as close to the park as possible and even treating yourself with a cabin with a spa pool to relax at night.
If you are taking a road trip remember to reserve a car in advance using Discover Cars .
15 Things to do in Grand Canyon in October
Grand Canyon South Rim: Self-Guided Tour
See a natural wonder of the world in person on this self-guided driving tour of the Grand Canyon's South Rim.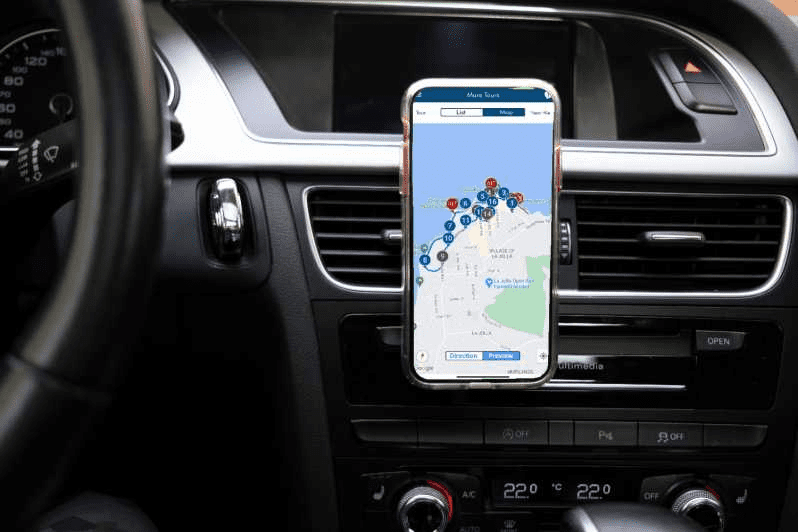 This self-guided driving tour takes you to all the best vistas, hikes, and attractions along Grand Canyon's South Rim and tells you the secret history behind this famous landscape. Walk the scenic South Rim Trail, catch a sunset at Mather Point, and much more.
Visitor Centre
The visitors center, which is close to the south entry station at the south rim, is open from 8 a.m. to 5 p.m.
You can learn about the weather for that day at the visitor center. Additionally, find out whether hiking trails, scenic overlooks, and activities are open that day as well as the best and safest alternatives.
Along with providing information on the park, its trails, and its history, a brief 20-minute video also immerses viewers in the environment before they enter it.
The Mathers Point vantage point is just a quick 5-minute stroll from the visitor center. This is frequently a top choice for many park visitors, partly because of the visitor center's close vicinity and the stunning canyon vistas it provides.
Sunrise at Mather or Yavapai Point
One of the most well-liked locations in the canyon to see the sunrise is Mathers Point. It is no surprise that Mathers Point is an immensely popular destination for watching the sunrise given the vicinity of the visitor center and vast parking lot, as well as the breathtaking panoramic views it offers.
The main drawback of seeing the sunrise here is that, because of its high level of popularity, the area is frequently congested with people who want to watch the sunrise, making it challenging to find a good spot.
If you want a front-row seat for the sunrise, you might want to arrive earlier than usual. However, once the light begins to rise through the canyon hills, the early arrival is worthwhile.
A lot of tourists and visitors like to go to Yavapai Point to see the sunrise. Yavapai Point tends to be less crowded for sunrise than Mathers Point, which makes it slightly more appealing to people who prefer a serene, tranquil experience while watching the sunrise.
Due to the breathtaking panoramic views of the sun rising through the canyons that this location affords, seeing the sunrise here is a must while visiting this national park.
Hopi Point
The Grand Canyon's South Rim's most breathtaking vista may be reached by hiking to Hopi Point on the Rim Trail.
Hopi Point has the best views of Shiva Temple, Iris Temple, Horus Temple, and other temples since it extends farther north into the canyon than any other vantage point. All but the whole canyon is visible, all the way to Havasupai Point.
This hike, which lasts 6.1 km and gains only a little height, is very easy. It is appropriate for people of all ages and abilities, giving it not only a beautiful but also a reachable viewpoint. You can hike further from Hopi Point to other surrounding overlooks or simply stay for a while to take it all in. Be prepared for heavy traffic on this road.
For such an incredible vantage point, Hopi Point is rather easy to reach. Although the shuttle runs down Hermit Road, you should hike in to take in the scenery. The trailhead for this route is where the Hermits' Rest Route Transfer Station and Village Route Transfer Station intersect.
Take in everything and take pictures. You can hear how silent and quiet the air is over this huge marvel if you're fortunate enough to arrive when few others are.
When you're ready, take the same path you walked on to reach the village. As an alternative, continue walking westward along the Rim Trail to see other vista sites.
Yavapai Point
Yavapai Point has great views but has a small parking lot and officially doesn't allow vehicles longer than 22 feet. The Yavapai Observation Station, a visitor center nearby that sells books and has exhibits about the geology and history of the Grand Canyon, is a short walk to the west of Mather Point.
Since Yavapai is the most northerly and closest to the Colorado River of the three sites on this section of the south rim, it offers perhaps the best spectacular views up and down the gorge.
At the western end of Pipe Creek, where Plateau Point is located and may be reached via a branch of the Bright Angel Trail, the river is just visible to the north.
The near ground is dominated in the other direction by a long, thin ridge that begins at Yaki Point and extends two-thirds of the way to the river. Peaks and points can be seen above and off in the distance, all the way to Desert View and Palisades of the Desert.
Cape Royal
Views of the canyon, Angels Window, and the Colorado River can be seen on an easy hike along a flat, paved trail. This pathway starts at the Cape Royal picnic and parking area's southeast corner and travels south along the paved path.
From Cape Royal, you can see for miles. You can also visit Angles Window on the way back for another stunning view. The natural history of the area is explained through markers along the trail.
Panoramas of the canyon from Cape Royal look up, down, and across it. It is well-liked for both sunrise and sunset because of the seemingly endless panoramas to the east and west. The natural arch of Angels Window frames the Colorado River's sweeping curve at Unkar Delta.
Look for the South Rim's Desert View Watchtower across the canyon. A paved, level trail leads to this well-liked vantage point.
Helicopter Tour over the Canyon
What better way to appreciate the canyon's beauty and all that it has to offer than from a helicopter hovering above?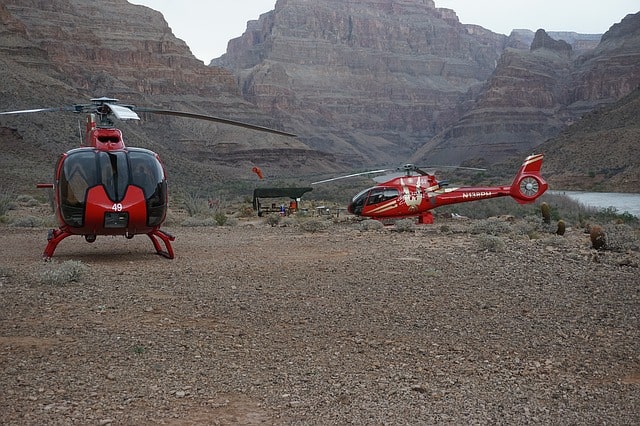 Visitors can enjoy a unique experience and view the canyon from above with a helicopter ride. Visitors can experience the canyons by looking down into them on a helicopter tour, which is something that is frequently overlooked while simply viewing them from a vantage point.
These tours, though perhaps a bit pricy, are well worth it and will provide you with priceless memories. Not many people make it down into the canyon. I highly recommend a helicopter ride that lands down in the Grand Canyon.
North Kaibab Trail
On the Grand Canyon's north rim, there is a well-known hiking trail called the North Kaibab Trail.
One of the Grand Canyon's toughest hiking trails to accomplish is this one. However, because so few people do the hike, it also provides privacy and solitude. Through a variety of trees, wildflowers, and ferns, you will see views of Bright Angel Canyon as you progress down the trail.
The entire trail is 14 miles long. However, there is a campground halfway through the trail as well as at the end, allowing you to finish the entire trail in a few days. However, to legitimately spend a night in any of the campgrounds at the Grand Canyon, hikers must get a permit from the Backcountry Information Centre of Grand Canyon National Park.
You will get to witness the "Pumphouse Residence" located around 5 miles into the hike if you decide to take on this challenging hike.
For many years, here was where the artist and worker on the reservation resided, worked at the canyon and painted. The vistas that the hike gives make it well worth the effort, even though it may feel like a lot of labor or be challenging.
South Kaibab Trail
The South Kaibab Trail, which runs along the Grand Canyon's south rim, is another well-liked hiking path.
Due to the steepness of the trail, it will probably take twice as long to return to the starting point. Since there is little shade along the trail, it is therefore advised to take this hike in the morning or late in the day.
A breathtaking 360-degree panoramic picture of the lovely canyon can be seen towards the end of the trail, which is a little over seven miles long in total.
There are numerous possibilities to merely hike parts of the trail without missing out on the beauty that the trail offers, but the vistas along the hike are also quite stunning.
If you wish to see this for yourself, private vehicles are not authorized. As a result, you will need to take a shuttle bus to the trail's beginning.
Sunset at Pima Point
The last stop before reaching Hermit's Rest is Pima Point along the Hermit scenic drive. This location offers a wide panoramic view of the valleys for more than 40 miles and is an excellent place to watch the sunset.
There might be some congestion here from other visitors hoping to catch the sunset as well. But if you get there a little early, you'll be sure to get to a good place and watch the stunning sunset without being disturbed by the people in front of you.
Wildlife
The Park has a wide variety of wildlife, and autumn is when you'll see most of it. The animals may be seen outside thanks to cooler temperatures and fewer people. At both the South and North Rims, you can expect to encounter mule deer and the occasional elk in addition to chipmunks and Albers squirrels.
Over the years, as you visit the canyon, you will come across this species. In addition to these species, if you camp or spend the night at the Grand Canyon Lodge, you will also see bats swooping above your head when you are sitting outside in the dark.
These animals, however, make up a very small portion of the local wildlife, which also includes a few species of amphibians, reptiles, 90 species of mammals, and about 450 species of birds. Watch out for them because many of them become more active in the fall.
Desert View Drive
One mile west of the Grand Canyon settlement, on a 25-mile route, is Desert View Drive. Some of the most breathtaking views of the Colorado River available at the Grand Canyon may be seen along the desert view drive.
Numerous rest spots along the way offer breathtaking scenery and distinctive views of the canyon. However, Yaki Point and Duck on a Rock are two essential stops along the way.
Yaki Point is a stunning vantage point where guests may relax and take in the expansive views of the canyons. The stunning dawn and sunset over the canyons can both be seen from here. Yaki Point can only be reached with a free shuttle bus operated by the park; it cannot be reached by your vehicle.
Just east of Yaki Point is a formation known as "Duck on a Rock," which is said to resemble a duck perched atop a rock. The unauthorized site is not identified by the park, making it simple for observers to overlook. However, everybody traveling along Desert View Drive should stop and have a look at it.
Grand Canyon Skywalk
The Grand Canyon's west rim is home to the Skywalk, a glass bridge in the form of a horseshoe that juts out 70 feet over the canyon floor.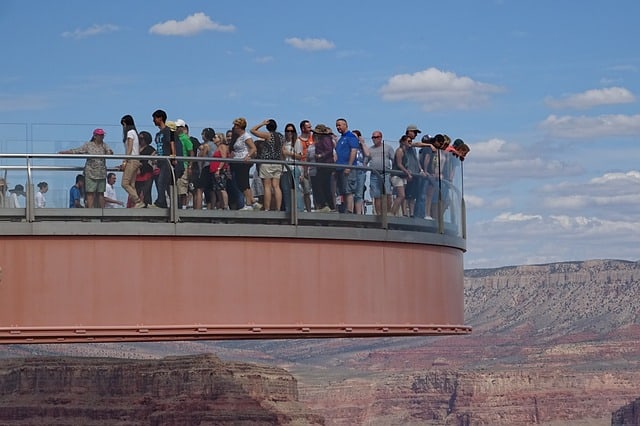 Since the bridge is made of glass, anyone standing on it can see more than 4,000 feet down into the canyon below.
This is a genuinely unique experience that provides views of the canyons that are inaccessible elsewhere. At the bridge, there is a café and a gift shop, extending and improving your experience.
Horseshoe Bend
Those looking for the Grand Canyon are paying close attention to this bend in the Colorado River. Although it is only 5 miles from the entrance to Grand Canyon National Park, it is approximately 140 miles from both the South and North Rims of the Grand Canyon.
When traveling from Rim to Rim via Highway 89/89A, you may see Horseshoe Bend by simply driving 18 miles up to Page, Arizona.
The distance to the edge where you can see Horseshoe Bend is about 3/4 of a mile. At Horseshoe Bend, you can glimpse the river while perched on the rim of the canyon and snap stunning pictures. Many people search for this location while they are in since it has become very memorable.
Horseshoe Bend is now easily accessible from Las Vegas. As you fly into Page, Arizona, you can be picked up from your hotel and given an aerial tour over Lake Mead, the North Rim of the Grand Canyon, and Marble Canyon. This can be a standout experience on your vacation.
Oak Creek Canyon
Arizona's Sedona is a well-known tourist attraction. It is breathtakingly beautiful everywhere you go. Sedona is a showcase of red rock mountain buttes that nature has painted against bright blue skies at the foot of Oak Creek Canyon. With its sparkling brilliance, Oak Creek flows beside Sedona, where luxurious resorts with practically every amenity imaginable may be found.
From Sedona, a meandering ascent via Oak Creek Canyon provides breathtaking panoramas of the bubbling creek and the verdant forest. Lodges, holiday homes, and quaintly peaceful bed and breakfasts are incorporated into the landscape.
Explore the beauty of nature on a hike, go trout fishing, or simply relax for a moment and take it all in. The ideal location to unwind in the natural world is Oak Creek Canyon.
Grand Canyon Rafting
Grand Canyon rafting experiences with Western River Expeditions are unforgettable experiences that are endless in scenic wonder, rich in Native American history, and packed with fun and adventure.
It's an adventure unlike any other to explore the Grand Canyon by the river. Experience Grand Canyon National Park's river-only sections, where you can find secret waterfalls and idyllic side canyons.
Each night of your Grand Canyon rafting trip, lie down under a canopy of countless stars and listen to the sound of the great Colorado River. Observe how the early morning sun shines warmly through imposing canyon walls. Learn about the famous whitewater on the Colorado River.
Recent Posts