Visiting Grand Teton National Park in August
August in Grand Teton: Are you thinking of visiting Grand Teton in August? August is a wonderful time to visit Grand Teton National Park.
August is one of the busiest month of the year to visit Grand Teton but I have included tips and tricks for visiting that will help you plan your trip.
In August, everything in Grand Teton is open. Every month is unique and different in the park so make sure to take advantage of the long summer days.
Thank you for supporting this website written by an American. This post may contain affiliate links. This means I earn a small commission on these links at no extra cost to you.
National Park Entrance Fees
To enter the National Parks, you'll need to pay an entrance fee or have a National Parks Pass also known as American the Beautiful Pass.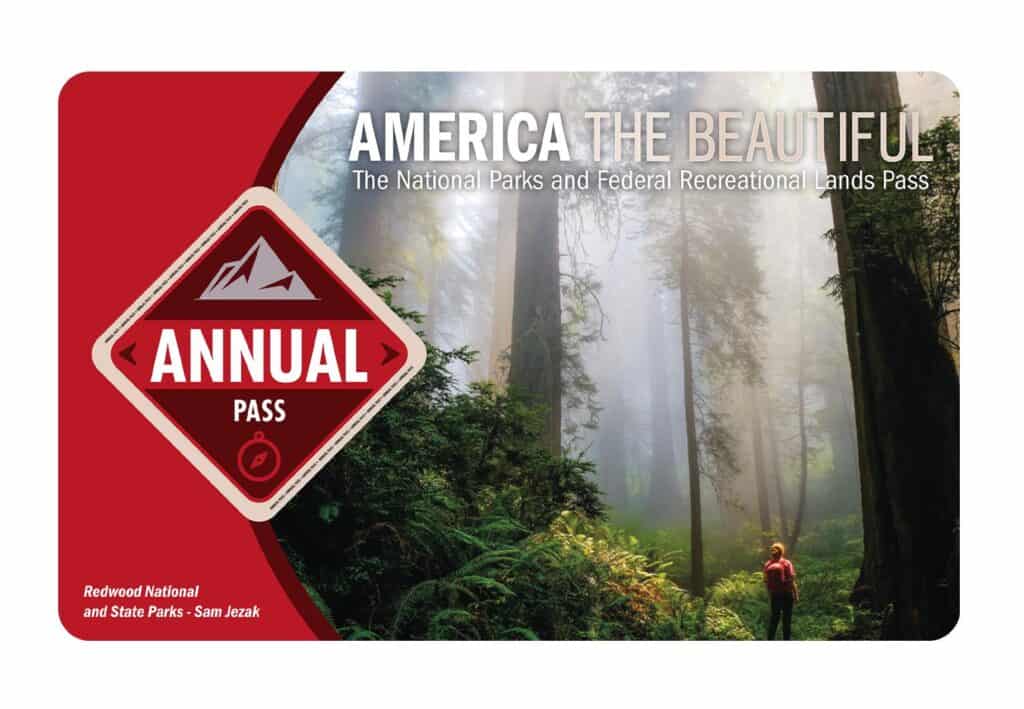 It costs $80 for a yearly America the Beautiful Pass. This gives you access to all national parks and federal areas that charge fees. The America the Beautiful Pass is well worth it!
I purchased my first one in 2016 and it's such a money-saver! Plus 10% of sale proceeds go to the National Park Foundation.
Things to do in Grand Teton in August
Craig Thomas Discovery and Visitor Center
Grand Teton National Park visitors are welcomed and orientated at this spectacular 22,000-square-foot visitor center.
The National Park Service, the Grand Teton National Park Foundation, and the Grand Teton Association collaborated on the structure.
The park's nearly 4,800 square feet of interactive exhibits are organized around four basic themes: place, people, preservation, and mountaineering. Life-size wildlife sculptures, mountaineering and western memorabilia, a three-dimensional park map, floor-to-ceiling windows, an enormous rock fireplace, a superb art gallery, and a 154-seat auditorium with breathtaking views of the Teton Range are just a few of the highlights.
Visitors learn about the distinctive features that make Grand Teton a world-renowned national park as they walk around the structure. The building uses a variety of sustainable building approaches, including recycled glass tiles, carpets with post-consumer and post-industrial material, high-efficiency cooling and electrical systems, natural lighting, and non-toxic paints.
Visitors can also meander through a 900-square-foot gallery room with great art from the park's permanent collection and other visiting exhibits in addition to the exhibit area. The center's 1,500-square-foot Grand Teton Association bookshop also sells a wide range of books, maps, souvenirs, and educational materials.
All proceeds from the bookstore's sales go to fund the park's educational, interpretive, and scientific initiatives.
Jenny Lake Ranger Station
The Jenny Lake Ranger Station Historic District is notable because it represents a clear statement of Grand Teton National Park's local interpretation of the 1930s National Park Service rustic architectural concept.
The district houses the Park's sole dateable examples of local reconstruction of acquired structures to meet park needs and design standards. It's also significant since it was one of the park's earliest ranger stations and visitor centers, built by the National Park Service. It remained the hub of visitor activity until 1960 when new structures built particularly for that purpose were finished.
Finally, the district comprises three forms of rustic architecture, all from the 1930s, that symbolize many other buildings in the park, both still standing and vanished. The district includes a ranger station built with recycled parts, a concessioner-rebuilt 1930s building that fits the rustic mold, and two comfort stations that represent the Civilian Conservation Corps' work to improve visitor services in the park.
Laurance S. Rockefeller Preserve Center
Unlike other visitor centers, this lovely one offers a peaceful experience. The sparsely furnished green building is LEED-certified and sits on 3100 acres donated by the Rockefeller family (Leadership in Energy and Environmental Design). It has a library with leather armchairs and books on conservation and nature to read, as well as words from naturalists and writers inscribed on the walls.
The 7,000-square-foot structure is self-guiding, to wake visitors' senses so they may appreciate the surrounding scenery more fully. The L-shaped, rectilinear order of the building arcs to an apse-like form at its south end, more akin to a chapel than a visitor center. Vertical wood slats with gaps between boards, reminiscent of old barns, offer thin slits of light into a quiet place, indicating nature's spiritual strength.
Paintbrush Canyon
Set aside a weekend to explore Grand Teton National Park's 21.7-mile loop. Head southwest for a little distance to connect Jenny Lake and String Lake, then turn right at the Y-junction.
The trail enters Paintbrush Canyon after wrapping around the base of Rockchuck Peak. As you climb past alpine lakes and scree fields with breathtaking views of the Tetons, have your camera handy.
The route crests the exposed and rocky Paintbrush Divide at 10,720 feet after 7.3 miles and then declines into Cascade Canyon. Before pitching up camp in the North Fork Cascade camping area (where you'll fall asleep to the sounds of Cascade Creek), take a tour of Lake Solitude. Turn around and retrace your steps back to the trailhead the next day.
Go to Paintbrush Canyon to Cascade Canyon Loop to make this out-and-back into a loop.
Cascade Canyon
Cascade Canyon is a beautiful site to start your Grand Teton National Park trip, from boating across Jenny Lake to relaxing beside Hidden Falls to gazing out from Inspiration Point.
Cascade Canyon is also a popular hiking site in Grand Teton National Park, with a moderate hike that begins near Jenny Lake and leads to the cascading 200-foot-tall Hidden Falls and the appropriately named Inspiration Point, which overlooks Jenny Lake and the east side of the park.
While most visitors turn back after reaching Inspiration Point, those who continue to Hurricane Pass and Lake Solitude will be rewarded with vistas of the surrounding Cathedral Group and many fewer people.
Cascade Canyon can be linked with Paintbrush Canyon or the Teton Crest Trail for longer hikes or overnight stays, with hikers able to continue south to Teton Pass.
Death Canyon
Take advantage of the less-traveled Death Canyon when visiting Grand Teton National Park and explore this stunning glacier-formed canyon packed with wildlife, sheer rock walls, and spectacular views.
It could just be the name, but the Death Canyon Trail in Grand Teton National Park attracts fewer visitors than some of the park's other trails. Death Canyon, despite its name, is teeming with life – flowers, trees, shrubs, moose, deer, bear, birds, and more – and the low number of hikers make it a perfect area to take in the Park's natural splendor.
While the entire Death Canyon Trail (which leads up to Static Peak, Alaska Basin, and Death Canyon Shelf) is not suitable for novices, shorter hikes to Phelps Lake Overlook and Phelps Lake are less difficult and equally rewarding.
Take the Moose-Wilson Road south about 3 miles from the Moose Junction Park Entrance until you reach a right-hand bend that leads to the Death Canyon Trailhead. Trailers and motor homes are not permitted to enter the trailhead. In the winter, parking is accessible near the Moose-Wilson Road turnoff.
Teton Crest Trail
The Teton Crest Trail is one of the most famous backpacking trails in the United States, and it is a must-do for anyone who can make it to northwestern Wyoming and wants to spend a few days in the wilderness.
The trail is about 40 miles long, depending on side treks, and it seldom goes below 9,000 feet, giving it a fantastic way to see high elevation alpine tundra with magnificent glacier cut canyons and rugged peaks all around you. 
Moose, deer, elk, bighorn sheep, black and grizzly bears, mountain lions, wolves, and a variety of other animals live in the Grand Teton Mountains. The Teton Crest Trail, however, is one of the most spectacular hiking paths in the country. This high route walk follows ridges with panoramic views of towering granite peaks, glacier-carved gorges, crystalline lakes, and penstemon, lupine, paintbrush, monkshood, and western coneflower-studded meadows.
The serpentine trail cuts through the Jedadiah Wilderness Area, two national forests—Bridger Teton and Caribou-Targhee—as well as Grand Teton National Park. Thus, the Grand Teton range is one of the most photographed mountain ranges in the world, and this trek will allow you to see it from perspectives that most people never get to see.
Gross Ventre Campground
Gros Ventre campground is a huge campground in Grand Teton National Park with over 300 single-family campsites (36 with electric hookups) near the Gros Ventre River, so bring your fishing pole! Five group campsites are also available.
The campground offers excellent views of the Grand Tetons, and most campsites have lots of space between them. Some campsites are nestled amid enormous cottonwood trees, providing welcome shade, while others are open to the elements. A food storage locker, table, grill, and fire ring are also included at each campsite. Drinking water, flush toilets, and a dump station are also available at the campground.
Jenny Lake 
Jenny Lake features some of the park's best hiking trails, and you may tailor your trip to fit your schedule and interests. If you're not a big walker or just want to see Grand Teton from a fresh perspective, grab some paddles and go canoeing while exploring Grand Teton in a day.
Another visitor center there is worth stopping by for the most up-to-date information on approaching thunderstorms, which are common in the afternoon. If climbing is something you're interested in, the Jenny Lake Ranger Station has the most up-to-date information on all Grand Teton routes.
If you want to take in the breathtaking views without putting too much effort, there is also a shuttle boat that will take you across the glacial lake. This is a particularly delightful activity if you're spending your August in Grand Teton.
Signal Mountain
Visitors to Signal Mountain near Jackson Hole are greeted by views of craggy peaks, tall woods, and an open valley. The majority of visitors choose to drive to the summit of Signal Mountain, which is reached through a 5-mile route that twists and bends its way to the top. On the route to the top, your car will ascend 1,000 feet amid beautiful woods.
This spot, at 7,727 feet, is ideal for sunset views of Grand Teton National Park. It's only a few miles south of Coulter Bay. The good news is that getting to the peak is simple.
You may reach the summit through Signal Mountain Summit Road. From its remote peak, which rises to 2,350 meters, you may enjoy breathtaking views of Grand Teton National Park's mountains, valleys, woodlands, and lakes.
Colter Bay Village
Colter Bay Village provides an excellent Grand Teton National Park experience at a reasonable cost. This is one of two properties that sit directly on the banks of Jackson Lake, the park's largest lake, and is a fantastic family-friendly home with unlimited activities.
The village is located on the lake's northern shore and offers a wide range of activities such as kayaking, canoeing, guided fishing trips, horseback riding, picnic and grilling sites, a swimming beach, and meal cruises.
Choose from a variety of attractive log cabins and make use of amenities including two restaurants, laundry facilities, a shower facility, a gift store, a gas station, and a marina. This is a perfect setting for building lasting vacation experiences, similar to a summer camp for the entire family.
Lizard Creek Campground
During peak season, Lizard Creek Campground is the most potential area to find a spot. Its remote location, lack of RV connections, and limitation on vehicles longer than 30 feet keep it hidden.
Like the other major campgrounds in the park, this one accepts no reservations and operates on a first-come, first-served basis. It is conveniently located on the shores of Jackson Lake and provides a variety of enjoyable surrounding activities.
Before supper, kayak or stand-up paddleboard on the lake, and after dessert, listen to an instructive talk from a park ranger at the amphitheater. Each site has a variety of wildflowers, bear boxes for food storage, toilets and camp basins, as well as picnic tables.
There are a total of 60 tent sites. The majority of the campsites are located away from the lake, although a few are close to the water and offer spectacular views of the Tetons.
Swimming is permitted, but bathing is not. Make sure you're alert of bears and don't keep food in your tent or on your clothes. Here, the weather can change in an instant, so be prepared.
Headwaters Campground
The John D. Rockefeller, Jr. Building. Headwaters Campground, located on Memorial Parkway between Grand Teton and Yellowstone National Parks and just minutes from both, is the perfect basecamp for exploration. This campground, which is located in a beautiful woodland environment with rolling hills and Teton mountain views, is an excellent setting to relax and unplug, as there is no cellular or internet access.
As you go down nearby Polecat Creek, you may see bears, moose, mule deer, and other wildlife. The Snake River has plenty of cutthroat trout, brook trout, and whitefish for enthusiastic fishermen. Although none of the campsites at Headwater are on the river, they are all within walking distance.
The campground has 34 tent sites, 97 full-hookup and pull-through RV sites, and 40 Camper Cabins. While Headwaters Campground does not always fill as quickly as the other park campgrounds, visitors are advised to plan and reserve early.
Ranger-Led Programs
Ranger-led programs are an excellent opportunity to learn about what makes a park unique, whether it's learning about how people lived, discovering natural processes in action, or witnessing things you wouldn't have seen otherwise.
You can ask all of your questions and get answers to questions you didn't even know to ask when you attend a ranger program! Ranger programs are intended to highlight the park's significance and purpose. They can help you learn about how plants and animals interact in an ecosystem, how ancient people lived off the land, how geologic processes influence the environment, historical events, and more.
Ranger programs can also be a great way to meet new people. Visitors from all over the country and the world come to Grand Teton to have a great experience. You can inquire about special programs at a visitor center.
Backcountry Camping
While exploring the backcountry is a fantastic way to see Grand Teton National Park, it does necessitate considerable planning.
Permission is required for all backcountry camping. Backcountry camping permits are available on a first-come, first-served basis up to one day before your trip. At the Colter Bay Visitor Center, the Craig Thomas Discovery and Visitor Center, or the Jenny Lake Ranger Station, you can apply for a permit.
Climbing permits are not necessary, but all climbing that involves overnight camping requires a backcountry camping permit. Backcountry camping permits must also be obtained at the Jenny Lake Ranger Station while climbing or mountaineering.
Backpackers should expect to travel no faster than 2 miles per hour while planning a backcountry camping trip in Grand Teton National Park (3.2 km per hour). For every 1,000 feet of elevation gain, add one hour. It is not advisable to plan a trip that necessitates crossing more than one pass in a single day. Bear canisters permitted by the park must be used in the backcountry. For usage in the park, the park provides free canisters.
Recent Posts