15 Tips for Visiting Grand Teton in Winter
Winter in Grand Teton: Are you thinking of visiting Grand Teton in Winter? Winter is a wonderful time to visit Grand Teton National Park.
Grand Teton National Park is quite quiet in winter but there are so many fun winter activities that you can do in the park.
Whether you are visiting Grand Teton in December, January, or February, there are plenty of winter activities. Every month is unique and different in the park so make sure to take advantage of the days.
If you want to experience nature's breathtaking sights in Yellowstone and Grand Teton National Parks check out this self-guided trip. Drive past prismatic pools, famous geysers, towering mountain peaks, and glacial lakes.
Thank you for supporting this website written by an American. This post may contain affiliate links. This means I earn a small commission on these links at no extra cost to you.
National Park Entrance Fees
To enter the National Parks, you'll need to pay an entrance fee or have a National Parks Pass also known as American the Beautiful Pass.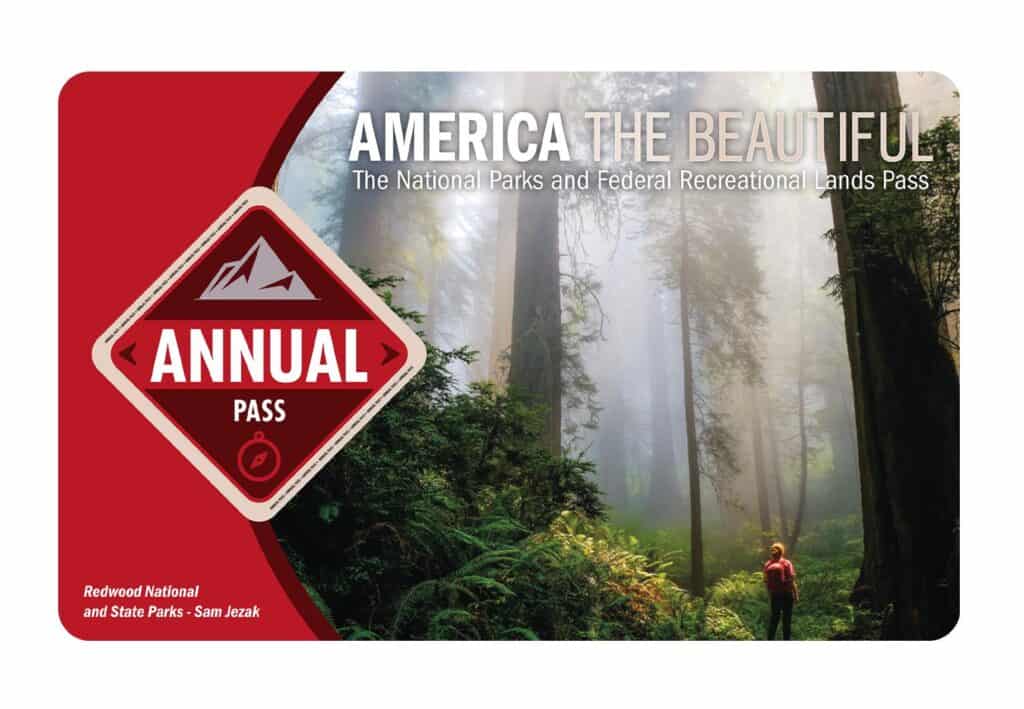 It costs $80 for a yearly America the Beautiful Pass. This gives you access to all national parks and federal areas that charge fees. The America the Beautiful Pass is well worth it!
I purchased my first one in 2016 and it's such a money-saver! Plus 10% of sale proceeds go to the National Park Foundation.
Grand Teton in Winter Weather
December: Average high of 25°F and low of 3°F, with 12 days of rain or snow.
January: Average high of 25°F and low of 0°F, with 12 days of rain or snow.
February: Average high of 30°F and low of 2°F, with 10 days of rain or snow.
15 Things to do in Grand Teton in Winter
Visitor Center
A visit to a visitor center should be the first stop on any tour into a national park! Visitor centers are an excellent place to get the most up-to-date information on road conditions and to speak with people who are familiar with the area. 
This visitor center features spectacular views, interesting interpretive displays, a bookshop run by the Grand Teton Association, and ticket sales for sleigh journeys into the National Elk Refuge, in addition to providing an official update on road conditions and information on winter safety.
The Jackson Hole Visitor Center is open seven days a week between 9 a.m. and 5 p.m. during the winter season in Grand Teton National Park.
You're ready to explore Grand Teton National Park in the winter once you've gathered all of the necessary information. You can also check out this self guided tour of Grand Teton to give you more info on there park.
Snowshoeing
Grand Teton National Park is beautiful at any time of year, but there's something particularly mystical about it when it's snowed in. Snowshoeing is similar to hiking in that it is a great way to get out into nature and experience it in surround sound.
Snowshoeing at Jackson Hole comes in a variety of forms. Going on a guided snowshoeing tour is an excellent choice if you are new to snowshoeing or the area. There are a few options for you.
4-hour easy snowshoeing guided hike
Want to try out snowshoeing in Grand Teton? This is the best choice if you have limited time, have never snowshoed before, or are unsure of your fitness level.
The paths chosen are easy, there will be an experienced guide sharing suggestions and tactics, and the pace will be slow.
All equipment is given, including snowshoes, hiking poles, and even binoculars. There is a maximum of 7 people who can participate. There are also trips available in the morning and afternoon.
Check out this guided snowshoeing hike
Grand Teton and National Elk Refuge Winter Day Trip
This is a fantastic winter day trip and tour of Grand Teton.
Spend the morning in Grand Teton National Park and the afternoon driving through the National Elk Refuge in search of elk, moose, bighorn sheep, foxes, and trumpeter swans. Binoculars, snowshoeing equipment, lunch at a nearby restaurant, and hotel pickup are all included.
This is a great day trip to enjoy everything that Grand Teton has to offer.
Teton Park Road
The Teton Park Road is an excellent spot to start if you're interested in cross-country skiing in Grand Teton. From the Taggert Lake Trailhead, where you'll most likely park your car, to Signal Mountain Lodge, the Teton Park Road is groomed.
Starting in mid-December, depending on conditions, there will be roughly 15 miles of nicely groomed paths to explore. Jenny Lake and the southern end of Jackson Lake are two popular destinations along the trail.
On a bluebird day, whether you ski a few miles or the entire stretch of road, you'll be treated to spectacular vistas of the Cathedral Group, which includes Grand Teton, Mount Owen, Teewinot, Middle Teton, and South Teton.
Moose-Wilson Road
The Moose-Wilson Road is another wonderful option for some in-park cross-country skiing.
Park at the Granite Canyon Trailhead to ski along the groomed route on this gorgeous road. The road is groomed for about three miles before coming to a halt at another trailhead.
The trail is 6 miles round way and offers beautiful woodland scenery. Skiers frequently use this road to access Phelps Lake in the winter.
Back Country Skiing
Mountaineering, climbing, and backcountry skiing are all popular activities in the Teton Range. These activities, however, are not for the faint of heart or inexperienced. All snow-season backcountry users are encouraged to bring adequate safety equipment and have a professional understanding of avalanche safety, according to Grand Teton National Park.
Intermediate skiers, on the other hand, can still explore the winter wilderness. A guided backcountry ski trip might be for those looking to explore more of the Tetons' isolated terrain.
A professional guide is an excellent way to learn about winter safety and verify that the mountain routes you run have been thoroughly assessed for avalanche risk.
The knowledgeable staff at the Visitor Center can assist you in locating a tour company that provides just what you're looking for.
Ice Fishing
The same lakes that provide boating opportunities with mountain views may be reached for ice fishing through Grand Teton National Park. Jackson Lake, Jenny Lake, and Phelps Lake are some of the park's top ice fishing spots.
Before going out on the ice, make sure you have a fishing license and rent the required equipment (such as an auger, rod, and reel). Alternatively, find a guide to share their knowledge and relieve the stress of assembling the necessary equipment.
Dog Sledding
It doesn't get any more genuine than this! You'll be guided through the wilderness by a musher guide and a team of Alaskan sled dogs, where you'll learn about local animals and see deer, elk, moose, bighorn sheep, and bald eagles.
A half-day or full-day dog sledding trip is available. The full-day tours also include a peaceful bath in the natural spa-like waters of Granite Hot Springs.
In the snow, being pulled behind a team of dogs is a thrilling sensation. A two-hour dog sledding adventure along the Buffalo Fork River through the river valley is available in Jackson Hole.
Go dog sledding in Jackson Hole, Wyoming, to live out your winter western fantasy. On a sled towed by a team of huskies, you'll be comfy and warm.
Wildlife Watching
Warm yourself from the cold winter air by taking a picturesque drive to look for wildlife in the area. Bison, deer, elk, coyote, bear, and even wolves can be seen in Grand Teton National Park. Although bears hibernate throughout the winter, much of the park's other wildlife is still active.
Moose, elk, bison, wolves, trumpeter swans, and other local species are especially fascinating to observe during the winter months when more extreme weather conditions add to their already fascinating behavior. Take a self-directed tour or take a guided trip to learn about the flora and animals of Grand Teton National Park.
When looking for wildlife in the distance, a decent pair of binoculars or a spotting scope will come in handy.
Take a half-or full-day trip with one of the area's expert wildlife safari outfitters for the best chance of spotting creatures of all shapes and sizes. You will never forget this adventure, which was led by a skilled biologist and performed from the comfort of a specially equipped vehicle with spotting scopes and a wide sunroof.
Drama is probably more prevalent in the winter, especially during the coldest months of December and January. Competition for space and food becomes more intense, while predators such as wolves and mountain lions' prey on prey that has been weakened by the hard environment.
The Willow Flats Overlook is well-known as one of the best spots in Grand Teton National Park to scout for wolves. Grab a location in the parking lot and set up shop for a while. Remember to be patient in your search and to have fun!
The National Elk Refuge
In the winter, elk can be seen just outside the park at the National Elk Refuge in Jackson Hole. The refuge is also a popular area for seeing various creatures and migratory birds.
To the north of Jackson, the National Elk Refuge is located just before the entrance to Grand Teton National Park.
This area was established to protect and restore the Jackson Elk Herd, as well as to provide a haven for a variety of other animals, birds, and fish.
Elk migrate down from the mountains into the valley floor near Jackson, Wyoming in the winter, making them visible to highway travelers. During the winter months, the Game and Fish Department estimates approximately 5,000 elk migrate to the valley.
A barrier runs for several miles alongside the highway just outside of town, preventing any confrontations between elk and automobiles on the road. They are not walled in, but rather roam freely!
If you want to picture the Elk herds, remember to be quiet and patient. They are highly scared, and even a cough will send them scattering from your shot. They may easily walk into your frame if you establish yourself as a silent spectator.
Sleigh Rides
During the winter, visitors can book a horse-drawn sleigh trip to get a closer look at the refuge's vast elk herd.
In the Greater Yellowstone Ecosystem, this refuge is an important habitat for a variety of wildlife, but in the winter, it is principally used by a huge herd of wintering elk. Visitors can book a winter sleigh ride to get a closer look at the elk and learn more about this Wyoming herd at this wildlife refuge.
The Jackson Hole and Greater Yellowstone Visitor Centers sell tickets and make bookings for the sleigh rides.
Snowmobiling
When everything is covered in snow, Grand Teton Snowmobiling is a great way to explore! You have the option of going it alone, renting a snowmobile and trailer locally, or joining a guided trip.
A snowmobile tour can transport you to stunning natural landscapes that would otherwise be inaccessible during the winter. Hold on to your hat as you're whisked around the snowy countryside by an expert guide. Visit Old Faithful or the Granite Hot Springs in Yellowstone National Park, the Gros Ventre Range, Togwotee Pass, or Greys River, and relax in a peaceful bath.
Snowmobiling is an appealing option within Wyoming's national parks due to limited automobile access to highways. Grassy Lake Road in Grand Teton National Park is open to any snowmobile without the need for a guide. Other areas of the park have more stringent rules, such as the use of BAT (Best Available Technology) snowmobiles.
Check Out Ancient Petroglyphs
Prehistoric petroglyphs made by the Shoshone Indians can be seen during a winter tour. Petroglyphs are carved drawings in rock or stone.
To the Eastern Shoshone people of the Wind River Reservation east of Jackson, a guide explains their spiritual significance.
A visit to the National Bighorn Sheep Center in Dubois is also included in the program.
Photography Tours
Year-round, Grand Teton National Park offers a plethora of photo opportunities, but the park's winter environment is particularly stunning and a favorite of amateur and professional photographers alike.
Consider organizing a private photo tour or workshop with a professional guide/photographer if you are an amateur photographer looking to enhance your skills—or simply want the opportunity and accessibility to photograph both the park's fauna and jaw-dropping landscape up close.
Several outfitters, including Alpen Glow Tours, Grand Teton Photo Tours, and Jackson Hole Wildlife Safaris, provide half, full, and multi-day tours. Depending on the trip you choose, you'll see landscapes, wildlife, and breathtaking photo opportunities at sunrise and/or sunset. Your guide will go through every aspect of photography technique and equipment with you.
Tram and Gondola Rides
There are two different types of cable cars that ascend the mountains at Teton Village, at the Jackson Hole Mountain Resort. Even if you don't ski or snowboard downhill, it's wonderful to ride one or both of them up the mountain for spectacular vistas.
The Bridger Gondola ascends 823 meters/ 2,700 feet vertically. There are several tiny private gondolas available, and there are lots to do, including three restaurants, at the top. After 5:00 p.m., you can ride for free.
The Aerial Tram, which runs from the Mountain Resort to the summit of Rendezvous Mountain at 10,450 feet, is a popular attraction in Jackson Hole. The Tram provides breathtaking views of the Tetons, Jackson, the Snake River Valley, and Grand Teton National Park. At Corbet's Cabin, at the summit, you may enjoy the views and freshly prepared waffles.
Both of their stations are virtually next to one other at the bottom of the mountain at Teton Village.
Cross Country Skiing
Skiing into Grand Teton National Park is a once-in-a-lifetime experience. The powdery snow in the area is ideal for ski touring, and the views are breathtaking.
This is a wonderful place to start if you've never done it before. There are various areas with groomed trails, and the Grand Teton mountains, which are always snow-covered, provide a spectacular backdrop.
There are about 14 miles/ 22.5 kilometers of groomed Nordic/ cross country skiing trails in Grand Teton, making skiing a breeze.
Many experienced outfitters can also outfit you with everything you need to get out and glide across Grand Teton National Park, and they are located in Jackson.
If you plan on traveling during the holidays or during spring break, you should book your rental gear ahead of time to ensure availability.
Recent Posts