Petrified Forest National Park is a one-of-a-kind park that may be seen in one day. If you're already planning a trip to the southwest, this park, which is located along historic Route 66, is a perfect addition to your itinerary.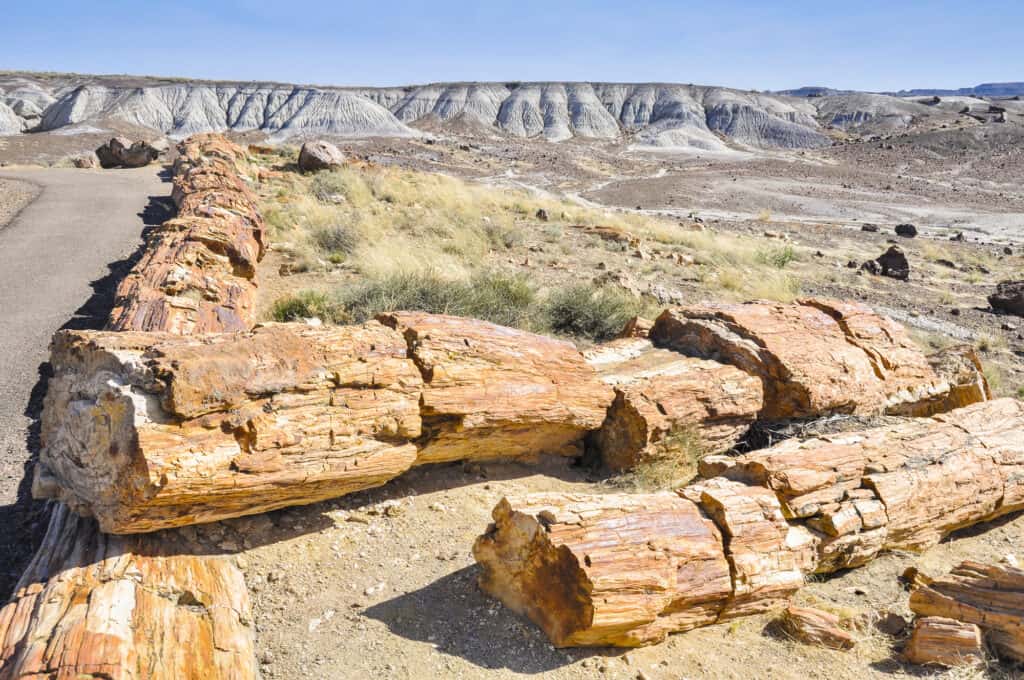 Wind and water created the landscape of Petrified Forest National Park, resulting in all of the natural treasures that we witness today.
This national park boasts the world's largest petrified wood deposits. Along the Giant Logs Trail, you may witness some of the park's largest petrified logs. This one-day itinerary will take you through the top attractions in Petrified Forest National Park.
Another attraction of the park is the Painted Desert's colorful natural scenery, which was formed over time by a sequence of natural catastrophes such as volcanic eruptions and earthquakes. The Painted Desert's vibrant characteristics are a breathtaking and unforgettable sight, and witnessing it alone is worth a trip to Petrified Forest.
Petrified Forest National Park is located between I-40 and Highway 180 in northern Arizona. The Park has two entrances: the north entrance is right off I-40, and the south entrance is directly off Highway 180. As a result, you have two options for entering and exiting the park, depending on your travel direction.
If you are not near the park, the closest major airports are in Phoenix, Arizona, and Albuquerque, New Mexico.
Or you can drive from:
Phoenix: 3 1/2 hours, 212 miles
Flagstaff: 1 hour and 45 minutes, 116 miles
Albuquerque: 3 hours and 10 minutes, 208 miles
Thank you for supporting this website written by an American. This post may contain affiliate links. This means I earn a small commission on these links at no extra cost to you.
National Park Entrance Fees
To enter the National Parks, you'll need to pay an entrance fee or have a National Parks Pass also known as American the Beautiful Pass.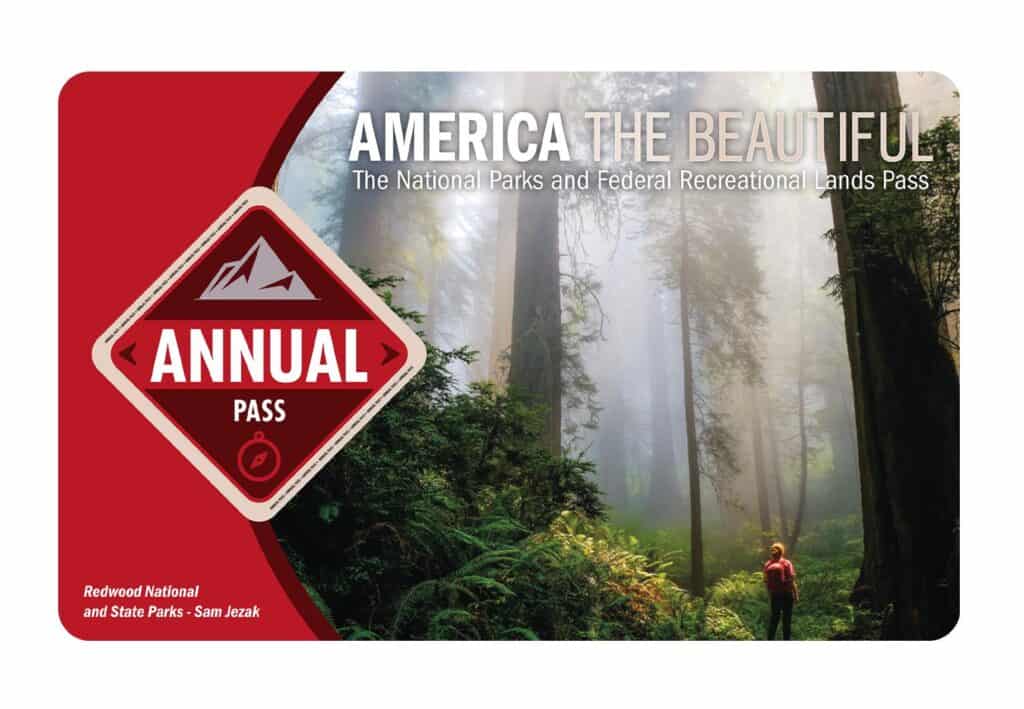 It costs $80 for a yearly America the Beautiful Pass. This gives you access to all national parks and federal areas that charge fees. The America the Beautiful Pass is well worth it!
I purchased my first one in 2016 and it's such a money-saver! Plus 10% of sale proceeds go to the National Park Foundation.
Tips for Visiting Grand Canyon National Park
Grand Canyon National Park is perfect for outdoor enthusiasts.  There is something for everyone on this list and for different fitness levels.  Also, note that it is dry and hot (in the summer), and make sure you know what you are getting into before you start.  Here are a few tips for visiting the Grand Canyon:
Bring a reusable water bottle and lots of water! Remember you are in the sun and you will need to drink lots of water. I love my LifeStraw Filtered Water Bottle. I can refill this bottle anywhere and it comes with a carabiner to connect it to my daypack.
Check the Weather – days over 100 degrees are very common. Make sure to check.
Hiking boots or sandals that will protect your feet! I love good shoes. I need all the support and help I can get. I actually love these sandals for hiking and also love these hiking boots.
Bring hiking poles for balance and to protect your knees. I know many experienced hikers (and even amateur ones) think that hiking poles are for old people who lose their balance. Actually, hiking poles can help when going down steep inclines or when scrambling over rocks. They are great to hike with even for the most experienced hiker.
Wear a sunhat. I feel like this whole post is about how high you are in the mountains and how much closer you are to the sun but it is so true. At elevation, you are closer to the sun and more likely to burn. Wear sun protection such as a sun hat and sunscreen.
Be aware of the wildlife. This is the Southwest and you will need to watch out for snakes and other wildlife such as moose or a bear. Please stay away from wildlife and do not feed them. I recommend carrying bear spray as well.
Start Early – If you want to avoid the traffic and the heat you will need to start your hike early. That way it will be nice and cool and the smog will not affect you either.
Leave no trace. If you are new to the concept of Leave No Trace it is all about preserving the environment to ensure it is in the same or better condition when you leave it. This means that you should stick to the trails and carry out everything that you carried in. This is a great explanation of the Leave No Trace principles!
Water shoes are great for water hikes– If you don't have a pair, I highly suggest it as they are affordable. I have an article on the pros and cons of several pairs of water shoes.
Bring Bug Spray and a snack: Be sure to bring everything you need including a snack like a protein bar plus BUG SPRAY.
Where to stay near Grand Canyon National Park
The Grand Canyon makes for a great weekend escape. Fresh air, beautiful scenery and being in nature does a world of good for the soul. I recommend staying as close to the park as possible and even treating yourself with a cabin with a spa pool to relax at night.
If you are taking a road trip remember to reserve a car in advance using Discover Cars .
Visiting Petrified Forest in One Day – The Perfect Itinerary
For the morning at 9 am, go on a short hike to:
Tiponi Point
Tiponi Point is the first scenic overlook in Petrified Forest National Park after exiting I-40 at Exit 311. It provides panoramic views of the Painted Desert, which is located in the park's northern section.
Wiki Commons
When a visitor exits the Painted Desert Visitor Center via the park's North Entrance, they will find it. For visitors heading north from the South Entrance, it is the last overlook before the visitor center at the north entrance.
Painted Desert Rim Trail
When you arrive at the park's northern entrance off of Interstate 40, not far from the Arizona-New Mexico border, you'll be greeted by the Painted Desert's vivid but desolate landscape.
A park fee station can be found right off the highway. The 93,500-acre badland/desert region stretches eastward from the Grand Canyon to the Petrified Forest, where the desert explodes into an earth-tone palette of reds, oranges, browns, grays, and lavenders.
The Painted Desert Inn is an excellent starting point for this short hike. This historic landmark has been converted into a museum where visitors can learn about the Badlands' history, which stretches back to the 1920s when the Inn was built. Between views, you can walk for half a mile along the edge of the Painted Desert. Tawa Point is the starting point for the trek to Kachina Point. It's flat and straightforward, with spectacular vistas of the colorful region's vastness.
This hike provides some of the best panoramic views of the desert below as it goes around the rim, past steep rocks dotted with stunted flora. Along the Rim Trail, each bend and turn reveals a fresh, stunning view. Unique hues, unusual animals, and strange structures may cause your thoughts to wander in this oftentimes bizarre location.
If you wish to set up camp and go on a longer trip later, hiking along the rim of the Painted Desert may allow you to seek out appropriate hiking areas. Bring your camera on your adventure because there will be plenty of photo possibilities.
Painted Desert Inn
Stop by the Painted Desert Inn, a National Historic Landmark that used to be the Stone Tree House, for a taste of the desert's rich history. The inn was a refuge for tourists in the 1920s and early 1930s who came for a variety of Native American arts and crafts, refreshments, and a night's stay.
Wiki Commons inlight
The structure is breathtaking and a must-see for anybody visiting the park! Between 1947 and 1948, a Hopi artist named Fred Kabotie produced the interior murals in particular. While you can't overnight in the Inn, like the Kelso Depot in the Mojave Preserve, the site's history and beauty make it a must-see.
Today, the national historic monument only functions as a museum, with no overnight accommodations or food service. Inside, there are exhibits about the structure's history, Route 66, and the Civilian Conservation Corps. The Hopi artist Fred Kabotie's murals have also been repaired.
The Painted Desert Inn remains a shelter for travelers wishing to stretch their legs and take in some nature and history, even if it no longer offers lodging or food.
Newspaper Rock Petroglyph
If you're interested in history or anthropology, a visit to Newspaper Rock is a must. Rather than being a single stone with inscriptions, Newspaper Rock is made up of multiple rockfaces with roughly 650 petroglyphs dating from 600 to 2,000 years ago.
Wiki Commons
Joe Mabel
Newspaper Rock is only one of the many attractions and trailheads listed along the park's 28-mile path, and it's worth a visit. Due to the fragility of the hillsides, hikers are not permitted to access the rocks; nevertheless, there is a catwalk and overlook for viewing, as well as free spotting scopes. Photographing the many petroglyphs will require a zoom lens.
A quick detour from the main road and a walk up the catwalk is also required due to the halt.
Old Route 66
The significance of a section of the park road is marked by a rusted old car body, dusty tumbleweeds, and a recognizable highway sign cut into concrete: The Painted Desert is cut in two by the ancient Route 66 corridor, which is commemorated by a stop along the road.
Wiki Commons Finetooth
The display is made up of many different components. The first one you come across is a bench with the backside of an older car's bumper and tail lights. While the park's unexpected beauty makes this quick visit worthwhile, it's also worth understanding a little about the park's history as it relates to people passing through the United States.
The road's outline can still be visible in the form of old telephone poles and an old roadbed, even though it is no longer in use. The primary attraction here is the Old Studebaker, a rusting shell of a car that represents the demise of this once-thriving route. It's a picturesque spot, and standing in a national park on the remains of one of the world's most famous highways is interesting.
The Teepees
You'll pass through the Teepees as you proceed down the Petrified Forest Road, which is one of the most unique and colorful portions of the park. The zebra-striped mountains twist and turn as the road twists and swirls.
Wiki Commons Finetooth
The Tepees, or little mountains, are breathtaking, and the roadside pullout encourages you to take shots. The Tepees, so named because of their cone-like shape and similarity to Indian dwellings, feature the Blue Mesa Member's cold striated hues, which date back 220-225 million years.
The Tepees are badland erosional landforms in Petrified Forest National Park. They're made up of thick deposits of grey, blue, purple, and green mudstones, as well as white minor sandstone beds colored by iron, manganese, and other minerals, and they're part of the Chinle Formation's Blue Mesa Member.
Bring plenty of water with you on even short day walks to avoid heat fatigue because the Petrified Forest scenery is a dry, high-altitude desert.
Blue Mesa Trail
The mile-long trail leads you not only into the heart of the blue-hued badlands but also past petrified tree stump clusters and informative explanatory signs about the geology of the area.
The petrified wood fossils were formed more than 200 million years ago when logs washed into an old river system and were buried beneath massive volumes of sand and debris. The wood was saved from the effects of oxygen and organisms since it was buried so quickly.'
You may have the Blue Mesa Trail almost to yourself depending on the season, adding to the area's enigmatic quality. The part-paved, part-gravel trail begins with a hard ascent from the mesa into the badlands.
The trailhead is roughly 3.5 miles off the main road, in a fairly remote location. After the first steep part, the hike becomes very easy, and you might spend hours walking and pausing to shoot the eerie buttes against the dark sky.
Agate Bridge
Agate Mesa's Agate Bridge, formerly known as Natural Bridge, is a "bridge" constructed by a partially exposed petrified log spanning a gully.
This monument has been one of Petrified Forest's most popular attractions since its creation, and many people have had their photos taken while standing on the "bridge."
Concerns that the railway would collapse this important landmark led to the construction of masonry pillars beneath it in April 1903, followed by concrete in 1911. Concrete beams were placed in their place in 1917. The log is around 100 feet long with a 4-foot diameter at the base. It spans the chasm for 40 feet and rises 16 feet above the canyon floor. In the late 1800s, paleobotanist Lester Ward declared Agate Bridge to be the "most renowned single petrified wood in the world."
Agate Bridge is a breathtaking sight even with enhanced stability, especially when considering the formation's complicated and extensive (200 million years) history. This spectacular sight will astound visitors, and Agate Bridge is a must-see attraction for anybody visiting Petrified Forest National Park.
Giant Logs Trail
The Giant Logs Trail in Petrified Forest National Park is a lovely nature trail located behind the south Visitor Center. This short trip is less than half a mile long, but there are a lot of up and down places, including stairs, that make utilizing wheels impossible.
Wiki Commons
The Giant Logs Trail is a fantastic way to get to know the park. As an optional donation, a trail guide for this short loop is offered for $1. There are also eleven numbered signs, each explaining something about the petrified wood in the park. It's also useful for answering Junior Ranger questions.
The nature walk features insect traces, countable knots, and Old Faithful, to name a few highlights. Old Faithful is a giant log that has split into sections, and as the original park manager's wife put it, "what Old Faithful is to Yellowstone, this tree is to Petrified Forest National Park."
Crystal Forest
In Petrified Forest National Park, the Crystal Forest Trail is a short-level trail that weaves among massive pieces of petrified wood. The hike is ideal for hikers of all levels. 
The trail is entirely paved. In Crystal Forest, there is a lot of petrified wood. Some of the logs had been crosscut with a saw and were perfectly cracked. In the forests, you may observe the rings of old trees that date back more than 200 million years. The name "Crystal Forest" comes from the crystallization of some of the minerals that make up the petrified wood found in this section of the park.
Although the circle passes through a lot of petrified wood, stay on the trail and don't pick up anything. The removal of petrified wood from the park is prohibited. If you absolutely must have some, buy a bit from a Holbrook business.
Jasper Forest Overlook
The hike to Jasper Forest is not a trail, but rather a park service route. Only persons who are comfortable trekking off the beaten path with only a few suggestions as to where they should go should attempt this hike.
The walk follows an ancient abandoned road built in the 1930s that has virtually vanished, except for an occasional clump of asphalt and numerous small sandstone abutments for culverts that were removed long ago. When the ground is wet, the bentonite clay forms a gooey slick mass that clings to boots and makes hiking difficult.
The area behind the cliff is heavily covered in brightly colored petrified logs, with petrified wood chips paving the ground in certain areas. Keep an eye out for a log perched on a dirt pedestal from time to time. The logs keep the soil beneath them from eroding, but the neighboring exposed soil washes away, making the pedestal.
After about 200 yards, the route bends to the right and passes around a rim point. After passing through a shallow valley and a broad creek bed, the trail arrives at a basin tucked into the rim with a little Chinle hill in the middle.
A well-known feature, Eagle Nest Rock, resided atop the hill until it crumbled in 1941 owing to severe rain. When the roadbed circles the hill, the hike comes to an end.
Rainbow Forest Museum
Rainbow Forest was the center of the original Petrified Forest, which President Roosevelt declared a national monument in 1906.
One of the park's initial facilities was a wood and tar paper shack near where the present museum is built. The Superintendent's Reports from 1931 show the museum building, which served as the headquarters at the time, as well as some homes.
At the Rainbow Forest Museum And Visitor Center, you may learn all about petrified wood, view a movie about the park, and talk to park rangers about what to do in the park. The museum also features displays on reptiles and dinosaurs that once roamed the area, as well as exhibits commemorating the area's geologic and human history.
Among the amenities offered are visitor information, maps, and free backcountry permits. A free 20-minute park orientation film explains how wood becomes fossilized, and paleontological exhibits with fossils and prehistoric animal skeleton displays are also available.
Half to full day: Depending on how rapidly you move, completing all of the lists in this article will take a better most of a day.
The Painted Desert Diner, located next to the visitor center at the north entrance, serves food from 9 a.m. to 5 p.m. Bringing snacks or a picnic lunch is advisable, especially if you start at the north entrance, so you don't have to backtrack to this dinner.
Food is also available in Holbrook, however, the drive from the park to Holbrook takes 30 minutes, so your lunch break will last an hour plus the time you need to eat.
Recent Posts