15 Best Things to do in Death Valley National Park, Nevada
Death Valley Attractions: If you are thinking there can't really be that much to do in a place called Death Valley – think again. There are so many cool things to do in Death Valley. Death Valley National Park should be on everyone's bucket list.
Death Valley National Park is spread across Nevada and California. It is the hottest and driest place in the USA. It is also the lowest point in the USA but do not expect this place to be completely barren. There are numerous things to do here and many of them are family friendly.
Thank you for supporting this website written by an American. This post may contain affiliate links. This means I earn a small commission on these links at no extra cost to you.
National Park Entrance Fees
To enter the National Parks, you'll need to pay an entrance fee or have a National Parks Pass also known as American the Beautiful Pass.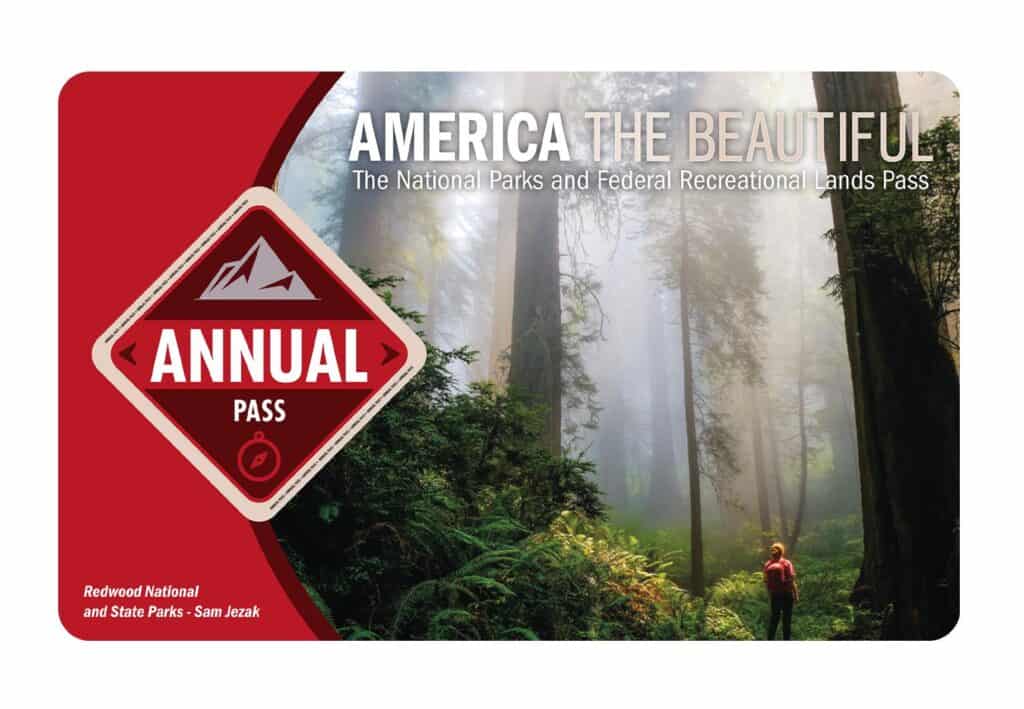 It costs $80 for a yearly America the Beautiful Pass. This gives you access to all national parks and federal areas that charge fees. The America the Beautiful Pass is well worth it!
I purchased my first one in 2016 and it's such a money-saver! Plus 10% of sale proceeds go to the National Park Foundation.
Tips for Visiting Death Valley National Park
Death Valley is perfect for outdoor enthusiasts. There is something for everyone on this list and for different fitness levels. Also, note that it is dry and hot (in the summer), and make sure you know what you are getting into before you start. Here are a few tips for visiting Death Valley:
Bring a reusable water bottle and lots of water! Remember you are in the sun and you will need to drink lots of water. I love my LifeStraw Filtered Water Bottle. I can refill this bottle anywhere and it comes with a carabiner to connect it to my daypack.
Check the Weather – days over 100 degrees are very common. Make sure to check.
Hiking boots or sandals that will protect your feet! I love good shoes. I need all the support and help I can get. I actually love these sandals for hiking and also love these hiking boots.
Bring hiking poles for balance and to protect your knees. I know many experienced hikers (and even amateur ones) think that hiking poles are for old people who lose their balance. Actually, hiking poles can help when going down steep inclines or when scrambling over rocks. They are great to hike with even for the most experienced hiker.
Wear a sunhat. I feel like this whole post is about how high you are in the mountains and how much closer you are to the sun but it is so true. At elevation, you are closer to the sun and more likely to burn. Wear sun protection such as a sun hat and sunscreen.
Be aware of the wildlife. This is the Southwest and you will need to watch out for snakes and other wildlife such as moose or a bear. Please stay away from wildlife and do not feed them.
Start Early – If you want to avoid the traffic and the heat you will need to start your hike early. That way it will be nice and cool and the smog will not affect you either.
Leave no trace. If you are new to the concept of Leave No Trace it is all about preserving the environment to ensure it is in the same or better condition when you leave it. This means that you should stick to the trails and carry out everything that you carried in. This is a great explanation of the Leave No Trace principles!
Water shoes are great for water hikes– If you don't have a pair, I highly suggest it as they are affordable. I have an article on the pros and cons of several pairs of water shoes.
Bring Bug Spray and a snack: Be sure to bring everything you need including a snack like a protein bar plus BUG SPRAY.
15 Fun Things to do in Death Valley
Eureka Dunes
The Eureka Dunes are located in the desolate Eureka Valley, a 3000-foot elevation enclosed valley northwest of Death Valley. Even though the dunes are only 3 miles long and 1 mile wide, they are the tallest dunes in California, if not all of North America. At their western base, they rise abruptly more than 680 feet over the dry lakebed. These dunes, as tall as they are, are overshadowed by the Last Chance Mountains' spectacular limestone wall, which rises another 4000 feet above the valley floor.
The path to the top of the dunes is not for the faint of heart. The hills are all steep, and the loose sand beneath your feet gives way. The sweeping view from the summit appears to be enough compensation for your efforts, but if the sand is fully dry, you may encounter one of the strangest desert phenomena. When sand avalanches down the steepest face of the largest dune, a sound resembling a pipe organ bass note or the distant drone of an airliner can be heard. There will be no sound if the dune is damp in any way.
The Eureka Dunes appear bleak at first glance. Plants and animals must contend with shifting sands since a breeze might bury them alive or expose them to the sun's drying beams. The appearance of a dry surface is deceiving, as dunes may absorb water like a sponge. Because of its location at the western base of a mountain range that captures precipitation from passing storms, the Eureka Dunes receive more rainfall than others in the Death Valley area.
Choose activities that have the least negative impact on the environment. Sandboarding and other recreational activities are not permitted on these sensitive dunes. Camp away from the dunes' base, where the majority of the indigenous plants and animals can be found. Most notably, off-road vehicle driving is forbidden on the dunes, as well as anywhere else in Death Valley National Park. Please stay on the well-traveled highways.
Badwater Basin
Badwater Basin, located near the southern end of Death Valley National Park, is the lowest point of land in the western hemisphere, measuring 277 feet below sea level. Needless to say, even in the winter, this place is extremely hot.
Badwater Lake is a tiny lake surrounded by mountains with a salt rim, however, there isn't always water here. Badwater may be quite full or have very little water depending on the conditions or the time of year. In any case, the area is intriguing and offers a variety of activities.
When there is almost no visible water from the shore, you can walk out across the white salt flat for what seems like an eternity. When there is water and the air is still, as it often is in the morning and early evening, the mountains across the valley are reflected in the water, creating a breathtaking view. This might be a fantastic location for photography. It's even possible to paddle out on the lake if there's enough water.
Salt Creek
Salt Creek, where freshwater changed to saltwater as the big lake dried up 10,000 years ago, is a remnant of this lake. Pupfish, a little unique form of fish adapted to exist in this environment, reside in the creek below the boardwalk. They're a little difficult to come by, but there's a technique to finding them.
Stand close to a small bush that overhangs the creek and lightly shakes it with your foot, looking for the fish to dart out. Pupfish can also survive in water temperatures ranging from near-freezing to over 42°C.
A wheelchair-accessible boardwalk trail traces the path of Salt Creek through a wetland with salt grass and pickleweed. Peer down into the pools in the spring to see the minnow-sized pupfish swimming. The fish go dormant in the summer heat. Songbirds and great blue herons flock at any time of year, and the stream's salty pools in their calm mirror the blue sky and surrounding badlands.
Zabriskie Point
Zabriskie Point views a surreal scene of undulating, hard-packed gold, orange, and brown earth ridges. The outlook offers panoramic views of this remarkable formation as well as the valley behind it and the Panamint Mountains in the distance. The hues are most stunning early in the morning or late in the afternoon.
From Zabriskie Point, a 7.8-mile hiking trail leads out, but if you just want to walk out on the ridges and take in the scenery without going for a long hike, just meander out a short distance and return on the same track.
You may get to Zabriskie Point by driving four miles east on highway 190 from Furnace Creek. This is one of the stops on your way to Furnace Creek if you're coming in from Las Vegas along the route described above.
The site was designed to serve as a rest stop for people traveling to see Manly Beacon, a major feature in Death Valley's "Badlands." It is still one of the park's most popular attractions. Wildflowers abound on alluvial fans and in swales and gulleys across the park landscape, contributing to the park's abundant fall and winter precipitation.
Devils Golf Course
The salt flats in Death Valley's Badwater Basin are minerals that remained after Lake Manly evaporated around 10,000 years ago. Devils Golf Course is the area's largest example of this phenomenon, having been formed by wind and rain. The landscape is dominated by these halite salt crystal formations, which resemble hard, jagged rocks.
Devils Golf Course is a short drive down Badwater Road and onto a rocky access road that leads to the middle of the salt flat from the Furnace Creek Area. Devils Golf Course is accessible by driving, although an SUV or off-road vehicle is recommended. The road comes to a halt in a small parking lot with a capacity for around a dozen vehicles.
Although it is safe to bring around the golf course, it is not advised because the ground is uneven and sharp, making visitors vulnerable to cuts, twisted ankles, and broken bones. This salt flat takes its name from a 1934 National Park Service manual that says "On such a course, only the Devil could play golf."
There are no trails that lead farther into the Golf Course, although they aren't necessary. The views from this vantage point are spectacular. The Panamint Mountains tower above you, providing a stunning background for the eerie "golf course." In this area, there are no restrooms or water. Leashed dogs are permitted; however, they are not advised.
Mesquite Flat Sand Dunes
The Mesquite Flat Sand Dunes, located just east of Stovepipe Wells, are one of Death Valley's most picturesque and photographed sceneries. The vistas are spectacular in the morning and late afternoon when the sun hits the sculpted dunes, casting long curving shadows. On the horizon, mountains rise to provide the perfect backdrop. It's sheer magic for photographers.
You may take a stroll across the dunes, climb to the highest spots, or relax in a lawn chair and take in the scenery. On busy spring days, it's rare to find a dune without someone climbing up or running down it, but on calm days, especially in January and February, you'll almost certainly have the dunes to yourself. The dunes will be untracked if you arrive after a windy spell.
If you're visiting Death Valley with kids, this might be their favorite part of the park. Sand dunes surround purple mountains, creating a natural playground for children and a very photogenic environment for photographers.
The Racetrack
The Racetrack is a location of spectacular beauty and mystery, nestled in a secluded valley between the Cottonwood and Last Chance Ranges. A visit to Racetrack Playa is one of the best things to do in Death Valley National Park if you're searching for an adventure and the chance to witness something strange. This is where you'll find the enigmatic sailing stones, enormous rocks that glide across the dry lakebed, leaving imprinted paths in their wake.
With a four-wheel-drive vehicle, you may travel down a rough road to The Racetrack, one of Death Valley's most mysterious sites. This place is a large dried mud bed with stones of all sizes and long paths following behind them, as though driven through the mud.
For years, people speculated about how the stones were relocated. Many others assumed the stones were being driven along by the wind after heavy rains. However, it is now assumed that the stones are moved by floating ice pushing the rocks, as evidenced by time-lapse photography. Whatever approach is used, the end effect is a fascinating sight.
The playa's surface is extremely delicate. It is impossible to drive on it or anywhere off established roadways. None of the rocks should be moved or removed. Avoid wandering in muddy places and leaving unsightly footsteps when the playa is wet. This makes it impossible for others to enjoy this special place. Off-road driving is strictly prohibited.
Dante's View
Dante's View provides one of Death Valley's best overall vistas. The view from the peak extends as far as the eye can see across the valley floor and across to the mountains that line the valley's far side.
Although this overlook is a little out of the way, it is well worth a trip. Take Highway 190 east from Zabriskie Point to Dante's View, which is marked by a sign. It's a 16-mile drive from the highway to the peak, which is 5,478 feet above sea level and is reached through a twisting, paved road. Vehicles must be under 25 feet in length to drive on this road.
On hot days, the temperature is significantly cooler up here than it is on the valley floor, which is a nice reprieve.
Artist's Drive and Artist's Palette
Artist's Palette is a section of Artist's Drive, a short picturesque drive that puts you up close and personal with a section of the Black Mountains. Artist's Palette is a colorful area of hillside generated by metals in the rock, with colors ranging from orange, pink, and brown to green and turquoise.
Artist's Drive is a nine-mile asphalt loop that is only accessible to vehicles under 25 feet long. This narrow road was fun to drive because it climbs and descends small hills and curves abruptly. This is a popular and worthwhile side trip on the way from Furnace Creek to Badwater, and it's right off Badwater Road. If at all possible, take this drive in the late afternoon when the colors are at their most vibrant.
The hues on the rock formations are the nicest part of Artists Drive. There is a parking spot along the drive where you can see what is known as the Artists Palette. The pink granite swirls of this spectacular rock formation seem to shimmer in the dusk, making it well worth a visit. There's a lot to see in Death Valley at sunset, so plan on staying a few nights and making sure you see one of them at Artist's Palette.
Harmony Borax Works
The opening of Death Valley and the ensuing popularity of the Furnace Creek area were centered on the Harmony Borax Works. In Death Valley's history, the plant and its accompanying townsite played a significant role.
It was a challenging task to get the final product to market from Death Valley, and an effective way had to be established. The employment of big mule teams and double wagons to haul borax the lengthy overland trek to Mojave made the Harmony operation famous. The romantic image of the "20-mule team" lives on today as an emblem of the borax business in the United States.
The old broiler and several of the vats may be seen as you wander around the collapsing adobe walls. Wagons that were originally used to move goods out of the valley can also be found here. This was the first successful borax works in the history of borax mining in Death Valley, and it closed in 1888. After being purchased by Francis Marion Smith, the works never resumed the boiling of cotton ball borate ore, and eventually formed part of the Pacific Coast Borax Company's and its successors' borax reserves. The site was listed to the National Register of Historic Places on December 31, 1974.
Twenty Mule Team Canyon
Twenty Mule Team Canyon is a 2.7-mile one-way dirt road with spectacular scenery. Rock walls on either side, empty flats, and colorful hills, similar to those found just down the road at Zabriskie Point, surround the road in certain areas. The terrain is different from the rest of the park and reflects the region's roughness.
Twenty mule teams were utilized to pull the borax-filled wagons out of Death Valley during the borax days, and this road provides some insight into the type of topography these vehicles had to struggle within the 1880s. There is no evidence, however, that this precise route was used in this manner.
About two-thirds of the way down the road is a small turn-off, only big enough for a few automobiles, that leads to extremely short hiking trails in the hills. This is something you should definitely do. From the peaks of these hills, the view is breathtaking.
Keane Wonder Mine
The Keane Wonder Mine has nearly 18,000 mining features, including structures like aerial tramway towers and terminals. These magnificent remnants of our past compel us to picture one of many comparable tales that took place not only in Death Valley but throughout the western United States. It can be tough to get to the remains of this historic gold mine, but it is well worth the effort if you are interested in this type of attraction. Along with other structures, you may observe the historic aerial tramway, which is still in good condition. The mine is situated on a hilltop with panoramic views of the valley.
Claims were made in December 1903, and the Keane Wonder Mine was up and running by 1907. During peak production, the ore buckets that can still be seen along the mile-long aerial tramway would have conveyed 70 tons of gold ore every day.
The mine workers' lives were influenced by the adverse climatic conditions that still exist in the park today. Summer temperatures that limit our daytime activities caused equipment to overheat. Water was scarce due to reduced spring supply, thus limited production.
A drive down a rough dirt road, normally possible in a regular vehicle, and a short but relatively steep climb from the parking lot is required to reach the location. The route is little under three miles long, including a quarter-mile ascent to the tram's lowest station.
Father Crowley Point
Father Crowley Point is a high viewpoint on the park's west side that provides a different perspective from the park's busy east side viewing sites. Father Crowley Point, if approaching Death Valley from the west, should be your first stop before the long descent to Panamint Springs.
This vantage point, on the park's western boundary, provides a beautiful view of Rainbow Canyon, a colorfully striped canyon formed by ancient volcanic activity. Padre Point, which encompasses Panamint Valley, is a short 14 mile (400 m) walk or drive from the vista parking lot on an unpaved road.
There are two parking areas: one at the overlook and one further back, closer to the highway. Many visitors opt to walk the short distance out to the lookout point from the first parking lot, which is conveniently accessible just off the major highway. The road to the overlook is not paved and can be extremely uneven, requiring high clearance.
Ubehebe Crater
Ubehebe Crater is a big volcanic crater with a diameter of half a mile and a depth of 600 feet. This is a fascinating volcanic crater in Death Valley, especially if you've never seen a caldera before.
The Ubehebe Crater, which is about a half-mile wide and 400 feet deep and was formed by a volcanic eruption, is the sole crater in the area. It's near Scotty's Castle, which is currently closed due to flooding, at the northern end of Death Valley.
This area of the park has a distinct landscape from the rest of the park. The terrain is dark, with cinders and lava flows. Trails lead down into the crater if you're feeling energetic.
Rhyolite Ghost Town
Rhyolite is an abandoned mining town with crumbling and deteriorating historic buildings that bear witness to its golden days. A unique art installation of ghostly figures created on the town's outskirts is one of the town's highlights. Standing in front of a vast expanse of desert, one large piece depicts spirits arranged in the shape of The Last Supper.
Other works, such as "Lady Desert: The Venus of Nevada," a gigantic pink lady built of blocks, can be found in what is now known as the Goldwell Open Air Museum.
Several relics of Rhyolite's glory days can still be found today. Some of the three-story bank building's walls, as well as a portion of the old jail, are still intact. The train depot and the Bottle House are two of the few full buildings left in town. In January 1925, Paramount Pictures restored The Bottle House. Rhyolite is a ghost town that sits on a mix of federal and private land. It is not located inside Death Valley National Park's boundaries.
Recent Posts