15 Top Things to do in Great Basin National Park, Nevada
Great Basin Attractions: There are so many things to do in Great Basin National Park – you won't get bored. This park is full of family friendly activities and beautiful sites.
I think Great Basin National Park is one of the most underrated national parks. It is well worth a visit as there is so much on offer from hiking to beautiful scenery, caves and glaciers.
Thank you for supporting this website written by an American. This post may contain affiliate links. This means I earn a small commission on these links at no extra cost to you.
National Park Entrance Fees
To enter the National Parks, you'll need to pay an entrance fee or have a National Parks Pass also known as American the Beautiful Pass.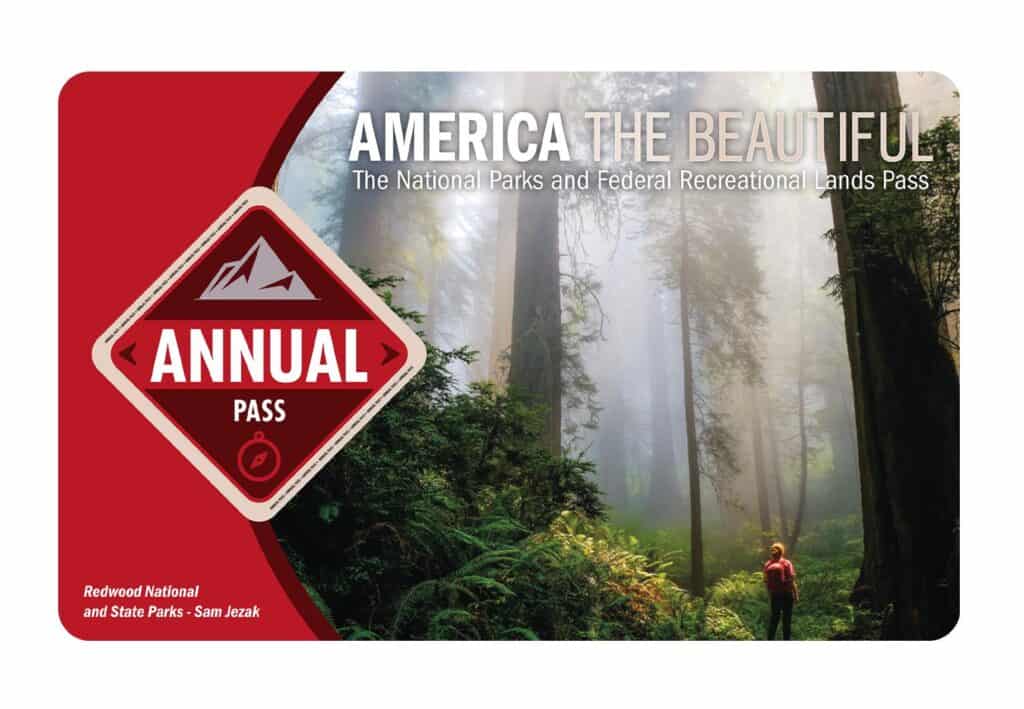 It costs $80 for a yearly America the Beautiful Pass. This gives you access to all national parks and federal areas that charge fees. The America the Beautiful Pass is well worth it!
I purchased my first one in 2016 and it's such a money-saver! Plus 10% of sale proceeds go to the National Park Foundation.
Tips for Visiting in Great Basin National Park
Great Basin is perfect for outdoor enthusiasts. There is something for everyone on this list and for different fitness levels. Also, note that it is dry and hot (in the summer), and make sure you know what you are getting into before you start. Here are a few tips for visiting Great Basin:
Bring a reusable water bottle and lots of water! Remember you are in the sun and you will need to drink lots of water. I love my LifeStraw Filtered Water Bottle. I can refill this bottle anywhere and it comes with a carabiner to connect it to my daypack.
Check the Weather – days over 100 degrees are very common. Make sure to check.
Hiking boots or sandals that will protect your feet! I love good shoes. I need all the support and help I can get. I actually love these sandals for hiking and also love these hiking boots.
Bring hiking poles for balance and to protect your knees. I know many experienced hikers (and even amateur ones) think that hiking poles are for old people who lose their balance. Actually, hiking poles can help when going down steep inclines or when scrambling over rocks. They are great to hike with even for the most experienced hiker.
Wear a sunhat. I feel like this whole post is about how high you are in the mountains and how much closer you are to the sun but it is so true. At elevation, you are closer to the sun and more likely to burn. Wear sun protection such as a sun hat and sunscreen.
Be aware of the wildlife. This is the Southwest and you will need to watch out for snakes and other wildlife such as moose or a bear. Please stay away from wildlife and do not feed them.
Start Early – If you want to avoid the traffic and the heat you will need to start your hike early. That way it will be nice and cool and the smog will not affect you either.
Leave no trace. If you are new to the concept of Leave No Trace it is all about preserving the environment to ensure it is in the same or better condition when you leave it. This means that you should stick to the trails and carry out everything that you carried in. This is a great explanation of the Leave No Trace principles!
Water shoes are great for water hikes– If you don't have a pair, I highly suggest it as they are affordable. I have an article on the pros and cons of several pairs of water shoes.
Bring Bug Spray and a snack: Be sure to bring everything you need including a snack like a protein bar plus BUG SPRAY.
15 Best Things to do in Great Basin National Park, Nevada
Alpine Lakes Loop Trail
This is one of the park's most popular hikes, located near the Wheeler Peak Campground at the end of the Great Basin National Park Scenic Drive. The two magnificent sub-alpine lakes, Stella and Teresa, are the highlight of this hike.
As you go toward Stella Lake, the trail begins at the Bristlecone Area parking lot and soon gains roughly 400 feet in elevation. The trail comes to a fork around 0.3 miles into the hike, and you can either stay on this track or turn right for the Wheeler Peak Trail. Continue walking towards Stella Lake, passing through a forest and over a brook until you reach the lake's edge.
Follow the trail for about a mile until you reach Teresa Lake. When you see the wildflowers, primarily Parry's primrose, and the spring that feeds into the lake, you'll know you're getting near. This 2.7-mile round-trip journey adds height gradually. It passes through an alpine forest, crossing picturesque streams and two wonderful tiny lakes, all with spectacular views of Wheeler Peak in the distance. There's a chance you'll see some wildlife.
Get an early start on this trip to catch the best lighting and see Wheeler Peak mirrored in the lakes. These lakes have no fish since they are shallow and can freeze to the bottom throughout the winter.
Lehman Caves Tour
Since the 1800s, Lehman Caves has been awe-inspiring visitors as one of the state's largest and most brilliant cave systems. The sophisticated cave system had developed a following and a reputation by 1922. It was first declared as Lehman Caves National Monument, then in 1986, it was merged into Great Basin National Park. With crowd-free alpine lake routes, some of the state's tallest peaks, the world's oldest surviving trees, and the brightest stars beneath the darkest skies, the Great Basin dazzles.
Lehman Caves, like the park's other spectacular natural attractions, is sure to impress. While most caves feature a few of shield formations, Lehman Caves has around 300. Along with numerous other insects, bat species, and spiders, the cave's unique ecosystem is home to a few organisms found nowhere else on Earth, such as the pseudoscorpion.
Only guided tours are available at Lehman Caves, and Great Basin National Park does an excellent job of providing a range of options. Lehman Caves may be seen on 60-minute and 90-minute tours that take you into various portions of the intricate cave system.
Bristlecone Trail
Great Basin National Park's bristlecone pines have been radiocarbon dated to be 10,000 years old. The bristlecone pine "Prometheus" was the oldest known living tree when it was cut down, with an estimated age of at least 4,800 years. The trees in the Wheeler Peak bristlecone forest haven't all been dated, but they're all thought to be at least as old.
The Bristlecone Trail is a 3-mile out-and-back hike that is relatively easy. At a moderate pace, this trail is 2.8 miles round-trip and gains 600 feet in elevation. It leads to a grove of old Bristlecone Pines, which can live for up to 5,000 years. The trail is well-kept and widely accessible, allowing even inexperienced hikers to reach the summit. The track is pleasant throughout, with only a few sections of loose rock and rapid switchbacks. Along the way, there are various rest stops and benches.
In the grove, a short interpretive loop provides excellent information on the trees, including their ages and why they survive so long. A pine tree grove is a great place to stop for a snack or to take in a longer view of the area. The grove is a tranquil setting with breathtaking vistas and magnificently old trees. The Bristlecone Trail and the Alpine Lakes Loop can easily be combined to make a 4.4-mile hike. Keep in mind that you'll be hiking at a high altitude, and the weather might change quickly and without warning.
Glacier Trail
The Glacier Trail is a 4.6-mile round-trip continuation of the Bristlecone Trail. Beyond the bristlecone pine wood, it leads to Nevada's lone glacier, which is situated beneath Wheeler Peak. The terrain is rocky, and you may come across snow.
The Bristlecone Pine Glacier Trail travels through bristlecone woods and begins at the Bristlecone Parking Area at the end of the Wheeler Peak Scenic Drive. The trail leads to the nation's southern-most glacier past groves of park's ancient trees and up into a glacier-cut canyon.
The trail is 4.6 miles round trip with an elevation gain of 1100 feet. It features interpretative signage about famous trees around halfway through and leads beyond the bristlecone pine grove to Nevada's lone glacier, Wheeler Peak Glacier, which is nestled beneath Wheeler Peak and passes through heaps and piles of glacial-cut boulders.
The trail is best used from March to October and is generally used for hiking, walking, running, and bird watching.
Sky Island Forest Nature Trail
The Sky Islands Forest Trail winds through a forest of Engelmann Spruce and Limber pines, with alpine meadows, running creeks, and aspen groves threw in for good measure. Interlocking, permeable rubber tiles cover the trail surface, providing a smooth surface for wheelchairs. The trail has an elevated boardwalk in parts with more delicate soils and marsh. Along the trail, there are rest places with parking for wheelchairs. If you're walking with a cane, keep an eye out for gaps in the tiles and gaps in the wood.
While this trail does not offer the alpine lakes and bristlecone pines that this park is known for, it does offer the sights, scents, and sounds of high-altitude forests, meadows, and streams. Even at the height of summer, it is hardly used. It's a "nature trail" with interpretative signage that would be fun for kids to explore. If you go counterclockwise, the trail has a more manageable running slope or grade. The Island Forest Trail is a fantastic area to sit out with a book by a brook or complete multiple circuits of the loop for exercise in a beautiful setting if you're traveling with others who want to walk more difficult routes that aren't accessible to you.
Take the road all the way up to the Wheeler Peak Campground at 9886 feet in elevation to reach the Sky Islands Forest Trail from Baker. At the campground's entrance, there is parking for trail access as well as accessible restrooms.
Wheeler Peak Trail
Wheeler Peak is Nevada's second-highest peak and undoubtedly one of the most stunning. The Wheeler/Jeff Davis cirque is awe-inspiring, with Nevada's lone glacier at its base. A grove of bristlecone pine trees, the world's oldest living species, is located just below the cirque.
Great Basin National Park is a remote park with nothing in the way of advertising or fanfare. Don't be put off by the lack of attention; this desert mountain range is a wonderful gem for outdoor enthusiasts, mountain lovers, and those looking for a true wilderness experience. While the park offers a variety of hikes, the majority of visitors come to see Wheeler Peak.
In the winter, you'll need to start from a different trailhead to reach Wheeler Peak. Otherwise, follow the signs from the Wheeler Peak Trailhead to the apparent ridge. It's a difficult class 2 hike to the summit from the ridge. Take in the breathtaking views of the Snake Range and the adjacent West Desert from the peak. The vistas are breathtaking. It is recommended that you retrace your steps back to the car from the peak of Jeff Davis. This trek may be looped, but it requires very tough hiking down a 2,500-foot boulder field. This is feasible, but it is not advised.
Great Basin National Park is a surprisingly lovely park with rugged, untamed, and breathtaking alpine landscapes. Hiking in the high country is excellent in the summer and fall.
Hiking in Great Basin
In Great Basin National Park, the hiking season is relatively brief. Snowfall can begin in the early fall and last until late April. The park's 60 miles of hiking trails are most popular between June and September. The Bristlecone Pine Trail, Alpine Lakes Loop, and the trail to Baker Lake are all popular choices.
Despite its location in Nevada, Great Basin National Park is not merely a desert. You'll be passing through a variety of locales, so pack accordingly. Even in the summer, the park may be quite chilly.
Since the park is also home to a variety of small animals such as mice and marmots, you must always close your food and properly pack your bags if you don't want nibble marks on your food. You might also possibly come across coyotes or mountain lions.
Osceola Ditch Trail
The Osceola Ditch Trail can be found 4.7 miles up the Wheeler Peak Scenic Drive at the Osceola turn-out. After 0.25 miles from Wheeler Peak Scenic Drive, the trail joins the Osceola Ditch. You can either go north, towards Strawberry Creek, or south, towards Lehman Creek, from this intersection.
With relics of historic mining operations evident throughout the trail, the Osceola Ditch Trail provides a unique perspective on the park's ecology and history. The official trail is 0.3 miles each way, but you can hike as far as you like along the Osceola Ditch.
The historic ditch is overflowing with loose rocks. When crossing these rocky areas, keep an eye on your footing. Also, keep an eye out for traffic when following the Osceola Ditch south, as there is no warning for vehicles approaching a pedestrian crossing.
The Osceola Ditch is a vulnerable and important cultural resource. The Archaeological Resource Protection Act (ARPA) safeguards them for everyone's benefit. Disturbing any artifact in the park is prohibited. On the trails and in the wilderness of the National Park, pets, weapons, and automobiles are forbidden.
Mountain View Nature Trail
The first Euro-Americans came to this wide portion of Nevada desert, as they did to many other seemingly desolate locations in the west, through mining and ranching. A short walk along the Mountain View Nature Trail will teach you about the Great Basin's rich history and the discovery of Lehman Caves.
This trail is short and pleasant, but it offers beautiful vistas of the mountains as well as a taste of history. Visit the Rhodes Cabin, which was built by Clarence and Bea Rhodes in 1920. The Rhodes were the guardians of the Lehman Caves, and they built this lodge for visitors to the caves.
Keep an eye out for abandoned mining equipment as you walk along the trail. When gold and silver were discovered near Great Basin in the mid-1800s, six mining enterprises were up and running.
As you finish the loop, you'll arrive at Lehman Caves' natural entrance. Although the cave entrance is locked, you can see the hole in the earth that Absalom Lehman discovered on his property in the 1880s.
Lower Lehman Creek
Lower Lehman Creek is the only year-round constructed campground in Great Basin National Park. It is 450 feet lower than Upper Lehman Creek Campground and the park's lowest elevation campground, at 7,300 feet. This park offers a calm, relaxing camping experience with only 11 sites. Sites are strewn about among aspen groves and sagebrush clusters. Several campsites are directly on the creek, making them ideal for soaking your feet after a day of hiking.
Only during the summer months is potable water available. When there is no water available, the camping prices are lowered by half. For the most up-to-date information, check the message board at the front of the campground or visit the visitor center.
It's a short drive from here to Lehman Caves, where you can have a guided tour of the stunning limestone caves. It also serves as the starting point for the Wheeler Peak Scenic Drive. You can drive up to 10,000 feet in the summer and trek to the summit of Wheeler Peak or explore a bristlecone pine grove.
Pole Canyon Picnic Area
If you're staying at the Grey Cliffs Campground, which is the only campground in Great Basin National Park that accepts reservations, this hike is ideal. It's a short walk from Loop A of the campground, but there's also a small parking area if you arrive by vehicle. The track is well-marked and easy to follow, though it becomes a little overgrown with vegetation at times. There will be very few hikers on the trail because it is located in a remote area of the park.
From the start, you'll cross a bridge that spans Pole Creek, which you'll be hiking alongside for the rest of the trail. The sound of running water adds to the trek's pleasant atmosphere. During late spring and early summer, a variety of wildflower species can be spotted sporadically along the trail.
You have the alternative of going on to Baker Lake Trail and/or Timber Creek Loop Trail, both of which lead to backcountry camping, or turning around and returning the way you came. Although the trail does not go to a significant point of interest like a lake or a summit, there are enough sights to see along the way that makes this trip well worth your time and effort.
Cave Lake Overlook Loop Trail
The Cave Lake Overlook Loop Trail is a moderately steep trail in Cave Lake State Park that climbs roughly 900 feet in elevation, quickly bringing you to cold mountain air and stunning views of the lake and surrounding area.
The circular trail begins at a trailhead on the upstream side of Cave Lake and rapidly enters a shaded part, with the option of hiking clockwise or counterclockwise. Hiking in a clockwise direction might be best for the more gentle uphill hills. While the rise and decline provide irregular benches for resting or taking in the views, as well as sporadic tree coverage, this location is prone to the high-elevation sun.
Further, there is no water available along the hike. The walk is roughly 4 miles long and offers spectacular views of the lake, not to mention almost no crowds compared to those that throng the lakeshore and day-use areas.
The trailhead parking area has garbage cans and a vault toilet. One of the best parts of the hike is that the lake is right there when you get to the bottom for a refreshing swim.
Collect Pine Nuts
Between 6,000 and 9,000 feet in elevation, the single-leaf pinyon (the only species of pine tree on the continent with single needles) is a common tree found in mixed populations with Utah juniper. The nuts that single leaf pinyons produce are amazing.
Pine nuts are ripe for gathering in Great Basin National Park every autumn. If you leave some for Clark's nutcrackers, pinyon jays, and ground squirrels you're competing with, these healthy and nutritious nuts are fair game.
They've been a vital source of nutrition for Native Americans and animals together. The Colorado pinyon nuts are the most popular pine nuts seen in gourmet food stores, although single-leaf pinyon nuts are just as delicious.
Unlike other parks, which urge visitors to "take only photos," Great Basin allows visitors to take pine nuts home with them. Each household is allowed to fill three cones or collect up to 25 pounds of cones per year. Check the restrictions and guidelines ahead of time because you could be fined if you go over your quota or break the rules.
Stargazing at Great Basin National Park
Great Basin National Park is also part of the National Park System's Night Skies Program, which only a few national parks qualify for. The park also just unveiled an observatory. The observatory is currently closed to the public, but it is still a part of a massive research project that will yield new information about our own galaxy and beyond.
Whether you've never seen true darkness before or consider yourself an astronomy enthusiast, the night skies at Great Basin will leave you speechless. The Milky Way, as well as countless constellations, planets, nebulas, and entire galaxies, may be seen with the naked eye on most summer nights.
Stargazing at Great Basin National Park is home to what astronomers describe as some of the last real night skies in the United States, having been designated an International Dark Sky Park by the International Dark-Sky Association—a rare and cherished honor. Experts have begun to refer to the park's skies as an "endangered resource," not only because of the park's real darkness but also because of how peaceful it is here.
From the park's brand new Astronomy Amphitheater, take in the night skies of Nevada. Keep a lookout for upcoming park ranger-led events here, as part of the park's night sky program, which is designed with standard seating rows furnished with red lights to safeguard an individual's night vision.
Camping
If you're looking for a luxurious spot to park your house on wheels, the large selection of full-service Nevada RV parks and beautifully kept Nevada state park campgrounds will provide lots of options.
Thanks to great electric hookup sites surrounded by spiry formations and slot canyons that have been eroding for millions of years, Cathedral Gorge State Park is a front-runner. Meanwhile, park your RV in one of Echo Canyon State Park's RV slips, which look out over the 65-acre boating and fishing paradise below. While other Nevada state parks pride themselves on their rustic charm, Echo Canyon offers full hookups, flush toilets, and an RV dump station.
If you want to step up your RV game, head to Pahrump's Lakeside Casino & RV Park, which is roughly an hour west of Las Vegas and on the road to Death Valley National Park. This Nevada RV park has 159 full-service hookup sites overlooking a seven-acre lake, only steps away from the beach, pool, hot tubs, kayaks, pedal boats, fishing, frisbee golf, horseshoes, and a full-service casino. As a basecamp for your Death Valley National Park explorations, it's hard to beat.
There are also various campgrounds to select from. Near the Lehman Caves, Visitor centers are the Baker Creek Campground and the Grey Cliffs Campground. Lower Lehman Creek, Upper Lehman Creek, and Wheeler Peak Campground are among the three campgrounds along the 12-mile beautiful Wheeler Peak Scenic Drive.
Recent Posts