15 Fun Things to do in Yellowstone National Park – Family Friendly Activities
Yellowstone Attractions: Are you looking to visit Yellowstone and wondering what to do? Planning a trip to Yellowstone can be a bit overwhelming but I've put together this list of the top attractions at Yellowstone to help you plan your trip.
You can use this list of Yellowstone attractions to plan your trip whether you only have a day or you plan to spend a few days in Yellowstone. I've included the top ten things to do in Yellowstone that everyone should do in Yellowstone.
Thank you for supporting this website written by an American. This post may contain affiliate links. This means I earn a small commission on these links at no extra cost to you.
National Park Entrance Fees
To enter the National Parks, you'll need to pay an entrance fee or have a National Parks Pass also known as American the Beautiful Pass.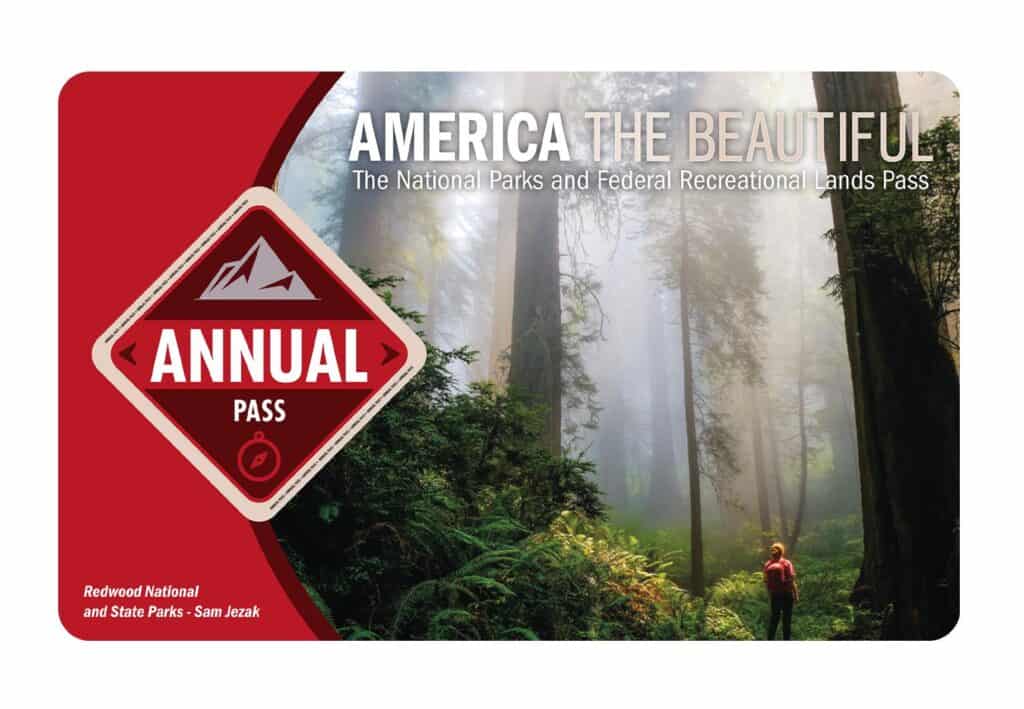 It costs $80 for a yearly America the Beautiful Pass. This gives you access to all national parks and federal areas that charge fees. The America the Beautiful Pass is well worth it!
I purchased my first one in 2016 and it's such a money-saver! Plus 10% of sale proceeds go to the National Park Foundation.
Tips for Visiting in Yellowstone National Park
Yellowstone is perfect for outdoor enthusiasts.  There is something for everyone on this list and for different fitness levels.  Also, note that it is dry and hot (in the summer), and make sure you know what you are getting into before you start.  Here are a few tips for visiting Yellowstone:
Bring a reusable water bottle and lots of water! Remember you are in the sun and you will need to drink lots of water. I love my LifeStraw Filtered Water Bottle.  I can refill this bottle anywhere and it comes with a carabiner to connect it to my daypack.
Check the Weather – days over 100 degrees are very common. Make sure to check.
Hiking boots or sandals that will protect your feet! I love good shoes.  I need all the support and help I can get.  I actually love these sandals for hiking and also love these hiking boots.
Bring hiking poles for balance and to protect your knees.  I know many experienced hikers (and even amateur ones) think that hiking poles are for old people who lose their balance.  Actually, hiking poles can help when going down steep inclines or when scrambling over rocks.  They are great to hike with even for the most experienced hiker. 
Wear a sunhat. I feel like this whole post is about how high you are in the mountains and how much closer you are to the sun but it is so true. At elevation, you are closer to the sun and more likely to burn. Wear sun protection such as a sun hat and sunscreen.
Be aware of the wildlife. This is the Southwest and you will need to watch out for snakes and other wildlife such as moose or a bear.  Please stay away from wildlife and do not feed them.  I recommend carrying bear spray as well.
Start Early – If you want to avoid the traffic and the heat you will need to start your hike early.  That way it will be nice and cool and the smog will not affect you either.
Leave no trace. If you are new to the concept of Leave No Trace it is all about preserving the environment to ensure it is in the same or better condition when you leave it.  This means that you should stick to the trails and carry out everything that you carried in.  This is a great explanation of the Leave No Trace principles!
Water shoes are great for water hikes– If you don't have a pair, I highly suggest it as they are affordable.  I have an article on the pros and cons of several pairs of water shoes.
Bring Bug Spray and a snack: Be sure to bring everything you need including a snack like a protein bar plus BUG SPRAY.
15 Epic Things to do in Yellowstone National Park, Wyoming
Roosevelt Arch
The north entrance was the main entrance into Yellowstone when it initially opened. This stone arch was built in 1903. People would take the train to Gardiner and then ride in horse-drawn carriages through the park. President Theodore Roosevelt laid the cornerstone for the arch.
The Roosevelt Arch, located at Fort Yellowstone in Gardiner, Montana, is a triumphal arch built by the United States Army. The arch is composed of native basalt and has both vehicular and pedestrian entrances to the park.
The inscription from the Organic Act that established the park, "For the Benefit and Enjoyment of the People," may be seen on the arch. The arch is part of the North Entrance Road Historic District, which spans to the park headquarters in Mammoth Hot Springs.
This massive stone arch can be found near Yellowstone National Park's north entrance. The modern park road goes around the arch, but for a century, it was the only way to get into the park.
Old Faithful
Every Yellowstone visitor should see this world-famous geyser. Although it isn't the world's largest active geyser, Old Faithful's eruptions are spectacular, averaging roughly 130 feet high and occurring regularly. It's one of just six geysers in the park with predictable eruptions.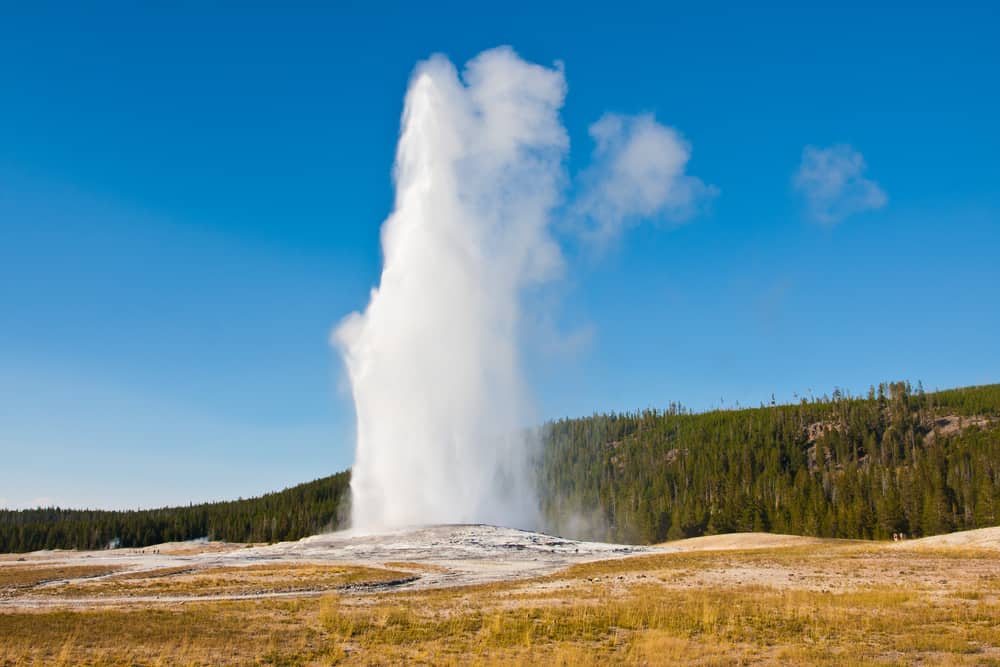 You can witness Old Faithful's strength in a couple of ways: You can either join the crowds gathered around the perimeter, or take a mile-long journey out to Observation Point for a bird's-eye view of the Upper Geyser Basin. Many recent visitors gathered around the geyser's immediate perimeters and were astounded by what they witnessed. They found the eruption was amazing and well worth the wait.
Old Faithful is well-known for its predictability, and visitors come from all over the world to witness its dramatic eruptions. The Old Faithful Historic District encompasses numerous museums and historic structures to visit, including the Madison Museum, the Fishing Bridge Museum, and the Old Faithful Visitor Education Centre.
The park's West Entrance is roughly 30 miles southeast of Old Faithful. A visitors center, motels, dining options, a gas station, and a visitor center are all located near Old Faithful. Remember that the majority of Old Faithful's amenities open in May and close in September and October, so plan your visit appropriately. Admission to the park includes access to Old Faithful.
Grand Prismatic Spring
The Grand Prismatic Spring in the Midway Geyser Basin is one of the world's largest hot springs, measuring around 370 feet in diameter and 121 feet in depth. But it's the rainbow seas that draw you in.
While the cerulean hue in the pool's center is distinctive, the deep reds and greens, vivid yellows, and blazing oranges that surround the edges are not. The thermophilic bacteria that live on the rich minerals created by the water around the hot spring are responsible for the colors. The center appears blue, but it isn't; the blue wavelengths of light are scattered, giving the appearance of blue when we look at the spring.
Expect crowds when you visit this natural beauty, which is one of the park's most photographed vistas. Arriving early may result in fewer visitors, although fog might linger throughout the morning, so check the weather forecast before going. Travelers claim that the attraction's Fairy Falls overlook will provide the best views regardless of when you come.
The Lower Geyser Basin is 2 miles southwest of Grand Prismatic Spring, and Old Faithful is 7 miles north. This attraction has a huge parking area, but there are no food or beverage concessions, nor are there any restrooms. This attraction is included in your park admission, and there are no specific operating hours.
In the summer and winter, the Grand Prismatic Spring has a different appearance. In the summer, it tends to be orange and in the winter the edges tend to be dark green.
Mammoth Hot Springs
Mammoth Hot Springs is one of the park's more distinctive attractions, located just south of the North Entrance in the aptly called Mammoth Hot Springs area. Mammoth Hot Springs' travertine formations are sometimes described as natural sculptures because of their terraces, which were built over the ages of hot water bursting up from the ground, cooling and depositing calcium carbonate. The sight is described by the National Park Service as "a cave turned inside out."
The Minerva Terrace, a series of travertine terraces that extend down to the river, is one of Mammoth Hot Springs' most notable attractions. Fort Yellowstone, a historic administrative center, and concessions for food, retail, and services are among the other attractions in the historic district.
On-site parking is available for free. There are no defined hours at Mammoth Hot Springs, and admission is included in the park entrance fee. Mammoth Hot Springs has restrooms, a gas station, a post office, a ranger station, a basic store, a restaurant, accommodations, and even a chapel, in addition to the Albright Visitors Center.
A quick trip here is possible, with only a short walk to one or two overlooks. Alternatively, you can walk the boardwalk pathways past each of the viewpoints for an hour or two.
Upper Geyser Basin
If you want to see the best geysers in Yellowstone National Park, you should head to the Upper Geyser Basin. The site contains the majority of the park's geysers in a square mile of land, making it one of the world's most densely populated geyser sites.
The world's highest concentration of geysers may be found in the Upper Geyser Basin, where the majority of them are packed into a single square mile. Old Faithful, the Giantess Geyser, the Beehive Geyser, the Castle Geyser, the Grand Geyser, and fountain basins all shimmer in a kaleidoscope of colors on a two-hour boardwalk trek through the area.
Morning Glory Pool, named after the gorgeous flower, is located on the northern side of the Upper Geyser Basin. The Biscuit Basin is part of the Upper Geyser Basin area, but due to the 1959 earthquake, the formations for which it was called have long ago vanished. Sapphire Pool, Silver Globe Spring, and Black Pearl Geyser are just a few of the evocative names that may be found today.
Yellowstone Lake
Yellowstone Lake, the park's largest body of water and the largest high elevation lake above 7,000 feet in North America, is located in the heart of Yellowstone's West Thumb area. The lake is 20 miles long, 14 miles wide, and has a total shoreline length of 141 miles. You can't swim here, but you can enjoy the landscape on hiking trails, with a fishing pole, or from a boat. It's worth noting that the lake freezes over in early December and can remain frozen until early June.
Earthworms, sponges, native cutthroat trout, and invasive lake trout are just a few of the plants and animals that thrive under submerged nutrient-rich fountains. Birds abound, particularly several types of waterfowl.
Bridge Bay, Lake Village, and Fishing Bridge are small settlements on Yellowstone Lake's northwest side, containing motels, campgrounds, and other recreational opportunities. The West Thumb, a water-filled crater on the west side of Yellowstone Lake, contains hot springs, fumaroles, mud pots, and geysers all within a compact yet scenic area.
Boating is permitted on Yellowstone Lake, but it is not as popular as other lake activities due to the chilly weather and unpredictable strong winds. If you're bringing your own boat, you'll need to get a permit and pass an inspection before you can go out on the water. Yellowstone National Park Lodges can also arrange for rentals or a guided tour.
Norris Geyser Basin
The Norris Geyser Basin, part of one of the world's largest active volcanoes, is one of Yellowstone National Park's hottest and most acidic hydrothermal sites. The Norris Geyser Basin's geysers and features are continually evolving and shifting due to seismic activity along the fault lines that run through it. It is known for having the oldest, hottest, and most active of Yellowstone's hydrothermal zones.
The basin is divided into two main areas, both of which are open to visitors and may be reached via circular trails: Porcelain Basin is a desolate and treeless lunar-like scene scented by the spouting geysers that surround the three-quarter-mile route. Back Basin, on the other hand, is a woodland area with geothermal elements strewn over a 1.5-mile boardwalk trail.
The Echinus Geyser, the world's largest known acid-water geyser, with a pH close to that of vinegar, and the Steamboat Geyser, the world's tallest active geyser, which erupts erratically and shoots water up to a height of 300 feet, are the most well-known features in this basin.
The basin's variety of elements creates a kaleidoscope of colors and provides a tranquil habitat for wildlife such as elk and bison, in addition to seeing the geysers themselves. Learn more about these amazing hydrothermal characteristics at the Norris Museum.
Mystic Falls Trail
Mystic Falls Trail is one of the most popular of Yellowstone's 900 miles of trails. The path is only 2.4 miles long and takes most hikers between two and four hours to complete, making it far more manageable than many of Yellowstone's longer, more difficult hikes.
You'll pass through mixed conifer woodland and a brook on the Mystic Falls Trail before arriving at the 70-foot-tall Mystic Falls, which cascade over a rocky landscape below the Madison Plateau. Consider hiking the extra mile and climbing the switchbacks to a stunning view of the Upper Geyser Basin after you've seen the falls.
This trail will allure visitors, who will appreciate the beauty of the falls in particular. Hiking the further 1.5 miles to the Upper Geyser Basin overlook is suggested, but note that this section of the trail is more difficult due to the steep elevation climb. Bring enough water, sunscreen, bug spray, and bear spray, as well as other necessary items.
Your park pass gives you access to Mystic Falls Trail, and there are no specified hours; nevertheless, hiking at night is not advised. About 3.5 miles north of Old Faithful, the Mystic Falls Trailhead is located off Grand Loop Road. The hike begins at Biscuit Basin's parking lot.
Lamar Valley
Lamar Valley is a wildlife sanctuary located between Yellowstone's Northeast Entrance and Mammoth Hot Springs in the Tower-Roosevelt Area. Because of its plethora of animals, this valley is commonly referred to as "America's Serengeti." Bison are the most common animals seen here, but grizzly bears, bald eagles, and wolves are all abundant. Beartooth Highway connects Lamar Valley to the rest of the world. Along the way, there are numerous lookout points. Consider hiking the 7-mile-long Lamar Valley Trail if you want to go beyond the viewpoint sites.
Passing through Lamar Valley is a must.   There will be plenty of opportunities to see wildlife, particularly bison. Just remember not to feed or approach the valley's animals. Stay at least 100 yards away from wolves and bears, and at least 25 yards away from bison and elk.  Consider carrying binoculars with you to avoid getting too close.
When the Beartooth Highway is open, the only method to get to Lamar Valley is via car. During this time, you are welcome to visit at any time. There are no admission costs to the attractions, but all park visitors must acquire a seven-day permit before entering.
There are no facilities here except for a couple of campgrounds, so bring snacks and drinks from Cooke City (outside the park's Northeast Entrance) or the Albright Visitor Center (near Mammoth Hot Springs) before you go.
Mount Washburn
Mount Washburn is a beautiful summit in Yellowstone National Park named for Henry Dana Washburn, the leader of the 1870 Washburn-Langford-Doane Expedition. It is the main peak of the Washburn Range, rising to a height of 10,243 feet. The national park can be seen for 20 to 50 kilometers from the top of its summit. The forests below, distant snow-capped peaks, the sloping canyon walls of the Grand Canyon of the Yellowstone, and Yellowstone Lake are all visible from this vantage point.
Mount Washburn has two trails that will take you to the summit. You can start your ascent at either the Dunraven Pass Trailhead (6.2 miles) or the Chittenden Road (5 miles) parking lot. Whichever trail you choose, be aware that both are difficult, with 1,400 feet of elevation gain. The National Park Service does not suggest these trails for persons with heart or respiratory problems since Mount Washburn is so steep. If you do decide to go on one of these difficult walks, keep in mind that it will take anything from three to six hours to complete.
There are no established hours for Mount Washburn, and there is no admission fee. According to travelers, there are restrooms at the bottom of the mountain and a fire observation post at the summit where you can rest your feet. During the summer and fall, this trail is available. However, the National Park Service does not advocate hiking it between September and October since bears are more active in the fall.
Trout Lake Trail
Trout Lake Trail, roughly 30 miles northeast of Mount Washburn, is a 1.2-mile loop that is mostly flat and well-maintained, making it ideal for little children or elderly family members with limited mobility. Furthermore, just because it's short doesn't imply it cuts corners on scenery.
Trout Lake has a relaxing atmosphere. Hikers will travel through a forest to reach Trout Lake, which is surrounded by verdant, including Douglas fir trees and hills with exposed cliff faces. Depending on the time of year, the panorama on the top of the lake may be mirrored.
Recent visitors to Trout Lake Trail raved about this hike, with many remarking on how beautiful the scenery was. Travelers were also delighted to see a wide range of species, including river otters, moose, and bison. Others were pleased to remark that there were few other people on the route, which was a welcome change from the park's busy areas. Some people did say that the first part of the trip was difficult because of the ascent to the river.
There are no defined hours for Trout Lake Trail, and admittance is included in your park admission fee. The National Park Service warns that there is a bear activity in the area, so carry bear spray.
Lone Geyser Trail
This is a flat paved trail that follows the Firehole River to a clearing in the forest with the Lone Star Geyser, an amazing thermal feature. A 12-foot tall mound of geyserite, with faint ribbons of thermophilic discharge adding to its grey and cream-colored palette, is the journey's highlight. If you can catch one of the geyser's regular 30 to 45-foot eruptions, it's even more impressive.
The trail is a multi-use path with occasional tarmac portions but is largely packed gravel. Bikers and hikers alike like it. The entire route runs alongside the river, and there are some lovely meadow views along the way. The geyser, though, is the main attraction, and there are benches and a logbook to keep track of eruptions.
Lone Star erupts every three hours on average. A modest eruption that lasts a few minutes and shoots around 40 feet above the cone is common. The geyser then goes silent for roughly 20 minutes before the main eruption begins. For 20 to 30 minutes, steam and water shoot around 40 to 50 feet, culminating in a very loud steam eruption that is astounding in its force.
Firehole Canyon Drive
Firehole Canyon Drive is notable because it leads to one of just two spots in Yellowstone National Park where you can swim safely. Firehole Canyon Drive, off of Grand Loop Road, is about 15 miles east of the West Yellowstone Entrance. The road follows the Firehole River for a, particularly picturesque length. Unlike other parts of the park, the river here flows through a lovely gorge filled with magnificent trees, providing plenty of photo opportunities.
Firehole Canyon Drive does not have regular operating hours, but it is susceptible to road closures in the winter. The cost of entrance to the park includes access to this road. It's vital to note that there is no lifeguard on duty at the swimming area and that jumping off the rocks or cliffs is dangerous and prohibited. Food, drinks, and alcohol are also prohibited, as are pool devices such as rafts, noodles, and tubes. Everyone visiting the Firehole Swimming Area should wear a life jacket because the currents might be severe. Before you go, take a look at your swimming abilities.
The roaring 40-foot Firehole Falls cascade is a must-see. This waterfall is unique in that, unlike some of the other waterfalls in the park that require a hike, you can park your car and walk to the falls. Mid-summer is the best time to visit the Firehole Swimming Area because the water is calm and pleasant. A little beach leads into the water at the swimming area. This swimming area's beach and underwater topography are both extremely rocky, so bring some type of foot protection like water shoes or aqua socks.
Mud Volcano
The spectacular mud pots of the Mud Volcano Area and the seething Sulphur Caldron, one of Yellowstone's most acidic springs, are located a few miles below Fishing Bridge.
You won't appreciate the scent of the Mud Volcano if you have a sensitive nose. Mud and foul hydrogen sulfide gas rise from the depths, giving the entire area a rotten egg odor. The features are connected by a 0.6-mile walk. Don't forget to stop by Sulphur Caldron across the street. It's Yellowstone's most acidic spring.
Stay on the boardwalks at all times. A short wheelchair-friendly loop leads from the parking lot to the steam-belching Dragon's Mouth Spring and the Mud Volcano. You can also take the steep half-mile circle past Black Dragon's Cauldron if you're more mobile.
Hayden Valley
Hayden Valley is one of the best areas in Yellowstone to see the park's interesting wildlife. This lush valley, located north of Yellowstone Lake, is a popular gathering spot for bison, elk, coyotes, and grizzly bears. Hayden Valley is home to the world's largest rut of free-roaming bison. While the Grand Loop Road and its numerous viewpoint sites provide a nice perspective of the valley, consider walking the extra mile to appreciate the valley's grandeur.
In the Hayden Valley, there are two trails to choose from. From Yellowstone Lake to the Grand Canyon of the Yellowstone, the Hayden Valley Trail goes along to the Yellowstone River, while the Mary Mountain Trail travels east to west across the valley. Both of these paths are about 13 miles long, so keep that in mind. If you don't feel like taking on the entire trail, go as far as you can and then turn around to get a taste of the Hayden Valley on foot.
Hayden Valley is located about 9 miles south of the Yellowstone Grand Canyon. The Canyon Village Area, which has an information center, restrooms, a gas station, cafes, and hotels, is about 8 miles north of the valley's nearest facilities. The cost of entrance to Hayden Valley is included in the park admission fee, and there are no specific operating hours.
The beautiful Hayden Valley, which is often populated with enormous herds of bison, is a great place to go wildlife viewing. Grizzly bears frequently visit this area in the spring and early summer in search of newborn bison and elk. On the rolling green meadows, coyotes are very easy to identify. Birders will have lots to view as well. Some of the species that live near the mudflats and river are bald eagles, northern harriers, sandhill cranes, shorebirds, ducks, geese, and pelicans.
Recent Posts