The Perfect Three Day Bryce Canyon Itinerary – Hidden Gems
Wondering how much time to spend at Bryce Canyon? Bryce Canyon is often thought of as a drive through National Park but there is so much to see and do I recommend spending 2-3 days in Bryce Canyon.
There is so much to see and do in 3 days in Bryce Canyon. Feel free to use this Bryce Itinerary to help you plan your trip to Bryce Canyon National Park.
Thank you for supporting this website written by an American. This post may contain affiliate links. This means I earn a small commission on these links at no extra cost to you.
National Park Entrance Fees
To enter the National Parks, you'll need to pay an entrance fee or have a National Parks Pass also known as American the Beautiful Pass.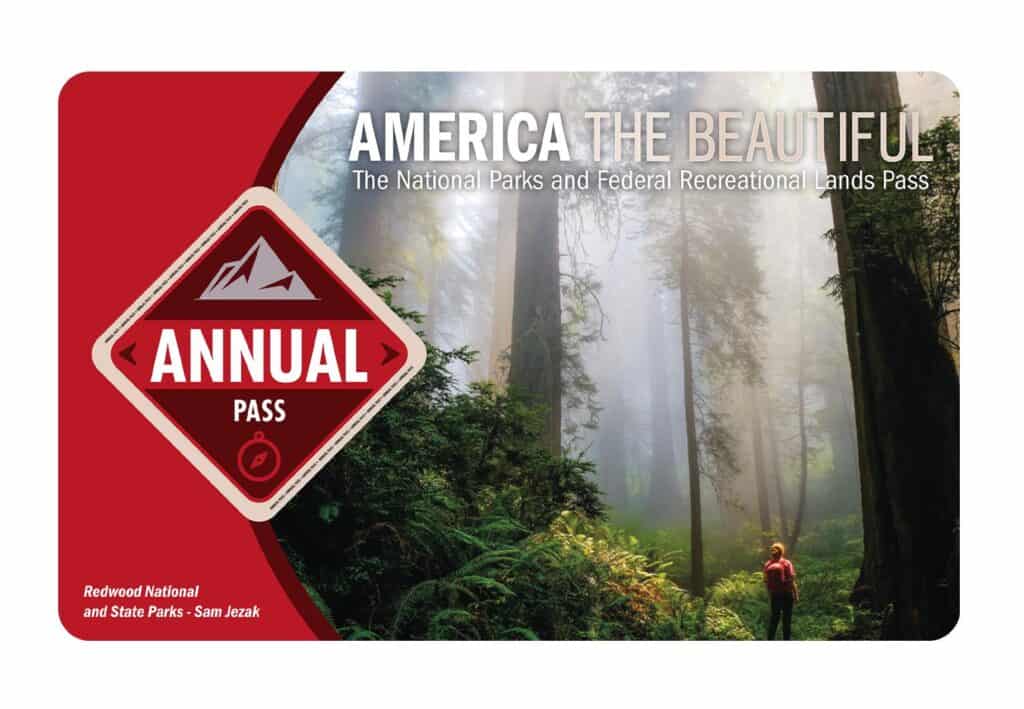 It costs $80 for a yearly America the Beautiful Pass. This gives you access to all national parks and federal areas that charge fees. The America the Beautiful Pass is well worth it!
I purchased my first one in 2016 and it's such a money-saver! Plus 10% of sale proceeds go to the National Park Foundation.
Tips for Visiting in Zion National Park
Zion is perfect for outdoor enthusiasts.  There is something for everyone on this list and for different fitness levels.  Also, note that it is dry and hot (in the summer), and make sure you know what you are getting into before you start.  Here are a few tips for visiting Zion:
Bring a reusable water bottle and lots of water! Remember you are in the sun and you will need to drink lots of water. I love my LifeStraw Filtered Water Bottle.  I can refill this bottle anywhere and it comes with a carabiner to connect it to my daypack.
Check the Weather – days over 100 degrees are very common.  Make sure to check.
Hiking boots or sandals that will protect your feet! I love good shoes.  I need all the support and help I can get.  I actually love these sandals for hiking and also love these hiking boots.
Bring hiking poles for balance and to protect your knees.  I know many experienced hikers (and even amateur ones) think that hiking poles are for old people who lose their balance.  Actually, hiking poles can help when going down steep inclines or when scrambling over rocks.  They are great to hike with even for the most experienced hiker. 
Wear a sunhat. I feel like this whole post is about how high you are in the mountains and how much closer you are to the sun but it is so true. At elevation, you are closer to the sun and more likely to burn. Wear sun protection such as a sun hat and sunscreen.
Be aware of the wildlife. This is the Southwest and you will need to watch out for snakes and other wildlife such as moose or a bear.  Please stay away from wildlife and do not feed them.  I recommend carrying bear spray as well.
Start Early – If you want to avoid the traffic and the heat you will need to start your hike early.  That way it will be nice and cool and the smog will not affect you either.
Leave no trace. If you are new to the concept of Leave No Trace it is all about preserving the environment to ensure it is in the same or better condition when you leave it.  This means that you should stick to the trails and carry out everything that you carried in.  This is a great explanation of the Leave No Trace principles!
Water shoes are great for water hikes– If you don't have a pair, I highly suggest it as they are affordable.  I have an article on the pros and cons of several pairs of water shoes.
Bring Bug Spray and a snack: Be sure to bring everything you need including a snack like a protein bar plus BUG SPRAY.
One Day at Bryce Canyon National Park – Start with the Highlights
Queen's Garden/Navajo Loop Combination Trail
This popular 2.9-mile hike descends into Bryce Amphitheater, where you can see the park's iconic hoodoos up close. A longer loop hike can be created by combining the Queen's Garden and Navajo Loop trails.
Begin your journey at Sunrise Point and work your way clockwise to Sunset Point. While hiking in this way is more difficult, the vistas provide a better view.
The trail's namesake — a rock formation resembling Queen Victoria – may be found around a mile into the hike. Admire the unique hoodoos, such as the famous Thor's Hammer, as you go through the amphitheater. Look into Wall Street, a deep slot canyon on the Navajo Loop route, before descending to the amphitheater rim.
Peek-a-boo Trail
The loop segment of the trail begins after the steep drop into the canyon. Keep an eye out for well-known rock formations like the Wall of Windows as you wander among the towering hoodoos.
This 5.5-mile loop is suitable for both hikers and equestrians. Your hike will begin and end at Bryce Point, with a total elevation gain of 1,571 feet.
Consider these combination hikes if you're searching for a challenging hike that completely explores Bryce Amphitheater:
4.9-mile – Peek-a-boo + Navajo Loop
6.4-mile – Peek-a-boo + Navajo Loop + Queen's Garden
Mossy Cave
There are two paths on the Mossy Cave Trail, one of which does not descend into the amphitheater.
Following an artificial stream made by pioneers goes to a waterfall, while the other leads to Mossy Cave, a cave. In the winter, the moss is frequently replaced with icicles, producing a unique and equally "chilling" sight.
This short but charming trail follows a river through a dripping cave and then to a stunning waterfall. The dark green vegetation that surrounds the river contrasts nicely with the red rocks. This hike is both soothing and easy.
Leave the national park and return to Highway 12, where you'll turn right to reach Mossy Cave Trail. There is minimal parking and a vault toilet at the trailhead. This area of Bryce is less busy because it is outside of the park and a little difficult to find.
Rim Trail
The first path is around 0.9 miles long and suitable for all skill levels. It is a flat trail between Sunrise and Sunset Points that takes about 40 minutes to complete. The second track, which connects Fairyland Point and Bryce Point, is for intermediate hikers. It is 5.5 miles long in one direction. Keep an eye out for elevation variations along this path.
The paved portion between Sunset and Sunrise points has been praised by previous visitors as making the Rim Trail a rather easy walk. They were likewise enthralled by the abundant and appealing surroundings. You can walk as much or as little as you choose on this trail.
Choose the Rim Trail if all you desire from your Bryce Canyon trip is sweeping vistas of the hoodoos. The path winds up to the top of the amphitheater, providing panoramic views in every direction. Along the 5.5-mile one-way trail, you'll find Inspiration, Sunrise, and Sunset points, as well as Fairyland and Bryce Points.
Scenic Drive
If all overlooks are visited, the Bryce Canyon Scenic Drive is 18 miles long (32 miles round trip) and takes around two hours to complete. If your one-day Bryce Canyon schedule is running out of time, you can proceed to Bryce Point.
There are 13 overlooks along the park's scenic route. Even though the northern overlooks have the most hoodoos, the southern overlooks have the best views. There are several hiking pathways, ranger programs, and picnic spots to enjoy along the trail.
Begin your trip to Bryce Canyon National Park by driving directly to Rainbow Point, the park's most southern point. The park as a whole opens up in front of you as you travel north. The drive is included in the price of the entrance to the park.
Best Views at Bryce Canyon National Park – Sunrise, Sunset and Expansive Views
Sunrise Point
The Sunrise Point trek gives a panoramic view of Bryce Canyon National Park and beautiful views of many locales. Among the things to visit are the Boat Mesa, the Pink Cliffs, the Sinking Ship, and the Aquarius Plateau.
The stunning tapestry of colors that emerge when the sun rises over Bryce Amphitheater makes Bryce Canyon one of the most photographed national parks. It's an excellent place to observe the sunrise because all of the overlooks here face east. When the sun first peeks over the cliffs, the world's biggest collection of hoodoos will be at their most luminous: blazing orange, delicate ivory, and pastel pink will be a spectacular sight to behold.
From Sunset Point to Sunrise Point, take the Rim Trail north. This trail is level and easy to walk, with a beautiful view of Bryce Canyon. Sunrise Point is included in the park entrance fee. The free park shuttle service stops at Sunrise Point, which is the 13th station. The Bryce Canyon General Store, which contains a snack bar, restrooms, drinking water, and showers, is open from March to early January.
Sunset Point
Sunset Point is a favorite Bryce Canyon activity and one of the park's most spectacular vistas. The sunset, as the name implies, is a gorgeous sight, but it is attractive at any time of day.
Sunset Point is home to some of the most beautiful limestone rock formations in the area. On the hike, guests will see Thor's Hammer, a long-time popular rock structure with red, yellow, and orange colors. The blue sky will turn pink and lavender as the sun sets below the canyon rim. The hoodoos sparkle like candelabra as the sun sets, spreading shadows across the canyon.
Sunset Point is also a great place to go birdwatching. Look for ravens and hawks flying overhead, as well as a variety of swallows and swifts, on your hike.
This hike is only 1.1 miles long and not as well-known as others. It's an out and back trail, so once you've reached the end, you'll have to return the same way to get back to the start.
Inspiration Point
Since you can see the Bryce Amphitheater from three different views, Inspiration Point is one of the top things to do in Bryce Canyon in one day. There are three different viewpoints here, each with a unique perspective on the thousands of hoodoos that make up the canyon.
Inspiration Point, like Bryce Point, is best viewed early in the morning, but it is beautiful at any time of day! Spend some time savoring the view from all three platforms and taking in the spectacular beauty of the Bryce Amphitheater.
Spend some time admiring the vista from all three platforms and soaking in the Bryce Amphitheater's breathtaking magnificence.
Bryce Point
One of the most popular spots to see the amphitheater in its entirety is Bryce Point. It's one of the best places in the park to witness the dawn, as the tops of the hoodoos light up as the sun rises, making it one of Bryce Canyon's most magnificent sights.
Because of Bryce Point's unique placement amid the park's other viewpoints, it's believed to be especially lovely around sunrise, but the vista is stunning at any time of day. Bryce Points, located at an elevation of 8300 feet, offers a panoramic view of the amphitheater as well as a bird's eye viewpoint of the hoodoos.
Rainbow Point
Rainbow Point is one of the park's highest elevation peaks, at 9,115 feet above sea level, and provides a panoramic view of the park. It is said that on a clear day, one can see Arizona from this vantage point.
Begin your Bryce Canyon National Park road trip by driving to the park's southernmost point. The entire park can be seen reaching out in front of you to the north from Rainbow Point. From this vantage point, you can see the Grand Staircase, as well as the Pink and Red Vermillion Cliffs.
Rainbow Point is the southernmost viewpoint in Bryce Canyon National Park. It offers a spectacular view over the park, particularly the famous Amphitheatre. Rainbow Point is mostly paved and located close to the area's parking lot.
How to get around – Bryce Canyon Shuttle
The Bryce Canyon Shuttle is included in the cost of your entrance fee. During the peak summer months, the park can become rather congested with vehicles. During peak months, there is only one parking spot for every four cars, thus taking the free shuttle is highly suggested.
Taking the shuttle reduces congestion in parking lots (and the stress of trying to locate a spot), reduces pollution, and encourages people to walk the Rim Trail. Taking the shuttle back to the Shuttle Station or Bryce Canyon City is a convenient method to go back to your car.
The Shuttle can take you and your family up from your Bryce Canyon hotel and drop you off at all of the park's major spectacular views. It operates every 15 minutes or so, and the one-way round takes about 50 minutes to complete without stopping at any amenities or vistas.
If you have a car, you can park it in Bryce Canyon City's Shuttle Station parking lot. You can get on and off at any stop, but you must have your park admission proof with you.
You should arrive early if you'll be driving your car within Bryce Canyon. Arrive early in the morning for some night sky and sunrise photos.
You must be on one of the first shuttles to have a great hiking experience. As a result, you must get started as early as possible.
If you don't want to hike in the heat, do the hiking first and then take the beautiful drive in the afternoon or early evening, stopping at all the viewpoints.
Hike the Queen's Garden Trail and the Navajo Loop Trail. You can hike the Rim Trail after that, as well as the hikes listed above.
Bryce Lodge is a great place to eat lunch. Return to the viewpoints at Bryce Amphitheater. Hike this trail or observe from either Bryce Point or Inspiration Point, Sunset Point, or Sunrise Point.
To get to Rainbow Point, take the Scenic Southern Drive. Stop at any viewpoints that interest you. At mile 12 / 19 kilometers, look for the Natural Bridge.
Day 2 at Bryce Canyon
Watch Sunrise in Bryce Canyon National Park. Inspiration Point is a popular spot to photograph sunrise as well as a sunset. Or, photograph the Bryce Canyon at any time of the day from sunrise to sunset. It is the best place to catch all the colors of the Bryce Canyon from glowing reds, and oranges, to bright pinks. Also, Inspiration Point is the best place to see Bryce Canyon and to get an idea of how vast the entire area is.
You can also take a Scenic Drive in Bryce Canyon National Park and start the listed Hikes in Bryce. Queen's Garden/Navajo Loop Combination Trail is highly suggested.
Day 3 at Bryce Canyon
Catch the sunrise at Sunrise Point or Sunset Point, which is much better at sunrise despite its name. It's enchanting! There isn't a single bad spot!
The Navajo/Queens Garden Loop is 3.5 miles long and gains 662 feet in height. This hike allows you to get up close and personal with the park's hoodoos.
Fairyland Loop Trail is 7.9 miles long and gains 1,545 feet in height. This hike is strenuous, but it is much less crowded, and it offers spectacular vistas of the park. You can start with either the Fairyland Loop or Sunrise Point trailheads.
Going clockwise if you start at Sunrise Point and counterclockwise if you start at the Fairyland Loop trailhead is recommended. You can get the "boring" bit out of the way first this way.
Take in the sights from the viewpoints at Rainbow Point, Natural Bridge, Inspiration Point, and Bryce Point. You can also visit Mossy Cave, which is located outside of the main park area and features a waterfall and a cool mossy cave if you have enough time.
You may travel the 18-mile picturesque route down to Rainbow Point if you have additional time at Bryce Canyon. The most efficient way is to go all the way to the end of the road without stopping, because on the way back, each halt will be on your side of the road, with spectacular views of the amphitheater.
Hike the Peekaboo Loop or Fairyland Loop instead.
You can visit Bryce Canyon Pines Restaurant or Stone Hearth Grille for dinner.
Recent Posts