15 Amazing Treehouses in Arizona for a Unique Stay
Arizona Treehouses: Are you looking to stay in one of the many treehouses in Arizona? Staying in a treehouse is a cool way to experience something unique when you are visiting Arizona.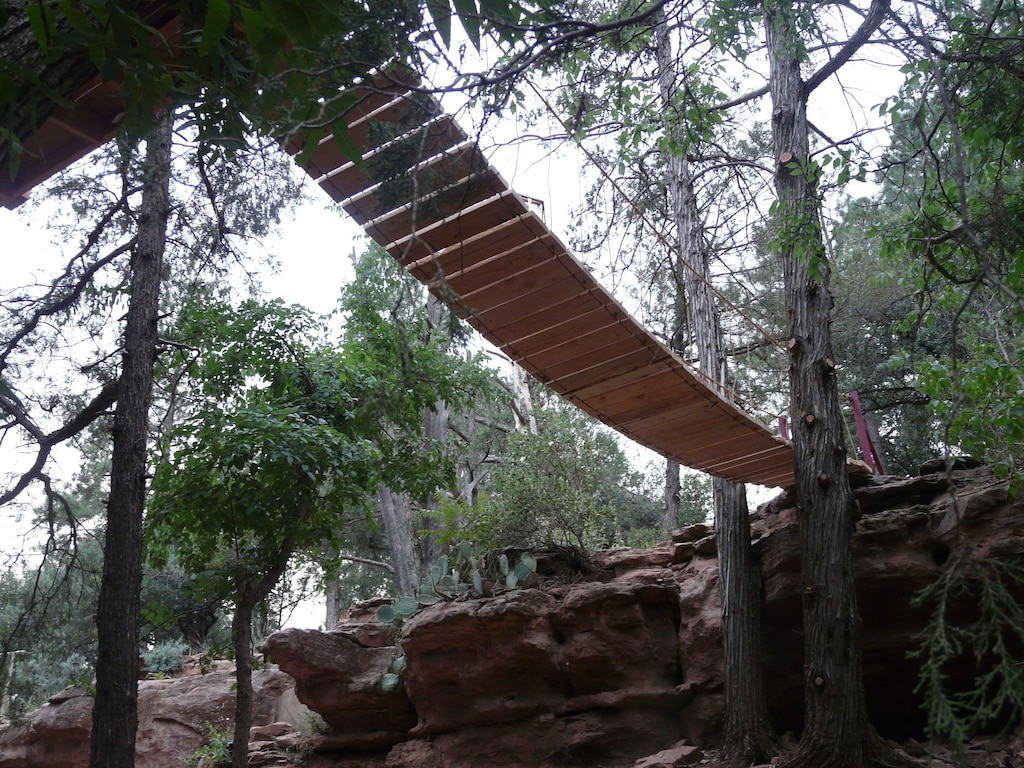 Treehouses are no longer exclusively for kids. These little woodsy hideaways are ideal for adventurous couples, families, and groups of friends searching for a unique outdoor adventure. There are many treehouse rentals in Utah that will suit different types of travelers. The majority of these treehouses are equipped with modern and luxurious amenities, allowing you to rest while being surrounded by trees.
Thank you for supporting this website written by an American. This post may contain affiliate links. This means I earn a small commission on these links at no extra cost to you.
15 Best Arizona Treehouses for Amazing Views
Log Cabin in the Pines, Treehouse with Swinging Bridge, beautiful stream nearby
You can rent this wonderful log house in the pines on an adventuresome one-acre hillside with rock formations, trails, a treehouse with a swinging bridge, site water fountain, and waterfalls whether you're seeking a perfect place to get away or planning a vacation for the entire family.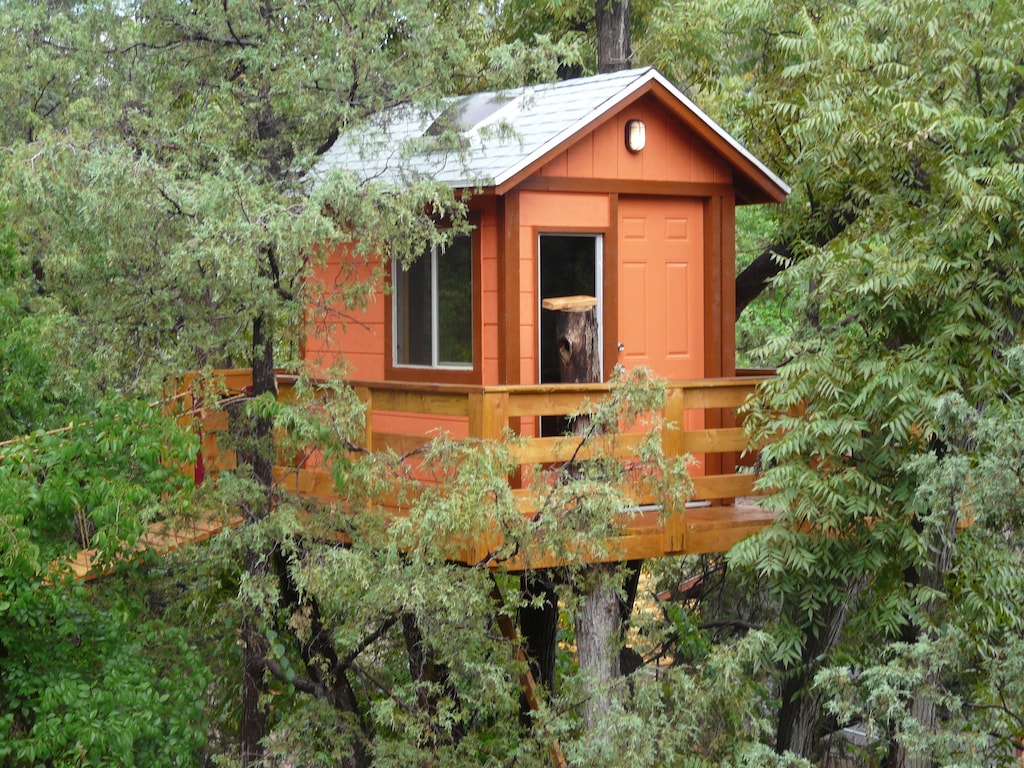 In the nearby stream, you can go fishing. Many nearby walks are available, including "Waterwheel," a spectacular box canyon with waterfalls, cliff jumping, and swimming holes. Tonto Natural Bridge, Fossil Springs, Pine-Strawberry Museum, and Railroad Tunnel Trail TR390 are all nearby attractions. Shopping, restaurants, and movies can all be found in Payson, which is about 15 minutes away.
The interior of this spacious 200-square-foot cabin is made entirely of logs and knotty pine, and it is built on a hillside of actual logs. Two queen-sized bedrooms, plus a big loft with two bunk beds and six-floor pads for sleeping if needed, two baths, laundry room with washer and dryer, dining area, large family space, table games in the coat closet, and an 800 square foot external raised wood deck. The cabin is fully furnished.
HDTV, DVD, internet, WIFI, full kitchen with all utensils, pellet wood heating stove and electric space heaters, ceiling fans, coffee maker, dishwasher, blender, microwave, electric oven, side by side refrigerator with icemaker, toaster, piano
On the deck, there's a propane BBQ grill, as well as a Traeger pellet grill beside the fire pit. A ping pong table and a futsal game are included in the detached garage. The parking area is large enough to accommodate numerous vehicles as well as a trailer if needed.
The cabin is located less than 2 hours from Phoenix, Arizona, below the beautiful Mogollon Rim, and 15 minutes northeast of Payson on Houston-Mesa Road. Pine and Strawberry, both about a half-hour drive apart, provide a variety of entertaining and interesting attractions.
Top of the Rim Cabin + Tree House, Amazing Views
This mountain top cabin, located in Payson's Whispering Pines Community, offers beautiful views of the forest. This newly renovated vacation cabin is located in the heart of a pine forest, allowing you to appreciate nature at its finest!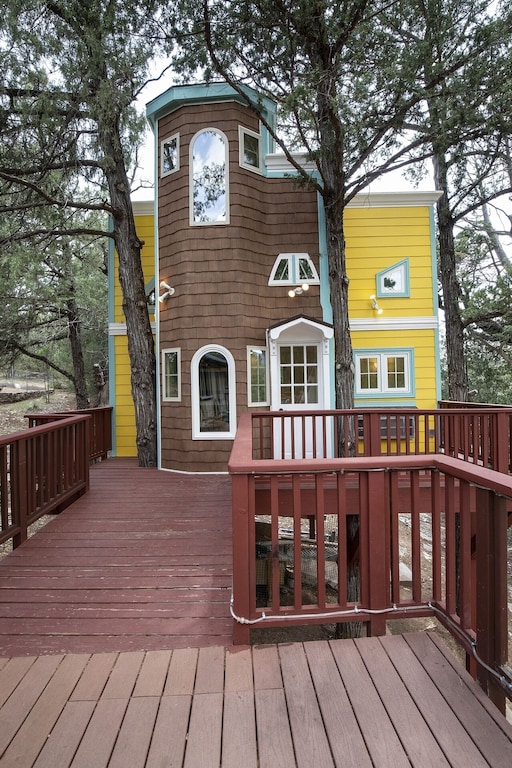 This treehouse rental has three bedrooms and can sleep up to 12 people, making it great for large groups. Although this house is located in the jungle, it is furnished with all of the necessary conveniences and amenities for a comfortable stay.
The house is completely insulated and equipped with a central air conditioning system. The ground-floor kitchen has an Alaskan crystal speckled Granite countertop, a farmhouse sink, white shaker style cabinetry, and a tigerwood countertop. This cabin has two bathrooms, one on the ground floor and the other on the second floor.
Guests can also take advantage of the property's extensive outdoor amenities. There's a deck with tables and chairs, as well as a fire pit with seating. You will have lots of options if you choose to explore the surrounding places. Hiking down the road to the Verde River, where you may enjoy trout fishing and swimming, is an option. The Tonto Natural Bridge is less than a 15-mile drive from this location, while the Water Wheel Falls Hiking Trail is about 2 miles away.
Outdoor amenities include a sports field, a fire pit with seating, and a back deck with two tables and chairs for outdoor dining that can accommodate large groups, a six-burner gas grill with propane, a circular driveway that can accommodate multiple cars, and it's difficult to find a spot on the property without expansive views.
Treehouse with beautiful view to the Lagoon and the mountain
This adults-only cabin with an outdoor pool is ideal for a romantic getaway. Rio Jilamito is half a mile (1 km) away, while Tela Beach is 25 miles (40 km) away from this Arizona cabin.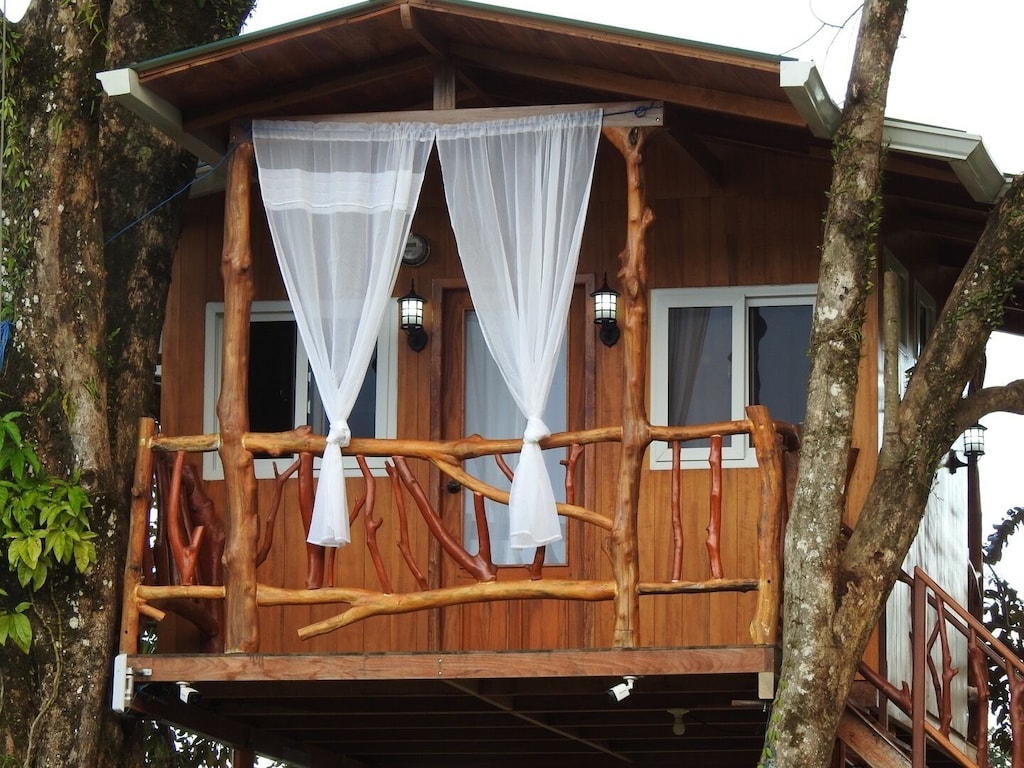 This cabin will provide you with a romantic stay in Arizona. Free breakfast, an outdoor pool, and a jacuzzi tub are among the amenities offered at this property. The cabin has a fireplace, a washing machine, and free WiFi.
With a kitchen that includes a refrigerator, microwave, and stovetop, in-room dining is a breeze. There's also a balcony, a fenced private yard, and a coffee/tea maker. There is only a limited amount of housekeeping available. A garden and BBQ grills are available at this smoke-free property.
You'll be 0.1 km (0.1 mi) from Ro Jilamito and 39 km (24.2 mi) from Central Park when you stay at this Arizona hotel.
Dog-Friendly Strawberry Home: Hike, Explore, Relax
This strawberry cabin in Pine is worth checking out if you're looking for a dog-friendly treehouse for your outdoor getaway with the family. This location, nestled in the center of a forest and adjacent to creeks and lakes, is ideal for hikers, anglers, and boaters looking to get out in nature without compromising modern amenities.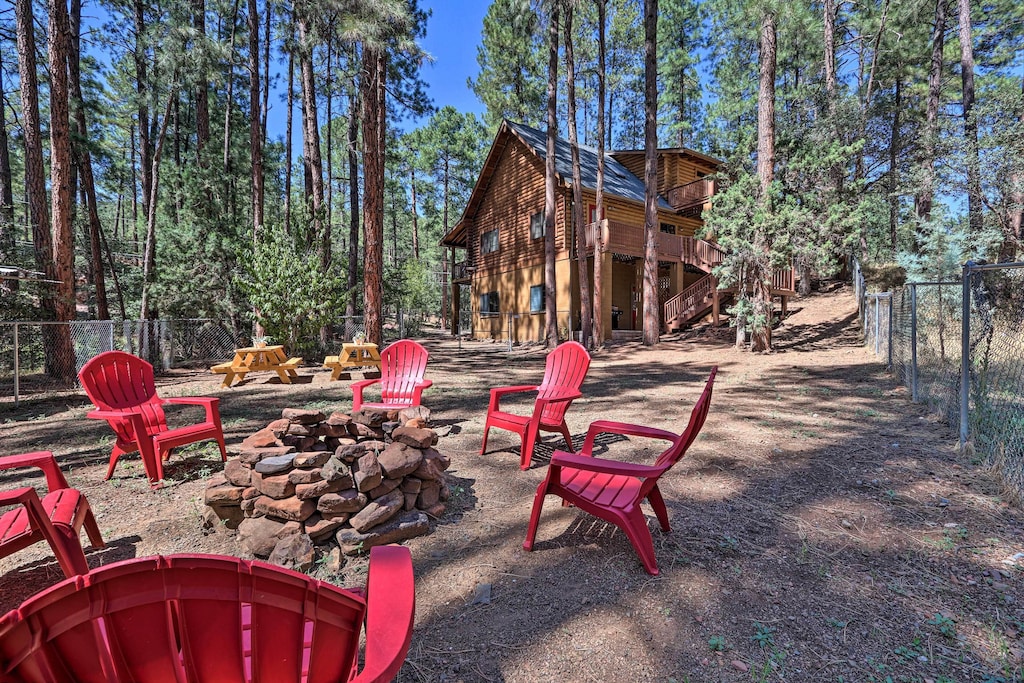 This enormous treehouse can sleep up to ten people and has two bedrooms, two baths, and a loft. There's also a deck with a fire pit, grill, and picnic tables, as well as a fire pit, grill, and picnic tables. Two flat-screen TVs, a Nintendo system, a reading corner, and board games are available in the living area. In the kitchen, which has cooking appliances, a blender, a coffee maker, and a teapot, prepare delicious meals.
From the coziness of this Strawberry vacation rental, take in the fresh mountain air while hiking, fishing, or boating! Tonto Natural Bridge State Park is a great place to go hiking or wine & dine, and Pine is only a few miles away. Filet your catch-of-the-day from Bear Canyon Lake for dinner while enjoying a cool brew from the fully equipped kitchen!
This treehouse rental would undoubtedly appeal to wildlife enthusiasts.
Cozy A-frame cabin in a tall pine forest
If you're visiting Navajo County for a brief vacation, book your stay at this cozy A-frame cabin nestled in the pines. The Spaghetti Western cabin is located on the eastern edge of the Sit Greaves National Forest. Located in the famed Mogollon Rim area of Arizona. The region perfectly embodies the character of a tranquil mountain setting.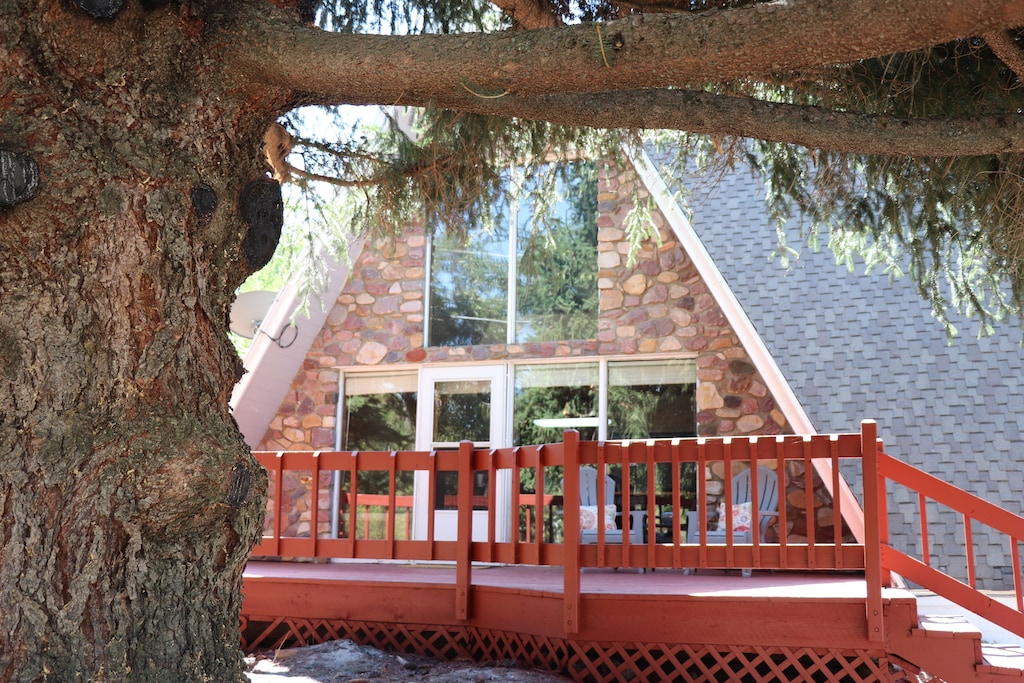 This one-bedroom cabin can accommodate up to six people, making it ideal for families or groups of friends. The bedroom of this loft model cabin contains a queen-sized bed, while the loft has two twin beds and a sleeper sofa. There's also a full bathroom with a tub and shower combination. You can cook your meals in the kitchen, which features a refrigerator, microwave, and other cooking utensils.
This cabin is about a 2.5-hour drive from Phoenix, right in the middle of the White Mountains. The neighborhood is recognized for its laid-back vibe, making it an ideal getaway from the hustle and bustle of city life.
While staying in this treehouse rental, outdoor enthusiasts can participate in a variety of activities. Willow Springs Lake and Woods Canyon Lake, both approximately 20 minutes apart, are great places to go fishing. Those interested in skiing should visit the nearby Sunrise Ski Resort, which has excellent runs for all levels of skiers.
Charming Rustic Cabin in the Pines w/Deck & Views
The beautiful views of a pine forest greet you as you enter this charming rustic cabin treehouse in Overgaard. It's a three-bedroom, two-bath cabin that's been recently renovated. There's also a wraparound deck where you can unwind and take in the scenery.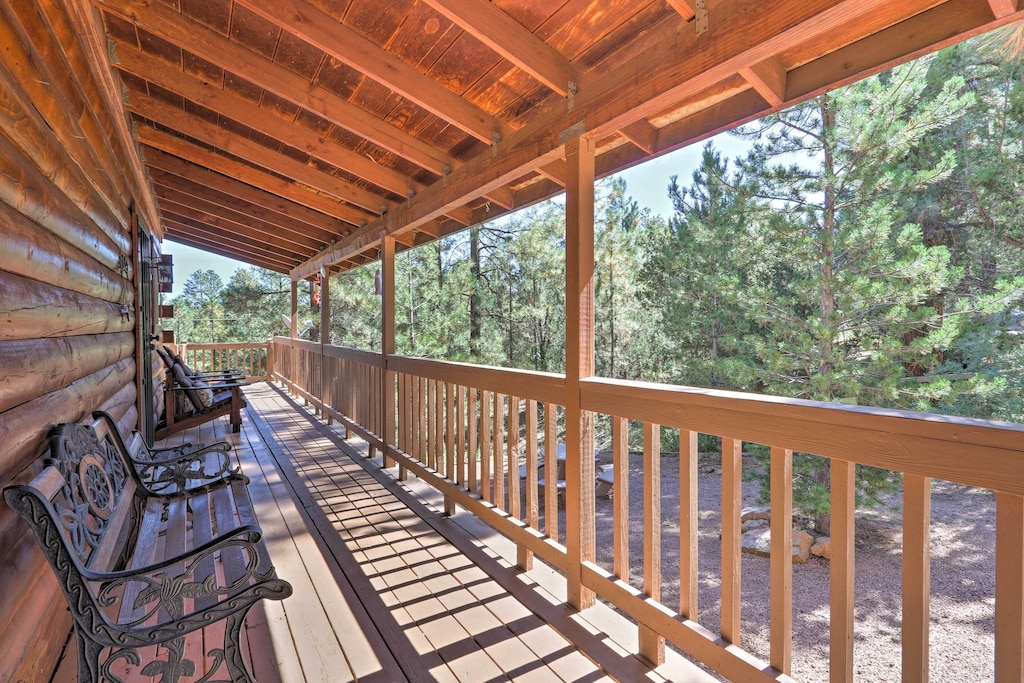 This Arizona treehouse rental is an outdoor enthusiast's dream, with plenty of activities for everyone to enjoy. Go fishing at the Black Canyon or Willow Springs Lakes while staying at this resort. Only a few miles away are the Woods Canyon Lake Recreation Area, Petrified Forest National Park, and Fool Hollow Lake. The Windy Hills Lavender Farm, Rock House Museum, Bison Ranch Stables, and Horse Rentals, and Apache-Sites Greaves Observatory are also local family-friendly attractions.
This three-bedroom cottage can accommodate up to eight people and has a two-night minimum stay. Some of the facilities include a flat-screen TV with a DVD player and DVD collection, dining table, board games, book collection, new hardwood flooring, ceiling fans, and an Amazon Fire Stick.
A well-equipped refrigerator, stove, oven, blender, Crock-Pot, dishware, and flatware, toaster, cooking essentials, and drip coffee machine are also included in the accommodation.
This property is ideal for outdoorsy groups looking for a simple vacation that's an easy drive from the city, whether they're looking for tranquillity or an escape from the dreaded desert heat.
Strawberry/Pine Studio Cabin with Outdoor Oasis
This 1-bathroom vacation rental studio cabin in Strawberry/Pine has skylights and a refreshing interior. The Tonto Natural Bridge, one of the world's only natural travertine bridges, is located just 10 miles south of the picturesque mountain town of Strawberry. It's a natural arch in Arizona that's thought to be the world's largest natural travertine bridge.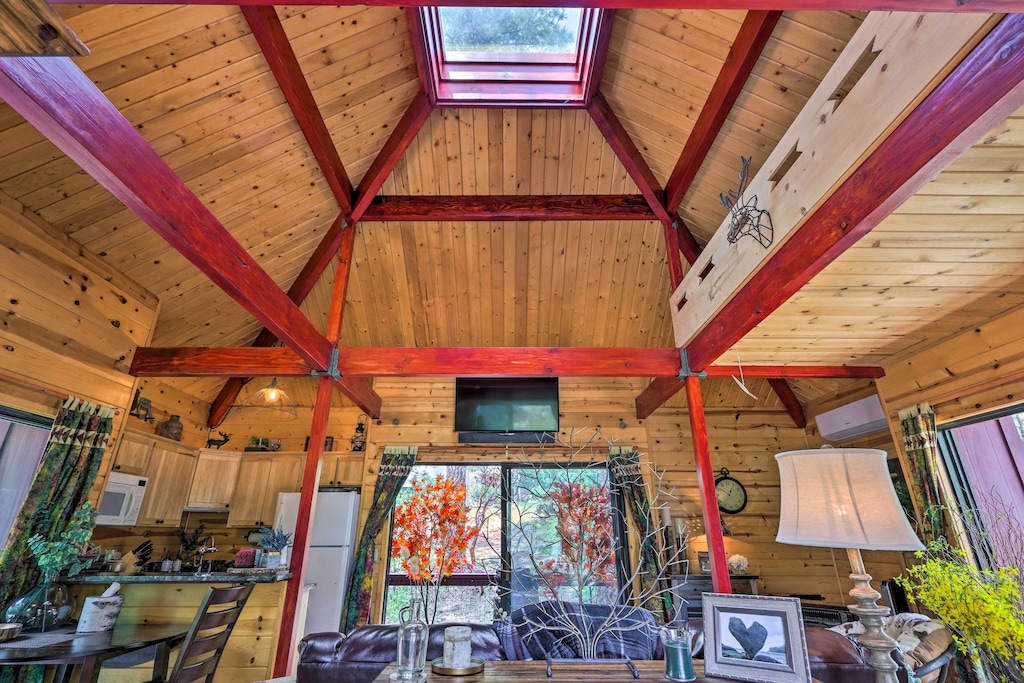 This studio cabin with an outside retreat is ideal for a quiet vacation in Strawberry's quaint mountain town. It's ideal for couples on a romantic getaway because the interior exudes a cozy and romantic ambiance. During the day, you can visit all of Strawberry's attractions and participate in a variety of outdoor activities.
This studio cabin offers a king-sized bed and a full-sized bed inside the loft. It has all of the latest conveniences, including central heating and air conditioning, as well as a flat-screen TV. The large windows and doors provide access to the beautiful views outdoors.
Outside, there's a deck with a grill and an umbrella, perfect for dining al fresco. The kitchen is equipped with everything you'll need to prepare meals, including a coffee maker and blender. There is also a driveway on the property that can accommodate up to four cars. A trailer can also be parked in the driveway.
If you like to fish, head to Arizona's famous Mogollon Rim, where you may choose from several lakes. Make sure to bring the catch-of-the-day home to cook on the grill.
Gorgeous "City Slicker" Cabin That Accommodates 8
This magnificent cabin is situated in a picturesque neighborhood that includes both holiday houses and permanent residents. It's surrounded by trees and flora, and on some days, you might see a few deer!
Enjoy a tranquil mountain retreat with all of the comforts of home among the pines. The cabin features a large covered porch with beautiful views!! Gather the entire group in the living area to enjoy a fire, or rest in the loft and enjoy the private terrace on a romantic getaway. Pine is a charming small town with several calming and outdoor activities nearby, such as Fossil Creek and Tonto Natural Bridge.
This beautiful two-bedroom treehouse cottage in the woods can accommodate up to eight people. It has a large covered porch that overlooks the beautiful natural landscape. So, gather the entire family and hire this Pine cabin for a memorable vacation.
There are two bathrooms in total, one full bath with a magnificent shower and another half bath. There's also a kitchen with all the necessary cooking equipment. The entire cabin, including the porch, walled side yard, and private rear patio, will be available to guests.
You have to contact the accommodation in advance for deposit and authorization information if you have a pet.
A great brewery with excellent beer and food is a short drive or a 20-minute walk away. In Pine, you'll find everything you need, including a local grocery store, gas station, a couple of diners/restaurants, a farmers' market, hardware shop, wine tasting, a local bar, and plenty of scenic views!
The Pinewood Treehouse Chalet w/ Jacuzzi
The 3-story chalet cabin is located amongst huge pine trees at the top of a cul-de-sac in lovely Munds Park, AZ, and offers 5 decks, an outdoor dining space with a BBQ grill, and a jacuzzi tub with privacy screens. Inside, there are flat-screen TVs, free WiFi, board games, and a fully supplied kitchen for you to enjoy. Fresh carpet, paint, a refrigerator, a stove, and all-new, modern furnishings have recently been installed in the cabin.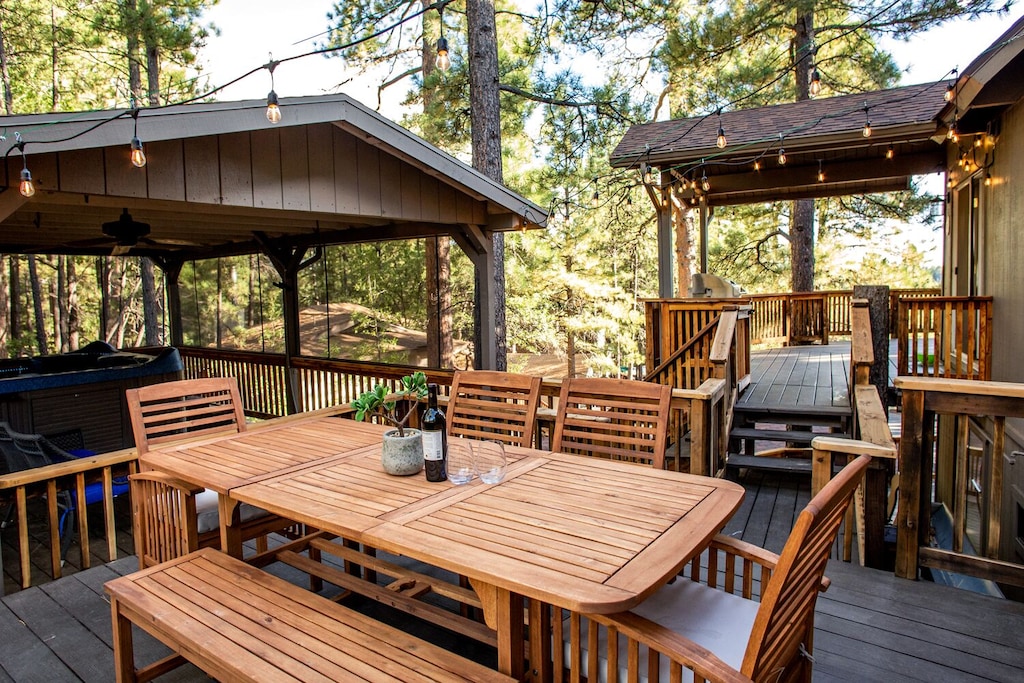 With three levels, you'll have plenty of room to relax and unwind. A full bath, kitchenette with mini-fridge, microwave, and sink can be found on Level 1. There's a pull-out sofa, a rollaway bed, a twin bunk bed, and a 70-inch wifi-enabled flat-screen TV.
On the second level, there's a warm internal fireplace, vaulted tongue and groove ceilings, and wide chalet windows that let in plenty of natural light. The kitchen has been upgraded with a new fridge, stove, Keurig, slow cooker, blender, and all the home comforts you'll need to cook, bake, or grill. There are six seats at the dining table (an extension leaf is also available) and two more stools at the kitchen breakfast bar. A complete bathroom, washer/dryer, and a huge private bedroom with a queen bed are also located on the second level.
On the third level, there is a large master bedroom with a king-size bed and en suite bathroom, as well as a private balcony at the back of the room.
Warm up the evenings on the deck by firing up the grill and dining al fresco. A bath in the jacuzzi can be used to end or begin the day. Relax on one of the five decks, one on each level, plus a dining deck with views of the forest and a private deck with a jacuzzi.
Jenson's TreeHouse in Show Low, AZ
This mountain cabin is located in Show Low, 4 minutes from Show Low Museum and 5 minutes from Bison Golf & Country Club. Fool Hollow Lake Recreation Area is 3.5 miles (5.6 kilometers) away, while Summit Healthcare Regional Medical Center is 4.9 miles (7.9 kilometers) away.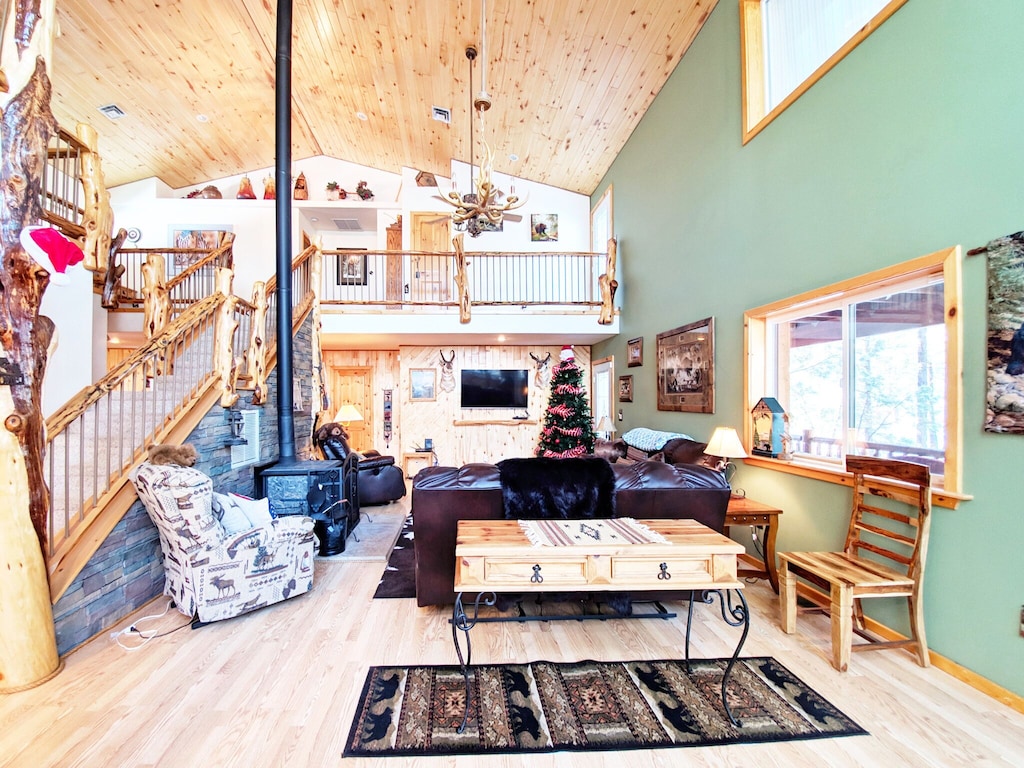 The Master Bedroom is located on the ground floor and has a large en-suite Master Bathroom with dual sinks and a jacuzzi tub. In the remaining bedrooms, there are custom adult log bunk beds with high-end mattresses, as well as two tankless water heaters that provide endless hot water.
Make yourself at home in this air-conditioned cabin with a fireplace and Smart television. A private terrace is available. A refrigerator, an oven, and a stovetop are all included in a kitchen. A Wireless Internet connection is complimentary, and a DVD player is available for your entertainment.
Take advantage of the on-site attractions, such as an arcade/game room and BBQ grills. Onsite parking is also available to guests.
Treehouse Cabin is your Mountain Getaway
When you stay at the Treehouse Cabin, you'll feel like you're in the middle of nowhere, but you'll only be 10 minutes from downtown Prescott (5.5 miles). When you walk out onto the deck, you'll feel as if you're living in the trees.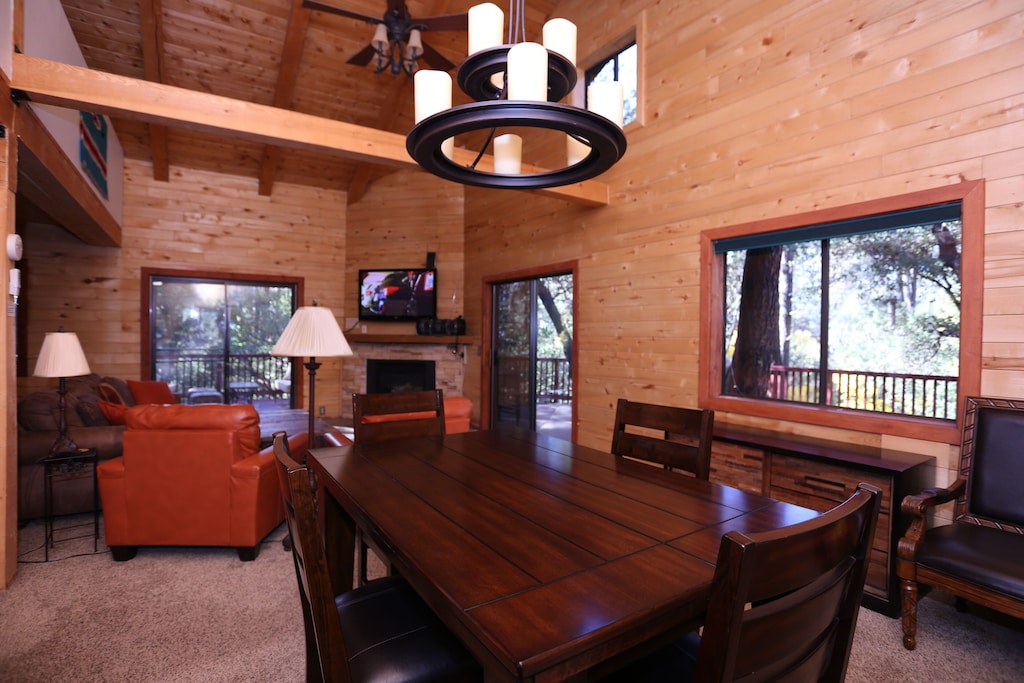 The deck also looks out over a seasonal creek that serves as a thoroughfare for deer and other wildlife moving through the property. The cabin is surrounded by ponderosa, oak, and cottonwood trees, offering a beautiful sense of isolation and allowing you to unwind.
The cabin accommodates up to 9 people with a Queen bed in the master bedroom and loft, a Queen sleeper sofa in the living room, and a Full Futon and Twin bed in the loft.
Prescott vacation rentals
Discover a variety of Prescott, Arizona vacation rentals that are ideal for your trip. Cabins and houses are popular options for a vacation in Prescott, with prices starting at $104 per night. In either case, you'll be able to discover a rental that meets everyone's requirements. They have over 30 different properties to choose from, ranging from tiny cottages overlooking the stream to huge cabins and mansions with game areas. All of these privately owned rooms are located in Prescott, Arizona, at a mile-high elevation.
Prescott has a lot to offer, including pure air, lakes, creeks, and breathtaking views of the National Forest. The World's Oldest Rodeo, Audubon Bird Walks, Summer Concert Series, Whiskey Row Marathon, and Off-Road Bike Race, Art & Craft Fairs, Car Shows, and Bluegrass Festival are just a few of the events and activities that take place.
Prescott is also known as "Christmas City" in Arizona. Make a vacation to "Everybody's Hometown" this season if you want an old-fashioned Christmas with hot cocoa and mittens, parades and carolers, community performances, and holiday arts and crafts wrapped in the warmth of a small-town atmosphere.
Prescott Cabin Rentals can accommodate your every need, whether you want a rustic cabin deep in the woods, luxurious home on the crest of a hill, or a charming downtown cottage.
The rates are calculated based on four-person occupancy. They arrange costs to be affordable for couples or small families, then throw on minimal additional person fees. Pets are also welcome at every property!
Prescott Cabin Rentals offers a vast range of privately owned vacation rental cabins, cottages, suites, and residences in and around the Prescott area, ranging from a cabin in the woods to a cottage overlooking the creek.
Recent Posts