15 Dreamy Treehouses in Utah for a Unique Stay
Utah Treehouses: Staying in a Treehouse in Utah is a unique experience. There are so many cool Utah Treehouses to choose from that you are sure to have a great time.
Treehouses are no longer exclusively for kids. These little woodsy hideaways are ideal for adventurous couples, families, and groups of friends searching for a unique outdoor adventure. There are many treehouse rentals in Utah that will suit different types of travelers. The majority of these treehouses are equipped with modern and luxurious amenities, allowing you to rest while being surrounded by trees.
Thank you for supporting this website written by an American. This post may contain affiliate links. This means I earn a small commission on these links at no extra cost to you.
National Park Entrance Fees
To enter the National Parks, you'll need to pay an entrance fee or have a National Parks Pass also known as American the Beautiful Pass.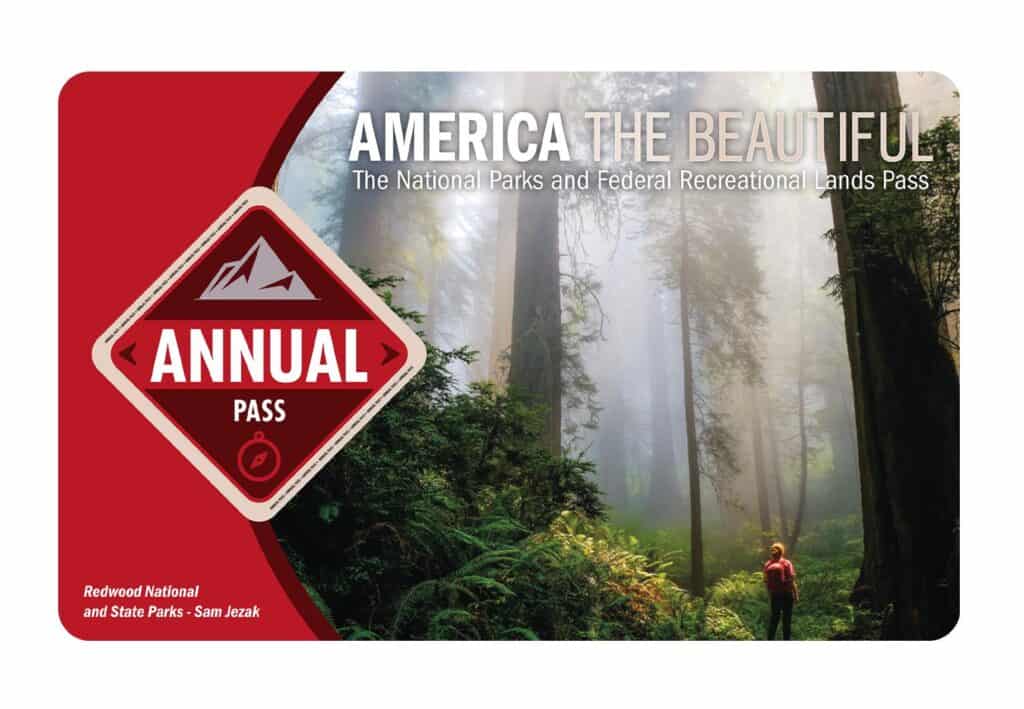 It costs $80 for a yearly America the Beautiful Pass. This gives you access to all national parks and federal areas that charge fees. The America the Beautiful Pass is well worth it!
I purchased my first one in 2016 and it's such a money-saver! Plus 10% of sale proceeds go to the National Park Foundation.
Tips for Visiting Grand Teton National Park
Grand Canyon National Park is perfect for outdoor enthusiasts. There is something for everyone on this list and for different fitness levels. Also, note that it is dry and hot (in the summer), and make sure you know what you are getting into before you start. Here are a few tips for visiting the Grand Canyon:
Bring a reusable water bottle and lots of water! Remember you are in the sun and you will need to drink lots of water. I love my LifeStraw Filtered Water Bottle. I can refill this bottle anywhere and it comes with a carabiner to connect it to my daypack.
Check the Weather – days over 100 degrees are very common. Make sure to check.
Hiking boots or sandals that will protect your feet! I love good shoes. I need all the support and help I can get. I actually love these sandals for hiking and also love these hiking boots.
Bring hiking poles for balance and to protect your knees. I know many experienced hikers (and even amateur ones) think that hiking poles are for old people who lose their balance. Actually, hiking poles can help when going down steep inclines or when scrambling over rocks. They are great to hike with even for the most experienced hiker.
Wear a sunhat. I feel like this whole post is about how high you are in the mountains and how much closer you are to the sun but it is so true. At elevation, you are closer to the sun and more likely to burn. Wear sun protection such as a sun hat and sunscreen.
Be aware of the wildlife. This is the Southwest and you will need to watch out for snakes and other wildlife such as moose or a bear. Please stay away from wildlife and do not feed them. I recommend carrying bear spray as well.
Start Early – If you want to avoid the traffic and the heat you will need to start your hike early. That way it will be nice and cool and the smog will not affect you either.
Leave no trace. If you are new to the concept of Leave No Trace it is all about preserving the environment to ensure it is in the same or better condition when you leave it. This means that you should stick to the trails and carry out everything that you carried in. This is a great explanation of the Leave No Trace principles!
Water shoes are great for water hikes– If you don't have a pair, I highly suggest it as they are affordable. I have an article on the pros and cons of several pairs of water shoes.
Bring Bug Spray and a snack: Be sure to bring everything you need including a snack like a protein bar plus BUG SPRAY.
Where to stay near Grand Canyon National Park
The Grand Canyon makes for a great weekend escape. Fresh air, beautiful scenery and being in nature does a world of good for the soul. I recommend staying as close to the park as possible and even treating yourself with a cabin with a spa pool to relax at night.
If you are taking a road trip remember to reserve a car in advance using Discover Cars .
15 Best Utah Treehouses for a Dreamy Stay
The Treehouse Summary
The Treehouse Summary in Orderville, undoubtedly one of Utah's most popular treehouse rentals, is just what you'd expect a treehouse to be — perched high in a tree and open to breathtaking views of nature. This treehouse, which is built on a hundred-year-old cottonwood tree, includes one bedroom and bath and can sleep up to three people.
The interiors have a rustic feel to them, but with modern touches and clean finishing. When you stay in this treehouse, you'll have everything you need. Toiletries are provided in the full bathroom, and the kitchenette includes a refrigerator, stove, coffee maker, and other cooking appliances. On the left, there's a king-sized bed and a pull-out couch for extra visitors to sleep on.
Thunderbird Foundation for the Arts is 2.4 miles (3.8 kilometers) away from this cabin. A kitchen, a terrace, and a refrigerator are all included in the cabin. This air-conditioned apartment has a balcony, as well as a separate bedroom for extra privacy. A coffee maker and an ironing board are also included as basic amenities. A garden and BBQ grills are available to guests staying at this cabin.
This treehouse rental is great for visitors planning to explore the National Parks in Southern Utah. The Grand Canyon is about an hour away, while Zion and Bryce are around 20 minutes away. The Cedar Breaks National Monument, Coral Pink Sand Dunes, Antelope Canyon, and Lake Powell are some of the other nearby attractions.
Modern Treehouse
A treehouse is inextricably linked to nature, yet it does not exclude it from being modern. In Sundance, a modern treehouse has turned a childhood dream into luxury. It has a modern design that mixes in with natural components, as well as floor-to-ceiling windows that provide spectacular views of the outdoors.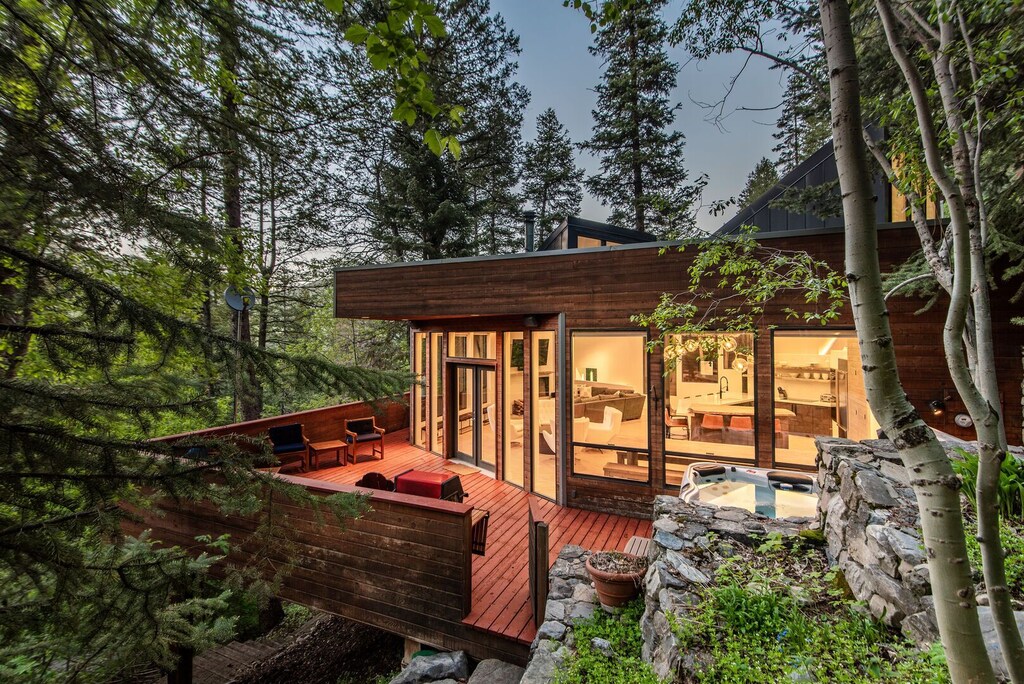 This spacious contemporary home has four bedrooms and can accommodate up to 12 people. There are four bathrooms, a living room, and a kitchen in this home. On the deck, there's also a hot tub where you can unwind under the stars! If you want to rest indoors, the sauna is available. It's a fantastic location to relax after a day of enjoying the outdoors. Families with children will undoubtedly enjoy their stay in this modern treehouse. There's a pool table, a giant scrabble board, and a ping pong table in the game room.
You will not be bored while staying in this treehouse rental because there are numerous outdoor activities to keep everyone entertained. There's also a Zip-line Swing and an outdoor fireplace. Furthermore, the host provides complete concierge services and will arrange for guests to participate in activities such as fly fishing, local day hikes, and more!
Luxury Treehouse
This luxurious treehouse near Brian Head is ideal for skiers and nature lovers alike. It contains two bedrooms and can accommodate up to six people. This newly renovated cabin is nestled amongst old pine trees high in the mountains.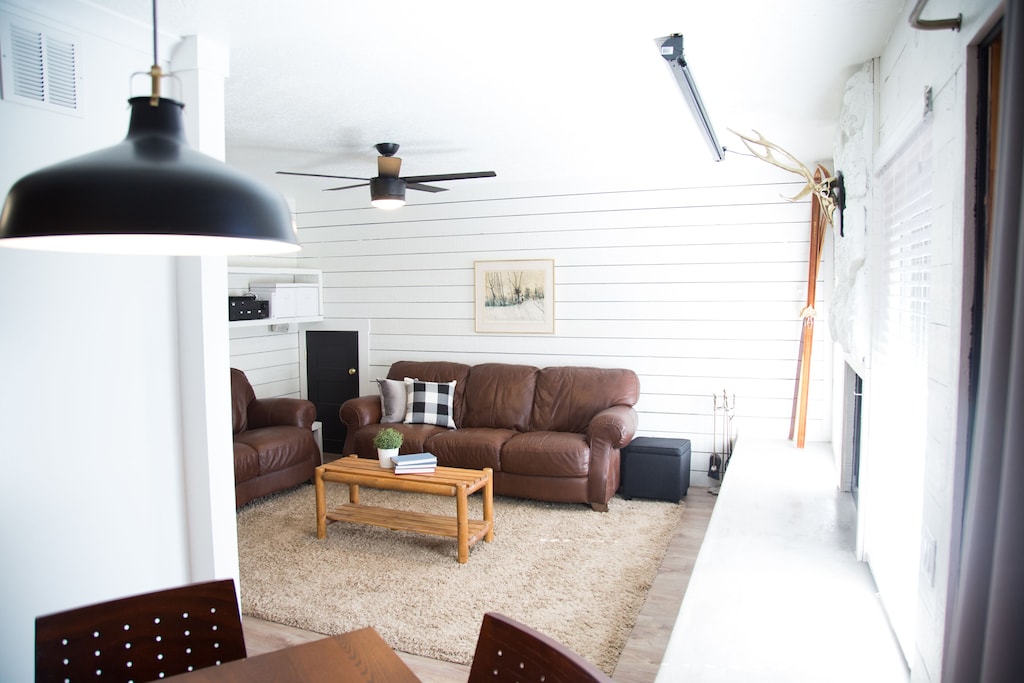 The Giant Steps are only a short walk away from this treehouse rental. There's also a general store nearby, as well as a tubing hill directly across the street. The Cedar Breaks National Monument, Brian Head Peak, and Panguitch Lake are among the other well-known attractions in the area.
This wonderful treehouse, which has two bathrooms and two baths, is a great opportunity to unwind in nature while enjoying comfort and luxury. It includes everything you need for a peaceful stay, including washing and dryer, fireplace, entertainment system, and a movie projector with surround sound.
This is the best place to stay if you're going to Utah for a ski vacation because it's close to several ski resorts. Aside from the indoor amenities, this property offers a wide deck with a fire pit, which is ideal for roasting marshmallows and spending quality time with family and friends at night.
Given all of the facilities that this treehouse has to offer, the extra steps up the mountain to get here are well worth it. This luxurious treehouse is conveniently positioned near a variety of attractions.
Cozy Mountain Getaway
Nordic Valley Ski Resort, Pineview Reservoir, and the picturesque town of Eden are all within a few miles of this wonderfully refurbished A-Frame hidden in the foothills of Eden. This comfortable two-story 3 bedroom 2 bath cabin is the ideal spot to get away from the city with family and friends, with modern furnishings, a well-stocked kitchen with upmarket appliances, and plenty of space to relax.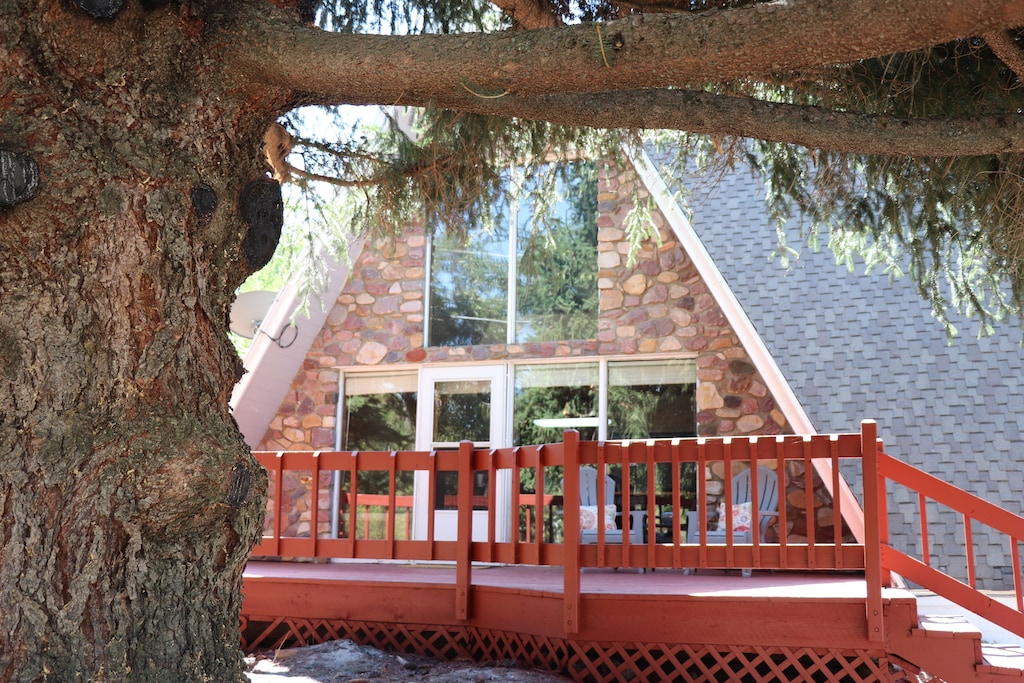 All of the rooms have been recently remodeled for comfort, except for the master bedroom, which has a queen bed, reading space, desk, mountain view, and lots of closet space. A queen bed and a tiny, private porch may be found in the comfortable guest bedroom. The bunk room downstairs sleeps four people and has two sets of bunk beds, as well as plenty of space for the kids to play games and watch movies while their parents relax in the living area near the wood burner. After your outdoor adventures, the cottage also has a balcony with a charming reading nook where you may rest or nap.
In both the rec room and the living room, there is plenty of room to relax, and both areas include a TV with cable. There is a selection of games and puzzles, books, wood, and extra pillows and blankets in the cabin. The dining table seats eight people, with additional bar seating available at the counter. The backyard features a wide deck with stunning mountain views, plenty of seating, a BBQ, and a large, private yard. Storage closets, a mudroom for boots and ski coats, and on-site parking are all available.
Nordic Valley Ski Resort, which provides skiing, night skiing, and tubing in the winter, and hiking, mountain biking, disc golf, and concerts in the summer, is only 1.5 miles from the cottage. A large grocery store and various eateries are less than a five-minute drive away. Fishing, boating, water skiing, paddle boarding, and kayaking are all available at the scenic Pineview Reservoir, which is just a 10-minute drive away. Guests can also go skiing at Powder Mountain (20 minutes away) or Snowbasin (20 minutes away) (30 min drive).
This cozy cabin will provide you with a peaceful and restful stay.
Family & Pet friendly
This lovely cabin, quietly located in Meadow View Heights in Duck Creek Village, is another excellent option for a relaxing mountain getaway in Utah. This quiet retreat, surrounded by tall pine trees and a diverse array of wildlife, will satisfy your desire for nature.
The fact that this rustic cabin is pet-friendly makes it ideal for families that enjoy taking their pets on vacation. However, make sure to alert them ahead of time while making your reservation. This cabin has three bedrooms and can accommodate up to seven people. Both of the downstairs bedrooms have queen-sized beds, while the upper bedroom has a big double loft with a full-size bed and two single beds.
Amazon Firestick, board games, DVD player, and a large selection of DVDs are all included. Sit back, relax, and watch the stars while roasting s'mores or cooking hot dogs around the newly built fire pit at night. They provide a wonderful daily array of wildlife and views that will take your breath away, including regular visits from deer, turkeys, hawks, and a variety of bird species.
Your family and guests can sit outside and enjoy the amazing view of Duck Creek Meadow, Zion, Pink Cliffs, and surrounding mountains from the big 1000 sq. ft. deck, which is equipped with propane BBQs.
This treehouse rental is near Zion National Park, Bryce Canyon National Park, and Cedar Breaks National Monument, which are all major tourist destinations in Utah. Cross-country skiing, fishing, hunting, snowmobiling, and hiking are just a few of the outdoor activities available.  For shopping and theater, visit Cedar City (31 miles), renowned for its annual Shakespearean Festival.
Sunny and Spacious Ski-In, Ski-Out Mountain Home
Get away from the hustle and bustle of everyday life in this mountain home. Come relax in front of a roaring cozy fire while sipping a cup of hot chocolate. Bring your friends and family up to Brian Head, UT, in the center of Southern Utah's most magnificent landscapes, for a pleasant vacation. Hiking, biking, fishing, photography, 4-wheeling, skiing, snowboarding, inner tubing, and other activities are all possible. Come and have one of the most amazing vacations of your life.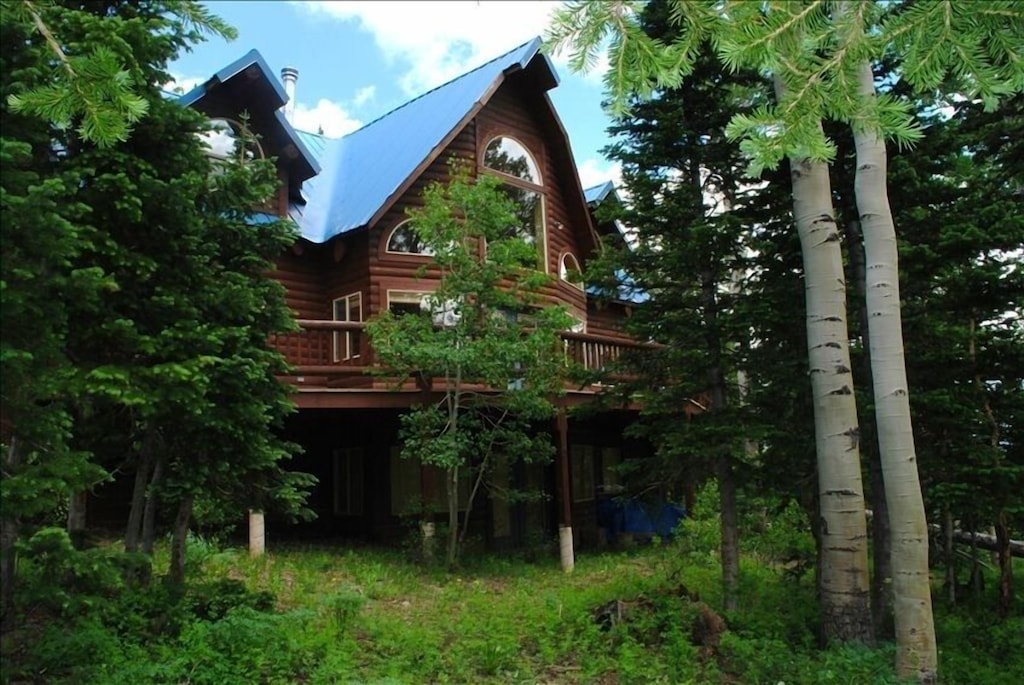 The multiple rooms in this huge mountain home can accommodate larger groups. This treehouse, located in Brian Head, in the heart of Southern Utah, allows you to reconnect with nature without sacrificing all of the creature comforts of home.
You'll have access to a well-equipped kitchen with stainless steel appliances, a dining space with a long dining table, a large family room, and a basement with a giant flat-screen TV and a variety of movies when you stay at this spacious mountain cabin. This property has six bedrooms and four bedrooms and can sleep up to 19 people, making it ideal for large groups of friends.
During your stay at this hotel, you will have much to do. Trails at Navajo is a paved neighborhood where the cabin is located. It's surrounded by woods and set among the slopes, besides other ski-in/ski-out lodging. The location is ideal for those who enjoy outdoor activities like fishing, hiking, bicycling, and, of course, skiing.
Vintage Cabin in Midway
This is the ideal cabin for relaxing. The spacious outside deck is secluded and surrounded by pines and aspen trees, with canyon views. You can see the sunrise and go stargazing every night.
Escape the daily grind and relax in the majesty of the mountains, while also taking in the sights and enjoying the fun activities, restaurants, and activities available in Midway.
There are four bedrooms, one bathroom, a full kitchen, and a living area in the cabin. It's a mile from Wasatch State Park, 2 miles from Midway, and close to other major tourist destinations. Heber City is 8 minutes away, Park City is 28 minutes away, and Salt Lake City is 48 minutes away. There are attractions and activities to enjoy regularly in each of these locations.
On a private dirt road about 300 feet off the main asphalt, the cabin is located. Parking near the cabin is similarly limited to two mid-sized vehicles at most.
Treehouse on the Stream
This gorgeous treehouse beside the stream can accommodate both outdoor enthusiasts and luxury travelers. This rustic mountain cabin in Sundance will allow you to reconnect with nature without sacrificing the comforts of a luxury home. It sleeps up to 11 people and has three bedrooms and two bathrooms.
All units feature a balcony and come equipped with a satellite flat-screen TV, CD player, and blu-ray player. A full kitchen with cooking utensils is included in this treehouse cabin. There's also Wi-Fi, so even if you stay inside, you won't be bored. However, with the variety of activities available nearby, you won't be spending much time inside this house.
Sundance is within walking distance of this property, and there are numerous hiking trails nearby. These trails will lead you into the forests and up into the hills. You'll see squirrels playing, wild turkeys, and even deer strolling near to the home along the way.
Sundance Resort is close to this treehouse rental. Spas, ski slopes, zip lines, restaurants, and evening entertainment are all available at the resort.
The closest city is Provo, which is 19 kilometers away. Treehouse on the Stream is 88 kilometers from Salt Lake City International Airport, which is the closest airport.
Apple Hollow Tiny House #3 
This Tiny House offers an innovative viewpoint on vacation accommodation by combining rustic appeal with modern conveniences! This location is one of the most spectacular homes in the Zion area! Right off Highway 89, 14 acres of apple trees and farmland are encircled by beautiful mountain peaks.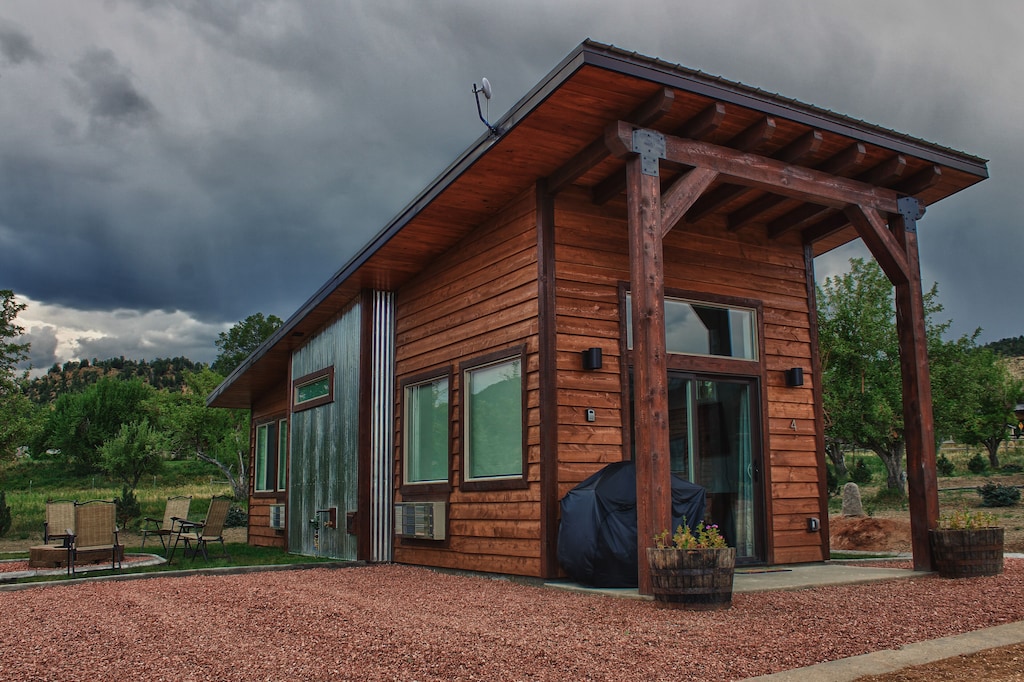 The orchard provides isolation and quiet that are uncommon in most holiday rental properties, while still being just 5-15 minutes away from food stores and restaurants. This Tiny House was custom created to have a rustic but modern style and feel, with amenities added to ensure you have everything you need for multiple-night stays.
After a hard day of hiking or seeing the parks, guests enjoy returning to this location to rest. Watch the sunset behind the majestic mountain peaks while sitting around your private fire pit. Far enough away from the city lights to enjoy some spectacular stargazing in the clear night sky!
From July to September, you can pick some of the best apples you've ever tasted directly off the trees. Across the river, you might even see or hear flocks of wild turkeys or mule deer directly from your porch!
Only 25 minutes from Zion National Park and 55 minutes from Bryce Canyon National Park, this property is conveniently positioned. This is an ideal location for visitors who wish to see both parks and other attractions in Southern Utah!
For larger groups traveling together, you can rent more than one at a time!
Treehouse at Little Cottonwood 
This treehouse is within 10 minutes of Snowbird and Alta resorts, located in Cottonwood Heights at the base of Little Cottonwood Canyon. Downtown Salt Lake City is 20 minutes away, while Park City is 30 minutes away.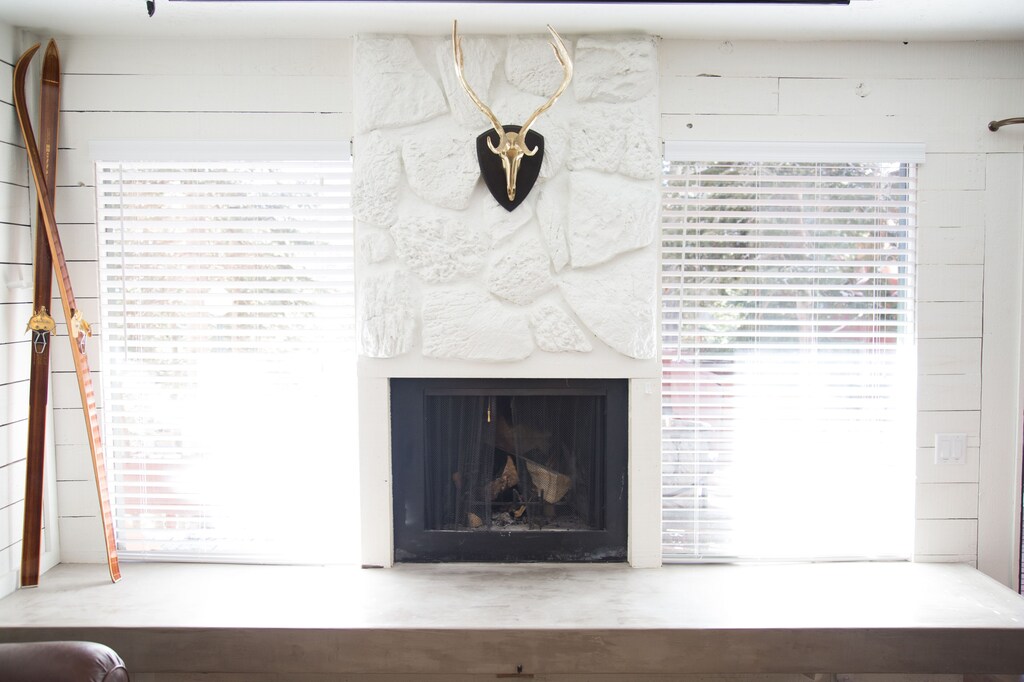 You will fall in love with this exquisite four-bedroom, three-and-a-half-bath Cottonwoods ski and summer home, which boasts a modern design and is one-of-a-kind.
This three-story home has a raised deck where you can sit and take in the breathtaking views of the Wasatch Mountains while enjoying your favorite beverage. It's hidden away in a quiet neighborhood among hiking and mountain biking trails. This home has everything you'll need to enjoy your time in Utah.
You'll also enjoy cooking in the stunning modern kitchen, which features enormous skylights that flood the space with natural light. The mountain views from the living room are breathtaking. It's designed for the luxurious ski or mountain enthusiast, and it's flooded with natural light from enormous picture windows and skylights.
The breathtaking scenery and mountain views will captivate you. This home's location puts you on the slopes in minutes! It provides everything you'll need to make the most of your time in Utah's mountains.
The holiday home is 20 kilometers from Salt Lake City and 26 kilometers from Park City. Treehouse at Little Cottonwood in Salt Lake with Indoor Hot Tub is 26 kilometers from Salt Lake City International Airport.
Tree House
Tree House is located near Brian Head, a 7-kilometer drive from Cedar Breaks National Monument.
TV, a private balcony, a trouser press, and a kitchen are all included in the rooms. A pillow-top mattress and linens are provided in each bedroom, and the kitchen includes a dishwasher, refrigerator, and oven. A bathroom comes with terry bathrobes, bath sheets, and towels, as well as showers and a bathtub. There is a private bathroom, as well as a dining space and kitchen. A fitness center is also available at Tree House.
Tree House apartment is 14 miles from Cedar City Aquatic Center and has a swimming pool. Two bedrooms are available for guests. Free Wi-Fi is available throughout the venue, and on-site parking is also free.
The accommodation is located 0.5 miles from Brian Head's downtown area, which also has Apple Annie's Country Store. The flat is about a 10-minute walk from the Summer Chairlift. Within a 10-minute walk of the property, guests will find a pizzeria. Brian Head Resort is only a few miles away. The Cedar City Regional Airport is a 30-minute drive from the venue.
Recent Posts