April in Yellowstone: Are you thinking of visiting Yellowstone National Park in April? Yellowstone in April is a great time to visit and there are far fewer crowds. Should you visit Yellowstone in April? Absolutely.
Is April a good time to visit Yellowstone?
If you visit Yellowstone in April you will be there during the off season. April is one of the best months to visit Yellowstone as there are far fewer crowds (only 48,000 people visit Yellowstone in April) and even though it is cold in the mornings it is still sunny. Plus you will see the wildlife start being more active during the day.
The bison are calving in the Lamar Valley and the park is full of wildlife including the bears waking up from hibernation.
Important Road Openings: Please note that the North Entrance in Gardiner is the only road open until April 20, 2023
From April 20th, the following roads open:
West Yellowstone entrance to vehicles
Mammoth Hot Springs to Old Faithful
Norris Geyser Basin to Canyon
Thank you for supporting this website written by an American. This post may contain affiliate links. This means I earn a small commission on these links at no extra cost to you.
National Park Entrance Fees
To enter the National Parks, you'll need to pay an entrance fee or have a National Parks Pass also known as American the Beautiful Pass.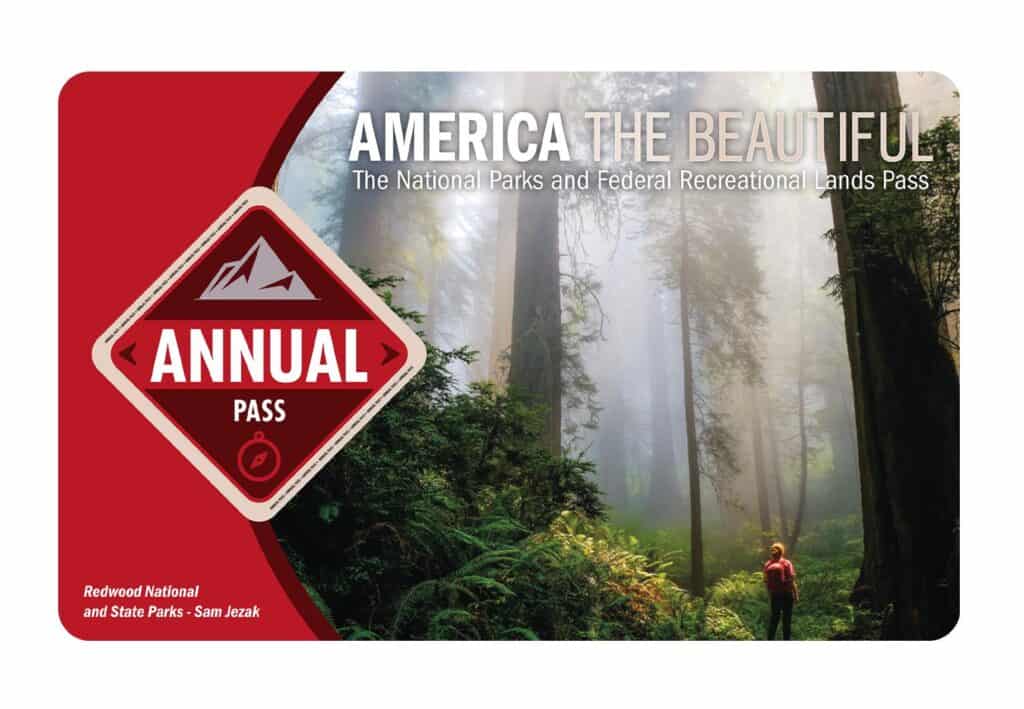 It costs $80 for a yearly America the Beautiful Pass. This gives you access to all national parks and federal areas that charge fees. The America the Beautiful Pass is well worth it!
I purchased my first one in 2016 and it's such a money-saver! Plus 10% of sale proceeds go to the National Park Foundation.
Tips for Visiting Grand Teton National Park
Grand Canyon National Park is perfect for outdoor enthusiasts. There is something for everyone on this list and for different fitness levels. Also, note that it is dry and hot (in the summer), and make sure you know what you are getting into before you start. Here are a few tips for visiting the Grand Canyon:
Bring a reusable water bottle and lots of water! Remember you are in the sun and you will need to drink lots of water. I love my LifeStraw Filtered Water Bottle. I can refill this bottle anywhere and it comes with a carabiner to connect it to my daypack.
Check the Weather – days over 100 degrees are very common. Make sure to check.
Hiking boots or sandals that will protect your feet! I love good shoes. I need all the support and help I can get. I actually love these sandals for hiking and also love these hiking boots.
Bring hiking poles for balance and to protect your knees. I know many experienced hikers (and even amateur ones) think that hiking poles are for old people who lose their balance. Actually, hiking poles can help when going down steep inclines or when scrambling over rocks. They are great to hike with even for the most experienced hiker.
Wear a sunhat. I feel like this whole post is about how high you are in the mountains and how much closer you are to the sun but it is so true. At elevation, you are closer to the sun and more likely to burn. Wear sun protection such as a sun hat and sunscreen.
Be aware of the wildlife. This is the Southwest and you will need to watch out for snakes and other wildlife such as moose or a bear. Please stay away from wildlife and do not feed them. I recommend carrying bear spray as well.
Start Early – If you want to avoid the traffic and the heat you will need to start your hike early. That way it will be nice and cool and the smog will not affect you either.
Leave no trace. If you are new to the concept of Leave No Trace it is all about preserving the environment to ensure it is in the same or better condition when you leave it. This means that you should stick to the trails and carry out everything that you carried in. This is a great explanation of the Leave No Trace principles!
Water shoes are great for water hikes– If you don't have a pair, I highly suggest it as they are affordable. I have an article on the pros and cons of several pairs of water shoes.
Bring Bug Spray and a snack: Be sure to bring everything you need including a snack like a protein bar plus BUG SPRAY.
Where to stay near Grand Canyon National Park
The Grand Canyon makes for a great weekend escape. Fresh air, beautiful scenery and being in nature does a world of good for the soul. I recommend staying as close to the park as possible and even treating yourself with a cabin with a spa pool to relax at night.
If you are taking a road trip remember to reserve a car in advance using Discover Cars .
Visiting Yellowstone National Park in April
Yellowstone National Park is especially beautiful in April. The main reason to visit in April is to see the wildlife. In Lamar Valley, bison are calving and black bears can be spotted emerging from their dens.
Another benefit of going in April is the lack of crowds. The weather is pleasant during the day, giving you hope for summer, but the park is rather empty, allowing you to enjoy it without being crowded. In addition, several routes reopen in the middle of the month, allowing you to visit portions of the park that were closed throughout the winter.
Many of the lower-elevation trails are open as the park finally opens in the middle of April. April is also an excellent month to go trekking or backpacking because the weather is mild during the day and cool at night. Because the trails at higher elevations are likely still covered in snow, a long backpacking trip is not possible.
This is also a fantastic time of year to go nature watching. High concentrations collect in the meadows and valleys as the higher elevations get cooler and snowier.
Weather in Yellowstone in April
The weather at Yellowstone can be unpredictable, but if you time it right, you'll be able to see the park awaken from its winter hibernation without fighting crowds.
April's weather might still be fickle, but it's normally milder than March's. Snow begins to melt quickly, causing waterfalls to reach their full potential.
Expect temps to range from the single digits to the low 60s, so bring plenty of layers. 
15 Things to do in Yellowstone in April
Self-Driving Audio Guided Tour
While driving around in the car you can listen to the history of Yellowstone. With this all-in-one tour, audio guide, and map, you'll get the most out of Yellowstone.
Discover the towering geysers, prismatic hot springs, and incredible wildlife that have captured the American imagination at your own pace.
With your audio guide, make your way around the Grand Loop. Along the way, marvel at wonderful areas of interest and hear the interesting stories and history of this fascinating location, as well as additional text and video to bring each stop to life.
Learn how to get up and personal with legendary geysers like Old Faithful and also watch hot water jets emerging from the soil and learn about the geological science behind them.
You can also visit Grand Prismatic, a boiling hot spring, and see vibrant color bands, bubbling paint pots like Fountain, and glistening waterfalls like Gibbon Falls.
Allow your expert audio guide to accompany you as you explore the wildlife and natural wonders of this magnificent location. This audio tour is the best way to learn more about Yellowstone.
Madison Junction
Madison Junction, located south of Mammoth Hot Springs, is well recognized for being the birth of Yellowstone National Park.
The small log cabin visitor center and museum, located at the junction of the Firehole and Gibbon Rivers on the Madison Plateau, are lovely reminders of Yellowstone's humble beginnings.
During the Washburn, Doane, and Langford survey of the Yellowstone area in 1870, the notion of a national park "for the people's benefit" was reportedly conceived around a campfire here.
The Madison River, formed by the junction is a trophy fishing stream in Yellowstone's Madison Junction area. The renowned Madison campground is also located near the river and offers excellent animal viewing opportunities. You can look for grazing bison and elk.
In addition, natural wonders abound in this area. Fountain Paint Pot, located south of Madison Junction at the end of Fire Hole Lake Drive, is a magnificent expanse of geysers, multi-colored mud pots, and hot springs. Gibbon Falls and Firehole Cascades provide panoramic views of the park's most famous waterfalls.
Grand Prismatic Spring
The brilliant Grand Prismatic Spring is one of the must-see attractions in Yellowstone. It is not only the United States' largest hot spring but also one of the world's most unique natural wonders.
No matter how many photographs you've seen of the Grand Prismatic, it's only when you're standing there that you appreciate how big it is. It's the size of a football field and the depth of a ten-story structure.
The breathtakingly magnificent photographs of the Grand Prismatic Spring taken straight from above that you see in so many travel books and TV specials are likely to have inspired your vacation to Yellowstone.
The Grand Prismatic hot spring obtains its multi-color layers from several species of heat-loving bacteria that thrive around it, in case you're wondering. The deep center, then, is blue. Green and yellow colors predominate, with plenty of orange on the cooler outskirts.
Steam can cover the spring on cooler days, but also early in the mornings and late in the evenings, making it difficult to see how vibrant it truly is. If you visit on a cloudy day, the colors will be duller.
Seeing this Grand Prismatic is a must, regardless of the weather or conditions, and is one of the top things to do in Yellowstone!
Lower Falls
Lower Falls, Yellowstone's largest and most famous cascade, is the park's most well-known feature. The trail to the top of the Falls (3/4-mile roundtrip, steep with several switchbacks) is a must, since standing atop the Falls is one of the most breath-taking experiences in the park.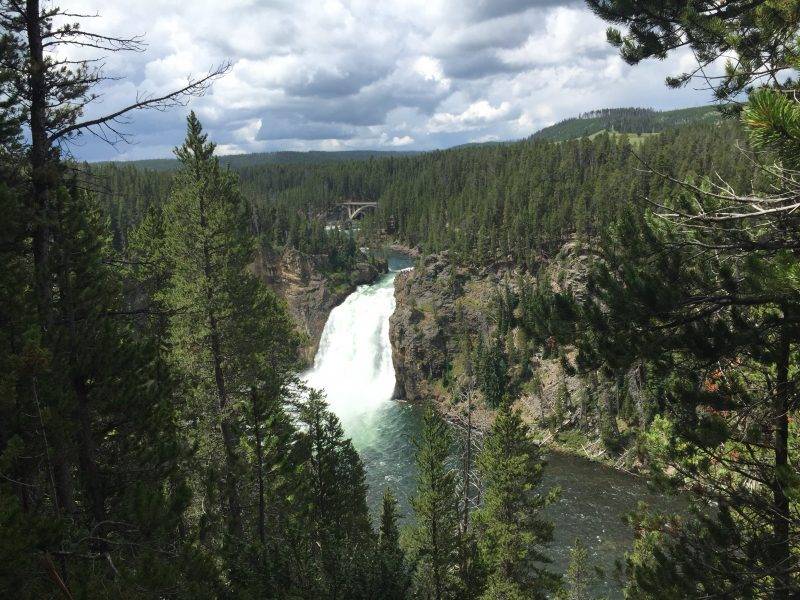 The colors of the canyon were formed by the action of hot water on volcanic rock. The Minnetaree Indians named the river after the river's yellow banks at its distant confluence with the Missouri River, which French trappers translated as Roche Jaune, yellow stone. More than once, the canyon has been swiftly down cut, possibly by large glacial outburst floods.
The staircase bottoms out around 0.3 miles, bringing you face to face with Lower Yellowstone Falls. Hence, the violent spectacle fascinates and sometimes overwhelms from this close vantage point. A rainbow also persists in the mist near the base of the falls.
Keep in mind that you will most likely not be alone when you descend the staircase. It can be nerve-wracking to share a metal stairway on a cliffside with dozens of other climbers, so be patient and be kind to make the experience as enjoyable as possible for yourself and those around you.
Mammoth Hot Springs
Mammoth Hot Springs is a vast set of hot springs on a travertine hill near Fort Yellowstone and the Mammoth Hot Springs Historic District in Yellowstone National Park.
It took thousands of years to form as the spring's hot water cooled and deposited calcium carbonate (over two tons flow into Mammoth each day in a solution).
Travertine thrives due to the abundance of geothermal vents. Even though these springs are located outside of the caldera, their energy is linked to the same magmatic system that powers other Yellowstone geothermal areas.
The Mammoth section is conveniently positioned near the park's north gate. They are located very far from other Yellowstone sites such as Old Faithful or the Lake Hotel, but they are well worth the drive when visiting Yellowstone.
Mammoth Hot Springs has a lot to offer: the terraces are beautiful, and Mammoth is a one-of-a-kind town.
Old Faithful Geyser
Another must-see in Yellowstone is Old Faithful Geyser, one of the park's most famous features. Old Faithful was the first geyser to be named, and it is the most well-known and predictable of the over 500 geysers in Yellowstone.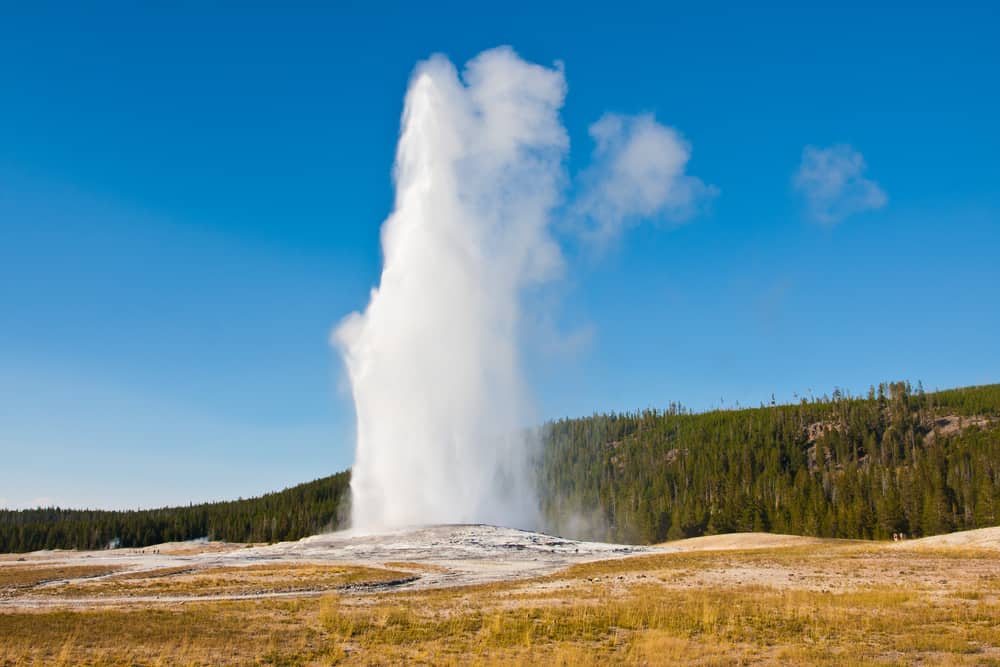 The Washburn-Langford-Doane Expedition of 1870, which also resulted in the formation of Yellowstone National Park in 1872, gave it its name.
Although it is not the largest or most consistent geyser in Yellowstone National Park, Old Faithful erupts more frequently than any of the other big geysers. This consistency is thought to be attributable in part to the lack of known connections with other hydrothermal structures in the area.
The geyser is still as trustworthy today as it was 150 years ago. It explodes in roughly 90-minute intervals and is thus one of the geysers that may be seen in action.
It will take 10-15 minutes longer than expected to explode, so be patient. The good news is that the eruption usually lasts long enough for you to appreciate the geyser and capture numerous photographs.
From the Old Faithful viewing area or the boardwalks that weave around the geyser and across the Upper Geyser Basin, you can watch the eruptions.
Grand Canyon of Yellowstone
Inside Yellowstone National Park, the Grand Canyon of the Yellowstone is the most stunning sight. The canyon is 20 miles long and up to 4,000 feet wide and 1,200 feet deep in places.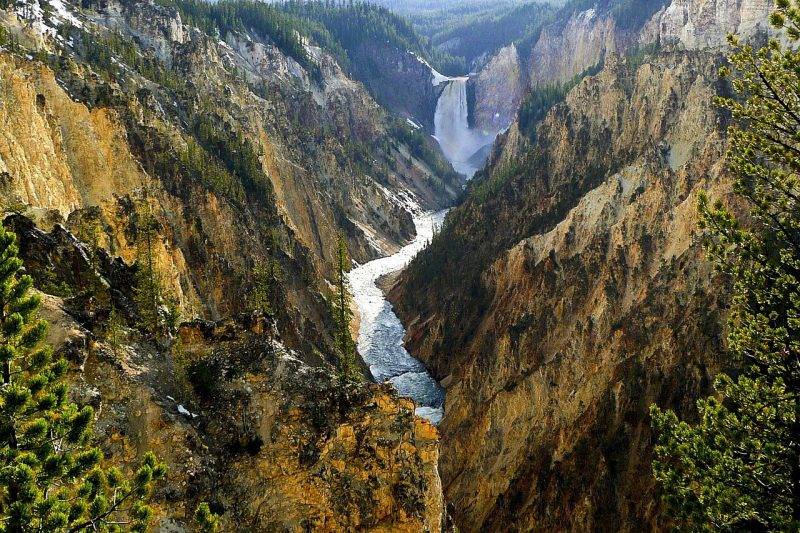 It may be found on the park's eastern edge. Lower Falls, which fall 308 feet down the canyon, and Upper Falls, which tumble 109 feet, can both be seen from many vantage points.
The canyon was formed by rhyolite lava flows, heat, and faulting in a former geyser basin. Hydrothermal changes arose from chemical and heat activity, which can now be seen in the form of active geysers and hot springs.
Melting ice dams at the mouth of Yellowstone Lake are thought to have caused catastrophic flooding and erosion towards the end of the last glacial period, resulting in the construction of the canyon as it exists today.
Visitors to Yellowstone's 1,000-foot-deep Grand Canyon are rewarded with breathtaking views of multi-hued rock walls and majestic waterfalls. It's possible to spend a whole day in this unique area of the park, with walking and hiking trails for all abilities and learning opportunities for the whole family.
The canyon's colorful walls are a natural piece of art, with streaks of red, orange, gold, black, and even green. Several miles of trails connect ten main overlooks, which provide spectacular views from both sides of the canyon.
View the canyon from a variety of vantage points and at various times of the day. Several trails and walkways make their way along the rims and down into the canyon. This spot is a must-see whether you're visiting Yellowstone for the first time or are a frequent visitor.
Lamar Valley
Wildlife viewing is one of the best things to do in Yellowstone, and Lamar Valley is one of the best areas to see bison and other wildlife.
Despite this, most tourists overlook it due to its remote location. If you make the effort to drive there, though, you will be rewarded with breathtaking scenery as well as plenty of wildlife.
Wild bison like Lamar Valley, and you'll likely see hundreds, if not thousands, of them grazing freely throughout the vast plains of the Serengeti of North America. You might also see elk, deer, bears, coyotes, and possibly wolves if you're lucky.
Drive through the Lamar Valley and to Yellowstone's Northeast Entrance if you have the time. The African-looking savanna gives way to a beautiful mountain landscape as you drive further. What an awe-inspiring scenery!
Wraith Falls Trail
Wraith Falls is a 1.4-kilometer out-and-back walk with a cascade near Yellowstone National Park that is suitable for hikers of all levels.
This short climb is suitable for most people, however strollers and wheelchairs are not allowed. There is a small turnout, and the out-and-back route sees several visitors because the hike is just approximately 0.5 miles one-way.
The trail begins by traveling south, with a few areas where a boardwalk has been installed, presumably to keep your feet dry. Squirrels and chipmunks hide beneath the boardwalks, so be quiet and keep an eye out.
Undine Falls
Undine Falls is a spectacular waterfall in Yellowstone National Park, located just east of Mammoth Hot Springs.
Although the falls may be seen from the road, the 8.85-mile round-trip climbs up Lava Creek Trail is a great opportunity to see not only the falls but also the picturesque Gardner River and Lava Creek canyons.
Gardner Canyon is the starting point for the hike. The trail proceeds east through tall sagebrush after crossing a suspension bridge over Lava Creek.
The trail follows the contours of Mount Everts. Mount Everts was once a valley's basin, but the Gardiner River's rapid raising and erosion sculpted the spectacular mountain you see today.
The many layers of ridge tuff, shale, and sea bed sediments offer a stunning visual representation of Yellowstone's extensive geologic past. Wildflowers frequently blanket the creek's floodplain, providing pleasant options for a Creekside picnic or a refreshing bath. If you come across any of these animals on the trails, remember to give them plenty of space.
Lava Creek flows in three steps for roughly 65 feet over Undine Falls. Because of the increased flow in the spring due to snowmelt, Undine Falls is a popular destination for early season visitors.
Midway Geyser Basin
A small group of mammoth-sized springs can be found in the Midway Geyser Basin. Midway is part of the Lower Geyser Basin, although it was given the name Midway because of its solitary location between the main features of the Lower and Upper geyser basins.
When Rudyard Kipling visited Yellowstone in 1889, he coined the phrase "Hell's Half Acre" to describe this area. It is still remembered by that name today. Despite its small size, Midway is home to two of the world's largest hot springs.
The almost 370-foot-diameter Grand Prismatic Spring lies on a massive mound encircled by small step-like terraces. Before the 1900s, the other feature, Excelsior Geyser, erupted approximately 300 feet high. It is now a dormant geyser that emits more than 4050 gallons of boiling water per minute and is classified as a hot spring.
Turquoise and Indigo springs, with their pale and dark blue colors, are two other gorgeous springs. Many small isolated, pristine springs and mud pots are across the Firehole River near Excelsior and Grand Prismatic springs.
The Rabbit Creek drainage has a variety of interesting and colorful features, the majority of which are unnamed. Since the ground is uneven and the pathways are not maintained, caution should be observed while visiting this area.
Tower Junction
Tower Junction is a good starting place for exploring Yellowstone National Park's northeastern area. It feels remarkably similar to the Wyoming that Theodore Roosevelt encountered when he camped here in 1903. Discover rustic cabins, beautiful waterfalls, and a diverse range of species.
The log cabins, which date back to 1920, are a great place to unwind. As you sit in a rocking chair on the front porch, the tranquility of the forest surrounds you. Take a stagecoach ride or a horseback trail ride. In addition, you can lunch at Roosevelt Lodge or participate in the popular Old West Dinner Cookout.
Furthermore, you may see Tower Fall, one of Yellowstone's most famous natural features. The falls have a stunning 132-foot (40-meter) descent and are flanked to the north by unique granite columns. Drive 2.2 miles (3.7 kilometers) south of Tower Junction to witness Tower Fall.
Keep an eye out for bighorn sheep, bison, peregrine falcons, osprey, and other animals as you explore Tower Junction and the surrounding area. In the area, black bears are more common than grizzlies; however, for safe observation of any of the region's wildlife, follow park guidelines.
To get to the trailhead, drive 5 miles southeast on Grand Loop Road from Mammoth Hot Springs in Yellowstone National Park's northwest corner. Wraith Falls has a turnout on the south side of the road, just under a mile past the Undine Falls turnout (on the north side of the road).
Lost Creek Falls
This is one of Yellowstone's most remote waterfalls, with plenty of wildlife and wildflowers to view. This one-mile hike begins behind the Roosevelt Lodge area. In addition, there is ample parking in the vicinity.
The trail to Lost Falls starts just in front of the lodge. Head upward past some old telephone booths and around the north side of the resort to a trail sign.
The falls can be heard and seen about a half-mile into the trail. The route pretty well disappears at this point, and if you want to get to the base of the falls, you'll have to climb over a few rocks and cross the creek a few times.
The trail is easy to follow, with a few rocks and tree branches to contend with, but nothing too hard. The walk is a steady ascent, but you won't notice because it's so short. The trail will come to an end soon, and Lost Falls will be in front of you.
When you only have 30 minutes, Lost Falls in Yellowstone is the perfect little hike. This trail can be combined with Lost Lake, which starts in the same location. When you arrive at the falls, take some time to relax and appreciate the tranquility of the setting and the sound of flowing water.
Firehole Canyon Drive
Firehole Canyon Drive is notable because it leads to one of just two places in Yellowstone National Park where you can swim safely.
Firehole Canyon Drive is about 15 miles east of the West Yellowstone Entrance. The road follows the Firehole River for a particularly picturesque length. Unlike other parts of the park, the river here flows through a lovely gorge filled with magnificent trees, providing plenty of photo opportunities.
Check out the roaring 40-foot Firehole Falls waterfall while you're here. This waterfall is unique in that, unlike some of the other waterfalls in the park that require a hike, you can park your car and walk to the falls.
A small beach leads into the sea at the Firehole Swimming Area. This swimming area's beach and underwater terrain are both extremely rocky, so bring some type of foot protection like water shoes or aqua socks. Even if you don't intend to swim, a trip along Firehole Canyon Drive is well worth your time, especially given how short it is (the drive is 2 miles one way).
Parking lots can be found all along the route. It's also worth noting that there are no facilities, including bathrooms, available here.
Gibbon Falls
Take a little stop on your way between Norris Geyser Basin and Madison Junction to see Gibbon Falls. The falls, which are located on the Gibbon River, drop 84 feet in a slow descent.
For a wonderful view, park in the designated location near the top of the falls, but be prepared to wait your turn because the viewing area is often crowded.
This segmented cascade runs at the rim of the 600,000-year-old Yellowstone Caldera. This waterfall is easily accessible from one of Yellowstone's main thoroughfares, making it a popular tourist destination. Not only do increase in the population at the overlook, but Clark's Nutcrackers, Ravens, and banded ground squirrels beckon for food (which should not be given).
The cascade is quite large, and a band of rock in the middle splits it in two. The Gibbon River hits a ledge on the right side and shoots water into the air, creating a rooster tail effect. With its distinctive trapezoidal shape and brush-like texture, this will be one of the park's more stunning waterfalls.
Norris Geyser Basin
The Norris Geyser Basin is Yellowstone's hottest, oldest, and most dynamic thermal area. In a scientific drill hole in Norris, the highest temperature ever recorded in any geothermal place in Yellowstone was 459°F (237°C), just 1,087 feet below the surface! At Norris, there are very few thermal characteristics below the boiling point.
Norris is known for more than just its temperatures. The hues are also stunning, thanks to a mix of minerals and biological forms. Because of the high silica content dissolved in the hot water, the area has more milky blue features than other geothermal areas. The more orange-colored patches are due to cyanobacteria. Other parts of Norris, those with natural springs, tend to be emerald green due to the blue of refracted light in combination with the yellow sulfur lining the pool.
The easiest way to get a great view of these sights is to walk down one of the area's many boardwalks. However, do not leave the boardwalk. Norris is continually shifting and has hollow areas with only a thin layer of rock covering them. Boiling, bacteria-infested water lies behind that layer of rock.
Recent Posts