Tips for Yellowstone National Park in August 
Yellowstone National Park is best visited in August. The weather is pleasant, the wildlife is abundant, and there is plenty to do here.
Visiting Yellowstone in August has a lot of advantages. The most significant advantage of visiting Yellowstone in August is the ease with which the trails can be accessed.
Because there are so many places to hike this time of year, it's the perfect time to put on your hiking boots and hit the trail. Since the snow has melted, you'll have access to nearly 1,000 miles of trail.
Hiking and backpacking are two of the most popular activities in August. The park has nearly 1,000 miles of trails, so your possibilities appear to be limitless.
Yellowstone Weather in August
Daytime temperatures in early August will range from 68 to 80 degrees Fahrenheit (20 to 27 degrees Celsius). However, you should also be prepared for colder temperatures. Even though it doesn't rain often, afternoon storms might blow up out of nowhere, so bring a rain jacket! Fortunately, these storms normally last only a few minutes.
Temperatures often drop by 5-6 degrees in late August. Highs in the 70°F (20°C) range are still possible during the day, while lows dip to around 40°F (5°C) at night.
Thank you for supporting this website written by an American. This post may contain affiliate links. This means I earn a small commission on these links at no extra cost to you.
National Park Entrance Fees
To enter the National Parks, you'll need to pay an entrance fee or have a National Parks Pass also known as American the Beautiful Pass.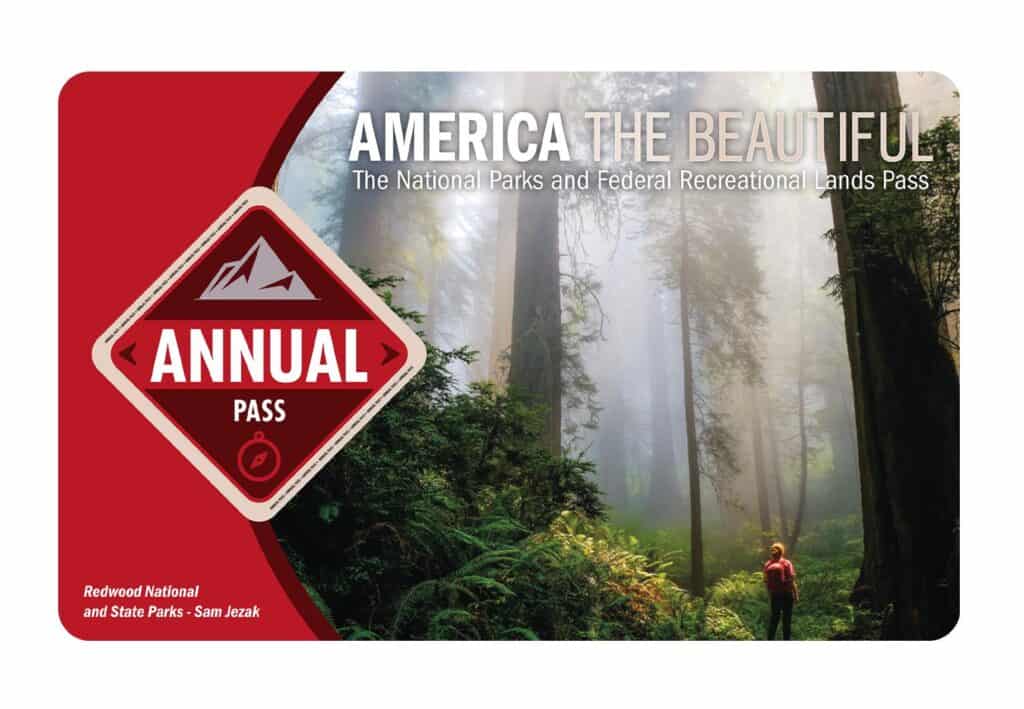 It costs $80 for a yearly America the Beautiful Pass. This gives you access to all national parks and federal areas that charge fees. The America the Beautiful Pass is well worth it!
I purchased my first one in 2016 and it's such a money-saver! Plus 10% of sale proceeds go to the National Park Foundation.
Things to do in Yellowstone in August
Grand Prismatic Spring
The beautiful Grand Prismatic Spring is one of Yellowstone's must-see attractions. It is not only the United States' largest hot spring but also one of the world's most unique natural wonders.
Rainbow-like colors start in the middle and extend out to the spring's perimeter at the Grand Prismatic Spring. Blue predominates in the center, where it is the warmest, but it gradually transforms to green, yellow, and finally orange as you approach the hot spring's edges.
On milder days, steam can obscure the spring, but it can also cover it early in the mornings and late in the evenings, making it impossible to notice how brilliant it is. The hues will be duller if you visit on a cloudy day.
It's only when you're standing there that you realize how vast the Grand Prismatic is, no matter how many photos you've seen of it. It's the length of a football field and as tall as a ten-story building. Your journey to Yellowstone is likely to have been inspired by the breathtakingly beautiful photos of the Grand Prismatic Spring taken from above that you see in so many travel books and TV specials.
Old Faithful Geyser
One of Yellowstone's most iconic features, Old Faithful Geyser, is also a must-see. Old Faithful was the first geyser to be named, and it is the most famous and predictable of Yellowstone's roughly 500 geysers.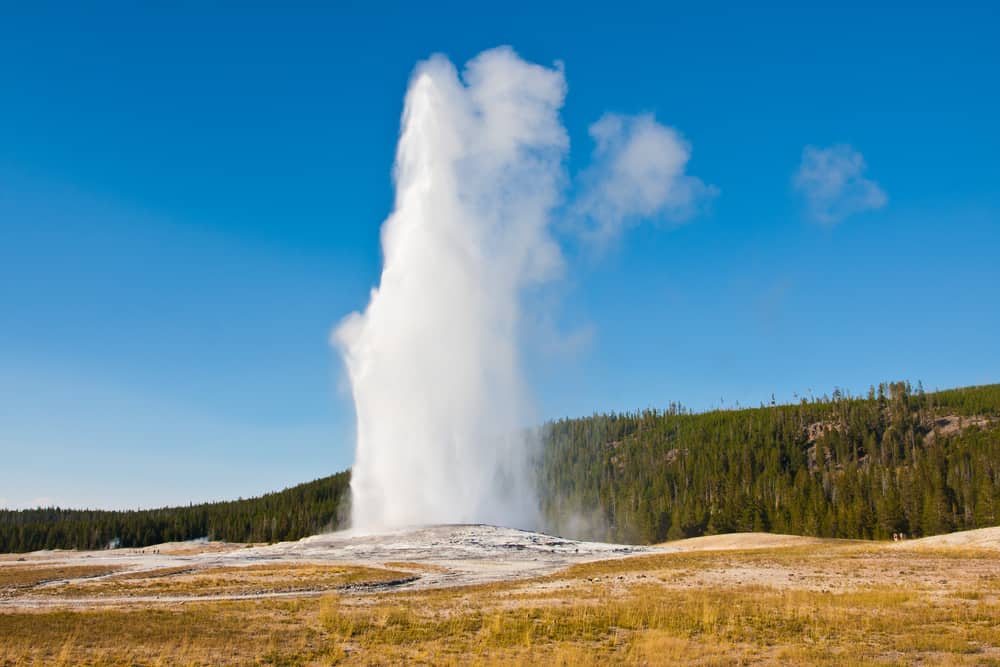 Old Faithful is particularly popular due to its frequent, predictable eruption schedule and easy accessibility. To view the geyser explode, all you have to do is walk a few hundred yards from the parking lot! An average Old Faithful eruption lasts 1.5 to 5 minutes, ejecting up to 8,000 gallons of boiling water up to 100 feet into the air.
There isn't much pressure to build up underground due to the short time between eruptions. As a result, Old Faithful isn't even close to being among the highest geysers on the planet. It is one of Yellowstone's most impressive regular geysers.
The geyser continues to be as reliable today as it was 150 years ago. It erupts every 90 minutes or so, making it one of the geysers that may be viewed in motion. Be patient; the explosion will take 10-15 minutes longer than predicted. The good news is that the eruption usually lasts long enough for you to enjoy the geyser and take a lot of pictures.
Upper Geyser Basin and Morning Glory Pool
Around 25% of the world's geysers are found in the Upper Geyser Basin, which is home to the Old Faithful geyser. This is a lovely area with various walking paths that pass by numerous geysers and thermal features.
Make sure you spend some time outside of Old Faithful exploring the Upper Geyser Basin. While the crowds near Old Faithful are generally large, the rest of this area is more peaceful. The Upper Geyser Basin is unquestionably one of Yellowstone's most spectacular sights!
You may walk to the Morning Glory Pool from the Upper Geyser Basin. The Upper Geyser Basin Loop is approximately 4.5 kilometers long (7.2 km). It is accessible to wheelchairs and strollers. You are not required to travel the entire trail and may choose to walk certain parts of it. Morning Glory Pool, the farthest point, is about 1.5 miles from Old Faithful.
Mount Washburn
One of the best things to do in Yellowstone is a hike to the top of Mount Washburn. The views from the top are spectacular, and if you're lucky, you might see some bighorn sheep or perhaps bears (be sure to have bear spray if hiking in Yellowstone's more remote sections!). Visiting Mount Washburn necessitates a tough climb of around 2-3 hours one way, so it is not for the faint of heart.
If you're ready for the challenge, two trails lead to the top. At the Dunraven Pass, the major hiking trail begins. It's roughly 3,2 miles (5,2 km) one way and has nicer vistas throughout, but it's also more arduous. The Chittenden Road Trail, which follows a large service road to the peak of Mount Washburn, is the second alternative. It's 2,5 miles (4 kilometers) one way and easier to hike, but the views aren't as spectacular.
Bring plenty of water and a picnic lunch. Make sure you bring a jacket with you because it can get very windy and cold up top. Arrive early since parking at both trailheads is limited.
Tower Fall
Only a few cascades, such as the Lower Falls in the Grand Canyon of the Yellowstone and Fairy Falls, are taller than Tower Fall in Yellowstone National Park. The 132-foot waterfall cascades into a lake through a small spire-filled canyon.
The walk to the bottom of the waterfall is no longer possible owing to erosion, however, the Tower Fall Overlook offers spectacular views of the cascade. From this vantage point, the view of the waterfall is breathtaking.
The Tower Fall parking lot is only a short distance from the viewpoint, making it an accessible sight from the Grand Loop Road.
Grizzly and Wolf Discovery Center
The Grizzly and Wolf Discovery Center is a great opportunity to watch grizzly bears and wolves in a secure setting. Some creatures are from Yellowstone National Park, while others are from as far away as Alaska. All of the animals that reside here would survive in the wild. This center gives individuals a second chance while also giving Yellowstone visitors an educational experience.
The Center is home to seven bears, five wolves, some birds of prey, and a Karelian bear dog. The creatures are seen throughout the year. At the Centre, the bears do not hibernate.
Tickets are valid for two consecutive days of admission. So, if you're staying in West Yellowstone, you'll be able to visit twice.
The Grizzly and Wolf Discovery Center is located just outside the park's West Entrance in West Yellowstone. It is open every day of the year.
Lamar Valley
One of the best things to do in Yellowstone is going wildlife viewing, and Lamar Valley is one of the best places to see bison and other wildlife. Despite this, due to its secluded location, most tourists overlook it. You will be rewarded with a stunning landscape as well as plenty of wildlife if you make the effort to drive there.
You'll likely witness hundreds, if not thousands, of wild bison grazing freely throughout the immense plains of the Serengeti of North America. You may see elk, deer, bears, coyotes, and, if you're lucky, wolves.
Fishing in the Lamar River is another popular pastime in Lamar Valley. A fishing license is required if you wish to do more than just observe the wildlife. Yellowstone National Park has an admission fee as well.
Join a local guide to observe bears, wolves, bison, pronghorn, and other wildlife. You can also relax in a spacious vehicle with plenty of windows and take in the sights of Lamar Balley's fauna.
Grand Canyon of Yellowstone
On this guided hike with a naturalist guide, see Yellowstone's most famous waterfalls, the Upper and Lower Falls. As you witness thermals, lakes, and valleys, you'll get a sense of Yellowstone's incredible natural beauty. Hike around the rim of a stunning canyon on less-traveled pathways for a very unique natural experience.
The Grand Canyon of the Yellowstone is the most spectacular sight within Yellowstone National Park. The canyon stretches for 20 miles and is up to 4,000 feet broad and 1,200 feet deep in some spots. It's on the park's eastern borders. Lower Falls, which plunge 308 feet down the canyon, and Upper Falls, which plunge 109 feet, may both be seen from a variety of vantage points.
The 1,000-foot-deep Grand Canyon in Yellowstone rewards visitors with spectacular views of multi-hued granite walls and majestic waterfalls. With walking and hiking trails for all abilities and learning opportunities for the whole family, it's easy to spend a whole day in this unique area of the park.
View the canyon from various vantage points and at different times of the day. Along the rims and down into the canyon, there are several trails and walkways. Whether you're visiting Yellowstone for the first time or are a frequent visitor, this is a must-see.
Hayden Valley
Hayden Valley is a popular wildlife viewing area in Yellowstone. On the park's eastern edge, this valley stretches from Canyon Village to Mud Volcano. The best likelihood of seeing bison and elk is in Hayden Valley. There's also the possibility of seeing bears and bald eagles.
While the Hayden Valley drive-through is just around 7 miles long, it is recommended that you spend at least 2 hours here to maximize your chances of spotting wildlife.
The 'Golden Hour,' or the time just after sunrise or before sunset, is the best time to see animals, according to photographers. A journey to Hayden Valley is a perfect way to start or end your Yellowstone adventure if you're staying in Canyon Village.
The best way to watch wildlife in Hayden Valley is to find a location to pull over and wait. Pack a camping chair and stakeout because you won't always see wildlife right away. The majority of the wildlife will be a long way away. The best tools for taking a close look are binoculars or a spotting scope.
West Thumb Geyser Basin
West Thumb Geyser Basin, near the beaches of Yellowstone Lake, is one of Yellowstone National Park's most picturesque areas. Various gorgeous ponds can be found along the boardwalk that rims the area. When you go down to the lakeshore, look for the geyser cones that stick out of the water!
The 0.5-mile boardwalk promenade stretches alongside Yellowstone Lake's western shore and among the features. The grandest feature of the West Thumb Geyser Basin is the Abyss Pool, a beautiful teal-blue pool over 50 feet deep.
In the early days of the Park, West Thumb has been used as a lunch place because of its proximity to Lake Hotel. Visitors can eat lunch at the lunch station, see the attractions, and then ride around the lake on a stage or a steamer. Later on, West Thumb became more well-known as a rest stop for travelers arriving by car.
The best aspect is that West Thumb is quite uncongested.
Norris Geyser Basin
Yellowstone's hottest area which is the Norris Geyser Basin produces stunning pastel-colored hot pools. Norris Geyser Basin is home to many spectacular geysers and pools, including the world's tallest active geyser, Steamboat Geyser. Rare acidic geysers and vibrant thermophile-filled lakes can also be found.
The Norris Geyser Basin is made up of two neighboring basins: Porcelain Basin and Back Basin. Both are only accessible via the boardwalk trails from the Norris Geyser Basin parking area.
Walking down one of the area's many boardwalks is the easiest way to obtain an excellent glimpse of these sights. Do not, however, leave the boardwalk. Norris is constantly changing, with hollow parts covered only by a thin layer of rock. Behind that layer of rock is boiling, bacteria-infested water.
Yellowstone Grand Loop Road
The Grand Loop is Yellowstone National Park's principal road. One of the best things to do in Yellowstone drives this picturesque route.
When you look at a map of Yellowstone, you'll notice that the main roadways form an 8-shape that connects all of Yellowstone's must-see attractions. Except for the Lamar Valley, you'll pass all of the major Yellowstone sights if you drive the complete scenic loop.
The Grand Loop is around 142 miles (230 kilometers) long and takes anywhere from 4 to 8 hours to complete, depending on traffic.
If you just have one day and are short on time, you can drive the Lower Loop and stop at the major attractions.
Mammoth Hot Springs
Mammoth Hot Springs is a must-see attraction in Yellowstone National Park because they are unlike any other thermal location in the vicinity. 
This is because limestone is a very soft rock, allowing travertine to grow much faster than other sinter formations. It's been compared to a cave that has been completely turned inside out.
Microorganisms called Thermophiles are responsible for the color you see in hot springs, from Mammoth to Grand Prismatic. The terraces are painted in a variety of colors, including orange, brown, purple, and yellow. Waterfalls cascade down the terraces, forming a unique cascading hot spring.
The easiest way to see Mammoth Hot Springs is to take a short walk across the Lower Terraces. Near the park's north gate, the Mammoth part is conveniently located. They're a long way from other Yellowstone attractions like Old Faithful or the Lake Hotel, but they're definitely worth a trip when you're in the park.
Mammoth Hot Springs has a lot to offer, including stunning terraces and a one-of-a-kind town, so you must not cease to visit this!
Old Faithful Inn
Old Faithful Inn, a national historic site, was built in 1903-1904 and is one of Yellowstone's oldest lodges. The interior of the OF Inn is very amazing, as it is considered the world's largest log structure.
It is not necessary to be a hotel guest to explore this remarkable structure. Simply go inside and look around the main building.
You can even attend an organized tour of the lodge if you're interested in the history of this unique accommodation and Yellowstone. Tours are free and run multiple times a day; simply reserve/join a tour when you arrive.
Yellowstone Lake
Another remarkable landscape found in this area is Yellowstone Lake. The massive lake is North America's largest high elevation lake, with more than 110 miles of shoreline.
Your interests will determine how much time you spend here. Stop at the old Lake Hotel and take a drive to Lake Butte Overlook if you're just passing by. There are several picnic places around for a relaxing meal. While Yellowstone Lake's waters are not suitable for swimming, it is an excellent boating spot.
If you have more time at Yellowstone Lake, you can also take a boat ride or rent a boat at Yellowstone National Park Lodges. There are a variety of opportunities, including scenic cruises, private boat rentals, and guided sightseeing and fishing tours.
August is also an excellent month for getting out on the water, whether fishing, boating, or kayaking. The Gardner River, Lamar River, Slough Creek, and Soda Butte Creek are the best places to go fishing. Any fishing in the park requires a permit, which may be acquired at any visitor center or fly store outside of Yellowstone. At Bridge Bay on Yellowstone Lake, you can rent a boat. Grant Village also offers guided kayak cruises on Yellowstone Lake.
Recent Posts