Tips for Visiting Yellowstone National Park in May
Yellowstone National Park is especially beautiful in May. Whether you are visiting Yellowstone in early May or late May, it is one of the best times of year to visit the park.
Is May a good time to visit Yellowstone?
If you visit Yellowstone in May you will be there during the off season. May is one of the best months to visit Yellowstone as there are far fewer crowds and even though it is cold in the mornings it is still sunny. Plus you will see the wildlife start being more active during the day.
In May in Yellowstone, you will see newborn bison and elk calves and blooming wildflowers and the park is bustling with activity. The abundance of wildlife is the best reason to visit Yellowstone in May.
Elk and bison are calving in Mammoth Hot Springs, and bison are calving in Lamar Valley. It's a beautiful time of year to see fresh life in the meadows, surrounded by new life in the form of wildflowers.
Another advantage of visiting in May is that all of the roads are open. You may tour the entire park on your own now that all of the roads are accessible.
During May, all of the park's roads open, providing you access to all of the park's attractions. By the middle to end of the month, lower-elevation hiking paths are clear of snow, giving you a variety of hiking options.
Thank you for supporting this website written by an American. This post may contain affiliate links. This means I earn a small commission on these links at no extra cost to you.
National Park Entrance Fees
To enter the National Parks, you'll need to pay an entrance fee or have a National Parks Pass also known as American the Beautiful Pass.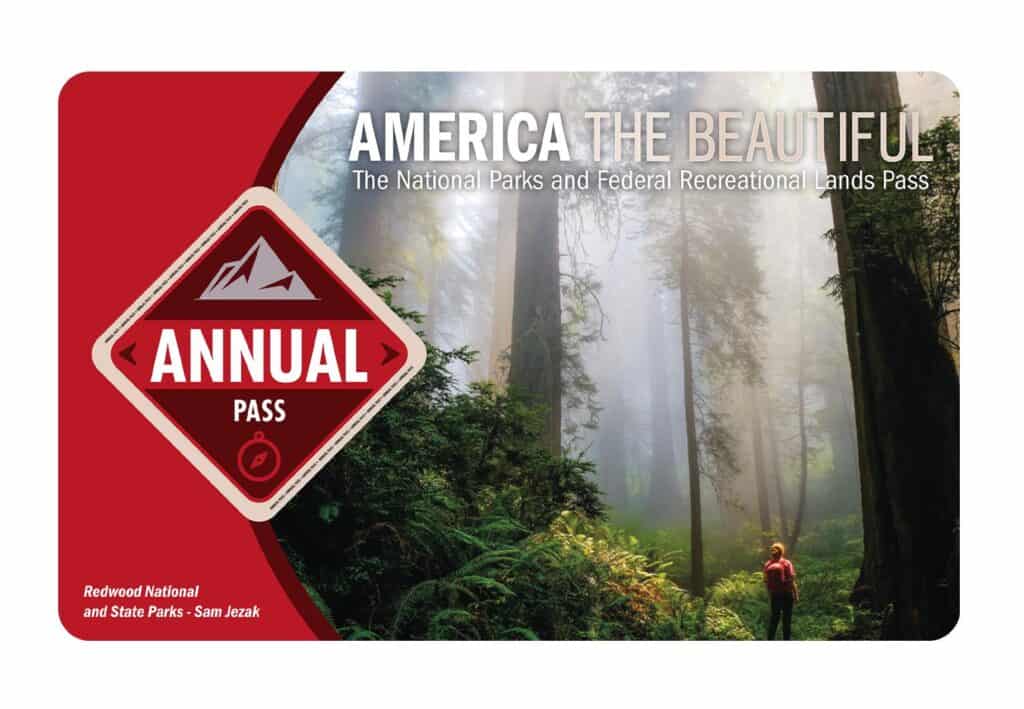 It costs $80 for a yearly America the Beautiful Pass. This gives you access to all national parks and federal areas that charge fees. The America the Beautiful Pass is well worth it!
I purchased my first one in 2016 and it's such a money-saver! Plus 10% of sale proceeds go to the National Park Foundation.
Tips for Visiting Grand Teton National Park
Grand Canyon National Park is perfect for outdoor enthusiasts. There is something for everyone on this list and for different fitness levels. Also, note that it is dry and hot (in the summer), and make sure you know what you are getting into before you start. Here are a few tips for visiting the Grand Canyon:
Bring a reusable water bottle and lots of water! Remember you are in the sun and you will need to drink lots of water. I love my LifeStraw Filtered Water Bottle. I can refill this bottle anywhere and it comes with a carabiner to connect it to my daypack.
Check the Weather – days over 100 degrees are very common. Make sure to check.
Hiking boots or sandals that will protect your feet! I love good shoes. I need all the support and help I can get. I actually love these sandals for hiking and also love these hiking boots.
Bring hiking poles for balance and to protect your knees. I know many experienced hikers (and even amateur ones) think that hiking poles are for old people who lose their balance. Actually, hiking poles can help when going down steep inclines or when scrambling over rocks. They are great to hike with even for the most experienced hiker.
Wear a sunhat. I feel like this whole post is about how high you are in the mountains and how much closer you are to the sun but it is so true. At elevation, you are closer to the sun and more likely to burn. Wear sun protection such as a sun hat and sunscreen.
Be aware of the wildlife. This is the Southwest and you will need to watch out for snakes and other wildlife such as moose or a bear. Please stay away from wildlife and do not feed them. I recommend carrying bear spray as well.
Start Early – If you want to avoid the traffic and the heat you will need to start your hike early. That way it will be nice and cool and the smog will not affect you either.
Leave no trace. If you are new to the concept of Leave No Trace it is all about preserving the environment to ensure it is in the same or better condition when you leave it. This means that you should stick to the trails and carry out everything that you carried in. This is a great explanation of the Leave No Trace principles!
Water shoes are great for water hikes– If you don't have a pair, I highly suggest it as they are affordable. I have an article on the pros and cons of several pairs of water shoes.
Bring Bug Spray and a snack: Be sure to bring everything you need including a snack like a protein bar plus BUG SPRAY.
Where to stay near Grand Canyon National Park
The Grand Canyon makes for a great weekend escape. Fresh air, beautiful scenery and being in nature does a world of good for the soul. I recommend staying as close to the park as possible and even treating yourself with a cabin with a spa pool to relax at night.
If you are taking a road trip remember to reserve a car in advance using Discover Cars .
Yellowstone in May Weather
During May, the weather in Yellowstone gets pleasant and spring-like during the day. Daily averages are around 60 degrees Fahrenheit during the day with a low of 40 degrees Fahrenheit at night.
The average temperature in Yellowstone Lake is 51 degrees Fahrenheit with a low of 27 degrees Fahrenheit. In May, there are an average of 9 days of rain.
15 Things to do in Yellowstone in May
Self-Driving Audio Guided Tour
With this all-in-one tour, audio guide, and map, you'll get the most out of Yellowstone. Explore the towering geysers, prismatic hot springs, and incredible fauna that have captivated the American imagination at your leisure.
With the guidance of your audio guide, make your way around the Grand Loop. Take in the views and learn about the interesting history and legends of this fascinating place along the trip, with additional information and film to help bring each stop to life. At Grand Prismatic, a boiling hot spring, you can also see beautiful color bands, bubbling paint pots like Fountain, and spectacular waterfalls like Gibbon Falls.
Allow your expert audio guide to accompany you as you explore this amazing location's animals and natural delights.
Albright Visitor Center
When it comes to trip planning, the visitor center is the place to go. The Park rangers at the front desk can help you plan your trip, and it's a good idea to check in with them about road or trail conditions, as well as any wildlife activity in the area if you're going on a trail or driving out to the Lamar Valley.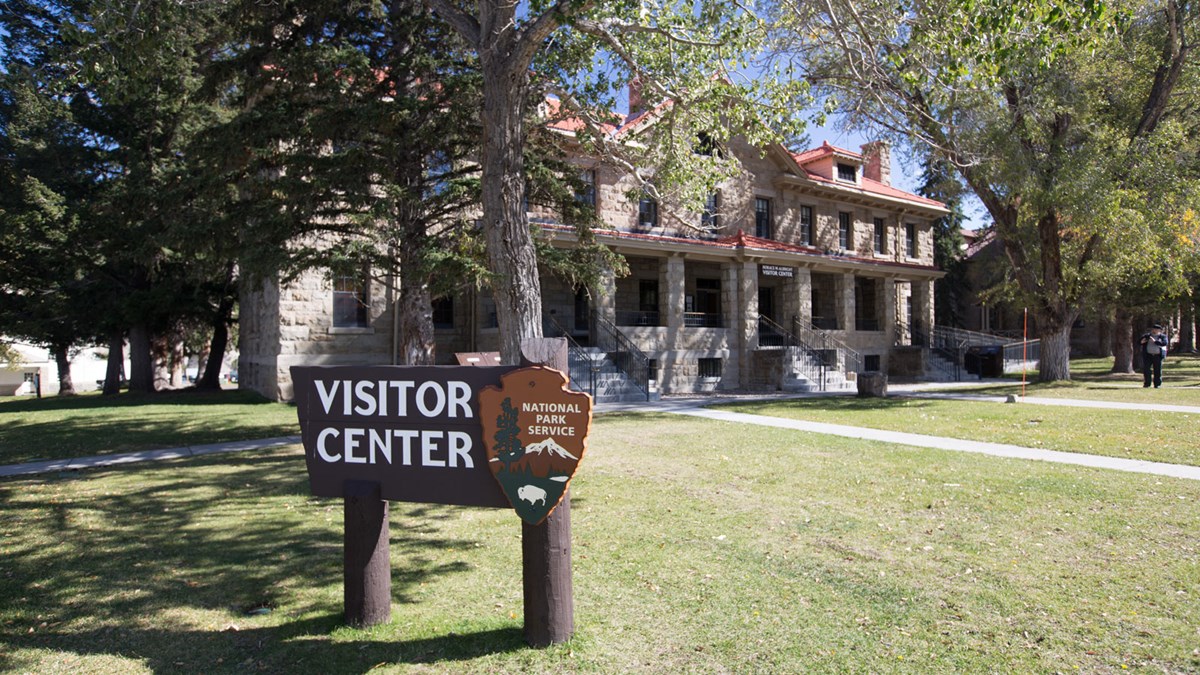 For the Mammoth Terraces or Fort Yellowstone, you can also get a park map or a self-guiding trail book. A Yellowstone Forever Park Store, a backcountry office, and facilities are also located in the visitor center.
Here you can get park information, get directions to other parts of the park (including road conditions and campground and lodge availability), buy souvenirs, learn more about Yellowstone's wildlife and history, get a fishing or backcountry camping permit from the backcountry office in the basement, or use the restrooms. There is also free Wi-Fi available at this visitor center. 
Mammoth Hot Springs
There's a lot to see and do in Mammoth Hot Springs, which is a historic area of Yellowstone. Mammoth Hot Springs is one of the park's more unique hot springs.
It's a must-see attraction if you just have a couple of days in Yellowstone. It's located in the park's northwestern corner near Gardiner, Montana.
Mammoth Hot Springs, unlike other hot springs, is built on travertine terraces. Geothermal activity beneath the surface dissolved the calcium carbonate, resulting in these peculiar formations. It eventually cools, resulting in the terraces.
The color you see in hot springs, from Mammoth to Grand Prismatic, is caused by microorganisms called Thermophiles. The terraces are painted orange, brown, purple, and yellow. Waterfalls cascade down the terraces, creating a one-of-a-kind cascading hot spring.
A short walk across the Lower Terraces is the best way to experience Mammoth Hot Springs. The Upper and Main Terraces can be reached through a lovely drive, but there isn't as much to see here.
Just before you reach Mammoth, you'll come across a few small parking lots. The boardwalk or paved paths run the length of the Lower Terraces loop, which is just over a mile long.
Lamar Valley
Lamar Valley, located in the northeastern portion of Yellowstone, is another popular wildlife viewing place.
Bison, bears, coyotes, and wolves can all be seen in Lamar Valley. The hours after sunrise and before sunset is the best times to see wildlife. If you stay after sunset, however, you might hear wolves howling in the distance.
Bison crossing the road to feed in a new meadow is a typical occurrence in Lamar Valley. Always keep a safe distance from bison and stay in your car if they're close by.
Further, Canyon Village and Mammoth Hot Springs are both around an hour away. A trek to Lamar Valley is certainly worth the time and effort, but it necessitates an early start or a late night.
However, if you want to view a lot of animals, this is by far the greatest spot to go. While driving and hiking in this area, you might encounter buffalo, bighorn sheep, pronghorn, elk, grizzly bears, and wolves if you're lucky!
Norris Geyser Basin
The Norris Geyser Basin is Yellowstone's hottest area, resulting in lovely pastel-colored hot pools.
Steamboat Geyser is the world's tallest active geyser, and Norris Geyser Basin is home to a variety of fascinating geysers and pools. There are also rare acidic geysers and vivid thermophile-filled pools to be found.
Porcelain Basin and Back Basin are two nearby basins that make up the larger Norris Geyser Basin. Both are only accessible from the Norris Geyser Basin parking area through the boardwalk trails.
Start your walk through the Porcelain Basin at the Porcelain Basin Overlook to gain your bearings. Constant Geyser, the multicolored discharge from the Whirligig and Pinwheel Geysers, Crackling Lake, and Congress Pool are also worth viewing.
The Back Basin is the longer of the two loops and is home to Steamboat Geyser, the world's tallest active geyser. Steamboat eruptions, on the other hand, are rare, with years between eruptions. Although this geyser is unpredictable, it has been erupting more frequently in recent years!
Old Faithful
The Old Faithful Geyser is arguably Yellowstone National Park's most famous attraction. However, contrary to popular belief, it is neither the largest nor the most often erupting geyser in the park.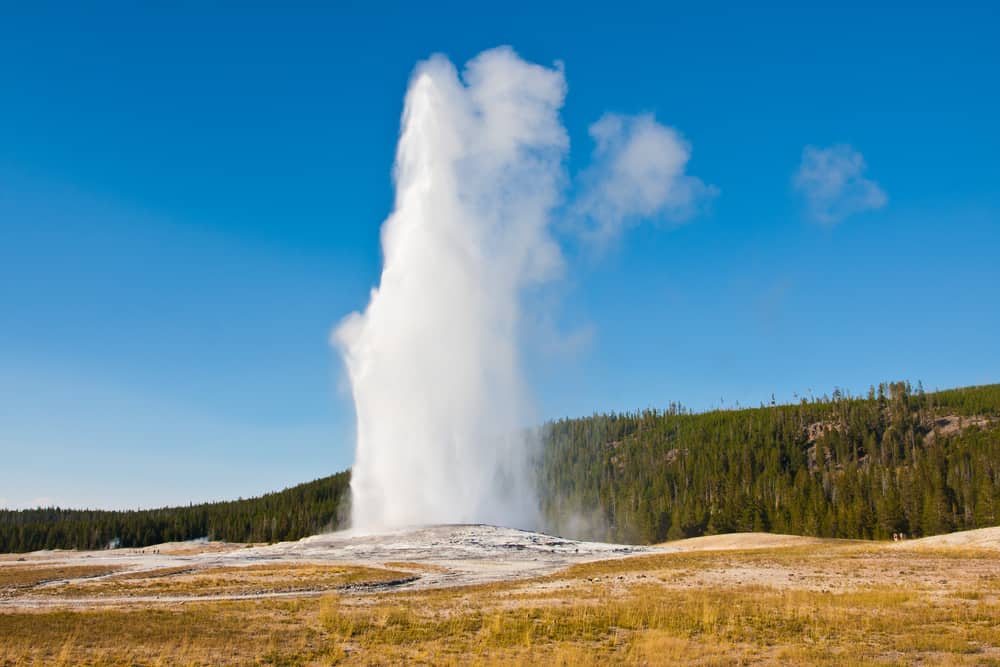 For its frequent, predictable eruption schedule and simple accessibility, Old Faithful is extremely popular. You simply have to walk a few hundred yards from the parking lot to see the geyser erupt! A typical Old Faithful eruption lasts 1.5 to 5 minutes, spewing up to 8,000 gallons of boiling water 100 feet into the air.
It's fascinating that it explodes on such a predictable schedule, especially in a place where everything is always changing. Seeing Old Faithful should be on your bucket list at least once in your life. It's an unforgettable experience to share this with people from all around the world!
Mud Volcano
You'll notice a distinct Yellowstone smell as soon as you get out of your car! Due to the sulfur in the water, Mud Volcano is one of the smelliest parts of the park, and it's difficult to forget.
Muddy pools, boiling fumaroles, and a sulfuric odor define this geothermal environment. Bison grazing among geothermal features, usually in the field across the river, is also a popular sight.
The Mud Volcano is sculpted onto the rock like a boiling pot of mud. While not as stunning as the other geothermal areas in the park, it is nevertheless worth a quick visit. It has several short boardwalks that you can use to explore the sputters, roars, bubbles, and hisses of this area. It's one of Yellowstone's most active and spectacular thermal areas.
Fairy Falls Trail
Fairy Falls is a popular waterfall close to Grand Prismatic Spring, but getting there requires some effort. The trail begins at the Fairy Falls Trailhead, which is also where the Grand Prismatic Spring Overlook is located.
Make a point of stopping at the overlook on your way to Fairy Falls. The trail continues for several miles after the lookout until it reaches Fairy Falls. Before arriving at the trek's end, the trail traverses through forested areas. Bring bear spray with you on this hike.
You'll see other people because it's a popular path, but because of the distance, it's not completely crowded. The Imperial and Spray Geysers can be seen if you continue on the trail past the waterfall.
Hayden Valley
In Yellowstone, Hayden Valley is a popular area for wildlife viewing. This valley stretches from Canyon Village to Mud Volcano on the park's eastern side. In Hayden Valley, you have the best chance of seeing bison and elk. There's also a chance you'll see bears and bald eagles.
While the drive-through Hayden Valley is just around 7 miles long, it is recommended that you spend about 2 hours here to maximize your chances of seeing wildlife.
The hours after sunrise or before sunset, called 'Golden Hour' by photographers, are the optimal time to watch wildlife. If you're staying in Canyon Village, a trip to Hayden Valley is a great way to start or end your Yellowstone adventure.
Finding a place to pull over and wait is the best way to see wildlife in Hayden Valley. Since you won't always encounter wildlife right away, pack a camping chair and stakeout. Most of the wildlife will be far away. Binoculars or a spotting scope are the ideal tools for getting a close look.
Yellowstone Lake
Yellowstone Lake is another unique landscape found in this park. The enormous lake, which has more than 110 miles of shoreline, is North America's largest high elevation lake.
Your time here will be decided by your interests. If you're only passing through, stop by the old Lake Hotel and take a drive to Lake Butte Overlook. For a leisurely meal, there are various picnic spots nearby. While Yellowstone Lake's chilly waters are not conducive to swimming, it is a wonderful boating destination.
You can also take a boat trip or rent a boat from Yellowstone National Park Lodges if you have extra time at Yellowstone Lake. A picturesque cruise, private boat rentals, and guided sightseeing and fishing tours are all options.
Uncle Tom's Trail
Uncle Tom's Trail is a fantastic trail that runs from the top of Yellowstone's Grand Canyon to the base of the 308-foot-tall Lower Falls. A rainbow may almost always be seen cutting through the strong splash and mist of the falls.
It's easy to conquer the 328 steps on the way down–just keep in mind that you'll have to climb back up. While covering the nearly 500 vertical feet, there are numerous benches and steel platforms to rest on.
Once you've arrived in the Canyon section of Yellowstone, follow Artist Point Road and park in the Artist Point parking lot. Look for the Uncle Tom's Trail sign. Before reaching the steel grate steps, you must first descend a couple of paved switchbacks.
West Thumb Geyser Basin
The West Thumb Geyser Basin is exceptional in that it is located directly on Yellowstone Lake's shore. Along the boardwalk that encircles the area, you'll view various beautiful pools. Look for the geyser cones that stick out of the water when you go down to the lakeshore!
The 0.5-mile boardwalk walkway runs among the features and along Yellowstone Lake's western shore. The Abyss Pool, a magnificent teal-blue pool over 50 feet deep, is the best feature of the West Thumb Geyser Basin.
Fishing Cone, Black Pool, Thumb Geyser, Seismograph Pool, and Lakeshore Geyser are all worth seeing in addition to the Abyss Pool.
Boiling River Hot Spring
Just north of Mammoth, the Boiling River is a section of the Gardiner River. The water in this portion of the river is warmed by geothermal activity beneath the surface, resulting in big hot spring.
But, unlike the other Yellowstone hot springs and pools, you can swim in this one. The Gardiner River's cool water cools the hot spring water, resulting in bathtub-like temperatures.
If you're looking for a fun summer activity for energetic kids in Yellowstone, Boiling River is a great choice! Remember to wear water shoes because the river is rocky, and keep an eye on your children since there is no lifeguard here.
To get here, drive north of Mammoth about 2 miles to Gardiner. The river is a short, easy walk from the parking area.
Tower Fall
Tower Fall is one of Yellowstone National Park's tallest waterfalls, exceeded only by a few cascades such as the Lower Falls in the Grand Canyon of the Yellowstone and Fairy Falls. Through a narrow spire-filled canyon, the 132-foot waterfall falls into a lake.
While you can no longer hike to the bottom of the waterfall owing to trail erosion, the Tower Fall Overlook offers spectacular views of the cascade. This vista, which looks down on the waterfall, is breathtakingly beautiful.
The Tower Fall parking area is only a short walk from the overlook, making it a relatively accessible sight from the Grand Loop Road.
Blacktail Plateau Drive
Between Mammoth and Tower-Roosevelt, Blacktail Plateau Drive is a one-way unpaved picturesque drive. This less-traveled stretch of the Grand Loop Road is the perfect escape.
The rolling hills provide stunning scenery, and it's a great place to view wildlife off the beaten road. Be on the lookout for bison, elk, and even bears!
Since the road is unpaved, a high-clearance vehicle, such as an SUV, is advised. While AWD or 4WD isn't essential, it makes the drive more accessible and gives you peace of mind when driving on rough roads.
Roosevelt Arch
Former President Theodore Roosevelt is honored by this arch. He was a well-known supporter of national parks and a key figure in the formation of the National Park Service.
When Yellowstone National Park was first established, the primary entry was near Gardiner, Montana, on the park's northern edge. The stone Roosevelt Arch, located about north of Mammoth, commemorates this entrance.
In addition to this arch, the United States' first national park, Yellowstone, has several more references to President Roosevelt, including the Tower-Roosevelt section.
It simply takes a few minutes to see the Roosevelt Arch. The arch at Yellowstone's North Entrance can also be walked or driven through.
Recent Posts