15 Tips for Visiting Yellowstone National Park in November
Visiting Yellowstone in November: Yellowstone National Park is especially beautiful in November. Summer and fall crowds have mostly dissipated, and you'll have plenty of opportunities for solitude.
The lack of crowds is the major advantage of going in November. With fewer people around, your chances of solitude increase dramatically. Many trails in the north are open, allowing you to walk throughout Yellowstone on foot. Since there are so few people on the trail, you may have it all to yourself.
Although most of the roads are closed in November, the route connecting Gardiner and Cooke City is undoubtedly the park's most scenic, so there is still enough to see. Herds of bison, as well as the possibility of seeing wolves and bears, can be seen while driving or hiking through Lamar Valley.
In November, most of the trails in the Mammoth Hot Springs area and Lamar Valley are open for hiking (or snowshoeing and skiing, depending on conditions). These pathways offer wildlife viewing as well as a sense of serenity.
Hiking is particularly enjoyable at this time of year because the crowds have reduced, and you may have the road for yourself. Depending on the weather, you might be snowshoeing or skiing. Many of the hikes in the Mammoth area are on boardwalks, so hiking will be possible even if it is snowy.
Yellowstone Weather in November
Yellowstone's weather in November is often chilly, with the possibility of light snowfall.
Mammoth Hot Springs has an average temperature of 39 degrees Fahrenheit (4 degrees Celsius) and a low of 20 degrees Fahrenheit (4 degrees Celsius). In November, on average, it snows or rains for 8 days.
When visiting Yellowstone in November, layers are essential. Make use of the winter gear guide to enjoy the outdoors even when it's cold outside!
Thank you for supporting this website written by an American. This post may contain affiliate links. This means I earn a small commission on these links at no extra cost to you.
National Park Entrance Fees
To enter the National Parks, you'll need to pay an entrance fee or have a National Parks Pass also known as American the Beautiful Pass.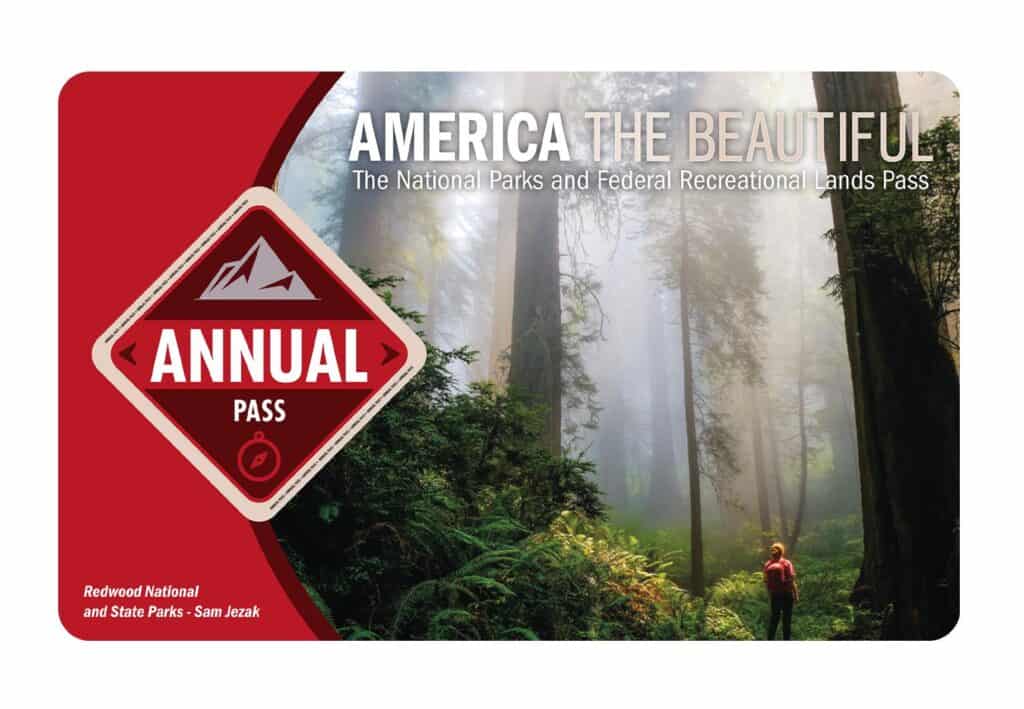 It costs $80 for a yearly America the Beautiful Pass. This gives you access to all national parks and federal areas that charge fees. The America the Beautiful Pass is well worth it!
I purchased my first one in 2016 and it's such a money-saver! Plus 10% of sale proceeds go to the National Park Foundation.
15 Things to do in Yellowstone in November
Self-Driving Audio Guided Tour
You'll get the most out of Yellowstone with this all-in-one tour, audio guide, and map. At your own pace, explore the towering geysers, prismatic hot springs, and extraordinary wildlife that have captivated the American imagination.
Make your way around the Grand Loop with the help of your audio guide. Along the way, take in the sights and learn about the rich history and stories of this fascinating destination, as well as supplementary information and video to help bring each stop to life.
You can also view bright color bands, bubbling paint pots like Fountain, and dazzling waterfalls like Gibbon Falls at Grand Prismatic, a boiling hot spring.
Allow your expert audio guide to accompany you as you explore this amazing location's animals and natural delights.
Mammoth Area
Since they are unlike any other thermal spot in the area, Mammoth Hot Springs is a must-see attraction in Yellowstone National Park.
Mammoth Hot Springs is a huge network of hot springs atop a travertine slope near the Mammoth Hot Springs Historic District of Yellowstone National Park. It took thousands of years for the spring's hot water to cool and deposit calcium carbonate (over two tons flow into Mammoth each day in a solution).
Travertine grows due to the abundance of geothermal vents. These springs are driven by the same magmatic system that powers other Yellowstone geothermal zones, despite their location outside of the caldera.
Near the park's north gate, the Mammoth part is conveniently located. They're a long way from other Yellowstone attractions like Old Faithful or the Lake Hotel, but they're worth the trip when you're in the park.
A short walk across the Lower Terraces is the best way to experience Mammoth Hot Springs. The Upper and Main Terraces are accessible through a nice drive, but there isn't as much to see here. Mammoth Hot Springs has a lot to offer, such as beautiful terraces and a unique village.
Lamar Valley
Going wildlife viewing is one of the top things to do in Yellowstone in November, and Lamar Valley is one of the best areas to see bison and other wildlife.
Despite this, most tourists overlook it due to its remote location. If you make the effort to drive there, you will be rewarded with a gorgeous environment as well as abundant wildlife.
The 48-mile trail from the Northeast Entrance to Mammoth Hot Springs brings you through the Lamar Valley, where the Lamar River winds through meadows and wetlands. Beyond the narrow valley, there are low hills and then mountains.
Another favorite sport in Lamar Valley is fishing in the Lamar River. If you want to do more than just watch the wildlife, you'll need a fishing license. Yellowstone National Park also charges an entrance fee.
Observe bears, wolves, bison, pronghorn, and other wildlife with the help of a local guide. You can also take in the beauties of Lamar Balley's fauna while relaxing in a spacious vehicle.
Petrified Tree
It's hard to believe something might be tens of millions of years old. That is the Petrified Tree's age. This gigantic redwood tree, which is now solid rock, was formerly surrounded by a grove of other redwood trees.
During violent volcanic eruptions millions of years ago, mudflows and volcanic deposits quickly filled the tree's open pores, hardening it into the stone trunk you see today.
Where there were originally two petrified trees, there is now only one left. In the early days of the park, visitors and explorers stole pieces of the second tree until there was nothing left to take. A fence surrounds the last tree, guaranteeing that it is left alone and standing for future generations. A 1/4-mile paved path forks off the Grand Loop Road to bring you to this geological wonder.
Undine Falls
Undine Falls, located immediately east of Mammoth Hot Springs in Yellowstone National Park, is a beautiful cascade.
Although the falls can be seen from the road, the 8.85-mile round-trip trek up Lava Creek Trail provides a fantastic view of not only the falls but also the beautiful Gardner River and Lava Creek valleys.
Gardner Canyon is where the trail begins. The trail continues east through deep sagebrush after crossing a suspension bridge over Lava Creek. The trail follows the contours of Mount Everts. Mount Everts began as a valley basin, but the rapid rising and erosion of the Gardiner River shaped it into the majestic mountain it is today.
The numerous layers of ridge tuff, shale, and seabed sediments provide a striking visual picture of Yellowstone's long geologic history. The creek's floodplain is frequently blanketed with wildflowers, making for excellent options for a Creekside picnic or a refreshing bath. Remember to allow these animals plenty of room if you come across them on the trails.
Wraith Falls
Near Yellowstone National Park, Wraith Falls is a 1.4-kilometer out-and-back hike with a cascade that is suited for hikers of all levels.
Most people can do this short climb, but strollers and wheelchairs are not permitted. Because the hike is just around 0.5 miles one-way, there is a small turnout, and the out-and-back route gets several tourists.
The trail starts out heading south, with a few sections where a boardwalk has been installed to keep your feet dry. Squirrels and chipmunks lurk beneath the boardwalks, so keep your eyes peeled.
The trail begins by traveling south, with a few portions featuring a boardwalk to keep your feet dry. Keep a lookout for squirrels and chipmunks beneath the boardwalks.
Lost Falls
This waterfall is one of Yellowstone's most remote, with plenty of wildlife and wildflowers to see. The hike begins behind the Roosevelt Lodge area and goes for one mile. In addition, there is plenty of parking in the area.
The trail to Lost Falls begins right outside the lodge. A trail marker may be found on the north side of the resort, past some old telephone booths. About a half-mile into the walk, the falls can be heard and seen.
The track is simple to follow, with only a few rocks and tree branches to cope with. Because the walk is so short, you won't notice the constant incline. The trail will soon come to an end, and Lost Falls will be in front of you.
Grand Prismatic Viewpoint
One of Yellowstone's must-see sites is the magnificent Grand Prismatic Spring. It is not only the largest hot spring in the United States but also one of the world's most unusual natural wonders.
If you're curious, the Grand Prismatic hot spring gets its multi-color layers from a variety of heat-loving microorganisms that thrive in the area. As a result, the deep center is blue. The predominant hues are green and yellow, with plenty of orange on the cooler borders.
No matter how many photos you've seen of the Grand Prismatic, it's only when you're standing there that you appreciate how big it is. It's the length of a football field and the elevation of a ten-story structure. The breathtakingly beautiful photos of the Grand Prismatic Spring taken from above that you see in so many travel books and TV specials are likely to have inspired your trip to Yellowstone.
One of Yellowstone's greatest attractions, the Grand Prismatic, is a must-see! As it is one of Yellowstone's most visited locations, you should go early in the morning or late in the afternoon.
Grand Canyon
Yellowstone National Park's most stunning site is the Grand Canyon of the Yellowstone. The canyon is 20 miles long and up to 4,000 feet wide and 1,200 feet deep in places.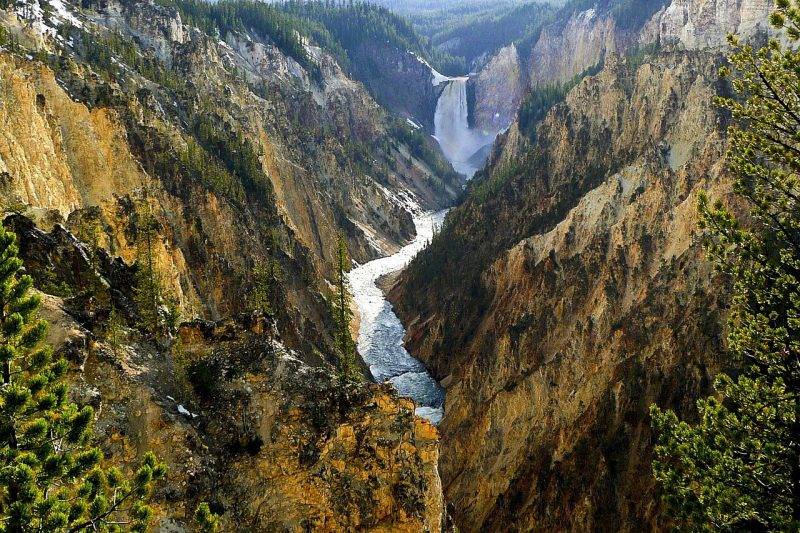 It's located on the park's eastern outskirts. Lower Falls, which drop 308 feet into the canyon, and Upper Falls, which drop 109 feet, may both be seen from various vantage points.
Visitors to Yellowstone's 1,000-foot-deep Grand Canyon are rewarded with stunning views of multi-hued granite walls and beautiful waterfalls. It's possible to spend a whole day in this unique area of the park, with walking and hiking trails for all abilities and learning opportunities for the whole family.
View the canyon from a variety of perspectives and at various times of the day. There are various trails and walkways along the rims and down into the canyon. This is a must-see for everyone visiting Yellowstone for the first time or returning constantly.
Back Country Skiing
In November, backcountry skiing, mountaineering, and climbing are all popular sports in Yellowstone. These activities, on the other hand, are not for the faint of heart or those who are inexperienced. All backcountry users in the snowy season are recommended to have appropriate safety equipment and a thorough awareness of avalanche safety.
Intermediate skiers, on the other hand, can still go exploring on the ice. Those seeking to explore more of the remote terrain may benefit from a guided backcountry ski excursion.
A professional guide is a great way to learn about winter safety and make sure that the mountain routes you're running have been thoroughly analyzed for avalanche risk. The Visitor Center's trained staff can help you find a tour operator that offers just what you're looking for.
Wildlife Watching
Take a scenic drive to seek wildlife in the area to warm up from the cold winter air. Even though bears hibernate during the winter, much of the park's other wildlife remains active.
Moose, elk, bison, wolves, trumpeter swans, and other local species are especially fascinating to see during the winter months when more harsh weather adds to their already fascinating behavior. Learn about the flora and fauna of Yellowstone Park by taking a self-guided tour or a guided tour.
A good pair of binoculars or a spotting scope will come in handy when exploring wildlife in the distance.
Take a half-or full-day trip with one of the area's top wildlife safari outfitters for the best chance of seeing a variety of animals. This experience, which was conducted by a competent biologist and took place from the comfort of a specially equipped vehicle with spotting scopes and a large sunroof, will stay with you forever.
Grizzly and Wolf Discovery Center
The Grizzly and Wolf Discovery Center is located just outside the park's West Entrance in West Yellowstone. It is open every day of the year. This is a great spot to watch grizzly bears and wolves in a supervised condition.
Some of the species are found only in Yellowstone National Park, while others are found only in Alaska. All the animals that reside here would be able to survive in the wild. This initiative gives folks a second opportunity while also giving Yellowstone visitors educational opportunities.
The Center is home to seven bears, five wolves, a few birds of prey, and a Karelian bear dog. At the Centre, the bears do not hibernate. The creatures can be seen throughout the year
Sleigh Rides
During the winter, visitors can schedule a horse-drawn sleigh ride to see the refuge's massive elk population up close.
This refuge provides a vital habitat for a variety of wildlife in the Greater Yellowstone Ecosystem, but it is primarily used by a large herd of wintering elk in the winter. At this wildlife refuge, visitors can book a winter sleigh ride to get a closer look at the elk and learn more about this Wyoming herd.
The sleigh rides are offered and booked at the Jackson Hole and Greater Yellowstone Visitor Centers.
Snowmobiling
Yellowstone's Snowmobiling is an excellent way to explore when everything is blanketed in snow! You can go it alone, hire a snowmobile and trailer locally, or participate in a guided tour.
Due to the sheer limited access to highways, snowmobiling is a popular activity. The Yellowstone National Park is open to any snowmobile without the need for a guide. Other portions of the park, such as the use of Best Available Technology snowmobiles, have more severe rules.
A snowmobile trip can take you to breathtaking natural areas that are otherwise inaccessible in the winter. Hold on to your hat as an expert guide takes you on a tour of the snowy landscape. Relax in a quiet soak at Old Faithful or the Granite Hot Springs in Yellowstone National Park, the Gros Ventre Range, Togwotee Pass, or Greys River.
Dog Sledding
It doesn't get more authentic than this! A musher guide and a team of Alaskan sled dogs will lead you through the wilderness, where you'll learn about local species and view deer, elk, moose, bighorn sheep, and bald eagles.
There are options for a half-day or full-day dog sledding tour. The full-day tours also include a relaxing soak in Granite Hot Springs' natural spa-like waters.
Being pulled behind a team of dogs in the snow is an exciting experience. In Jackson Hole, a two-hour dog sledding trip across the river valley along the Buffalo Fork River is provided.
To live out your winter western fantasy, go dog sledding. You'll be towed by a team of huskies on a sled.
Sunset Wildlife Encounter Tour
Yellowstone National Park is a 3,500-square-mile wilderness recreation area on the rim of a volcano. The Park is largely located in Wyoming, although it also extends into Montana and Idaho.
Dramatic gorges, alpine rivers, lush forests, hot springs, and erupting geysers, including Yellowstone's most famous, Old Faithful, can all be found in Yellowstone. Hundreds of animal species, including bears, wolves, bison, elk, and antelope, call it home.
The Lamar Valley, which runs along the Lamar River, is often known as America's Serengeti because of its enormous and visible populations of massive animals. The members of the Junction Butte Wolf Pack are among the most well-known residents of the area, and wolf aficionados flock to the area with spotting scopes on most days in the hopes of seeing these magnificent canines.
Check out this guided tour  for more info.
Recent Posts