Tips for Visiting Yellowstone in October
Yellowstone National Park is especially beautiful in October. Summer crowds have mostly dissipated, and you have a good chance of finding tranquility. The best reason to visit in October is to avoid the crowds. With fewer people around, your chances of solitude increase dramatically. 
In addition, the fall colors are in full bloom in early October. The Park is mostly made up of lodgepole pines, which don't change color with the seasons, but there are pockets of aspen trees scattered throughout. Their vivid yellow leaves gleam in the autumn sunlight and pleasure October visitors.
October is also the mating season for many wildlife species. Elk migrate north for the rut, which takes place in places like Mammoth Hot Springs and the Madison River. Bull elk can be seen guarding and battling for their harem, and their bugling can be heard reverberating off the mountains. Bull bison can be spotted performing the same thing in the Hayden and Lamar Valleys.
Yellowstone Weather in October
The weather in October can be extreme and completely unpredictable. During the fall months, the weather in Yellowstone can vary dramatically between weeks and even days. Temperatures normally range from 20 to 65 degrees Fahrenheit. As winter approaches, the days become shorter and the temperatures drop quickly once the sunsets.
This has both positive and negative implications. On the one hand, it keeps the crowds away, but it can also influence your plans, such as road closures, hiking trail closures, and even safety.
The clear blue sky during the day with cool mornings and evenings could be your fortunate day. Alternatively, you may find yourself scrambling to change your plans at the last minute.
Thank you for supporting this website written by an American. This post may contain affiliate links. This means I earn a small commission on these links at no extra cost to you.
National Park Entrance Fees
To enter the National Parks, you'll need to pay an entrance fee or have a National Parks Pass also known as American the Beautiful Pass.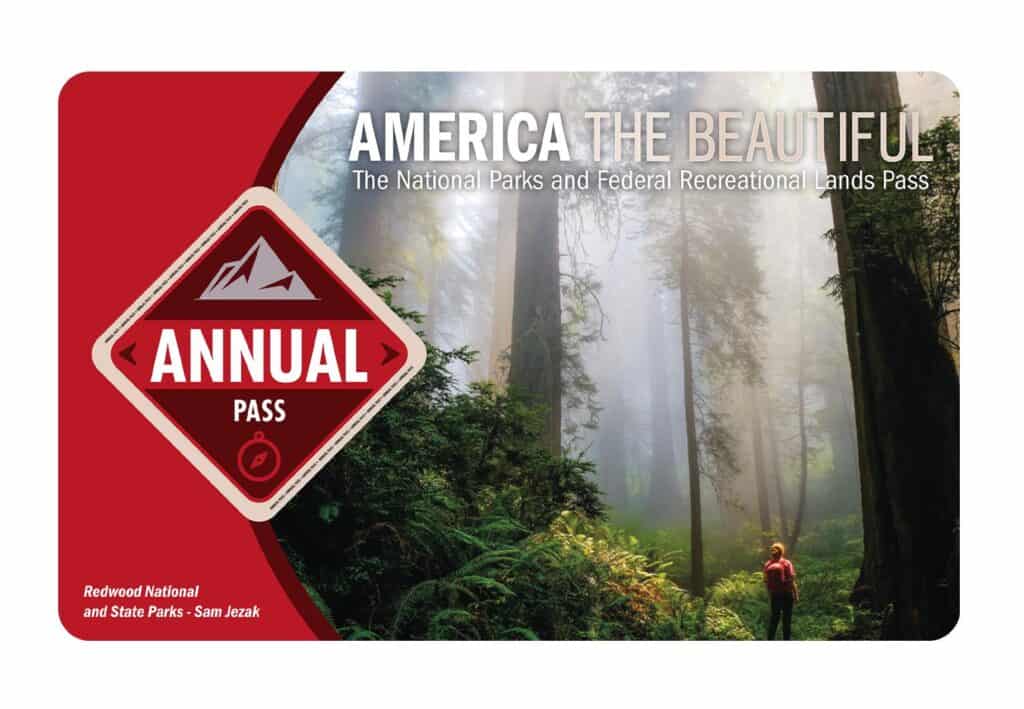 It costs $80 for a yearly America the Beautiful Pass. This gives you access to all national parks and federal areas that charge fees. The America the Beautiful Pass is well worth it!
I purchased my first one in 2016 and it's such a money-saver! Plus 10% of sale proceeds go to the National Park Foundation.
15 Things to Do in Yellowstone in October
Self-Driving Audio Guided Tour
You'll get the most out of Yellowstone with this all-in-one tour, audio guide, and map. At your own pace, explore the towering geysers, prismatic hot springs, and extraordinary wildlife that have captivated the American imagination.
Make your way around the Grand Loop with the help of your audio guide. Along the way, take in the sights and learn about the rich history and stories of this fascinating destination, as well as supplementary information and video to help bring each stop to life.
You can also view bright color bands, bubbling paint pots like Fountain, and dazzling waterfalls like Gibbon Falls at Grand Prismatic, a boiling hot spring.
Allow your expert audio guide to accompany you as you explore this amazing location's animals and natural delights.
Mammoth Hot Springs
There's a lot to see and do in Mammoth Hot Springs, which is a historic area of Yellowstone. Mammoth Hot Springs is one of the park's more unique hot springs.
It's a must-see attraction if you just have a couple of days in Yellowstone. It's located in the park's northwestern corner near Gardiner, Montana.
Mammoth Hot Springs, unlike other hot springs, is built on travertine terraces. Geothermal activity beneath the surface dissolved the calcium carbonate, resulting in these peculiar formations. It eventually cools, resulting in the terraces.
The color you see in hot springs, from Mammoth to Grand Prismatic, is caused by microorganisms called Thermophiles. The terraces are painted orange, brown, purple, and yellow. Waterfalls cascade down the terraces, creating a one-of-a-kind cascading hot spring.
A short walk across the Lower Terraces is the best way to experience Mammoth Hot Springs. The Upper and Main Terraces can be reached through a lovely drive, but there isn't as much to see here.
Just before you reach Mammoth, you'll come across a few small parking lots. The boardwalk or paved paths run the length of the Lower Terraces loop, which is just over a mile long.
Lamar Valley
Lamar Valley, located in the northeastern portion of Yellowstone, is another popular wildlife viewing place.
Bison, bears, coyotes, and wolves can all be seen in Lamar Valley. The hours after sunrise and before sunset is the best times to see wildlife. If you stay after sunset, however, you might hear wolves howling in the distance.
Bison crossing the road to feed in a new meadow is a typical occurrence in Lamar Valley. Always keep a safe distance from bison and stay in your car if they're close by.
Further, Canyon Village and Mammoth Hot Springs are both around an hour away. A trek to Lamar Valley is certainly worth the time and effort, but it necessitates an early start or a late night.
However, if you want to view a lot of animals, this is by far the greatest spot to go. While driving and hiking in this area, you might encounter buffalo, bighorn sheep, pronghorn, elk, grizzly bears, and wolves if you're lucky!
Norris Geyser Basin
The Norris Geyser Basin is Yellowstone's hottest area, resulting in lovely pastel-colored hot pools.
Steamboat Geyser is the world's tallest active geyser, and Norris Geyser Basin is home to a variety of fascinating geysers and pools. There are also rare acidic geysers and vivid thermophile-filled pools to be found.
Porcelain Basin and Back Basin are two nearby basins that make up the larger Norris Geyser Basin. Both are only accessible from the Norris Geyser Basin parking area through the boardwalk trails.
Start your walk through the Porcelain Basin at the Porcelain Basin Overlook to gain your bearings. Constant Geyser, the multicolored discharge from the Whirligig and Pinwheel Geysers, Crackling Lake, and Congress Pool are also worth viewing.
The Back Basin is the longer of the two loops and is home to Steamboat Geyser, the world's tallest active geyser. Steamboat eruptions, on the other hand, are rare, with years between eruptions. Although this geyser is unpredictable, it has been erupting more frequently in recent years!
Old Faithful
The Old Faithful Geyser is arguably Yellowstone National Park's most famous attraction. However, contrary to popular belief, it is neither the largest nor the most often erupting geyser in the park.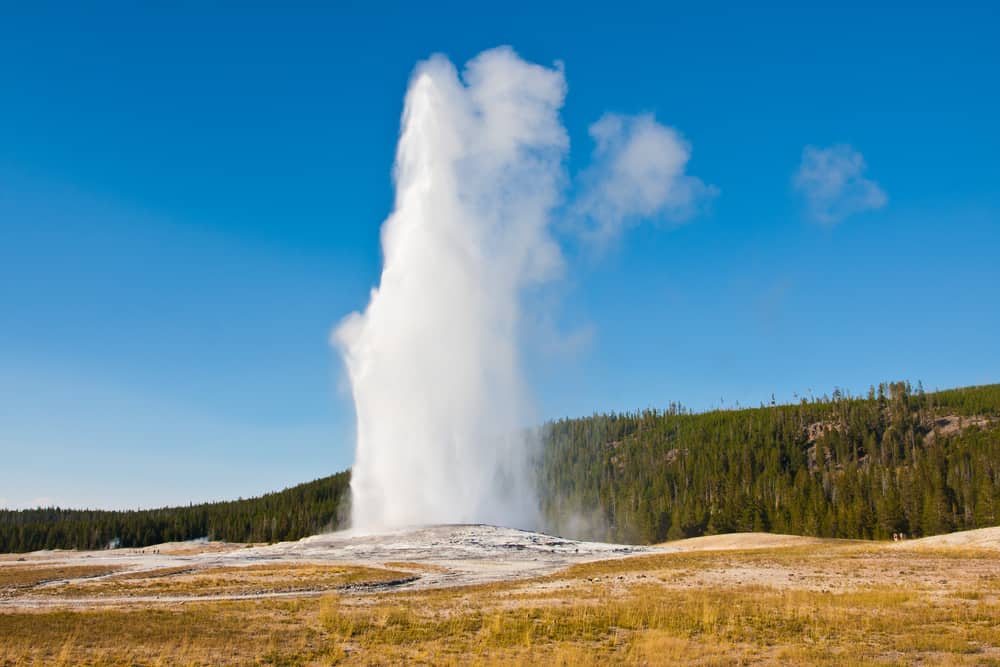 For its frequent, predictable eruption schedule and simple accessibility, Old Faithful is extremely popular. You simply have to walk a few hundred yards from the parking lot to see the geyser erupt! A typical Old Faithful eruption lasts 1.5 to 5 minutes, spewing up to 8,000 gallons of boiling water 100 feet into the air.
It's fascinating that it explodes on such a predictable schedule, especially in a place where everything is always changing. Seeing Old Faithful should be on your bucket list at least once in your life. It's an unforgettable experience to share this with people from all around the world!
Lamar Valley: Safari Hiking Tour with Lunch
While taking in the miles and miles of wide scenery, immerse yourself in Native American history. In this world's first National Park, follow your guide on bison routes.
At 8 a.m., meet your guide at the Lamar River Trailhead. While enjoying a morning snack and hot coffee, tea, or cocoa, gear yourself with packs, hiking poles, binoculars, and bear spray. After a brief safety presentation, hit the trail for a hike in North America's Serengeti.
Hike through the Lamar Valley to the Lamar River, where you can have a picnic lunch. Along the way, take also a moment to smell the sage. On the Lamar Valley Hiking Tour, you can see bison, bears, wolves, and other wildlife from the trail. Binoculars and spotting scopes can also be used to see these strange creatures.
This is a great tour of Yellowstone.
Lower Loop Full-Day Tour
This all-day tour takes you around Yellowstone National Park's lower loop with an expert guide. Visit well-known attractions such as Old Faithful, Grand Prismatic Spring, and Lake Yellowstone and among others. Throughout the day, there will be many photo opportunities and an included lunch.
Bears, elk, and bison are regularly seen in the area, so keep a lookout as you go through the park. With the help of a knowledgeable guide, visit some of Yellowstone's most popular attractions.
You will see the eruption of Old Faithful Geyser, as well as possibly other geysers, depending on the timing of your stop, and you will also have the option of taking a short walk through the Geyser Basin on the Boardwalk, or a longer walk to an overlook of Grand Prismatic Spring, depending on your physical ability.
A parent or guardian must accompany the children. This is also not wheelchair accessible, and it is not suggested for anyone with heart disorders or other major medical concerns.
Please dress accordingly since this operates in all weather conditions. You can book your tour here
Kayak Day Paddle
A 6-hour kayak tour with a skilled guide allows you to explore the rugged shoreline and calm waters of Yellowstone Lake. Climb into a single or double kayak and head out to explore Yellowstone Lake at your pace.
Explore the rough shoreline for natural species such as elk, moose, and bison; observe otters frolicking in the lake's warm waters; satisfy your hunger with a great picnic lunch, and kayak across the West Thumb Geyser Basin to see magnificent geothermic features. This pleasant adventure does not require any prior kayaking experience.
As they bring you around the shoreline to the West Thumb Geyser Basin and explore the many geothermal features on land and underwater, the professional guides will provide expert kayak instruction as well as knowledge on local history and geology.
You'll paddle through some of the more remote sites, the majority of which are not accessible from land and have no signs, boardwalks, or, most importantly, other people. Given the fact that no prior kayaking experience is required, space on each trip is limited, so sign up as soon as possible.
West Yellowstone: Yellowstone Park Tour with Local Guide
Tour the world's first National Park with a local guide, which is home to grizzly bears, elk, bison, wolves, eagles, foxes, and 60 percent of the world's geothermal features. Visit well-known attractions like Old Faithful, the Grand Canyon waterfalls, and Artist Point.
On this trip from West Yellowstone, immerse yourself in the landscape and fauna of Yellowstone National Park while learning about its history from your guide, seeing the many spectacular vistas it has to offer, and enjoying a fantastic lunch.
The Grand Prismatic Spring, Fountain Paint Pots, Artist Point, the Grand Canyon of Yellowstone, and Hayden Valley are among the sights to see. You can also enjoy several excellent views of Yellowstone Lake along the way.
Further, it's great to learn about the Park's geothermal features, geology, and wildlife from your professional guide. Enjoy several shots of the environment and wildlife, as well as a nice picnic-style lunch at the halfway point of the tour. You can book your tour here.
Jackson, Wyoming: Full-Day Yellowstone Lower Loop Tour
This full-day trip starts in Jackson, Wyoming, and travels north through Grand Teton National Park to Yellowstone National Park. This is a fully guided, informative, road-based tour of Yellowstone National Park's Lower Loop.
On the Lower Loop, you'll see the Upper Geyser Basin, which includes Old Faithful, the Midway Geyser Basin, the Firehole Lake Loop, Fountain Paint Pots, and many others.
During the day, you'll have several opportunities to go on short hikes along the many boardwalks within the geyser basins, as well as to the Upper and Lower Falls of the Yellowstone River.
Please dress warmly and bring a light jacket, as the weather in Yellowstone can be unpredictable. A durable pair of shoes is also recommended because you will be doing some short hikes during the day.
This is a small-group tour with a maximum of 8 people on board. The tour is conducted in a clean and safe late-model car, and the guides are professionals. A delicious, freshly prepared picnic meal is also included in this perfect Yellowstone tour.
From Gardiner: Yellowstone Wildlife Watching Tour with Meals
On this private guided tour of Yellowstone National Park, go on an experience of a lifetime, searching for wildlife while exploring some of the park's 2.2 acres of challenging land.
With naturalist guides, learn about Yellowstone National Park's world-famous wealth of iconic animals and historic conservation efforts. Throughout your trip, use top-of-the-line equipment and enjoy drinks and meals.
Allow your guide to tailor a tour to your specific interests, whether you want to see foraging grizzly bears, observe the social and behavioral dynamics of Yellowstone's wolf packs, or identify the park's countless wild animal and bird species.
Your guide will also evaluate the behaviors you see and tells you stories about the specific bears and wolves they've met over the years. You can also observe creatures in their natural habitats and learn about hidden areas where animals dwell.
With individual guides that are well connected with the area and animals, you'll have the best chance to view wildlife. They'll do everything they can to make your trip unforgettable, relying on their expertise, talents, and network of other guides, wildlife observers, and photographers.
From Jackson: Yellowstone Day Tour Including Entrance Fee
A local guide will show you around Yellowstone National Park. Stop at renowned areas of interest to take in stunning vistas of incredible landscapes and learn about the local wildlife. The tour will span more than 250 miles and promises to be an action-packed, exciting, and memorable day.
Your tour departs from Teton Village and Jackson, Wyoming. You can go north via Hayden Valley and through Grand Teton National Park, taking in spectacular vistas of the Tetons along the way.
Enter Yellowstone through the South Gate and begin your Lower Loop trip, which includes stops at major areas of interest. Your guide will educate you on the many features of Yellowstone, including the park's history, geothermal features, geology, wildlife, and more, during the trip. In Jackson or Teton Village, your tour draws to a close.
Throughout the day, remember to stop and photograph wildlife and stunning scenery. Please also enjoy your delightful picnic-style lunch at the halfway point of the tour.
Recent Posts