October in Zion: Are you thinking of visiting Zion in October and wondering what there is to do and see while you are there?
Zion is great any time of year but Zion in October is one of my favorite times of year to visit!
The month of October is a fantastic time to visit Zion National Park. Depending on the elevation, daytime temperatures will likely drop into the pleasant zone, and you'll be there for the start of fall foliage season.
It's also a great opportunity to explore Zion National Park during this time of year. Autumn colors are a sight to behold—cottonwood trees turn a brilliant yellow, and there are pockets of maple trees that turn an enticing red.
The biggest advantage of visiting Zion in October is that the summer crowds have disappeared, and the park has a lot more breathing room.
There are still plenty of activities to enjoy because the weather is still pleasant throughout the day and cools off in the evening. Hiking, backpacking, rock climbing, canyoneering, bicycling, and off-roading are all available for visitors.
Thank you for supporting this website written by an American. This post may contain affiliate links. This means I earn a small commission on these links at no extra cost to you.
National Park Entrance Fees
To enter the National Parks, you'll need to pay an entrance fee or have a National Parks Pass also known as American the Beautiful Pass.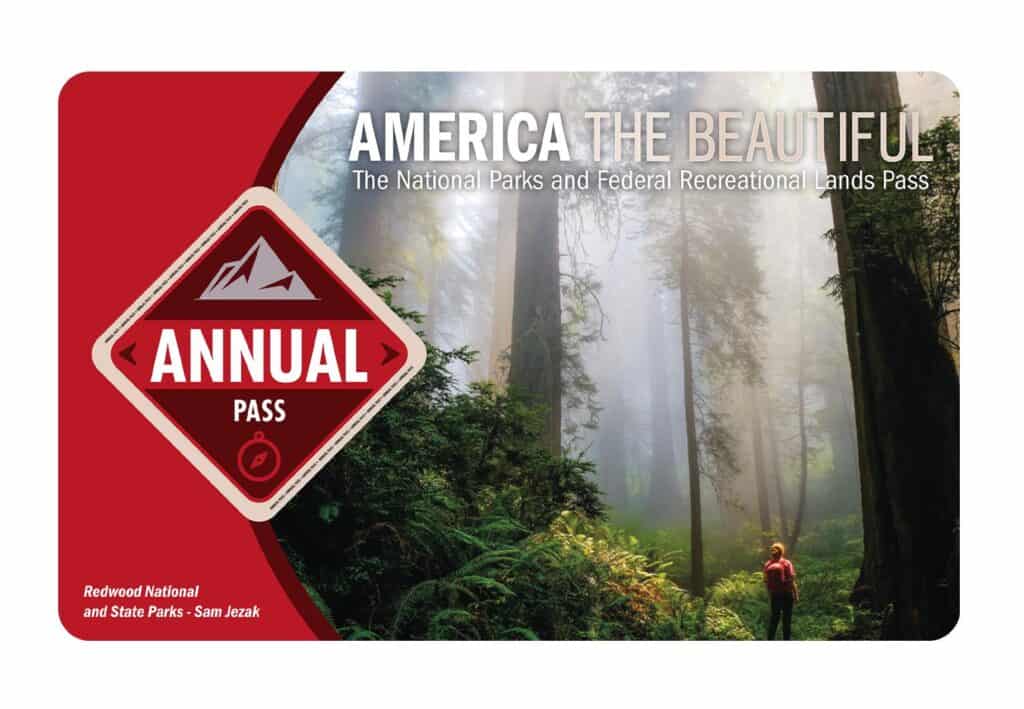 It costs $80 for a yearly America the Beautiful Pass. This gives you access to all national parks and federal areas that charge fees. The America the Beautiful Pass is well worth it!
I purchased my first one in 2016 and it's such a money-saver! Plus 10% of sale proceeds go to the National Park Foundation.
Tips for Visiting Grand Teton National Park
Grand Canyon National Park is perfect for outdoor enthusiasts. There is something for everyone on this list and for different fitness levels. Also, note that it is dry and hot (in the summer), and make sure you know what you are getting into before you start. Here are a few tips for visiting the Grand Canyon:
Bring a reusable water bottle and lots of water! Remember you are in the sun and you will need to drink lots of water. I love my LifeStraw Filtered Water Bottle. I can refill this bottle anywhere and it comes with a carabiner to connect it to my daypack.
Check the Weather – days over 100 degrees are very common. Make sure to check.
Hiking boots or sandals that will protect your feet! I love good shoes. I need all the support and help I can get. I actually love these sandals for hiking and also love these hiking boots.
Bring hiking poles for balance and to protect your knees. I know many experienced hikers (and even amateur ones) think that hiking poles are for old people who lose their balance. Actually, hiking poles can help when going down steep inclines or when scrambling over rocks. They are great to hike with even for the most experienced hiker.
Wear a sunhat. I feel like this whole post is about how high you are in the mountains and how much closer you are to the sun but it is so true. At elevation, you are closer to the sun and more likely to burn. Wear sun protection such as a sun hat and sunscreen.
Be aware of the wildlife. This is the Southwest and you will need to watch out for snakes and other wildlife such as moose or a bear. Please stay away from wildlife and do not feed them. I recommend carrying bear spray as well.
Start Early – If you want to avoid the traffic and the heat you will need to start your hike early. That way it will be nice and cool and the smog will not affect you either.
Leave no trace. If you are new to the concept of Leave No Trace it is all about preserving the environment to ensure it is in the same or better condition when you leave it. This means that you should stick to the trails and carry out everything that you carried in. This is a great explanation of the Leave No Trace principles!
Water shoes are great for water hikes– If you don't have a pair, I highly suggest it as they are affordable. I have an article on the pros and cons of several pairs of water shoes.
Bring Bug Spray and a snack: Be sure to bring everything you need including a snack like a protein bar plus BUG SPRAY.
Where to stay near Grand Canyon National Park
The Grand Canyon makes for a great weekend escape. Fresh air, beautiful scenery and being in nature does a world of good for the soul. I recommend staying as close to the park as possible and even treating yourself with a cabin with a spa pool to relax at night.
If you are taking a road trip remember to reserve a car in advance using Discover Cars .
Weather at Zion National Park in October
October weather is accompanied by beautiful and clear blue skies, making for fantastic sunrise and sunset photography opportunities. Peak foliage begins at the park's highest elevations, then gradually descends over the next few weeks to lower elevations.
In October, the average temperature in Zion Canyon is 85 degrees Fahrenheit with a low of 55 degrees Fahrenheit.
The average temperature in Kolob Canyons is 75 degrees Fahrenheit, with a high of 80 and a low of 51 degrees Fahrenheit.
15 Things to do in Zion in October – Zion in the Fall is Amazing
The Narrows
A visit to Zion National Park would be incomplete without a taste of "The Narrows." This is one of the most famous hikes in all of Zion National Park, and it'll make you feel like Indiana Jones.
Imagine trekking 16 kilometers down the virgin river in waist-deep water, on an uneven, slick surface, shaping your way through the park's vermillion sandstone while keeping an eye out for flash flood warnings — can it be much more adventurous?
The North Fork Virgin River carved out the Zion Narrows, a towering, narrow gorge. It is a bucket-list destination for outdoor enthusiasts all around the world since it is one of Zion National Park's most popular hikes.
Zion Narrows is a wonderful choice if you're looking for a hiking route that will astound, challenge, and increase your appreciation for the Southwest's natural splendor.
There are a few different ways to hike the Narrows. The option you select will depend on your hiking preferences, experience, and time availability.
The Narrows Bottom-Up
Consider starting your hike from the Temple of Sinawava, which is the final stop on the Zion Canyon shuttle, if you're a casual hiker looking to see the best the Narrows has to offer.
From here, you can take the Riverside Walk trail up to the Virgin River and continue down the river to see some of the better "narrows" segments. You are free to travel as far up the river as you desire and turn around at any time. The bottom-up hike does not require a permit.
If you have the stamina and time, take a detour and hike up Orderville Canyon, which may be as pleasant or as challenging as you like.
The Narrows Top-Down: Day Hike
Hiking Zion Narrows from the top down is much more challenging. It's a strenuous 16-mile hike that starts at Chamberlain's Ranch, a remote spot that can only be reached by vehicle or by hiring a private outfitter.
If you're a strong, fast hiker seeking a challenge, the hike can be completed in one day if you get an early start and keep a steady pace. Make sure you pack a headlamp in case the sun sets before you finish your hike.
If you go this way, you'll be able to see the North Fork River gradually transition from an open stream to one that meanders deep into a slot canyon. You'll need to get a wilderness permit to hike this route.
The Narrows Top-Down: Overnight Hike
The top-down hike takes between 12 and 14 hours to finish. It is recommended that you camp overnight and complete the hike over two days if you prefer to take things at a slower pace. This is the most widely used option.
To accomplish this overnight trip, you'll need a wilderness permit. You will select one of the park's approved campsites when purchasing this permit at the Visitor Center.
Angels Landing
Angels Landing is one of the most beautiful day treks in the world, located in Zion National Park. The trail to its lofty top was carved out of the mountain's steep, rock-solid spine in 1926, and hikers continue to be enthralled by it to this day.
Angels Landing is magnificent — and for some, frightening — since it requires hiking down a treacherous trail with high exposure.
You don't need superhuman nerves of steel to travel this trail, but even the most confident hikers will need to be cautious. Hikers will be rewarded with memorable, panoramic panoramas of Zion Canyon over 1,000 vertical feet below their boots if they tread carefully.
The adventure starts at the Grotto Trailhead and includes a delightful prelude to the main show. Start by crossing the Virgin River on a bridge, which is the most straightforward part of the day.
Angels Landing begins on the well-marked West Rim Trail and immediately rises height to reach the elevated mouth of Refrigerator Canyon, which is well named. As it penetrates the chilly interior recesses of the cleft, it levels off.
In the shade of the canyon floor, cool-climate species like bigtooth maple and white fir grow, while the red sandstone cliffs are pocked with grottos and overhangs.
As the trail approaches the canyon's head, it begins a hard ascent of the east wall. A series of twenty-one switchbacks have been cleverly cut into a crack in the wall here, and the hiker is carried up with calf-burning efficiency.
These beautifully built stoneworks, known as "Walter's Wiggles," are regarded as one of the park's technical marvels — and, sure, they gain up a lot of elevation very quickly. The path ascends gradually to Scout Lookout, a sand pad with panoramic views of Zion Canyon.
It's an excellent rest stop for those who don't have the stomach for the final 500-foot vertical push to the top of Angels Landing.
On Angels Landing's highest point, where gnarled, defiant pinyon trees sprout from impossible toeholds above the dizzying void, there are no guardrails.
The peak of Zion Canyon's Big Bend commands a breathtaking 360-degree panorama of jagged spires and towering walls – don't forget to bring your camera so you can share photos with your friends. The Great White Throne, Red Arch Mountain, and the entrance to The Narrows are all must-sees.
Observation Point
Observation Point Zion is one of the best hikes is in Zion, and it is vastly underrated. You can see everything of Zion Canyon, including Angel's Landing, from the magnificent Observation Point summit.
The climb from the Weeping Rock Trailhead to Observation Point is a typical Zion Canyon hike, and the vista at the trail's finish is one of the park's most renowned.
The Observation Point Trail is a challenging 8-mile round-trip climb along a seemingly endless uphill paved trail carved out of canyon walls and cliff formations. Hikers can see the dark and mysterious Echo Canyon, with its spectacular dark slot canyon formations and stunning White Cliffs, along the way.
The trail eventually begins a difficult ascent, zigzagging up the sheer wall of stone that rises above. The trail heads westward after multiple switchbacks for the last ascent past white cliffs that drop down for a thousand feet below the path.
Though the trail is relatively wide, it does not appear to be wide enough to keep the visitor from being lured into the widening chasm.
The trail eventually reaches the Navajo sandstone formation's summit, where it traverses a rolling scrubland of pion and juniper, marking the plateau's peak.
A level hike through deep sand leads to the promontory's tip and a breathtaking vista of Zion Canyon. The Great White Throne looms to the south, and binoculars may pick out the cable works atop Cable Mountain to the left. Red Arch Mountain is perhaps the most remarkable feature visible from this vantage point.
The Zion National Park's Observation Point is not for the faint of heart. Although this trail is less daunting, it still has some serious drop-offs.
The Hidden Canyon Trail ascends Zion Canyon's east wall to a side canyon with a narrow slot, a free-standing arch, and a series of difficult scrambles.
Some may be scared off by the steep drop-offs along the way, but those who make it to the Hidden Canyon entrance will be rewarded with spectacular views of Zion Canyon and the opportunity to explore this secluded slot.
This trail climbs 810 feet in one mile through riparian systems on the canyon floor, hanging gardens where springs drip from sandstone walls, deciduous maple and oak clusters, and ponderosa and fir forests.
The Hidden Canyon spur path begins with a series of uphill sandy switchbacks that lead to a minor saddle. The trail then follows the canyon wall and drops into a little shaded valley with the help of a few chains.
The final piece of the trail is a short-exposed ledge section cut out of the sandstone walls, which is reached via a towering set of stone steps. While not technically tough, folks with a fear of heights may find this portion scary.
Slow down and keep your grip on the chains! You'll be at the mouth of Hidden Canyon in no time. Crossing the streambed should be done with caution because the huge potholes are regularly filled with water.
The official trail ends here, although you can continue hiking up the canyon for another mile or two. There are dark overgrown areas, sandy open sections, moss-covered walls, and even a small free-standing arch to be found. There are also numerous boulder-scrambling barriers to overcome, ranging in difficulty from easy to difficult and exposed.
Echo Canyon
Echo Canyon is one of Zion National Park's best and most accessible slot canyons, connecting the Virgin River just before the start of the Zion Narrows, a few miles south of the park road's end at the Temple of Sinawava.
In a series of steep steps, narrow channels, and circular craters formed in the rock, the lower section of the canyon dips extremely rapidly towards the main valley, while the drainage becomes momentarily larger and more level upstream.
At Weeping Rock, Echo is a massive canyon complex that drops into the main Zion canyon. Echo's middle section ("Middle Echo") provides an incredible canyoneering opportunity.
A long section of narrows deep underground is reached after a couple of short rappels and several very chilly swims.
The pools are frequently full of water due to the extensive watershed, and they remain cold far into the summer. The pools can fill up with decaying vegetable waste and smell like poo at times. Canyoners often fear if they'll pass out from the stench before they make it through the pools.
In Middle Echo, one can ensure passage by hiking up from the bottom to the bottom of the last rappel, if such a hike is possible. It may be possible to climb over the frozen snow and ice before the melt-out, but once the flow begins, it tends to carve out beneath it, creating a hazard far too severe for rational human passage.
After a half-mile up the canyon, the cliffs close in to produce a dark and very deep slot only a few feet wide, with smooth red and grey granite walls rising high above a rocky, boulder-strewn floor that generally contains many pools of murky water.
The Observation Point Trail parallels the main canyon above the slot, but only approximately half of the narrows can be seen from below; to see the entire length, rappelling from the top is necessary.
Canyon Overlook
The Zion Canyon Overlook Trail is about half a mile long, but it offers some of the most stunning vistas in the park. It is located just east of the iconic Zion-Mt. Carmel Tunnel.
It's easy to get to and relatively flat, so it's a favorite hiking area. But don't allow the dread of crowds to prevent you from taking this trail that runs above the Great Arch and offers one of Zion Canyon's most iconic views.
The trail begins with a set of stone stairs north of the road, across the street from the parking area on Highway 9 immediately east of the tunnel.
You'll get a great view of the Pine Creek slot canyon on your way to the overview. There's also a wonderfully shaded alcove (with ferns growing out of the walls) that provides some relief from the path's otherwise exposed nature. Although the trail is reasonably flat and well-traveled, it contains switchbacks, steps, and Slickrock, so wear appropriate hiking footwear.
The trail eventually leads to a hilltop covered in hoodoos or eroded stone pillars. It then twists its way through Slickrock and through pinyon pines to Canyon Overlook, the trail's true highlight.
To the north, the East Temple looms, while to the west, Bridge Mountain, the West Temple, the Virgin Towers, and the Streaked Wall form a panorama. Look toward the southern cliffs if you have binoculars to glimpse desert bighorn sheep, which have been reintroduced into Zion National Park.
Stargazing
Did you know that Zion offers some of the clearest skies in the fall? National parks, such as Zion National Park, are some of the best places in the country to see the night sky. To help maintain the skies clear for stargazing at night,
Zion has even gone so far as to install night-friendly lighting at some of the park's facilities, such as Zion Lodge and Zion Canyon Visitor Center. The Museum patio has a magnificent view of the sky and is a great place to look up at the stars. There is lots of parking and restrooms accessible. This is the park's designated night sky viewing area.
Another great site for stargazing is the Kolob Canyons viewpoint, which is near the end of the Kolob Canyons scenic drive. East of the cliffs, the skies are the darkest.
Zion National Park is one of the most gorgeous sites in the United States, and when you mix in the stunning autumn colors, it's a sight to behold.
Beautiful blue skies and awe-inspiring red, orange, and yellow cottonwoods line the banks of the Virgin River in October, providing incredible chances for sunrise and sunset photography. Nothing beats the contrast of autumn-colored foliage against red and white sandstone cliffs.
Aside from such programs, ZCFI can also create a personalized adventure for you or your group.
Recent Posts