What to Expect when Visiting Bryce Canyon in Winter
Bryce Canyon Winter: Wondering what to expect when visiting Bryce Canyon National Park in Winter? In a word it is a completely different place than in the summer. Is it worth seeing Bryce Canyon in Winter – Absolutely!
Winter in Bryce Canyon is one of the best times to visit to beat the crowds. And I have to admit the photography is amazing in winter in Bryce Canyon. They also clear most of the trails so you should not have any problems seeing the real beauty of this national park.
Thank you for supporting this website written by an American. This post may contain affiliate links. This means I earn a small commission on these links at no extra cost to you.
National Park Entrance Fees
To enter the National Parks, you'll need to pay an entrance fee or have a National Parks Pass also known as American the Beautiful Pass.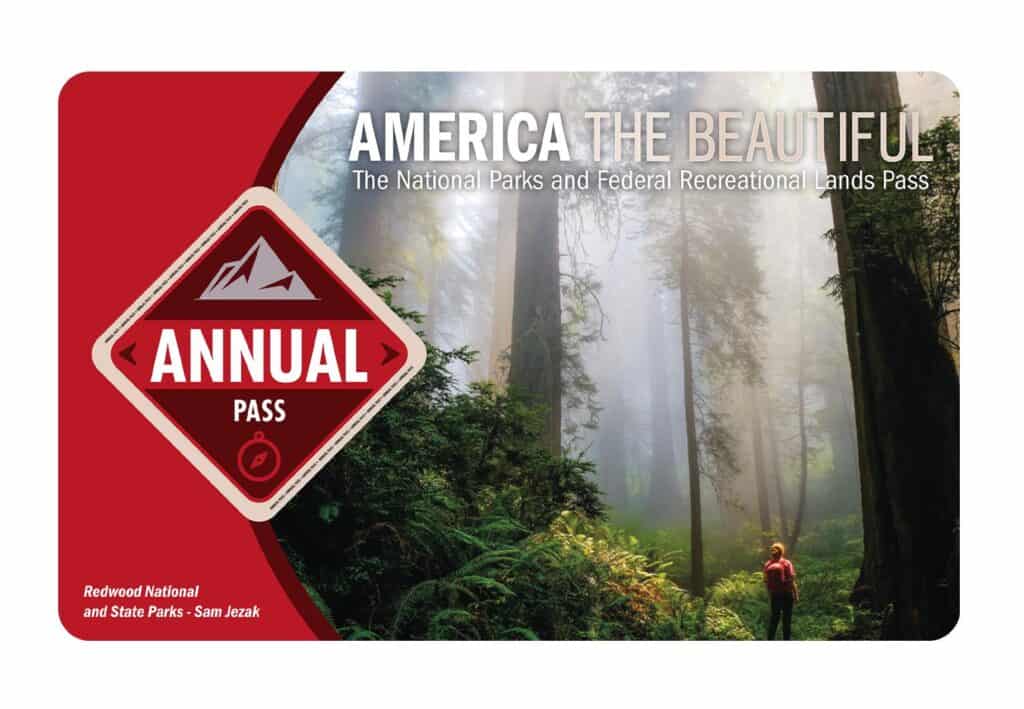 It costs $80 for a yearly America the Beautiful Pass. This gives you access to all national parks and federal areas that charge fees. The America the Beautiful Pass is well worth it!
I purchased my first one in 2016 and it's such a money-saver! Plus 10% of sale proceeds go to the National Park Foundation.
Tips for Visiting in Bryce Canyon National Park
Bryce is perfect for outdoor enthusiasts. There is something for everyone on this list and for different fitness levels. Also, note that it is dry and hot (in the summer), and make sure you know what you are getting into before you start. Here are a few tips for visiting Bryce Canyon:
Bring a reusable water bottle and lots of water! Remember you are in the sun and you will need to drink lots of water. I love my LifeStraw Filtered Water Bottle. I can refill this bottle anywhere and it comes with a carabiner to connect it to my daypack.
Check the Weather – days over 100 degrees are very common. Make sure to check.
Hiking boots or sandals that will protect your feet! I love good shoes. I need all the support and help I can get. I actually love these sandals for hiking and also love these hiking boots.
Bring hiking poles for balance and to protect your knees. I know many experienced hikers (and even amateur ones) think that hiking poles are for old people who lose their balance. Actually, hiking poles can help when going down steep inclines or when scrambling over rocks. They are great to hike with even for the most experienced hiker.
Wear a sunhat. I feel like this whole post is about how high you are in the mountains and how much closer you are to the sun but it is so true. At elevation, you are closer to the sun and more likely to burn. Wear sun protection such as a sun hat and sunscreen.
Be aware of the wildlife. This is the Southwest and you will need to watch out for snakes and other wildlife such as moose or a bear. Please stay away from wildlife and do not feed them.
Start Early – If you want to avoid the traffic and the heat you will need to start your hike early. That way it will be nice and cool and the smog will not affect you either.
Leave no trace. If you are new to the concept of Leave No Trace it is all about preserving the environment to ensure it is in the same or better condition when you leave it. This means that you should stick to the trails and carry out everything that you carried in. This is a great explanation of the Leave No Trace principles!
Water shoes are great for water hikes– If you don't have a pair, I highly suggest it as they are affordable. I have an article on the pros and cons of several pairs of water shoes.
Bring Bug Spray and a snack: Be sure to bring everything you need including a snack like a protein bar plus BUG SPRAY.
Weather in Bryce Canyon in Winter
The weather in Bryce differs from that of the other Utah National Parks due to its higher elevation. Bryce Canyon is often bright with good visibility during the winter months, although temperatures are very cold — highs of 40°F (4.4°C) and lows of 15.4°F (-9.2°C) are common in the winter.
December: Highs of 36°F , Lows of 12°F
January: Highs of 36°F , Lows of 11°F
February: Highs of 38°F , Lows of 13°F
At this time of year, it's also very probable that you'll encounter snow inside Bryce Canyon, so keep an eye on the weather forecast in the weeks leading up to your winter visit and make sure you pack layers of clothes to keep yourself warm.
Photography in Winter at Bryce Canyon
In Bryce Canyon National Park, winter is one of the best seasons of the year for photography. If you visit when Bryce Canyon is covered in snow, the sights of white snow covering the distinctive hoodoo rock columns are breathtaking.
Bryce Canyon photography is quite popular, especially during the winter months. Set up anywhere along the rim between Sunrise Point and Bryce Point if you want some of the most dramatic sunrise pictures.
15 Epic Things to do in Bryce Canyon in Winter
Bryce Canyon Winter Festival
The Bryce Canyon Winter Festival is a great family weekend with a variety of activities and events to enjoy every year. The festival, which is usually held during Presidents Day Weekend, features everything from ski clinics to snowshoe hikes, as well as geology presentations, yoga, art classes, archery clinics, dancing, crafts, pottery, and photography workshops.
There is something for everyone at the Bryce Canyon Winter Festival. There will be no charge clinics, demonstrations, or tours. Snow and weather conditions may cause some events to be canceled, but the Bryce Canyon Winter Festival will go on regardless of the weather.
The festival's goal is to show off the best of Bryce Canyon in the winter. The program features a diverse choice of activities for all ages. Bryce Canyon can get crowded during the winter festival. It's a fantastic opportunity to see everything Bryce Canyon has to offer while being surrounded by breathtaking winter scenery.
See the Sunrise
Even if you're not a morning person, waking up early to see this incredible blend of colors is well worth the time and effort. You should stay for at least an hour to get the most out of it.
Bryce Canyon is one of the most photographed national parks due to the magnificent tapestry of hues that emerge when the sun rises over Bryce Amphitheater. It's an excellent place to observe the sunrise because all of the overlooks here face east. When the sun first peeks over the cliffs, the world's biggest collection of hoodoos will be at their most luminous: blazing orange, delicate ivory, and pastel pink will be a beautiful sight to behold.
One of the best places to see the sunrise is from Sunrise Point. If you look to the northeast, you can see Sinking Ship's glowing mesa. On the jagged hoodoos sprinkled among the Amphitheater's pink rocks, keep an eye out for the exquisite interplay of shadows and light.
This beautiful location not only offers stunning views but also some of the park's more creatively named formations. Visitors can see the Boat Mesa and the Sinking Ship, which are situated against the Aquarius Plateau's Pink Cliffs. Boat Mesa rises 8,073 feet above the hoodoos of Fairyland Canyon and is crowned with "The Conglomerate at Boat Mesa," a refractory granite.
Sunrise Point is included in the park entrance fee. The free park shuttle stops at Sunrise Point, which is the 13th stop. The Bryce Canyon General Store, which contains a snack bar, restrooms, drinking water, and showers, is open from March to early January.
Rim Trail
Hit the Rim Trail if all you want from your Bryce Canyon adventure is sweeping vistas of the hoodoos. The path weaves its way up the top of the amphitheater, providing spectacular views from every direction. The 5.5-mile one-way path passes by popular destinations such as Inspiration, Sunrise, and Sunset points, as well as Fairyland and Bryce Points.
Hiking along the rim trail is included in several of the loop hiking options. You can also hike only the rim trail, which means you will not be hiking into the canyon. The rim trail has a few hills, although they aren't as steep as the other trails.
So, for a good winter hike, start at one of the Rim Trail's overlooks with parking lots (Sunrise Point, Sunset Point, Inspiration Point), and then do an out-and-back along the rim. This will provide you with regular views of the canyon's hoodoos from above.
The Rim Trail between Inspiration Point and Bryce Point is closed in the winter. The same with the road to Fairyland Point.
Scenic Drive
Driving down the main 18-mile route, which offers many picturesque stops along the rim of the amphitheater, is the easiest way to explore Bryce Canyon National Park in the winter.
The Visitor Center's rangers recommended driving to the end of the scenic road first, then stopping at the viewpoints on the way back, so that parking spots are on the same side as you're driving. Even if you arrive in the middle of the winter, the road between Mile 1 and 3 (Bryce Amphitheater) is plowed promptly after storms, making it safe to drive. Following winter storms, the route between Miles 3 and 18 may be closed for up to three days.
The scenic areas are identified and easy to locate. Furthermore, at the Visitor Center, you will be given a useful map with a list of vistas and their accompanying mile marks. Yovimpa and Rainbow Point, located at the end of the beautiful route and the park's highest point, are the first viewpoints. Various trailheads leading to campsites can be found at Yovimpa Point, while the famous Under-the-Rim trail to Bryce Point begins at Rainbow Point.
However, due to heavy snowfall, most hiking paths (save those in Bryce Amphitheater) are inaccessible in the winter, and most campsites are closed. The Rim Trail connects these four amphitheater spots, and the part between Inspiration and Sunrise Point is also open in the winter. Keep in mind that the trail is covered in snow, so pay attention.
Peek-A-Boo-Loop Trail
Because of its capacity to quickly transport hikers through some of the most distinctive and remarkable landscapes in the country, the Peekaboo Loop Trail is one of the top hiking paths in Bryce Canyon National Park.
The Peek a Boo loop path can be hiked in a few different ways. Bryce Point is where the trail begins. The loop will begin with a 1.1-mile climb into the canyon. To make a 4.9-mile loop, combine the Peek-a-Boo loop with the Navajo Loop. Sunset Point is the starting point for the Navajo / Peekaboo Combination Loop.
Bring plenty of water, snacks, sunscreen, and strong hiking shoes with you. You should be aware that you'll be sharing the route with equestrians, and the park suggests that you give them the right-of-way. In addition, this trail can only be hiked in a clockwise direction.
Queens Garden Trail
Sunrise Point is the starting point for the Queens Garden Trail. It's a short 0.8-mile hike down into Bryce Canyon's valley from here. The hoodoos will be towering above you before you know it. Take a stroll along the meandering trails, go through the arches carved into the rocks, and take photos of the breathtaking views.
On a short trail below the canyon rim, hikers can discover magnificent rock constructions such as Gulliver's Castle, the Queen's Castle, and Queen Victoria.
For young hikers, the initial section of the hike, which is mostly gravel and downhill, may be difficult. Since it is slick for small children and there is a steep drop-off, handholding is advised. Trekking poles come in handy for people who are a little unsteady on their feet. Bryce Canyon offers sweeping views and several excellent tunnels to explore.
The trail ends at the valley bottom, where you can stop for a rest and some shade. Return the way you came or continue to the Navajo Loop route, which will take you back up to Sunset Point and a short walk down to the Sunrise Point parking lot.
Tower Bridge Trail
The trail to Tower Bridge starts at Sunrise Point and follows the Fairyland Loop Trail northeast. There are no loops on this trail. The drop in elevation from the rim to the Tower Bridge site (950 ft/290 m) makes the Tower Bridge Trail a "moderate hike." It takes roughly 2-3 hours to finish the 3 miles (4.8 km) hike.
The Tower Bridge Trail is a great intermediate-distance hike for visitors to Bryce Canyon National Park. View the Chinese Wall and Crescent Castles, two of the most iconic hoodoo structures in Bryce Canyon National Park. The big show-stopper, the Tower Bridge, awaits you around the halfway point of this hike.
Take some time to admire the beautiful natural architecture before beginning the ascent back to the rim. The Steller's Jay, a graceful park resident, may even greet you. If you want to view Tower Bridge this is a fantastic choice. Take the spur trail to Tower Bridge, have a bite to eat, and then head back the way you came.
Navajo Trail
The Navajo Loop Trail, Bryce Canyon National Park's most popular trail, takes visitors down the amphitheater rim from Sunset Point, through the narrow corridors of Wall Street, past the Silent City, an intersection with Queens Garden Loop Trail, and to the top of Peekaboo Loop Trail, before ascending the rim again at Sunset Point.
Hikers will be rewarded with views of massive hoodoo formations on both sides of the path. One of these formations, Twin Bridges, is located about a mile into the hike on the right side of the trail. Beyond Twin Bridges, the trail ascends a series of switchbacks to reach the rim. Thor's Hammer can be found to the north of the trail on the last stretch.
The Navajo Loop is occasionally combined with Queens Garden to form one of the world's best three-mile hikes. For an out-and-back trail, start at Sunset Point. This hike includes a descent into the canyon. This trail is also known as the Navajo Loop Trail, but it is not a loop trail in the winter due to the closure of the "Wall Street" section.
Mossy Caves
Mossy Caves, located outside Bryce Canyon City, is another fantastic hike for a morning adventure. The hike is barely a half-mile long, but it rewards you with spectacular icicle formations.
The Mossy Cave Trail in Bryce Canyon National Park's northern section allows hikers to get up close and personal with the park's hoodoos and spires without having to descend 1,000 feet to the bottom of the amphitheaters. This trail follows a creek to a natural grotto, a shelter cave that towers protectively over the trail in the winter and lichen and moss in the summer, bearing ice sickles in the winter and lichen and moss in the summer.
Water Canyon is identified by the presence of water alone. A broad variety of animals come here to quench their thirst regularly, even if you don't see them (animals tend to avoid crowded trails – especially during daylight hours). The water supply is still new enough that nature hasn't caught up yet. More riparian trees, such as willows and cottonwoods, are likely to grow here in the future. Meanwhile, you'll be astonished to encounter plants like Mountain Death Camas and Watson Bog Orchid, which you might expect to find by a brook in a mountain meadow.
Notice how the higher heights of this "canyon" have the lumpy, fractured, and random texture typical of Bryce Canyon and its hoodoos when you go up the Mossy Cave Trail. The lower half is also devoid of hoodoos and has smooth angled sides that resemble a 'V' in cross-section.
Sunset Point
It's time to wave a heartfelt farewell to your day at Bryce Canyon after spending several hours among the colorful rock formations and steep cliffs. You're in luck because the sunset at Bryce Amphitheater puts on a spectacular natural performance to end the day. The blue sky will change to pink and lavender hues as the sun sinks below the canyon rim. The hoodoos glow like candlesticks as the sun sets, leaving portions of the canyon in the dark.
Sunset Point is one of the park's most beautiful overlooks and a popular Bryce Canyon activity. It is a magnificent sight to see the sunset, as the name implies, but it is beautiful at any time of day.
Sunset Point and the Navajo Loop Trail are accessible either by car or shuttle. As it descends towards the canyon floor, this one-mile circle provides breathtaking vistas of some of the park's most famous portions. Thor's Hammer, a well-known hoodoo, is seen from here. At Sunset Point, you can also take part in a half-hour geology talk presented by a ranger. The Navajo Loop Trail hike can then be started from here.
Snowshoeing
Bryce Canyon offers fantastic winter snowshoeing opportunities. Many people like the open areas of Paria View Road, Fairyland Point Road, and the Rim Trail since they are relatively flat. Bryce Canyon has a Snowshoe Program that is geared at beginner snowshoers but may be enjoyed by adventurers of all levels. Snowshoes and poles of various sizes are provided free of charge to tourists who join "Bryce Canyon Snowshoe Rangers."
Take advantage of this opportunity to get a firsthand glimpse at Bryce Canyon's ponderosa pines and looming hoodoos by venturing out on these winter devices. Snowshoeing allows you to move through deep powdery snow that would be difficult to navigate in regular hiking shoes.
From November through March, when the snow depth exceeds 12″-18″, Bryce Canyon National Park offers ranger-guided full moon snowshoe hikes. Ranger-guided snowshoe treks are a fantastic way for adults and kids aged 8 and up to explore the park while learning about topics including winter ecology and geology. Snowshoe hikes under the full moon are very popular.
Try a winter trip with thick boots and "over the shoe" traction devices if the snow is too packed down and icy for snowshoeing. In addition, the park recommends the use of traction devices on all paved sections, which can turn extremely slippery in the winter.
Cross-country Skiing
Cross-country skiing through Bryce Canyon is a fantastic way to see the area. Some park trails, such as open sections of the Rim Trail, Paria Ski Loop, and Bristlecone Loop Trail, as well as Paria View Road and Fairyland Road, are open to cross-country skiing (which are unplowed in the winter to allow for cross-country skiing and snowshoeing).
Downhill skiing and snowboarding are not permitted in the park; please stick to authorized cross-country ski trails. Skiing or snowboarding (or sledding) from the canyon's rim down into the canyon is illegal and dangerous.
In the forested area surrounding Bryce Canyon, Ruby's Inn grooms approximately 30 kilometers of cross-country ski trails. If you stay at the hotel, you can ski right out the front door! Some of the paths provide views of Bryce Canyon, while others link to other trails within the national park.
Free snowshoeing and cross-country skiing, as well as ski archery tours and clinics, are available at the Bryce Canyon Winter Festival. There are also plenty of cross-country skiing chances right outside the park! Many miles of groomed ski trails are also maintained by Bryce Canyon City. Cross-country skis and snowshoe equipment can be rented at Bryce Canyon City if you don't have your own.
Snowmobiling
Snowmobiling is permitted in most of Utah's mountain ranges, with dozens of popular trailheads. From hard hill climbing to trail riding to simply relaxing in a fluffy meadow, the terrain is varied. Access to steep hill climbing terrain and steep treed boondocking is possible for anyone with the right equipment and avalanche skills. Even if you don't have avalanche skills or equipment, you can have a great time in the beginner-friendly terrain.
During the winter season, thrill-seekers will enjoy gliding over several snowmobiling trails surrounding beautiful landscapes and breathtaking views. More than 20 miles of trails run through Dixie National Forest, near Tropic Reservoir, following the East Fork Trail and the East Fork of the Sevier River, leading to magnificent plateaus with views of Bryce Canyon.
The Dixie National Forest's Badger Loop, Dave's Hollow, Coyote Hollow Loop, and King's Creek Loop snowmobile trails connect locations between Bryce Canyon City and Panguitch Lake to the west. Unless otherwise noted, these trails are maintained by the Forest Service and are open to snowmobiles.
Bring your sled and explore Southern Utah's spectacular snowmobiling trails. The Best Western Ruby's Inn has maps and information.
Ice Fishing
Panguitch Lake is well-known in Utah for being one of the top ice-fishing spots. During the winter, the best way to get to this area is from Panguitch. At Panguitch Lake, three local lodges are open all year to welcome winter visitors.
The Panguitch Lake Big Fish Derby brings together ice fishing enthusiasts for a fun day on the lake while competing for amazing prizes. Learn more about the upcoming Derby this year.
For winter ice fishing, the Boulder Mountain area contains around 60 fishable lakes that are well-stocked with trout. From November through April, most of the roads leading to Boulder Mountain's high-elevation lakes are closed, but snowmobile access is accessible.
Cool streams flow down from the steep snowcapped peaks, nourishing glistening lakes or resting in reservoirs where prize trout can be found. Anglers prepare all year in the hopes of having memorable experiences on waterways that match their interest. Utah contains over 1,000 fishable lakes and a plethora of fishing streams.
Star Gazing
Discover the shimmering field of stars that arise after a brilliant-colored sunset on Bryce Canyon Country's hoodoo horizon. The number of dazzling stars and the whirling Milky Way that can be seen reaching from one end of the sky to the other often astound visitors.
Amateur astronomers will find Bryce Canyon a great place to set up a telescope and observe celestial phenomena, but if you don't have the equipment, the park's Astronomy Rangers offer free educational and fun stargazing sessions at the visitor center. Alternatively, you can get a professional telescope tour from the Dark Rangers at their observatory just outside Bryce Canyon National Park's western boundary.
Bryce Canyon's long winter nights provide the ideal opportunity to enjoy stargazing within the park. Around 5-6 p.m., the sun will begin to set. The Milky Way can be seen spread out across the beautiful starry sky within the park. If you go on a Saturday, you might be able to join a ranger for a stargazing experience, when they use a laser pointer to show out constellations.
Because of the cold winter weather, you should dress warmly and stargaze from a viewpoint such as Sunset Point, where your car will be nearby if you need to warm up. In the winter, it's not a good idea to go too far from your car to stargaze.
Where to stay near Bryce Canyon National Park
Bryce makes for a great weekend escape. Fresh air, beautiful scenery and being in nature does a world of good for the soul. I recommend staying as close to the park as possible and even treating yourself with a cabin with a spa pool to relax at night. These are best places to stay near Bryce Canyon National Park:
If you are taking a road trip remember to reserve a car in advance using Discover Cars .
Recent Posts