Visiting Zion National Park in April – one of the best times to visit!
There are numerous advantages to visiting Zion in April. If you visit the park in April, you will undoubtedly have a good time and leave with a greater appreciation for the area's grandeur and vastness.
The most appealing aspect of visiting Zion in April is the stunning scenery. The lush green cottonwoods, junipers, grasses, and other vegetation contrasted with the characteristic red, pink, and cream sandstone of Zion. The Virgin River is nourished with clear, azure blue water when the snow melts at high elevation, producing another magnificent contrast in the valley.
Visiting Zion in April will allow you to accomplish about everything you could do during the summer months, with the bonus of additional benefits. No matter what time of year it is, the pull of Springdale and Zion is always beckoning. So, consider arriving early to offer yourself and your group an advantage over the competition.
Some of the most adventurous and amazing hiking trips in the world can be found at Zion National Park. Canyons, views, wildlife, isolation, adventure, and fascinating ecological and cultural interpretation are all available on Wildland Trekking experiences.
All-inclusive guided Zion treks include permits, local transportation except on some tours, meals, equipment, safety systems, and professional hiking/wilderness guides, allowing guests to make the most of their time in Zion and focus solely on the park.
Spring is in the air in Zion in April, and warmer temperatures follow. The average temperature in Zion Canyon is 73 degrees Fahrenheit with a low of 43 degrees Fahrenheit. The average temperature in Kolob Canyons is 61 degrees Fahrenheit, with a high of 61 and a low of 38 degrees Fahrenheit. It also rains on average for 6 days.
Thank you for supporting this website written by an American. This post may contain affiliate links. This means I earn a small commission on these links at no extra cost to you.
National Park Entrance Fees
To enter the National Parks, you'll need to pay an entrance fee or have a National Parks Pass also known as American the Beautiful Pass.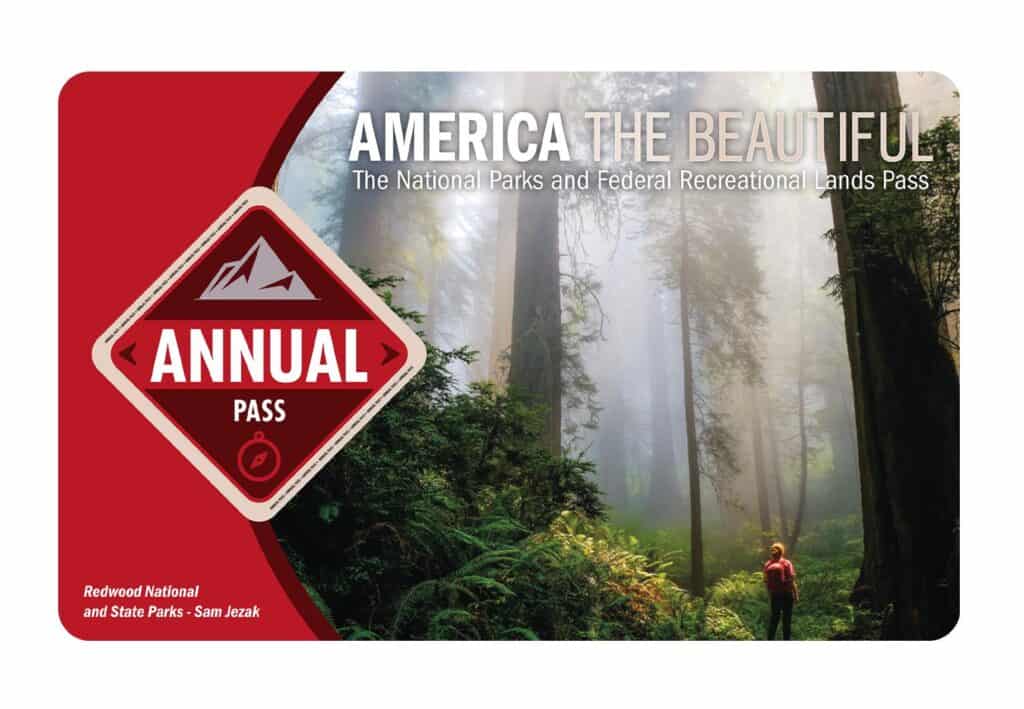 It costs $80 for a yearly America the Beautiful Pass. This gives you access to all national parks and federal areas that charge fees. The America the Beautiful Pass is well worth it!
I purchased my first one in 2016 and it's such a money-saver! Plus 10% of sale proceeds go to the National Park Foundation.
Where to stay near Zion National Park
Zion makes for a great weekend escape. Fresh air, beautiful scenery and being in nature does a world of good for the soul. I recommend staying as close to the lake as possible and even treating yourself with a cabin with a spa pool to relax at night.
If you are taking a road trip remember to reserve a car in advance using Discover Cars .
Things to do in Zion in April
Go Hiking in the Park
Hiking is ideal in April – with trails ranging from easy to strenuous, there is something for everyone in Zion National Park allowing you to see the best of the park from incredible vantage points. 
Bicycling through Zion Canyon in April is wonderful, allowing you to dodge the shuttle bus throngs and enjoy the crisp spring air as you pedal down the road without cars. If you want to ride your bike on the shuttle, there are bike racks in front of the bus. Canyoneering and rock climbing are among popular sports in the area, and if the weather cooperates, April is a perfect time to go.
Further, April's mild temperatures make it an excellent time to go on walks that are exposed to direct sunlight but would be too hot to go on in the summer. While slot canyon hikes are frequently closed owing to the risk of flash flooding, there are plenty of other options for seeing The Narrows. Angels Landing, Observation Point, Hidden Canyon, and Emerald Pools are two- to four-hour walks that offer a variety of ability levels, simple access from park shuttle stations, and the reward of beautiful vistas along the route.
Angel's Landing
Angel's Landing is getting ready for April. Since the weather isn't too hot, you won't feel the heat as much as you would in the summer when you reach the sun-exposed portions of the hike. You should also be able to reach the summit faster without having to spend a lot of energy due to the burning sun. 
Angels Landing is the most popular and well-known hike in Zion National Park, leading to one of the park's most iconic sites. This wonderful ascent will lead you to an incredible vantage point with a panoramic view of the canyon. This breathtaking route begins with Walter's Wiggles, a series of switchbacks that climb the side of a mountain before traversing a small ridge to a 1,500-foot drop and a view of the valley.
Since one stretch of the walk involves gripping onto a chain anchored to a cliffside with high drop-offs, the hike is not suggested for anybody with a weak heart, fear of heights, or young children.
The hazards of Angel's Landing will be mitigated significantly by the fact that you are unlikely to see many other hikers on your route. First-timers and returnees who want to conquer the Landing should plan on arriving as soon as possible. It'll be a fantastic adventure. A walk up to Angels Landing is a must-do for any Zion in April.
Hidden Canyon
Hidden Canyon is a tiny and deep "hanging canyon" located east of the Great White Throne, hidden above the main canyon. Hikers can continue as far as they want on the created trail, which climbs the east side of the main canyon, through a few ravines, and ends at the mouth of Hidden Canyon. With an elevation rise of over 1000 feet, some exposed sections, and plenty of rock scrambling in Hidden Canyon, this trip is fairly strenuous. Depending on how much you explore, it could take anywhere from 3 to 6 hours.
Along the trail, there are little sandstone caverns and a 20-foot natural arch. The trail also has some very steep thin-tracked rock sections. Despite the presence of chains in some sections to protect hikers, all hikers should proceed with caution. For people who are terrified of heights, some sections of this may be challenging.
The walk to Hidden Canyon begins at the Weeping Rock Trailhead, which is also the 7th stop on the Zion Canyon Shuttle. Begin your hike by walking up the paved trail on the east side of the main canyon, which runs parallel to it. You'll ultimately come to a junction in the Hidden Canyon Trail. Continue on the trail, which will take you up sandy switchbacks with spectacular vistas.
Riverside Walk
Riverside Walk is a paved, easy-to-follow walk with a path above the river and little elevation change, making it a great hike for families. The natural splendor of Zion National Park shows through, making it a popular day trip for park visitors. On all sides, towering eroded monoliths may be seen, as well as a glimpse of the Zion Narrows.
Many of Zion's unique creatures can be found in the trail's steep walls' hanging gardens, which are fed by trickling waterfalls. The Narrows' mouth lies near the bottom of the ascent, and most hikers who take the time to go down the Gateway spend at least a half-hour or more wading around in it. The Riverside Walk is an excellent spot to see some of the local Zion animals. Along the trail, you'll see lizards, birds, and some unusually friendly squirrels. Mule deer can also be seen, especially in the evenings. Always keep a safe distance from wild animals and never feed them.
You can stop and look at the exhibits in the information kiosks as you go along the Riverside Walk, which describes the variety of plant life in the area. Enjoy the lovely pools, hanging gardens, and creatures that call this place home.
Watchman Trail
The Watchman Trail in April was full of beautiful wildflowers, including many vibrant red Indian Paintbrushes. Indeed, the best month to visit the Trail is in April. This is a wonderful kid-friendly hike that rewards you with spectacular vistas of Zion Canyon without putting in a lot of effort.
On the east side of Zion, the Watchman Trail follows the slope of a tiny canyon. The hiking trail is mostly open, which means that the views of Zion Canyon get better as you climb higher.
This short trail starts at the shuttle station and heads upstream along the Virgin River's bank. A scrub woodland of juniper and pion pine with sagebrush in the sunny openings characterizes the vegetation in this location. Hikers will see overhanging cliffs and stratified rock layers as they hike along the base of Bridge Mountain along the stone walls. Along with views of Bridge Mountain and The Watchman, hikers can also gaze westward across the Virgin River for a spectacular perspective of the Virgin Towers, as well as south into Springdale.
The Trail is a 5.0 kilometer heavily trafficked out and back trail located near Springdale, Utah that features a river and is rated as moderate. It is open all year and is generally utilized for hiking, walking, running, and camping.
Zion Canyon Scenic Drive
The 54-mile Zion Canyon Scenic Drive is for you if you'd prefer to explore Zion National Park's magnificence. Angel's Landing, the Court of the Patriarchs, and Twin Brothers Mountain, to name a few, are among the park's notable landmarks.
From April through October, the park's shuttle bus system operates, and access to Zion Canyon Scenic Drive is limited to shuttle buses, hikers, and cyclists. Only overnight Zion Lodge guests and tour buses connected to the lodge, who have access to the road as far as the lodge, are excluded.
The shuttle system is divided into two loops, one near Springdale and the other along Zion Canyon Scenic Drive, with the loops connecting just inside the south park entry at the transit/visitor center
The byway parallels the Virgin River in many areas. Near I-15, it provides access to Quail Creek and Sand Hollow Utah State Parks. It cuts through the towns of Hurricane, Virgin, Rockville, and Springdale before entering the Park. Near Rockville, it provides access to Grafton ghost town, a photogenic site that was featured prominently in the movie "Butch Cassidy and the Sundance Kid."
Observation Point
Observation Point is the best hike is in Zion, and it is vastly underappreciated when compared to the popular Narrows and Angels Landing hikes. You can see everything of Zion Canyon, including Angel's Landing, from the magnificent Observation Point summit.
This popular trail leads from the bottom of Zion Canyon to the rimrock that rises far above it in a long and steep ascent. There are spectacular vistas along the way, including the lower sections of Zion Canyon, a quick glimpse into Echo Canyon's tiny slot, and views of the cliffs above upper Echo Canyon during the final climb. The most accessible of the rimrock views that border the canyon wall is Observation Point, which is positioned high above Zion Canyon.
Although Zion National Park is open all year, the best time to visit is in the spring or fall. The Observation Point trail is challenging to navigate in the winter due to the possibility of snow and ice storms. The park is less enjoyable in the summer due to the people and weather. Visit Zion National Park in April for the best experience and fewer crowds on the trail.
The Zion National Park's Observation Point is not for the faint of heart. Although this trail is less daunting than Angels Landing, it still has some major drop-offs. Even experienced hikers will find the 2,200-foot trek to the peak challenging
Horseback Riding
For horseback riding trips, Zion National Park is one of the most popular of the Utah National Parks. It was found by Native Americans who refused to enter the Park at night because of its enchanted walls. Early Mormon pioneers hired Indian guides to take them on a horseback tour of Zion Park. Zion National Park is still home to some of the most magnificent horseback riding excursions and trails in the Western United States, more than a century later.
Some of the most magnificent trails in the west may be found in Zion Ponderosa and the surrounding area! Make a point of crossing horseback riding off your spring bucket list. On the east plateau overlooking Zion Park, Zion Ponderosa is nestled in the pines at about 6,500 feet above sea level. Zion Ponderosa was previously a pioneer logging camp, surrounded by a ponderosa pine forest. Many of the ancient pioneer paths and horseback riding roads still exist, offering ranch guests a variety of horseback rides across the harsh Rocky Mountain high country.
East Zion Adventures leads all horseback rides at Zion Ponderosa Ranch Resort. The horses are picked and trained to accommodate a wide range of visitors to the resort. It's essential to inform the wrangler about your previous riding experience so he can match you with the best horse possible. The horses are young enough to enjoy the trip while still being strong enough to handle the climbs. They are also obedient for safety.
ATV Tours
There are so many excellent adventures and activities accessible around Zion National Park that you should consider while planning your trip. Going on an ATV or Jeep ride along one of the many official ATV and Jeep paths within a few miles of Zion National Park is one of the most popular activities. Although off-road driving is prohibited in Zion National Park, several BLM and Forest Service land in the Springdale, Hurricane, and St. George areas enable access to ATV and Jeep trails.
These trails provide access to perspective locations that are not accessible by automobile, and going to these overlooks on an ATV is a lot of fun. Quail Lake and Sand Hollow Reservoir are nestled amongst stunning Red Rock formations. Many of these desert sites overlook Springdale, Hurricane, and St George, Utah, and show off the nearby sand dunes.
Choose the Zipline and ATV Tour package to add even more fun to your already amazing day at Zion National Park, which allows you to ride with both ATV & Jeep Adventure Tours and partner Paragon Adventures Zipline. This 800-foot zipline takes you over red rock cliffs and desert landscapes, and it's unlike anything else in the Zion National Park area.
If you're searching for something exciting to do for business retreat activities, look no further than a corporate ATV tour. This package contains everything you need to make your next professional retreat a big success, from catering Western-style dinners to Cowboy poetry.
Sound Interesting? Check out this tour
Golf
In April, a spring in Zion equals fantastic golf. If you are a golf enthusiast, April is a perfect time to visit the Sky Mountain and Sand Hollow courses. These 45 holes of golf will provide some of the most visually striking backdrops you've ever played against.
Easily two of the best courses in Utah and certainly two of the most beautiful, these combined 45 holes of golf will provide some of the most visually striking backdrops you've ever played against. Both courses have won numerous awards and attract tens of thousands of visitors each year.
Greater Zion is a golfer's dream all year round. There is a course for everyone, whether experienced or inexperienced there are 13 courses within a 20-mile radius. Each one features breathtaking views, challenging shots, and a "playground" where Mother Nature did actually color outside the lines.
Sky Mountain Golf Course is a public 18-hole golf course owned and operated by the City of Hurricane. It is located in scenic Southern Utah, St. George area, and situated in one of the world's most scenic and breathtaking settings. The par 72, 6,383-yard course is far more difficult than the yardage suggests.
Moreover, Sand Hollow Golf Course has a reputation for being one of the best (many would say the best) golf courses in Utah. It is the best-rated golf course in Southern Utah. The 27 holes are split between two courses on the property and are bordered by the stunning red rock scenery that has made Southern Utah famous. The golf course has three distinct courses, allowing visitors to tailor their golfing experience to their skill level and preferences.
Recent Posts