15 Must Visit National Parks near Las Vegas, Nevada
Las Vegas is a great airport to fly into and visit the National Parks near Vegas. There are so many awesome national parks close to Vegas.
Nevada is an excellent area to base yourself if you want to visit the Southwest National Parks. Visiting the National Parks in Las Vegas is fantastic because there are so many around. The National Parks near Vegas are some of the best sites to visit in the Southwest.
National Park Entrance Fees
To enter the National Parks, you'll need to pay an entrance fee or have a National Parks Pass also known as American the Beautiful Pass.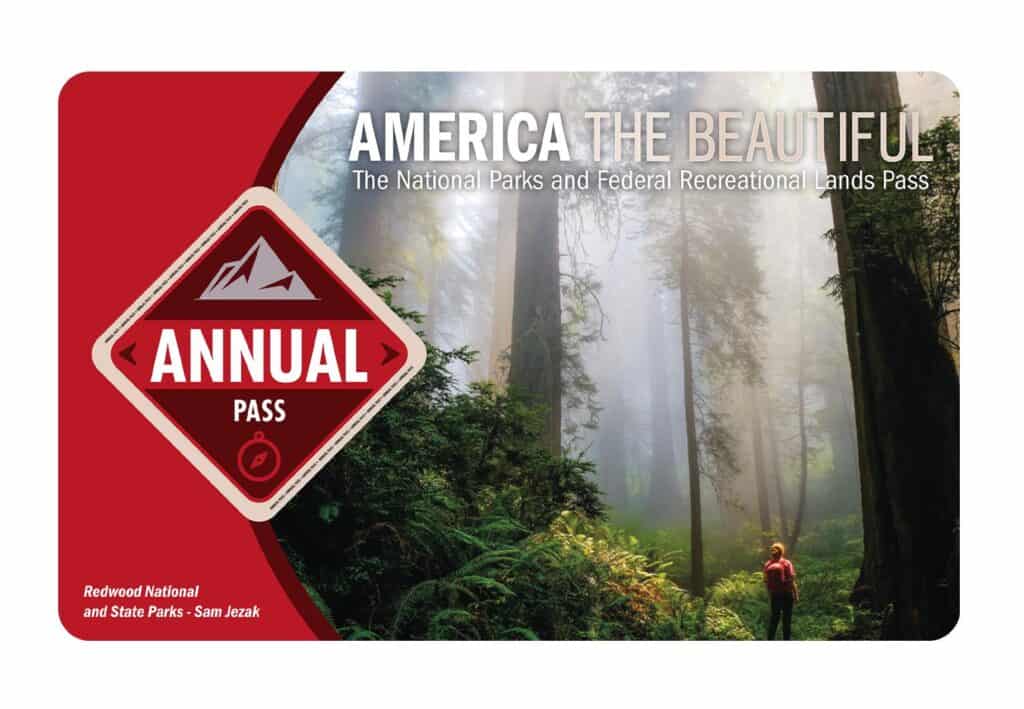 It costs $80 for a yearly America the Beautiful Pass. This gives you access to all national parks and federal areas that charge fees. The America the Beautiful Pass is well worth it!
I purchased my first one in 2016 and it's such a money-saver! Plus 10% of sale proceeds go to the National Park Foundation.
Tips for Visiting Grand Teton National Park
Grand Canyon National Park is perfect for outdoor enthusiasts. There is something for everyone on this list and for different fitness levels. Also, note that it is dry and hot (in the summer), and make sure you know what you are getting into before you start. Here are a few tips for visiting the Grand Canyon:
Bring a reusable water bottle and lots of water! Remember you are in the sun and you will need to drink lots of water. I love my LifeStraw Filtered Water Bottle. I can refill this bottle anywhere and it comes with a carabiner to connect it to my daypack.
Check the Weather – days over 100 degrees are very common. Make sure to check.
Hiking boots or sandals that will protect your feet! I love good shoes. I need all the support and help I can get. I actually love these sandals for hiking and also love these hiking boots.
Bring hiking poles for balance and to protect your knees. I know many experienced hikers (and even amateur ones) think that hiking poles are for old people who lose their balance. Actually, hiking poles can help when going down steep inclines or when scrambling over rocks. They are great to hike with even for the most experienced hiker.
Wear a sunhat. I feel like this whole post is about how high you are in the mountains and how much closer you are to the sun but it is so true. At elevation, you are closer to the sun and more likely to burn. Wear sun protection such as a sun hat and sunscreen.
Be aware of the wildlife. This is the Southwest and you will need to watch out for snakes and other wildlife such as moose or a bear. Please stay away from wildlife and do not feed them. I recommend carrying bear spray as well.
Start Early – If you want to avoid the traffic and the heat you will need to start your hike early. That way it will be nice and cool and the smog will not affect you either.
Leave no trace. If you are new to the concept of Leave No Trace it is all about preserving the environment to ensure it is in the same or better condition when you leave it. This means that you should stick to the trails and carry out everything that you carried in. This is a great explanation of the Leave No Trace principles!
Water shoes are great for water hikes– If you don't have a pair, I highly suggest it as they are affordable. I have an article on the pros and cons of several pairs of water shoes.
Bring Bug Spray and a snack: Be sure to bring everything you need including a snack like a protein bar plus BUG SPRAY.
Where to stay near Grand Canyon National Park
The Grand Canyon makes for a great weekend escape. Fresh air, beautiful scenery and being in nature does a world of good for the soul. I recommend staying as close to the park as possible and even treating yourself with a cabin with a spa pool to relax at night.
If you are taking a road trip remember to reserve a car in advance using Discover Cars .
15 National Parks close to Vegas – spend a day exploring
Zion National Park – the closest National Park near Las Vegas
In less than 3 hours, you could be in Zion National Park, Utah, one of the most beautiful national parks near Las Vegas. Unbeatable hiking trails, amazing starry sky, and distinctive landscapes featuring stunning slot canyons and sandstone cliffs may all be found here.
Zion National Park, Utah's first national park, offers a variety of activities such as hiking, camping, backpacking, climbing, and more, making it a favorite summer holiday destination for families and adventurers alike.
Zion National Park, located in southwestern Utah near the Nevada and Arizona borders, is a convenient stop for visitors to Salt Lake City, Las Vegas, or Grand Canyon National Park. Zion, which may be reached by State Route 9 or Interstate 15, provides guests with a diverse range of activities throughout different geographic locations.
A huge canyon is the highlight of Zion National Park. The 20 to 30-foot wide portion known as The Narrows and the tough area known as The Subway offer hiking chances along Zion Canyon's floor, which is 2,000 feet deep. In this section of the Virgin River, swimming is also permitted.
Natural rock arches are another stunning feature of Zion. Crawford and Kolob are two of the most well-known. Crawford Arch, a thousand feet above the canyon bottom, may be seen from the park's Human History Museum patio. Those trekking in the Kolob Canyon region of the park can see Kolob Arch. Double Pine, Jughandle, Chinle Trail, and Hidden Arch are some of Zion's other stone arches.
The weather in Zion National Park, like many other parks in the West, varies depending on the season and elevation. In the summer, temperatures on the canyon level can reach 100 degrees or higher, with highs in the ninety at higher elevations.
During this time, fast-moving thunderstorms may cause flash floods. Warm days and mild nights are typical in the spring and fall, but a late spring or early summer blizzard is always a possibility. With temperatures varying from 50 degrees during the day to below freezing at night, Zion receives the majority of its precipitation in the winter.
Park visitors can go camping, hiking, or backpacking at Zion National Park. Biking along Zion Canyon Scenic Drive and rafting on the Virgin River are two other outdoor activities. Guests looking for more leisurely activities can participate in ranger-led events, enjoy a guided horseback trip, or watch for one of the park's 285 bird species. Visitors visiting Zion National Park can pick up a map at the Zion Canyon Visitor Center.
Due to the expansive and diverse area it occupies, Zion has a large and diverse ecosystem. Visitors might expect to see lizards, mule deer, and wild turkeys while on vacation, but they should avoid dangerous animals like mountain lions and rattlesnakes.
Zion Park is open all year, 24 hours a day. During inclement weather or the colder seasons, however, some attractions may be closed. Camping at Zion National Park is provided for a charge at three developed front country sites, and reservations are necessary. Those yearning for a more opulent stay within the park can stay at Zion Lodge. While there is no additional charge for making reservations, it is encouraged that you do so if you want to stay in one of the lodge's cabins.
Within the park, tour guides are available for those interested in knowing more about the history or simply taking a guided tour. Check out my guide to the Best Things to do in Zion National Park.
Arches National Park
Arches National Park is located in Utah, north of Moab. It is notable for its more than 2,000 natural sandstone arches, including the huge, red-hued Delicate Arch in the east, which is bordered by the Colorado River in the southeast. 
To the north, in Devils Garden, sits a long, thin Landscape Arch. Balanced Rock, which towers over the arid environment in the heart of the park, is yet another geological formation.
Although Delicate Arch is the most famous, looping 65 feet out of an orange bluff according to its own devised axes, every hike in Arches National Park will teach you something new: Landscape Arch's metaphysics; Park Avenue's Courthouse and Tower of Babel; the Fiery Furnace's lost souls It's all sitting there quietly, like an engineering project that was shelved due to its improbability.
Consider carpooling (or biking). You'll feel like a good citizen of the world, plus you'll have to compete with one fewer car for a parking spot at busy trailheads. Parking spots at popular trailheads fill up like horse racing on payday, so choose some less traveled trails (it will make all the difference) or consider hiring a local taxi service or commercial tour business to drive you off and collect you up from the park. If you must visit popular areas such as Devils Garden, Delicate Arch, or the Windows, avoid parking in overcrowded lots. Move on (there's a scenic road loop through the park that passes a lot of trailheads) and come back later.
The amazing thing about Arches is that everywhere you go and wherever you are, is guaranteed to be mind-blowingly beautiful. But, as good as everything is, there are some things you'll be sorry you didn't see. If you only have a limited amount of time and can't see everything, prepare a list, double-check it, and go for the petrified hills!
Despite its distance, Arches National Area is definitely worth the trip due to the stunning natural beauties that can be found throughout the park. The landscapes of Arches National Park have evolved dramatically over the last few decades as a result of weather and natural events.
Arches may be hot and dry, but it's as well-known as the captain of a 1980s football team. That implies there will be a lot of people, so plan your trip carefully. If you're driving, go between the hours of 7 and 8 a.m. or 3 and 5 p.m. The weather is cooler at that time, and you'll feel cool just for thinking ahead.
Check out my article on the Best Things to do in Arches National Park.
Bryce Canyon National Park
The crimson-colored hoodoos of Bryce Canyon National Park, a huge reserve in southern Utah, are renowned for their spire-shaped rock formations. The park's main road passes by the Bryce Amphitheater, a hoodoo-filled depression beneath the Rim Trail hiking trail. Sunrise Point, Sunset Point, Inspiration Point, and Bryce Point all have scenic vistas. Sunup and sundown are the best viewing periods.
Horseshoe-shaped amphitheaters formed from the eastern side of the Paunsaugunt Plateau, beautiful vistas, and the dark night sky can all be found in Bryce Canyon. Spectacular hiking, camping, endless outdoor ranger activities, and even a Prairie Dog Festival await visitors.
The park is divided into three climatic zones: spruce or fir forest, Ponderosa Pine forest, and Pinyon Pine or juniper forest, due to its vertical distance of almost 2,000 feet.
In the national park, there are infinite opportunities to learn and explore, from hiking to stargazing to finding ancient cultures. Hiking and camping are two of Bryce Canyon's most popular activities. Camping is available at one of two reservation-based car camping areas near the visitor center or by getting a backcountry permit for one of the many sites along the trails.
Bryce Canyon's diverse ecosystems support a diverse range of wildlife, including over 100 bird species, dozens of animals, and over a thousand plant species.
There are as many red rock hoodoos as trees in this alpine woodland. Mule deer graze the forested plateau along the route into Bryce Canyon at sunrise and sunset. Hundreds of species of mammals and birds live in the alpine environment, all aware of one thing: this is no ordinary forest.
Water and wind have etched countless fields of characteristic red rock pillars, known as hoodoos, as well as the park's series of natural amphitheaters, into the plateau through millions of years of freezes and thaws. Winter activities such as snowshoeing and cross-country skiing are also possible because Bryce Canyon National Park is located at a height of 8,000 to 9,000 feet.
While sunny for most of the year, the temperature and weather in Bryce Canyon National Park may be fickle. Be ready for anything, from nearly daily summer thunderstorms to massive winter snowstorms. Visitors should always check the daily forecasts to see what the park has in store for them on any particular day.
Capitol Reef National Park
Capitol Reef National Park is in Utah's south-central desert. It surrounds a long wrinkle in the earth known as the Waterpocket Fold, with layers of golden sandstone, canyons, and striking rock formations. Among the park's sights are the Chimney Rock pillar, the Hickman Bridge arch, and Capitol Reef, known for its white sandstone domes. In the north are the towering monoliths of Cathedral Valley.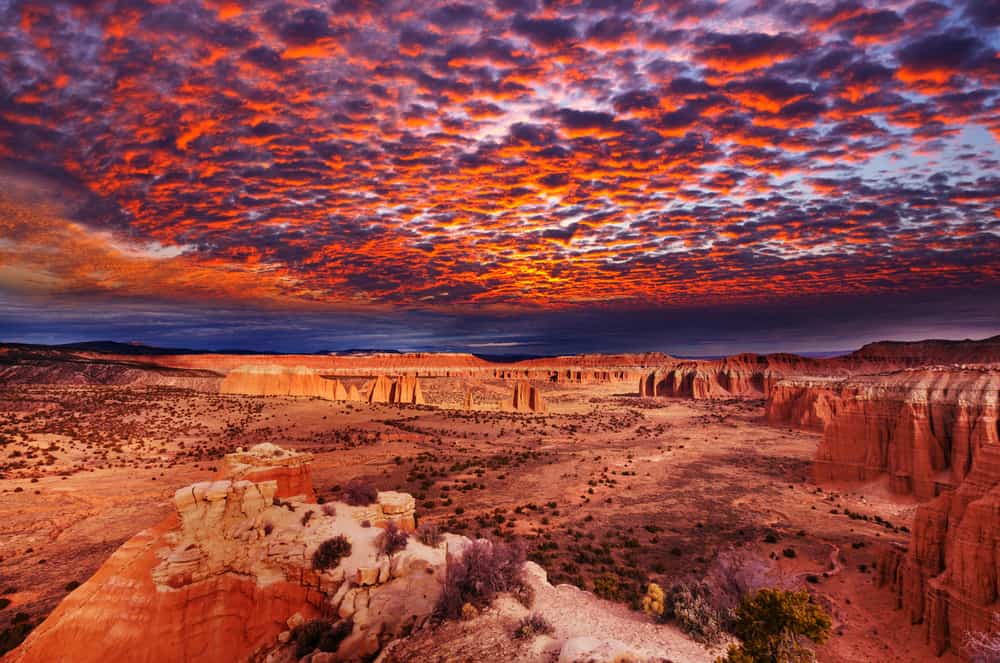 Capitol Reef National Park is a national park in the United States that is located in south-central Utah. On a north-south axis, the park is around 60 miles (97 kilometers) long but just 6 miles (9.7 kilometers) wide.
The park was founded in 1971 to protect 241,904 acres of the desert landscape. It is open all year, from May through September, and seeing most tourists.
The hoodoos of Bryce Canyon National Park are a collection of irregularly formed rocks that have been eroded through time. There are several walking/hiking paths, astronomy programs, information centers, and tour guides, as well as evening treks for those clear sky nights, especially when a full moon is out, in addition to the distinctive scenery and magnificent perspectives.
Even among Utah's many outstanding national parks and monuments, Capitol Reef National Park's sense of expansiveness, huge, sweeping panoramas, a tortured, twisted, seemingly infinite landscape, or limitless sky and desert rock is impossible to match.
While Bryce Canyon and Zion National Parks are like miniature fantasy kingdoms of colorful stone and soaring cliffs, Capitol Reef is nearly a planet unto itself. Here you may get a real sense of what the earth was like before life when there was nothing but earth and sky.
Bryce Canyon NP also has two campgrounds for visitors who desire to extend their journey beyond a single day. Bryce Canyon NP has fewer annual tourists than other NPS due to its more remote position (in comparison to other NPS), therefore it's a good alternative for people looking to get away from the crowds and enjoy the calm and beauty of nature.
Check out my post on the Best Things to do in Capitol Reef National Park
Grand Canyon National Park 
Grand Canyon National Park, in Arizona, is home to much of the immense Grand Canyon, with its stratified bands of red rock reflecting millions of years of geological history. Mather Point, Yavapai Observation Station, and architect Mary Colter's Lookout Studio and Desert View Watchtower are among the sights to see. Lipan Point, with its expansive views of the canyon and Colorado River, is particularly popular around sunrise and sunset.
Grand Canyon National Park is a renowned national park destination that offers rim-to-rim hiking, donkey rides, and whitewater rafting.
Canyons, river tributaries, and surrounding areas make up Grand Canyon National Park. This park is one of the most visited tourist places in the world, with millions of tourists each year. In addition, since 1979, the park has been a UNESCO World Heritage Site.
The North and South Rims of Grand Canyon National Park are open to the public. The Grand Canyon South Rim, at 7,000 feet above sea level, is the most accessible area of the national park, with abundant locations to pull over and take the vistas.
The Grand Canyon North Rim, which is 1,000 feet higher than its southern twin, is less popular since it is more difficult to reach, especially when access roads are closed by strong winter weather. The distance between one rim and the other is 220 kilometers by automobile. By foot, however, the trek across the canyon via the Kaibab Trails is 21 miles.
Over 500 species of animals can be found at Grand Canyon National Park, which is home to several different ecosystems. Hundreds of bird species can be seen in the park, including the endangered California Condor. Coyotes, bats, mule deer, bighorn sheep, mountain lions, elk, and a variety of other species live in the park. Many different varieties of arachnids and insects can be found in the Grand Canyon, with scorpions primarily prevalent in the lower altitudes along the river. The park is home to a variety of snake species, including six different types of rattlesnakes.
Despite being open 365 days a year, Grand Canyon weather can be unpredictable. While the South Rim is beautiful in the summer, it is also highly crowded, and temperatures on the canyon bottom can reach over 100 degrees. Spring and autumn can be delightful, but they can also be unpredictable. When arranging a trip to Grand Canyon National Park, make sure to go over all of the details.
Death Valley National Park
Death Valley National Park, despite its foreboding name, is a stunning terrain with miles of deep sand dunes, technicolor rocks and canyons, unique and endemic fauna, one-of-a-kind evaporative salt components, and jaw-dropping peaks that reach 11,000 feet above surrounding valleys.
Death Valley National Park has something for everyone, from the draw of ghost towns, historic mining operations, wildlife, and raw natural beauty in the spring to the fascination of ghost towns, historic mining operations, wildlife, and raw natural beauty in the summer.
The Park, which was designated as a national monument in February 1933, owes much of its early growth to the Civilian Conservation Corps, or CCC. Twelve CCC companies worked in the area from 1933 to 1942, building routes, structures, and camps. They also provided phone and water service to some of the valley's residents. Many of the structures they constructed are still in use at Death Valley National Park today.
Death Valley was regarded for many decades as a prosperous mining hotspot, not just because of its natural beauty and pioneer heritage. Gold, silver, copper, tungsten, lead, zinc, antimony, and borax were all mined extensively in the valley. The Billie Mine, located along the Dante's View road, was the last mining facility to close in 2005.
Metal ore mines, charcoal kilns, ghost villages, petroglyphs, and ancient Shoshone foot routes are among the many remains from Death Valley National Park's long history that provide a look into the tough lives of the area's early settlers and native inhabitants.
It has a blend of unique natural and historical offers, from the natural beauty of Badwater Basin, the lowest point on the North American continent, to the spectacular views of Twenty Mule Team Canyon and the allure of famous Scotty's Castle. Over 800,000 visitors visit Death Valley National Park each year, and there are nine different Death Valley camping facilities, as well as inns and resorts, to accommodate them.
There are many miles of road that may be explored by car, as well as natural history, hiking, and bicycle tours. There is enough rough terrain for backcountry camping, hiking, and four-wheel drive cars for the truly adventurous. The Furnace Creek Visitor Center provides information on the park's history as well as a map of Death Valley.
A surprisingly alive ecosystem thrives in Death Valley. It is 140 miles long and home to a diverse range of fauna, including bighorn sheep, mountain lions, and numerous butterfly species like the Square-spotted Blue, Indra Swallowtail, and Western Pygmy Blue.
Great Basin National Park, Nevada
Great Basin National Park is located near the Utah border in eastern Nevada. It is located in the Great Basin Desert and is home to the majority of the South Snake Mountains. The mountain-hugging Wheeler Peak Scenic Drive goes to the majestic Wheeler Peak in the north. One of several historic bristlecone pine groves can be found nearby. The stalactites and other formations in the marble Lehman Caves are unique. Bighorn sheep are among the park's biodiversity.
The Park is a site to explore the remarkable diversity of the larger Great Basin region, from the 13,063-foot peak of Wheeler Peak to the sage-covered foothills. Come experience wilderness isolation, walk amid ancient bristlecone pines, bask under the darkest night skies, and discover fascinating subterranean pathways. There's a lot more to this place than just desert!
It has a 31,161-hectare Snake Range mountain destination with opportunities to both view and participate in a variety of activities, offers fun and adventure throughout the year. In the summer, go creek fishing, scenic drives on back roads, strenuous hikes, and underground cavern exploration. Before winter decorates the trees with snow, fall brings a change in colors. Learn how to identify animal tracks left by bobcats, elk, coyotes, and jackrabbits while skiing around the park. Animals awaken in the spring, and the countryside explodes with vibrant vegetation.
Great Basin National Park's remote position in middle eastern Nevada contributes to its attraction. This National Park is ideal for peace, quiet, and adventure due to its lack of tourists and breathtaking scenery.
It is located in Nevada and is about a 5-hour drive from Las Vegas.
Canyonlands National Park
Canyonlands National Park is located near Arches National Park.  If you want, you can visit both in one day. Arches are around 30 kilometers from Canyonlands.
Due to low light pollution and high air quality, visitors to Canyonlands National Park will be able to see the night sky in all of its glory.
Canyonlands National Park, carved by the Colorado River, offers visitors hiking, stargazing, camping, and technical rock climbing.
The park, which was established in 1964, protects 527 square miles of colorful landscape eroded by the Colorado River and its tributaries into many canyons, mesas, arches, and buttes. The park is divided into four sections by the Colorado and Green rivers: Island in the Sky, Needles, Maze, and the rivers themselves. While these landscapes share a basic desert ambiance, they each have their own personality and provide unique exploration opportunities.
While there are no lodging or dining options in Canyonlands, there are two camping sites and backcountry camping alternatives. Prepare for your visit by learning about safety, rules, and required permissions if you plan to spend the night in the vast desert outdoors. Experience some of the park's most recognizable sights on a ranger-led tour.
While this desert can appear scant at times, the majority of Canyonland's fauna has evolved to survive predation and high daytime temperatures. The weather and seasons influence which species are active, and the majority of the park's wildlife is nocturnal. During the day, rock squirrels, chipmunks, lizards, snakes, and eagles are all active.
Canyonlands, which is classified as a "high desert" and has elevations ranging from 3,700 to 7,200 feet above sea level, has extremely hot summers, extremely cold winters, and receives less than ten inches of rain each year. Temperatures can vary by up to 40 degrees within a single day.
Monument Valley and Four Corners
Monument Valley, which straddles the border between Utah and Arizona, is known for its massive sandstone buttes that rise up to 1,000 feet into the sky. The land is owned by the Navajo Nation, even though the Navajo were not the first people to live there. According to some evidence, the Anasazi tribe inhabited the area until before 1300 AD, when they fled. After that, the Navajo arrived, and they continue to call it home.
Many people are familiar with Monument Valley because of the numerous famous Hollywood Westerns and wild west films that were filmed there, including Stagecoach, Once Upon a Time in the West, The Lone Ranger, and Back to the Future Part III. Monument Valley is
This is another geological location where towers of red rock sticking up from the earth, creating many varied formations in the rocks after years of wind erosion. It's a 30-mile loop that takes you into Monument Valley. featured in a humorous moment in National Lampoon's Vacation, one of our favorite vacation films.
If you visit Monument Valley, you should also visit Four Corners National Monument, which is only a 90-minute drive away. It's the only area in the United States where you may claim to be in four places at once, thanks to the Navajo Nation. The place where the borders of Arizona, New Mexico, Colorado, and Utah meet, producing a spot where tourists can traverse four states, is known as Four Corners.
Four Corners is a tourist trap off Highway 160, but it's still worth a visit. Local tribes, such as the Utes and Navajos, have stores selling food and souvenirs, but the major attraction is a little granite disc that symbolizes the intersection of four states. Although it is little more than a borderline, tourists twist themselves into pretzels to place a hand and a foot in each quadrant, and it is a delightful stop to make when visiting Monument Valley.
Recent Posts