One Perfect Day in Capitol Reef National Park, Utah
Wondering what to do in Capitol Reef in One Day? This One Day Capitol Reef Itinerary covers all of the highlights of the park plus a few hidden gems. Whether you have a full day to visit Capitol Reef or even a half a day, this itinerary will help you plan your visit.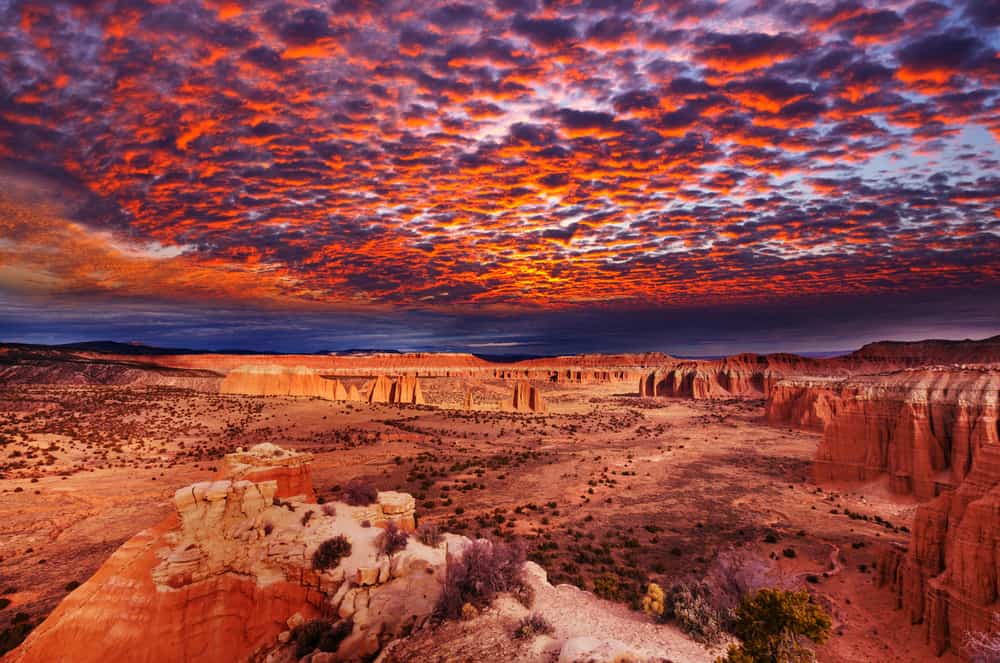 A lot of people just drive through Capitol Reef National Park but it is well worth a stop. From the petroglyphs to Hickman Bridge to fruit pie (yes, Pie!) there are a lot of things to do in Capitol Reef.
You can also check out my post on the Best Things to do in Capitol Reef for more ideas.
Thank you for supporting this website written by an American. This post may contain affiliate links. This means I earn a small commission on these links at no extra cost to you.
National Park Entrance Fees
To enter the National Parks, you'll need to pay an entrance fee or have a National Parks Pass also known as American the Beautiful Pass.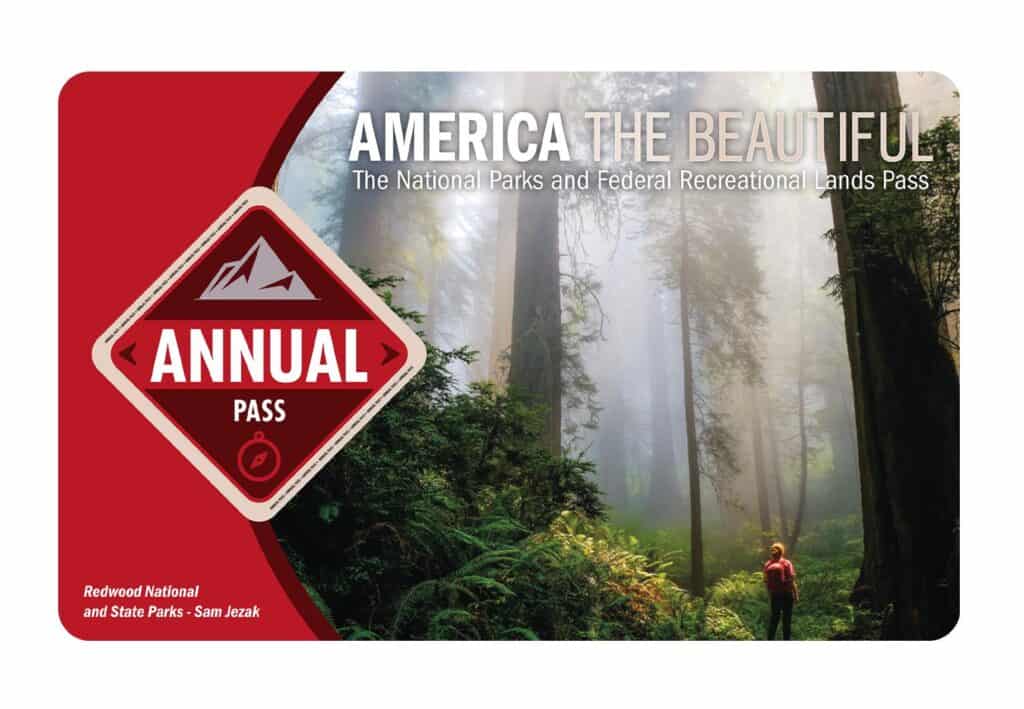 It costs $80 for a yearly America the Beautiful Pass. This gives you access to all national parks and federal areas that charge fees. The America the Beautiful Pass is well worth it!
I purchased my first one in 2016 and it's such a money-saver! Plus 10% of sale proceeds go to the National Park Foundation.
Tips for Visiting in Capitol Reef National Park
Capitol Reef is perfect for outdoor enthusiasts. There is something for everyone on this list and for different fitness levels. Also, note that it is dry and hot (in the summer), and make sure you know what you are getting into before you start. Here are a few tips for visiting Capitol Reef:
Bring a reusable water bottle and lots of water! Remember you are in the sun and you will need to drink lots of water. I love my LifeStraw Filtered Water Bottle. I can refill this bottle anywhere and it comes with a carabiner to connect it to my daypack.
Check the Weather – days over 100 degrees are very common. Make sure to check.
Hiking boots or sandals that will protect your feet! I love good shoes. I need all the support and help I can get. I actually love these sandals for hiking and also love these hiking boots.
Bring hiking poles for balance and to protect your knees. I know many experienced hikers (and even amateur ones) think that hiking poles are for old people who lose their balance. Actually, hiking poles can help when going down steep inclines or when scrambling over rocks. They are great to hike with even for the most experienced hiker.
Wear a sunhat. I feel like this whole post is about how high you are in the mountains and how much closer you are to the sun but it is so true. At elevation, you are closer to the sun and more likely to burn. Wear sun protection such as a sun hat and sunscreen.
Be aware of the wildlife. This is the Southwest and you will need to watch out for snakes and other wildlife such as moose or a bear. Please stay away from wildlife and do not feed them.
Start Early – If you want to avoid the traffic and the heat you will need to start your hike early. That way it will be nice and cool and the smog will not affect you either.
Leave no trace. If you are new to the concept of Leave No Trace it is all about preserving the environment to ensure it is in the same or better condition when you leave it. This means that you should stick to the trails and carry out everything that you carried in. This is a great explanation of the Leave No Trace principles!
Water shoes are great for water hikes– If you don't have a pair, I highly suggest it as they are affordable. I have an article on the pros and cons of several pairs of water shoes.
Bring Bug Spray and a snack: Be sure to bring everything you need including a snack like a protein bar plus BUG SPRAY.
How to Make the Most out of One Day in Capitol Reef National Park, Utah
Visitor Center in the morning
Capitol Reef National Park is located in the state of Utah's south-central area about a 2.25 hour drive from Moab. Highway 24 runs through the heart of the city and serves as the principal entry point. The park is open all year, 24 hours a day.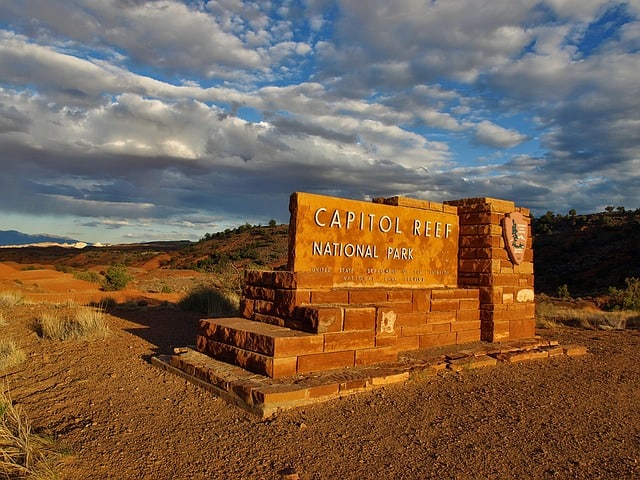 The Visitor Center, which is located just off Highway 24, is open throughout the year and features information, displays, and a slide show. A museum with exhibits on the geology, archaeology, and history of the area is also open to the public. Stop by to learn how to visit the park with the least amount of effect on the delicate desert environment.
Pick up a guide and a map at the visitor center. On-site park rangers can answer your queries and advise you on the best places to explore inside the park.
Drive Scenic Drive
The Scenic Drive winds through Capitol Reef National Park's heart, allowing visitors to see many of the park's notable formations. It also connects to well-known trailheads. The route is paved and appropriate for all types of vehicles. The drive starts at the Visitor Center, where you can pick up a map of the route's attractions.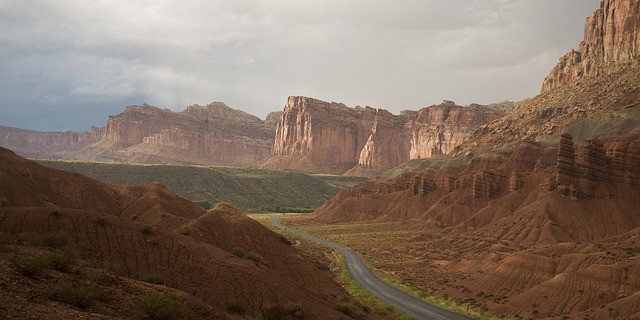 Allow an hour and a half to drive the Scenic Drive and the two dirt spur roads, Grand Wash and Capitol Gorge, round trip. These dirt spur roads, which mainly enter canyons and lead to trailheads, are normally appropriate for passenger cars and RVs up to 27 feet in length. Due to snow, ice, mud, and flash floods, the Scenic Drive, Grand Wash, and Capitol Gorge routes may be blocked.
Before you may take this drive, you must pay a park entrance fee. America the Beautiful Pass allows you to enter without paying a fee.
In every direction, there are interesting views. From the road, you may view sheer sandstone cliffs, uniform layers of shale, and rocks that have been lifted, folded, and cut into intriguing designs. Exposed rock layers provide a glimpse into the earth's history at various periods.
9am – Hickman Bridge
Hickman Bridge is the place to go during your visit to Capitol Reef National Park if you want to go on some short hikes while taking in some beautiful canyon vistas! Near Torrey, this is a popular out-and-back trail. 
Begin your day with a 1.8-mile easy hike to the beautiful Hickman Bridge, a 133-foot natural bridge. Take in the spectacular canyon views along the route. The elevation increase is not too significant — 400 feet total – making this a nice family hike. Since the terrain might be rocky at times, make sure you wear suitable hiking shoes.
At the trail's end, you'll see a massive natural rock bridge that matches many of the formations in Arches National Park. The orange-colored bridge is eye-catching, and the view from below is spectacular.
March through November is the perfect time to travel this route. This trail will reward you with a variety of wildflowers and stunning views if you explore it in June! By venturing off the established path, you can try out new perspectives. If you only do one hike in the park, make it this one.
10 am – Chimney Rock Trail
The Chimney Rock Trail, which runs alongside UT 24 just inside Capitol Reef's west entrance, is perhaps the best short path in the park and offers the shortest hike to a high elevation viewpoint, and passes through a variety of scenery, including colorful badlands, tall cliffs, and the mouth of a narrow canyon.
The Chimney Rock Trail in Capitol Reef National Park leads visitors to the top of a low mesa near the Waterpocket Fold's edge and across the mesa's loop trail. The rock is a natural spire that rises 300 feet above the road, worn out of the side of the mesa.
Hikers with enough time and bravery can enter Chimney Rock Canyon from the east end and drop down into Spring Canyon for a 10-mile canyon crawl instead of following the loop trail back down the switchbacks on the northwest side of the mesa. Unless they choose to hike another 10 miles upstream, this route will necessitate having a shuttle waiting for them down by Grand Wash on Highway 24.
The trail is completely exposed in the summer, with little shade, making it a very hot hike. Always remember to bring plenty of water and a hat.
Capitol Reef Petroglyphs
In Capitol Reef National Park, ancient Native American rock art figures can be observed in various locations. The majority are linked to the Fremont Culture, which flourished in parts of Utah from 600 to 1300 AD. The Fremont people lived alongside the Four Corners area's Ancestral Puebloans.
Along a sheer cliff that borders Hwy 24 just east of the Capitol Reef Visitor Center, there are some very spectacular petroglyph figures. The figures depict a variety of rock panels, and the variety of images is astounding. The area, which contains a parking turnout, is identified by a road sign. To make it easier for people to observe the figures, boardwalks and viewing platforms have been built.
You can infer information about a variety of shapes from the gorgeous depictions, including anthropomorphic (human-like) characters, wildlife, birds, tools, and more esoteric, abstract objects. Other Native American tribes in the area were less prolific with their rock painting than the Fremont.
Along the park's main highway, rock art is a must-see attraction. Another rock art panel may be seen in Capitol Gorge, and more rock art figures can be found in the backcountry.
Gifford House Store and Museum
Visit the Gifford Homestead in the Fruita Valley, which was important enough for famous Western writer Wallace Stegner to describe it in his book American Places, which he co-authored with Page Stegner. The restored farmhouse, along with its barn, smokehouse, and garden, was built in 1908 by a Mormon polygamist and gives visitors a picture of Mormon life in the early 1900s.
The Gifford Homestead, one of the last remaining structures in old Fruita, sells local craftsmen's dolls, soap, quilts, jams & jellies, and books. The pie, on the other hand, is the star of the show. They're well-known for their fruit pies made with locally farmed ingredients! Stop in for some ice cream and a slice of fresh fruit pie. They should not be missed!
You may buy exquisite baked pies, coffee, scones, and cakes inside the home, which you can enjoy on picnic tables right outside the front door, surrounded by a serene scenery. The greenery of Gifford Homestead will astound you, especially after seeing the canyons' red colors!
1pm – Grand Wash and Cassidy Arch
Grand Wash is one of the most popular hikes in Capitol Reef National Park sicnce it's easy to hike. The narrow valley with sheer granite cliffs on this trek is well-known.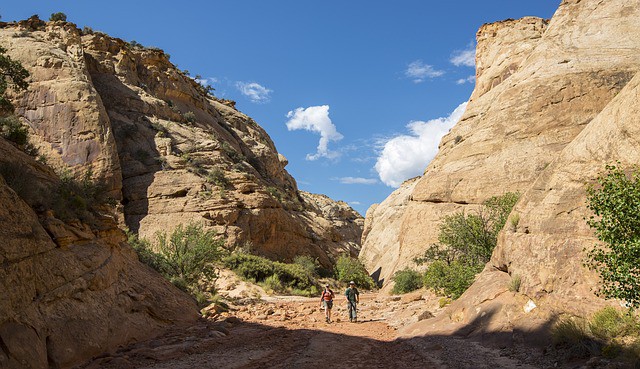 The trip to the narrows was about 1.2 miles long, and the wash is quite level throughout; nonetheless, it was full of streambed debris, so athletic shoes or hiking boots are recommended. The recommended trail into Grand Wash is 2.25 miles long. You hike out in the same direction you came in, for a total distance of 4.5 miles.
After a mile, the spur comes to an end, but hikers can continue on a maintained trail into the wash's most beautiful section. Cassidy Arch, a picturesque natural arch on the canyon's north side, may be found along the trail. The arch was named after Butch Cassidy, the notorious criminal who is said to have hidden in Grand Wash on several occasions.
The Cassidy Arch walk ascends steeply from Grand Wash to the cliffs above the arch, offering spectacular views. It's a 3.5-mile round-trip hike that's considered strenuous.
Panorama Point
This short family-friendly trail leads to a viewpoint with a 360-degree panoramic vista near Capitol Reef National Park's west entrance. While the trail to the top of Panorama Point is just around 100 yards one-way, it continues a short distance to the plateau's end for those who want to continue exploring. This hike is appropriate for kids and adults of all ages and levels of fitness.
Begin hiking south from the parking area on the well-worn Slickrock track. Continue hiking to the summit of Panorama Point, which is about 35 feet and just over 100 yards. An exhibit on the peak provides information about the park's extraordinarily clean air, which adds to the breathtaking vistas you're about to see. It's simple to see how this place earned its name from the top. In any direction, there isn't a bad view.
Continue hiking southwest from the top of Panorama Point on a less-traveled trail. Before continuing on to another mesa, the trail passes through a rocky outcropping with fascinating 'melted' rock formations. Continue hiking till you reach the plateau's end and more spectacular views. Simply return the way you came once you've finished exploring the area.
Fruita Schoolhouse
The Historic Gifford Homestead, which is located along the Scenic Drive and is open during the summer season, is typical of rural Utah farm-houses from the early 1900s. Cultural demonstrations are held at the homestead, and certain pioneer-style homemade things can be bought.
Historic fruit orchards, full of cherry, walnut, almond, pear, plum, mulberry, apricot, apple, and peach trees, can be seen near the Visitor Center and campground. They were first cultivated by pioneers in the late 1800s. Fruita was developed by pioneers who successfully farmed fruits and a variety of other crops. The park protects relics from that era that are deemed valuable historic characteristics.
You may view numerous trees in bloom from late March to early May, starting with cherry trees at the end of March and ending with apples in early May. Depending on the tree, harvest season begins in June and lasts until early September. In season, visitors can pick fruit and pay for it at self-pay stations.
Sunset Point
Head to Sunset Point before the sun sets to see magnificent views of the sun setting over the desert. As wonderful as it is to watch the sun set, watching the sun set on the sandstone cliffs around you is equally as stunning. The round-trip distance for this short hike is only .9 miles.
Sunset Point is also a great place for the little ones, grandparents and toddlers to climb. Despite the fact that it is not wheelchair accessible, they would enjoy this hike.
The trail to Sunset Point is quite flat, with some rocky up and down in the first few hundred yards. The walk is lined with lovely red rocks but is not difficult or sandy. Because this climb isn't extremely popular, you're likely to have the bench to yourself. Keep an eye out for the red rocks of the water pocket fold on your left as you hike. The deep, brilliant color that comes at sunset gives the walkway its name.
The views along the trail and from the top are spectacular. Don't miss out on one of the most breathtaking sunsets you'll ever witness! Sunset Point is named from the fact that it is one of Capitol Reef's premier sunset viewing locations.
Goosenecks Overlook
Even if you're not a hiker, the Goosenecks Overlook trail, which takes you up over a tiny ridge for a view of the canyon below, is worth getting out of the car for. Even though there are some steps and slopes, as well as some uneven terrain, this is a short and easy hike.
The Goosenecks Overlook hike is located in Capitol Reef National Park in Torrey, Utah. The short trail leads from the parking area to an overlook over the flowing bends of Sulphur Creek Canyon hundreds of feet below. The creek cut its way downhill through the soft rock as the ground was uplifted when the Rocky Mountains were constructed.
The fenced area is a safe place to have a close look at the breathtaking vista of the goosenecks. Another popular, but much more challenging, Capitol Reef hike is Sulphur Creek, which flows below. After soaking in the breathtaking views, return the same way you came to the trailhead.
Capitol Gorge
Capitol Gorge, located at the end of Scenic Drive, is a great place to stretch your legs. The two-mile climb is very flat and offers spectacular views of the canyon floor as well as historic inscriptions left by previous visitors. If you want to put in a little extra effort, a short ascent at the end leads to the "waterpockets" called after this structure.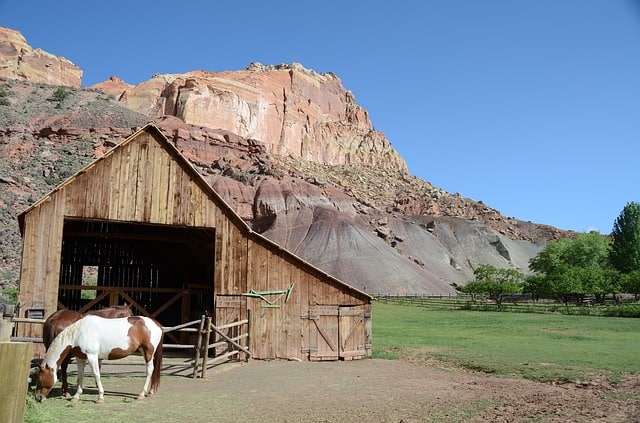 Until 1962, you could drive all the way through Capitol Gorge, all the way to the Fremont River's confluence. Hiking along the old roadbed and spur trails that lead to beautiful spots is now possible.
A panel of petroglyph rock art created by ancient Fremont people can be seen by going a short distance into Capitol Gorge. Pioneers engraved their names into the canyon wall nearby at a location known as Pioneer Registry.
The Tanks are another scenic landmark in the area. The rock has been cut into pockets by erosion, and the pockets often collect rainwater. From the end of the spur road to The Tanks, it's a 2.5-mile round-trip hike.
The Golden Throne is another massive rock feature in the Capitol Gorge area. A trail winds up the cliffs from Capitol Gorge and ends with a vista with panoramic views, including a dramatic view of the Throne. This spur trail has a round trip distance of 4 miles. It is considered difficult.
Cathedral Valley
Cathedral Valley is located in the rugged and remote northern portion of Capitol Reef National Park. Few people travel such a long distance to see the valley's sandstone monoliths, colorful Bentonite hills, and vast desert beauty. If you prefer getting away from the crowds and exploring the backcountry, the Cathedral Valley Loop is a must-do on your bucket list.
The Upper Cathedral Valley Trail's most popular stop is the magnificent Temple of the Sun and Temple of the Moon, two gigantic rock monuments visible from the trail.
For its views, this route appeals to those who consider themselves to be environmental and cultural enthusiasts. The trail is available all year and visitors can have a self-guided 'road trip' on it! The road is approximately 60 miles long and is free to drive.
Highway 24 – the main route through the park
Highway 24 is the main road that runs through the park. This 16-kilometer east-west path follows the Fremont River within the park's boundaries.
Highway 24 is a very lovely stretch of road. Along the Fremont River in the east, the route twists and turns, passing gigantic domes and Navajo sandstone cliffs. As you approach Fruita, the views open out as you drive through a valley rich with orchards and historic homes along the Fremont River. As you drive west into Torrey, you'll pass by large red sandstone mountains, cliffs, and rock formations.
Since Highway 24 has no admission fee, you can visit this part of Capitol Reef for free. Capitol Reef's "no fee zone" includes Sunset and Panorama views, petroglyphs, and a few hiking routes.
Stargazing at night
The International Dark-Sky Association has designated Capitol Reef as a Gold-tier park, indicating that it is an outstanding location for astronomy and night photography.
One of the best things about stargazing is that you don't need any experience or special equipment to enjoy it. From anywhere in the park where you may comfortably sit outside, you can stargaze. Bring a blanket or a folding chair to relax on. You might want to carry a flashlight with you to help you find your stargazing location. However, once you arrive, switch it off as soon as possible to allow your eyes to acclimatize to the darkness.
The effect on your eyes will be reduced if you use a flashlight or headlamp with a red bulb. Bring red-bulb flashlights if you're out stargazing with kids. This allows them to turn on their light if they are afraid of the dark, without having to wait for their eyes to adjust entirely each time. A small telescope or even a pair of binoculars can help you see the stars better, but they aren't required. Don't forget to bring snacks and drinks since you won't want to leave to get something to eat after you've started stargazing.
Panorama Point is one of the best sites to take some night photography photos of the stars and the Milky Way. The National Park Service hosts astronomy seminars and events at the amphitheater at the Fruita campground, which is another fantastic spot for stargazing.
Recent Posts