What to See in Death Valley in One Day
Death Valley day trip: Are you looking to spend one day in Death Valley and wondering what to do? There are so many things to see in Death Valley in one day.
In this Death Valley 1 day itinerary you will find all of the highlights of Death Valley (must do in Death Valley) and helpful tips.
Death Valley National Park is located on the desert valley floor and is called "the hottest location on Earth". With an average temperature of 107 degrees Fahrenheit, it's easy to see why.
Death Valley National Park covers 5,270 square miles, and its size allows you to travel across a variety of landscapes in a single day, from Bolivian-style salt flats to Sahara-style sand dunes.
This is the largest national park in the lower 48 states, and it would take much more than one day to explore and experience it. The majority of the park's finest attractions, however, are located along the park's main paved road, making them easily accessible for a day trip to Death Valley.
You may surely visit Death Valley and see the unforgettable top attractions if you are willing to squeeze in a full sunrise to sunset one-day schedule in Death Valley.
With so much to see, you could spend weeks driving around, but because so much of the park is closed to visitors, seeing the attractions of Death Valley in just one day is much easier than you might expect.
Check out my post on Airbnbs near Death Valley or my Death Valley Glamping Guide.
Thank you for supporting this website written by an American. This post may contain affiliate links. This means I earn a small commission on these links at no extra cost to you.
National Park Entrance Fees
To enter the National Parks, you'll need to pay an entrance fee or have a National Parks Pass also known as American the Beautiful Pass.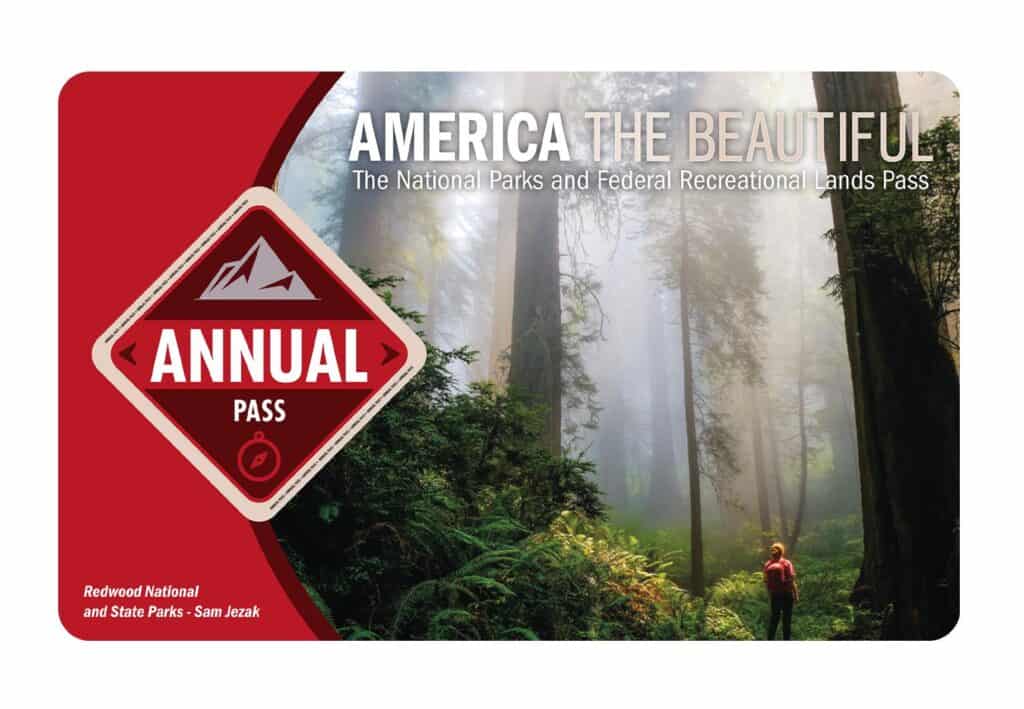 It costs $80 for a yearly America the Beautiful Pass. This gives you access to all national parks and federal areas that charge fees. The America the Beautiful Pass is well worth it!
I purchased my first one in 2016 and it's such a money-saver! Plus 10% of sale proceeds go to the National Park Foundation.
Tips for Visiting in Death Valley National Park
Death Valley is perfect for outdoor enthusiasts. There is something for everyone on this list and for different fitness levels. Also, note that it is dry and hot and make sure you know what you are getting into before you start. Here are a few tips for visiting Death Valley:
Bring a reusable water bottle and lots of water! Remember you are in the sun and you will need to drink lots of water. I love my LifeStraw Filtered Water Bottle. I can refill this bottle anywhere and it comes with a carabiner to connect it to my daypack.
Check the Weather – days over 100 degrees are very common. Make sure to check.
Hiking boots or sandals that will protect your feet! I love good shoes. I need all the support and help I can get. I actually love these sandals for hiking and also love these hiking boots.
Bring hiking poles for balance and to protect your knees. I know many experienced hikers (and even amateur ones) think that hiking poles are for old people who lose their balance. Actually, hiking poles can help when going down steep inclines or when scrambling over rocks. They are great to hike with even for the most experienced hiker.
Wear a sunhat. I feel like this whole post is about how high you are in the mountains and how much closer you are to the sun but it is so true. At elevation, you are closer to the sun and more likely to burn. Wear sun protection such as a sun hat and sunscreen.
Be aware of the wildlife. This is the Southwest and you will need to watch out for snakes and other wildlife such as moose or a bear. Please stay away from wildlife and do not feed them. I recommend carrying bear spray as well.
Start Early – If you want to avoid the traffic and the heat you will need to start your hike early. That way it will be nice and cool and the smog will not affect you either.
Leave no trace. If you are new to the concept of Leave No Trace it is all about preserving the environment to ensure it is in the same or better condition when you leave it. This means that you should stick to the trails and carry out everything that you carried in. This is a great explanation of the Leave No Trace principles!
Water shoes are great for water hikes– If you don't have a pair, I highly suggest it as they are affordable. I have an article on the pros and cons of several pairs of water shoes.
Bring Bug Spray and a snack: Be sure to bring everything you need including a snack like a protein bar plus BUG SPRAY.
Things to do in Death Valley in One Day
Mesquite Flat Sand Dunes
Mesquite Flat Sand Dunes are the most well-known and accessible sand dunes in Death Valley, making them ideal for a one-day visit. They are conveniently located in central Stovepipe Wells, right off Highway 190.
Wiki Commons
Tuxyso
The Mesquite Flat Sand Dunes are a great place to start your day. You may park in the lot and then walk across incredible sand dunes that will take you to the Sahara Desert. This site is stunning, and it's a great way to get some exercise while snapping some lovely photos.
It has linear, crescent, and star-shaped dunes with the typical curving ripples that sand dunes have. These dunes are suitable for sandboarding, but they barely reach a height of 100 feet at their highest point.
Wear plenty of sunscreens, use UV protection, and pack plenty of drinks. In the middle of a scorching summer day, the desert weather can be severe, and the elements can be harsh!
Furnace Creek Visitor Center
The Furnace Creek Visitor Center, which opens at 8 a.m., is the next stop. You may pay for your admission ticket, pick up a park map, fill up your reusable water bottle, and take in the magnificent exhibitions available here.
Stop by the Visitors Center at Furnace Creek to get some answers to your burning questions. This is also the only site in the National Park where you can get decent cell service. Everything else is a gamble, based on your service provider!
Spend 30 minutes to an hour to see the visitor center. Since gas outlets are scarce in the park, this area is also a good place to refill.
Zabriskie Point
Head to Zabriskie Point after leaving the visitor center. This vantage point is within a short distance from the parking lot and offers panoramic views that will transport you to Mars!
Wiki Commons
King of Hearts
Zabriskie Point's scenic views are among the most photographed in Death Valley National Park. This point, named for Christian Zabriskie, a significant player in the Pacific Coast Borax Company's heyday, provides an elevated vantage point from which to wonder over the badlands below. Powerful force water carved out the hills and valleys, resulting in the yellow and brown striped hills.
Manly Beacon, named after one of the earliest 49ers (gold rush pioneers) to explore this area, is the most prominent feature seen from Zabriskie Point.
It rises to an elevation of 823 feet (251 m). Easy accessibility is one of the reasons Zabriskie is one of the most popular viewpoints. On a paved uphill trail, it's a quick 14 mile (400 m) walk from the car park.
You can either stop at the top or venture out onto the ridges to have a closer look at this magnificent work of art!
While this area just takes 20-30 minutes to enjoy, you may want to stop and have a picnic before continuing on your journey.
Artist's Drive and Artist's Palette
After that, take a slight detour to Artist's Drive. This picturesque 9-mile trip passes through breathtaking gorges and vibrant mountains.
Wiki Commons Tuxyso
Artist's Palette is the most famous stop along this drive, where you can hike for a time to get up close and personal with the magnificent colors. The Artist's Drive, which loops out from Badwater Rd, is a colorful one-way street. Because it rises and lowers small hills and curves abruptly, this short route is fascinating to drive.
The best part of Artists Drive is the colors on the rock formations around you. This beautiful rock formation's pink granite swirls seem to glitter in the evening, making it well worth a visit.
This loop is frequently driven twice or even three times in a row by many people. The vividly colored boulders stand out in such a bleak setting, adding to their appeal. Because you can see the nicest parts of your vehicle, this is great for the less able. Getting out into the kaleidoscope of hues, on the other hand, is far more interesting!
Dante's View
From the east entrance, Dante's View is about a half-hour drive away. This is a view of Death Valley from a mountaintop at 5,476 feet (1,669 meters).
Wiki Commons Mikenorton
The best time to see the sunrise at Dante's View is early in the morning. Before descending the Panamint, Mountains and crossing the basin, arrive early to observe the sunrise over Telescope Peak on the other side of the valley. It becomes frigid and windy up there, so bring gloves and something to shield you from the elements.
With the entire depression in front of you flanked by mountains, it's the perfect location for a panoramic view of Death Valley National Park. In addition, Devil's Golf Course is seen.
Badwater Basin Salt Flats
Badwater Basin is the next stop on your Death Valley National Park day tour. This area is beautiful at any time of day, so you could change your plans to visit early in the morning for dawn or late in the evening for sunset.
Wiki Commons
Supercarwaar
The salt flats of Badwater Basin, which are 282 feet (86 meters) below sea level, are North America's lowest point. The salt flats of Badwater Basin are huge, and you can roam about in them for as long as you want. You can observe quintessential salt hexagons associated with this climate if you time it right between freeze-thaw and evaporation cycles.
After heavy rains, the salt flats occasionally flood with a shallow temporary lake. Except for a small spring-fed water feature directly adjacent to the parking lot, Death Valley's arid atmosphere soon evaporates any attempts by the lake to establish itself as a permanent fixture.
Badwater is best viewed at sunrise, sunset, or when there are fascinating cloud formations if you're a photographer. A beautiful view is created by the Panamint Mountains on one side and the Black Mountains on the other.
If you're coming during the cooler months, take a one-mile walk out onto the salt flat for some stunning views of Death Valley's iconic enormous polygon salt formations. Since this is Death Valley's most popular and touristy spot, anticipate the parking lot to be full unless you arrive early or late.
Devil's Golf Course
The salt flats in Badwater Basin, Death Valley, are minerals that remained when Lake Manly drained 10,000 years ago. The Devils Golf Course, which was built by wind and rain, is the largest example of this phenomenon in the area.
Wiki Commons Supercarwaar
From the Furnace Creek Area, Devils Golf Course is a short drive down Badwater Road and onto a rocky access road that goes to the middle of the salt flat.
Driving to Devils Golf Course is feasible, however, an SUV or off-road vehicle is recommended. The road comes to a standstill in a small parking lot with around a dozen parking spaces. Although they aren't required, there are no paths that lead further into the Golf Course.
From this vantage point, the vistas are breathtaking. The Panamint Mountains rise majestically above you, giving a breathtaking backdrop for the eerie "golf course."
Natural Bridge
This short hike up a small canyon with a 50-foot-tall natural orange rock bridge is a must-see for anybody interested in Death Valley's geological history.
This 2-mile round-trip hike should take around an hour to finish, but give yourself some extra time to explore.
On the Natural Bridge hike, there is more to view, including a tall narrow dried-up waterfall with a smooth semi-cylindrical shoot and a larger shorter dried-up waterfall with sharp pebbles marking the trail's finish.
It's worth noting that the hike up to Natural Bridge is somewhat upward, but the gravel and larger stones underfoot make it exhausting. However, since you're returning somewhat downhill, it'll be a pleasure.
The trail begins as a stony path but soon transforms into a footpath that leads through a shaded canyon. There's no need to be concerned about walking too far because the trail abruptly ends after 0.5 miles at a dry waterfall. Return the way you came, stopping to see the natural stone arch along the route.
Natural Bridge Trailhead has enough parking for even the largest RVs, but it fills up quickly during peak season. Come early to get a good spot and see for yourself.
Eerie Rhyolite Ghost Town
Rhyolite is an excellent illustration of a deserted town. During the gold rush in Death Valley in 1905, the town sprung up quickly as one of the numerous mining camps. Rhyolite was outfitted with infrastructures such as electricity, water mains, a hospital, a school, and even an opera theater in a very short time!
Steel magnate Charles M Schwab funded all of these services. Rhyolite dropped faster than it was generated once the most profitable mineral had been depleted. The entire town had been abandoned in a matter of years, leaving buildings such as the Las Vegas-bound railroad station in ruins.
Rhyolite is technically located just beyond Death Valley's eastern edge, in Nevada! It is, however, on the road to the one-way entry to Titus Canyon. The front facade of the Cook building bank, the railroad depot, and an ancient gas station, among other smaller structures, may still be seen today. Plus, there's a spooky ghost in the photo up there! It's a little creepy, but it's worth a look.
Harmony Borax Works
Borax is a natural mineral that can be found in a variety of household cleaners, laundry detergents, and even teeth whitening products. Back in 1881, this mineral was instrumental in putting Death Valley on the map.
The Harmony plant produced three million tons of borax per day between 1883 and 1889, but delivering it to the nearest railway line in the Mojave Desert took creativity.
The Borax was hauled across Death Valley by a 20-mule team hauling double wagons, which has since become a symbol of the Borax industry. To understand more about Death Valley's oldest industry, read the numerous interesting instructional boards here.
Father Crowley Overlook
Unexpectedly, a fighter jet screams through the sky and lands in the valley. Visitors go to this famous overlook to catch a glimpse of planes speeding through the small canyons, putting their navigation and coordination to the test.
It's nearly impossible to tell when they'll pass through. If you're lucky, you'll see some dedicated visitors with camping chairs set up and radios tuned in for any indication that one is on the way.
If you only have one day to see Death Valley, start your journey here via CA Highway 190 and stop for a quick snap of a fighter jet!
Stargazing
Finally, as the sun sets, it's time to bid Death Valley farewell. Start driving back to where you'll be spending the night during the blue hour/dusk. Pull aside and switch off your headlights when it becomes dark so you may enjoy some stargazing. The Death Valley gloomy sky is famous all around the world, so it's definitely worth stopping to admire!
While the stars are lovely everywhere, if you're in the area, consider stargazing at the famous Harmony Borax Works. There are some interesting historic structures to see here, and sky watching is excellent due to the lack of mountains.
Continue your drive back to base and reflect on the most magnificent day adventure in Death Valley once you've had your fill of the beautiful night sky.
Recent Posts