One Perfect Day in the Grand Canyon – the Highlights
Wondering what to do in the Grand Canyon when you only have a day? If you are spending 24 hours in the Grand Canyon you'll want to make the most of your time.
With so many things to do in the Grand Canyon, it can be hard to know where to start. That's why I put together this Grand Canyon one day itinerary – feel free to copy and use it!
You can also check out my post on the Best Things to do in the Grand Canyon.
Thank you for supporting this website written by an American. This post may contain affiliate links. This means I earn a small commission on these links at no extra cost to you.
National Park Entrance Fees
To enter the National Parks, you'll need to pay an entrance fee or have a National Parks Pass also known as American the Beautiful Pass.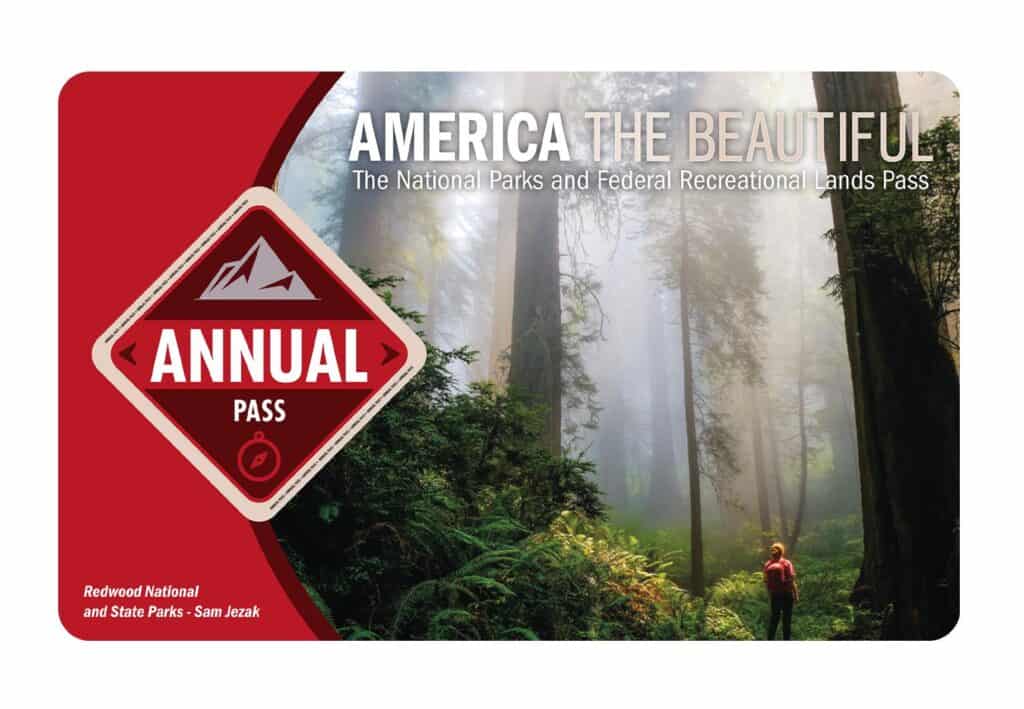 It costs $80 for a yearly America the Beautiful Pass. This gives you access to all national parks and federal areas that charge fees. The America the Beautiful Pass is well worth it!
I purchased my first one in 2016 and it's such a money-saver! Plus 10% of sale proceeds go to the National Park Foundation.
Tips for Visiting the Grand Canyon National Park
The Grand Canyon is perfect for outdoor enthusiasts. There is something for everyone on this list and for different fitness levels. Also, note that it is dry and hot (in the summer), and make sure you know what you are getting into before you start.
Here are a few tips for visiting the Grand Canyon:
Bring a reusable water bottle and lots of water! Remember you are in the sun and you will need to drink lots of water. I love my LifeStraw Filtered Water Bottle. I can refill this bottle anywhere and it comes with a carabiner to connect it to my daypack.
Check the Weather – days over 100 degrees are very common. Make sure to check.
Hiking boots or sandals that will protect your feet! I love good shoes. I need all the support and help I can get. I actually love these sandals for hiking and also love these hiking boots.
Bring hiking poles for balance and to protect your knees. I know many experienced hikers (and even amateur ones) think that hiking poles are for old people who lose their balance. Actually, hiking poles can help when going down steep inclines or when scrambling over rocks. They are great to hike with even for the most experienced hiker.
Wear a sunhat. I feel like this whole post is about how high you are in the mountains and how much closer you are to the sun but it is so true. At elevation, you are closer to the sun and more likely to burn. Wear sun protection such as a sun hat and sunscreen.
Be aware of the wildlife. This is the Southwest and you will need to watch out for snakes and other wildlife such as moose or a bear. Please stay away from wildlife and do not feed them.
Start Early – If you want to avoid the traffic and the heat you will need to start your hike early. That way it will be nice and cool and the smog will not affect you either.
Leave no trace. If you are new to the concept of Leave No Trace it is all about preserving the environment to ensure it is in the same or better condition when you leave it. This means that you should stick to the trails and carry out everything that you carried in. This is a great explanation of the Leave No Trace principles!
Water shoes are great for water hikes– If you don't have a pair, I highly suggest it as they are affordable. I have an article on the pros and cons of several pairs of water shoes.
Bring Bug Spray and a snack: Be sure to bring everything you need including a snack like a protein bar plus BUG SPRAY.
Where to stay near Zion National Park
The Zion makes for a great weekend escape. Fresh air, beautiful scenery and being in nature does a world of good for the soul. I recommend staying as close to the park as possible and even treating yourself with a cabin with a spa pool to relax at night.
If you are taking a road trip remember to reserve a car in advance using Discover Cars .
How to Spend One Perfect Day in the Grand Canyon
Visitor's Centre
Before going on your adventure to discover some of the most spectacular views around Grand Canyon National Park, stop by at the Park's Visitor Centre. A must-see for any Grand Canyon visitor.
All of the information you'll need for your trip through the Canyon may be found at the visitor's center. You'll be informed about any trails and vistas that are temporarily closed, as well as which ones are the safest to visit.
Before diving into the canyon, you can watch a short film that takes you through a visual tour of the canyon. For your convenience, the south rim has three major centers while the north rim has one. All of them are in a good location.
The Visitor Centre is open from 9 a.m. to 4 p.m. during the winter months, and from 8 a.m. to 5 p.m. throughout the spring, summer, and fall.
Sunrise at Mather Point
Mather Point is a popular first stop for visitors to the park, as it is only a short walk from the visitor center.
Two overlooks built on top of projecting rocks are available in this panorama, and while it can be crowded, you should be able to find some peace if you go a short distance out on the Rim Trail.
The most popular spot to see the deep blues of dawn light morph into daylight as drab-colored rocks begin to burn orange and red is Mather Point. You'll be surprised by the spectacular display of colors lighting up the sky if you arrive on a day with partial clouds at sunrise.
Since the lots here generally fill up by mid-morning during summer and holiday weeks, consider leaving your car at the visitor center and taking the free shuttle buses around the park for the rest of the day.
This trail connects to several other South Rim attractions, including Yavapai Point and the Yavapai Geological Museum.
Shuttle Bus to Viewpoints
You may hop on and off free shuttle buses near some of the best lookouts around much of the South Rim.
The park's free shuttle bus is arguably the easiest method to travel around, as you won't have to worry about finding a parking spot. Red, orange, blue, and purple are the four routes available.
From March to November, the Hermits Rest Route (red) traverses west of Grand Canyon Village, stopping at nine magnificent overlooks. You can instead drive on the road between December and February.

On the eastern end, the year-round Kaibab/Rim Route (orange) runs to the Yaki Point overlook, including stops at Yavapai Point and the Yavapai Geology Museum.
The Village Route (blue) is the easiest way to get about to all of the park's hotels, restaurants, and amenities, but you can also walk to the canyon edge from some of those places. Buses run every 10 to 15 minutes on average.
Taking a shuttle bus during the winter months is highly suggested, as some roads may be too unsafe to drive on due to snowfall and other wintery conditions. Shuttle buses run all year since there are several spots in the canyon that can only be reached by shuttle bus.
Rim Trail – Visitors Centre to Village
You can hike the Rim Trail instead if steep descents and endless switchbacks aren't your styles, or if you just want to take it easy and admire the canyon. You can always take the shuttle back if you get tired.
The 13-mile Rim Trail follows the edge of the canyon and has more than a dozen shuttle stops with distances varying from 0.3 to 1.4 miles between them. You'll never have to travel too far to catch a shuttle if your feet or legs feel tired. The route is wheelchair and bike accessible in parts, and it is the park's only dog-friendly trail.
Take a park shuttle bus, which can be red, blue, or orange, to any viewpoint along the Rim Trail, get off, and start walking. You can follow the South Rim Trail east from Mather Point and stop at almost every viewpoint and major attraction along the way. You should hike as much as possible for the best experience, and only take the shuttle bus if you are tired or short on time. The shuttle buses are free and have clearly defined stops.
You will be able to appreciate the canyon more peacefully if you walk even 100 feet away from the bus stops and the most popular lookouts, and as you travel between the overlooks, you will come across several spectacular, less-frequented areas on the trail. The South Rim Trail is paved and mainly flat, making it a pretty simple hike.
Take a Short Hike
If you only have one day to see the Grand Canyon, you'll want to pack as much as possible into your itinerary to get the most out of your trip. Because you only have one day, a pleasant short hike is perfect.
The 1.7-mile round trip climb to Shoshone Point is one of the best short hikes in the canyon. If you want to avoid the crowds at sunset, go to Shoshone Point. These are also excellent locations for stargazing when the sun has set.
The hike takes place on a dirt road that is almost completely flat, with only a small, almost imperceptible rise. The trail's finish provides breathtaking panoramic views of the canyons below.
You can also visit one section of viewpoints and then go a short distance below the rim if you have more than a few hours.
The round-trip hike out to Ooh Aah Point is only 1.8 kilometers. You can get panoramic views of the Grand Canyon from Ooh Aah Point, which is a very different perspective than what you get from the rim.
Hermits Rest Scenic Drive
Within Grand Canyon National Park, Hermit Road offers a fantastic scenic drive with multiple stops to take in magnificent views, including Hopi Point, the Abyss, and Hermits Rest.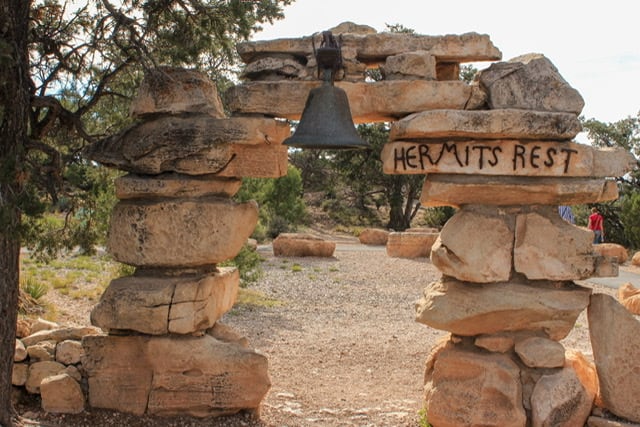 Hermit's Rest was initially constructed as a rest stop for travelers traveling to the now-defunct Hermit Camp on Fred Harvey Company coaches. The structure, which is located at the western end of Hermit Road, was designed to resemble an old miner's hut or a hermit's hideout.
This is partially buried in a man-made mound barely a few feet from the edge of the Grand Canyon rim. The exposed elements of the building are supposed to resemble a natural rock formation, with rubble masonry joined with cement mortar, structural timbers, and a few expanses of glass.
It has a covered front porch, and the building opens up into a vast, two-story open area on the inside. A large semi-circular alcove with a raised flagstone floor and fireplace dominates the space directly opposite the entry. The far edges of the alcove are flanked by wrought-iron wall sconces carrying candles. 
A gift shop is located in the main room, and there are other smaller rooms for the snack bar, office, and storage, as well as the rug room, which sells native crafts and Navajo rugs.
By foot, bike, or shuttle, explore this less-traveled trail near the South Rim's western end. The trip from one end to the other is only 7 miles long, but you'll want to stop for scenery and possibly some hiking. You can spend up to four hours or more enjoying this scenic route.
Tusayan Ruins and Museum
The Tusayan Museum and Ruin, 3 miles (4.8 km) west of Desert View Watchtower, interprets the ruins of a small Ancestral Puebloan settlement.
There are two parts to the attraction. The site's Ruin section features the ruins of an 800-year-old Pueblo community, according to National Park Service authorities.
The Tusayan Museum, located nearby, is the second part of the site. This interactive facility features several displays aimed at helping visitors better comprehend the Grand Canyon's unique human history.
The Tusayan Ruin houses what archaeologists have learned so far about the 800-year-old Puebloan settlement that once thrived near the Grand Canyon's South Rim. 
During the summer, the site is open to the public from 9:00 a.m. until 5:00 p.m. A small trail winds its way around the site, providing tourists with excellent views of the Ruin.
The remains of the walls of a wide range of constructions can be seen here. The ruins of these well-known structures feature facilities that scholars believe were originally utilized for anything from housing to storing food to performing a variety of religious activities.
The Tusayan Museum is a nearby attraction that people can visit. This small museum offers ranger-led tours and presentations on topics related to the site regularly. It also houses a magnificent collection of items discovered during numerous archaeological projects throughout Grand Canyon National Park.
Near the Tusayan Ruin and Museum, there are numerous amenities. The facilities at Desert View Point are your best bet for all your Grand Canyon touring needs from here. Desert View Point is about three miles east of the Tusayan Ruin and Museum, and it acts as the park's de facto east entrance.
Daily ranger-led tours may be available throughout the year.
Desert View Drive 
The Desert View Drive is a picturesque route that runs along the Grand Canyon's South Rim. From Grand Canyon Village to Route 64, the road passes via numerous picturesque sites and trails.
The Desert View Watchtower inspired the name of the road. Tourists can stop at some locations along the way.
Desert View Drive is a scenic drive through the desert. The Grand Canyon is one of the world's natural wonders, and it moves along the South Rim. From several overlooks and picturesque perspectives, you may witness breathtaking views.
When you stop along the way to soak in the scenery, the magnificent Desert View Drive takes around four hours to finish. Along the Grand Canyon's southern rim, there are 25 miles of spectacular opportunities.
There are building sites where you must stop and marvel at colorful Grand Canyon vistas and enjoy some historic spots such as Pipe Creek Vista, Yaki Point, Grandview Point, Moran Point, and others, in addition to four picnic areas and some unmarked pullouts.
Grand Canyon Sky Walk
The Grand Canyon Skywalk is a horseshoe-shaped cantilever bridge with a glass walkway located near the Colorado River in Eagle Point, Arizona, on the edge of a side canyon in the Grand Canyon West portion of the main canyon.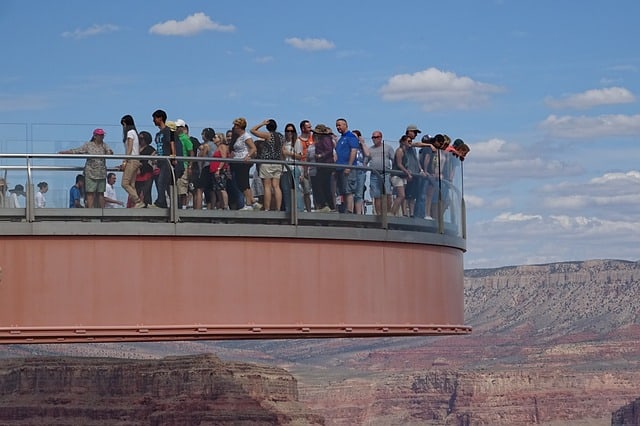 The Skywalk, which opened in 2007, gives you the sensation of walking on air. Some tourists would clutch the handrails with their eyes closed, indicating that they are frightened. Inside the Skywalk building, don't miss the exhibitions on Hualapai history.
Although no cameras are permitted on the Skywalk, guests may be photographed while on the Skywalk by a member of their group who is not on the Skywalk. In addition, every tour package includes a photo opportunity with actual Hualapai Tribe members, and photos can be purchased afterward.
Although Grand Canyon West is open and accessible all year, and the Skywalk is open from dawn to dusk, the Skywalk's hours of operation change depending on the season. During Winter (mid-October to mid-April), the Skywalk is open from 8:00 am to 4:30 pm. During Summer (May 1 to mid-October), the Skywalk is open from 7 a.m. to 8 p.m.
To visit Grand Canyon West, you must purchase a tour package. A tour package must be purchased first to add any options such as the Skywalk, helicopter and boat rides, horseback rides, and more.
Helicopter Tour over the Canyon
A helicopter tour of the Grand Canyon can be an exciting way to see the awe-inspiring sights and breathtaking grandeur that the Grand Canyon has to offer. This allows you to see portions of the Grand Canyon that the South Rim viewpoints need not allow you to see.
You can fly from the South Rim to the North Rim and vice versa. A helicopter flight over the South Rim can also be arranged from Las Vegas. This is a lot more expensive, but if you just have a limited amount of time, it is a memorable way to see the Grand Canyon.
Catch the Sunset at Pima Point
Pima Point is one of the best vantage points on the rim for viewing and occasionally hearing the river. Pima Point, a South Rim viewpoint with panoramas across a broad expanse of the area's rugged canyons, is known for its beautiful sunsets.
On quiet days, the splash and grind of Granite Rapids can be heard echoing up the canyon walls. From here to Hermits Rest, the Greenway Trail continues, allowing bikers and visitors in wheelchairs to share the path with people.
This is the final stop on the Hermits Scenic Drive, and it offers panoramic views of the valleys that stretch for 40 miles. This guarantees a beautiful sunset vista. However, since this location can get crowded at times, you may want to arrive early to get a decent spot. During the spring, summer, and fall months, Hermits Scenic Drive is closed to all private automobiles, so you'll have to take the park's shuttle bus.
Observe the craggy cliffs, rock formations, and plateaus, or remain for the sunset to watch the canyon hues change dramatically. Near the site are a cafe, souvenir shop, and facilities, as well as a bus stop if you don't want to drive.
Recent Posts