Three Days in Canyonlands Itinerary
Planning a trip to Canyonlands: This Canyonlands Itinerary will help you explore the park and see not only the highlights of the park but also the hidden gems.
Canyonlands National Park is a massive national park with four distinct regions. Where you visit will be determined by the area you wish to explore. These are the four districts of Canyonlands National Park.
Island in the Sky – the most visited area and closest to Moab, Utah
The Needles – this area is vast and if you are planning to spend a few days there you should stay in Monticello, Utah
The Maze – the most remote area of the park but a great base to stay is Hanksville or Green River, Utah.
The Rivers – the Colorado River and the Green River flow through the park. You can take day rafting tours from Moab.
Thank you for supporting this website written by an American. This post may contain affiliate links. This means I earn a small commission on these links at no extra cost to you.
National Park Entrance Fees
To enter the National Parks, you'll need to pay an entrance fee or have a National Parks Pass also known as American the Beautiful Pass.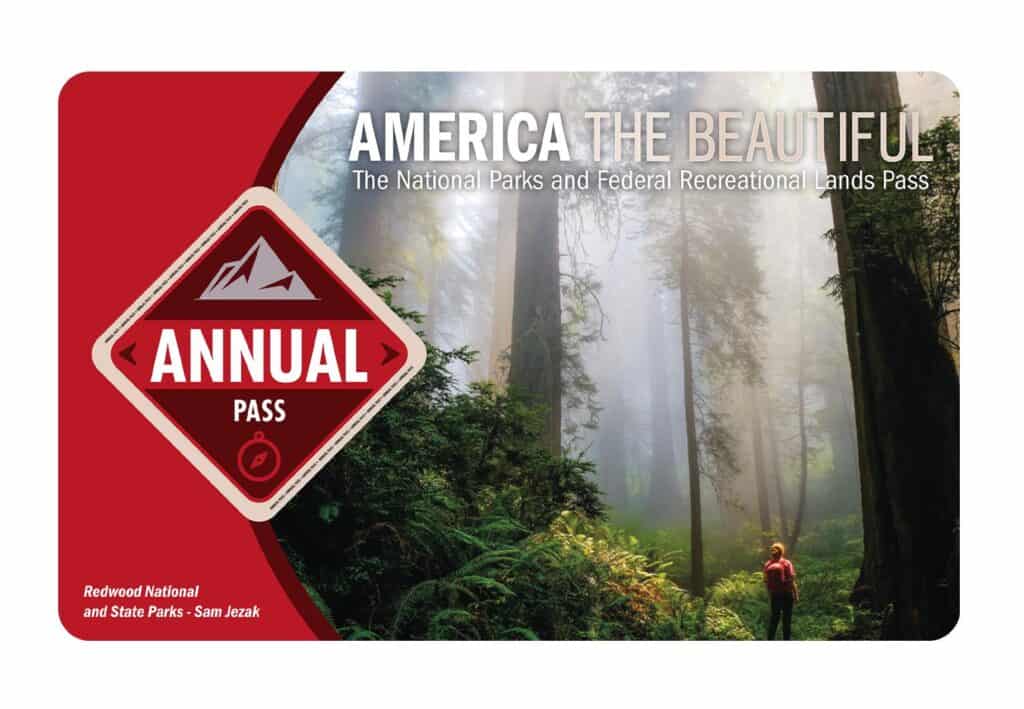 It costs $80 for a yearly America the Beautiful Pass. This gives you access to all national parks and federal areas that charge fees. The America the Beautiful Pass is well worth it!
I purchased my first one in 2016 and it's such a money-saver! Plus 10% of sale proceeds go to the National Park Foundation.
Where to stay near Zion National Park
The Zion makes for a great weekend escape. Fresh air, beautiful scenery and being in nature does a world of good for the soul. I recommend staying as close to the park as possible and even treating yourself with a cabin with a spa pool to relax at night.
If you are taking a road trip remember to reserve a car in advance using Discover Cars .
Pro Tip: How to get around Canyonlands
Canyonlands National Park is best explored in your car, but there are some parts where a guide is recommended (Canyonlands 4WD Tour). Since no shuttles are entering Canyonlands National Park, you should plan on having transportation to get around conveniently. Taxis become prohibitively expensive, so if you don't already own one, renting a car may be your best alternative.
Although there is no public transportation in Moab, private shuttles can transport you to surrounding attractions if you leave your car keys at your hotel. Porcupine Shuttle Company specializes in providing transportation to and from the region's top mountain riding areas. Private shuttles to regional airports, as well as the Kokopelli Trail and San Juan Hut Systems in Colorado, are also available.
Green River, as well as the Salt Lake City and Grand Junction airports, are all served by Moab Express. Coyote Shuttle provides shuttle services for boaters, cyclists, and hikers, as well as specialist tours to Salt Creek and Canyonlands' Needles sector. 
Tips for Visiting in Canyonlands National Park
Canyonlands is perfect for outdoor enthusiasts.  There is something for everyone on this list and for different fitness levels.  Also, note that it is dry and hot (in the summer), and make sure you know what you are getting into before you start.  Here are a few tips for visiting Canyonlands:
Bring a reusable water bottle and lots of water! Remember you are in the sun and you will need to drink lots of water. I love my LifeStraw Filtered Water Bottle.  I can refill this bottle anywhere and it comes with a carabiner to connect it to my daypack.
Check the Weather – days over 100 degrees are very common.  Make sure to check.
Hiking boots or sandals that will protect your feet! I love good shoes.  I need all the support and help I can get.  I actually love these sandals for hiking and also love these hiking boots.
Bring hiking poles for balance and to protect your knees.  I know many experienced hikers (and even amateur ones) think that hiking poles are for old people who lose their balance.  Actually, hiking poles can help when going down steep inclines or when scrambling over rocks.  They are great to hike with even for the most experienced hiker. 
Wear a sunhat. I feel like this whole post is about how high you are in the mountains and how much closer you are to the sun but it is so true. At elevation, you are closer to the sun and more likely to burn. Wear sun protection such as a sun hat and sunscreen.
Be aware of the wildlife. This is the Southwest and you will need to watch out for snakes and other wildlife such as moose or a bear.  Please stay away from wildlife and do not feed them. 
Start Early – If you want to avoid the traffic and the heat you will need to start your hike early.  That way it will be nice and cool and the smog will not affect you either.
Leave no trace. If you are new to the concept of Leave No Trace it is all about preserving the environment to ensure it is in the same or better condition when you leave it.  This means that you should stick to the trails and carry out everything that you carried in.  This is a great explanation of the Leave No Trace principles!
Water shoes are great for water hikes– If you don't have a pair, I highly suggest it as they are affordable.  I have an article on the pros and cons of several pairs of water shoes.
Bring Bug Spray and a snack: Be sure to bring everything you need including a snack like a protein bar plus BUG SPRAY.
Day 1 in Canyonlands
Island in the Sky
This is the most frequented area of Canyonlands National Park. The Island in the Sky sector offers visitors a unique perspective of the park, with breathtaking views and a perfect mix of easy and difficult hiking pathways.
The Island in the Sky mesa rises 1,000 feet (304 meters) above the surrounding landscape on steep sandstone cliffs.
Every overlook provides a unique perspective on Canyonlands' breathtaking scenery. The simplest part of Canyonlands to see in a short length of time is Island in the Sky, which includes many pullouts with wonderful views along the paved scenic path.
Hiking routes and four-wheel-drive roads can transport you to the countryside for a few hours or several days.
This is also the easiest to get to. It's also close to Moab and the National Park of the Arches. If you just have a short amount of time, this location is ideal for car trips and short hikes. Some of the park's most popular attractions are also accessible via the scenic route.
Visitor Center View Point
The 1,000-foot drop around the mesa will be your first look at Canyonlands and the Island in the Sky. It's a fantastic place to start your visit to the park.
The visitor center, which has maps, brochures, and public facilities, is located as you enter the park. The tourist center's most startling feature is that it is directly across the street from a stunning outlook.
The Island in the Sky Visitor Center is open seven days a week from spring to fall and five days a week from winter to spring. Seasonal hours vary. Exhibits, book and map sales, backcountry permits, picnic areas, general information, wireless internet, and park rangers on duty are among the amenities available. You can also view a video about the park. Water is accessible all year at the visitor center.
Grand Viewpoint
The Canyonlands area may be seen from Grand View Point, which has a fantastic view. From the viewpoint at 6,080 feet elevation, you can see distant mountains, canyons, basins, and the White Rim Road.
Take a 100-yard paved trail from the parking area to the first viewpoint. Wheelchair users can access this trail. Rangers frequently provide geology talks at the lookout, and there are outdoor exhibits that describe the vista.
From the viewpoint of outdoor displays, visitors may see the Needles, Monument Basin, La Sal Mountains, Abajo Mountains, and White Rim Road. At Grand View Overlook, panels represent the geological layers that makeup Canyonlands National Park. Cutting a 1,000-foot trench through the ground, the Colorado River is a master landscaper.
An unpaved trail leads to a second viewpoint a mile (1.6 km) beyond the concrete sidewalk, below, and across the uneven ground and cliff edges. The longer trail takes about 90 minutes roundtrip.
Shafer Canyon Overlook
The first overlook is the Shafer Trail Viewpoint, which is a small parking spot off to the side of the road. This gives you a close-up view of the switchbacks on Shafer Point Road.
If this parking lot is full, it's not a big deal. The next turnoff is the Shafer Canyon Viewpoint. This parking lot is a lot bigger, and the view of Shafer Trail Road is the same.
The Shafer Canyon Overlook provides a view of Shafer Canyon. You can walk out to the mesa's edge, 1,400 feet above the canyon, and stand there. The parking area also houses the trailhead for Neck Spring. From the edge, you can view Shafer Trail, which leads to White Rim Road, and the mesa where Dead Horse Point State Park is located. The La Sal Mountains can be seen in the distance.
The large plateau is only a little distance away. The views are breathtaking, with panoramas across the White Rim and Dead Horse Point State Park in the distance. The Shafer Trail is a difficult, unpaved back-country road for thrill-seekers looking for a once-in-a-lifetime adventure.
Scenic Drive
When driving through Canyonlands National Park, be prepared for sensory overload. Whether you visit one of the Park's four districts or all four, you will be surrounded by mind-blowing scenery that is harder to decipher.
You won't believe how many times the words "absolutely fantastic," "awesome!" and "how is that possible?" will reverberate throughout your car.
By car, the Island in the Sky District provides the best scenic opportunities. The scenic drive's viewpoints are 1,000 feet above the surrounding terrain and offer breathtaking views of the valleys below as well as the neighboring districts.
Mesa Arch, Upheaval Dome, and Aztec Butte are just a few of the short trails that lead to interesting natural and cultural features. To go to Grand View Point, you'll need to spend at least an hour in the park. More time is required to appreciate the various views or to explore the short trails. 
Canyonlands includes hundreds of miles of four-wheel-drive roads that lead to numerous campgrounds, trailheads, and overlooks in the park's backcountry. All vehicles must be street legal and stay on established roads. ATVs are not allowed.
Most backcountry routes demand high-clearance, four-wheel-drive vehicles, and some experience. Other vehicles typically have difficulties navigating the park's abrasive Slickrock, loose rocks, deep sand, and steep slopes.
Mesa Arch
Mesa Arch, one of Canyonlands National Park's most iconic vistas, is a great walk for beginners, families with small children, or light hikers. It's simple and short, and a clear trailhead display explains how to hike it.
Although the NPS oversees this route for beginners, it has something for everyone, and you'll be treated to stunning Mesa Arch midway through the short loop.
The arch stands on the edge of a 500-foot precipice that drops 1,200 feet into Buck Canyon. Through the arch, you may get a keyhole view of White Rimland. The arch can also be used to frame the lofty La Sal Mountains (which are usually snow-capped in the spring).
The track is well-marked and has some slick rock sections. It's a short climb, but if you're taking children, keep an eye on them at the arch. There is no fence to protect you from a certain fall. Climbing on the arch is not permitted.
When facing the arch, if you look closely, you can see another arch from Mesa Arch Overlook – Washer Woman Arch — off to the left.
Day 2 in Canyonlands
Syncline Loop
Visitors will be exposed to spectacular backcountry scenery, lush riparian corridors, and a diversity of species on the Syncline Loop. Green River and the Upheaval Dome Crater are accessible via Upheaval Canyon.
According to the National Park Service, this hike takes 6 to 8 hours to complete, however, it can be done in considerably less time. Hiking is permitted all year on the Syncline Loop.
The best months to visit are spring and fall when the weather is warm. In the summer, expect high temperatures in the middle of the day. Due to the severe temperatures, the trail may be covered with snow or ice during the winter months.
Buck Canyon Overlook
Buck Canyon Overlook is located in Canyonlands National Park's Island in the Sky section, just off Grand View Point Road. You might be able to make out the faint outlines of some more roads and seismic lines down in the canyon.
These were constructed in the 1950s as part of a search for uranium and oil. Even if these mining operations have been halted for a long time, their consequences may still be seen. Natural revegetation is gradually correcting these problems, although it will take a long period in our arid climate.
At approximately 0.1 mile, this track can't even be termed a hike, but the spectacular views make it deserving of a spot on this list. This is a great viewpoint to visit if you only have a short period of time. The canyon views are beautiful, and it's a calm part of the park to just relax and soak it all in.
The viewpoint is only a short distance from the parking lot, which is accessible through a paved walkway. Down into Buck Canyon, there are some breathtaking views. The La Sal Mountains rise out of the red canyon rock, and the Colorado River and the popular 4WD White Rim Road may be seen in the distance.
White Rim Overlook
With minimal effort, the hike to White Rim Overlook in Canyonlands National Park's "Island in the Sky" region provides stunning views.
The most challenging part of this hike may be finding a parking spot, as parking at the trailhead is limited. However, this helps to keep crowds off the trail, so you'll likely only see a few people on your hike.
Once you've found a parking spot, start hiking down some Slickrock away from the picnic area. Soon after, the route splits, with the Gooseberry Trail going left and falling precipitously into the canyon, and the White Rim Trail going right. Keep going in the right direction.
This is a beautiful sky peninsula that is very accessible. A picnic place is about a mile from the end of Giants View Road; from here, walk east before turning left at the junction. Then, to the right, there's a single track that leads to the White Rim Outlook.
Proceed with caution because there are massive drop-offs all around the observation area. Once you've taken your fill of shots and taken in the view, return the way you came to the trailhead.
Sample Canyonlands Itineraries
The best place to spend your first day in Canyonlands is in the Island in the Sky district, where you can see some of the park's most renowned attractions.
Start your adventure at Mesa Arch. Photographers catch the image of the rising light through the arch, making it a favorite sunrise photography destination. If you want to accomplish this, arrange your visit to come before sunrise so you can grab a good tripod spot in front of the arch. Even if you don't want to get out of bed in the wee hours of the morning, you can still obtain some great shots one hour after sunrise.
Drive along Grand View Point Road from Mesa Arch and take in the breathtaking views from Grand View Point. From here, one can see the Needles District in the distance, as well as gorges carved out by the Colorado River. There is a small hiking trail along the rim that is excellent to walk if you want to stay longer and take in the scenery.
Moab is a great place to visit for a lunch break. Its population may be small, but what it lacks in tax-paying permanent residents it makes up for in beautiful scenery and delicious food. And you get both for lunch. Make a stop at any restaurant that catches your eye.
Return to Grand View Point Road and try hiking to White Rim Overlook, a short but sweet walk that leads to another breathtaking vista. Buck Canyon Overlook offers a spectacular view.
Visit the Shafer Canyon Viewpoint and the Visitor Center Viewpoint before departing Canyonlands for spectacular views of the White Rim Road as it twists and turns down Shafer Canyon. This is a section of the White Rim Road that you will encounter if you decide to drive it. It's a once-in-a-lifetime opportunity.
Day 2
The Mesa Arch Trail, which is 0.5 miles long, will be your first stop. This is a popular tourist destination and one of the most photographed national park locations in the country. You'll need to there early if you want to see the spectacular sunrise or take decent shots.
Make sure to be cautious when approaching the viewpoint. The Mesa Arch trail is only 0.5 miles long, so even the most inexperienced hikers or families with children may complete it! Take the following viewpoints and trails when you've finished here:
Buck Canyon Overlook
Upheaval Dome
Grand Viewpoint
If you're visiting in the summer, go to the hotel pool once you've completed all of the trails you want for the day. While you're in town, make sure to get some food! The Buck Canyon Overlook at Canyonlands National Park is also an excellent place to watch the sunset.
Day 3
If you're looking for an exciting adventure, take a 4WD, high-clearance vehicle or jeep to the Island of the Sky and return via the Shafer Trail. The Shafer Canyon Road is a challenging dirt road with large switchbacks, frightening steep cliffs, old petroglyphs, and the possibility of seeing wildlife. The White Rim Road and the Musselman Arch are both popular tourist attractions.
Drive the gorgeous paved road (20 miles), look out the various pull-off vistas, and pick a brief trek if you want a more "relaxed" adventure. The well-known Mesa Arch trek is the most popular short hike in Canyonlands. If you want to picture the arch, you should go early in the morning. But be aware that you will be surrounded by an army of photographers with tripods.
The Mesa Arch hike itself is a quick and easy 0.5-mile loop that takes about 25-30 minutes to complete. If you want to see the sunrise, keep in mind that it's a 45-minute trip. Another good choice for a shorter hike while exploring the Island of the Sky is Upheaval Dome.
Have more time in Moab and want to visit something close?
The Maze
Canyonlands National Park's most distant and secluded region is known as The Maze. Exploring here needs a higher level of self-sufficiency due to the remote location, challenging roads, and primitive trails.
By high-clearance, 4WD vehicle, the Maze Canyons are 3 to 6 hours distant from the ranger station (more if traveling by foot). From Highway 95 at Hite Marina, another four-wheel-drive route leads into the Maze.
Because of the district's isolation and the difficulty of the roads and paths, getting to the Maze takes longer. Visitors must be self-sufficient and equipped to self-rescue. The Maze is rarely visited for fewer than three days, and the region is large enough to support a week's worth of exploration.
Stock up on supplies, water, and gear to aid in self-rescue. If you actually want to get away from it all, the Maze will grant your request. Make sure you're prepared for your visit. The Maze District is open every day of the year, 24 hours a day.
Dead Horse Point
Dead Horse Point State Park offers a unique experience for visitors. Driving to each of the park's numerous overlooks provides a unique perspective of Utah's extensive canyon landscape.
The park is a short peninsula of land that juts out from Canyonlands National Park's Island in the Sky district, which is located on a vast plateau.
The park is located atop Canyonlands National Park's White Rim Trail and provides views of Moab, the La Sal Mountains to the south, and the Colorado River, which is 2,000 feet (609 meters) below.
The area earned its name from its use as a natural horse corral around the turn of the century, according to legend. According to folklore, some horses died on the plateau due to exposure.
The park's geology and important elements visible from the many viewpoints are explained in detail at a visitor center and art museum. The visitor center parking lot is also a great place to start exploring the park's 16.6 miles (27 kilometers) of non-motorized single-track mountain bike trails and eight miles (13 kilometers) of hiking trails.
Horseshoe Canyon
Horseshoe Canyon is a distant extension of Canyonlands National Park. It is home to some of North America's most significant rock art, including "The Great Gallery," which contains well-preserved, life-size humanoid figures with intricate ornamentation. Horseshoe Canyon is a fantastic hiking spot.
The trail through the canyon is well-marked with rock cairns. Once you've reached the bottom, simply walk up-canyon. The first rock art panel is about a third of a mile up the canyon on your left. It is visible from the road and is marked with a sign. Other panels will be visible on the right, and some will not be signed.
The Canyon is not connected to the rest of Canyonlands National Park. Between Green River and Hanksville, it's roughly halfway. The bulk of visitors arrive at Horseshoe from the Hanksville side, along Utah Highway 24 and a 30-mile graded dirt road. The exit is marked. Green River is also accessible by a 47-mile dirt route. Green River is around 2.5 hours away from Moab and 1.5 hours away from Moab. A four-wheel-drive road leads to the east wall of Horseshoe Canyon from the Hans Flat Ranger Station.
Recent Posts