15 Things to do in Zion in Winter – with no crowds!
A visit to Zion National Park in Winter is always a good idea! Zion winters tend to be relatively mild and there are no crowds! In the winter months, Zion is peaceful and wide open for you to explore – with a few trails closed due to the weather.
You can basically do anything you do in the summer during winter at Zion. Whether you visit Zion in December, Zion in January or Zion in February most trails and activities should be open. I know someone who hiked to Angel's Landing in December as it was open. You just need to check in at the Visitor Center to confirm.
Another big plus about visiting in Winter is that the accommodation is a lot cheaper! You can check out my posts on the Best Airbnbs in Springdale, Where to go Glamping near Zion, and the Best Hotels in Springdale close to Zion.
Thank you for supporting this website written by an American. This post may contain affiliate links. This means I earn a small commission on these links at no extra cost to you.
National Park Entrance Fees
To enter the National Parks, you'll need to pay an entrance fee or have a National Parks Pass also known as American the Beautiful Pass.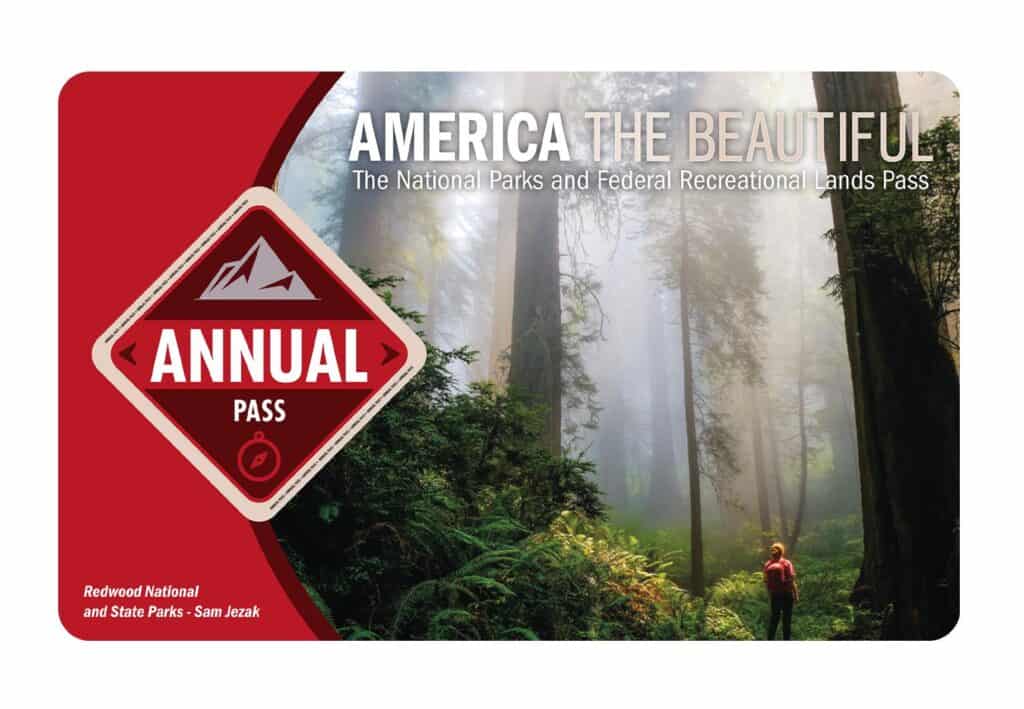 It costs $80 for a yearly America the Beautiful Pass. This gives you access to all national parks and federal areas that charge fees. The America the Beautiful Pass is well worth it!
I purchased my first one in 2016 and it's such a money-saver! Plus 10% of sale proceeds go to the National Park Foundation.
Zion is perfect for outdoor enthusiasts.  There is something for everyone on this list and for different fitness levels.  Also, note that it is cool (in the winter) and make sure you know what you are getting into before you start.  Here are a few tips for Zion:
Tips for Renting a car for your road trip
It's awfully hard to get to Canyonlands National Park without a car. The closest airport is Las Vegas and you can use  Discover Cars to rent a car for your travels. You'll be able to pick up a car at any airport or in your hometown.
Check availability and get a quote for a rental car for your trip here.
15 Awesome Things to do in Zion in Winter
Check in at the Visitor Centre
The Visitor Center is an essential stop on any trip to a state or national park! You'll discover all you need to know about your vacation to Zion National Park right here. If you're visiting Zion National Park in the winter, this is a must.
The Zion Canyon Visitor Center is one of the park's two visitor centers. The park's sheer red-rock cliffs, deep chasms, and stunning waterfalls are well-known. Stop by the visitor center to learn about the various activities available in the park and to get help arranging your park adventure.
You can browse the literature at the center. Consult maps for instructions, look through books about the park's fauna, and look through brochures for information on the park's best hiking, rafting, and climbing spots.
Ask the rangers at the visitor center if you have any questions or concerns about the park. They will be pleased to make recommendations depending on your interests or provide information on park activities. There are also restrooms here. Visit during one of the center's staff-led talks, during which rangers will explain the park's different attractions, including how the caverns work.
Many vistas and paths may be temporarily closed or too risky to explore due to winter conditions. However, you can still; hike in Zion during the winter. You may learn this as well as which vistas, trails, and activities are the best and safest options for the weather conditions that day at the visitor center, as well as check for Zion National Park snow.
Visitor Centre Winter Opening Hours: 8am – 5pm.
Drive Zion Canyon Scenic Drive
Zion Canyon is the most popular part of the National Park, and with good reason. The Virgin River runs through the canyon, which is surrounded by towering red and tan sandstone cliffs that rise 2,600 feet above the valley floor.
Shuttle buses must transport tourists into Zion's main canyon during peak tourist season, stopping at key attractions and trailheads along the way. However, during December, January, and February, shuttles are not required to enjoy a magnificent drive through Zion Canyon. As a result, you'll be able to enjoy a wonderful drive from the comfort of your vehicle.
The picturesque route, which travels along the Virgin River, offers breathtaking views of the canyon and the iconic Zion rock formations. Make sure to take short treks and photos at authorized spots along the way.
Although this route is available all year, private vehicles are only permitted to use it during the winter. When you visit in the winter, you have the luxury of taking your time along this road. You may either drive straight through appreciating the beauty from the comfort of your car, or you can take advantage of every opportunity to get out of the car and brave the cold to be in nature.
Stroll Down to Riverside Trail
At the end of the 15-mile Zion Canyon Scenic Drive, you'll find the Temple of Sinawava. The Riverside Trail, which follows the Virgin River from the base of steep sandstone cliffs, is an easy paved walk that follows the Virgin River. The popular Narrows slot canyon trek can be reached via a 1-mile level trail in the canyon bottom.
There are several points along the trail where you can access the river, and there are portions where you can walk along the river's bank on little trails. Other times, the trail is obstructed by rock walls. Don't forget to glance up at the canyon's walls. The weeping sandstone walls are clothed with hanging gardens of ferns and cactus. Icicle gardens can be found throughout the winter.
Mule deer (often seen at twilight), wild turkeys, blue herons (often seen fishing in the pond), and common squirrels and chipmunks begging for food can all be found along this trail. Don't give in to the temptation of feeding the animals, even if the squirrels are adorable.
The route comes to an end at a point where the canyon is so narrow that there are no land banks on either side of the river; this is where the more difficult "Zion Narrows" hike begins. Most people will splash around in the water for a few minutes before returning, but if you're up for it, and you have decent water shoes and a walking stick, you might want to continue hiking up the river.
In the winter, because it necessitates wading through the river, the Narrows can only be hiked wearing a dry suit. Many different species of wildlife can be spotted along this walk, adding to the whole experience. This track is almost entirely flat, making it accessible to almost everyone visiting the park.
Angels Landing Hike
Angels Landing is a small, steep fin that juts out into Zion Canyon and is one of the park's most popular hikes. It's also been considered the world's scariest climb. In the winter, freezing conditions can make this walk extremely dangerous. 
If you do decide to attempt Angels Landing, it will be well worth your time. You'll be rewarded with a one-of-a-kind 360-degree vista of the valleys below after you reach the summit. However, getting to this position hasn't been easy. This journey leads people up the side of a mountain with some challenging heights and small paths.
The final part of this journey is nothing short of thrilling: you'll be going along the mountain's narrow spine, gaining about 500 feet in elevation. There are numerous exposed sections with views of the canyon below on both sides. Plenty of chains, guardrails, and carved steps are provided to help ease the mind.
If you wish to pull over and regain your breath while watching other people go by, there are various locations appropriate for resting. This hike can be scary if you have no prior mountain climbing or exposed hiking expertise.
You'll reach the last viewpoint after a considerable amount of hiking and scrambling, and the effort will be well worth it; the view is truly breathtaking! Although Angels Landing is far lower in elevation than the rims, it provides an incredible 360-degree vista that exceeds any other.
This trail may be temporarily closed or deemed too risky during the winter due to its difficulties. So make a point of stopping by the visitor center to double-check.
Kolob Canyon
Exit 40 on Interstate 15 leads to the Kolob Canyons part of Zion National Park, which is 40 miles north of Zion Canyon and 17 miles south of Cedar City. Visitors may explore the crimson canyons and access different trails and gorgeous overlooks along the Kolob Canyons Road, which is a five-mile scenic drive.
Kolob Canyon is also home to a diverse range of plant and animal species, which are especially noticeable during the winter months. In this portion of the park, there is also a visitor center with all the information you'll need about exploring Kolob Canyon.
Cliffs, Navajo sandstone canyons, deep canyons, and much more can be found at the Kolob Canyons. This portion of Zion National Park isn't the most popular or well-known, but that doesn't change the fact that it's gorgeous, with so many little gems waiting to be discovered.
During the winter months, Please be aware that the Kolob Canyons Road may be closed due to snow or ice. Pedestrians are not permitted to walk on the road while snowplows are in operation.
Hike the Narrows
The Narrows in Zion National Park is the most popular hike and one of the top slot canyon hikes in the world. It's extremely entertaining, and it can be modified to fit any skill level. The trail is near the Virgin River.
Hiking via The Narrows necessitates crossing the Virgin River. Because there is no trail, you must get your feet wet. The majority of hikers begin their trip at the Temple of Sinawava's Riverside Walk, then walk upstream before turning around and returning to the Temple of Sinawava.
Despite its difficulties, the canyon offers breathtaking views and is a once-in-a-lifetime experience for everyone who attempts it. The trail can be completed in a variety of ways. To begin, start at the bottom and hike up as far as you can before turning around and returning down. Alternatively, you can complete the entire trip by starting at the top and working your way down. Since this full path requires a permit, the alternate path is the more popular trail.
This trail may be temporarily closed or deemed too risky during the winter due to its difficulties. So make a point of stopping by the visitor center to double-check.
Canyon Overlook Trail
If you want a view of Zion Canyon without having to travel a long distance, the Canyon Overlook Trail is the trail for you. The route starts about east of the Zion-Mt. Carmel Tunnel and leads west to an overview of Zion Canyon atop the Great Arch of Zion. It's one of the park's few developed hiking pathways in the eastern parts.
The trail takes you through a series of slick rock layers. The carved Pine Creek Slot Canyon is below you and you might see individuals canyoneering through the dark and winding canyon if you look closely. The route is merely a succession of wooden plank walkways installed beneath overhanging cliffs in certain places where the sandstone drops away.
The trail is just as much of a fascination as the final destination of the vantage point. The trail is bordered on one side by mountain cliff walls, and on the other by a massive drop, mainly secured by railings and barriers that overlook the park's grandeur.
Observation Point
Observation Point is a Navajo Sandstone feature in Zion National Park in Washington County, Utah. A jaw-dropping pinnacle 6508 feet above sea level near the Canyon's northern extremity, is reached after an 8-mile trek in Observation Point. 
The trail includes a long, steep ascent and offers breathtaking vistas for almost the entire trip. The summit is taller and less busy than Angel's Landing, which is nearby.
This hike starts at a small parking lot that also serves as the trailhead for two other trails: the extremely easy Weeping Rock Nature Trail and the short but adventurous Hidden Canyon Trail. The trailhead area may be packed, but once you pass the Hidden Canyon spur, the crowds will almost certainly decrease away.
From high on the east canyon rim, Observation Point provides a spectacular panorama. Zion appears as a large, dissected plateau from this vantage point. Because the view is not as intimate as it is from Angels Landing, and the effort is significantly greater, there are far fewer people, resulting in a quieter experience.
Observation Point is also reachable through the East Mesa Trail, which is located on the park's East Side and is about an hour's drive from Springdale. Since it starts on top of the plateau, this variation is about the same distance but saves you 2000 feet in elevation gain.
View the Wildlife
There is a wide range of species to view in Zion National Park. Visitors are likely to see at least one of Zion's wild creatures when exploring the canyons, hiking the trails, or having a picnic lunch at an overlook.
The park has 5,000 feet of elevation difference in 148,000 acres, with elevations ranging from 3,800 feet to 8,800 feet. It's no wonder that Zion is home to over 78 species of animals, 291 species of birds, 44 species of reptiles and amphibians, and 8 species of fish, given the wide range of heights and resulting microclimates and habitats.
Each animal in these several categories has unique qualities that distinguish it from the others and make it a delight to observe in its natural home. No matter which types of wildlife visitors see in Zion, it will be an experience they never forget.
Many creatures in this area have adapted to the colder climate, so wildlife may be spotted all over during the cold winter months. Mule Deer are especially popular in the winter, when tourists may nearly always see them rummaging throughout the woodlands and paths.
Other species, such as wild rabbits, many bird species, and a variety of tiny mammals, can be found in Zion throughout the winter. The greatest time to see the wildlife moving throughout the park is during the winter, as they are significantly less prevalent during the summer.
Where to stay near Zion National Park
The Zion makes for a great weekend escape. Fresh air, beautiful scenery and being in nature does a world of good for the soul. I recommend staying as close to the park as possible and even treating yourself with a cabin with a spa pool to relax at night.
If you are taking a road trip remember to reserve a car in advance using Discover Cars .
I recommend using Booking .com for all of your hotel bookings. I find they have the best prices on hotels and the more you book with them the more of a discount you get on your bookings. Also, they have free cancellations which is priceless if you need to change your plans.
Recent Posts