Visiting Zion National Park in February – without the crowds!
In the winter, Zion National Park takes on a beautiful quality. It provides a sense of privacy and connection to nature that few places in the United States can match these days.
Winter in Zion National Park might not be for everyone, depending on why you're there. However, if you plan your trip properly, you will remain engaged and fall in love with this well-known US National Park.
Thank you for supporting this website written by an American. This post may contain affiliate links. This means I earn a small commission on these links at no extra cost to you.
Weather in Zion in February
Early mornings in Zion will be cool, so bring plenty of layers, including hats and gloves. Even though it's freezing outside, make sure you drink lots of water throughout the day; at least three liters is advised.
The sunsets early in the winter, so leave plenty of time to complete your hike before the sunsets.
During February, the weather in Zion is often cold and rainy. Between December and March, Zion Canyon receives over half of its annual precipitation. The average temperature in Zion Canyon is 57 degrees Fahrenheit (14 degrees Celsius), with a high of 57 and a low of 31 degrees Fahrenheit (14 degrees Celsius).
In February, it rains or snows on average 7 days.
Furthermore, some of the most adventurous and amazing hiking trips in the world can be found at Zion National Park. Canyons, views, wildlife, seclusion, adventure, and intriguing ecological and cultural interpretation are all available on Wildland Trekking trips.
All-inclusive guided Zion treks include permits, local transportation (except on some tours), meals, equipment, safety systems, and professional hiking/wilderness guides, allowing guests to make the most of their time in Zion and focus solely on the park.
Zion National Park Trails in February
Due to the low height of the Zion Canyon, the most popular Zion paths are somewhat protected in the winter. Although the trails can get slippery from the ice, they rarely close as a result of the weather, and many of Zion's best walks stay open. Winter weather can impact Angels Landing, the Narrows, and Kolob Canyon.
Check out my post on the 15 Best Hikes in Zion National Park
Angels Landing
Angels Landing, formerly known as the Temple of Aeolus, is a 1,488-foot-tall rock formation in southwestern Utah's Zion National Park. Angels Landing is reached through a route carved into solid rock in 1926, which offers panoramic views of Zion Canyon.
Angels Landing is a world-famous hike and an incredible adventure that should be on everyone's bucket list. The 270-million-year-old rock layers of Zion Canyon will transport you back to the Triassic period when this area of the Colorado Plateau was just a flat basin at sea level.
Anyone in an average physical condition can make this heavenward trek, although the steep switchbacks and sheer drop-offs can be mentally demanding. On the final stretch, there are chains anchored into the rock to offer safe handholds, however, people with a severe fear of heights should avoid this portion. Instead, they'll have to make do with stopping at Scout Lookout and taking in the spectacular, life-changing views.
The Angels Landing hike becomes substantially more difficult and dangerous if conditions are wet or slippery, which is a possibility during the winter months. If Angels Landing is on your Zion bucket list, plan on spending a few days in the park and keeping an eye on the weather forecasts.
Do not try the hike if the weather had been rainy or icy.
Springdale is the closest town to the park's entrance, so it's the place to be if you want to make that early morning start as smooth as possible. This small parkside village has plenty of wonderful options for any budget, and it puts you right in the middle of the activity.
If you want to make your vacation to Angels Landing part of a wider itinerary to other southern Utah attractions, Mount Carmel, Kanab, or St. George are also good housing alternatives.
The Narrows
The Narrows in Zion National Park is the most popular hike and one of the top slot canyon hikes in the world. It's highly entertaining, and it can be tailored to suit any skill level. The Virgin River runs through the path and since the canyon is so tiny, the river covers the canyon floor in several places, forcing you to wade or swim to get through. Expect to get wet. The chilly water makes this trip especially enjoyable during the summer months.
While the Narrows trip may be done in the winter, you'll need to rent winter gear like dry suits because the water is too chilly to walk across. These can be leased from Springdale's outdoor stores on the day of your trek or the night before.
The route is open all year, however, because of the colder water temperatures in the winter, there will be fewer tourists than in the summer. If you decide to trek The Narrows in the winter, a dry suit will keep you warm and dry.
There are two ways to hike the Narrows:
Bottom-Up – most popular
One of the greatest ways to see the canyon's small portions is to hike from the bottom up. This part can be enjoyed in a variety of ways. You can hike the riverside trail till it joins the Virgin River if you don't want to get wet and want to take it easy.
Continue into the Virgin River to explore the inner depths of Zion Canyon if you're looking for a little more adventure and don't mind standing in waist-deep water.
You can opt to hike as little or as far as you like, then turn around and return when you're ready. Hike at least as far as Wall Street if you wish to go into the river. This is the Narrows' most narrow part. Consider hiking up to Big Springs if you want a longer day hike, which is ten miles round-trip.
Top Down
The hike begins at Chamberlain Ranch and concludes at the Temple of Sinawava, just outside the park. Since this is a one-way hike, you may need to arrange for transport to Chamberlain Ranch.
This hiking option necessitates the acquisition of a permit. With a roundtrip distance of 16 miles, this hike should take 10 to 14 hours, or you may do it in two days as a backpacking trip.
The Virgin River will be hiked, waded, or even swum through. Visit The Narrows Permit National Park Service (NPS) Site to make a reservation for a Top-Down Narrows trip.
It can get cold and damp in Zion National Park during the winter. The average temperature in the canyon is between 50 and 60 degrees, but because of the high canyon walls, it can get considerably colder. The water is significantly colder, with temperatures ranging from 30 to 40 degrees. To avoid hypothermia, you must ensure that you are appropriately clothed.
Dry clothing and specialized footwear are recommended for your winter trip across the Narrows to keep you comfortable.
There are a few safety factors to keep in mind when planning your trip across the Narrows: The Narrows can be prone to flash flooding after a storm. After a Flash Flood Warning is issued, the Narrows will be closed immediately. If there is a likelihood of rain in the forecast, the hike is not suggested.
When the flow rate hits 150 CFS or above, the Narrows will be closed (this applies to bottom-up travel). Spring run-off boosts the flow rate to dangerous CFS levels, hence the Narrows is usually closed in the spring. Even if the flow rate is lower, you must consider your physical limitations when hiking through the water.
Timber Creek Overlook (Kolob Canyons)
The coolest sceneries are created by the juxtaposition of winter and desert. Snow is not rare in Kolob Canyon, which is located in Zion National Park at a fairly high elevation. The Kolob Canyon part of Zion National Park is one of the state's most accessible national park sites. The stunning finger canyons of Zion, located just off Interstate 15, feature soaring cliffs of red Navajo sandstone and deep pocket canyons just waiting to be discovered.
The canyons of Kolob have been declared as Wilderness, and their pure and primitive habitats are preserved. Hiking in the Kolob Canyons provides travelers with peace and tranquility in a beautiful desert setting.
With soaring Navajo sandstone peaks, canyon streams and cascading falls, and over 20 miles of hiking trails, the Kolob Canyons are unique in Zion National Park. Around every corner, new adventures and breathtaking beauty await you in a spectacular area that has preserved its primal character and influence.
An off-season visit is the best choice for limiting encounters with other hikers and backpackers. In October, average highs in the area are in the mid-60s Fahrenheit, and fall colors are in full bloom. Visitors may be able to trek long into November, depending on the year, and get an early start in the spring.
Since Kolob is higher up than Zion Canyon, winter snowfall frequently causes road closures. Of course, solitude comes with a price: visitors to the park must adhere to Leave No Trace guidelines to preserve the beauty of Kolob Canyons.
Things to know about Visiting Zion National Park in Winter
The park is less crowded in Winter
During the winter months, roads are plowed, although some hiking paths may be closed due to snow or ice. For the most up-to-date information, read the current conditions. Hiking is a pretty good thing to do in February because the number of people has reduced dramatically, and you may even have the trail to yourself.
In terms of the number of tourists to the park, December through February are some of the best months to visit. In comparison, the number of tourists to Zion over December and February is often lower than during a single high season month.
Although Zion is busier during the holiday week than throughout the rest of the year, it may still be an excellent time to visit if the weather and crowds are appropriate. Visitors should be aware of the icy conditions that come with this time of year.
Winter weather in Zion is typically cold and rainy, as the holiday week appears to be, making certain trails particularly precipitous. Daytime temperatures vary from 50 to 60 degrees Fahrenheit, but nighttime temperatures can drop well below freezing.
Almost half of the park's annual precipitation falls between December and March. Snow usually doesn't last long at lower elevations in the park, although it can accumulate at higher elevations.
Driving is permitted in Zion through most of Winter
During the winter, the Zion Park shuttle does not operate. People are permitted to drive their cars into Zion Canyon, either to enjoy the breathtaking beauty of the luxury of their vehicle or to halt at convenient parking locations and hike to adjacent attractions.
You should have a set of strong tires with plenty of treads left. Low temperatures might cause your tires to lose air, so be sure you're inflating them properly regularly.
Your car's heater should be working well, and your petrol tank should be at least half full; both will be useful if snow and ice create road closures or delays, leaving you trapped in the park for longer than intended.
Winter Clothing and Gear
To appreciate Zion and stay comfortable throughout the winter months, you'll need to bring some additional gear. Hiking requires a lot of layered clothing as well as a warm jacket.
A pair of YakTrax is also a good idea to keep in your day bag. Yak Trax are hiking spikes that attach to your hiking trainers or boots to provide increased traction on wet or icy terrain. Ours was utilized on all of our winter hikes in Utah.
Shorter days
The days are notably shorter in winter. At Zion National Park, sunrise/sunset times during the winter are as follows:
December: Sunrise 7:30-7:45 a.m.; sunset 5:15-5:25 p.m.
January: Sunrise 7:45-7:30 a.m.; sunset 5:25-6 p.m.
February: Sunrise 7:35-7:05 a.m.; sunset 6-6:25 p.m.
Although the days in southern Utah aren't as short as they are up north in the winter, you still have a lot less time for hiking and other outdoor activities.
Photography
Taking photographs at Zion National Park should surely be on your to-do list. When the red rock is draped in dazzling white snow, photographers think the upper mountains on the east side of Zion are a dreamscape.
The winter landscape in Zion Canyon, on the other hand, is significantly different because of the milder temperatures at lower elevations. But it doesn't negate the beauty of the landscape: water levels in the Virgin River are greater, mist swirls around waterfalls, and snow-capped peaks contrast with Zion's stunning red rock.
In Zion National Park, winter is a photographer's dream. The red granite walls morph into a swimming sea of golden and flaming hues with red, orange, yellow, and purple flashing over the landscape on shorter days, making it easier to catch both sunrise and sunset. The delicate winter brightness contrasts with the harsh summer light.
Since winter is a less popular season, photographers will have an easier time photographing prominent landmarks without too many other people in the frame. When shooting images, please keep the land and other guests in mind. For those interested in learning more about photography, trips and guides are offered across the region.
Where to stay in Zion
Staying in Zion National Park
During the winter, Zion Lodge is the most economical. The Zion Lodge has hotel-style rooms and suites as well as private cabins that can be rented. There's also a restaurant on the premises.
Within Zion National Park, there is one national park lodge and a couple of campgrounds that are normally available all year. Campgrounds and the lodge sometimes sell out months in advance, but winter is typically the least popular season.
You might also consider staying at Zion Wildflower which is located just outside the park and offers a variety of accommodations and activities.
Check out my post on Glamping in Zion National Park.
Staying in Springdale
As there is minimal lodging in the park, visitors to Zion usually stay in Springdale, a small town near the south gate. The Springdale Shuttle connects Springdale to the Zion Visitors Center and the Zion Shuttle, making it just as convenient to stay close to Zion while also providing more dining alternatives.
Check out my post on the Best Airbnbs in Springdale, Utah for your stay.
Staying in St. George, Utah
St. George is a little further away from Zion National Park, but it's excellent if you want to stay in a city and visit other surrounding attractions.
Where ever you stay you are sure to enjoy your time at Zion National Park!
Tips for Renting a car for your road trip
It's awfully hard to get to Canyonlands National Park without a car. The closest airport is Las Vegas and you can use  Discover Cars to rent a car for your travels. You'll be able to pick up a car at any airport or in your hometown.
Check availability and get a quote for a rental car for your trip here.
National Park Entrance Fees
To enter the National Parks, you'll need to pay an entrance fee or have a National Parks Pass also known as American the Beautiful Pass.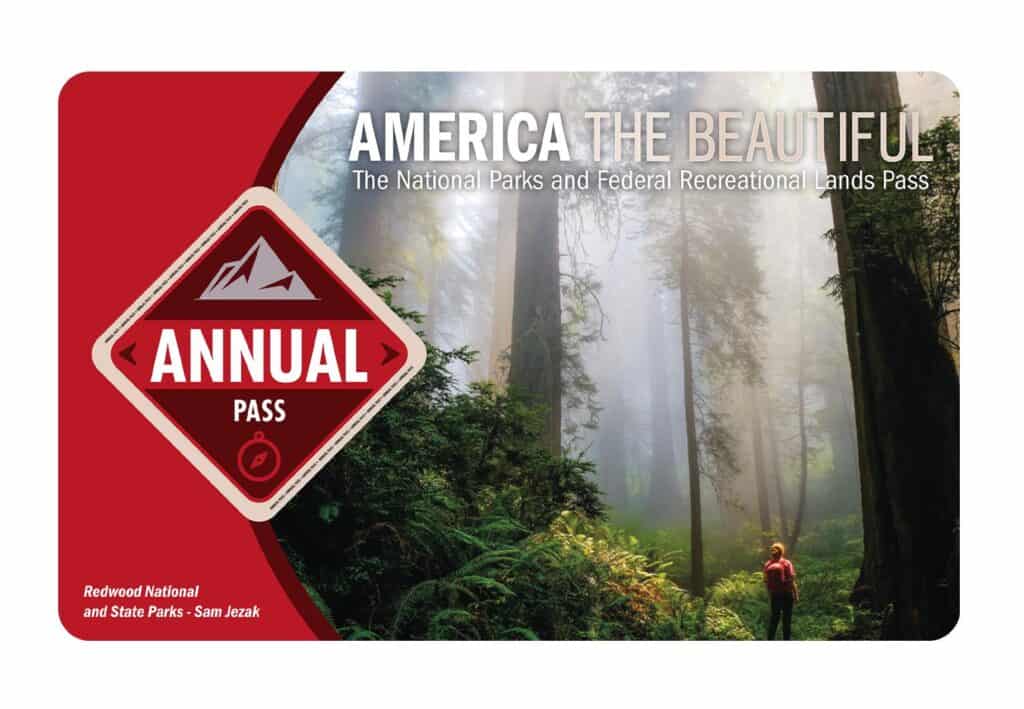 It costs $80 for a yearly America the Beautiful Pass. This gives you access to all national parks and federal areas that charge fees. The America the Beautiful Pass is well worth it!
I purchased my first one in 2016 and it's such a money-saver! Plus 10% of sale proceeds go to the National Park Foundation.
Recent Posts