15 Reason to Visit Zion National Park in May
Zion National Park in May: The month of May is an excellent time to visit Zion National Park. The Virgin River is streaming swiftly and cleanly through Zion Canyon's valley, while animals are frolicking in the warm sun. There are numerous advantages to visiting Zion in May. If you visit the park in May, you will have a good time and leave with a greater appreciation for the park's grandeur and vastness.
For adventurous path seekers from all over the world, Zion is regarded as a must-see location. From Angels Landing, you may stare down the magnificent Zion Canyon, reconnect with nature on a multi-day backpacking trip, or visit one-of-a-kind places like Emerald Pools via conveniently accessible day hikes. Whatever your idea of a perfect hiking day is, Zion National Park has the trails to make it happen.
Zion Canyon is overwhelmed by blossoming wildflowers and plenty of water in May. The snow that gathered over the winter begins to melt as the temperatures increase. The runoff eventually falls into the Virgin River, which runs through the park. Water levels rise, resulting in waterfalls that can only be visible for a few months. Animals are returning to the park, and wildflowers have blanketed the most popular hiking trails.
However, as the temperatures rise, so do the crowds, especially during Spring Break. Most park amenities, including the Zion Canyon Shuttle and campgrounds, are open in the spring.
In May, spring has arrived in Zion, bringing with it milder temperatures. The average temperature in Zion Canyon is 83 degrees Fahrenheit, with a high of 83 and a low of 52 degrees Fahrenheit. The average temperature in Kolob Canyons is 71 degrees Fahrenheit with a low of 44 degrees Fahrenheit. It rains on average 5 days in May.
Some of the advantages for visiting Zion National Park in May are: wildflowers cover the park, it is the only time of year to see waterfalls, fewer crowds than in peak summer month, it is also a great time to spot wildlife, the daytime temperatures are perfect for hiking and the Park services are fully operational – campgrounds and visitor centers are open.
Thank you for supporting this website written by an American. This post may contain affiliate links. This means I earn a small commission on these links at no extra cost to you.
National Park Entrance Fees
To enter the National Parks, you'll need to pay an entrance fee or have a National Parks Pass also known as American the Beautiful Pass.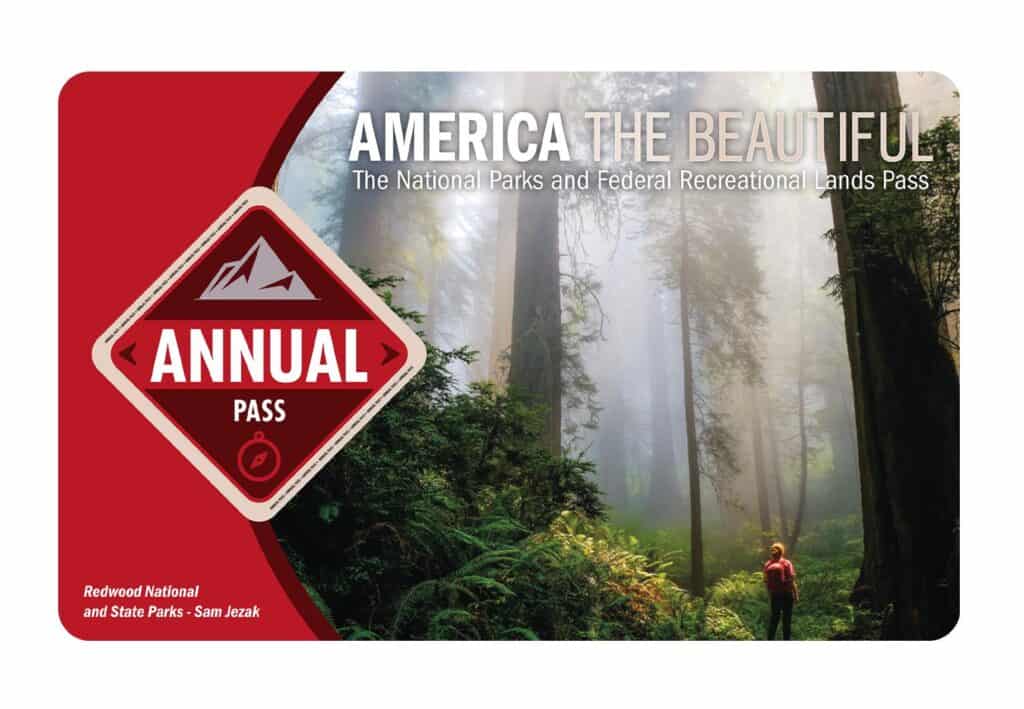 It costs $80 for a yearly America the Beautiful Pass. This gives you access to all national parks and federal areas that charge fees. The America the Beautiful Pass is well worth it!
I purchased my first one in 2016 and it's such a money-saver! Plus 10% of sale proceeds go to the National Park Foundation.
Tips for Visiting in Zion National Park
Zion is perfect for outdoor enthusiasts. There is a hike for everyone on this list and for different fitness levels. Also, note that it is dry and hot (in the summer), and make sure you know what you are getting into before you start. Here are a few tips for Zion hiking:
Bring a reusable water bottle and lots of water! Remember you are in the sun and you will need to drink lots of water. I love my LifeStraw Filtered Water Bottle. I can refill this bottle anywhere and it comes with a carabiner to connect it to my daypack.
Check the Weather – days over 100 degrees are very common. On top of that there is quite a bit of air pollution in Phoenix which can make it suffocating. Make sure to check.
Hiking boots or sandals that will protect your feet! I love good shoes. I need all the support and help I can get. I actually love these sandals for hiking and also love these hiking boots.
Bring hiking poles for balance and to protect your knees. I know many experienced hikers (and even amateur ones) think that hiking poles are for old people who lose their balance. Actually, hiking poles can help when going down steep inclines or when scrambling over rocks. They are great to hike with even for the most experienced hiker.
Wear a sunhat. I feel like this whole post is about how high you are in the mountains and how much closer you are to the sun but it is so true. At elevation, you are closer to the sun and more likely to burn. Wear sun protection such as a sun hat and sunscreen.
Be aware of the wildlife. This is the Southwest and you will need to watch out for snakes and other wildlife such as moose or a bear. Please stay away from wildlife and do not feed them. I recommend carrying bear spray as well.
Start Early – If you want to avoid the traffic and the heat you will need to start your hike early. That way it will be nice and cool and the smog will not affect you either.
Leave no trace. If you are new to the concept of Leave No Trace it is all about preserving the environment to ensure it is in the same or better condition when you leave it. This means that you should stick to the trails and carry out everything that you carried in. This is a great explanation of the Leave No Trace principles!
Water shoes are great for water hikes– If you don't have a pair, I highly suggest it as they are affordable. I have an article on the pros and cons of several pairs of water shoes.
Bring Bug Spray and a snack: Be sure to bring everything you need including a snack like a protein bar plus BUG SPRAY.
Where to stay near Zion National Park
The Zion makes for a great weekend escape. Fresh air, beautiful scenery and being in nature does a world of good for the soul. I recommend staying as close to the park as possible and even treating yourself with a cabin with a spa pool to relax at night.
If you are taking a road trip remember to reserve a car in advance using Discover Cars .
Things to do in Zion in May
Scenic Driving
From its western beginning at I-15 exit, 16 to its eastern junction with U.S. 89 at Mount Carmel Junction, the Zion Park National Scenic Byway follows Highway 9 from its western terminus at I-15 exit 16.
Completed in 1930, the road east from Zion to Mount Carmel Junction was regarded as one of the greatest road-building achievements in history at the time. You'll see why it caused such a stir when you climb switchbacks from the canyon floor to the two high plateaus to the east, passing via two narrow tunnels blasted into the cliffs.
In the northern corner of Zion National Park, the Kolob Fingers Road Scenic Byway (5 miles one way) has the same dramatic desert terrain as the main section of the park: towering colorful cliffs, tight winding canyons, forested plateaus, and wooded trails down twisting side canyons. You won't find many tourists here, so this is a nice area to visit if you're looking for some serene.
To see the beauties of Zion National Park, you don't have to go off the beaten path. The Zion Canyon National Scenic Drive is a scenic route that runs upstream from Canyon Junction along the North Fork of the Virgin River, passing through some of Zion's most spectacular scenery. During the summer and fall, this road is blocked to private vehicles, but shuttle buses give a great option to relax and enjoy the view, or to stop for a hike and then catch a later bus back down the canyon.
You may still see the sights during the rest of the year, but you'll have to do so from one of the park shuttles, which run daily from spring until late November.
The Pa'rus Trail
The Pa'rus Trail, named after the Paiute term for "bubbling water," is one of Zion National Park's newest and most accessible paths. It's the only trail in Zion that allows bikes and pets, and it's one of the park's few wheelchair-accessible trails.
This wide, paved trail, which begins at the South Campground just north of the Visitor Center and finishes at the Canyon Junction, borders the Virgin River in the flat and open bottom area of Zion Canyon. The scenery is extremely pleasant throughout the trip, with multiple bridges crossing the river, various wildflowers, and mule deer frequently spotted.
The flat paved trail heads north along the west bank of the Virgin River, eventually leaving the campsite and putting you in a more remote area. There are several areas where you can walk down to the river, but please respect any "do not hike here" warnings.
Wildflowers bloom all along the trail, and mule deer can frequently be seen relaxing or grazing nearby. A historic diversion dam that was used to cut off water to Springdale is a notable monument. The route actually travels under Route 9 near its northern terminus, ending at the Canyon Junction shuttle stop.
The Canyon Junction bridge is also a famous place for sunset photographers.
Grafton Ghost Town
Grafton was one of the numerous Mormon communities built in Utah and nearby states in the mid-nineteenth century. In 1859, ten families founded the town to grow cotton. Its most well-known adobe schoolhouse was constructed in 1886. Although the town was never large, it thrived until the early 1900s. In 1906, a canal was constructed to transport the majority of Grafton's irrigation water to Hurricane.
After that, many people departed Grafton. The youth was pushed to more lucrative regions due to a lack of land and irrigation water, and new families were unable to move in. It was abandoned in 1945 after its population fell in the early 1900s. The land is still owned by a private individual.
Grafton has a standing schoolhouse and a half-dozen dwellings in the area. These structures appeared to be in better condition than they were 15 years ago.
The Grafton Heritage Partnership Project has repaired the structures and added interpretative signage for visitors. Sturdy swings have been constructed across the street from the schoolhouse. Some of the residences are open to the public, while others are not. The schoolhouse was secured, but a platform and stairs had been constructed to provide simple access via the window.
A small cemetery can be found not far from the town. At the end of your visit, you can also take a look at the historic headstones. Grafton has no food, drink, fuel, or restrooms.
Turn right (south) on Bridge Road from SR-9, just before the Rockville town center. Turn right at the crossroads after crossing the bridge. For a few miles, follow the gravel road and turn right at every intersection until you reach Grafton. Along the road, there is Grafton signage.
Human History Museum
Stop at the Human History Museum, which is the first stop on the shuttle bus, to learn about Zion's cultural history. The museum has large, easy-to-read exhibits as well as a massive model of the park and its surroundings to put the location into context.
Information on American Indian culture, pioneer settlements, and the park's construction can be found in the permanent collection. There are also temporary exhibits on display, which cover a wide range of topics. Every half-hour, a video is shown, and rangers are on hand to answer questions.
Kayenta Trail
The Kayenta Trail connects to the Emerald Pools trail and is sometimes combined with the Emerald Pools trek, which starts at The Grotto and ends at the Zion Lodge shuttle bus stops. It's a two-mile out-and-back journey to the Upper Emerald Pools if you just want to complete the Kayenta Trail.
For the most part, the trail follows the canyon wall before ascending to the pools. This trail offers stunning views of the Virgin River and the canyon, as well as multiple exposed areas with long drop-offs.
Observation Point
This eight-mile round-trip climb is one of the best for breathtaking views and an exceptional view of Zion Canyon. This is a strenuous climb up to and into Echo Canyon, past steep drop-offs and Zion's gorgeous Navajo sandstone. After a while, you'll reach a level vantage point with panoramic views of the canyon.
From here, you can see the cliff walls and the valley below, which is cut by the Virgin River. Observation Point is a good alternative to Angels Landing if you don't want to deal with the drama and crowds. It's longer and higher, but it's also less busy and takes you through some spectacular canyon vistas.
The Weeping Rock parking area serves as the trailhead for this hike.
Angel's Landing
Angels Landing is a well-known hike in the park. This breathtaking climb will lead you to an incredible vantage point overlooking the canyon. This dramatic journey climbs the side of a mountain on a series of switchbacks known as Walter's Wiggles before following a narrow ridge to a 1,500-foot drop and a view of the valley below.
This is a well-known hike, although it is not for everyone. It's a challenging 5.4-mile round-trip hike with significant elevation gain and narrow ridges with massive drop-offs. It is not recommended for hikers with a fear of heights or young children. Chains serve as handholds on several sections of the trail.
This hike starts at the Grotto and lasts between three and six hours. The route is available all year, however in the summer it can be quite hot and crowded, and in the winter it can be completely covered in snow. Thus, it's best done in the Spring season.
Camping
There's nothing quite like waking up in Zion National Park, which is why camping is one of the park's most popular activities. Nonetheless, since Zion has just three campgrounds — South, Watchman, and Lava Point — you'll want to make reservations as soon as possible.
Watchman Campground is located on a bench above the North Fork Virgin River in Zion Canyon and is beautifully shaded. It is named after a prominent rock feature called The Watchman that stretches 6,545 feet into the heavens. With more than 200 reservable campsites, Watchman is the park's largest and busiest campground. The slightly smaller South Campground, which has 117 reservable campsites, is also located along the river.
On the other hand, Lava Point Campground is more primitive and smaller (6 sites, no reservations, and no water), making it perfect for tent campers, vans, and truck campers. The campground is located in north-central Zion, at an elevation of 7,900 feet. You can travel a few hundred yards east to the Lava Point Fire Lookout for a spectacular view of the park and beyond.
The Pink Cliffs, The Narrows, and Zion Canyon attractions like The Sentinel may all be seen from the lookout. Don't forget to bring your camera since this is one vista you'll want to take home with you when you return home from your vacation.
You can come at any time as long as you have adequate camping gear (or a camper or RV).
Canyoneering
Zion National Park has become one of the country's finest canyoneering sites, thanks to its small canyons and numerous waterways. Canyoneering is an activity that allows scrambling, climbing, and swimming up, down, and through canyons, typically with the help of ropes.
Zion appears to be a picture of shattered red rock expanses cut by a network of small slot canyons from above. These canyons have become some of the most popular canyoneering places in the country, with routes to suit any skill level.
Canyoneering in Zion National Park is a difficult undertaking that often entails rappelling, swimming, navigational abilities, and some climbing; yet, for the thrill-seeker, canyoneering in Zion National Park could be the adventure of a lifetime.
Beginners should book a tour of the Narrows' lower section, while more experienced visitors should visit the Subway or Orderville Canyons. You can go canyoneering in Zion all year, but some routes are restricted.
To get started, get in touch with a local guide. Canyoneering necessitates permission, specialized equipment, and local knowledge, all of which can be obtained on a guided trip. Begin by learning the fundamentals, then accompany your guide into the park to experience some of Utah's most famous routes, including The Narrows and Orderville Canyon.
Stargazing and Night Photography
Plan some time during your trip to see Zion's dark skies if you can. Keep in mind that the park gets dark at night, so bring some light and warm clothing, and keep off the roads. The campgrounds, as well as the park's different overlooks, are excellent spots for stargazing.
From New Mexico to Montana, Utah lies at the center of a dense cluster of recognized parks known as The Great Western Starry Way. The Beehive State has some of the best dark skies in the world, making viewing the Milky Way's billions of stars a favorite activity for people of all ages.
After the sunsets and the orange glow fades from Zion's canyon walls, the park is bathed in a canopy of stars. The International Dark-Sky Association has designated Zion as an International Dark Sky Park, and many tourists will be able to see more stars than they've ever seen before. When you enter the park, the ambient light of everyday life fades away, revealing every feature of the night sky.
Beyond everything, it's essential to get a sense of dark skies free of light pollution. You can go wherever you wish to enjoy the night sky. It may be anything from desert camping in Utah to a quick trek into the Wasatch Back canyons. It is usually recommended to visit recognized International Dark Sky Places, and you will not be disappointed.
Recent Posts