18 Epic National Parks and National Monuments in New Mexico
New Mexico has a lot to offer and New Mexico national parks are top of the list. New Mexico's national parks, as well as its national monuments, are extremely gorgeous.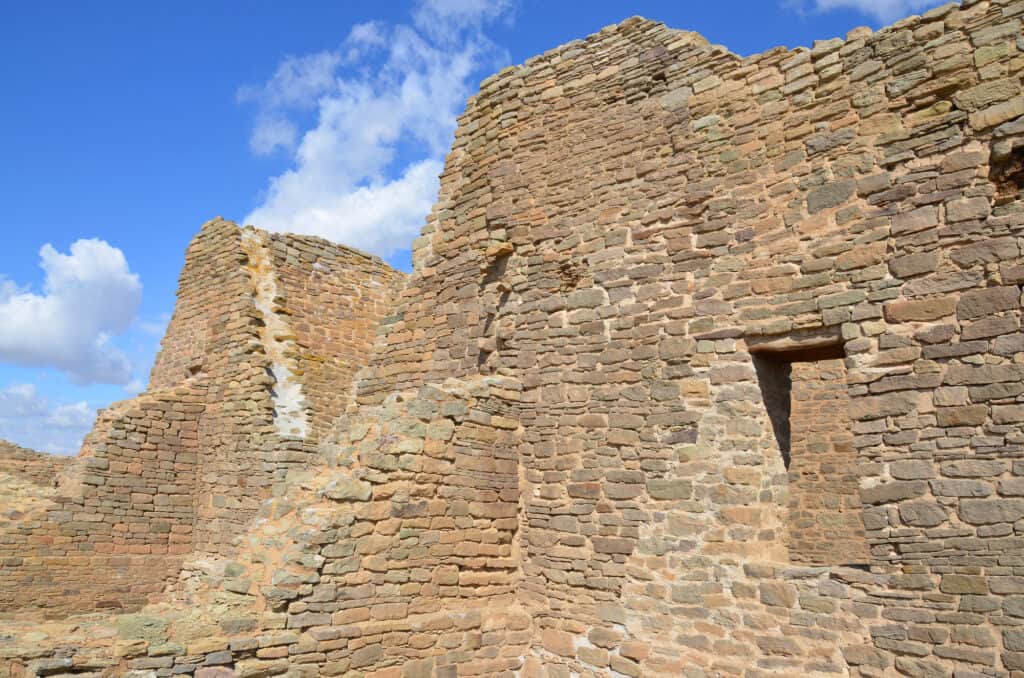 New Mexico has two national parks and 16 national monuments. This list includes all of them, as well as a map of New Mexico National Parks that illustrates where each one is located. New Mexico is a wonderful state with breathtaking landscapes, so these National Parks and National Monuments in New Mexico should not disappoint. You can also read my article on the Best Places to Visit in New Mexico. There are a lot of National Parks on this list, so be prepared.
New Mexico National Parks
White Sands National Park
Located in the state of New Mexico and surrounded by the White Sands Missile Range, White Sands National Park is an American national park that covers 145,762 acres in the Tularosa Basin, including the southern 41% of a 275 sq mi field of white dunes composed of gypsum crystals and considered the largest field in the world.
Its thin crystals and grains gleam in the sunlight, and beautiful dunes stretch beyond the horizon, the tallest of which stands at around 18 meters.
The white sand resembles the look of white snow. Climbing the dunes, having a picnic, sledding on the sand, taking a free stroll with a ranger, and watching the breathtaking sunset at night are all opportunities for visitors. While it isn't officially a beach due to the lack of water, it commonly appears on lists of New Mexico's top beaches because you can have so much beach-like fun in the sand.
There are also several elevation change backcountry bike trails worth checking out. Dunes Drive is an 8-mile backcountry route that will allow you to take in some of the breathtaking scenery if the heat becomes too much for you.
It is always advisable to check first current weather conditions before venturing the White Sands because the weather in the desert is unpredictable and extreme. Even in fall, weather can exceed 85 degrees and heat advisories are often in place. Dust storms are frequent, and it's nearly always sunny and hot. 
Check out my post on the Best Things to do in White Sands National Park
Carlsbad Caverns National Park
Carlsbad Caverns National Park is a United States National Park in the Guadalupe Mountains in southeastern New Mexico. In 1903, the first guano mines were established. The Park features desert wildlife, flowering cacti, and deep rocky caverns, but these are just a few of the attractions in the Chihuahuan Desert, where the caverns are located.
Due to their size, manner of origin, and abundance, diversity, and beauty of the speleothems (decorative rock formations) within, more than 120 limestone caverns within Carlsbad Caverns National Park are outstanding and notable worldwide.
There are 120 caverns beneath the surface formed by folic acid dissolving limestone and leaving caves of various sizes behind. Taking a tour around its countless chambers with spectacular features and magnificent rooms wherever you go is the finest way to discover its approximately 50 kilometers of subterranean trails.
Visitors can trek around the desolate desert environment above ground which is home to some beautiful nature and views. Moreover, the Slaughter Canyon Cave trip allows adventurers to spelunk into an underground wilderness without electricity.
Check out my post on the Best Things to do in Carlsbad Caverns National Park
New Mexico National Monuments
Aztec Ruins National Monument
The Aztec Ruins National Monument is an archaeological site in North Western New Mexico, located in Aztec, New Mexico. White settlers mistook it for an Aztec ruin, it was eventually discovered to be the remnants of an Ancestral Pueblo settlement built by people connected to Chaco Canyon in the 12th century.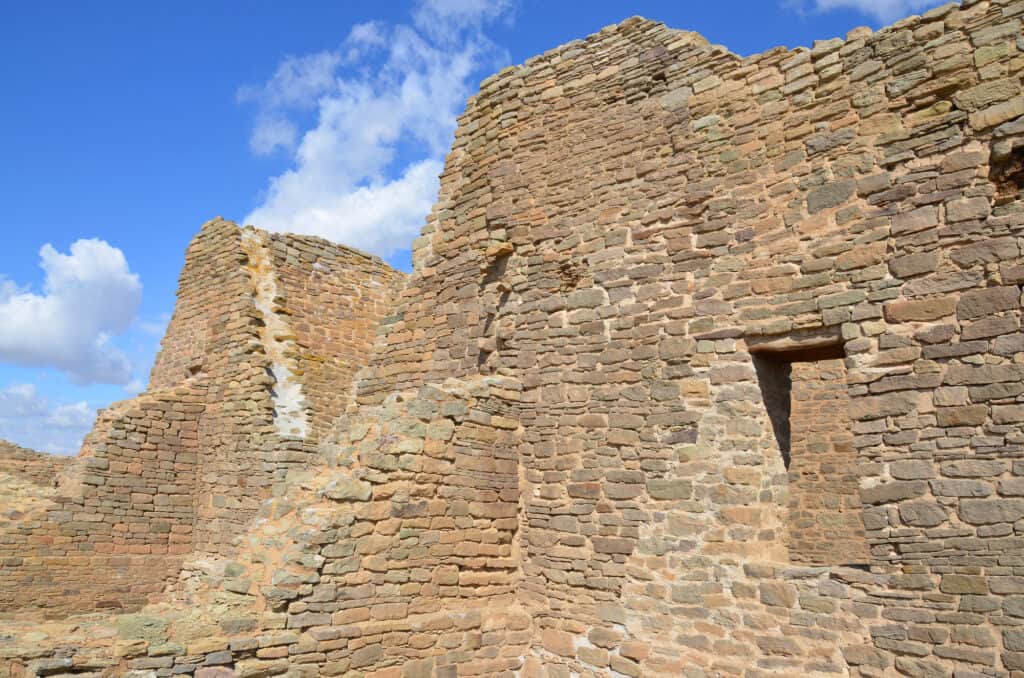 There are approximately 400 rooms to explore at this awe-inspiring archaeological site, with the Great Kiva being the undisputed highlight. Visitors can enter a reconstructed model to view what it would have looked like in its prime, in addition to witnessing the original ruin and its magnificent brickwork.
The West Ruins are open for visitors. There is now a visitor center that has many artifacts on display from the area. Make sure to take a moment to listen for drums in the Great Kiva, which has been painfully reconstructed.
The national monument's museum is well worth visiting, which has many interesting exhibits and relics on display to obtain a better understanding and appreciation for the Ancestral Puebloans' history and culture.
Bandelier National Monument
Located not far from Santa Fe, the magnificent Bandelier National Monument is another of the area's finest archaeological sites. It is located on the Jerez Mountain slopes and is home to a vast amount of amazing wilderness, as well as various Ancestral Puebloan sites strewn throughout the scenic landscapes.
The mesas, thousands of ancestral Pueblo houses, and sheer-walled canyons of Bandelier National Monument are well-known. Over 11,000 years ago, hunter-gatherers followed wildlife across the area, which led to the first human encounters with this location.
There are plenty of other breathtaking attractions to see at the national monument, including beautiful wildlife, scenery, and perspectives. It also includes a fantastic museum with displays of ancient artifacts and archaeological findings. This extreme elevation change allows you also to explore different climatic regions and wildlife zones as you wander through the intricate net of hiking trails.
Capulin Volcano National Monument
Capulin Volcano National Monument – part of the Raton-Clayton Volcanic Field is a US National Monument in northeastern New Mexico that protects and interprets an extinct cinder cone volcano.
Capulin Volcano is located on the New Mexico planes, in the town of Capulin, New Mexico. It last erupted approximately 60,000 years ago and stands at a height of 8182 feet. While it is unknown who was the first to find this volcano, evidence suggests that the Paubloians, who visited the country as long back as 10,000 years ago, were probably among the first ones. Although long extinct, Capulin Volcano National Monument is dramatic evidence of the volcanic processes that shaped northeastern New Mexico.
Visitors can hike approximately 5 miles, drive to the rim of the volcano, examine the volcano's old lava flow, and see the panorama of the Rocky Mountains from the summit.
Chaco Culture National Historical Park
Widely considered to be one of the most important pre-Columbine historical areas in the country, Chaco Culture National Historical Park is located near Albuquerque and contains a huge variety of ruins of the Chaco culture. For over 2,000 years, Pueblo peoples occupied a vast region of the southwestern United States.
Chaco is known for its gigantic public and ceremonial buildings, as well as its unique architecture — it contains an old urban ceremonial center unlike anything else constructed before or subsequently.
From 850 to 1250 AD, sublime communities and structures were created and occupied in the crumbling boundaries of Chaco Canyon. They're a treat to explore, with Pueblo Bonito being the largest and finest of the bunch, with tons of exquisite architecture and spectacular stonework.
A self-guided tour of the Canyon Loop is available to visitors. They can also attend ranger programs which are ranger-led walks through the park. Hiking, biking, and stargazing are also available in this area.
Chiricahua National Monument
The Chiricahua National Monument is once called by the Local Apaches 'The Land of Standing-Up Rocks' because of the spectacular stone spires and breathtaking balancing rocks.
Set right in the State's southeast corner is the captivating Chiricahua National Monument, home to some of Arizona's most arresting and awe-inspiring landscapes; an appealing destination with mesmerizing rock formations, eight miles of magnificent views, and a 9.5-mile hike known as the "Big Loop."
Moreover, the finest place to see wildlife is along Bonita Creek Trail, where you might spot deer, coatimundis, and a plethora of migrating birds. The restored, rough-log Stafford Cabin, located in the Faraway Ranch Historic District on the park's east side, is open for tours on weekends and provides a fascinating — if daunting — view of pioneer life in this rugged terrain.
The Faraway Ranch historical site, a tourist center, and a campground are among the other features of this Chiricahua monument.
Kasha-Katuwe Tent Rocks National Monument
Kasha-Katuwe Tent Rocks National Monument is a U.S. National Monument located approximately 40 miles southwest of Santa Fe, New Mexico, near Cochiti Pueblo.
The Kasha-Katuwe Tent Rocks National Monument is a remarkable outdoor laboratory, offering an opportunity to observe, study, and experience the geologic processes that shape natural landscapes. The National Monument, on the Pajarito Plateau in north-central New Mexico, includes a national recreation trail and ranges from 5,570 feet to 6,760 feet above sea level.
At the Monument, there are picnic tables, shelters, and restrooms. A National Recreational Trail is located within the Monument and is solely open to hikers. The Trail is divided into two sections, each of which offers hiking, birdwatching, geologic observation, and plant identification opportunities.
You can also enjoy amazing panoramas over its multicolored cliffs, canyons, and caprocks, which have been formed and sculpted by the elements for aeons, from atop its lovely Canyon Trail.
Petroglyph National Monument
The Petroglyph National Monument, located in the state's central region is a must-see.
Located near the Rio Grande in Albuquerque, Petroglyph National Monument is an archaeological site featuring around 25,000 ancient and prehistoric rock engravings known as petroglyphs. Some of the carvings depict animals and people, while others are more difficult to decipher, enabling your imagination to go roam.
The National Monument has four main areas, including the Boca Negra Canyon, the Rinconada Canyon, the Piedras Marcadas Canyon, and the Volcano Day Use trails.
Rinconada Canyon, a 2.2-mile desert trip is a top pick recommendation where you may see up to 300 different petroglyphs scattered along the paths. The Boca Negra Canton area is more developed and offers a less strenuous climb, but there are still lots of fascinating petroglyphs to contemplate.
El Malpais National Monument
El Malpais National Monument, which means "bad lands," is characterized by a barren volcanic landscape that covers much of the park's area. Lying in the west of the state is the Monument is home to a vast volcanic field. It may be found just off Interstate 40 in a very lonely yet awe-inspiring location, full of cinder cones, lava flows, and rock formations.
Wildlife thrives in the wide grasslands and forests. Despite what some may consider as a bleak area, people have been adjusting to and living in this beautiful terrain for centuries.
Scenic views, short walks, strenuous trekking, caves, and rough backcountry camping are just a few of the activities available in the area. These countless opportunities provide information about the geology, history, culture, and wildlife of the region.
Visitors can also camp or stay overnight in the nearby Grants.
El Morro National Monument
El Morro National Monument is located in northwest New Mexico on an old east-west road that once connected Native American populations. The route is one attraction for persons interested in the region's history, but most visitors come to see the massive sandstone promontory with a magnificent pool of water at its base.
Because of a waterhole at the base of a sandstone bluff, El Morro (the headland) was a popular camping location for hundreds of years. Ancestral Puebloans, Spanish, and American travelers carved almost 2,000 signatures, dates, messages, and petroglyphs here. This shaded oasis has been attracting people and travelers for thousands of years as thousand-year19th-century traveling is petroglyphs and traveler signatures dating back to the 17th century can still be seen.
Visitors can wander the many trails and participate in Ranger programs to learn more about El Morro's history. The Zuni Mountains, El Morro Valley, and volcanic craters from the El Malpais area may all be seen from the top of the bluff.
El Camino Real de Tierra Adentro National Historic Trail
From 1598 to 1882, the Camino Real de Tierra Adentro was a historic 2,560-kilometer trade route connecting Mexico City and San Juan Pueblo, New Mexico, USA. During and during the Spanish colonial period, it was the northernmost of four important "royal roads" that connected Mexico City to its major tributaries.
Also known as the Royal Road of the Interior, this trail is one of the earliest Euro-American trade routes in the USA. The route ran for three centuries, going through two countries and traversing over one hundred and sixty miles as part of Spain's Camino Real Intercontinental, a global network of roads and maritime routes.
The Rio Grande Valley State Park's Paseo del Bosque Track is a great hiking and biking trail. This 16-mile paved track will not only take you through the Cottonwood bottomland forest, but it will also let you imagine the ancient trading route used for thousands of years by indigenous people and Spanish conquistadors.
While the path runs through much of the state, downtown Albuquerque is also a must-see scenery.
Fort Union National Monument
The National Park Service of the United States administers Fort Union National Monument, which is located north of Watrous in Mora County, New Mexico.
On June 28, 1954, the national monument was established. The Plains and Pueblo Indians used Fort Union as protection for travelers, commerce, and mail routes.
Fort Union National Monument serves as a reminder of the fort's history and the important role it played in the establishment of the American Southwest's distinct cultural character and the settlement of the American West. The whole history of the site and its three forts can be experienced by visitors to Fort Union National Monument.
A military fort built in 1851 is preserved at the location. The visitor's center provides details on who resided at the fort and the wars that occurred there. Visitors can also explore some of the adobe remains through small trails. This national monument also has a section of the Santa Fe Road, a 19th-century wagon trail utilized by pioneers traveling west.
The Park also offers special family and children's friendly programs. A digital copy of the National Park Service's Junior Rangers booklet for the park can be found on their website or a hardcopy at the park's visitor center.
Gila Cliff Dwellings National Monument
The unique and stunning Gila Cliff Dwellings National Monument is located in a gorgeous and solitary area in the southwest of the state. The fascinating archaeological site is about an hour and a half drive north of Silver City, in a great wilderness area and national forest of the same name.
Five caves to explore, each with the ruins of old chambers and buildings, is nestled in the side of a rugged canyon. The Mogollon Peoples are thought to have inhabited these captivating yet crumbling cliff homes in the 13th and 14th centuries.
Gila Cliff Dwellings National Monument protects two of the ancient Mogollon people's most significant ruins. Deep canyons, shallow rivers, mesas, and bluffs planted with hardy desert plants like pinon pine and juniper make this a wonderful place to visit.
A small museum in the visitor center displays items discovered near the cliff dwellings, which have been inhabited for thousands of years, first by nomadic tribes and then more permanently by the Mogollon people.
Aside from the modest and beautiful site, the surrounding area offers some fantastic hot springs and pictographs opportunities, as well as plenty of great hiking, camping, and overlooks.
Manhattan Project National Historical Park
The US Department of Energy (DOE) and the National Park Service (NPS) have been pursuing the possibility of including DOE's most significant Manhattan Project properties within a Manhattan Project national park for more than a decade, in collaboration with other federal agencies, state and local governments, and other stakeholders.
The National Defense Authorization Act of 2015, which includes provisions authorizing the park to be located at three sites: Oak Ridge, Tennessee; Hanford, Washington; and Los Alamos, New Mexico, was passed after multiple studies and draft laws. On December 19, 2014, President Obama signed the National Defense Authorization Act into law.
Three sites make up the Manhattan Project National Historical Park: Oak Ridge, Tennessee, Hanford, Washington, and Los Alamos, New Mexico. The Park has relics, infrastructure, and equipment from the Manhattan Project, a top-secret government program.
Many people believe that the atomic bomb was responsible for the end of World War II, and the site in Los Alamos, New Mexico, offers an educational tour to assist tourists to understand this complex period in our country's history, where over 6,000 scientists toiled during the 1930s and 1940s.
Pecos National Historical Park
Pecos, once known as Cicuye, has a reputation as one of the strongest Northern pueblos. This was due to its elevation of 7,000 feet and its protection from the Great Plains, the Rio Grande Valley, and other features.
From a historical perspective, this park spans several centuries. From prehistoric archaeological sites of the Pueblo people to subsequent ranches founded by early pioneers to a Civil War battlefield, this Park has it all.
By far the most striking feature is the Pecos Pueblos, which provides a glimpse into the rock-and-mud homes that formed up a tiny village built around AD 1100.
In addition, the Forked Lightning Ranch is home to an early homestead of Tex Austin, one of the most famous rodeo names in history.
After exploring the ruins, it's best to take a walk through the Glorieta Pass, a lovely valley that has provided safe passage for hundreds of years to visitors wanting to bypass the Sangre de Cristo Mountains.
Salinas Pueblo Missions National Monument
Spanish missionaries founded a mission in the 1600s to work with the Puebloan people who spoke Tiwa and Tompiro. Today, this national monument has the ruins of large churches as well as partially excavated Gran Quivira pueblo ruins.
The Salinas Pueblo Missions National Monument contains three sites that are remnants of early Spanish and Pueblo Peoples contacts. This distant frontier area of central New Mexico was once home to bustling trade settlements of Tiwa and Tompiro-speaking Puebloans. The area was ideal for missionary operations when Spanish Franciscans arrived in the early 17th century. However, by the late 1670s, both Puebloans and Spaniards had left the Salinas District, as it had been dubbed by the Spanish.
There are also guided petroglyph tours and great bird watching along the Spanish Corral Trail located in the Quarai part of the park aside from touring the mission structures.
Valles Caldera National Preserve
Located in the Jemez Mountains in the northern part of the state, Valles Caldera National Preserve has beautiful mountains, hot springs, fumaroles, gas seeps, and volcanic domes dominating the landscape.
This has been used since prehistoric times. There have been several Native American tribes that used to use Caldera for hunting. Eventually, settlers and other tribes came to the Caldera. It also started to be used commercially for ranching.
There are also grass valleys and plains with plenty of wildlife. The vast valley was formed over a million years ago by a massive volcanic eruption, and today there are lovely meandering streams that make this one of the best spots in New Mexico to view wildlife.
Today it is considered a national reserve and can be visited by tourists. Wildlife, trails, as well as horseback riding, are some of the attractions found in the area.
Recent Posts