Where to Stay near Canyonlands National Park
Canyonlands National Park lodging: Are you looking for hotels near Canyonlands National Park? There are many places to stay near canyonlands national park and I've covered all of them depending on which area of the park you are thinking of visiting.
One of the most popular questions is where to stay near Canyonlands National Park. If you are planning to visit the Island in the Sky section of the park it is near Moab, Utah and can be visited along with Arches National Park.
I have included hotels near Canyonlands National Park, UT and divided this article up depending on what section of the park you are visiting.
Canyonlands is a huge national park and there are four areas of Canyonlands National Park. Depending on which area you are looking to visit will depend on where you will want to stay. These accommodations near Canyonlands National Park are the best options.
Island in the Sky – the most visited area and closest to Moab, Utah
The Needles – this area is vast and if you are planning to spend a few days there you should stay in Monticello, Utah
The Maze – the most remote area of the park but a great base to stay is Hanksville or Green River, Utah.
The Rivers – the Colorado River and the Green River flow through the park. You can take day rafting tours from Moab.
If you are looking for more info on Things to do in Canyonlands National Park or The Best Moab Tours which also covers Canyonlands.
Thank you for supporting this website written by an American. This post may contain affiliate links. This means I earn a small commission on these links at no extra cost to you.
National Park Entrance Fees
To enter the National Parks, you'll need to pay an entrance fee or have a National Parks Pass also known as American the Beautiful Pass.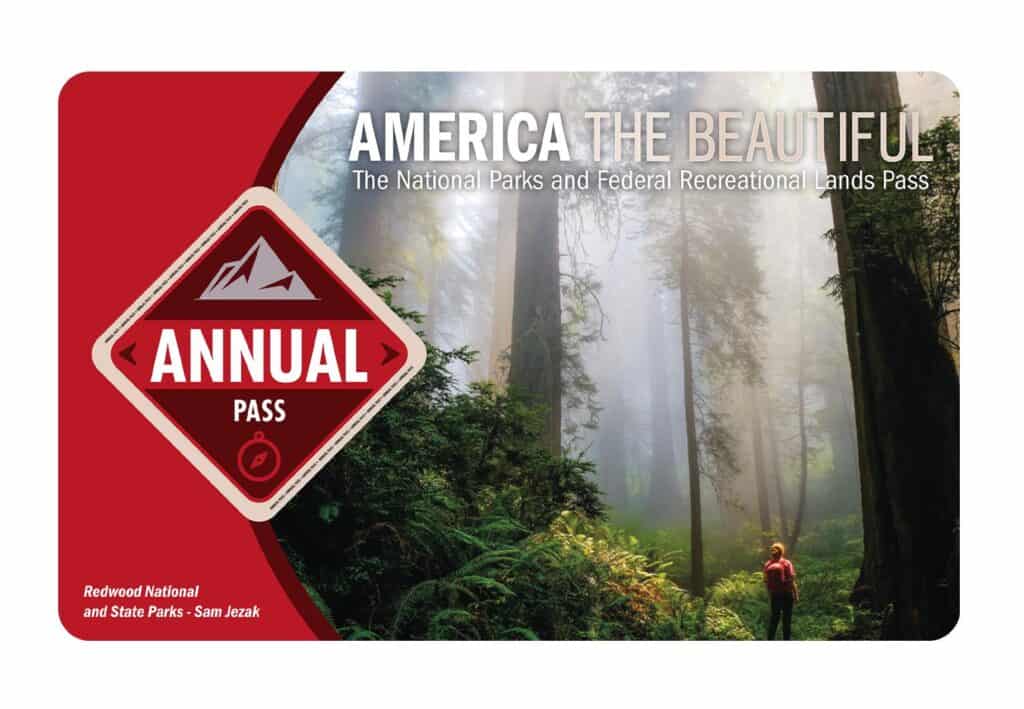 It costs $80 for a yearly America the Beautiful Pass. This gives you access to all national parks and federal areas that charge fees. The America the Beautiful Pass is well worth it!
I purchased my first one in 2016 and it's such a money-saver! Plus 10% of sale proceeds go to the National Park Foundation.
Best Hotels near Island in the Sky Canyonlands Lodging
Sorrel River Ranch Resort & Spa
As you approach Sorrel River Ranch Resort & Spa, you'll be greeted by expansive green fields framed by red granite cliffs. This luxury resort near Moab, Utah, overlooks the Colorado River and is surrounded by some of the most breathtaking scenery in the desert Southwest.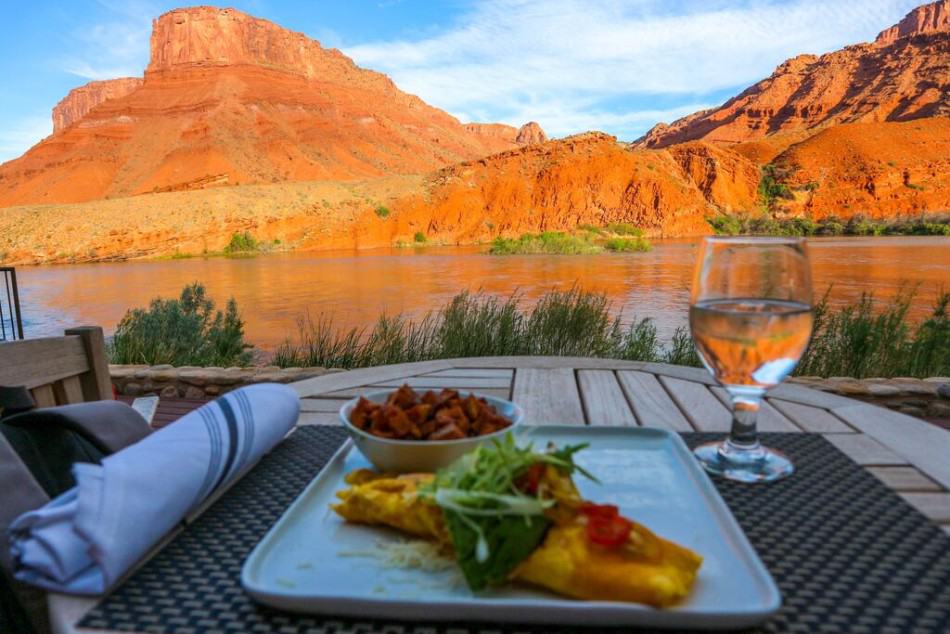 Sorrel River Ranch is a private 240-acre riverside refuge surrounded by the breathtaking scenery of Utah's renowned arches, canyonlands, and red rock mesas.
The Sorrel River Ranch Resort & Spa, which is embraced by the Colorado River's arc, provides guests with an amazing base from which to experience Utah's natural beauties. From the log-beamed ceilings, wide-plank floors, and balconies with excellent views of the river or red rock cliffs beneath stunning blue skies, the rustic decor of the rooms is in perfect harmony with the surroundings.
The 55 luxury rooms and suites at the resort are intended for space and comfort, with sitting areas, large baths, and porches or decks where you can relax and enjoy the tranquility of the surroundings. Each accommodation has a private balcony with views of the mountains or the river.
River Studio, Balcony Studio, Mesa Studio, Family Suite, and Ranch House Estate are among the options. From the most romantic rooms to spacious suites suited for families or couples traveling together, each lodging has its distinct character.
Two tennis courts, a swimming pool, a fitness facility, and a full-service spa are also available on the 160-acre site. Casual meals are offered on the outside decks and in the breakfast area, while gourmet dining is available in the main lodge.
Go river rafting, off-roading, mountain biking, or hiking in one of Utah's magnificent National Parks if you're looking for a thrill. Indulge in massage therapy or body treatment in the calm ambiance of the Spa at Sorrel River if relaxation is more your style.
Sound Interesting? Check out the reviews and check availability
Under Canvas Moab
Under Canvas Moab is located just 7 miles north of Moab, near Utah's famous Arches National Park and Canyonlands National Park, and has been named one of Travel + Leisure's "Top 15 Resort Hotels in the West" and Condé Nast Traveler's "Top 25 Resorts in the US – Midwest & West."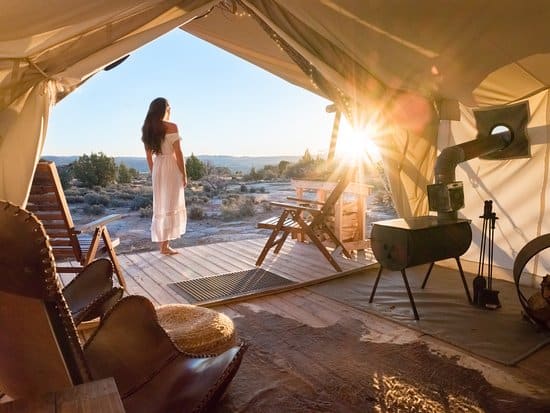 Located on 40 acres 7 miles north of Moab, Utah, Under Canvas Moab's campsite blends into its dramatic surroundings where deep canyons and towering plateaus create a raw landscape of immense power. The deluxe glamping tents allow guests to enjoy Utah's magnificent desert without foregoing the conveniences of home.
Since you're glamping in a stand-alone tent with no ductwork, you're always breathing fresh air. You can also enjoy the views from your front porch in the morning to enjoy the desert light, or in the evening after a day spent visiting Arches or Canyonlands national parks or riding Moab's famous mountain biking routes.
Picnic spots and grills are available for cooking your food on site. In addition, Moab boasts a large Safeway grocery store where you can stock up on all of your grilling essentials. After supper, relax by the fire pit and enjoy complimentary S'mores while admiring the incredibly dark skies that this section of Utah is known for.
Suite, stargazer, or deluxe are the three glamping tents available. All of the tents have a sumptuous air to them, and the beds are so comfy that you won't feel you're in a glamping tent.
Guests of Moab Under Canvas have access to horseback riding. Guests can rent bicycles to explore the neighboring desert cycling trails. All guests are entitled to free parking.
This luxurious camp is located 7 miles from Moab. The nearest state park is Dead Horse State Park, which is 10 miles away. It takes 50 minutes to drive to Canyonlands National Park.
Sound Interesting? Check out the reviews and check availability
Homewood Suites by Hilton Moab
Homewood Suites by Hilton Moab is an all-suite hotel designed to accommodate extended stays near the natural wonders of Moab, Utah. It's a mix of a bright and modern hotel with a homely atmosphere. Because of its excellent service and family-friendly setting, this is a preferred hotel for families visiting Moab.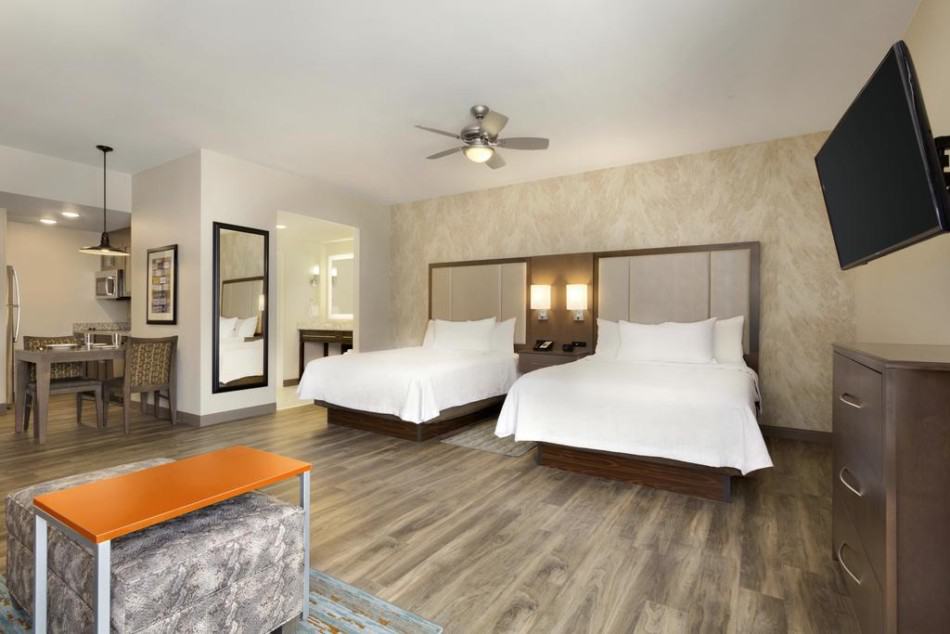 Homewood Suites by Hilton Moab is located in Moab, 8.5 km from Arches National Park and 48 km from Canyonlands National Park. It has an indoor heated pool. Every day, guests can enjoy a complimentary full hot breakfast.
This hotel's air-conditioned rooms include a flat-screen TV, a fully equipped kitchen, and a sofa bed. Each room has a private bathroom with a bathtub or shower. Free WiFi is available throughout the Homewood Suites by Hilton Moab.
A heated indoor pool and underground parking are among the on-site features at this Hilton hotel, which recent visitors commend for keeping their cars cool despite the desert heat. Furthermore, this hotel is within walking distance to downtown Moab's shops and restaurants, as well as Arches National Park, which is 5 miles away, and Canyonlands National Park, which is about 40 miles away.
Guests can enjoy various activities in the surroundings, including cycling and hiking.
 Sound Interesting? Check out the reviews and check availability
Hyatt Place Moab
If you're visiting Arches National Park and want to stay somewhere luxurious without worrying about the cost, Hyatt Place is the place to stay. It is about one mile from downtown Moab and offers easy access to hiking and biking throughout the park's 76,518-acre acreage.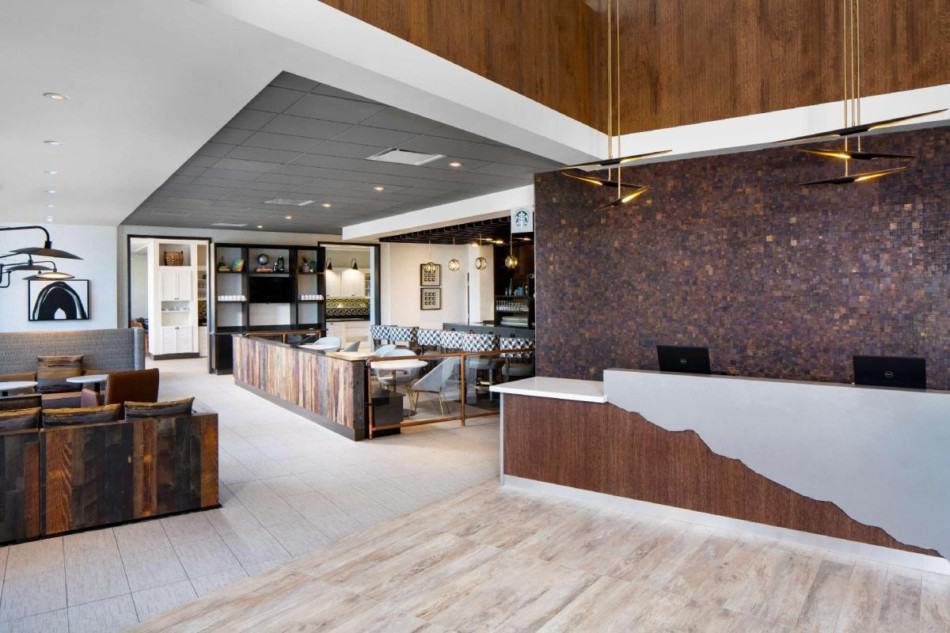 Hyatt Place Moab is located in Moab, 20 kilometers from Mesa Arch, and has a restaurant, free private parking, a seasonal outdoor swimming pool, and a fitness center. A 24-hour front desk and a communal kitchen are among the amenities offered at this property, which also offers free WiFi. There is a children's playground, an on-site bar, and a shared lounge.
When it comes to providing service to their customers, they take a unique approach. It's all about three things: FEEL, FUEL, and FUNCTION. The rooms have been tastefully designed and are extremely comfortable and pleasant. It has blackout curtains to block off the early light, a workstation, seating area, couch bed, coffee/tea maker, and satellite television.
Every day, you may have a freshly prepared breakfast made with natural and fresh ingredients such as all-natural bacon, cage-free eggs, steel-cut oatmeal, and more. A bar sells premium alcoholic beverages as well as specialty coffee drinks. Here, you will undoubtedly receive your money's worth!
The Hyatt Place Moab also has a business center where guests can read newspapers or use the on-site ATM.
Hyatt Place Moab is 22 kilometers from Landscape Arch and 26 kilometers from Delicate Arch. Canyonlands Field Airport, 26 kilometers from the hotel, is the nearest airport.
Sound Interesting? Check out the reviews and check availability
Holiday Inn Express & Suites Moab
The Moab Holiday Inn Express Hotel & Suites is located near the banks of the Colorado River. This three-story, 79-room hotel is flanked by the spectacular red granite cliffs of southeastern Utah and is beautifully designed.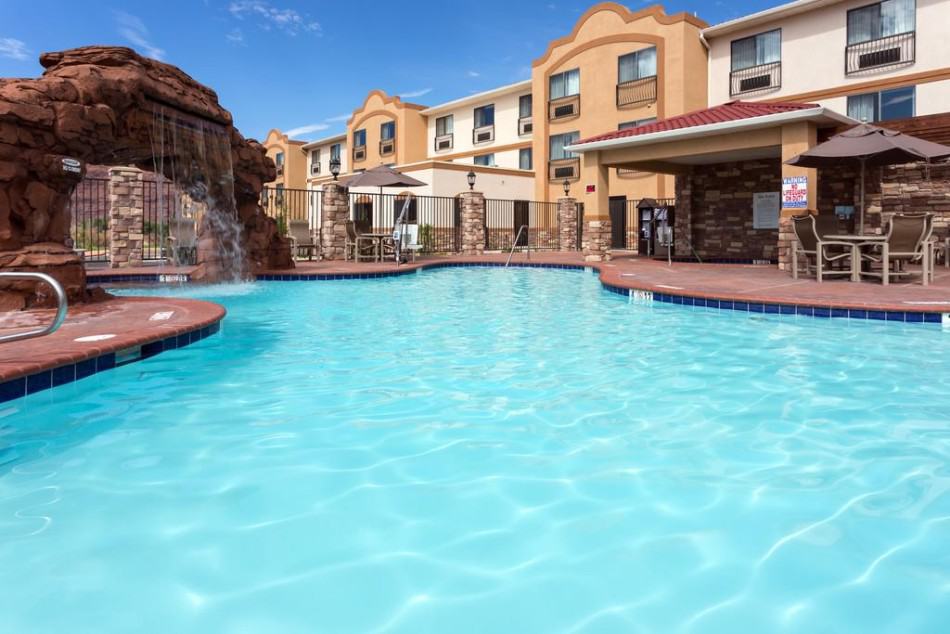 For work or pleasure, all the rooms and suites are elegantly designed. Each room features a 27-inch television, complimentary wireless Internet access, two-line phones with voicemail, a coffee maker, irons, and ironing boards. A queen-size sleeper sofa, refrigerators, and microwaves are included in the one and two-bedroom suites.
The hotel has a hot tub and offers 3-star accommodations. Guests of the Holiday Inn Express Hotel & Suites Moab, an IHG Hotel, can participate in activities such as hiking and cycling in and around Moab.
Breakfast is available at the Holiday Inn Express Moab as a continental or buffet option and the hotel has a business center as well as vending machines with drinks and snacks.
They also feature an outdoor pool, a heated outdoor pool, and an outdoor whirlpool, all of which are available every day from 8:00 AM to 11:00 PM. There is also a complimentary fitness center that is open from 12:00 AM to 12:00 PM.
Holiday Inn Express Moab is 24 kilometers from Delicate Arch and 24 kilometers from North Window. Canyonlands Field Airport, 24 kilometers away, is the closest airport.
Sound Interesting? Check out the reviews and check availability
Hotels near Canyonlands Needles Area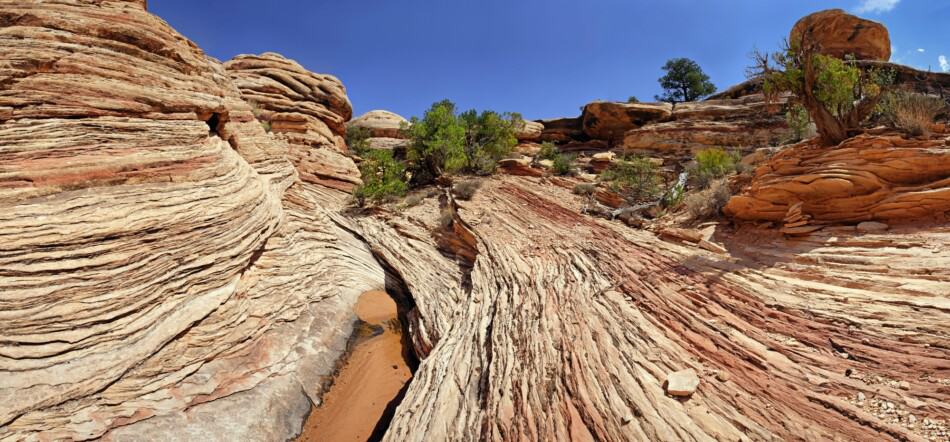 Inn at the Canyons
The recently refurbished motel is set between the stunning backdrop of the San Juan Mountains and Canyonlands National Park, near picturesque Moab, Utah, and awaits to exceed your every expectation for your next Canyonlands, Utah vacation.
The largest hotel in Utah, Monticello, provides pleasant, spacious, and welcoming accommodations. The Inn at the Canyons is the ideal choice for your Canyonlands vacation, as it is conveniently positioned in the heart of year-round outdoor activities such as hiking trails, camping, fishing, winter activities, and mountain bike destinations. Relax in the spacious lobby, next to our enormous fireplace, with a cup of tea or coffee.
You and your family can relax at the largest indoor pool in the neighborhood, unwind at the vast spa, or choose to enjoy restaurants and nightlife near the hotel while staying in their family-owned and managed accommodations.
This Monticello motel has an indoor pool and hot tub and is only 48 miles from Canyonlands National Park. Guests can enjoy a daily continental breakfast and free Wi-Fi.
Each guest room at Inn in the Canyons has a cable TV with premium channels. A small refrigerator and microwave are available in some rooms.
Guests are also welcomed at a 24-hour reception desk. On-site, there is a business center. There is free parking for big cars.
Sound Interesting? Check out the reviews and check availability
Blue Mountain Horsehead Inn
Blue Mountain Horsehead Inn is your "home away from home" in Monticello. The Blue Mountain Horsehead Inn strives to make your stay as pleasurable and peaceful as possible, which is why so many visitors return year after year.
This motel is 4 minutes drive from Monticello Golf Course, which is 48 miles from Canyonlands National Park. There is a TV in each room with free movie channels. On-site parking is available for free.
All of the rooms at Blue Mountain Horsehead Inn have a small refrigerator and microwave. There are facilities for making tea and coffee.
The Blue Mountain Horsehead Inn Monticello has a business center in the lobby. On-site vending machines with refreshments are also available.
Check out a popular Monticello shrimp restaurant like Peace Tree Juice Cafe, which is only a short distance from Blue Mountain Horsehead Inn, during your visit.
The best of Monticello is right at your fingertips at Blue Mountain Horsehead Inn, making your visit both relaxing and memorable.
Sound Interesting? Check out the reviews and check availability
Grist Mill Inn
The Inn at Gristmill Square, located in the heart of the George Washington National Forest, is Bath County's top boutique inn and restaurant.
There are 18 rooms and suites that are beautifully decorated with a combination of fine antiques and contemporary furnishings to create distinctive locations that visitors have long cherished. For families, friends, small groups, corporate retreats, and intimate wedding parties, they provide the perfect accommodations.
All of the air-conditioned rooms have a resting space and a hairdryer in the en suite bathroom. Free WiFi is available in all rooms.
Each morning, guests of the inn receive a complimentary continental breakfast in their room, complete with a basket of chef's delights, freshly squeezed juice, and deliciously hot coffee, making it the ideal start to a long day of exploring Bath County.
An outdoor pool (summer), select rooms with wood-burning fireplaces (fall/winter), a gift store, and an award-winning restaurant with a wine cellar from which visitors can choose their wine are all available on site. Guests can get facials or massages at the Warm Spirit Spa, which is only across the street.
Sound Interesting? Check out the reviews and check availability
Rodeway Inn & Suites Monticello
Rodeway Inn & Suites hotel on Highway 191 offers comfort and convenience to budget-conscious visitors to Monticello. The hotel is located at the base of the picturesque Abajo Mountains, just a short walk from the Monticello Utah Temple. It is also one hour from popular Canyonlands and Arches National Parks and the mountain-biking mecca of Moab.
It will be easy to rest, relax, and take care of business during your stay at our Monticello residence. The hotel provides a variety of rooms and suites that can accommodate up to 6 people and come with complimentary WiFi and HBO.
The Rodeway Inn Monticello has a cable TV and a refrigerator in every room. There are also no charges for local calls.
The Monticello Rodeway Inn offers free coffee 24 hours a day. A computer in the lobby provides an internet connection. Guests will also be able to make copies and send faxes.
Peace Tree Juice Cafe and Doug's Steak & BBQ are both within walking distance of the hotel for dining.
Newspaper Rock, with its well-preserved petroglyphs, and Moki Dugway, a stunning 4WD road carved into a hillside in the Valley of the Gods, are both within 1-2 hours of where you'll be staying. Natural Bridges National Monument and the iconic Monument Valley are both less than 2 hours away from the hotel.
Sound Interesting? Check out the reviews and check availability
Hotels near the Maze area of Canyonlands National Park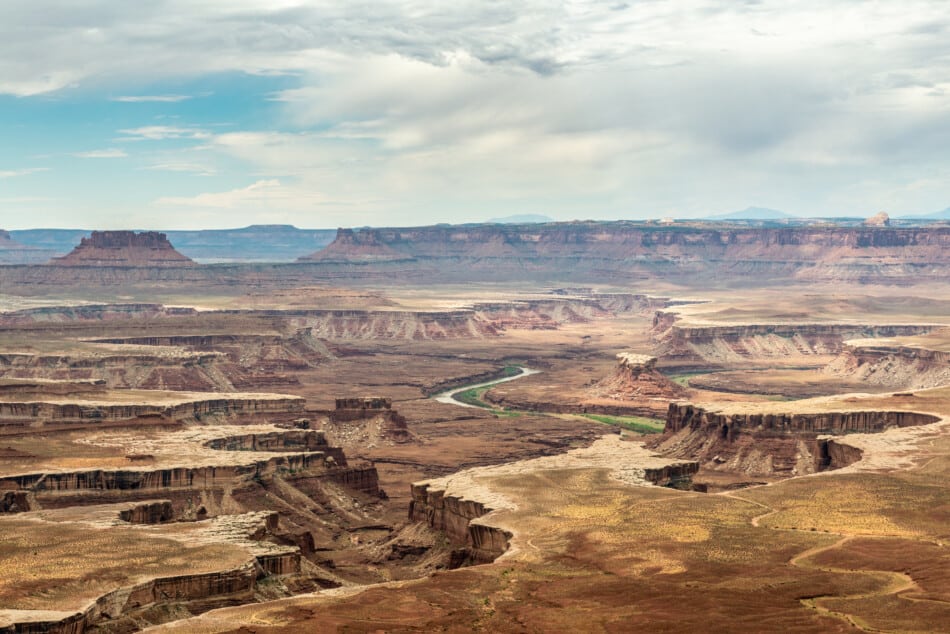 Whispering Sands Motel
Whispering Sands Motel is a top Hanksville lodging choice because of its wonderful central location in the grand circle of southern Utah's national parks. Enjoy satellite TV, wireless internet, air conditioning, and clean/comfortable rooms with refrigerators, microwaves, coffee makers, and hair dryers.
They have 14 beachfront apartments – all with panoramic views of the ocean from sunrise to sunset.
North Caineville Mesa and Town Point are examples of the area's natural splendor. Kayaking and water skiing are fantastic ways to get out on the lake, but there are also hiking/biking paths and rock climbing nearby if you're looking for an adventure.
There's something for everyone at Whispering Sands, and you'll find everything you're looking for. You'll enjoy your stay at Whispering Sands Motel and will feel both refreshed and rejuvenated.
Sound Interesting? Check out the reviews and check availability
Cathedral Valley Inn
The Cathedral Valley Inn is the place to be if you're seeking a quaint, off-the-beaten-path spot with breathtaking night skies and an otherworldly backdrop.
Near various national and state parks, historic areas, and picturesque byways, the Cathedral Valley Inn motel is conveniently located. Capitol Reef National Park, which includes the backcountry area of Cathedral Valley, is a short drive from this motel and features massive sandstone formations, cliffs, and canyons.
Swingarm City, also known as Factory Butte, is five miles away. This unique Utah region is a dirt biker's dream, with wide-open play zones, steep narrow trails, and perfect terrain for freestyle Motorcross riding.
Lake Powell, Goblin Valley State Park, and Dixie National Forest are some of the other must-see sites in the vicinity. Scenery, culture, archaeology, and recreational opportunities abound along Scenic Byways 12 and 24.
Free continental breakfast, free local calls, and an outdoor hot tub are just a few of the amenities available at this hotel.
Refrigerators, microwaves, coffee machines, and cable television are available in all guest rooms. Non-smoking rooms are available upon request.
There is plenty of free parking that can fit most vehicles, trucks, and buses.
Sound Interesting? Check out the reviews and check availability
OYO Hotel Hanksville, UT
The OYO Hotel Hanksville, UT is located in Hanksville and offers free WiFi throughout the property.
Hanksville is home to the OYO Hotel Hanksville, UT. North Caineville Mesa and Town Point are examples of the area's natural splendor.
Each room in the hotel has a desk, a flat-screen TV, and a private bathroom. The OYO Hotel Hanksville, UT has air conditioning and a wardrobe in each room.
The next town is Caineville, which is 15 miles away.
Sound Interesting? Check out the reviews and check availability
Tips for Renting a car for your road trip
It's awfully hard to get to Canyonlands National Park without a car. The closest airport is Las Vegas and you can use  Discover Cars to rent a car for your travels. You'll be able to pick up a car at any airport or in your hometown.
Check availability and get a quote for a rental car for your trip here.
Tips for Visiting in Canyonlands National Park
Canyonlands is perfect for outdoor enthusiasts.  There is a hike for everyone on this list and for different fitness levels.  Also, note that it is dry and hot (in the summer), and make sure you know what you are getting into before you start.  Here are a few tips for Canyonlands hiking:
Bring a reusable water bottle and lots of water! Remember you are in the sun and you will need to drink lots of water. I love my LifeStraw Filtered Water Bottle.  I can refill this bottle anywhere and it comes with a carabiner to connect it to my daypack.
Check the Weather – days over 100 degrees are very common.  Make sure to check.
Hiking boots or sandals that will protect your feet! I love good shoes.  I need all the support and help I can get.  I actually love these sandals for hiking and also love these hiking boots.
Bring hiking poles for balance and to protect your knees.  I know many experienced hikers (and even amateur ones) think that hiking poles are for old people who lose their balance.  Actually, hiking poles can help when going down steep inclines or when scrambling over rocks.  They are great to hike with even for the most experienced hiker. 
Wear a sunhat. I feel like this whole post is about how high you are in the mountains and how much closer you are to the sun but it is so true. At elevation, you are closer to the sun and more likely to burn. Wear sun protection such as a sun hat and sunscreen.
Be aware of the wildlife. This is the Southwest and you will need to watch out for snakes and other wildlife such as moose or a bear.  Please stay away from wildlife and do not feed them.  I recommend carrying bear spray as well.
Start Early – If you want to avoid the traffic and the heat you will need to start your hike early.  That way it will be nice and cool and the smog will not affect you either.
Leave no trace. If you are new to the concept of Leave No Trace it is all about preserving the environment to ensure it is in the same or better condition when you leave it.  This means that you should stick to the trails and carry out everything that you carried in.  This is a great explanation of the Leave No Trace principles!
Water shoes are great for water hikes– If you don't have a pair, I highly suggest it as they are affordable.  I have an article on the pros and cons of several pairs of water shoes.
Bring Bug Spray and a snack: Be sure to bring everything you need including a snack like a protein bar plus BUG SPRAY.
Recent Posts