Best Places to Stay near Arches National Park – Best Moab Hotels and Lodging
Arches Hotels: Wondering where to stay in Moab, Utah? This guide to the best places to stay in Moab covers Arches National Park lodging and hotels near Arches National Park. There are lots of choices in accommodation in Moab (the closest city to Arches).
I have included the best options for lodging near arches national park and lodging near Moab Utah. Whether you are looking for Moab accommodations with a pool or motels near Moab Utah these arches national park hotels will fit any budget.
TLDR: The Moab Hotels and Accommodation closest to the entrance of Arches National Park are:
Holiday Inn Express Hotel– Top Recommended
Fairfield Inn and Suites by Marriott
Moab, Utah Hotels Comparison Chart and Reviews
Thank you for supporting this website written by an American. This post may contain affiliate links. This means I earn a small commission on these links at no extra cost to you.
National Park Entrance Fees
To enter the National Parks, you'll need to pay an entrance fee or have a National Parks Pass also known as American the Beautiful Pass.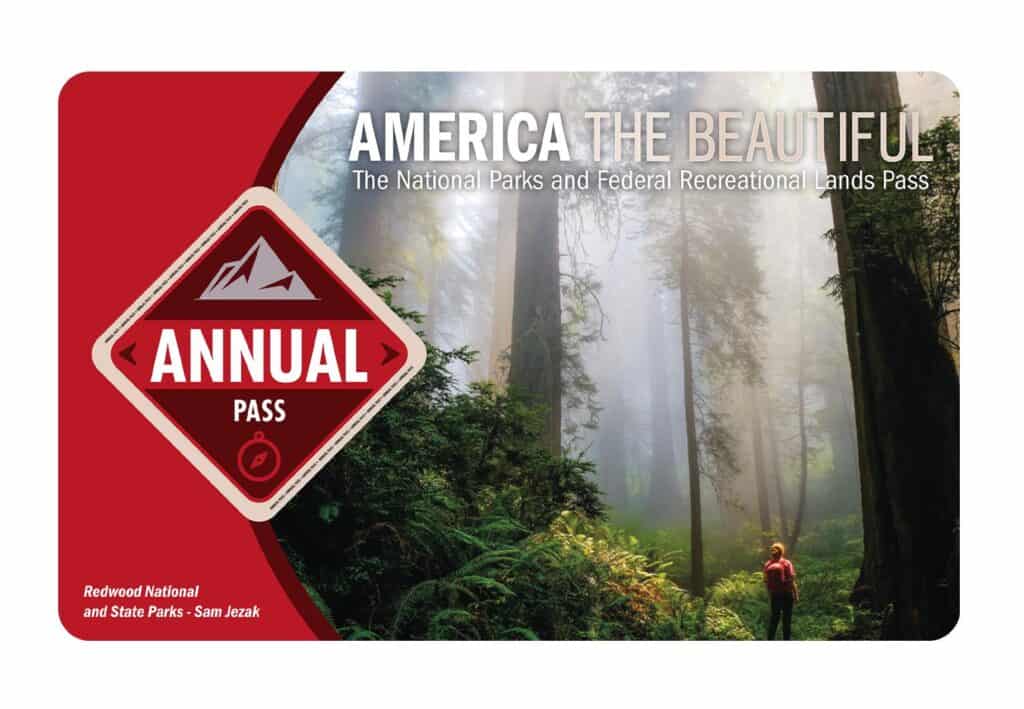 It costs $80 for a yearly America the Beautiful Pass. This gives you access to all national parks and federal areas that charge fees. The America the Beautiful Pass is well worth it!
I purchased my first one in 2016 and it's such a money-saver! Plus 10% of sale proceeds go to the National Park Foundation.
Best Moab Hotels and Accomodations near Moab
Moab Springs Ranch – Best Hotel in Moab, Utah
The Moab Springs Resort is a fantastic resort on the outskirts of Moab, Utah, near Arches National Park. Amid the surrounding red rock landscape, it is truly a sanctuary of beauty and relaxation.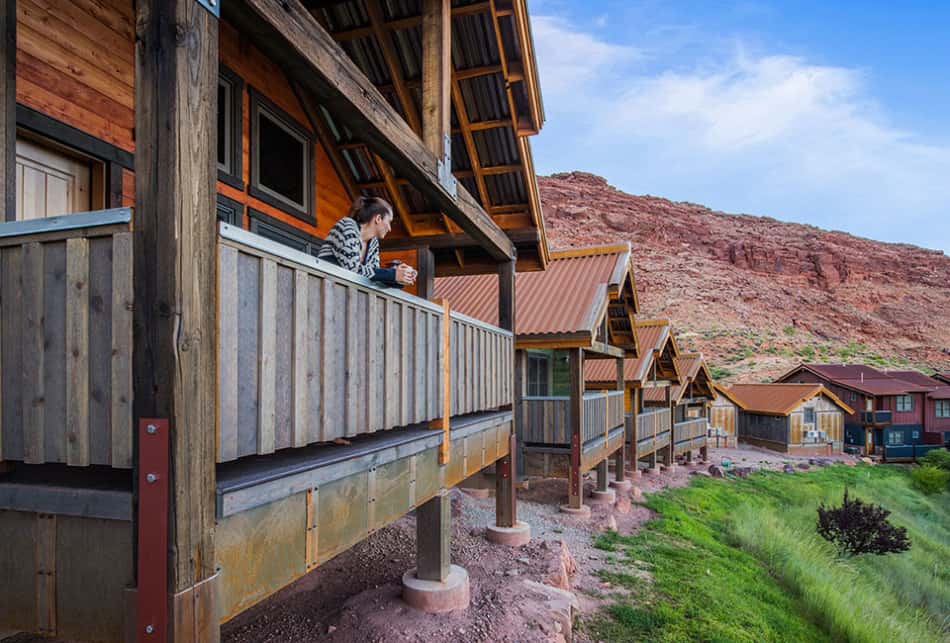 Moab Springs Ranch is a cool, shady paradise of giant cottonwood trees, a flowing waterscape, and comfortable, stylish accommodations are nestled beneath Moab's red rock. With bike-in, bike-out access to Moab's enormous trail network, it's conveniently positioned near Arches National Park, the Colorado River, and downtown Moab.
They offer two types of accommodations: the stand-alone luxury bungalows with studio-style living and the large one, two & three-bedroom townhouses. Kitchenettes, vaulted ceilings, private porches with outdoor dining sets, and drive-up access are all included in the bungalows. Separate bedrooms, complete kitchens, and covered terraces for outdoor eating are all included in the beautiful townhouses. Both forms of lodging come with access to the resort's amenities.
A vast private park, ponds, pools, flowing waterscape, hammocks, and shade are all available at the resort. There's also a heated pool and hot tub, a campfire circle, and breathtaking sunset views. The environmentally friendly home also offers direct trail access to the Moab wilderness, as well as other surrounding attractions including the Colorado River, a vineyard, and national parks.
Horsethief Coffee is now available at Moab Springs Ranch's Historic Ranch House. Fresh Moab Coffee (FMC) locally roasted coffee, baked pastries, frittatas, bagels, and more!
What more could you possibly ask for? Moab Springs Ranch seems to have all you need for a fantastic Moab trip.
Castle Valley Inn
You'll adore the oasis that is Castle Valley Inn, which is nestled in the heart of the American West and just 16 miles outside of bustling Moab.
Enjoy delicious, homemade breakfasts and pastries in this wonderful bed and breakfast; relax and unwind in beautiful, spacious, American West-inspired guest rooms; explore the nearby trails and National Parks with a child's delight; and take advantage of 5 acres of meticulously tended lawns, orchards, and fields – all the elbow room your heart needs to take in vistas of such grandeur.
The bed and breakfast provide visitors with amenities such as a refrigerator, air conditioning, and a kitchenette, as well as free internet access.
To make your stay even more enjoyable, the hotel offers a hot tub and complimentary breakfast. Guests arriving by car will be able to park for free.
There's plenty to do in the region, including visiting prominent art galleries including Tom Till Gallery, Hogan Trading Company, and Gallery Moab LCA.
They provide you with a place to slow down and unwind in informal comfort at Castle Valley Inn. The city's distractions will appear quite far away from here!
Red Cliffs Lodge
The award-winning Red Cliffs Lodge is nestled among Red Rock cliffs and the Colorado River's greatest whitewater rapids. The hotel is only a 30-minute drive from Arches National Park and an hour from Canyonlands National Park, making it a perfect base camp for visitors visiting Moab. The lodge offers comfortable lodgings and a long list of amenities that would be expected of a 3-star resort.
The Cowboy Grill, an on-site terraced dining room, features a western menu with breathtaking views of the Colorado River. Individual dining, an all-you-can-eat hot breakfast buffet, Sunday brunch, and picnic box lunches for a day in the park are all available at the full-service restaurant. A museum and a winery are also included within the lodge.
The Moab Movie Museum is located inside the resort and chronicles the narrative of the many Hollywood films shot in the area with the classic western scenery as a backdrop. The resort also houses Utah's largest winery, Castle Creek Winery, which hosts seasonal daily wine tastings.
Every suite has a private terrace with views of the stream or river. A dining table, refrigerator, and microwave are located in a separate living room. There is free Wi-Fi available. Mexican tile flooring, wood-paneled ceilings, and solid log furnishings are featured.
There's also a fitness center, a pool and hot tub, tennis courts, and seasonal horseback riding at the resort.
MainStay Suites Moab near Arches National Park
If you're looking for a long or short-term stay in Moab, MainStay Suites is a fantastic option. It provides apartment-style living with all of the advantages of a hotel stay. It is centrally positioned on Moab's Main Street, providing easy access to many of the city's main sights and activities.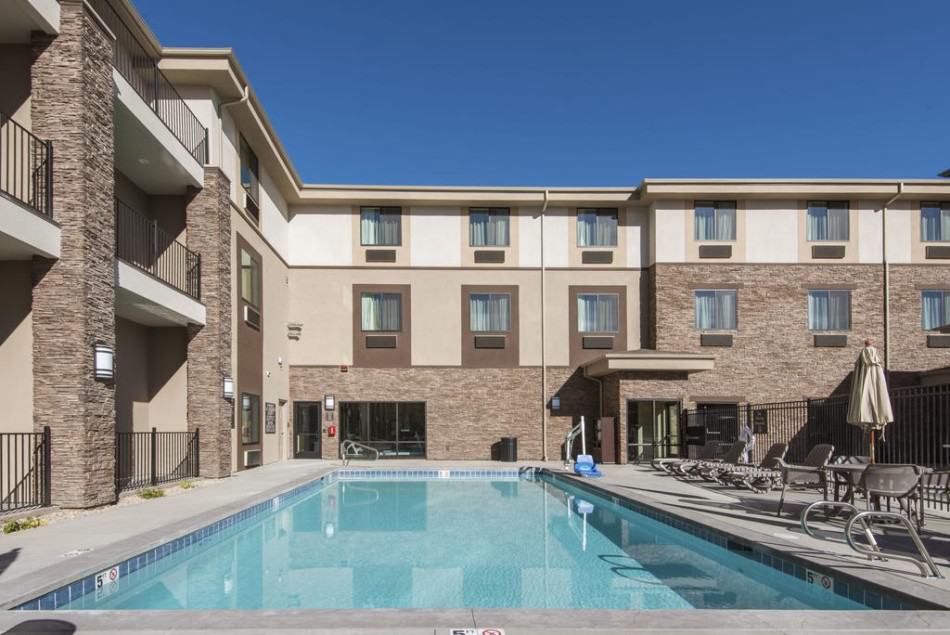 The Canyonlands National Park, Utah State University at Moab, Moab Adventure Center, Tom Till Gallery, the Colorado River, Dead Horse State Park, Museum of Moab, and Grandstaff Canyon are all within easy walking distance of the smoke-free, long-stay hotel on Moab's Main Street.
The hotel provides apartment-style living with all the amenities of a hotel. A free hot breakfast, a business center with copy and fax services, accessible hotel features, an onsite convenience store, a fitness center, free local calls, free premium WiFi, interior corridors, guest laundry facilities, a microwave for guest use, and a seasonal outdoor pool are just a few of the amenities available.
Kitchen amenities, luxury linen, USB ports, a flat-screen TV, and a coffee maker are available in each of the large and pleasant guest rooms. MainStay Suites & Moab near Arches National Park hotel takes the stress out of extended stays.
Homewood Suites by Hilton Moab
The Homewood Suites by Hilton Moab is an all-suite hotel built for extended stays near Moab, Utah's natural attractions. It's a blend of a bright and modern hotel with a warm and inviting ambiance. This is a favorite hotel for families visiting Moab because of its great service and family-friendly surroundings.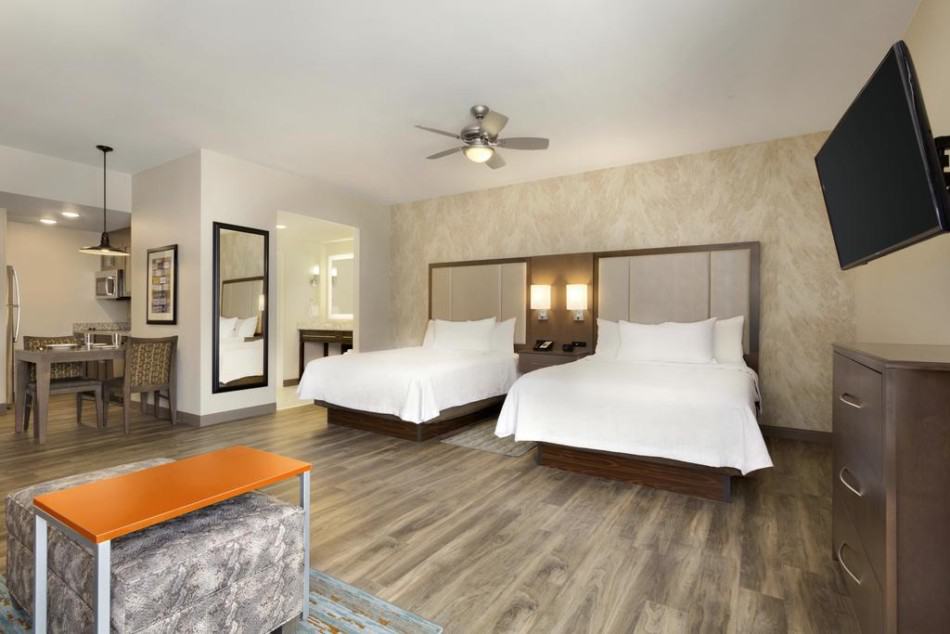 You can choose from six suites, each of which offers apartment-style living. There are studios, one-bedroom, and two-bedroom suites with ample space to live, work and relax in. The air-conditioned rooms at this hotel come furnished with a flat-screen TV, a fully equipped kitchen, and a sofa bed. Each room has its bathroom, which includes either a bathtub or a shower. The Homewood Suites by Hilton Moab offers free WiFi throughout the property.
This Hilton hotel has a heated indoor pool and subterranean parking, which previous visitors have praised for keeping their cars cold despite the desert heat. Additionally, this hotel is within walking distance of the shops and restaurants in downtown Moab, as well as Arches National Park (5 miles away) and Canyonlands National Park (approximately 40 miles away).
Homewood Suites by Hilton Moab is located in Moab, 8.5 km from Arches National Park and 48 km from Canyonlands National Park. It has an indoor heated pool. Every day, guests can enjoy a complimentary full hot breakfast.
Hyatt Place Moab
The Hyatt Place Moab features a restaurant, free private parking, a seasonal outdoor swimming pool, and a fitness center and is located in Moab, 20 kilometers from Mesa Arch. This facility features a 24-hour front desk and a shared kitchen, as well as free WiFi. There includes a shared lounge, a children's playground, and an on-site bar.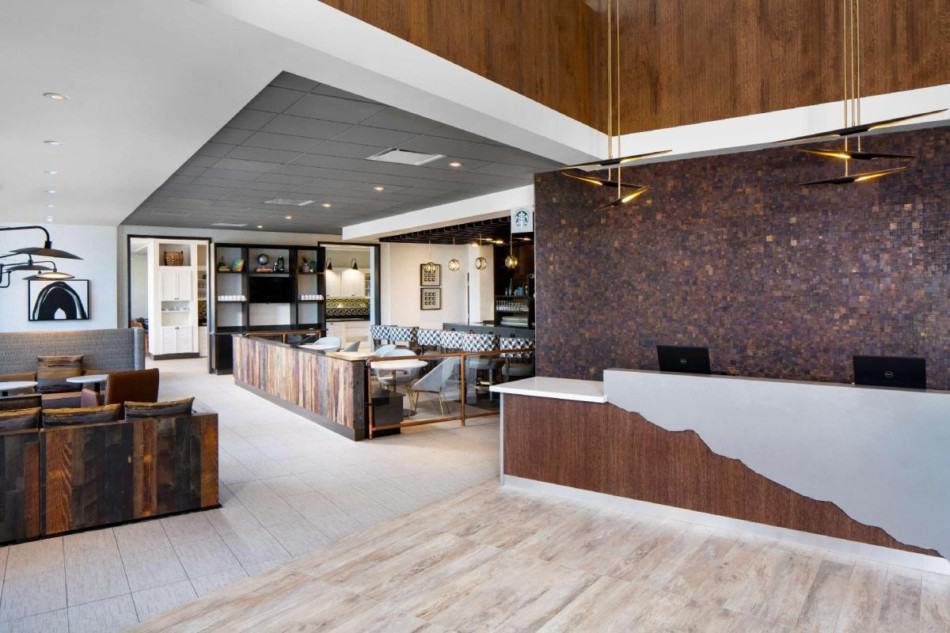 You can enjoy a freshly prepared breakfast every day, created with natural and fresh ingredients including all-natural bacon, cage-free eggs, steel-cut oatmeal, and more. Premium alcoholic beverages, as well as specialized coffee drinks, are offered in a bar. You will surely get your money's worth here!
When it comes to providing service to their customers, they take a unique approach. It's all about three things: FEEL, FUEL, and FUNCTION. The rooms have been thoughtfully designed and are incredibly comfortable and welcoming. It has blackout curtains to block off the early light, a workstation, seating area, couch bed, coffee/tea maker, and satellite television.
They also have an outdoor pool, a heated outdoor pool, and an outdoor whirlpool, all of which are open from 8:00 a.m. to 11:00 p.m. every day. A complimentary exercise center is also available from 12:00 AM to 12:00 PM.
Sleep Inn & Suites Moab near Arches National Park
The Sleep Inn & Suites Moab, located in the heart of Moab just off US 191, is the ideal place to unwind after a day of touring the adjacent national parks and Dead Horse State Park. Relax in the outdoor pool (seasonal) and hot tub while watching your favorite show on one of the pillow-top mattresses.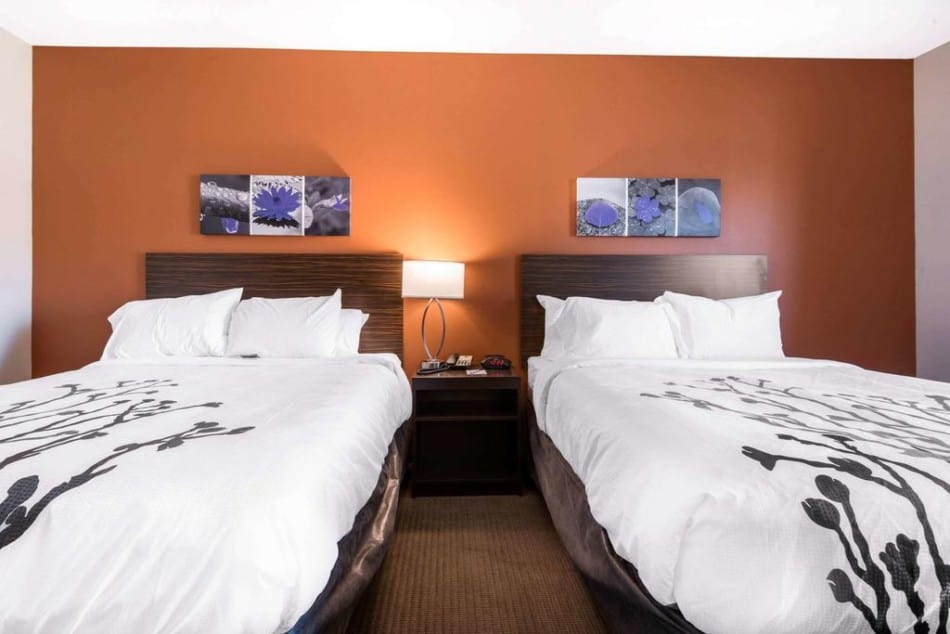 You'll find simply contemporary accommodations and modern facilities in a convenient location at the Sleep Inn & Suites Moab in Arches National Park. Each morning, as a hotel guest, you will enjoy a delicious, complimentary hot breakfast. You'll also have access to the hotel's fast and free premium Wifi connection.
Enjoy a refreshing plunge in their outdoor heated pool and hot tub when you want to relax and unwind. The efficiency of their on-site business center is appreciated by business travelers. They also have a state-of-the-art fitness center so you may maintain your fitness program while traveling.
When you're ready to settle down for the night, you'll appreciate the warmth and comfort of the guest rooms. Each of the luxurious guest beds is outfitted with plush bedding and a pillow-top mattress. You'll also find a microwave, a refrigerator, and a flat-screen TV with satellite cable in your guest room.
River rafting, hiking, and hummer tours are just a few of the popular outdoor activities around the hotel at Canyonlands National Park. They are close to Moab's thriving shopping sector as well as the area's most popular sites, activities, and attractions.
You'll also have access to on-site amenities like a sundry shop, free outdoor parking, and guest laundry. Their business guests appreciate their well-equipped business center, which offers copy, print, and fax services.
Holiday Inn Express & Suites Moab
The Holiday Inn in Moab is in a wonderful location, surrounded by spectacular red rock cliffs and natural treasures. So, if you're searching for a hotel that can accommodate families, outdoor activities, and business vacations, this is it.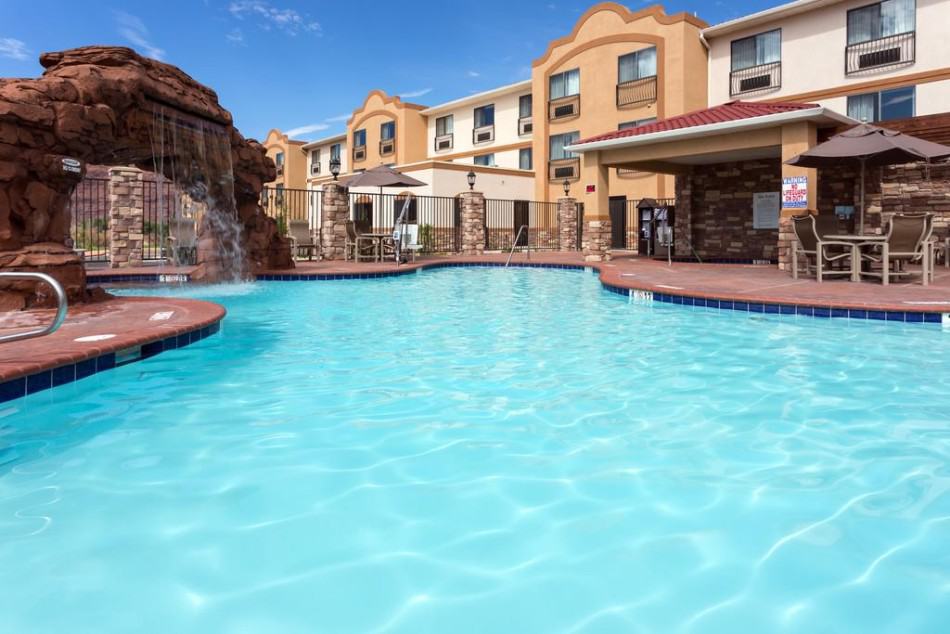 The Holiday Inn Express Hotel & Suites in Moab is near the Colorado River's banks. This three-story, 79-room hotel is wonderfully designed and is flanked by the stunning red granite cliffs of southeastern Utah.
For work or pleasure, all the rooms and suites are elegantly designed. Each room features a 27-inch television, complimentary wireless Internet access, two-line phones with voicemail, a coffee maker, irons, and ironing boards. A queen-size sleeper sofa, refrigerators, and microwaves are included in the one and two-bedroom suites.
The hotel has a hot tub and offers 3-star accommodations. Guests of the Holiday Inn Express Hotel & Suites Moab, an IHG Hotel, can participate in activities such as hiking and cycling in and around Moab.
If you're going on an outdoor adventure, a full meal from their complimentary hot breakfast, which includes omelets and their world-famous cinnamon rolls, will keep you going.
They also feature an outdoor pool, a heated outdoor pool, and an outdoor whirlpool, all of which are available every day from 8:00 AM to 11:00 PM. There is also a complimentary fitness center that is open from 12:00 AM to 12:00 PM.
Fairfield Inn & Suites by Marriott Moab
The Moab Fairfield Inn & Suites is the perfect place to stay while visiting the stunning Arches and Canyonlands National Parks. The Suite sits directly across from the main entrance of the Arches. From the comfort of the outdoor pool, take in views of the Colorado River and the greatest vistas of Arches National Park.
Free WiFi and a flat-screen cable TV are also included in every room. Every day, a complimentary breakfast is served. All air-conditioned rooms at Fairfield Inn & Suites by Marriot Moab offer a living area with a sofa, a microwave, and a small refrigerator. There is also a hairdryer in the en suite bathroom.
The Fairfield Inn & Suites by Marriott Moab offers a fitness center and a business center to guests. There are laundry facilities provided. Parking is available for free at the premises.
The hotel is 35 minutes away from Dead Horse Point State Park. The Fairfield Inn & Suites by Marriot Moab is 43.6 kilometers from Canyonlands National Park.
SpringHill Suites by Marriott Moab
SpringHill Suites Moab is the ideal place to call home base for your Moab adventure since it is only 5 minutes from the Arches National Park entrance.
Air-conditioned rooms with free WiFi and easy check-in and check-out are available at the SpringHill Suites by Marriott Moab. The 3-star property's accommodations have mountain views and a hot tub for guests. The hotel has an outdoor pool, a fitness center, and a front desk that is open 24 hours a day.
It's only 5 minutes away from Arches National Park and sits on the Colorado River's bank. The rooms are modern and spotless, featuring a flat-screen TV with Netflix, Hulu, and Youtube streaming facilities. The hotel rooms include a desk and a private bathroom. There is a wardrobe in each room.
A breakfast buffet is available to guests of the SpringHill Suites by Marriott Moab.
Guests at the hotel will be able to participate in activities such as cycling in and around Moab.
Archway Inn
The Archway Inn, a 97-room motel two miles from Arches National Park and 30 minutes from Dead Horse Point and Canyonlands National Park, has a full breakfast, pool, Jacuzzi, gift store, fitness rooms, and meeting spaces.
Archway Inn is an excellent choice for visitors to Moab, offering a family-friendly setting as well as a variety of helpful features to make your stay more enjoyable.
An outdoor pool, hot tub, horseshoe course, splash pad, playground, and a magnificent river boardwalk are among the amenities.
After a day of river rafting, 4-wheeling, mountain biking, or rock climbing, the Archway Inn is the perfect spot to unwind and relax. Everywhere you turn, there's an adventure waiting to be had; make your next experience exquisite!
Enjoy a complimentary cooked breakfast that includes eggs, biscuits and gravy, oatmeal, dry cereal, toast, beverages, and more. Guests can always stop by the Archway General Store for a selection of food and drinks, as well as that last-minute item they forgot.
The hotel's guest rooms include facilities such as a flat-screen TV and air conditioning, and visitors can use the hotel's complimentary WiFi to stay connected.
You might want to try some crab at one of the neighboring restaurants, such as Sunset Grill, The Broken Oar, or Moab Brewery while visiting Moab.
Hampton Inn Moab
In Moab, the lovely Hampton Inn is your home away from home. It is located off Highway 191 and is less than a mile from downtown Moab's shopping and dining district. This is a hotel that goes above and beyond to meet your expectations.
This Moab, Utah motel is close to Arches National Park and the Slickrock mountain bike track. The hotel provides a complimentary hot breakfast every day as well as free high-speed internet access.
Every room at the Hampton Inn Moab has a flat-screen LCD TV and a coffee maker. In each room, there is also a work desk.
The Moab Hampton Inn has an outdoor pool and a fitness center. There are also laundry facilities available at the hotel.
Overall, it's a peaceful neighborhood, so you can expect that you will not hear any noise from the hallways or neighbors. And one of the nicest aspects of this hotel is the warm friendliness you will receive from the front desk to the personnel.
This Hampton Inn in Moab, Utah is close to Dead Horse Point State Park. The hotel is also within driving distance of the Moab Golf Course.
Sorrel River Ranch Resort & Spa
Surrounded by the magnificence of Utah's red sandstone cliffs and the majesty of the Colorado River, Sorrel River Ranch Resort & Spa offers guests the best of both adventure and relaxation.
The Sorrel River Ranch Resort and Spa, located on the banks of the Colorado River amid Moab's famed red buttes, provides convenient access to natural wonders such as Arches National Park.
Horseback riding, hayrides, and bocce ball are just a few of the exciting activities available at the resort. Or, if you prefer to do nothing at all, spend your days soaking up the sun by the pool or massaging your cares away at the spa.
From the log-beamed ceilings, wide-plank floors, and balconies with excellent views of the river or red rock cliffs under stunning blue skies, the rooms' rustic design is in perfect harmony with the surroundings.
Since they acquire their ingredients from their garden, their restaurant's food is wonderfully fresh. You should try their amazing farm-to-table cuisine.
In the Sorrel River Grill, elegant American classics are served, or dine on the veranda by candlelight. Stand out on your private balcony as twilight falls, letting the crisp air fill your lungs, and watching the glow of the evening sun blanket the landscape.
Under Canvas Moab
Under Canvas Moab, approximately 7 miles north of Moab and near Utah's iconic Arches and Canyonlands National Parks, has been designated one of Travel + Leisure's "Top 15 Resort Hotels in the West" and Condé Nast Traveler's "Top 25 Resorts in the US – Midwest & West."
Picnic areas and grills are available for on-site cooking. Furthermore, Moab has a large Safeway grocery store where you can get all of your grilling necessities. Relax by the fire pit after dinner and eat complimentary S'mores while viewing the amazingly dark skies that this part of Utah is famous for.
Daily housekeeping, organic bath products, USB battery packs, a picnic area with grills, a fire pit with s'mores, and other facilities are available at the camp. The glamping tents, however, do not have bathrooms, so you will have to use the on-site trailers for that.
Suite, stargazer, or deluxe are the three glamping tents available. All of the tents have a sumptuous air to them, and the beds are so comfy that you won't feel you're in a glamping tent.
Guests of Moab Under Canvas have access to horseback riding. Guests can rent bicycles to explore the neighboring desert cycling trails. All guests are entitled to free parking.
Best Western Plus Canyonlands Inn
Choose this fantastic hotel in Moab, Utah, which is in the center of Canyon Country and convenient to Arches National Park. The Best Western Plus Canyonlands Inn is conveniently located in the heart of Moab, close to shops, galleries, museums, and restaurants.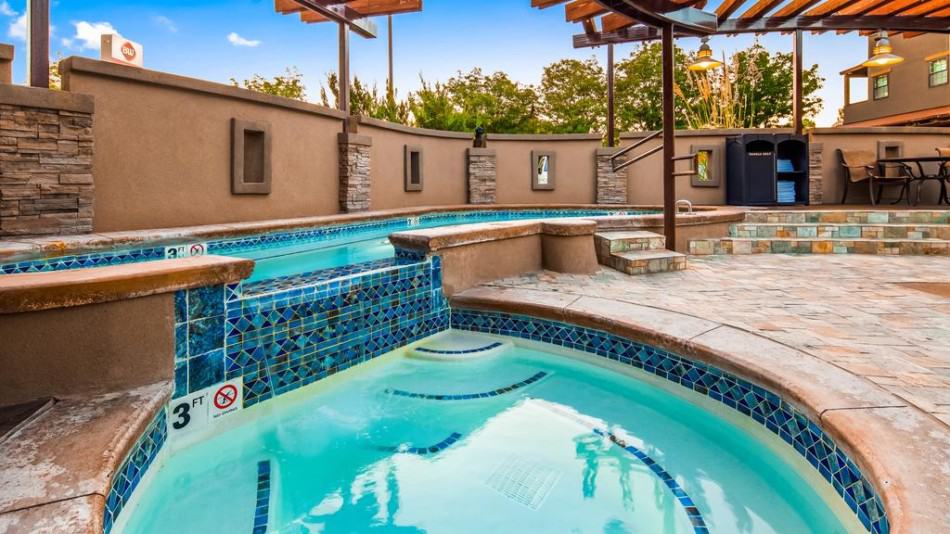 The Colorado River and the entrance to Arches National Park are both within 5 miles of the hotel. A picturesque drive from the hotel takes you to Canyonlands National Park and Dead Horse Point State Park.
A seasonal outdoor pool, daily hot breakfast, and complimentary Wi-Fi are included at this Moab hotel. Each warmly designed room has a 32-inch flat-screen TV. It takes 40 minutes to get to Dead Horse Point State Park.
All Canyonlands Best Western Inn rooms include a small refrigerator, coffee maker, and work desk. A large seating space with a couch bed is available in some rooms.
A hot tub is available all year. There's also a 24-hour gym and an outdoor picnic/playground area. Guests are welcome to use the free computer and printer in the lobby.
This award-winning hotel offers spacious, well-appointed rooms with all of the extras that make a significant difference when vacationing.
Check out my other posts on Arches National Park to help you plan your trip:
One Perfect Day in Arches National Park
15 Epic Things to do in Arches National Park
15 Awesome Things to do in Canyonlands National Park
Best Moab Tours – Guided Tours and Fun Excursions
hotels near arches lodging near arches national park lodging near moab utah
Recent Posts